Located on the Pacific Northwest Coast in British Columbia, Vancouver has long been known as the heart and soul of Western Canada. Often considered the culinary and cultural capital of the country, Vancouver's vibrant neighbourhoods and nearby attractions offer lots to do for every type of traveler.
*This post may contain affiliate links, as a result, we may receive a small commission (at no extra cost to you) on any bookings/purchases you make through the links in this post. As an Amazon Associate, we earn from qualifying purchases. Read our full disclosure
Having been to Vancouver a number of times, we have now not only visited Vancouver's top attractions but had a chance to explore the city beyond the major sights. We may be a little biased, but we think it has a perfect balance of culture, art, outdoor adventure, beautiful scenery and city living. The city is home to a diverse and vibrant metropolitan area, with world-class restaurants and bars, craft breweries and an incredible local art scene. At the same time, you can find breathtaking scenery within inner Vancouver parks, the coastal area and the surrounding mountains.
And while visiting Vancouver can be pricey, there are many free things to do in Vancouver, so you can spend many days in the city, even if you are on a budget! So without further ado, we've put together this guide to Vancouver for first-time visitors to help you plan your perfect trip soaking up all that this amazing city has to offer.
Traveling Soon?

Here is a list of our favourite travel providers and accessories to help get you ready for your upcoming trip!
How to Get to Vancouver
Vancouver is the largest city on the Canadian West Coast, so there are plenty of ways to reach the city from within Canada and from abroad. Whether you're coming from another domestic city or from overseas, here are the best ways to travel to Vancouver.
By plane
Vancouver International Airport (YVR) is the main airport, located 25 minutes away from Downtown Vancouver. There are plenty of international departures and arrivals every day, with a variety of airlines flying in and out. Air Canada is the main local carrier, servicing 190 cities around the world.
It's easy to get from the airport to downtown Vancouver with a number of airport shuttles and rideshare options available. Many hotels also have a free shuttle included in the price of the room.
By car
Renting a car is a popular way to explore Canada. If you're planning a road trip to Vancouver from elsewhere in the country, the Trans-Canada Highway or Highway 1, can get you to the city from various parts of the country. But don't be too ambitious when looking at road trips across Canada, distances may be longer than they appear and in our opinion, the drive from Ontario to BC is just not worth it!
By bus
There are also regular coach services to and from Vancouver and nearby locations such as Vancouver Island or Whistler, and even further afield to Seattle in the US.
By rail
Taking a rail journey across Canada is considered one of the best ways to admire the spectacular scenery. The Pacific Central Station is the main terminal for transcontinental services like VIA Rail from Toronto and Amtrak trains from the US.
How to get around Vancouver
Vancouver is an easy city to move around. Public transport is a breeze to navigate and pretty affordable.
Public transport
Trains and trolleys are the most common form of public transport in Vancouver, with the
TransLink provides a vast network of trains, buses and smaller community shuttles that make it easy to get around the city. The three automated rapid transit SkyTrain lines can take you all around Metro Vancouver, while busses and ferries complement the map. Fares are affordable and can be paid using a reloadable card known as a Compass Card.
Rent a car
If you plan on leaving the city and doing some day trips during your stay, then renting a car is a good idea. A rental car can start from around 40 CAD per day and provides the ultimate freedom to explore anywhere you like and at a pace that suits you.
Evo car sharing
A very popular option amongst locals is Evo Car Share. The car share is an affordable and very convenient way to move around the city. Evo is a similar concept to ride-sharing but without the driver. Instead, you find a car closest to your location, unlock it with a code from the app, drive it yourself and leave it in an approved parking space for the next person. It's easy, quick, and is the go-to transportation option for locals.
Walk
The most eco-friendly way of getting around the city is on foot. You can easily walk around the compact Downtown Vancouver area, especially if you're staying close to the city center. It's a surprisingly walkable city, with plenty of attractions close together and lots to see along the way.
Best time to visit Vancouver
Vancouver has a relatively mild climate compared to the rest of Canada. You'll find some incredible advantages of visiting Vancouver during different seasons, depending on what you plan on doing.
Summer: June – September
Summer is by far the busiest time in Vancouver, as the sun is shining and the days are longer offering extra hours for exploring. It isn't as humid compared to Montreal or Toronto, with the average temperature hovering around 20-25°C. It's definitely the most vibrant, fun, and warmest time to visit.
Fall: September – November
Despite the sunny days in summer, fall is our favourite time to visit Vancouver. The crowds have mostly disappeared but the weather can still be relatively nice, especially early in the season. Fall brings out beautiful colours and is a great time to get into outdoor activities, such as hiking. There is still lots of daylight, and up until November, little rain as well.
Winter: December – March
Visiting Vancouver in the winter can be a bit of a hit or a miss. Snowfall makes the winter months a very magical time to visit. Skiing, ice skating and festive lights are some of the highlights of a winter visit to Vancouver. However, winter in Vancouver can also bring grey, cloudy days and a lot of rain. January and February are the coldest months in Vancouver with daily temperatures ranging around 0-5°C
Spring: April – May
Spring is quite cool and rainy, with the weather improving as the season moves closer to summer. This season can be a good time for whale watching along the coast, so don't be afraid of a little rain if you are looking to add some wildlife viewing to your visit.
30 Best Things to Do in Vancouver, BC
There's a long list of things to do in Vancouver, from outdoor Vancouver activities to exploring trendy districts with cafes and shops. Here are our favourite cool things to do in Vancouver and spots worth visiting!
1. Grouse Mountain
Widely considered to be Vancouver's top attraction, Grouse Mountain is a ski resort sitting at 1200-metres or almost 4000-ft above sea level in North Vancouver. Grouse Mountain is definitely a must-visit as it offers plenty of activities to enjoy in every season. Most of Grouse Mountain's summer and winter activities as well as the Grouse Skyride are complimentary with a Grouse Mountain admission ticket.
In winter, Grouse Mountain is known to be one of the best skiing and snowboarding hills close to the city centre. For locals in Vancouver, it's the backyard ski hill and one of the best things to do in Vancouver in Winter.
Summer offers some stunning hikes for outdoor enthusiasts, like the famous trail to the top known as the Grouse Grind. There is a wildlife refuge on site, home to two giant rescued Grizzly Bears, a zipline, kids treetop adventure playground and a scenic ride on the Skyride that can take you up and down the mountain.
Beautiful views of Vancouver from the top are available all year round!
2. Capilano Suspension Bridge
Capilano Suspension Bridge, located in North Vancouver, is considered one of the best things to do in Vancouver. The 450-foot or 137m long bridge takes you over the river below with 230 feet (70m) drop to the bottom. It's not for the faint-hearted, but the surrounding forest and nearby trails make it one of the prettiest spots near Vancouver city.
While tickets to Capilano Suspension Bridge aren't overly cheap at $55 CAD per adult, they include access to all the attractions inside the park, so you can make a fun day out of it. Aside from the suspension bridge, Capilano offers a number of treetop adventures, history and nature walks and more!
3. Downtown Waterfront
The Downtown Waterfront area is known as the city's vibrant beating heart. Located right in the compact city center, Downtown Vancouver is home to so many attractions and things to do, that you can easily wander around all day.
Things to do in Downtown Vancouver
Right on the water's edge you'll find the

Vancouver Convention Center

or otherwise known as

Canada Place

. This iconic landmark is built to look similar to a ship and is nearby to some great restaurants and bars.

It's also home to

FlyOver Canada

, an incredible flight simulation activity that lets you enjoy Canada's scenery from east to west without even leaving the city.

A visit to the

Vancouver Lookout

observation deck is a great way to get panoramic views of the main Downtown core.

Downtown is also where you can appreciate some fantastic art galleries. A couple of worthwhile spots to check out include,

Bill Reid Gallery,

which is Canada's only public gallery dedicated to contemporary Indigenous art of the Northwest, and

Vancouver Art Gallery

, showcasing local and international art exhibitions.

If you're looking to see Downtown from a different perspective, there are some unique walking tours such as

Fans of Vancouver Tours

which take you to filming locations in the city from your favourite Hollywood movies.

Spend your days

exploring the neighbourhoods

in Downtown Vancouver, peeking into shops or stopping for a tea, a craft beer or a meal at one of the many amazing restaurants in the area.
4. Yaletown
Once a run-down warehouse district with old red brick buildings, Yaletown has been transformed into a trendy neighbourhood in the city. It's known as Vancouver's "little Soho", with chic boutiques, lounge bars and swanky condo towers.
Things to do in Yaletown
A must-visit for foodies, Yaletown is home to some of

Vancouver's best restaurants

. You only have to wander briefly in the small neighbourhood to come across pubs, steakhouses and bakeries that will tempt you to stop for a meal. The

Yaletown Brewing Company

is a local's favourite.
5. Gastown
The city's oldest neighbourhood, Gastown is home to some incredible historical buildings worth checking out near Downtown. The old cobblestone streets are populated with bars, cafes, boutique shops and restaurants and are very picturesque to spend some time wandering.
It's our favourite part of Downtown Vancouver, a great area for a stroll, for people watching and for feeling like you have been transported to a cute European village.
Things to do in Gastown
Some of the worthwhile historical spots to admire include the

Gastown Steam Clock

and

Woodward's Building

.

For a classic Gastown dining experience, you should try

Steamworks Brewery,

serving house beers, steaks and pizza with a vibrant atmosphere.

For something more unique, join

Forbidden Vancouver Walking Tour's Lost Souls of Gastown

Join an outdoor game such as

Vancouver Mysteries "Crime in Downtown Gastown",

for a completely different experience of the area.
6. Vancouver Chinatown
Adjacent to Gastown, the Chinatown area of Vancouver was established back in the 1890s and is a very interesting place to explore the different facets of the city. The highlight is Dr Sun Yat Sen Classical Chinese Garden. It was the first Chinese garden to be built outside of mainland China and is now a registered museum.
If you want to see more of the neighbourhood, you can always join A Wok Around Tour, which takes you around the best spots in Chinatown with a local guide.
7. Stanley Park
One of the world's largest urban parks and one of the most famous parks, Stanley Park is a must-visit in Vancouver. Located in between Coal Harbour and Sunset Beach, the city garden is home to a lovely coastal walk along the Pacific Ocean seawall, passing beaches and a range of sea life on the way. You can also cycle along if you prefer, with Cycle City Tours offering bicycle rental and a guided bicycle tour of the park.
One of the best ways to experience Stanley Park is on a guided walking tour. Talaysay Tours provides unique tours with Indigenous Cultural Guides, offering an insight into the plants and culture of the Indigenous people of the area.
Stanley Park is also where you can find the Vancouver Aquarium, Canada's largest aquarium, and a fun attraction for the whole family to enjoy. There are over 65, 000 creatures at the Vancouver Aquarium, with plenty of exhibits and informative displays that the kids will love. It's one of the best rainy day activities Vancouver has to offer.
8. Deep Cove
Deep Cove is a community located in the far eastern corner of North Vancouver. It's a great place to escape the city and connect with nature. The cove is a very chilled area and is perfect for some water sports. It's particularly great for kayaking. There are also great restaurants and cafes to sit back and enjoy the view over some good food.
9. Richmond Night Market
Definitely one of the best Vancouver tourist attractions for foodies, the Richmond Night Market is a huge outdoor marketplace south of the city center near Bridgeport. It's our top suggestion for what to do in Vancouver on the weekend, as it offers an endless supply of entertainment.
You'll find heaps of food stalls and vendors selling a variety of goodies. There's always live music and plenty of activities for kids as well. You can easily hang out till late there and leave with a very full stomach.
10. Commercial Drive
Commercial Drive is a multicultural part of the city, known for its incredible food. It's become an iconic strip to the east of Downtown, with a variety of restaurants serving up cuisines from around the world. Our favourite couple of spots are Harambe or Fassil for delicious Ethiopian food, which if you haven't tried before, is definitely worth a try.
It's also densely populated with plenty of local breweries. You'll find some of the city's best gastropubs just a stone's throw away.
11. West End
Vancouver's West End is known for its pretty tree-lined streets and countless good restaurants and boutique shops. You can find Stanley Park to the north and English Bay Beach and Sunset Beach Park along the coast in this part of town, so you can easily explore some of the best Vancouver sightseeing.
Each street in the trendy neighbourhood is characterized by different features, with Denman Street being home to independent stores, Davie Street with offbeat coffee bars and trendy designer shops on Robson Street.
12. Little India
A slightly offbeat must-do in Vancouver, the Punjabi Market or otherwise known as Little India is a fun place to check out. Located south of the city center, it's home to a large South Asian community and is where you can find some authentic Indian restaurants and specialty stores.
It's an area where you can easily forget that you're in Vancouver at all instead of somewhere on the vibrant far east continent.
13. Kitsilano Beach
While the mountains certainly get the spotlight, Vancouver is also home to some incredible beaches. Kitsilano Beach or known as Kits Beach by locals, is located on English Bay, across from English Bay Beach.
We love this cute neighbourhood in Vancouver. It's close to downtown but is truly another world. If we ever decided to live in Vancouver, this neighbourhood would be our spot!
Things to do in Kitsilano
One of the best summer activities to do in Vancouver is to head down to the beach for some volleyball and a

swim in the large saltwater pool.

Just further around the coast is

Hadden Park

home to the

Vancouver Maritime Museum

and nearby

Museum of Vancouver

.

The main drag in Kitsilano, W 4th Ave, particularly the stretch between Balsam St and Burrard St, has tons of

cute shops

and

restaurants

to check out.
14. The North Shore
Vancouver's North Shore sits right at the lower end of North Vancouver. It's a less popular waterfront district compared to Downtown but still offers some fun Vancouver attractions.
Also, it's home to the Polygon Gallery, Lonsdale Quay Market and restaurants housed in old shipyards. It's definitely a lesser-known quirky area to check out if you have the time.
15. West Vancouver
West Vancouver is located across the inlet, reachable via Lions Gate Bridge in Stanley Park. It's a wilder part of the city, mostly covered in parkland and home to ski resorts such as Cypress Mountain.
It's one of the best places to visit in Vancouver in winter, with plenty of winter sports and activities to get stuck into when the snow begins to fall.
Visiting in the summer? Head to West Vancouver to check out Ambleside Beach, a popular spot for sunbathing in the hotter months. This is also a community park with a coastal walking trail nearby.
16. Granville Island
Granville Island is a slice of land in False Creek that has been completely transformed from its industrial past. It's now a little urban oasis with unique shops and restaurants. This is one of our favourite spots in Vancouver, a place where we love to shop, eat and just hang out!
Things to do in Granville Island
Stock up on fresh produce and

grab lunch

at the

Granville Island Public Market
Shop till you drop

at the many shops that line the streets around the market

Granville Island is home to

Vancouver Water Adventures

, a rental company that offers

jet ski

,

kayak

and

paddleboard

rentals. Getting out on the water around Granville Island is one of the more adventurous things to do in Vancouver today.

If you prefer a more relaxing water-based activity,

Sea Vancouver

has 90-minute boat tours so you can get a new perspective of the city.
The best way to reach Granville Island is by ferry, which helps avoid any parking issues once you arrive. False Creek Ferries have frequent departures throughout the day with nine dock locations.
17. South Granville
Running south of Granville Island, South Granville is a sophisticated shopping area of Vancouver. It's where you'll find upscale boutiques and stylish homeware stores strung along the long strip. It's also dotted with plenty of international restaurants, ranging from Lebanese to Japanese.
18. Lynn Canyon Suspension Bridge
Not as popular as Capilano Suspension Bridge, but Lynn Canyon Suspension Bridge Park in North Vancouver is worth visiting for nature lovers. There are plenty of walking trails and swimming holes in the huge 600-acre park. And it's one of the favourite nature escapes for locals.
The suspension bridge hangs 50 metres above the lush forest, making it one of the best ways to appreciate the incredible nature to be found around the city. Perhaps the best part about it is that it's completely free to visit, which is a nice bonus! It's definitely one of the best free things to do in Vancouver!
19. Science World
One of the things to do in Vancouver with the whole family is to visit Science World, located right on the water's edge of False Creek. The futuristic dome building houses interactive displays and exhibitions for all ages to learn something new.
It's particularly great for kids, with a range of activities and hands-on displays for toddlers all the way through to teens. It's also one of the best indoor activities Vancouver has to offer. There are also some beautiful parks surrounding the waterfront, so it's a nice spot for a picnic if the sun is out.
20. Plaza of Nations
The Plaza of Nations is a multi-purpose waterfront area on False Creek in the city center. There's plenty of things to see in the complex, including an ice rink, Rogers Arena for live music and hockey and a lovely park area.
You'll also find the BC Sports Hall of Fame inside BC Place just back from the water, which is worth a visit for all sports fans. You can learn about the city's sporting history and appreciate some of the memorabilia on display.
21. University of British Columbia area
The UBC area of the city is worth a visit for an afternoon. The university is home to some of Vancouver's best museums, including the Museum of Anthropology and Beaty Biodiversity Museum.
On top of that, it has some beautiful natural areas including beaches and gardens. The Nitobe Memorial Garden is a very peaceful Japanese garden offering traditional tea ceremonies and walking trails. Or, you can head to the UBC Botanical Garden and Greenheart TreeWalk over a temperate rainforest for something different.
For some more serious hiking trails, you can check out Pacific Spirit Park on campus which is an extensive forested area with dog-friendly walks.
Some of the best beaches are also in the UBC area, including Wreck Beach. All beaches are connected by the Foreshore Trail.
22. Queen Elizabeth Park and Van Dusen Gardens
These two gardens are incredibly beautiful spots located in South Vancouver. Queen Elizabeth Park is the highest point in the urban part of the city offering spectacular views on a clear day.
VanDusen Botanical Garden is located just a few blocks away and is another peaceful spot to escape the hustle of the city.
23. Richmond
Richmond is a city to the south of Vancouver but is more like an extension of the metro area. There are some fantastic things to do in this part of wider Vancouver. On the lower coastal area, you'll find the Gulf of Georgia Cannery National Historic Site, which documents the fishing history of the city.
For something more sophisticated, it's worth checking out Lulu Island Winery, east of Richmond. It's the perfect romantic experience with wine tasting and full winery tours available.
Day trips from Vancouver
If you're looking for some places to visit near Vancouver, there are some incredible day trips from Vancouver. One of the best parts about Vancouver is that it's so close to some of the best things to do in British Columbia.
24. Horseshoe Bay
A small town in West Vancouver, Horseshoe Bay is most well known for being the departure point for the ferries to Bowen Island. It's also a quaint place to enjoy a relaxing seaside vibe away from the bustling city.
You'll find some great cafes in town from where you can soak up the pretty view of the harbour. Or if you prefer to explore the water a bit more, Sewell's Marina in front of town rents boats or offers sea safaris and fishing charters.
25. Victoria, Vancouver Island
Vancouver Island is a huge island off the Pacific Coast and a popular holiday destination for locals and visitors of BC. What you may not know is that the capital of British Columbia, Victoria, is actually a city located on the island. It's a destination worth visiting even if for a few days. You can jump on a 90-minute ferry crossing to reach the island, and even bring your car along too.
Victoria is a vibrant city with a big Chinatown, an attractive Fisherman's Wharf, and even a few interesting places to check out for a history buff. The restored Craigdarroch Castle is a National Historic Site and a real highlight of any visit to Victoria.
The city is also widely considered to be the best place to jump on a whale-watching tour. Prince of Whales offers incredible half-day tour from Vancouver or Victoria.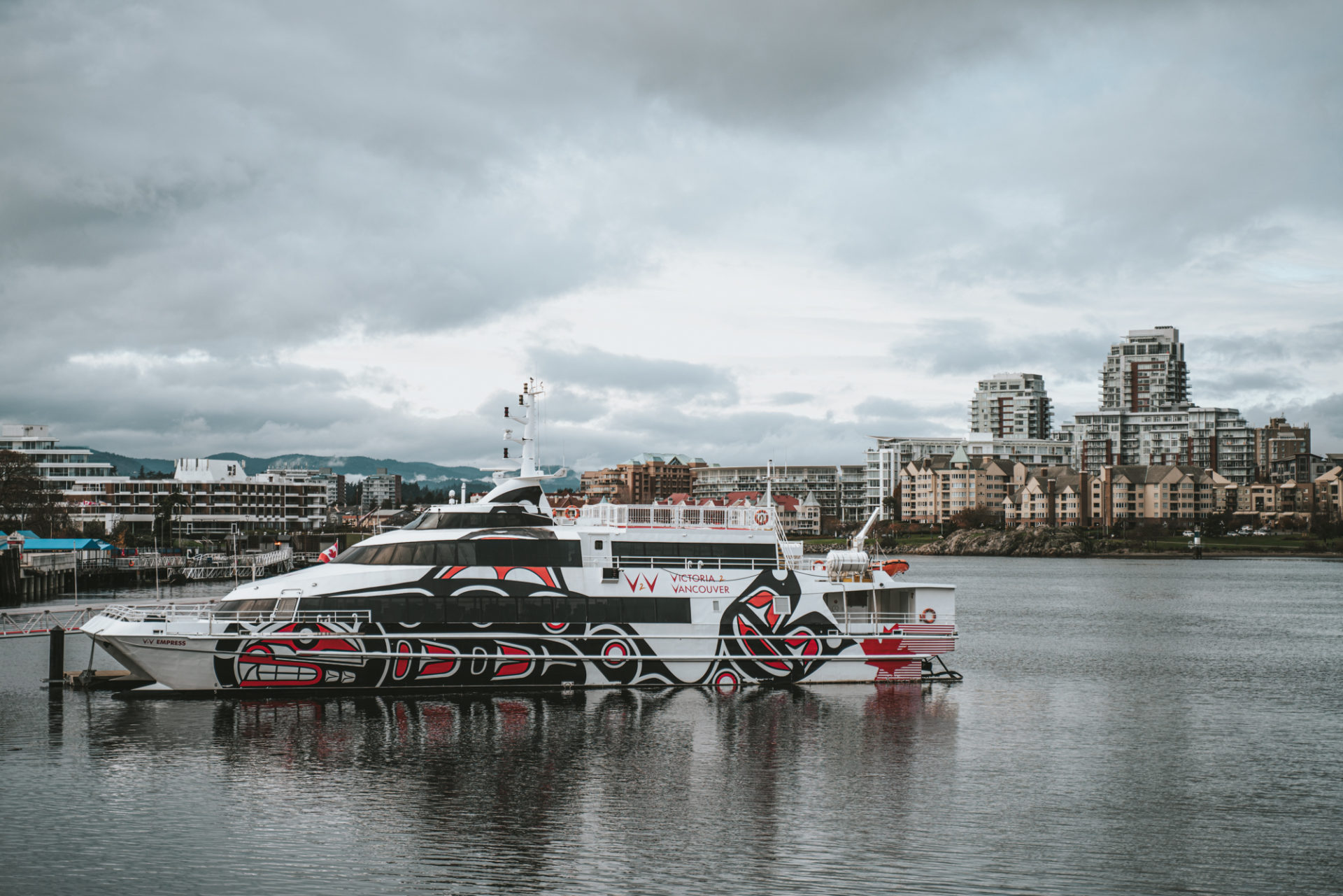 26. Whistler
Located just an 1.5 hrs North of Vancouver, Whistler is one of British Columbia's most popular ski resort towns. Home to Whistler Blackcomb, one of the largest ski resorts in North America, it's a must-visit for all outdoor buffs.
Visit the Olympic Village, peek into shops in Old Town, or spend your day adventuring in the vast wilderness that surrounds the town. No matter the season, you can enjoy skiing and snowboarding in winter, mountain ziplining all year round and some incredible hikes in the summer.
27. Squamish
Squamish is another great town worth visiting just an hour north of Vancouver. It's known as the outdoor recreation center of British Columbia. It's famous for hiking, mountain biking, wind sports and backcountry skiing, offering plenty of activities for every season.
The Sea to Sky Gondola is a must-do if you take a day trip to Squamish. This spectacular cable car has views of nearby Shannon Falls and the incredible mountains in all directions. For history buffs, the Britannia Mine Museum has underground tours of the old mining area, as well as historical exhibits.
28. Bowen Island
Bowen Island, located just off the coast of West Vancouver, makes for the perfect day trip. It's an easily navigable island and is great for cycling around, with just a total area of 20 square miles.
The island is home to some great beaches including Tunstall Beach and Cates Bay Beach, where you can go for a dip if the water isn't too cold. If you're up for a decent hike, you can walk to the top of Mt Gardner which offers panoramic views over the island.
29. Gambier Island
Gambier Island is the largest of the islands in Howe Sound, located just 10km off the coast of Horseshoe Bay. It's a very quiet island with no car-ferry access and only a few main settlements.
However, it's worth visiting to get away from all the crowds. There are hiking trails through forests on the island, as well as some great boating, kayaking and fishing opportunities in the surrounding waters.
30. Nanaimo, Vancouver Island
Located on the east coast of Vancouver Island, Nanaimo is an urban area just over an hour north of Victoria. It's worth stopping in the city for a day on the island, to check out some great restaurants, shops and a pretty waterfront area.
Best Restaurants in Vancouver
It's impossible to list all of the best restaurants in Vancouver, with so many world-class places to sit down for a meal. But here are some worth checking out. Many of these are open for lunch and dinner, so if you are looking for fun things to do in Vancouver at night, these will have you covered.
Rodney's Oyster House: A very well known casual seafood restaurant, with two locations in Vancouver, one in Yaletown and another in Gastown. There's nightly happy hour specials with a lively bar area.
Miko Sushi Japanese Restaurant: Located on popular Robson Street, this restaurant serves both raw and cooked classic Japanese dishes. It's a comfortable and relaxing place, with a moderately priced menu.
Tom Sushi: Another popular sushi restaurant, Tom Sushi is located on Davie Street near Downtown. It's a well-priced and casual place, with a range of seafood available.
East Is East: An incredible restaurant showcasing the best of eastern cuisine, from Afghan to Tibetan. It's a smart dining experience, often with live music as well.
Nuba: Part of a take away chain, Nuba is a Lebanese eatery that can be found in a few popular neighbourhoods across town. The menu is great with plenty of vegetarian and vegan options.
St. Lawrence: A super classy French restaurant on the eastside of town, St Lawrence is a fine dining experience with delicious three course meal options.
Hawksworth: A very pricey yet extravagant food experience, Hawksworth serves contemporary Northwest cuisine with an award winning wine list to match. Located in the middle of Downtown Vancouver in the Rosewood Hotel.
Cafe Medina: A trendy brunch spot in Downtown, Cafe Medina is a cosy coffee spot with all day brunch menu and some delicious main options. Their waffles get the rave reviews, as do the drool-worthy chocolate sauces.
Nightingale: Located near Canada Place, this is Chef David Hawksworth's modern Canadian restaurant and classic cocktail bar. It's comfortable yet quite a sophisticated place to enjoy a meal.
Botanist: On the waterfront area in Fairmont Hotel, Botanist is a stylish and high end modern restaurant and bar. They're most well-known for their cocktails and creative tasting menu.
Neverland Tea Salon: For a fancy afternoon tea head to Neverland, located just south of Kitsilano. Serving pastries, sandwiches and cupcakes along with an extensive tea list, it's a unique spot to stop for a tea break.
Tacofino: A laidback and affordable, modern Mexican restaurant with a few outlets around town. They have some unique tacos including seafood and tofu, as well as old favourites.
Where to Stay in Vancouver
If you're wondering where to stay in Vancouver, here are some of the best hotels to choose from.
Fairmont Waterfront Vancouver: Widely considered one of the best places to stay Downtown, Fairmont Waterfront Vancouver is a stylish 4-star hotel with a range of room options. Many of the rooms offer city views and the hotel boasts a number of sustainable features. There is an onsite restaurant and bar, health club and business centre. It's by far our favourite Vancouver hotel!
Vancouver Marriott Pinnacle Downtown Hotel: Another wonderful 4-star hotel, the Vancouver Marriott Pinnacle Hotel is located close to Coal Harbour. Many rooms offer city views and you'll find an international restaurant on site too.
Fairmont Pacific Rim, Vancouver: This 5-star hotel is located just a 5-minute from Canada Place. Room options range from Queen/King Rooms to Signature Suites with Harbour views. There is a rooftop pool and three different restaurants on site.
The Westin Bayshore: Overlooking Vancouver Harbour, the Westin Bayshore is a 4-star hotel, offering rooms with sea views. It's home to a modern restaurant showcasing live music on weekends.
Coast Coal Harbour Hotel: Just a few minutes walk from Harbour Green Park, this waterfront hotel is a stylish option with spacious rooms offering beautiful views across Downtown.
Hyatt Regency Vancouver: Located right in the center of Downtown, the Hyatt Regency has a range of double and King rooms available. The hotel also has an outdoor heated pool, a fitness centre and hot tub.
Pinnacle Hotel at the Pier: This modern waterfront hotel is located next to Lonsdale Quay Market in North Vancouver. It also boasts a couple of seafood restaurants and an indoor pool.
Best Western Plus Chateau Granville Hotel & Suites: This affordable Downtown hotel is close to much of the action in the city. They have a number of room options for a variety of budgets.
The Burrard Hotel: A comfortable budget hotel in Downtown Vancouver, The Burrard has Queen and King rooms with a leafy courtyard area to relax. It's conveniently located three blocks away from Robson Street for restaurants and shops.
How long do you need in Vancouver
Truth be told, you could spend weeks in Vancouver exploring the city and its surroundings. And while we personally would recommend at least 5 days, it is possible to cross many activities in Vancouver off your to-do list in just a few days.
If you have a week, it's even better and will allow you to get beyond the most famous attractions and take a few road trips and day trip to destinations outside of Vancouver.