The holiday season is upon us and gift-giving is on everyone's mind! We'll be honest, we always struggle this time of the year, finding it hard to strike a balance between the desire to participate in gift-giving festivities with a desire to minimize our possession and encourage others to consume less.
*This post may contain affiliate links, as a result, we may receive a small commission (at no extra cost to you) on any bookings/purchases you make through the links in this post. As an Amazon Associate, we earn from qualifying purchases. Read our full disclosure
Over the years, we've given the matter a lot of thought and have decided that in our books – holiday shopping is a-OK, as long as it's done in a mindful conscious way. When it comes to conscious shopping, we believe in a few principles:
Buy Less

– the concept of reuse and recycle works great even for the holiday season. Because not all gifts need to be brand spanking new and because it's all too easy to get sucked into great Black Friday deals and end up buying stuff you don't actually need.

Choose Experiences Over Things

– because we believe that memories and time spent together have a much bigger impact than a pair of socks ever could.

Buy Local/Support Small/Buy Ethical

– choose smaller companies over big conglomerates, choose ethical and responsible manufacturing practices because every dollar that you spend this holiday season, is a vote towards more sustainable producers and manufacturing practices.
Our 2021 Holiday Gift Guide is a great place to start your conscious shopping journey. Whether you are looking for gifts for travelers in your life, eco-friendly gifts for your loved ones, we hope this guide will offer some great inspiration.
And to stay true to our mindful shopping ethos, we have put special effort into focusing on eco-friendly, sustainable and responsible options on the market!
Traveling Soon?

Here is a list of our favourite travel providers and accessories to help get you ready for your upcoming trip!
Best Gifts for Travelers
1. Rain Jacket
A high-quality rain jacket can be an expensive investment, but it's an essential item for every traveler and thus makes for a great gift. When it comes to the best rain jacket for travel, there are a few things to consider: quality, weather resistance, DWR, breathability, how well it packs, etc. Over the years, we've done our fair bit of research on the subject and have tested our fair share on rain jackets in the wild and these are the top rain jackets for men and women we recommend.
Best Rain Jackets for Men
Arc'teryx Zeta SL Jacket – it's super light

, packable, Gore-Tex shell ideal for travel and hiking. It's the best option on the market but is also the most expensive.

Outdoor Research Foray Jacket – a cheaper option that's also

versatile, durable, comfortable, and offers high level of ventilation.
Best Rain Jackets for Women
2. Packable Down Jacket
A packable down jacket is another pricey item that may not be necessary for day-to-day life in the city but is an absolute must for travelers. It's essential for hikers or those who like to travel to multiple climates on a single trip. Unless we are going to a beach destination, we never leave home without our packable down jackets. They come in handy on cold mornings, on hikes, and offer an excellent option for layering when traveling to climates where the weather dips at night. It's a perfect gift for travelers in your life!
Best Packable Down Jackets for Travel
For Men:
Patagonia Down Sweater – 800-fill RSD down jacket that withstands wind, resists moisture and is very lightweight and perfect for travel
Prana North Palisade Jacket – 650-fill RSD power down, waterproof breathable fabric, PFC-Free DWR (Durable Water Repellent)
Columbia Delta Ridge Down Jacket – 640-fill down designed for cold ridge hikes and colder campsites, water-resistant shell sheds light moisture like snowfall, omni-heat thermal reflective bounces body heat back for extra warmth
For Women:
3. Hiking Pants
A good pair of hiking pants is a must for any traveler. And since hiking pants is not something you typically wear at home, it's an item that many travelers may be missing from their current wardrobe. The best hiking pants are comfortable, technical, and suitable for all-weather hiking conditions. after years of hiking, we've got a few hiking pants to recommend.
Best Hiking Pants for Men
REI Co-op Sahara Roll-Up

–

these roll-up cargo pants are light, made with cool nylon fabric that packs small, dries fast and has a durable water repellent (DWR) finish.
Prana Stretch Zion

–

durable and versatile, these pants can be worn climbing, hiking, or just out and about exploring cities. The beauty is that they are even nice enough to wear out for dinner.
Best Hiking Pants for Women
Prana Halle – built for every kind of outdoor adventure, pants made from prAna's renowned Stretch Zion performance fabric, PFC-free DWR and relaxed fit. It's the go-to best pant for hiking for women.
The North Face Aphrodite 2.0 – lightweight, durable and versatile pant suitable for hiking and casual wear, the fabric wicks moisture and dries quickly adjustable waist and hems.
4. Leggings
Yoga pants or leggings are primarily a gift idea for the ladies. No travel wardrobe is complete without a good pair of leggings (or 2.. or 3, if you must!). And while you can use your everyday activewear while traveling, we particularly like the following sustainable yoga pants options that are designed for more than a casual stroll to the supermarket.
Best Yoga Pants for Travel
5. Travel Hoodie
A great lightweight compact travel hoodie can go a long way in a travel wardrobe. It's a great gift idea for any traveler in your life. But as you can imagine, any generic bulky travel hoodie won't make the cut when it comes to efficient and compact travel items. The best travel hoodie is the one made from technical fabric, like Merino Wool, that allows for warmth without the bulk, can be washed in a sink and doesn't take up too much room in the suitcase.
Best Travel Hoodies
6. Quick-Dry/Technical T-Shirt
If there is one item every traveler should have, it's a technical quick-dry t-shirt. A t-shirt that's made with a fabric that wicks away moisture while hiking, protects from the sun with a good UPF rating, is lightweight, easy to wash, easy to dry and is suitable to wear on many different occasions. And of course, our options included sustainable recommendations made with breathable responsible fabrics.
Best T-Shirts for Travel
Unbound Merino Wool Crew Neck T-Shirt – 100% merino wool jersey that is light and soft with anti-bacterial properties.
prAna Crew T-Shirt for Men – crew t-shirt made with organic cotton and recycled polyester blend lightweight jersey.
prAna Cozy-Up T-shirt for Women – classic shirt made with hemp, recycled polyester and Tencel Lyocell. Breathable and strong, perfect for active lifestyles!
Organic Basics SilverTech Active Tee for Women – crewneck t-shirt made with sweat-wicking and recycled materials. You can do more and wash less!
Organic Basics SilverTech Active Tee for Men – breathable high-performance shirt made with recycled nylon.
7. Travel Dress
One travel dress that does it all – is it possible? We think so and we've got a few options to recommend. These may not be the most fashion-forward dresses, but they are functional, comfortable, durable and most importantly, wrinkle-free. Plus the little black dress style means that these dresses will stay stylish and "in" for years to come no matter the destination you plan on traveling to.
Best Travel Dresses
Bluffworks Trevi Dress – moisture-wicking, flattering A-line style with kick pleats around the hem for free movement.
prAna Becksa Dress – a casual dress made with recycled polyester. Strong material with UPF 50+ with side slits at the leg.
Patagonia Fleetwith Dress – stretchable and functional dress with elastic waist and pockets.
8. Hiking Boots
A good pair of hiking boots is a must for any active traveler who loved to escape the city for a taste of the wild. Like many items on this list, hiking boots are a hefty investment, which is why they make for a great gift for traveler in your life. Just make sure you find out their correct shoe size.
We've tested a number of hiking boots over the years and have learned that the best hiking boots for travel are lightweight, durable, waterproof, and have excellent grip for any terrain.
Best Hiking Boots
9. Travel Shoes
It may not seem important to have a pair of shoes designated for travel, but any seasoned traveler will tell you that a pair of versatile travel shoes are a must for any trip. We are talking about the kind of shoes you can hike in, go into the water in, and then wear out to dinner. Do versatile travel shows like that exist? Oh yes and we are not talking about a pair of running shoes!
Meet Chacos. Chacos footwear is made to last (trust us, these won't wear out like a regular pair of Havaianas). They feature a non-marking EcoTread outsole made from 25% recycled rubber, which makes them a great eco-friendly gift option. Their sandals and flip-flops have great traction for hiking, they can be taken through the water, and they are comfortable enough to be worn the whole day.
Best Travel Shoes
10. Travel-Friendly Underwear
When it comes to underwear suitable for travel, you want more than just your everyday cotton or lacy pieces. You want items that will protect your privates in hot humid climates, and will be comfortable to wear while hiking or on a long plane ride or bus ride. Look for pieces with anti-bacterial properties, light natural fabrics and sportier styles.
Best Underwear for Travel
Organic Basics SilverTech Line – this sustainable brand is

committed to providing

better fabrics

,

ethical manufacturing practices

, and

longer-lasting pieces. Their SilverTech line of underwear

,

bras, and socks is perfect for travel
Wama Underwear – offers a full line of undergarments for men and women. Every item is made with hemp, the world's most sustainable fabric that's naturally anti-bacterial, super soft and breathable – perfect for travel, especially in hot climates!
Patagonia Underwear – the ultimate underwear for active comfort, made with quick-drying recycled fabrics that offer breathable performance and seamless design for utmost comfort.
Knix Period Underwear – ladies, I can't stress enough my love for my Knix period underwear! The fact that I never have to worry about looking for tampons or pads in random countries around the world is such a huge relief. These are a real life-saver. They come in a few different styles and absorbency levels. Pair these with a Diva Cup and say goodbye to period troubles on your travels forever!
11. Travel Socks
Socks are not just a boring gift you get from your grandparents! Because these travel socks will knock your socks off (very bad pun intended). The way we see it is every traveler needs 3 types of socks.
Hiking Socks – a thick comfortable pair of socks made out of Merino Wool for anti-odour properties is a great gift for traveler in your life. We recommend these Smartwool Classic Hiking Socks
Casual Socks – everyday socks made from organic cotton. Every traveler needs a pair of regular height socks and ankle-length socks.
Compression socks – an essential item for all travelers, especially those who spend a lot of time on planes, these compression socks are designed to help circulate your blood when the movement to your feet is restricted.
12. Swimwear
Great swimwear is a travel staple and we are here to add a few brands to your list of favourites. These swimwear brands offer not only great functional styles but offer pieces made from recycled water bottles, recycled polyester and other better-for-the-planet fabrics.
Best Bathing Suits for Travel
Summersalt Sidestroke Bathing Suit for Women – wildly-flattering one-shoulder style with full support made with recycled polyamide.
prAna Riveter Boardshort for Men – lightweight shorts made with 92% recycled polyester. Standard fit with fixed waistband and drawcord tie closure.
prAna Moorea Tankini for Women – signature tankini with flattering V-neckline with convertible and adjustable straps for custom fit and support.
Baiia Wrapsuit for Women – seamless and smooth finish classic cut wrap suits with customizable support. No harsh lines on the skin!
Indigo Luna Ave One-Piece – Super soft, lightweight and quick-drying with full-size range available.
13. Travel Hat
When it comes to hats, we were not early adopters, but over time we finally found a brand that we really love and can't recommend enough for any traveler. Meet – Will & Bear – a small Australian-based company created in 2015 by two travelers, Alex (Bear) and Lauren (Will). Inspired by their travels around Australia, they set out on a mission to create a hat that was long-lasting and natural, one that fits perfectly in the Australian outdoors. Will & Bear hats are made from 100% Australian wool and mirror the earthy tones of the Australian landscapes. Their hats are a perfect travel accessory, be it for a hike in the mountains or a day on the beach. Although the company is based in Australia, Will & Bear has a warehouse in the US and their hats are shipped worldwide.
Best Travel Hats
14. Travel Backpack
A great travel backpack has to be a bit of everything: a carry-on bag, a hiking bag, a camera bag, and a bag to bring on a day out in the city. So when it comes to recommending the best travel backpack, we opt for backpacks that are stylish, durable but most importantly – versatile. Here are our top backpack choices for every type of traveler.
Best Travel Backpacks
Everyday Backpack from Peak Design: an urban-style backpack that can be filled with camera gear and electronics or with snacks and spare clothing. It's just as comfortable on long hikes as it is on short strolls around the city.
Mckinnon Camera Bag from Nomatic is our go-to camera bag for days when we have to carry a LOT of gear while traveling. This bag is a collaboration with Nomatic and Peter Mckinnon, one of Canada's top photographers, so its design specs are top-notch. The bag comes with tons of great pockets for all your photography accessories, tons of room for a camera, lenses, drone, etc. Plus it's ergonomically well done and comfortable enough for long hikes thanks to the well-designed hip straps and shoulder straps.
GOT Waterproof Bag is another one of our favourite eco-friendly bags because it's made from 3.5kg (7.7 pounds) of recycled plastic.

It is 100% waterproof, has a capacity of 23 litres, and is really comfortable to carry around. The roll-up top and compression straps make the bag expandable in size and easy to adjust.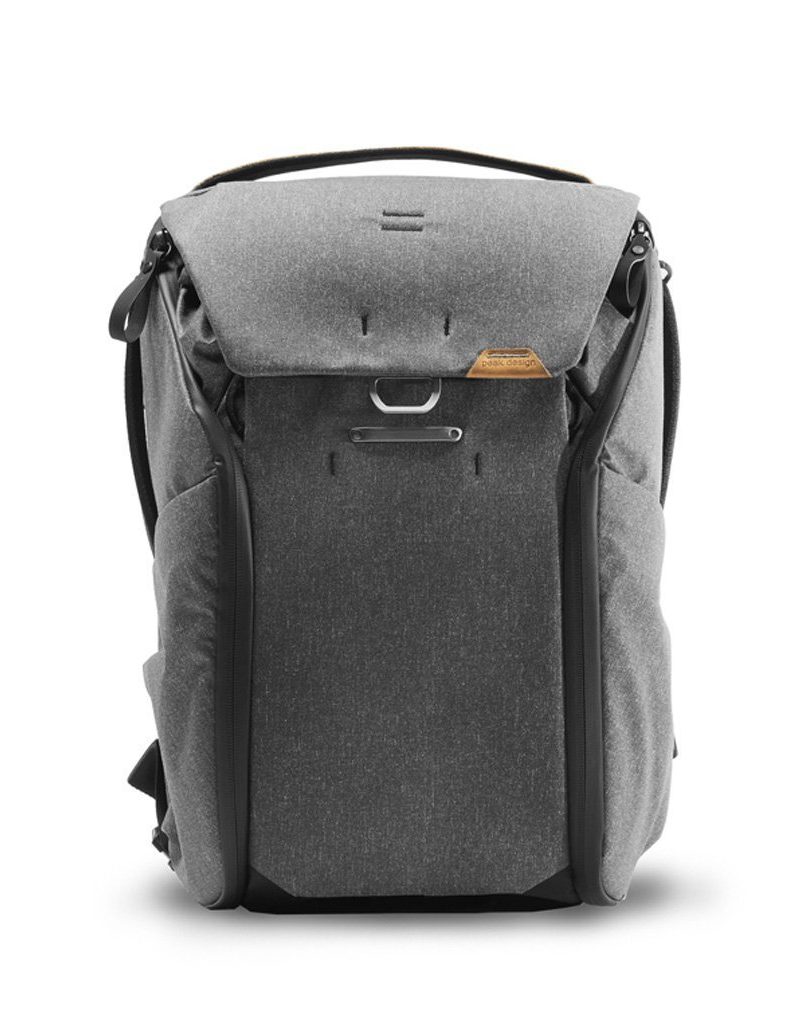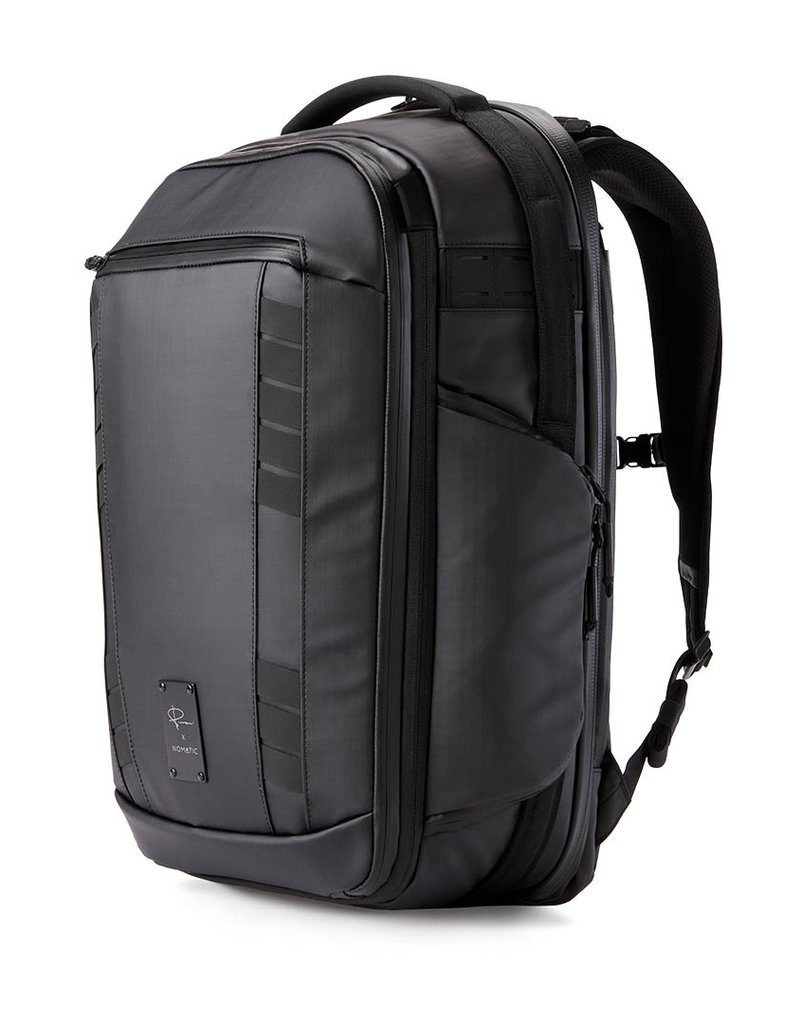 15. Luggage
A good luggage set that's durable and responsibly made is one hell of a gift for any traveler. If you are looking to upgrade your luggage or gift new luggage set to a traveler in your life, we have a few brands to recommend. These suitcases come in a variety of colours, styles, and price points and are suitable for any travel budget.
Paravel Luggage Set – this top-of-the-line carbon-neutral Aviators luggage set features recycled polycarbonate exteriors, aircraft-grade recycled aluminum handles, vegan leather details, recycled zippers, and water-resistant interiors made from a total of 36 recycled plastic water bottles.

Patagonia

Black Hole 55L Duffel Bag

– this durable versatile duffel is perfect for a traveler that likes to pack light. The highly water-resistant construction keeps the gear dry in the rain, while backpack straps make it easy to carry through crowded city streets. It's a duffel and backpack all in one.
Nomatic Navigator Carry-On

–

a two-wheeled roller bag designed to maximize space for your next adventure. Built to hold both clothing and technology, this carry-on can easily pack up to 5 days worth of clothing and a 17" laptop.
16. Toiletry Bag
A good toiletry bag is essentials to keep your toiletries nice and organized on any trip. We recommend the Wash Pouch from Peak Design, a well-made and meticulously designed bag that keeps all of our day-to-day necessities. It's made with 100% recycled 200D nylon and DWR shell for long-lasting use and carry. It has a convenient hook at the top, so you can let it sit on the counter or hang it on a hook in the bathroom/shower or in your room.
17. Packing Cubes
Packing cubes are the answer to every traveler's packing problems! There is no better way to organize and pack your clothes than to use packing cubes, which is why these make for a great gift. There are tons of packing cube options out there, but we are particularly fond of this set from Peak Design. These cubes are practical and functional. They have an internal divider that lets you separate clean and dirty clothes, and allows each compartment to expand/contract based on its contents. Plus, they look really sleek!
18. Sunglasses
If you are looking for a great pair of sunglasses to gift to your favourite traveler, look no further than Pela Sunglasses. This is eyewear for travelers who care because they are made with 33% less CO2e emissions, 34% less water usage, and 82% less waste compared to conventional sunglasses and packaging. These sunglasses give full UVA/UVB protection and they are durable enough for anything you want to do outside. Sustainability has never looked this good!
19. Luggage Scale
Never pay unexpected overweight luggage fees again! This handy Luxebell Luggage Scale is the perfect tool to get the most of the airline luggage allowance limits. This scale has a capacity of 110lb / 50kg, ideal for weighing carry-on luggage as well as checked luggage.
20. Manta Sleep Mask
There are sleep masks and then there is a Manta Sleep Mask, the BEST sleep mask on the market. This 100% blackout mask is the only mask that blocks out light unlocking maximum deep sleep in ANY environment & any position, be it on a plane or in the car. The mask is fully adjustable and its extra-deep eyecups allow you to blink like you're not wearing a sleeping mask. It is made to last with super-soft modal eye-cups, breathable cotton velour strap, snag-free micro hook/microfleece closures and industrial-grade elastics.
21. Portable Speaker
Keep your favourite tunes with you no matter where in the world you choose to travel. Our favourite portable speaker is the JBL Waterproof Portable Bluetooth Speaker and it is a perfect choice for any adventure. The speaker can be easily paired with your phone, it's waterproof so you can take it in the ocean or the pool or use the handy carabiner that comes with the speaker to attach it to your backpack.
22. Reusable Water Bottle
Our recommendation for this high-performance brand won't surprise our regular readers. We've been raving about our love of Hydro Flask water bottles for years now. It really is a perfect eco-friendly gift for anyone looking to reduce their consumption of single-use plastic bottles.
Hydro Flask is not just a regular water bottle. Its TempShield™ double wall vacuum insulated technology sets these bottles apart from other reusable water bottles, as it allows cold liquids to stay cold for up to 24 hours or hot for up to 12 hours. The bottles come in a variety of colours, shapes and sizes!
23. Wifi Hotspot
If you want wifi on the road, a wifi hotspot, like Solis Hotspot is one of the best essentials for long road trip journeys. Solis allows you to connect to up to 10 devices and works in over 130 countries with high-speed data whether you are in the US, Europe, or the rest of the world. You can choose plans by the month, by the day, or by gigabyte with no contracts and hidden charges.
24. Portable Power Bank
A portable power bank will keep your USB electronics from dying. It's a great alternative to in-car charging if you are nervous your electronics will drain the car battery or if your vehicle is turned off for the night.
25. Microfiber Towel
Microfiber towels are one of the best travel accessories and a great gift for travelers. They are super absorbent, small and compactable and perfect for every traveler – from backpackers to business travelers. Grab one in a colour that suits the traveler!
26. Travel Blanket
A blanket or stylish cozy rug is a great gift idea for travelers. A travel blanket is multi-functional – it can be used as a beach throw, an extra layer to keep you warm while camping or a blanket to use for a picnic in nature.
Our favourite travel blankets come from a small Australian brand called, Sunday Coast.
27. Steripen
A Steripen is not the sexiest gift for travelers but it is a very useful one. This Ultra UV Water Purifier works using UV rays to kill 99.99% of protozoa, bacteria and viruses. You can use it to clean water from rivers, lakes or from the tap if you are visiting a country where drinking water is not readily available.
28. Reusable Utensils
We have all seen those horrifying turtle vs. straw videos and it's safe to say they've got lots of people rethinking their straw usage. But it's not just about straws. We think a full set of reusable utensils is a must for any responsible traveler. Swap out plastic forks and knives when going out to eat street food on your travels or getting take-out delivered to your hotel room. We recommend these bamboo utensils, they are lightweight, 100% biodegradable, and can be used time and time again.
As we happily say goodbye to single-use plastics, reusable bags are the next step! Most of us are already using regular reusable grocery bags, but these reusable produce bags will help take your zero-waste shopping game to another level.
These bags are ultra-lightweight and come in a variety of sizes. These are perfect for all types of produce, no matter the size.
30. Ultimate Journeys for Two
Written by our good friends, the authors of HoneyTrek.com, Mike and Anne bring you the Ultimate Journeys for Two, a best-selling couples travel guide that reveals hidden-gem destinations and insider tips for unforgettable couples travel. Mike & Anne offer tested-and-approved recommendations, bringing culture, adventure, and romance to any pair–no matter their age or budget.
Chapters are organized by type of destination (beaches, mountains, deserts, rainforests, and more) to help travelers discover new places based on their interests. Each entry focuses on a specific region, getting to the essence of the locale and its one-of-a-kind offerings. The authors pinpoint the ideal time to visit, the best places to stay, and must-do activities—each with their own adventure rating. Special features include funny and insightful stories from their own journeys, expert advice from other renowned traveling couples, and tips to make the most of each destination. Both entertaining and informative, this book is an invaluable resource and inspiration for a lifetime of travel and a fantastic gift for any traveler!
All of the products on the list above pass our rigorous research first-hand testing! We have personally used, worn, and read all the suggestions on this list. We can wholeheartedly recommend them as great eco-friendly gift options for eco-conscious-minded friends and family on your list.