The tiny country of Costa Rica occupies less than 1% of the world's surface but is home to more than 5% of the world's biodiversity. Often considered a pioneer in ecotourism, and one of the world's top ecotourism destinations, Costa Rica draws in over 3 million visitors annually to its lush national parks, rainforests, beautiful beaches and rumbling volcanoes.
*This post may contain affiliate links, as a result, we may receive a small commission (at no extra cost to you) on any bookings/purchases you make through the links in this post. As an Amazon Associate, we earn from qualifying purchases. Read our full disclosure
Over the last few years, Costa Rica has won many awards for sustainable tourism and most recently has been awarded the 2019 Champion of the Earth award from the United Nations.
Having experienced ecotourism in Costa Rica first hand, we now understand that the environmental and economic benefits of ecotourism in this country cannot be denied.
Ecotourism in Costa Rica
Ecotourism in Costa Rica emerged back in the 90s, well before the term," ecotourism" became a hot topic in the industry. And today the country is seen as a world leader in sustainability.
Costa Rica ecotourism practices have helped minimize the adverse effects of mass tourism on natural resources and provided financial benefits to the local communities across the country.
Traveling Soon?

Here is a list of our favourite travel providers and accessories to help get you ready for your upcoming trip!
Environmental Impact
Costa Rica is well on its way to being the first carbon-neutral country in the world, as the country currently produces nearly 98 percent of its electricity from renewable resources. The country aims is to achieve 100% renewable electricity by 2030 with 70% of all buses and taxis expected to be electric by 2030, and full electrification projected for 2050.
Over 25% of land in Costa Rica is protected through national parks, wildlife refuges, and private reserves and forests cover more than 53% after many years of work to reverse decades of deforestation.
The country boasts an incredible diversity of bird, mammal, reptile and amphibian species. There are more than 25 national parks in Costa Rica, each with their own unique appeal.
Destinations like Manuel Antonio and Corcovado National Park in the Osa Peninsula have limited visitor numbers and implemented other guidelines to ensure that tourism has a minimal impact on the flora and fauna of these destinations. These and many other protected National Parks and reserves across the country put a strong emphasis on the environment by implementing responsible waste management and recycling initiatives.
There are more than 25 national parks in Costa Rica, each with their own unique appeal. Each one is rigorously cared for and monitored, and best of all, your tourism dollars contribute to that. In addition, the country puts a strong emphasis on environmental efforts, such as recycling and responsible waste management.
Cultural Preservation
The cultural heritage of Costa Rica is preserved not only in museums, but also through community-based rural ecotourism, a variety of cultural activities, like music, dance, theatre, and cinema, as well as through the work of local artisans. Organizations such as the Ministry of Culture and Youth exist to lobby for the rights of indigenous people, protect national monuments, promote the diversity of cultural expression.
Economic Benefits
Tourism in Costa Rica accounts for the largest source of foreign income for the local economy. With more than 2 million tourists a year, the country has been able to use income generated through tourism initiatives to fund many conservation projects and provide much-needed income to locals.
Certification for Sustainable Tourism Program
Certification for Sustainable Tourism (CST) is a government program that provides Green Leaf Certification to responsible businesses and ecotourism activities in Costa Rica. Tour operators, hotels, and businesses are rated on a variety of strict standards that come from both the Costa Rican government and the United Nations' Sustainable Development Goals and receive a certification ranging from 1-5 Green Leaves.
The program has been in place since 1997 but has seen rapid expansion throughout the country over the last 5 years. Today, thousands of operators across the country are proudly displaying their Green Leaf certifications. Thanks to the CST Program, businesses like hotels and tour operators have an incentive to go green.
Eco Lodges and Sustainable Hotels
Eco Lodges are wildly popular in Costa Rica and for good reason. These accommodation options range from basic guesthouses to luxurious resorts that offer an added benefit of low environmental impact.
Eco Lodges like Lapa Rios located just outside of Corcovado National Park in the Osa Peninsula and other hotels from the Cayuga Collection have received worldwide recognition for their sustainability practices and their strive to sustain and enhance the environment, culture, heritage and the well-being of locals.
These hotels are coined as the "ultimate symbiosis of sustainability and luxury." They've taken their passion for ecotourism in Costa Rica and beyond and used it as a way to not only get CST certified but also to gain international attention, receiving awards from National Geographic among others.
But it's not just the exclusive luxury lodges that follow adhere to sustainable practices in their operations. Many smaller hotels, as well as a number of Costa Rica eco-resorts, have built their businesses in alignment with a sustainable operations model.
Sustainable Tour Operators
Like the eco-lodges, the best eco-tours in Costa Rica opt to adhere to high sustainability standards set forth by the CST. These tour operators consider the impact their business can have on the environment and the communities they operate in.
Some operators, such as Costa Rica Trails, have achieved Five Leaves Certification, the highest level of the CST, and are setting an example for other companies running Costa Rica eco-tours.
These companies follow sustainability measures, ensuring a low impact on the environment, a positive impact on the community, reduction of waste and pollution, and a focus on activities that support and highlight Costa Rican culture.
Blue Flag Ecological Program (Programa Bandera Azul Ecológica)
The Blue Flag Ecological Program is another great government initiative that aims to keep coastal beaches and waterways clean. Administered by the National Blue Flag Commission, this program awards Blue Flag certifications to beaches that achieve a 90% score on a number of criteria including water quality, waste disposal, sanitary facilities, signage, tourist safety, environmental education and involvement of the community in beach maintenance.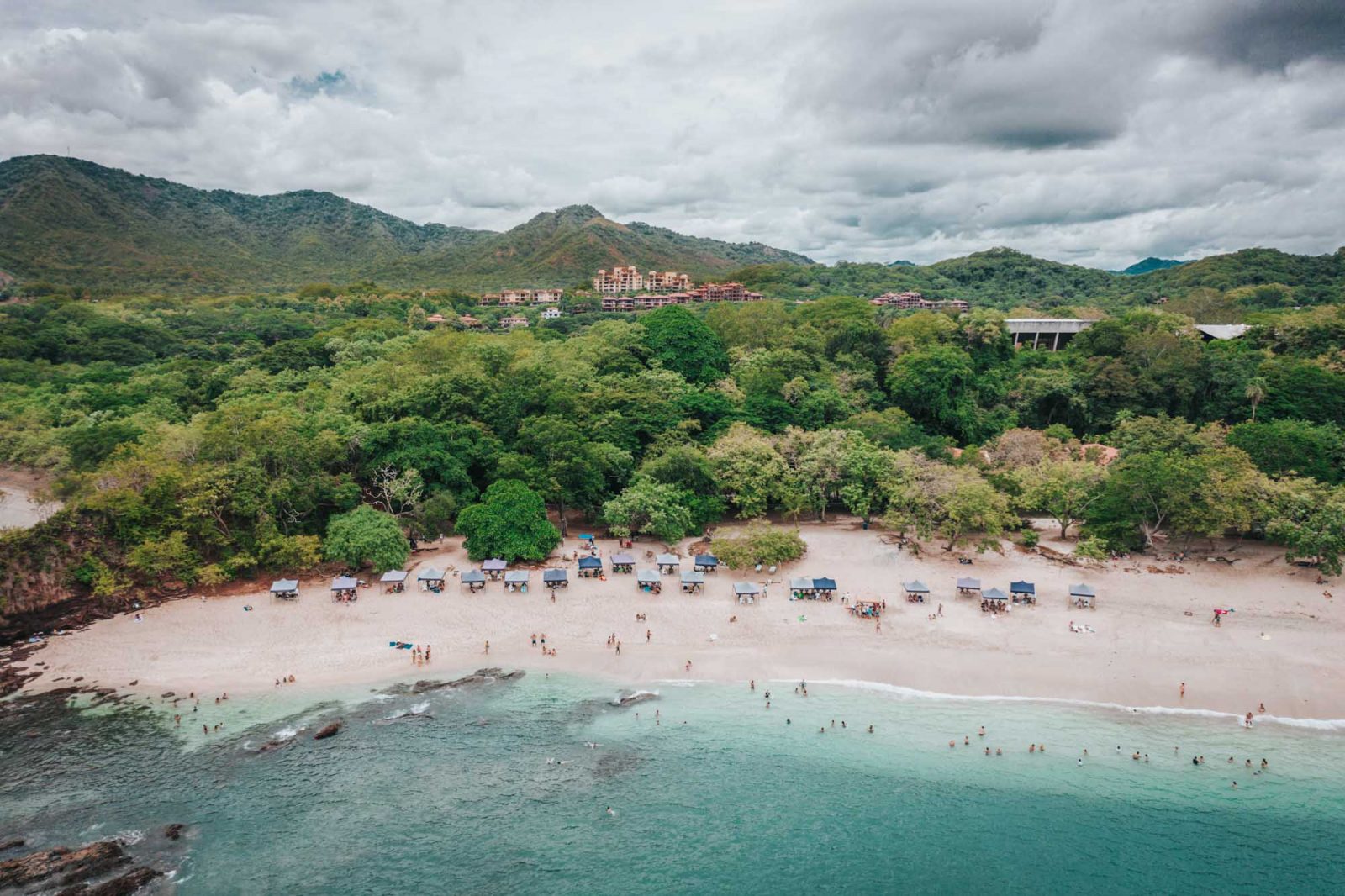 Today, over 100 beaches along the Caribbean Coast and Pacific Coast boast a Blue Flag certification including destinations like Playa Blanca in Puntarenas, Playa Santa Teresa and Playa Samara in Guanacaste and many others.
Sustainable Travel Tips in Costa Rica
Not every visit to Costa Rica is guaranteed to be a sustainable experience. True ecotourism in Costa Rica is found away from popular tourist destinations, in places where one needs to give us some luxuries, get off the beaten path, connect with nature, appreciate the wildlife and the raw beauty of Costa Rica in Pura Vida style.
If you are planning a visit to Costa Rica and want to make sure that your vacation is an eco-conscious one, here are a few tips you can follow.
Get Off The Beaten Path
Sticking exclusively to Costa Rica's top destination can cause environmental damage, crowding, and inflation in prices. Taking the path less traveled not only spreads out the environmental impact so that no one place is severely affected, but it also spreads out money so that other parts of the country can benefit from travelers' dollars as well.
Costa Rica ecotourism destinations are lesser-known and include regions with great natural attractions, but often lack tourism infrastructure, like paved roads and an abundance of accommodation and restaurant options.
Stay in Eco Lodges
Staying in an eco lodge in Costa Rica is a wonderful way to travel sustainably. Although they can often be a bit pricey, you can sleep easy knowing the money is going to excellent sustainability initiatives that help the surrounding community.

Or Locally Run B&Bs
If eco-luxe hotels are a bit above your budget, you'll be pleased to know that Costa Rica has tons of nice B&Bs and homestays that are run by locals. Not only are they comfortable and offer an opportunity to make a positive impact on the nearby community, but they also allow for a unique experience getting to know the locals that run it.
Eat Local
For a sustainable approach to food while in Costa Rica, choose restaurants that commit to responsible sourcing of ingredients from local farms and local suppliers. Take it a step further by dining in restaurants that are run by locals and look for dishes that feature local ingredients, craft brews, and limit the use of single-use plastic in their operations.
Take Public Transport
Taking public transportation is a great way to cut down on your carbon footprint. It's true, Costa Rica's transport system isn't the greatest, but it's been slowly improving with time. Busses connect many of the major tourist destinations in Costa Rica and allow you to get around for a fraction of the price compared to renting your own car.
Planning to go off the beaten path and don't have the time for lengthy bus rides and complicated connections? Consider using shuttles that cost a bit more but offer an easy way to get around the country.
Take Nothing but Photos
Tourists are taking more and more of Costa Rican natural beauty home with them, especially from beaches such as Playa Conchal that are famous for their stunning shells.
No matter how beautiful the shells look, refrain from packing in your suitcase. And to discourage locals from doing the same, say no to buying jewelry made from shells.
Skip ATV Tours
ATV tours are sadly very popular in Costa Rica. They offer a thrilling ride but are rarely run in a responsible way. ATV rides often go off designated trails, trampling plant life, destroying fragile turtle nests on beaches across the country and releasing additional carbon into the air. If you want to get off the beaten path, consider exploring on your own two feet or even on horseback.
Respect Wildlife
You'll often see tours in Costa Rica that allow you to pet sloths or monkeys, but these are unsustainable and can cause a lot of harm to the animals. Unless you are volunteering at a reputable wildlife sanctuary, refrain from touching the animals no matter how cute and playful they look.

Use Your Tourist Dollars to Support the Locals
Simple things, like buying local crafts or opting for a local tour guide rather than a foreign one, can make a huge difference. Make sure to use your tourist dollars wisely and support local experts and artisans whenever possible.
Costa Rica sustainable tourism is one of the best things the country has to offer. With sustainable initiatives like the Certification for Sustainable Tourism, nature conservation efforts, animal rehabilitation work, and more, the country is continuing to pave the way to a sustainable future.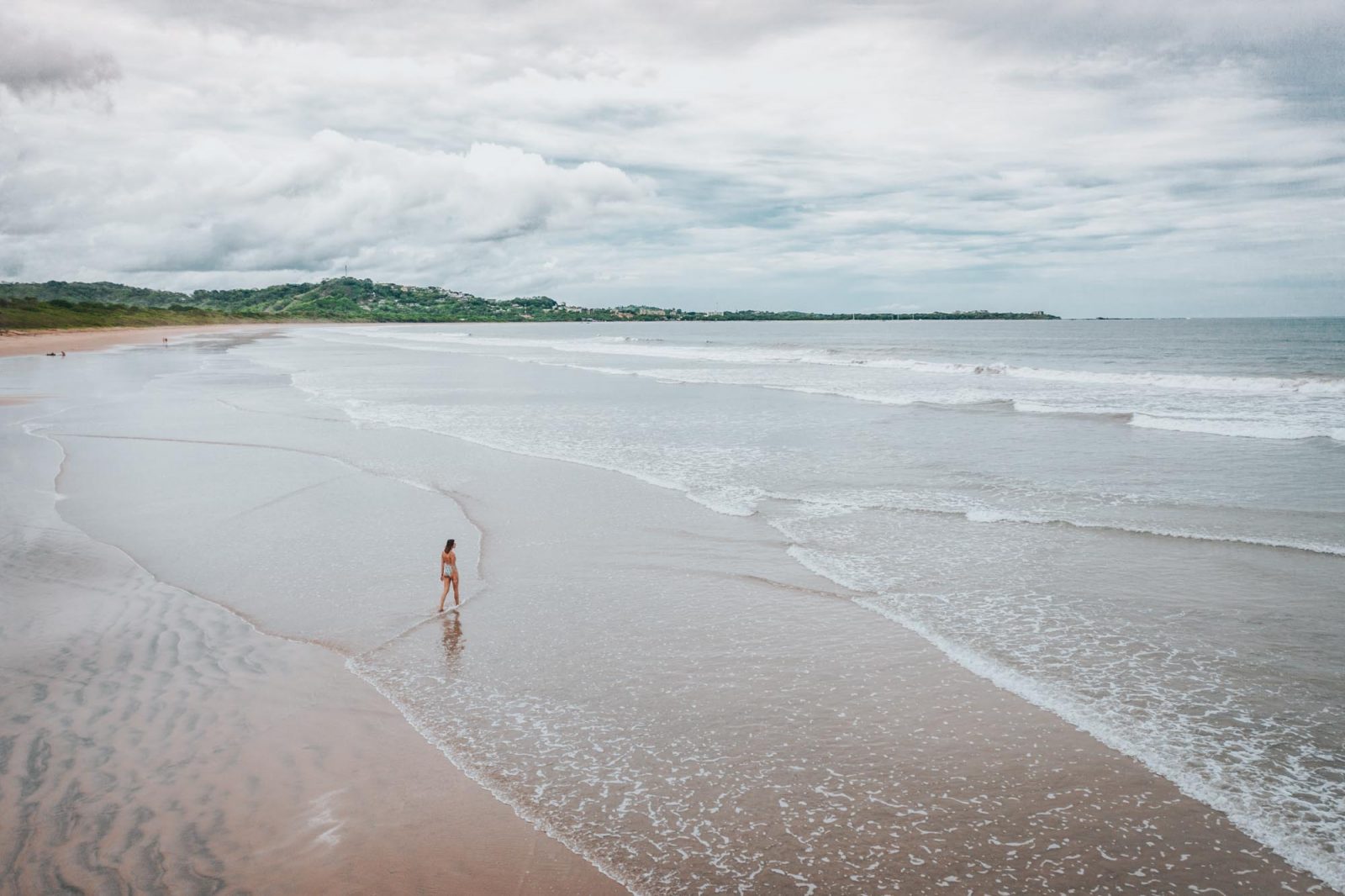 If you consider yourself a responsible traveler and are looking for the next destination for eco travel, Costa Rica offers an excellent choice. When it comes to ecotourism, Costa Rica isn't perfect, not by a long shot, but it's one of the best sustainable countries in the world