The Garden Route, a popular road trip destination in South Africa, is often considered one of the most beautiful road trips in the world.
*This post may contain affiliate links, as a result, we may receive a small commission (at no extra cost to you) on any bookings/purchases you make through the links in this post. As an Amazon Associate, we earn from qualifying purchases. Read our full disclosure
The Garden Route is also one of the most popular activities for visitors to South Africa as it provides an opportunity to visit many incredible beaches, forests, mountains and parks along the southern coast of the country.
Traveling Soon?

Here is a list of our favourite travel providers and accessories to help get you ready for your upcoming trip!
A road trip along the Garden Route was one of our favourite experiences in South Africa and one we'd recommend to anyone visiting this amazing country.
---
If you are planning your own Garden Route adventure, here is a guide to get your started! All of the stops listed in this guide and recommendations are based on our own personal experience along the Garden Route.
---
We hope you find the recommendations helpful!
What is the Garden Route?
The Garden Route is the road stretching for 300km from Mossel Bay in the Western Cape to Storms River in the Eastern Cape of South Africa. It's an incredibly scenic and ecologically diverse part of South Africa with picturesque towns and national parks along the way.
Although the route is technically the 300km stretch of the N2 Highway between Mossel Bay and Storms River, most people usually extend their road trip from Cape Town all the way to Port Elizabeth or vice versa. This is because most people begin their holiday or hire a car from Cape Town or plan to drive from Port Elizabeth, along the Garden Route to Cape Town.
How Long Does it Take to Drive the Garden Route?
It really depends how long you have and how much time you're willing to spend on the Garden Route. A 3 day Garden Route itinerary would be possible but a bit rushed.
The most common is to spend 5 days to one week on the Garden Route, so you could stop to take in the main sights.
With two or more weeks you could really explore more off the beaten track Garden Route attractions and spend extra nights in places you enjoy.
Best Time to Go
The best time to travel along the Garden Route in South Africa is around the summertime, from November until April. This is when the weather is at its warmest and most predictable. However, it's also the busiest time in South Africa and prices tend to increase during these months.
Opting for Spring or Autumn/Fall can be a better option as the crowds will be less and the warmer can be still warm enough.
What Towns are on the Garden Route?
There is more than one way to experience the Garden Route. Since the route offers so many activities, outdoor adventures and amazing food experiences, there is lots to do in every town along the way. The beauty of the Garden Route is not about the destinations themselves but the adventures along the way.
If you are looking for the perfect Garden Route itinerary, we recommend you read up on all the Garden Route towns, highlight activities and experiences that you are most interested in and work on building an itinerary that includes your top Garden Route activities and
Swellendam
Although this town is technically not on the route, it offers a nice stopover between Cape Town, the wineries of Franschhoek and the start of the Garden Route. It's the third oldest town in the country and a pleasant place surrounded by rolling hills and vineyards. There's not a lot to do in the town itself but the pleasure is in relaxing in this beautiful part of the country.
Things to do in Swellendam
Drostdy Museum: One of the oldest buildings in South Africa, the complex was built by the Dutch East India Company in 1747 and you can explore its gardens, gaol and old mill.
Wine tasting: At Jan Harmsgat Country House they can arrange a guided tasting of up to 6 of their wine varieties.
Farm tour: You can take a tour of the Jan Harmsgat farm through the vineyards before having an incredible picnic as the sun is setting.
Where to Eat in Swellendam
Tredici: One of the artisan bakeries in town, this cafe offers pastries, coffee and an extensive wine menu, with all ingredients and products sourced from local businesses and farms.
Just Amy: The onsite restaurant of Jan Harmsgat Country House offers a seasonal menu with whatever has been freshly harvested from their garden. They are a great breakfast spot.
Old Mill: Housed inside a beautiful Cape Dutch Building, this restaurant offers all three daily meals with a mix of Afrikaans and European cuisine, with wine from local estates.
Where to Stay in Swellendam
Jan Harmsgat Country House: offers five-star accommodation with ten exclusive, Victorian-style suites in various sizes. They have a pool, onsite restaurant and offer wine tasting and farm tours on their property.
Augusta de Mist: is a four star boutique stay on a historic 19th century Cape Dutch Estate, with a pool and landscaped gardens. They have various suites available to choose from.
Mossel Bay
Mossel Bay is a small harbour town and the official starting point of the Garden Route in the Western Cape. It's a very popular tourist destination and gets rather busy during the summer peak months.
It has beautiful white sand beaches and coastal views and is the perfect place to enjoy the natural beauty of the Western Cape. It's also one of the adventure capitals of South Africa with skydiving and shark cage diving on offer.
Things to Do in Mossel Bay
Santos Beach: The most popular beach in Mossel Bay and one of the most well known along the Garden Route, Santos Beach is a long stretch of white sand. It's bustling throughout the summer months.
St Blaize Trail: A must for anyone who enjoys outdoors and hiking, this trail is a popular 13.5km hike that takes you from the Cape St Blaize Lighthouse to Dana Bay. It offers magnificent views of the coastline and was one of our personal favourites in Mossel Bay.
Skydiving: Mossel Bay offers one of the finest conditions and locations for skydiving in the country. It also has one of the highest tandem dives on the continent and with the incredible scenery surrounding you, it's the perfect place to tick this activity off your bucket list.
Shark cage diving: One of the most popular activities in Mossel Bay is the chance to get up close to sharks in the warm Indian Ocean. Despite being inside a safety cage, it's a pure rush of adrenaline.
Point of human origins: Take a walk to the caves at Pinnacle Point where archaeological sites with some of the earliest evidence of modern human behaviour have been found.
Where to Eat in Mossel Bay
La Peron Valskerm: Overlooking the harbour, this restaurant offers delicious seafood dishes with an open fireplace to set a casual mood.
Carola Ann's: A modern restaurant in the heart of the town that is great for breakfast or brunch. They serve mostly European and Western cuisine with a Middle Eastern spice twist.
Cafe Gannet: This place is the seafood house of the town. They have some of the most sought after fresh seafood dishes and a nice cocktail and wine list.
Where to Stay in Mossel Bay
The Cove Guesthouse: With two self-catering units just 600m from the beach, this is perfect for families or groups. They also have a pool, garden and barbeque area to share amongst the guests.
Le Port Guesthouse: This beautiful mid-range option has modern rooms with sea views. Breakfast is offered daily onsite and it's located right in the centre of town.
Oudtshoorn
This small town is oddly referred to as the ostrich capital of the world, with ostrich farms forming a huge part of the local economy. Oudtshoorn is also one of the main stops on the Route 62 Wine Route and has plenty of wineries and estates on the slopes of the surrounding mountains.
It's just over an hour from Mossel Bay to Oudtshoorn and an hour's drive inland from Wilderness. It's a common place for people to stay for the night, thanks to the town tops attractions like the nearby Cango Caves and our personal favourite, the meerkats experience.
Things to Do in Oudtshoorn
Five Shy Meerkats Experience: A cattle farm and one of the original meerkat conservation sites. You can learn about meerkats and observe as they go about their daily routine in the reserve area.
CP Nel Museum: This museum celebrates and explains the history of the ostrich trade and the heritage of the small town. The building itself dates back to 1909 when the ostrich feather trade was at its peak
Cango Caves: A 20 million-year-old network of limestone chambers which have unique stalagmite formations. Not all the caves are open but you can explore some on foot. The site is 30km from Oudtshoorn.
Where to Stay in Oudtshoorn
Karoo Retreat: This retreat offers self-catering accommodation with various apartments and villas. It has free parking for guests and a plunge pool for relaxing.
Raw Karoo Guesthouse: Within walking distance from the centre of town, this boutique guesthouse has modern and spacious rooms with breakfast included.
Where to Eat in Oudtshoorn
Black Swan Restaurant & Tavern: A high-class restaurant in the heart of town. Their most popular dishes include steak and pizza and their wine bar has extensive local varieties.
Nostalgie: A popular restaurant that offers both local Karoo cuisine including ostrich meat as well as Western favourites like hamburgers.
Buffelsdrift Game Lodge Restaurant: Specialising in traditional Karoo cuisine with local fresh produce. This restaurant is on an open deck inside the Game Lodge with beautiful views over the waterhole.
George
George is the second largest city in the Western Cape. It's at a nice midway point between Cape Town and Port Elizabeth and can be a nice base for exploring the Garden Route. However, compared to the smaller coastal towns, the bustling city doesn't have much charm. So we would recommend it as a midday stop rather than an overnight stay.
Considering Wilderness is just 16km further down the coast, we recommend continuing your Garden Route drive to stay there for the night.
Things to do in George
Outeniqua Pass: If you're coming from Oudtshoorn, you'll cross this spectacular road pass on the way to George. You'll likely stop frequently for photos of the beautiful rolling mountains.
Visit Redberry Farm: This farmstead is a commercial strawberry grower and offers farm experiences from picking your own berries to pony rides and go-carts. It's the perfect family day out on the Garden Route.
Visit Herold Wine Estate: A farm and vineyard just 15km away from George at the base of Cradock Peak. You can pop in for a wine tasting and snack platters from their small restaurant.
Outeniqua Farmers' Market: Every Saturday from 8am until 2pm with more than 150 food and craft stalls and live entertainment.
Robertson Brewing Co.: A microbrewery that opened in 2013 and offers tastings of their hand-crafted beer. They also have a restaurant on-site
Where to Eat in George
Bayleaf Cafe: This cafe serves breakfast, lunch and coffee with a French and Italian flair in a leafy garden setting.
Nina's Cafe: Open all day, this is a very popular restaurant in George, offering a range of multicultural cuisine. It's also a licensed bar and has an extensive range of wine and gin.
The Fat Fish: An extremely popular seafood restaurant with a BBQ night on their open terrace every Friday night.
Wilderness
This was our favourite stop on our Garden Route trip. You could easily spend a night or two here if you have the time and love camping, nature and the outdoors. It's a small coastal town not far from George and located perfectly between Mossel Bay and Knysna.
It has a great, laid back vibe and plenty of activities to keep you busy with however much time you have to spare.
Things to Do in Wilderness
Wilderness Beach: One of the best of the Garden Route beaches, Wilderness offers a quiet, long stretch of sand. It's a Garden Route must-see.
Wilderness National Park: A stunning combination of lakes, rivers, beaches and imposing mountains with diverse wildlife and bird species. Inside the park, you can enjoy hiking, canoeing and kayaking.
Kayaking/canoeing on the Touw River: From the Ebb and Flow Rest Camp you can canoe the river all the way to Wilderness beach.
Canoe/hike to Waterfall Combo: You can rent a canoe from Eden Adventures and do a 4-5 hour trip to a waterfall and back. This was one of our favourite Garden Route activities and one we would definitely recommend!
Hiking trails: There are five trails in the National Park with varying lengths and difficulties, all within easy reach from the Ebb and Flow Rest Camp.
Where to Eat in Wilderness
Serendipity Restaurant: A place to splurge on a special dinner, this is considered the best restaurant in Wilderness.
The Blind Pig & Bootlegger Brewery: A great bar and pub with a leafy outdoor beer garden.
Timberlake Organic Village: Halfway between Wilderness and Sedgefield, this small village is full of vendors, artisans, artists and retail shops, with an eco-friendly and health-conscious mindset.
Wild Oats Community Farmers' Market: En route to Knysna, you'll find this community market on Saturday mornings in the tiny village of Sedgefield.
Where to Stay in Wilderness
Ebb and Flow Rest Camp
Tucked inside the Wilderness National Park, this accommodation offers options for everyone, such as cabins, cottages and campsites. It is situated on the banks of the Touw River and has most of the hiking trails within reach of the grounds. You can also hire canoes from their office.
Knysna
Knysna is another major town along the Garden Route. It's a very picturesque place with incredible natural beauty and you could easily stay a couple of days to cover all of the Knysna sightseeing activities. Travelers visit Knysna to enjoy the Knysna lagoon, the Featherbed Nature Reserve, and marine life that's native to this area.
Knysna is located in the Garden Route Western Cape province between George and Plettenberg Bay.
Things to Do in Knysna
Knysna Heads: Two huge sandstone cliffs mark the entrance to Knysna Harbour. The Eastern Head offers a free viewpoint with incredible views over the Indian Ocean and is one of the most beautiful places to visit in Knysna.
Knysna Lagoon: The meeting point of five different rivers coming through the Outeniqua Forest, this lagoon eventually feeds into the ocean through the Knysna Heads. The only way to explore the lagoon is by boat.
Whale watching cruise: It's possible to see whales from the viewpoint on Knysna Heads, but going for a cruise is a better option to see these mighty animals.
Sundowner cruise: A perfectly romantic sunset cruise on the lagoon is a great way to spend an evening. You can also opt for cruises that include dinner and drinks.
Featherbed Nature Reserve: A privately owned section of the forested coastline in Knysna with hiking trails and scenic views. This Knysna Nature Reserve is only accessible by ferry and visitor numbers are restricted. There are official Knysna tours of the reserve that include the ferry trip.
Buffels Bay: A beautiful stretch of sandy white beach and incredible raw coastline. You can spend your time relaxing by the sea on your visit to Knysna town.
Where to Eat in Knysna
34 Degrees South: Upscale restaurant that is considered the home of the famous Knysna oysters
East Head Cafe: Situated on the Eastern Head, the view from the cafe is spectacular and is perfect for a nice seafood lunch.
Freshline Fisheries: Casual local restaurant near the causeway connecting Knysna to Thesen Islands. Be warned, portions are huge!
Tottie's Farm Kitchen: Open for lunch and afternoon, this cafe is most popular for its Sunday buffets which are usually booked out days in advance.
Where to Stay in Knysna
The Lofts Boutique Hotel on Thesen Island: Located on the very edge of Thesen Island in the Knysna Lagoon, the large rooms and suites have balconies with lagoon views. This is one of the best Garden Route hotels for a relaxing stay.
Under Milkwood Resort: For a more rustic stay, the wooden beachfront chalets at this property have private sundecks and fully equipped kitchens for those wanting to self cater.
Plettenberg Bay
This is one of the most visited towns out of the Garden Route stops. It has more of a relaxed and beachy vibe than Knysna, so if you're looking for a perfect summer escape this is it. It's just a 30-minute drive from Knysna to Plettenberg Bay and you could easily relax here for one or more nights.
Things to do in Plettenberg Bay
Whale Watching: From June to November, the Southern Right Whales migrate to Plettenberg Bay. You can also spot humpback whales from May through to December. The excursions out on the water usually operate for a couple of hours during this time to spot these majestic mammals. It's one of the best Garden Route tours.
Robberg Nature Reserve: Just a few minutes away from Plettenberg Bay, this reserve has three Garden Route hiking trails to choose from of varying lengths but they all take in the incredible coastline scenery. A hike here is certainly one of the Garden Route highlights.
Birds of Eden: The world's largest free-flying aviary that bird watchers are free to wander through with a provided guide book.
Monkeyland: A conservation centre nearby to Birds of Eden that rescues primates who were kept in zoos or as pets. Monkeyland, Garden Route also have gibbons and lemurs. We were a bit hesitant about visiting Monkeyland at first as we tend to stay away from Zoos and other places that support animals in captivity. We were happy to find out that Monkeyland was a true free-roaming sanctuary that has won many conservation and sustainability awards.
Where to Eat in Plettenberg Bay
Zinzi Restaurant: A fine dining experience with international cuisine and an outdoor seating area.
The Fat Fish: A funky tapas bar right on the central bay with great views. It's drinks list and seafood dishes are to die for.
Thyme & Again Farm Stall, Bakery, Cafe: A perfectly cozy place for breakfast or lunch, this cafe has their own bakery with homemade sweet and savoury items.
Bramon Boutique Wine Estate: This winery and vineyard is out of town and en route to Nature's Valley, making it a great lunch stop on the way. A must stop in this area!
Where to Stay in Plettenberg Bay
Emily Moon River Lodge: Splurge on a stay in one of these secluded lodges, just 7km away from the Robberg Nature Reserve. This is one of the nicest Garden Route accommodation. They also have a great restaurant for lunch or dinner that is open to anyone.
Nature's Valley
On your way between Plettenberg Bay and Storms River, we recommend a stop in Nature's Valley. It's a small beach town on the coast. There isn't a lot to do there but the beautiful scenery is pleasant enough and makes for a nice rest stop. It's 35km away from Plettenberg Bay.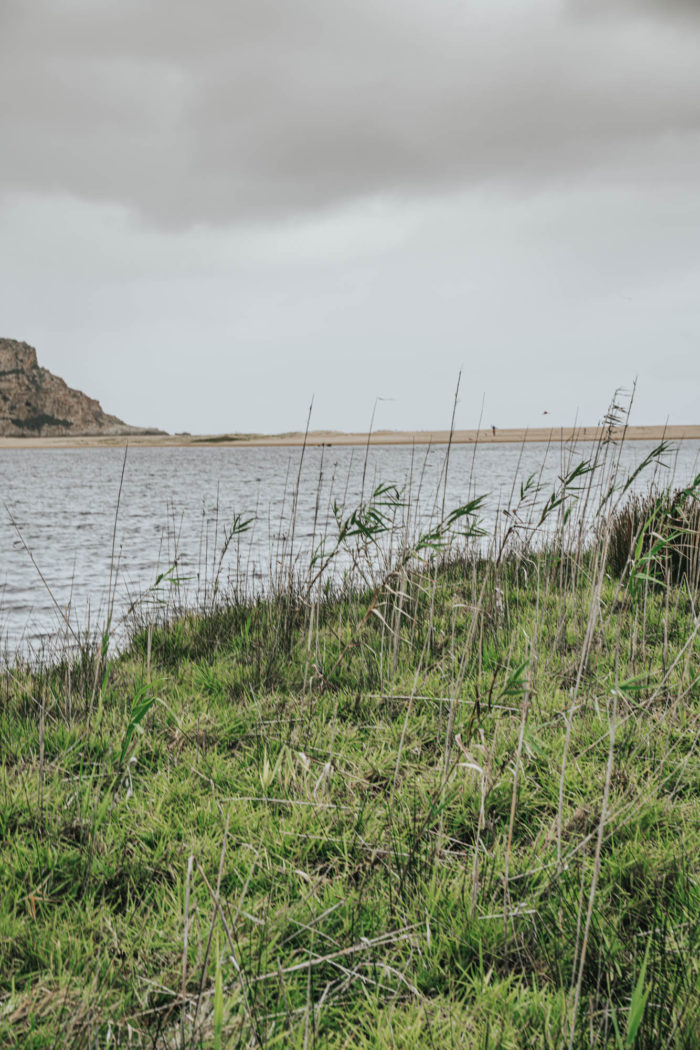 Things to Do in Nature's Valley
Grootrivier Pass: As you leave Nature's Valley and head for Storms River, you will be taking this historic and beautiful road with plenty of wildlife and picnic spots along the way.
Bloukrans Bridge: A soaring road bridge over the Bloukrans River. Also, it's home to the highest commercial bungee jump from a bridge.
Storms River
Your Garden Route adventures have come to an end here in Storms River where the route technically finishes. This town is also the gateway to Tsitsikamma National Park and there are plenty of things to do here to keep you busy for a couple of days if you have the time to spare.
Things to Do in Storms River
Visit Tsitsikamma National Park: one of the most beautiful stretches of coastline in South Africa. It's also the start of the famous five-day Otter Trail trek, as well as other hiking trails.
Waterfall trail

3-4 hours 3km visit Guano Cave, 1st day of Otter trail

Loerie Trail

1.5 hours 1 km

Blue Duiker

Trail 3 hours 3.7km

Mouth trail

1 hour 1 km to visit suspension bridge and lookout point
Black Water Tubing: Have a fun and relaxing experience of the river as you glide down it on a black water tube.
Canopy tours: Ziplining from one platform to another, 30 meters above the forest floor.
Kayaking: Explore the Storms River Gorge and its caves, pools and forests on a kayak.
Storms River Mouth Park: Beautiful viewpoints, a suspension bridge walk and hiking trails inside this park can be explored for an extra entrance fee.
Where to Eat in Storms River
Tsitrus Cafe: A trendy cafe known for delicious pizzas in the center of town.
Tsitsikamma Micro Brewery: A microbrewery that opened in 2014, they produce nine ales and a tasting offers a choice of over 30 beers.
Fynboshoek Cheese: Multi-award winning cheese-maker with lunch available by bookings only.
Where to stay in Storms River
Andelomi Nature's Rest: A basic but pretty Garden Route accommodation in the heart of the forest. They have five rooms with mountain views and a swimming pool to relax by.
Tsitsikamma National Park: The park itself offers some great Garden Route accommodation options right on the beach. There are huts and camping spots, so you can choose accommodation that's right for you.
Jeffreys Bay
This is technically not one of the Garden Route towns, as the route technically finishes in Storms River. But, many people prefer to continue their Garden Route drive to Jeffreys Bay. This coastal surf town is in the Eastern Cape province and 75km away from Port Elizabeth.
Things to Do in Jeffreys Bay
Cape St Francis: A small village on the tip of the cape south of Jeffreys Bay. It's known for its pristine beaches and surf waves.
Paradise and Dolphin beach: Of the many beaches in Jeffrey's Bay area, you can choose from any to sunbake or surf for the day. Paradise and Dolphin Beach are popular options.
Surfing: Jeffreys Bay is one of the world's top surfing spots. People come from around the globe to surf in the waves at one of the beaches there.
Where to Eat in Jeffreys Bay
Nina's Real Food: One of the best restaurants on the Garden Route, it's relatively cheap but with good food and health-conscious options.
Where to Stay in Jeffreys Bay
Surf Lodge South Africa: A balcony with panoramic ocean views and easy access straight down to the beach. This is one of the most popular places to stay Garden Route.
Essential Travel Info
What to Budget
The Garden Route can be done quite cheaply and car hire and petrol will likely be your biggest expenses. There are accommodation options for all different budgets and you can choose to either eat out at restaurants or self-cater.
Garden Route accommodation can start from hostels for 250R/night. It can go up to luxury rooms from 3,000R and more. You can spend around 200R per meal at a restaurant. But, you can reduce costs by cooking your own meals at the self-catering accommodation in Garden Route.
How to Get Around
The best way to get around the Garden Route is by having your own vehicle. You do not need a 4×4 though to tackle a Garden Route road trip as the main roads are sealed. It's also easily navigable.
Have you been on a Garden Route road trip? What were your favourite stops and activities along the way?