Located on the South Western tip of South Africa, Cape Town is a cultural melting pot affectionately known as the
"Mother City".
Cape Town has a long history as the oldest urban area in South Afri
ca
, and today it is known for its
vibrancy
,
natural beauty
,
rich culture
, and
great food and wine
experiences!
*This post may contain affiliate links, as a result, we may receive a small commission (at no extra cost to you) on any bookings/purchases you make through the links in this post. As an Amazon Associate, we earn from qualifying purchases. Read our full disclosure
---
We fell in love with Cape Town on our recent visit and having spent a couple of weeks exploring the city and it's many attractions, we can confidently say: "It's one of the most beautiful and most exciting cities in the world!"
---
This city, nestled in between the mountains and the shore is an ideal destination for travelers who love to spend time outdoors and those on the hunt for an urban explorer's paradise. It's an ideal destination for any traveler! There is no end to fun things to do in Cape Town.
Best Time to Visit Cape Town
Cape Town is an all year round destination and each season offers its own unique draw cards and unique places to go in Cape Town.
Summer
Summer, from December to February, is the high season in Cape Town. This time of the year is characterized by warm temperatures, long days, and clear blue skies. It's the perfect time to make the most out of the city's famous beaches.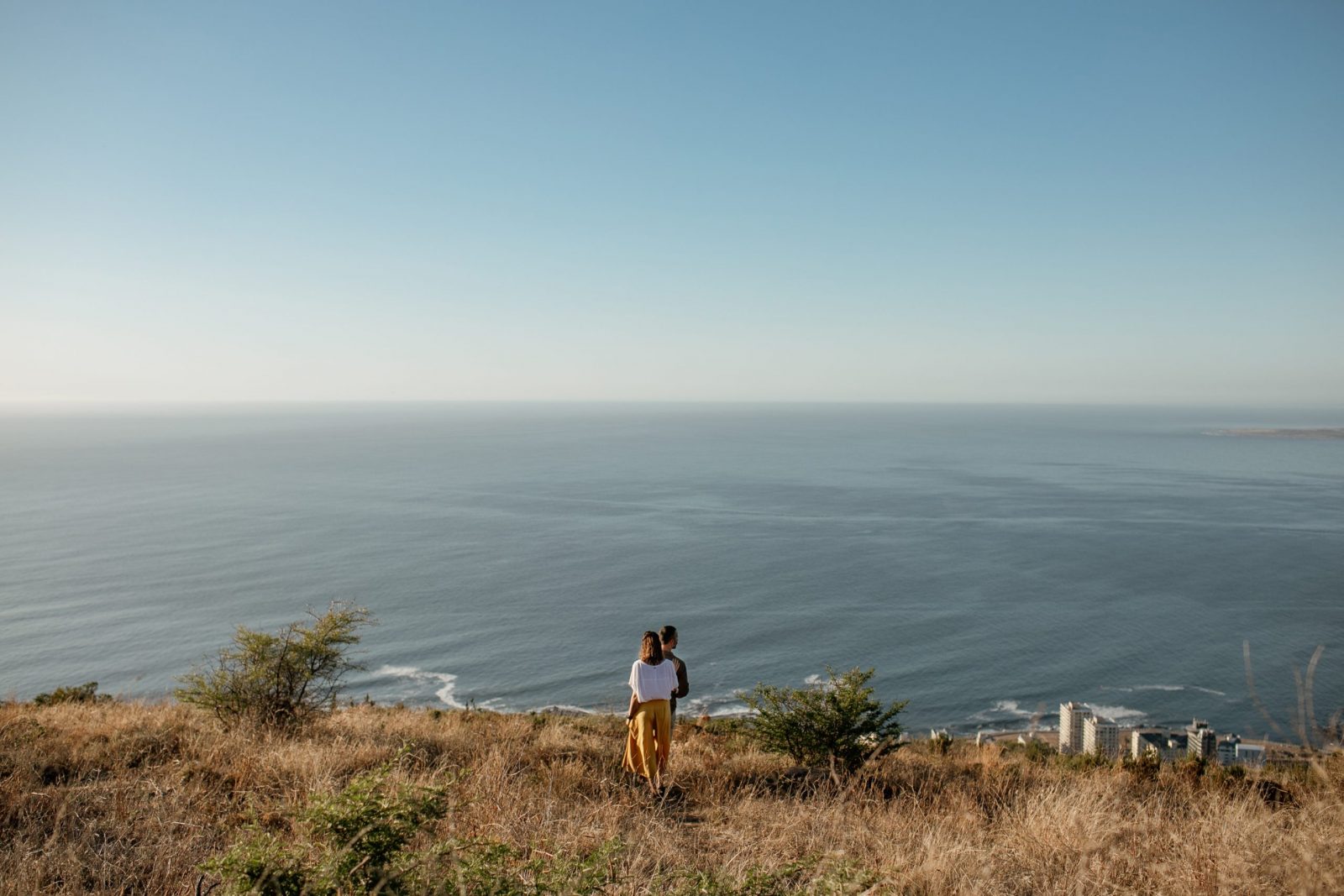 Traveling Soon?

Here is a list of our favourite travel providers and accessories to help get you ready for your upcoming trip!
December and January are the warmest and busiest time of the year and is known as Cape Town's peak season. International and domestic tourists flock to Cape Town during the Christmas holidays and for NYE, so prices during this time of the year tend to be higher and tourist attractions – more crowded.
Summer Winds

Cape Town has a strong South Easterly wind in the warmer months (September to March) which can sometimes leave you grabbing for the nearest lamp post.

However, South Easterly does have its benefits. Kitesurfers from all over the world visit Cape Town and the nearby town of Table View in the summer for some of the best kitesurfing conditions in the world! If you've never tried, summer in Cape Town is the time. Kitesurfing is one of the top adventure activities in Cape Town.
Fall
Fall, from March to May, is a great time to visit Cape Town. You'll benefit from travelling in the shoulder season and enjoy average temperatures of about 19C. Cape Town is especially good-looking during this time!
Fall, and in particular March and April, also coincides with harvest time in Cape Winelands. It's a great time to visit their cellar doors, while the vineyards are abuzz with activity.
Winter
Winter, from June to August, is not a very popular season to visit Cape Town, as it can sometimes offer bouts of rain and strong winds, but it's still a great time to visit, as the weather stays pretty mild. Cape Town enjoys a Mediterranean Climate so despite the rain and winds the temperatures will remain in the high teens.
The rain ushers in "Green Season" in Cape Town. This means that one of the best things to do in Cape Town in winter is to admire the beauty of the area or to go in search of waterfalls. They will be at their most spectacular this time of year.
At this time of year, you'll also find that many of the attractions and top things to do in Cape Town city centre are much quieter. Fewer people waiting in queues at places of interest in Cape Town, less traffic on the streets, and better prices!
Spring
Spring in Cape Town is from September to November. It is a very pleasant time to visit and explore the best things to do in Cape Town, as the days are still warm and long, and the trees and flowers around the city begin to bloom. Temperatures average in the high teens and low twenties.
Spring also coincides with the height of the whale watching season in the nearby "whale watching capital of the world", Hermanus. Spotting sperm whales breaching in the waters just offshore is the ultimate Cape Town sightseeing experience.
If you are looking for the best time to visit Cape Town, we always advocate for traveling in the shoulder season! You'll miss the hordes of tourists you can encounter in the high season at some Cape Town attractions and enjoy lower prices on accommodation and tours.
Best Things to do in Cape Town, South Africa
There is no shortage of activities in Cape Town and the surrounding areas. While this is not at all the most comprehensive list, it's a great place to get started if it's your first time visiting Cape Town.
Visit the Victoria & Alfred Waterfront
One of the top places to visit in Cape Town is the iconic V&A Waterfront. It is a shopping mecca on the harbour with upmarket restaurants and shops.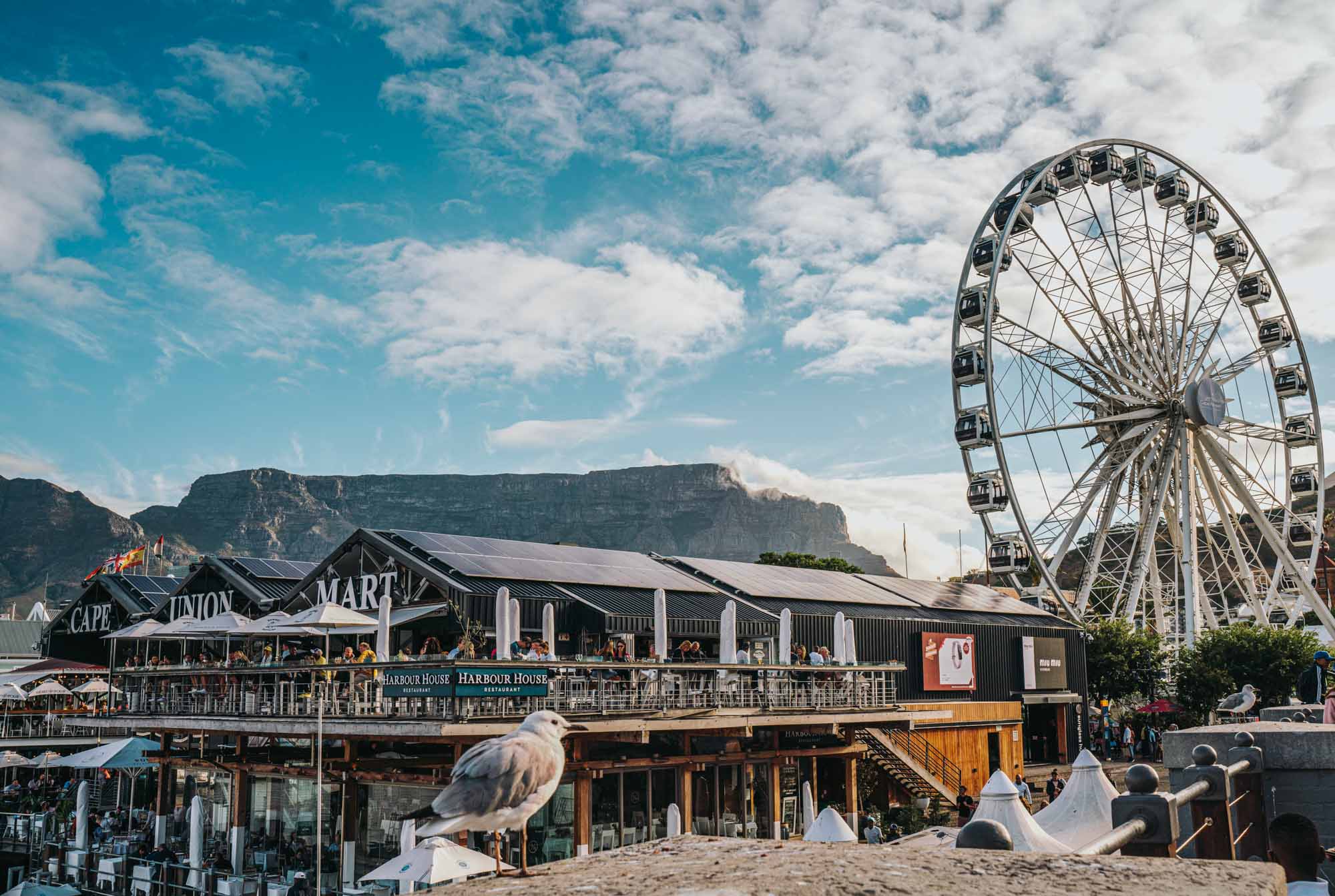 There are food markets, shows, local craft stores and much, much more. You could easily spend an entire day here. It is a Cape Town must-see. Here are a few things you should not miss!
Shop at the Watershed:

This industrial space is one of the top attractions in Cape Town. It has been converted into a thriving local market, which has over 150 stalls. Most of which are run by local businesses. This is the perfect place to support the local community by picking up a souvenir or two!

Eat at the V&A Food Market:

When you get a bit peckish, the V&A Food Market is the place to be. It is another repurposed Cape Town market which used to house the dockyards power station. There is indoor and outdoor seating, and over 40 small vendors offering local brews and tasty dishes.

Watch the Sunset at the Silo Hotel:

This converted grain elevator has some of the best views in Cape Town and is home to

one of the best rooftop restaurants

in town. Head there for sunset and take in the breathtaking views of the harbour and Table Mountain beyond it.

Stop By Oranjezicht City Farm Market:

You'll have to time it right to visit this independent farmers market which is only open on the weekends and Wednesday nights in the summer. However, if you do, you will be glad you did. It was one of our favourite things to do in Cape Town on a Sunday. The local produce and artisanal products are first-class and go towards supporting local communities. You won't find too many tourists roaming the market, so it's a great place to rub shoulders with the locals.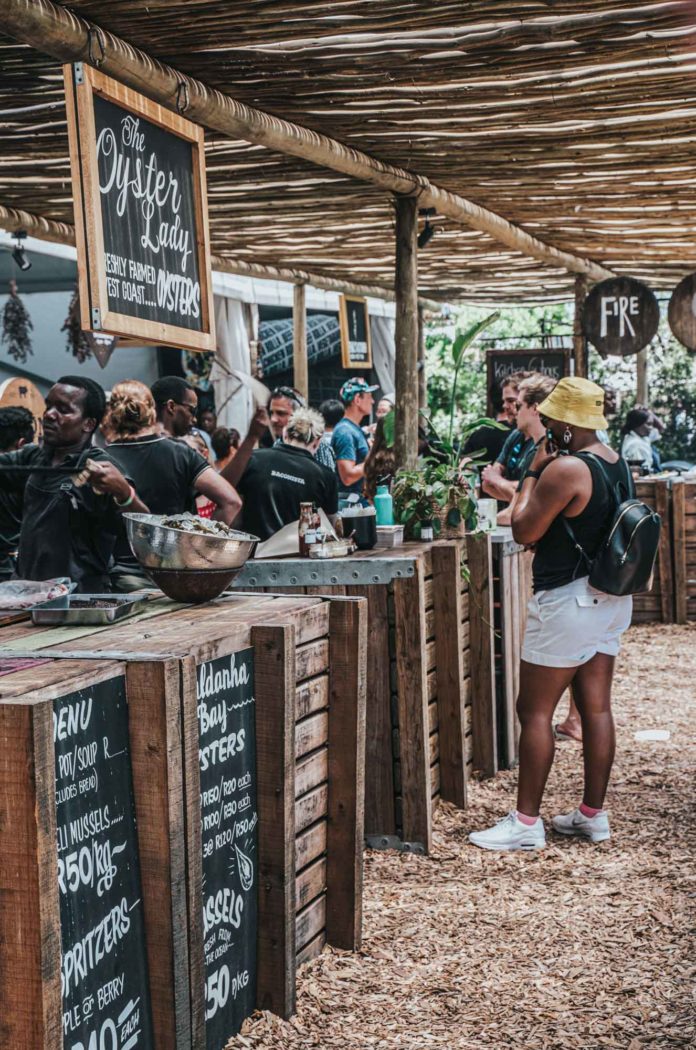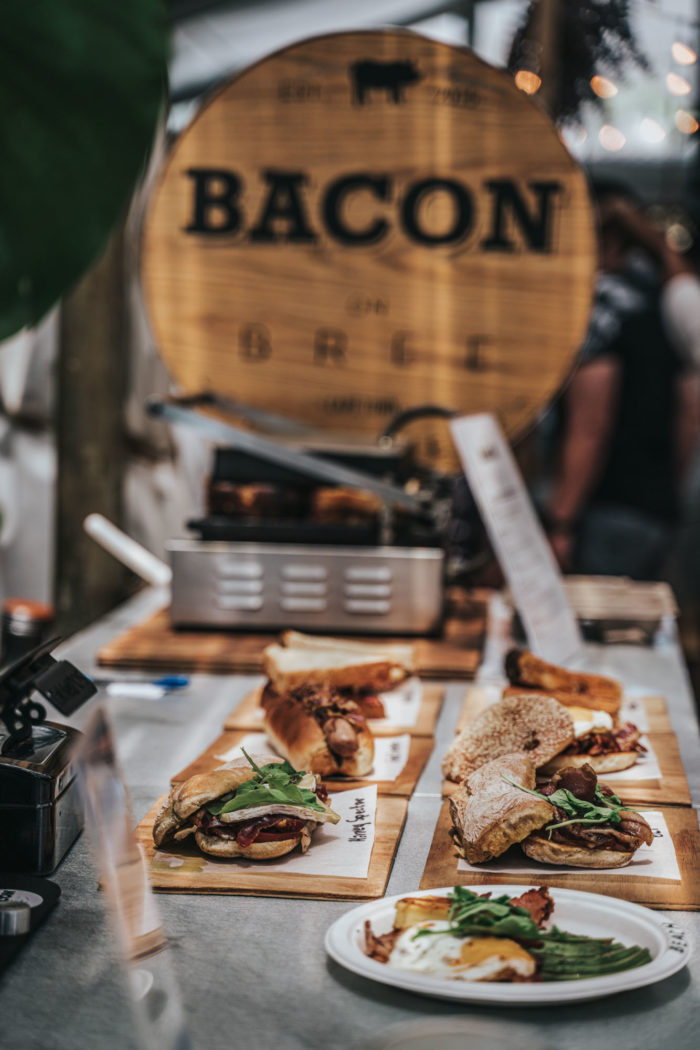 Admire the Views from Table Mountain
Whether you choose to hike to the top of Table Mountain or ride the spectacular cableway, you cannot miss the views from the top of this natural wonder.
This is an absolute Cape Town must-see. You'll have uninterrupted views of the city, beautiful Lion's Head, both the Atlantic and the Indian Oceans and even Robben Island!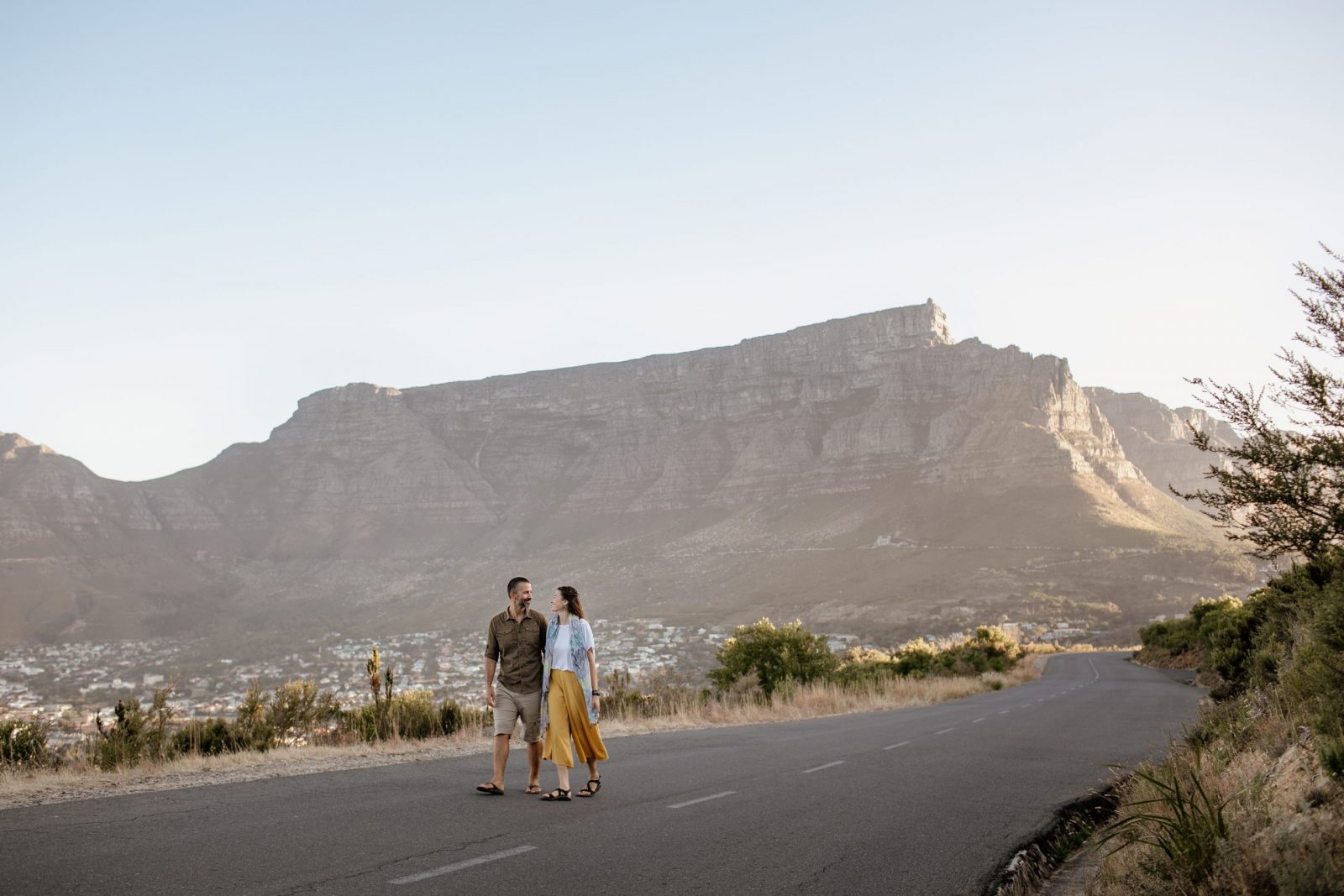 The Cableway
The most popular way to reach the top of Table Mountain is to take the Cableway. It is about a 5-minute ride from the lower cable car station to the upper one.
The cableway system is open between 8:00-8:30 am to 6:00-8:00 pm depending on the time of year you visit. Tickets vary slightly depending on what time of day you visit. Till 1:00 pm prices are R360 for a round trip ride and R200 for a one-way ticket. After 1:00 pm round trip prices are slightly lower at R300 but a one-way ticket remains R200.
Tickets can be bought online 7 days in advance. Or if you purchase the Cape Town Official City Pass, you'll be granted free entry onto the cable cars as well as access to over 90 Cape Town points of interest.
Note of caution: If you are visiting Cape Town in the summer or in the winter, the crowds and the weather can make it a bit challenging to get to the top of Table Mountain via cable car. During our visit in the summer, wait time for the cable car was no less than 1-2 hours and strong winds would often force the cable car to be shut down altogether.
Hiking Table Mountain
When it comes to cheap things to do in Cape Town, it doesn't get much better than hiking Table Mountain. There are a couple of hiking trails to reach the top.
The Platteklip Gorge Trail is the most popular hiking route up Table Mountain. It is made up of a series of switchbacks and can be completed in 1-3 hours depending on your level of fitness. The path is well defined and you'll meet many other hikers along the way. But if you feel uncomfortable hiking on your own, you can always join a Table Mountain Hike tour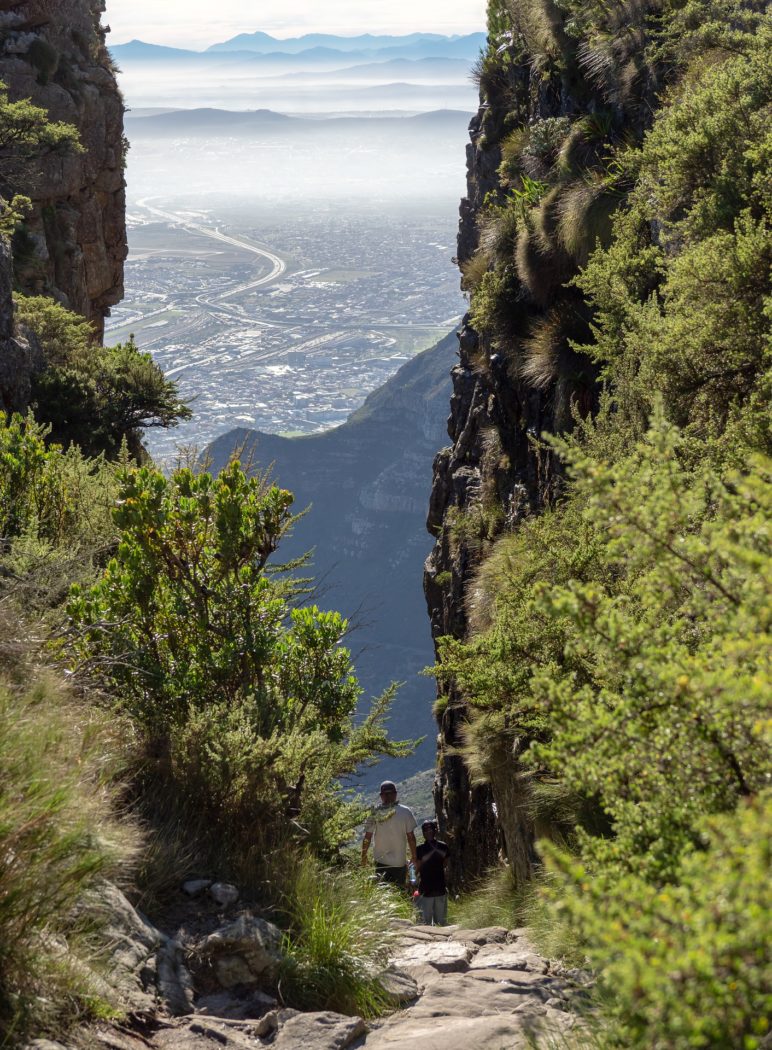 For a more challenging hike consider India Venster trail. This trail is the most direct route up the mountain. It passes under the cable cars and has areas in which you'll need to scramble. If it's your first time taking the India Venster trail, consider going with a local accredited hiking guide.
An alternative route up Table Mountain is via Skeleton Gorge. This unique hike starts from the Kirstenbosch Botanical Gardens and follows up the backside of Table Mountain. It has ladders to help hikers over the more treacherous areas. It's another hike that you can do on your own or by joining a Skeleton Gorge to Table Mountain organized hike.

A hike of Table Mountain is one of the most rewarding things to do in Cape Town but if your legs are tired by the time you reach the peak you can take the cable car down the mountain. Tickets are R200 and can be purchased from the Upper Cable Station.
Food & Drink on Table Mountain: There is a modern restaurant at the top of Table Mountain for snacks, meals and even some of the finest Cape wines. It is one of the coolest places to eat. Cape Town's Table Mountain also has a number of kiosks near the upper and lower cable stations for quick snacks and drinks.
Alternative Table Mountain Activities
We were surprised to learn that there is more to Table Mountain than just hiking or taking the cableway up on a Cape Town sightseeing trip.
To get your blood pumping you can experience a

mountain biking tour of Table Mountain.

The tour traverses 35 kilometres inside Table Mountain National Park. It takes the Constantia Loop which is part jeep tracks, part single bike tracks.

For one of the most unique activities to do in Cape Town consider

a free-wheeling scooter tour

. You'll be shuttled up the mountain and descend on your own via an off-road track.
Hike Lion's Head
Situated next to Table Mountain is the equally jaw-dropping Lion's Head with a trail that leads right to the top. It is a must-do in Cape Town! You'll end up circling the peak a few times admiring the ever-changing views as you spiral upward.
Any hikers, young and old, with relatively good fitness will enjoy this must-do in Cape Town. It is an easy 1.5 hours to the top of Lions Head and a relatively easy hike overall.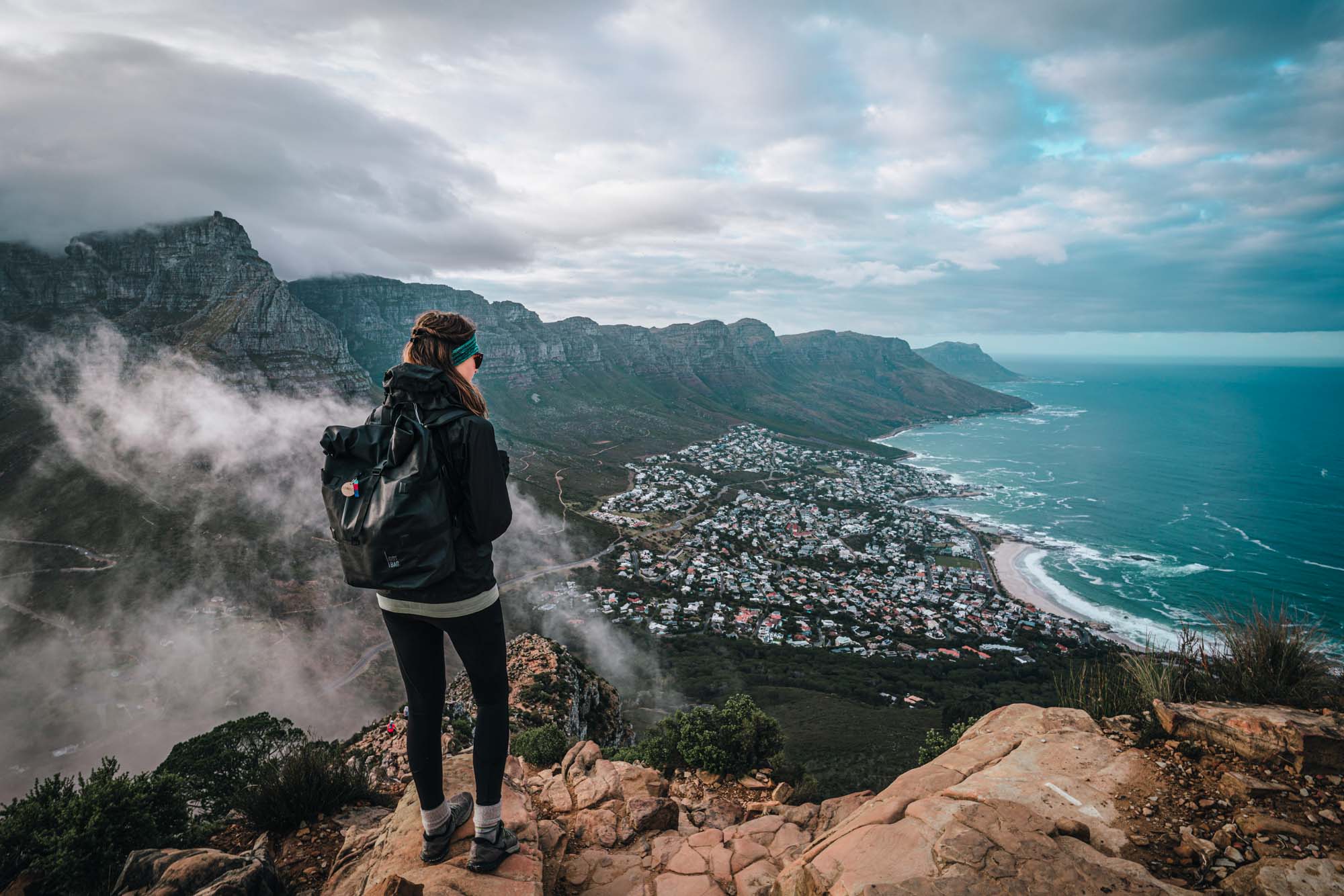 However, there are some sections with ladders and a few spots where you will need to climb over boulders. There is a clearly marked detour you can take with chain ropes to hold onto as you pass over small ledges.
The absolute best time to visit Lions Hike is for sunrise or sunset. The views from the top are astounding. Remember to bring a sweater, water, and a headlamp if you're planning to start your hike before dawn.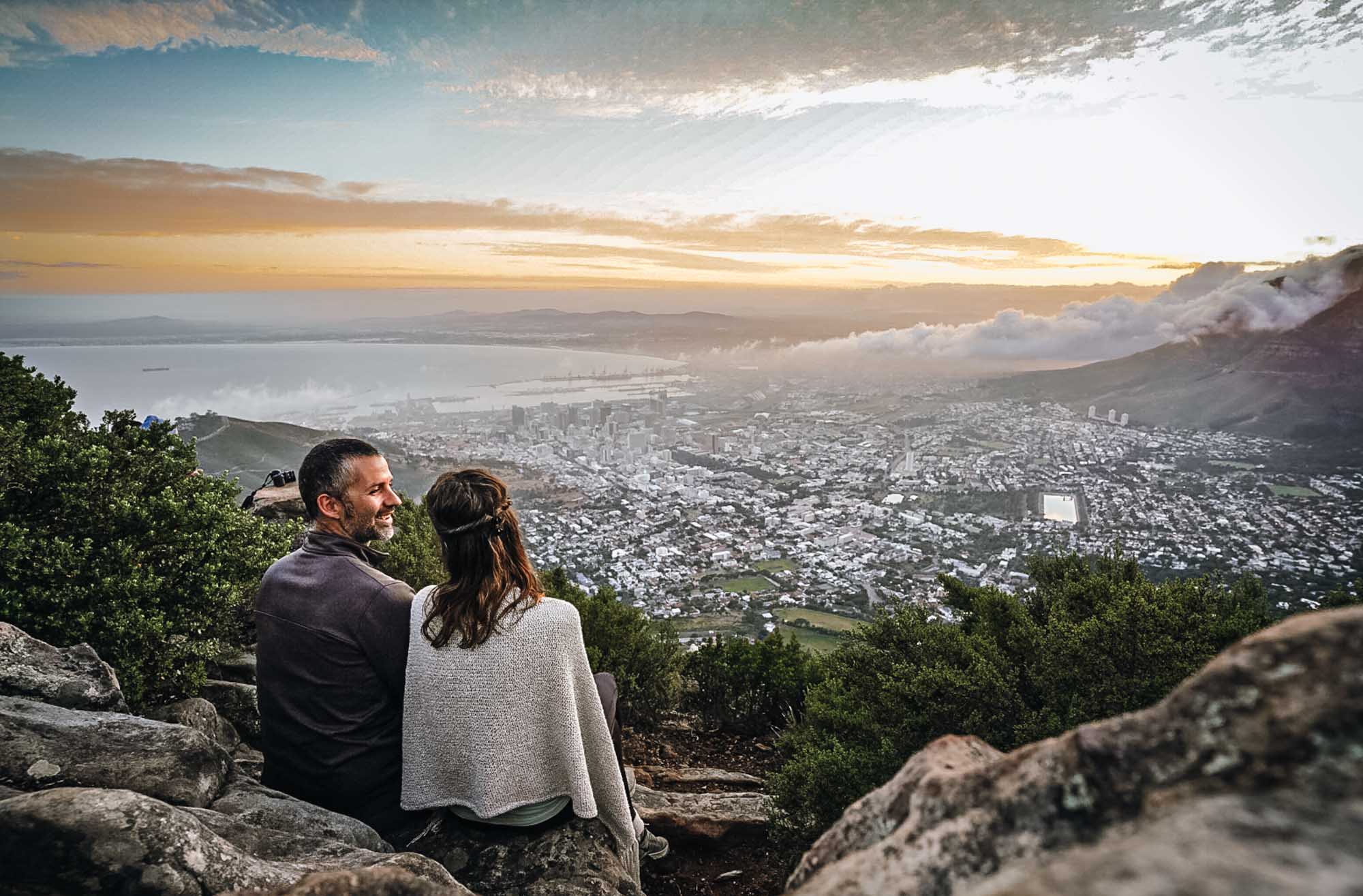 During the full moon sometimes locals climb to the top of Lion's Head by moonlight and enjoy a picnic at the top. When we think of cool things to do in Cape Town at night this activity was at the top of our list, so on our recent visit we hiked to the top of Lion's Head on Christmas Day just in time for sunrise. It was such a cool experience!
We really don't think you need a guide or tour to do a Lion's Hike head but if you are traveling alone and don't feel safe hiking on your own we would recommend this sunset tour. It includes a hotel pick up and drop off and a headlamp to use on the way up.
Watch Sunset on Signal Hill
Located next to Lions Head, Signal Hill is THE best picnic spot in the city. Pack a charcuterie plate and sundowners and join locals and visitors at Signal Hill to watch the sunset. It's one of the most romantic things to do in Cape Town. On summer evenings you'll find families, friends, and couples enjoying the views from 360m up.
It is a short 10-minute drive from the city centre to the Signal Hill parking lot. However, due to the popularity of Signal Hill, we would suggest you arrive early to get a parking spot and prime picnic area.
From Signal Hill you can enjoy views of the city, its beaches, and Cape Town attractions. It is also a popular spot for paragliding so you may see some people jumping from its heights.
Enjoy Cape Town's Beautiful Beaches
Cape Town is home to many beautiful beaches, separated by dramatic cliffs and hidden walkways.
Clifton
The most famous of these beaches is Clifton, a collection of 4 coves, each with its own unique style of visitor. Each cove has been dubbed 1st Beach, 2nd Beach, and so on. The waters at Clifton Beaches are calm and the coves are protected from the wind which makes any Clifton Beach a beautiful place to spend the afternoon sunbathing and swimming and one of the best things to do in Cape Town.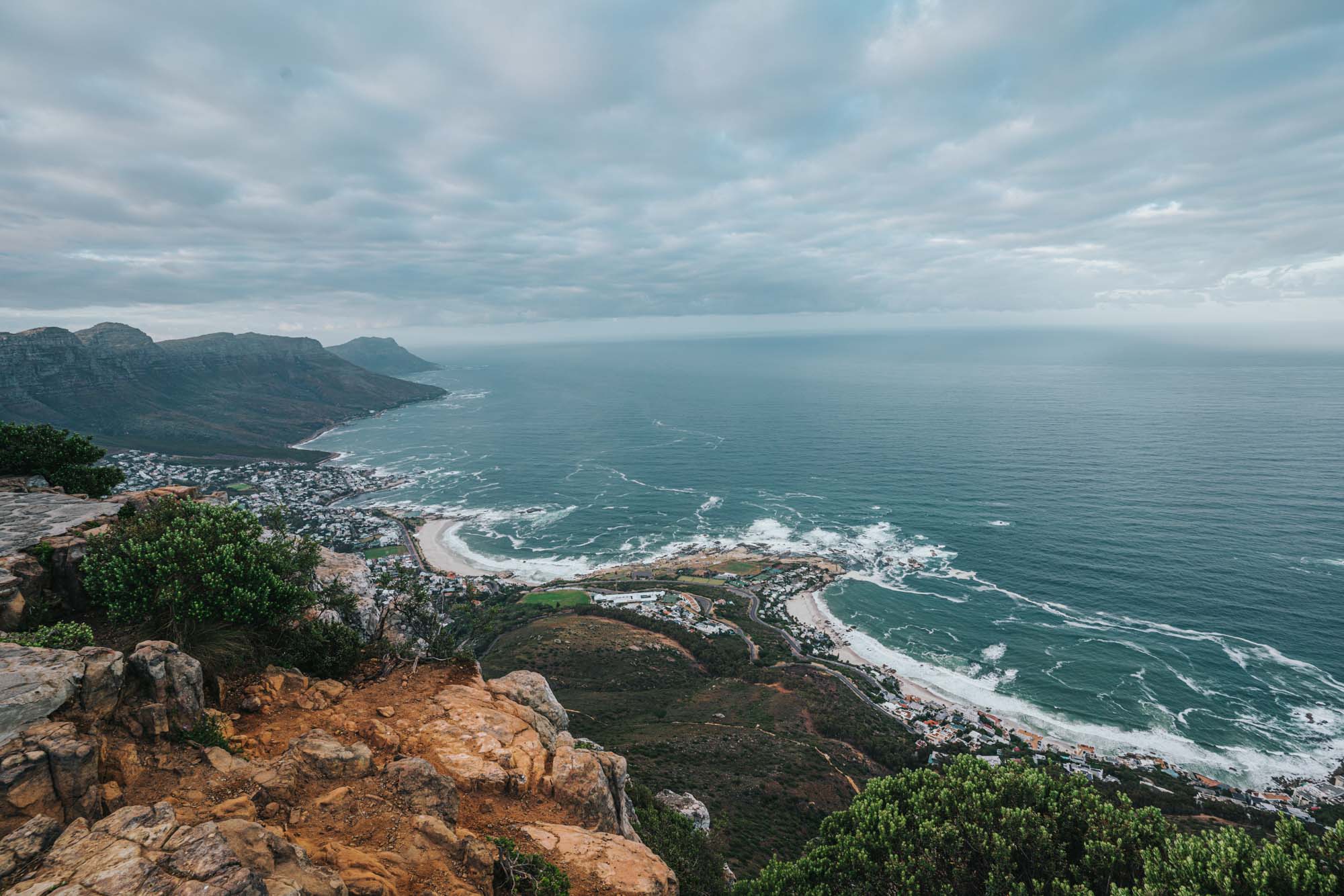 Clifton 1st Beach

: Located in a very affluent neighbourhood, Clifton1st beach is known for attracting an upscale crowd. It backs onto an expensive apartment block.

Clifton 2nd Beach:

This relaxed beach is frequented by locals. It has food hawkers and chair rentals available.

Clifton 3rd Beach:

Popular with Cape Town's gay crowd but welcome to everyone.

Clifton 4th Beach:

Frequented by the city's trendiest people. It is the liveliest Clifton Beach and also popular with families because it has the best parking, lifeguards on duty, and is close to washrooms.
Camps Bay
Camps Bay Beach is another vibrant beach close to Clifton Beaches. It is perhaps the most well-known of Cape Town beaches. It backs onto the picturesque 12 Apostles and is known for its nearby strip of restaurants and clubs. Both locals and holiday markers descend on the beach for a day lounging in the sun, bouts of beach volleyball, and for sundowners. However, the mountain casts a shadow on Camps Bay Beach in the morning so head here just before mid-day.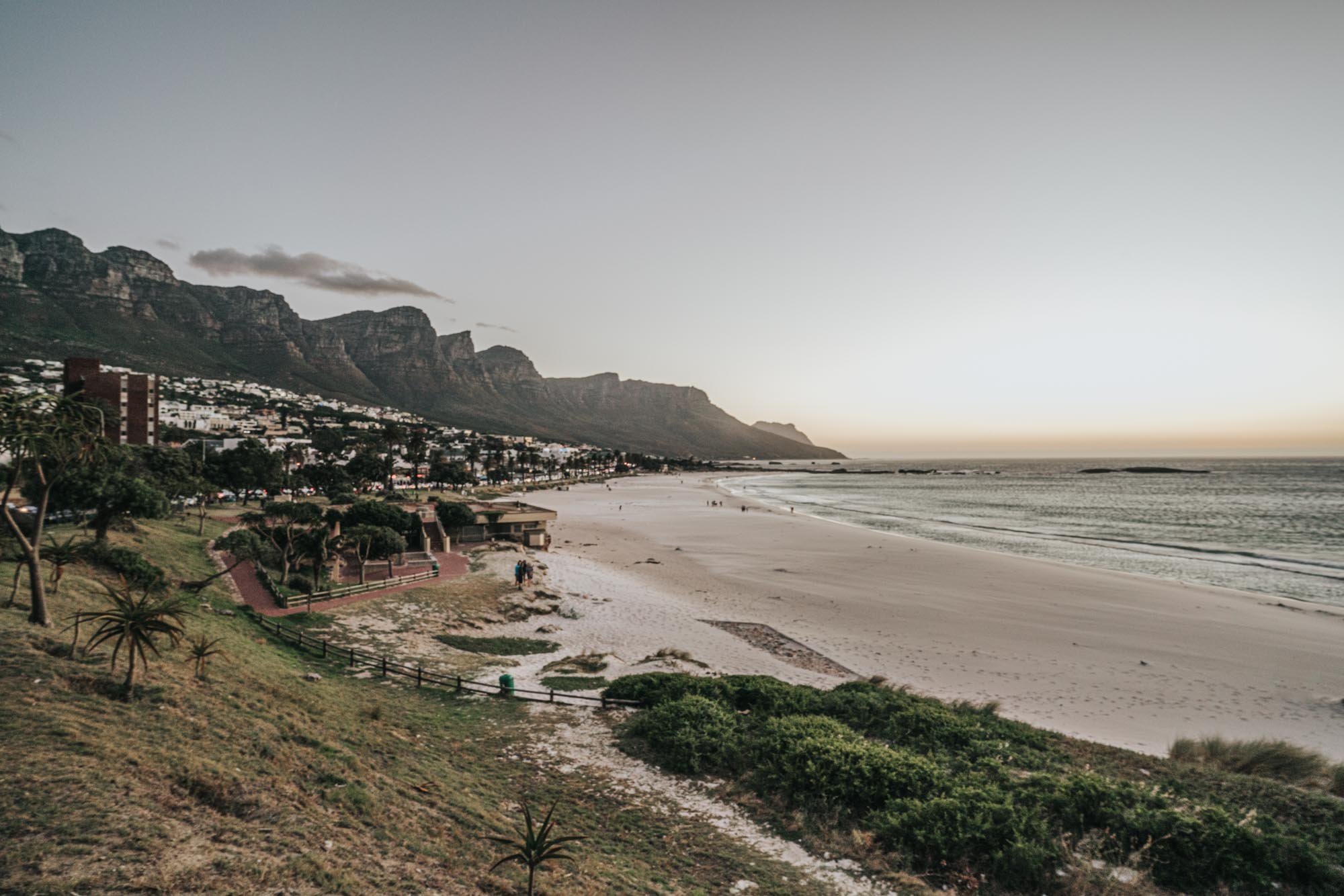 Glenn Beach
If you want a quieter beach experience, then head to Glenn Beach. It is located 1 kilometre down the road from Camps Bay. It is known as a surf beach but is also a great place to watch the sunset below the horizon while enjoying some Cape Town sightseeing.
Sea Point
Sea Point is another affluent neighbourhood with some beautiful beachfront. It has a lovely promenade to stroll, playgrounds for the little ones, and interesting tidal pools to explore. A visit to Sea Point beach is often considered one of the best things to do in Cape Town with kids.
However, due to the fact that the seafloor here is covered with mussel shells thrown up by the ocean, it is not recommended to swim here. If you are keen to get in the water, head to the Sea Point Pavillion, adjacent to the Sea Point Beach to enjoy their Olympic size seawater swimming pool.
Explore the Arty Neighbourhood of Woodstock
Woodstock is undeniably hip. Colourful street art and independent shops and restaurants make this vibrant neighbourhood worthy of a visit. It is one of the oldest neighbourhoods in Cape Town, so you'll find many buildings here with a unique story.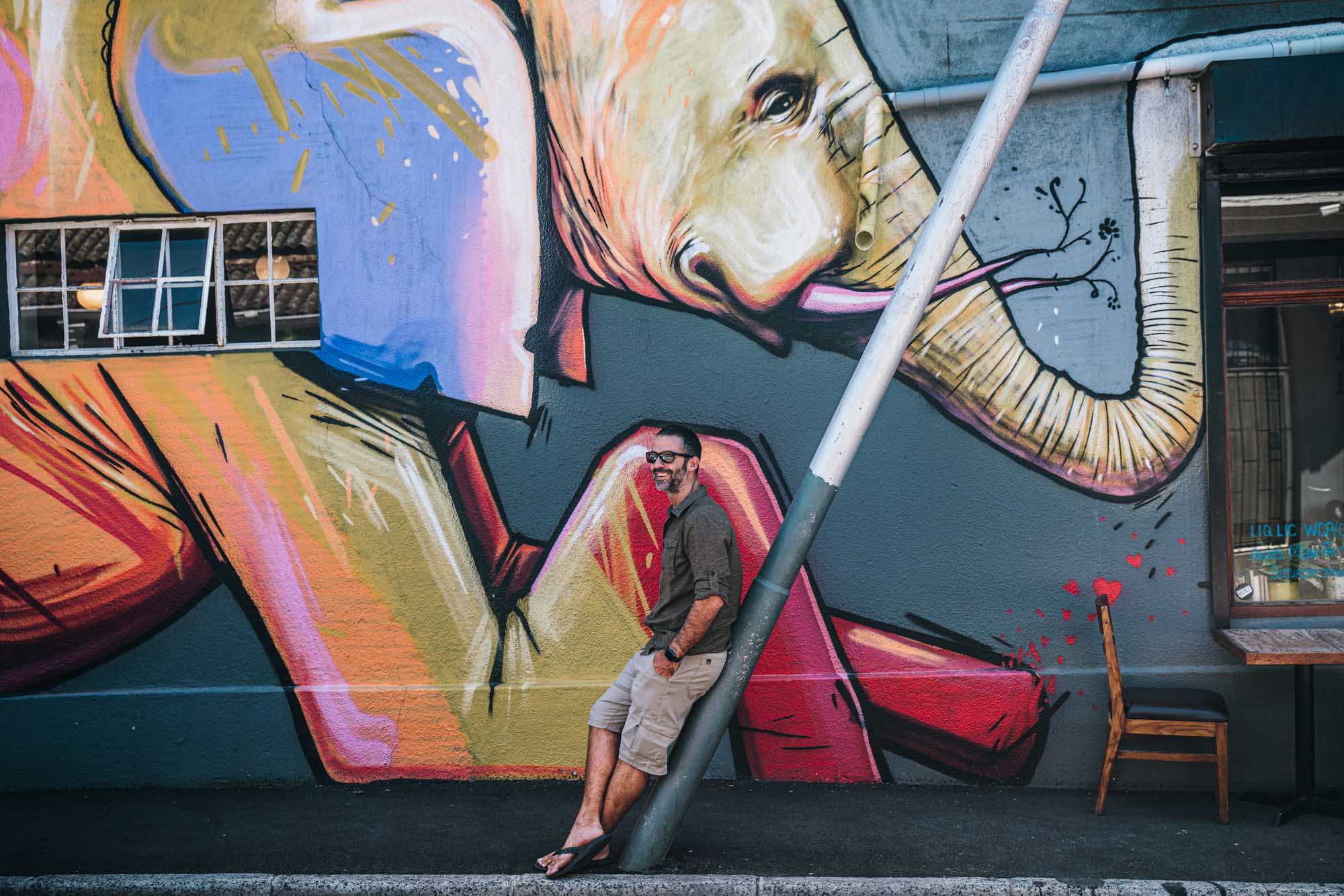 While in Woodstock, don't forget to drop into these Cape Town tourist attractions. They are also popular with locals and were some of our favourite places to visit in Cape Town.
The Old Biscuit Mill:

As the name would suggest, this vibrant space once housed a biscuit factory. Today, you'll find everything from furniture shops to escape rooms and food and drink venues. If you are in the area on Saturday, don't miss the

Neighbourhood Market

inside the Old Biscuit Mill. The market is opened from 9 am-12 pm and features many independent vendors that come together to sell their artisan and homemade goods as well as delicious street food.

Woodstock Exchange:

Known for its interesting shops, just like the Old Biscuit Mill, the Woodstock Exchange is part of a redevelopment project. The complex aims to provide a space for local creatives to sell their goods.

Woodstock Brewery:

At the Woodstock Brewery Taproom you can take a tour or simply taste one of their 14 different brews on tap.

Woodstock Co-op:

Located just a few doors down from the Old Biscuit Mill, the Woodstock Co-op is a place for entrepreneurs to showcase their goods in pop-up shops. You'll find an eccentric display of

art, home decor, and clothing inside.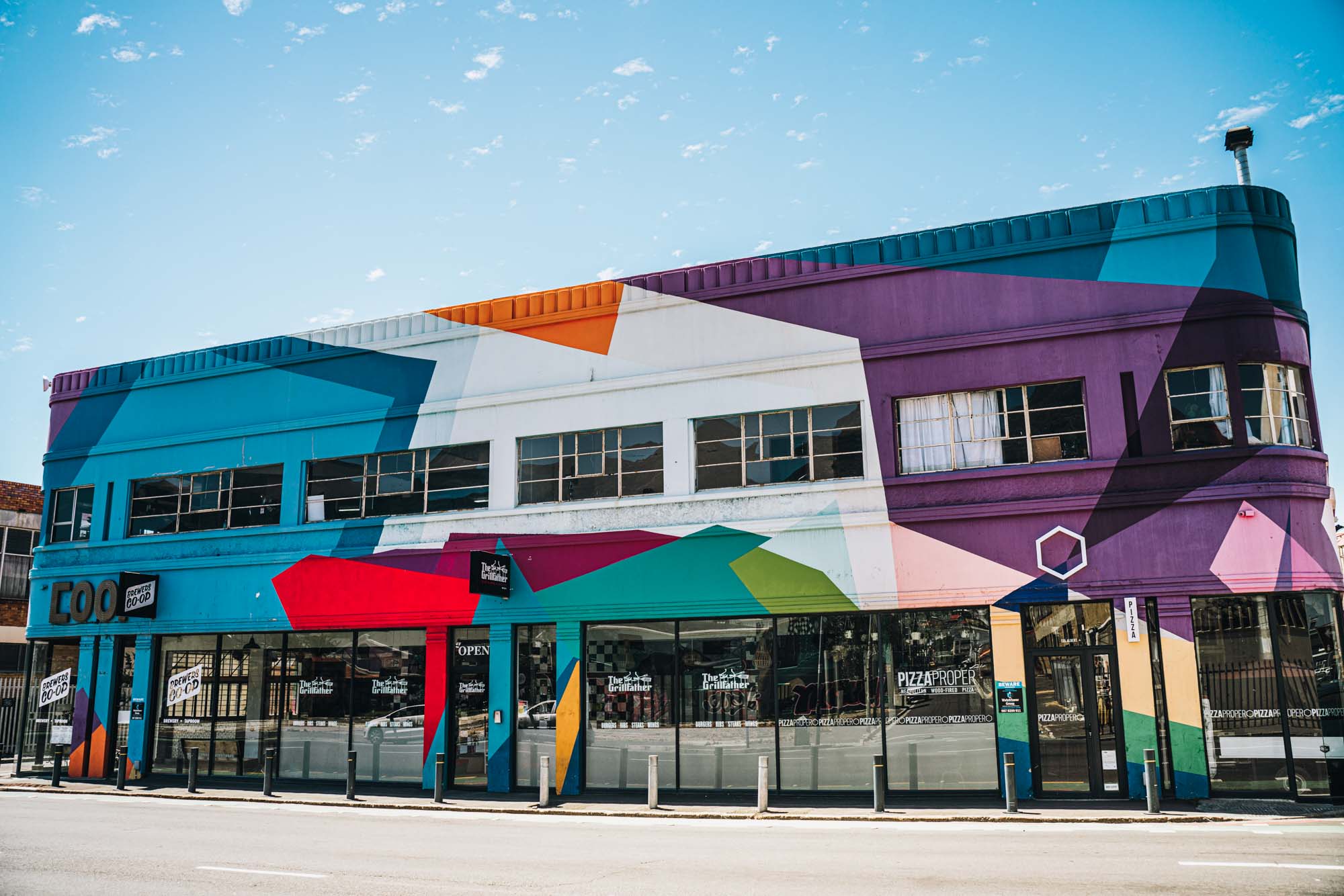 Visit Bo Kaap
Bo Kaap has a long history. Located at the foot of Signal Hill, the Bo Kaap neighbourhood was previously known as the Malay quarter. As far back as the 1760s, the houses in the area largely operated as rental houses for slaves that were brought from Malaysia, Indonesia, and the rest of Africa to labour in the area.
At the time all lease houses were required to be painted white. So, when the law was lifted and the slaves were able to start buying up the houses, they painted the former lease houses in colourful shades as a rebuke.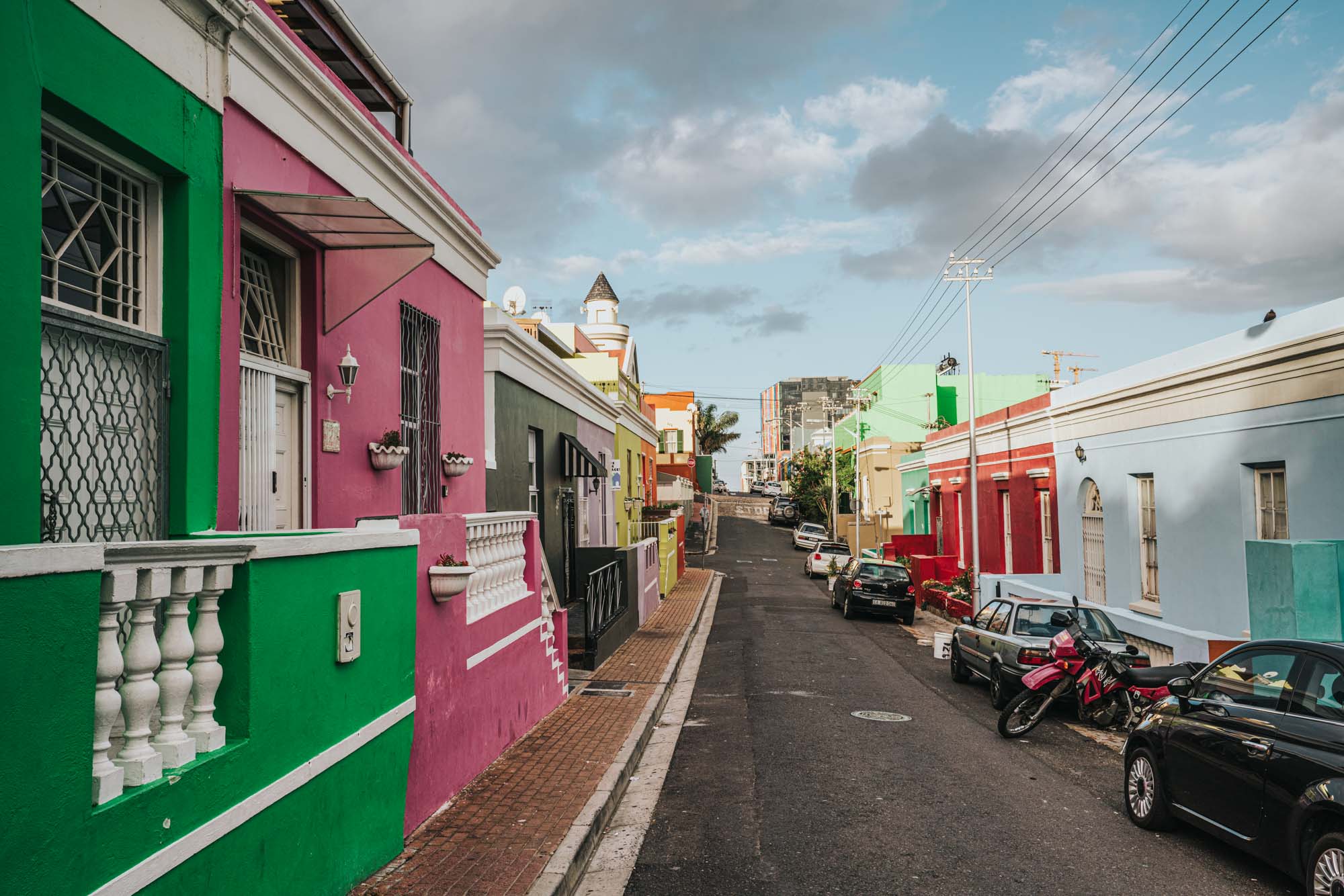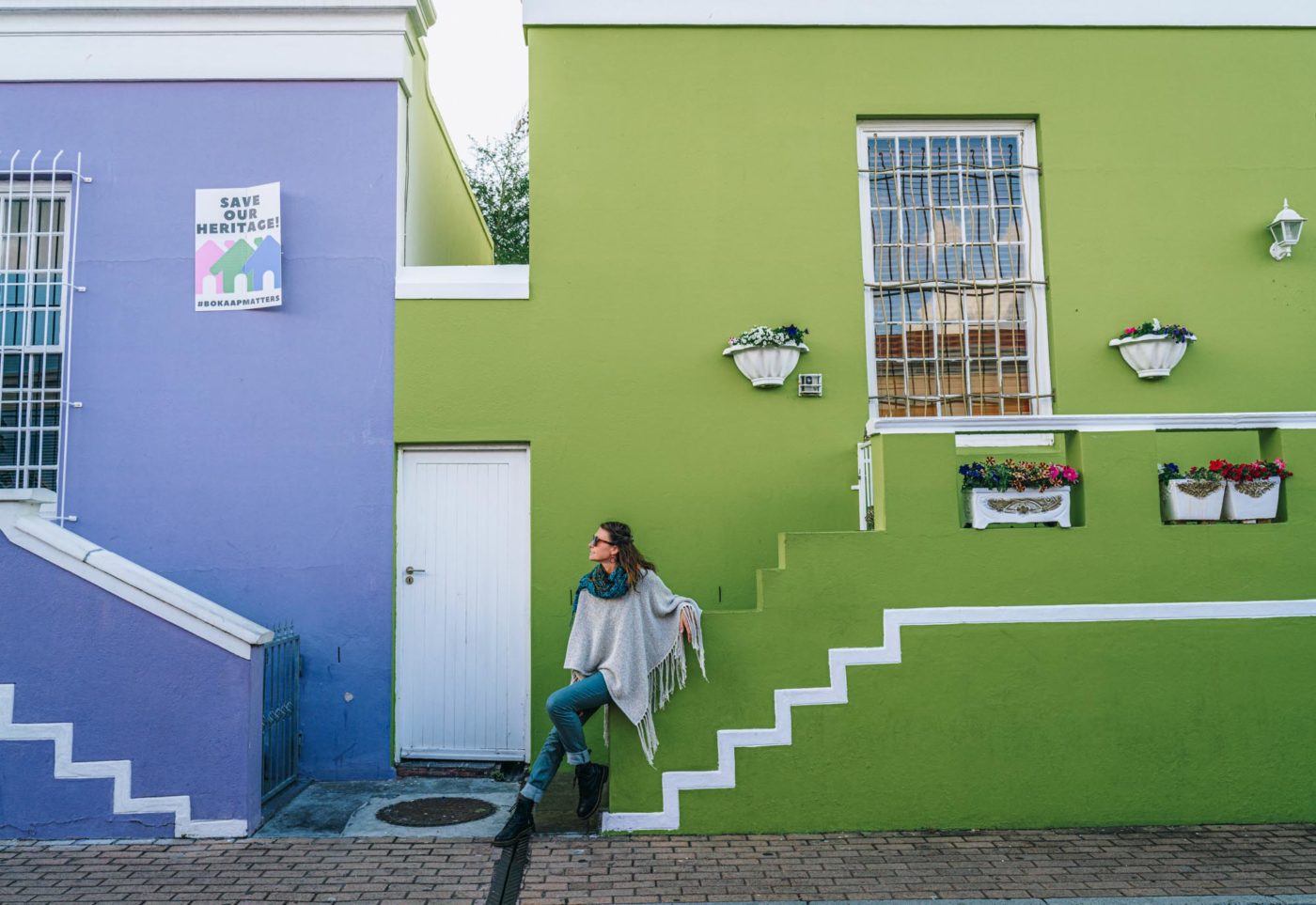 The Bo-Kaap Museum is one of the best places of interest in Cape Town to learn about the history of the area. It also happens to be housed in the oldest building in the neighbourhood.
Walking the colourful cobblestone streets and snapping Insta-worthy pictures is one of the best free things to do in Cape Town. The houses are mostly built in Cape Dutch and Georgian architecture. You'll find the most colourful houses on Chiappini Street, Rose Street, and Wale Street.
Visit the Kirstenbosch Botanical Gardens
Kirstenbosch National Botanical Gardens is a sprawling garden paradise nestled at the foot of the Table Mountain. It has an impressive amount of biodiversity and is frequented by local birdlife and small animals.
The gardens are at their greenest and most lush in winter when the area hits peak rainfall.
To get the most out of your visit, go with a local guide. This tour includes your entry, a hotel transfer, and a knowledgeable guide who will tell you about the history of the garden, it's plants and herbal medicines, and point out the oldest cultivated tree in South Africa.
Shop 'til you Drop at the Markets in Cape Town
Cape Town has a plethora of interesting markets and the opportunity to visit them was one of our favourite things to do around Cape Town.
Markets are a great way to cut out the middleman and directly support local entrepreneurs, try out local delicacies and get your hands on one of a kind artisan goods. These are some of the best markets Cape Town has to offer.
Oranjezicht City Farm Market:

Located at the V&A Waterfront, Cape Town, this was our favourite market. It is open on the weekends, Wednesday evenings, and sells all sorts of local produce and yummy homemade food products.

Bay Harbour Market:

This crafts and food market is open from Friday evening to Sunday afternoon. You can expect a vibrant atmosphere, live music, and an ocean view.

Elgin Railway Market:

This Victorian-themed market has something for everyone. There are vendors selling food, clothing, crafts, and more. Families often consider the dedicated kids' playground, one of the top things to do in Cape Town with kids.

The Neighbourgoods Market:

Located inside the Old Biscuit Mill and open on Saturday mornings, the Neighbourgoods Market is something of an institution in Cape Town. If you are wondering what to eat, Cape Town holidaymakers and foodies will love this vibrant market.

Mojo Market:

Located in Sea Point this market mostly has clothing and homewares stalls however the food stalls that are on-site only use bamboo or biodegradable utensils which we can totally get behind. This market is open every day from 8:00 am to 11:00 pm.
Best Day Trips from Cape Town
As much as there are great places to visit in Cape Town, there are some equally fun things to do around Cape Town as well. Below is the list of our favourite Cape Town day trips.
All of these day trips from Cape Town are within 2 hours of the city center. They offer asperous beauty, interesting wildlife viewing, and delectable seafood which rival inner-city points of interest.
Day Trip to Cape Point Nature Reserve
After exploring the immediate roads and beaches, consider taking a 2-hour journey along the southern peninsula all the way to Cape Point. A trip to the nature reserve offers a fun day out, with lots of stops along the way.
Don't miss these stops en route to the Cape Point:
Chapman Peak Drive

: This 9 kilometre stretch between Noordhoek and Hout Bay has 114 curves and has been dubbed one of the most scenic roads in the world. You'll hug the mountainside and be treated to views of the Atlantic Ocean on one side and the Western Mountains on the other.

Llandudno Beach

: This stunning beach is famous for its white sand, blue waters, and mountain backdrop. It is a Cape Town must see which is particularly popular with local surfers and kiteboarders.

Houts Bay:

This pretty seaside community has some of the best places to eat in Cape Town. Many of the restaurants here are famous for great seafood. Try the seafood at

Mariner's Wharf

or if you are there on the weekend stop by the

Bay Harbor Market

for a bite to eat, the chance to listen to live music, and to peruse the craft market.

Cape of Good Hope:

This peninsula in South Africa is a picnic and lookout spot known for its incredible and isolated scenery. It is the South-Western Point of the African Continent and is well worth a visit when considering things to do in Cape Town.

Cape Point Nature Reserve: Visit the Cape Point Lighthouse to explore the trails that criss-cross the reserve and look out for diverse birdlife which calls the area home. There are lots of activities in Cape Town, within the park, like the Flying Dutchman, Dias Beach and the 2 Ocean Restaurant.
Cape Point Vineyard

: This award-winning winery has a tasting room, restaurant, and offers picnics on the lawn. If you are looking for a date night idea, one of the fun things to do in Cape Town for couples is to attend the great Thursday evening market. It features local food vendors overlooking the sea and the Noordhoek mountain range.
Day Trip to See Penguins at Boulders Beach
This little sanctuary is quite popular on social media and always makes it to the list of top 10 things to do in Cape Town – and for good reason. Hundreds of penguins nest and in between the sandy rocks at Boulder Beach, making it easy to spot them at any time of the day!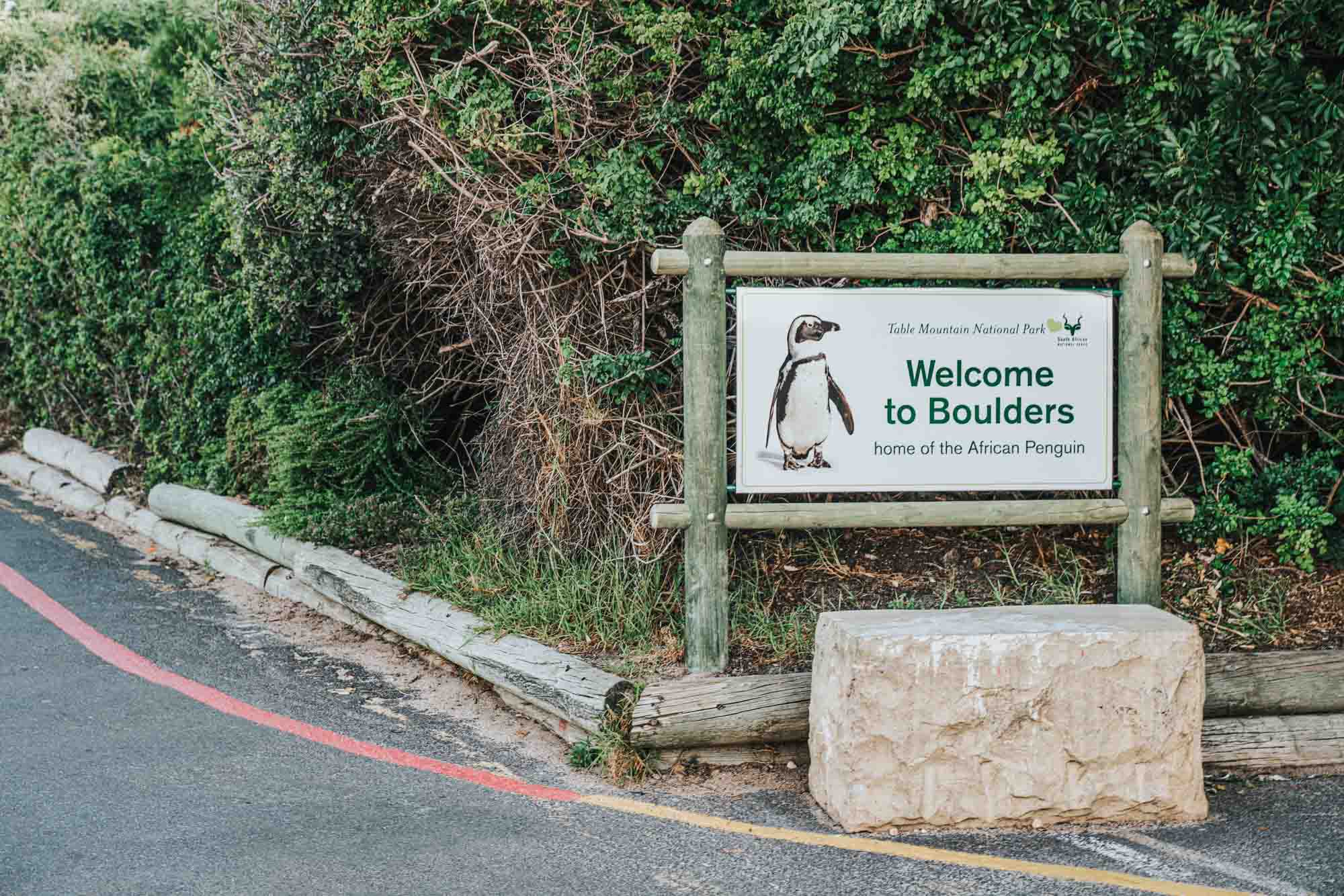 You can see the penguins from the boardwalk as well as on the beach. Your entry ticket will give you access to both ends of the beach. So walk to the other side of the beach and you can enjoy getting a little closer to the penguins. Depending on the time of the day, you may need to climb over some boulders to see the colony. But once you do, you'll find the penguins to be super curious.
Foreigners need to pay R160 for adults and R80 for children to enter Boulder Beach, which helps to protect and conserve the area.
What most people don't realize is that there are lots of other places to stop on your way to Boulder Beach from Cape Town.
Kalk Bay:

This little fishing village has great seafood and lots of shops to peruse! You can't go wrong dining at

Harbour House

,

Lucky Fish and Chips

, or

Live Bait

.

Muizenberg Beach

: Known for its colourful beach huts, this Instagram famous beach has white sand, shallow waters, and is a favourite amongst locals.

Blue Bird Garage Food and Goods Market

on Fridays are great places to grab a bite to eat.

Boulders Beach:

Penguins can be seen on the beach at all hours of the day at Boulder Beach, but sunset is a beautiful time to visit.

Simons Town:

Located next to Boulders Beach, this picturesque town has lots of shops, dining options, and is home to adventure sports. You can rent a kayak or paddleboard, go on a seal snorkelling safari or even try a

water biking tour

.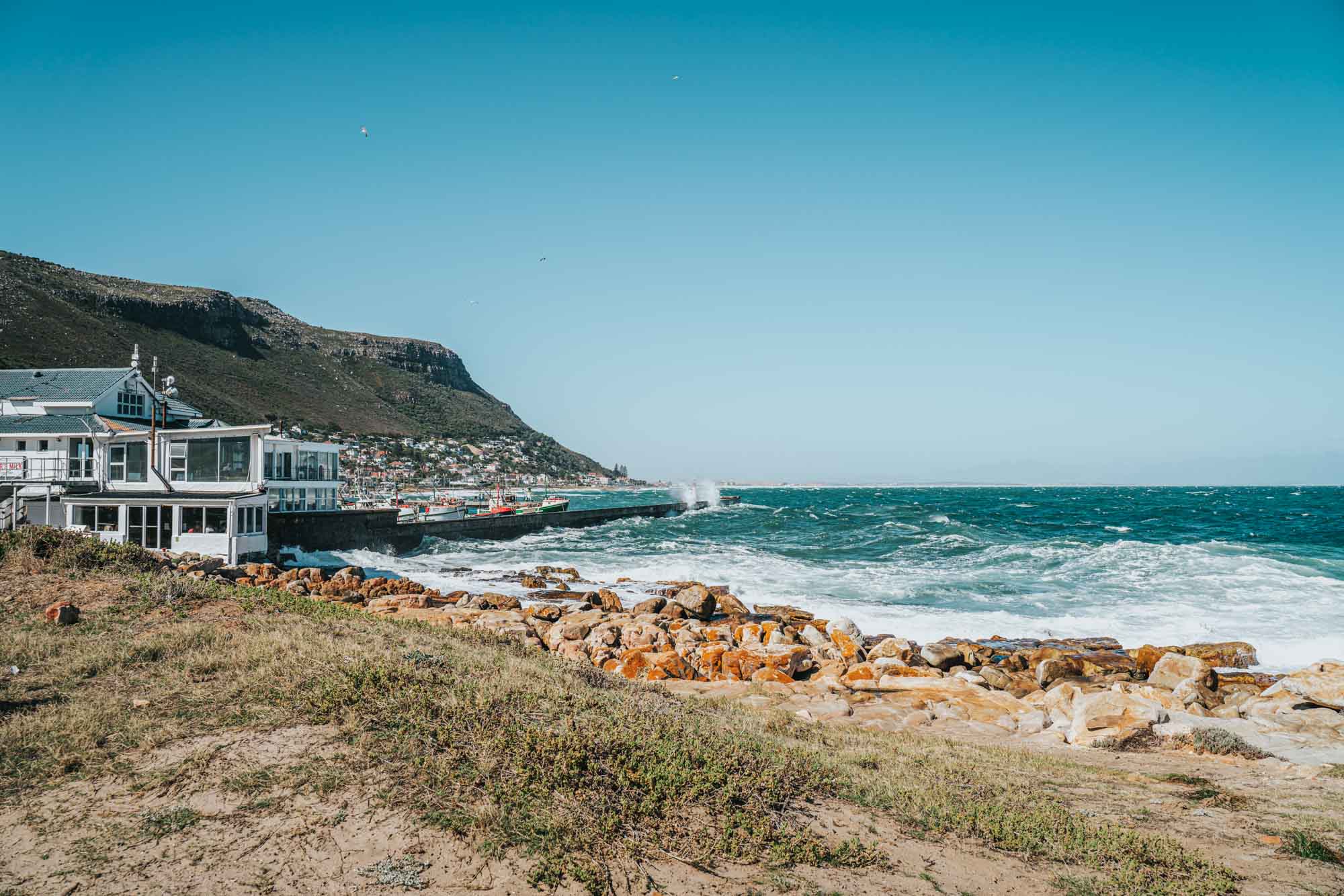 Visit Cape Winelands
For this Cape Town must-see, you'll have to head outside the city into the majestic Winelands. The three towns of Stellenbosch, Franschhoek, and Paarl make up a triangle of winding roads and lush vineyards.
In fact, there is so much to do that we would suggest you spend a few days soaking up the Cape Wine region. However, if you are short on time, you can turn a Cape Wine Route visit into a day trip too.
Stellenbosch
Stellenbosch is located 40 minutes from Cape Town. It is South Africa's second-oldest town, prominent for its great wine, culture, and history. Stellenbosch has some of the finest examples of Cape Dutch architecture in all of South Africa. However, if you want to learn more about the history of the area, head to the Village Museum.
Stellenbosch is perhaps the most well-known town in the Cape Wine region. It plays host to hundreds of wineries, each one offering wine tastings.
Don't miss a visit to Meerlust Estate, a National Monument with a long history. The tradition of winemaking at Meerlust Estate goes back as far as 1756 when grapes were first planted on the property. Their tasting room is open from Monday to Saturday. Don't miss sipping on their multi-award winning 2016 Meerlust Rubicon.
Franschhoek
Franschhoek is another one of the oldest towns in South Africa and is located just over an hour from Cape Town. The town takes its food very seriously and is a member of The Délice Network of Good Food Cities of the World.
The best way to explore the region is on the Franschhoek wine tram. The hop-on-hop-off experience allows passengers to choose from 8 estates which offer wine tastings and tours. The cost per adult is R260.
You can combine a visit to Stellenbosch and Franschhoek – this day tour offers a good option. It includes lunch, a visit to 4 wineries and the opportunity to sample cheese and chocolate pairings.
Paarl
Paarl is located 45 minutes from Cape Town and is known for its full-bodied reds and crisp white wines. For an incredible view over the Winelands hike up Paarl Rock.
Bollard Cellar is a must-visit in Paarl. It was named as one of the top 100 wine producers in the world by the World Association of Wine & Spirits Writers. They are committed to working with local farmers and growers and have a tasting room on-site.
Another one of our favourites is Babylonstoren, a winery, farm and restaurant that's popular with locals and visitors alike. Their wine is good, but it's the opportunity to tour their massive farm and to sample some delicious meals at their on-site restaurant that really stood out in our minds!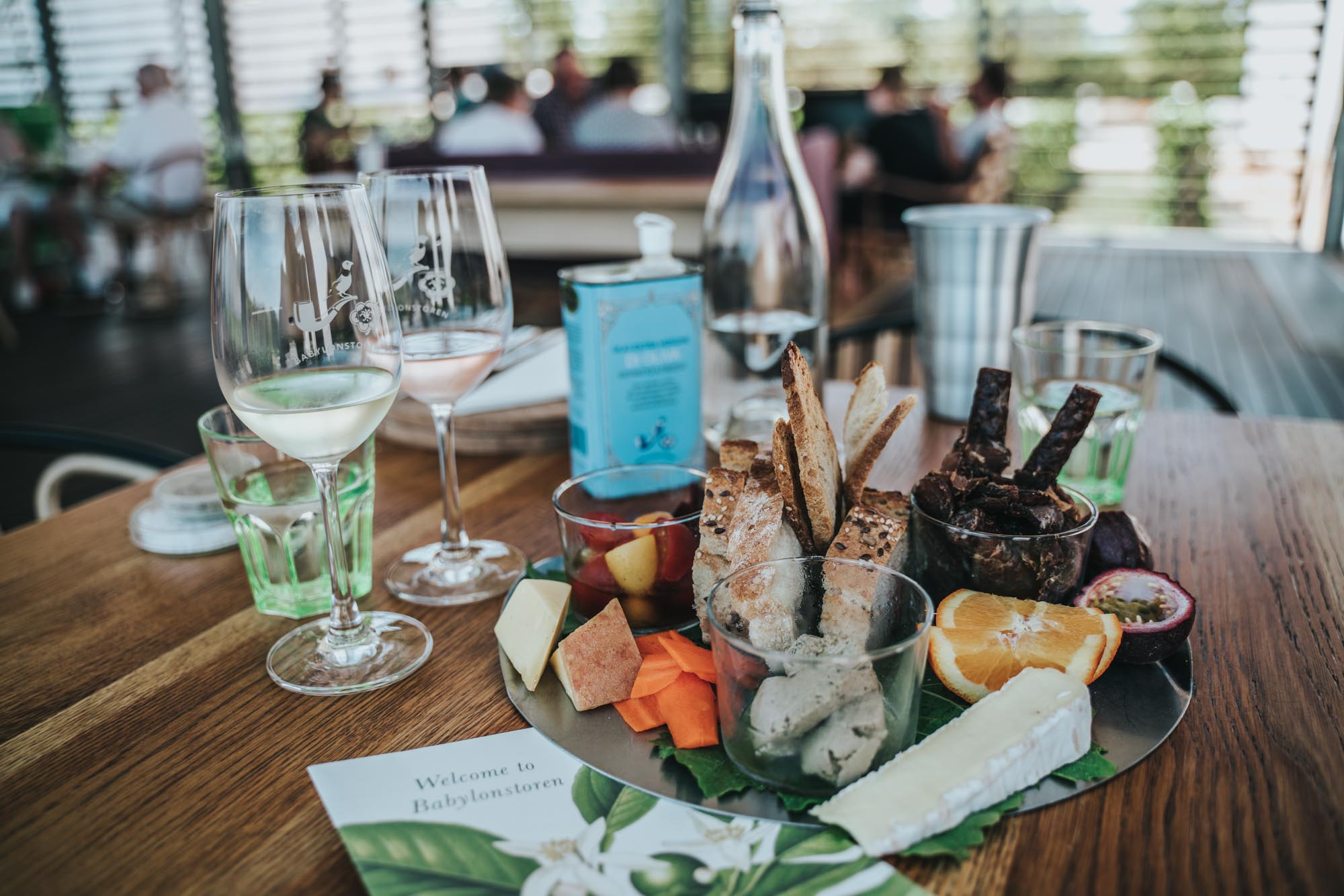 No matter what town you decide to visit on your day trip from Cape Town, a visit to the Winelands is a bucket-list-worthy experience. It not only has spectacular views but world-class wine at affordable prices. A great gift to bring home for family and friends.
Best Places to Eat in Cape Town
As a melting pot of cultures, Cape Town isn't famous particular type of food. It has a authentic culinary scene with all kinds of food and dining experiences at your fingertips.
Cape Town is the birthplace of unique local traditions and a medley of cuisines brought together by Cape Town's multicultural society. Its society has blended into its very own wonderful entity which is distinctively "Capetonian". You'll find everything from Michelin star restaurants, Cape Town has to offer, to low-key food vendors at the many markets around the city.
If you need your morning jolt of coffee or tea, don't fear, Capetonians love both!
Best Restaurants in Cape Town South Africa
No list of the best restaurants in Cape Town South Africa will ever do the culinary explosion of this city justice. But keep this list handy when you're wondering where to eat out in Cape Town and you won't be disappointed.
Knysna Oyster Company:

This modern oyster bar is located on the VA Waterfront and is one of the best places to eat in Cape Town for sea fare. They serve fresh oysters from Knysna Bay along the Garden Route.

Quay Four:

Another VA Waterfront favourite for when you are wondering where to eat in Cape Town. Quay Four has two levels; upstairs offers a more upscale experience with fresh seafood and harbour views. While downstairs is popular for a more laid back vibe and affordable prices with live music and pub-style food.

Three Wise Monkeys:

This low-key Japanese restaurant is known for its delicious bowls of ramen. There are 2 locations, one in Sea Point and the other one in Gardens.

Miller's Thumb:

This eatery is self-proclaimed "the best place to eat on earth" and it is one of our favourite restaurants in Cape Town. It is located in Gardens and has a seafood-based menu.

Codfather:

Located in Camps Bay, Codfather is a true Cape Town institution with more than 20 years of operations. Codfather a sushi and seafood restaurant with a twist. There is no menu but rather a selection of fresh fish at market prices that are cooked to perfection and served to your table with a variety of sides.

The Test Kitchen:

If you are wondering where to eat in Cape Town, to have a culinary experience, pop over to the Test Kitchen in Woodstock. Guests start out in the "darkroom". Then, make their way to the "lightroom" over the span of a 10-course meal.

Yours Truly:

We visited the location in the Gardens but there are four locations scattered throughout the city. Yours Truly is part cafe, a part beer garden with a great menu suitable for any taste.

Tigers Milk:

Open for breakfast, lunch, and dinner this cozy eatery will hit the spot when you can't decide where to eat in Cape Town. They emphasize home-made food and have locations throughout the city.

Seabreeze Fish & Shell:

This light and airy restaurant has the best happy hour oyster specials in the city and offers a big outdoor terrace.
Best Vegetarian & Best Vegan Restaurants, Cape Town
There has been a steady influx in the number of healthy, vegetarian and vegan restaurants Cape Town has to offer. These are just a few of our favourites:
Raw and Roxy:

This tasty raw food Vegan Cape Town restaurant is located inside the Woodstock Co-op. If you want to learn to make raw vegan Cape Town treats then head down to their classes on Monday or Thursday.

Plant:

Located in Bo-Kaap, Plant serves delicious 100% vegan dishes and part of the profits go to human or animal charities.

Lekker Vegan:

Located on Kloof and Barrack Street, this funky laid back spot serves "gourmet" vegan junk food. Think burgers, fries, and ice cream.
Markets in Cape Town also have a ton of food options to enjoy. Many of the vendors are independent locals. So, by buying from these markets in Cape Town, you'll be supporting the local economy. Additionally, cutting supply chains short and connecting with the local community.
Places to Stay in Cape Town
Cape Town is one of those rare cities which has made sustainability a prominent part of its tourism development framework. In 2004 responsible tourism was included as one of its founding principles.
A massive water shortage helped spur the city into action to undergo a transformation to conserve water and go green. Since then the city has put in a compulsory standard for water usage and recycling to help protect the environment and its precious natural resources. However, there are a few Cape Town hotels that go above and beyond the mandate.
Hotel Verde

Cape Town is one of them. This modern, eco-friendly hotel takes sustainability seriously and is located at the airport. It is not one of the luxury hotels Cape Town has to offer but it is upscale and comfortable. They were the first hotel in Africa to offer 100% offset carbon-neutral accommodation in Cape Town. They have a rooftop garden, wind turbines on-site and so much more. Moreover, their rooms have complete amenities and they have an onsite gym and pool.
Location is really important when choosing where to stay in Cape Town South Africa. So consider which neighbourhood is right for you. Base the things to do around Cape Town which interest you most before making a decision.
If you want to be within

walking distance to the V&A Waterfront and the Bo-Kaap

neighbourhood then consider the

Tree House Hotel

. This is one of the best boutique hotels Cape Town has to offer. They demonstrate their commitment to the "social, economic and environmental well-being of the community, and the planet" through their business operations. Furthermore, their rooms are complete with amenities, comfortable and have a modern aesthetic.
Nearby in

Sea Point

is the

Antrim Villa

. This lux accommodation in Cape Town is set in a converted 1700 century farmhouse. It incorporates nature design elements, has a great saltwater pool, and offers a sense of seclusion in the city. However, what we like best is that it is a Fair Trade property.
If you would prefer to stay away from the hustle and bustle of the city center, consider the

Vineyard Hotel

, located in

Newlands

on the outskirts of the city. The Vineyard Hotel has views of Table Mountain. It's also a great eco-centric choice for places to stay in Cape Town South Africa. The hotel is located on 8 acres, has two swimming pools and multiple restaurants. It is fair trade certified and has an impressive environmental policy.
Those planning a longer stay in Cape Town will find Airbnb to be a great option. There is a huge selection of share economy places to stay in Cape Town, in just about every neighbourhood.
How Much Time Do You Need to Enjoy the Top Things to Do in Cape Town?
Given that you've traveled far to get to Cape Town, you should stay for at least a week, especially if you want to make the most out of the best things to do in Cape Town. This should give you enough time to see most of the top Cape Town attractions. And also, to live up in the incredible boutique hotels the city has to offer.
10 days would be perfect. However, if you want to head out to nearby coastal towns and nature reserves to see the Big Five tack on some extra time.
Have you ever been to Cape Town? What do you think are the best things to do in Cape Town?