We've been lucky enough to dive in some of the most amazing dive sites in the world, but scuba diving in Komodo National Park has been on our bucket list for years.
*This post may contain affiliate links, as a result, we may receive a small commission (at no extra cost to you) on any bookings/purchases you make through the links in this post. As an Amazon Associate, we earn from qualifying purchases. Read our full disclosure
Not only are the Komodo Islands in Indonesia home to some incredible dive sites, but some of its sites, particularly Batu Bolong, also make an appearance on the list of The World's Best Dive Sites.
We wondered if Komodo National Park would live up to our expectations and are happy to say that Batu Bolong and 8 other dive sites we visited during our liveaboard did not disappoint!
If you are considering a trip to Komodo Indonesia and thinking about jumping on a liveaboard in Komodo National Park, then read on!
We've compiled some great advice and recommendations for diving in Komodo based on our own experiences.
Traveling Soon?

Here is a list of our favourite travel providers and accessories to help get you ready for your upcoming trip!
About Komodo National Park
Known primarily for being home to the elusive Komodo Dragons, the Komodo National Park is located in the centre of the Indonesian archipelago, between the islands of Sumbawa and Flores.
The area comprises three major islands: Komodo, Rinca, and Padar, as well as numerous smaller islands that make up a total area of 1,800 km2.
The park was initially established to conserve the unique Komodo Dragon, but along the way, the conservation goals have expanded to protect the entire biodiversity of the region, both on land and below.
Diving In Komodo National Park
Today, divers are able to explore over 30 different dive sites in the vicinity of Komodo National Park, many of which are located within just a 1-2hr boat ride away from the pier in Labuan Bajo (the gateway to Komodo National Park)
While it is possible to visit some dive sites in Komodo National Park on a day trip, exploring it on a Komodo liveaboard is probably the most popular option with travellers.
And for us, it was a no-brainer!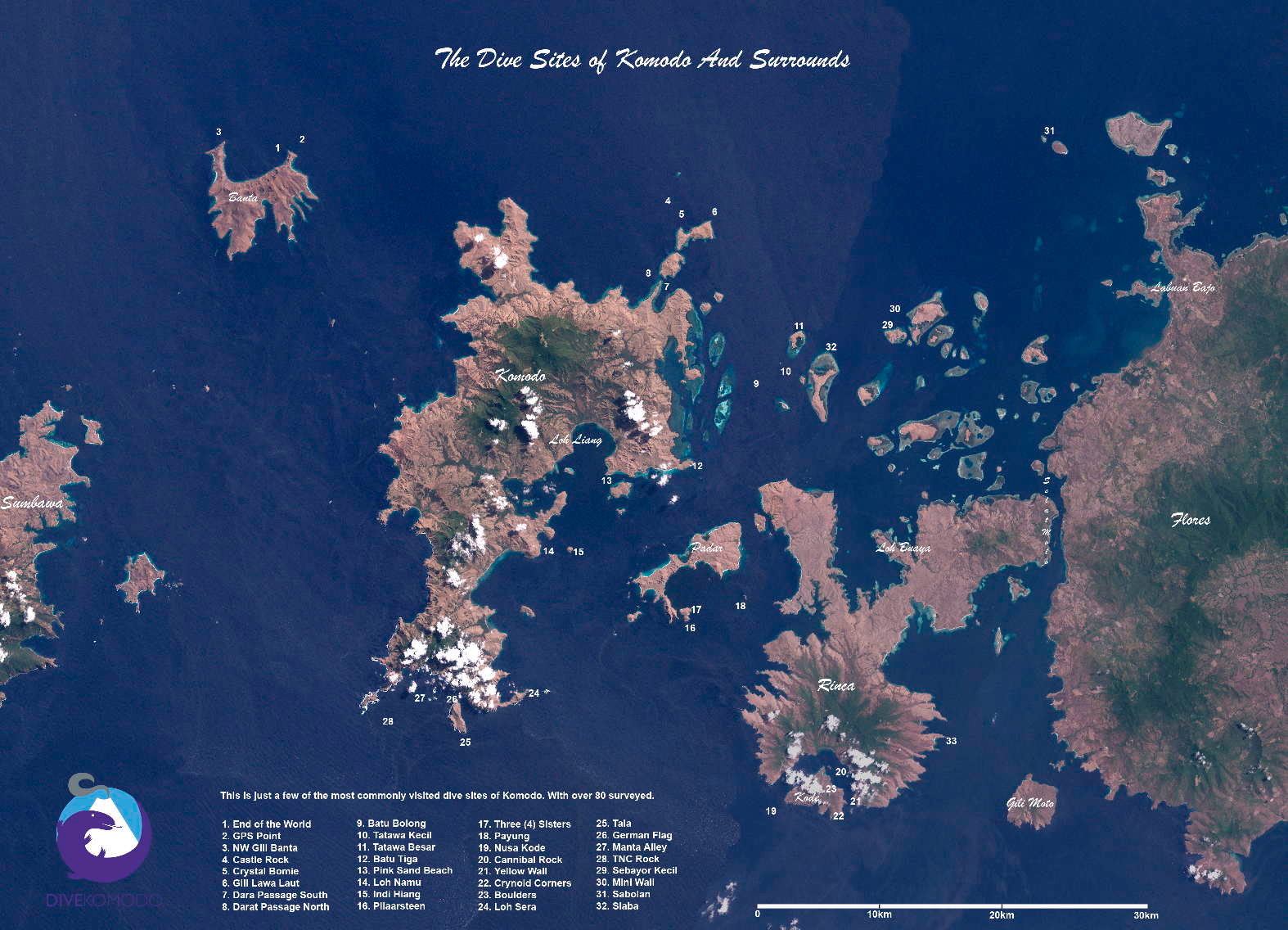 Liveaboard Dive Operators In Komodo
Choosing the right operator for our liveaboard in Komodo National Park proved to be a bit of a challenging task.
There are dozens of Komodo liveaboard operators ranging in price and in service level from the most basic backpacker friendly boats, to luxury floating hotels.
We Recommend That You Start Your Search On Liveaboard.Com, A Liveaboard Aggregator With Great Customer Service Support And Hundreds Of Liveaboard Options All Over The World.
There are over 60 liveaboard options in Komodo National Park listed on Liveaboard.com, with prices starting at just $144 USD/pp/day.
On the ground in Labuan Bajo, there are about 6-8 large dive operators, all offering similar Komodo liveaboard experiences ranging from $150-$250 USD/pp/night.
On the lower end, you have your backpacker "floating hostel" experience with Wicked Divers, an operator that caters to backpackers on the absolute lowest budget. On the other end of the scale, there is Blue Marlin Dive, offering a slightly more luxurious experience for $250/pp/night. The rest sit in the middle.
Diving With Dive Komodo
We chose to dive with Dive Komodo, one of the pioneers of diving in the region who has been operating liveaboards out of Labuan Bajo since 1996. Their fair price, great reviews, and availability that fit our schedule made them an obvious choice for a Komodo tour. Dive Komodo offers several different packages with different price points, depending on the length of your dive trip and desired accommodations.
Dive Komodo's liveaboards are typically 5 days long, allowing the divers to experience over 20 different sites within the Komodo National Park. But the team was incredibly flexible, able to accommodate us on their beautiful boat called Tatawa for just 3 days!
Tatawa (Indonesian for "smile"), a 21-metre beauty designed specifically for dive safaris in Komodo National Park, is able to comfortably accommodate 8 divers in 2 double, 2 single, 1 twin rooms, along with a crew of 2 dive masters/instructors, plus cooks, cleaners, a few other helpers and of course, the captain! It may sound like a lot of people on board, but there was always a TON of room for everyone.
What To Expect From A Komodo Liveaboard
Our experience with Dive Komodo should give you a rough idea of what to expect no matter which Komodo liveaboard company you choose.
We kicked off our trip by getting acquainted with the boat and meeting our lovely guide Wai, Fabi, and the rest of the crew, before receiving a detailed safety briefing and a chance to settle into our cabins, which were pretty basic but have all you need and are very comfortable.
Then it's straight into your gear to jump in for your first Komodo diving experience. During our 3-day Komodo liveaboard, we managed 9 dives: 3 on the first day, 4 on the 2nd, and then another 2 on the final day. Each of them was amazing in their own right, but Batu Bolong was probably the most impressive.
At the end of each day we were exhausted but happy, and sitting around the dinner table with the other passengers and crew. Dinner was served at a cozy dry wooden square table at the heart of the boat. The food itself was great, but it was the chance to recap the day with fellow divers over a few beers that made evenings on Tatawa that much more special.
Perks Of A Liveaboard In Komodo National Park
Liveaboards can be super economical, depending on the operator, the length of your dive trip, and the level of accommodation. You can opt for bunk-style accommodations and get a great deal.
By staying on a liveaboard, you can get access to a lot of the dive sites before the big tour operators get there. No crowds to scare the fish away!
Liveaboards typically offer a more personalized experience since the groups tend to be smaller, there's no worry about transportation back to accommodations, and the guides know all the ins and outs of spending so much time on the water.
There is simply less for you to worry about, with transportation, accommodation, and meals all taken care of!
Highlights Of Diving In Komodo National Park
Best Komodo Diving Sites
Siaba Kecil
We experienced this Komodo dive spot as a check dive on our first day and then returned the next day but had a completely different experience! Thanks to a strong current our easy check dive site had turned into an awesome drift dive where the marine life was abounding: turtles, lots of sharks, trevally, and much more!
Mawan
Mawan is one of the dive sites known for common sightings of manta rays. We got lucky, spotting not 1, not 2 but 3 beautiful and incredibly gracious manta rays swimming right past us, along with some turtles, and stingrays!
Siaba Besar
Siaba Besar was a great dive site to experience at the end of a day of Komodo diving. We were lucky to spot the elusive flamboyant cuttlefish, frogfish, a few turtles, squids, and more. It's a particularly great site for night diving too.
Batu Bolong
The beautiful Batu Bolong, is frequently labelled as "an underwater aquarium". It was here that we saw some of the most beautiful coral in Komodo National Park and spotted a white tip reef shark, giant trevally, jack fish, banded sea snake, and lots of puffer and boxfish
Tatawa Kecil
Tatawa Kecil is a cool topography dive with lots of beautiful coral and reef fish. The currents here are pretty strong, so it's not for the inexperienced diver.
Manta Point
As you might have guessed, this is where to go to swim with the manta rays! The reefs here are just 2 to 9 metres below the surface, and you might also see eagle rays, cuttlefish, turtles, and huge clams.
Castle Rock
We didn't have time to see Castle Rock, but this is one of the most popular Komodo dive sites. Apparently, this site can get some pretty strong currents and is best for more experienced scuba divers. You can see white-tip and grey reef sharks, barracudas, and even dolphins at this site.
Golden Passage
Another awesome drift dive can be found at the Golden Passage which is filled with turtles, grey reef sharks, big jacks, lionfish, and scorpionfish. It offers an amazing underwater landscape teeming with life.
Cauldron
Shaped like a cauldron (hence the name), this dive site takes you through passages, over ridges, and into sandy cauldrons. Our dive group spotted black and white-tipped sharks, scorpionfish, giant sweetlips, trevally, and a moray eel, along with chevron barracuda, midnight snapper, and of course plenty of hawksbill turtles to name but a few!
Tatawa Besar
You don't have to dive too deep at Tatawa Besar to spot its vast array of marine life. We managed to get a glimpse of white and black tip sharks, hawksbill turtles, crocodile fish, scorpion fish, cuttlefish, and more!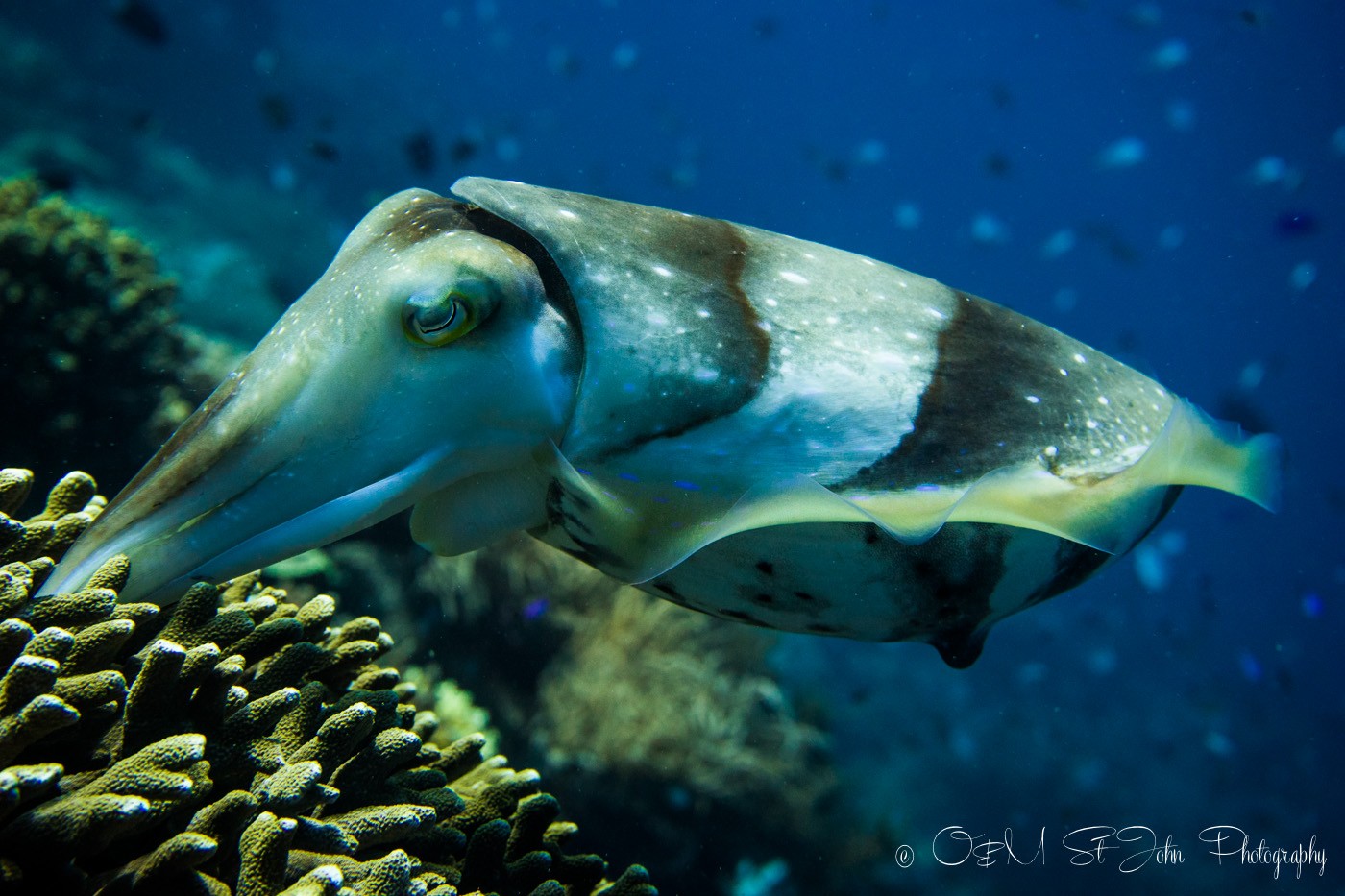 Other Things To Do In Komodo National Park
Trekking With Komodo Dragons
Our Komodo tour wasn't over just yet! Dive Komodo arranged for their day boat to pick us up at Tatawa Besar and take us to Rinca Island for Komodo Dragon "trekking". The term "trekking" is used very loosely here because although there are some longer treks available on Komodo Island and Rinca Island, we only did a 30 min leisurely walk around the main area of the island… and even that seemed almost unnecessary.
We thought the dragons would be hiding away deep in the forest of Rinca, but to our great surprise, 6 of them were lazily hanging out right by the rancher's cabin about 2 mins walk from the entrance to the park.
It immediately diminished their image as dangerous and elusive creatures. Although for Max, who has been in love with the idea of Komodo Dragons since childhood, seeing them up close and personal was still a moment to remember.
Hiking
Our time on Tatawa with Fabi, Wai, and the awesome group of travellers from all over the world was definitely the highlight of our time in Indonesia. We loved the Komodo liveaboard, spending days in and out of the water in some of the most beautiful dive sites in the world, soaking up the sun, eating great food, and taking the time to finally relax! (There was no reception on the boat, so that meant 3 straight days of NO WORK for us!)
Chill Out At The Beach
There are so many gorgeous, pristine beaches in Komodo National Park, but none as extraordinary as the famous Pink Beach. Named for the pink-coloured sand created by corals, this beach is a wonderful place to unwind. The water is crystal clear, perfect for snorkelling through the red corals. While the natural beauty of this coastline is protected, there are a few beach huts for shade, a few snack bars, and shops for convenience items.
Take In The Stunning Views At Padar Island
While Padar Island is small, it is well worth the visit if just for the views. The unique x-shape of the island and its rugged mountain landscape almost seem otherworldly. Depending on the season, the terrain might be covered in green, lush grasses, or a sand-coloured savannah. It's a 30-minute hike to the island's summit, where you get a panoramic view of the landscape, the different colour beaches, and the surrounding sea. You'll see Padar's very own pink beach, its black sand beach, and a white sand beach.
While diving in Komodo was definitely well beyond our budget of $50 USD/pp/day it was a once-in-a-lifetime opportunity and one that was worth every penny! If you are planning to visit Indonesia and are considering diving in Komodo, DO IT.
We promise that it will be the highlight of your visit to this part of the country and an experience that will stay with you for the rest of your life!
Want more proof? Check out our amazing video (well, we think it's amazing) that will help you imagine what diving in Komodo is really like!
Other Komodo National Park Tips & Travel Advice
How To Get To Komodo National Park
The closest town to Komodo National Park is Labuan Bajo. You can fly into Labuan Bajo Airport (also known as Komodo Airport) from Bali or Jakarta. From the airport, you can take a taxi into Labuan Bajo, which should take no more than 10 minutes and cost around 50-70,000 IDR ($3.50-4.70 USD). Negotiate before getting in! If you don't have a lot to carry and are feeling energetic, you can walk the journey in about 20-30 minutes, and it's an easy downhill walk.
Best Time For Komodo Diving
You can experience liveaboard diving in Komodo National Park all year round, however, be aware that you will not be able to sample the best dive sites from across the park in just one trip. Due to weather conditions and currents, one-half of the year, all dives will take place in the Northern part of the park, while the other half, Komodo liveaboards will only venture down to the South.
Entrance Fees
Komodo National Park entrance fee is 150.000 IDR ($9.80 USD) pp/day during the week and 250.000 ($16.30 USD) IDR pp/day on the weekends.
What To Pack For A Komodo Liveaboard
Despite the fact that you will be staying on a boat between 3-5 days, you will most likely end up wearing the same 1-2 shirts and 1-2 bathing suits the entire time, so don't overpack. Do bring some layers though to keep you warm after long dives and in the evenings. Bring lots of sunscreen, the sun in Indonesia is vicious! Just as fierce as the bugs, bring mosquito repellent! It's also a good idea to bring running shoes or another pair of trekking shoes if you want to be comfortable while making your way up to the view point near the Golden Passage dive site. Although the guides may tell you running shoes are not necessary, trekking in proper footwear is just a much better experience!
What About Electronics?
Power is available on Tatawa, so we had no issues with charging our cameras and laptops during our time on the Komodo liveaboard. Cell phone reception though, and as such data services, will probably be unavailable for the majority of your time on a liveaboard. There are a few spots in the park that do get reception, but don't plan on it.
Where To Stay When Visiting Komodo National Park
The easiest/closest base for starting your Komodo tour is the tiny town of Labuan Bajo. Interesting fact about the town is that all of its water is imported, so water preservation and conservation is a big deal here!
There are plenty of accommodation options for every type of traveller and budget. The Hotel Bintang Flores Island is a 4-star hotel offering plenty of facilities including free wifi, a gym, and swimming pool. Water sports like snorkelling and diving excursions can be arranged through the hotel's own dive centre.
Komodo Boutique Hotel is 3-star family-run hotel with lovely gardens with terraces perfect for chilling out on. Their friendly reception staff can also help you book Komodo tours. Komodo Boutique hotel also offers bike rental for an eco-friendly way to get around.
The Eco Tree O'tel offers a great location, and has an onsite bar and restaurant with live music to keep you entertained in the evenings. There is also an onsite spa offering massage and skin care services, and the hotel concierge service can help arrange excursions.
Don't Forget Travel Insurance
Travel Insurance was a mandatory requirement for this liveaboard experience. We recommend taking out travel insurance before you arrive in Komodo Indonesia to avoid paying premium prices. Keep in mind that a lot of basic medical insurance plans won't cover diving as an activity, so be sure to read the fine print and inquire about all the details.