Our taxi turned into a tiny street just off the Jalan Malioboro (Malioboro Street) and came to an almost immediate halt. So, Max rolled down the window and stuck his head outside to check for the source of the hold-up. Sounds of motorcycle honks, car engines, and loud chatter flooded the vehicle.
*This post may contain affiliate links, as a result, we may receive a small commission (at no extra cost to you) on any bookings/purchases you make through the links in this post. As an Amazon Associate, we earn from qualifying purchases. Read our full disclosure
We found ourselves smack in the middle of a day market. Dozens of locals were now forced to make their way around our taxi to get to the stalls along the street that were selling everything from fruits and veggies to freshly caught fish that was still breathlessly twitching inside the buckets.
There was no point in trying to drive through the commotion. So we grabbed our backpacks, paid the driver, and made our way to our hotel on foot, located just a few hundred metres away.
This market, along with many other neat little pockets of culture, made us feel that despite being a major tourist destination in Indonesia, Yogyakarta or as it's often referred to by the locals, Jogjakarta still manages to maintain its authenticity and appeal.
Renowned for being the getaway to the world-famous temples of Borobudur and Prambanan, Yogyakarta draws in hundreds of thousands of visitors on a yearly basis. They arrive in the city, fork out $100+ for an organized Yogyakarta Borobudur tour, and depart content that they have ticked a box on their bucket list.
But Yogyakarta deserves a better visit! There are so many things to do in Yogyakarta that it's worth planning a few extra days to explore.
Traveling Soon?

Here is a list of our favourite travel providers and accessories to help get you ready for your upcoming trip!
Best Time To Visit Yogyakarta
The dry season from May to October is when most people come to explore all the things to do in Yogyakarta. However, we don't think you should discount planning your Yogyakarta itinerary during the rainy season (April to November).
Sure, you will avoid the rainfall but that also means you will be greeted by crowds at most Yogyakarta attractions. During the rainy season, temperatures mirror those of the dry season, and it often only rains for a short period in the afternoon. But our favourite part – the city tends to get a little quieter, and you will have fewer tourists to share a Yogyakarta tour with.
Regardless of the time of year, temperatures will hover around 28 degrees Celsius (83 degrees Fahrenheit) in the afternoon, and humidity is just a part of everyday life.
Top Things To Do In Yogyakarta
Prambanan And Borobudur
Fortunately, the biggest draw cards of the region, the impressive temples of Prambanan and Borobudur, do live up to their hype. But the best way to explore both Yogyakarta attractions is at your own pace!
We took a "sunset tour" to Prambanan Temple, and despite only paying 75,000 IRP (a great deal) for the return ride to the temple, we regretted it almost immediately. With only 3 hours to explore one of the top things to do in Yogyakarta, we felt rushed and constrained by the minivan departure time.
We had enough time to explore both Candi Sewu (a large Buddhist temple complex meaning "one thousand temples" located just one kilometre north of Prambanan Temple) and the beautiful Prambanan temple at sunset. But not enough time to enjoy either one of the temples once the crowds subsided. Alongside the rest of the crowds, we rushed out of the temple grounds to catch our rides back to our Yogyakarta hotels.
Having learned from our mistake at Prambanan, we chose to rent a scooter and make our own DIY Yogyakarta Borobudur tour and explore this UNESCO World Heritage Site at our own pace.
Arriving just in time for sunrise, we shared a magical sunrise with hundreds of other tourists. Luckily, this time, we had the luxury of time. So, we were able to enjoy the peace and quiet of the temple shortly after the sunrise crowds departed.
We do understand that everyone may not have the same luxury of time that we had. So if you are looking for a tour, we would suggest one of the following:
We like the full-day Borobudur Sunrise and Prambanan private tour because a local tour guide picks you up from your hotel in the wee hours of the morning and drives you to Borobudur for sunrise rather than to Prambanan. Since Prambanan is about an hour and a half from Borobudur you will be able to make the most of your limited time at this popular tourist attraction and be able to ask all the questions you want on the car ride.
If you are even more crunched for time, then the half-day Borobudur Sunrise tour includes a pick-up at 3:30 am in the morning. They will have you back at your hotel by 10:00 am.
Or if you just don't want to wait in line (especially that early in the morning), you can buy your admission passes beforehand for Borobudur Prambanan here.
Kraton Yogyakarta
Back in town, Kraton Yogyakarta or the Sri Sultan's Palace tops the best places to visit in Yogyakarta after the temples. The Kraton consists of two separate entrances: the Main Court (Pagilaran & Siti Hinggil) and the Residence, with each one requiring a separate entrance ticket.
You can take a guided tour of the courtyard and the living quarters with one of the local student volunteers who offer tours of the Kraton as part of their university internship. Their knowledge of the Kraton itself will impress you, but their ability to discuss Indonesian history and cultural insights may vary.
You can easily spend 1-2 hours exploring each section of the Kraton, so choose the one you are most interested in seeing and budget your time and Yogyakarta itinerary accordingly. We recommend the Residence over the Main Court.
Taman Sari
Taman Sari, also known as the water palace, is one of the sections of the Prince's Palace, located about 2kms from Kraton Yogyakarta. The partly ruined complex of Taman Sari was originally built as a pleasure garden for the royal family by the first Sultan in 1765.
The water pools may be the highlight of the palace. However, if you explore a bit further, you'll love getting lost in the intricate network of tunnels and rooms that you can explore at your own pace.
Shopping On Malioboro Street
Visiting Malioboro Streets may seem like one of the more touristy things to do in Yogyakarta city, but the 2km stretch of shops is worth checking out. First of all, you probably won't be able to avoid them. They line Jalan Malioboro, which you will probably take on your way to Kraton Yogyakarta.
Take your time popping into the shops and checking out the local textiles and souvenirs. It's a great place to pick up a few gifts for those back home and to remind you of your Yogyakarta travel. Just don't forget to bargain hard!
Strolling along Malioboro Street is a fun activity, even without the shopping. If nothing else, it's a great place to people-watch!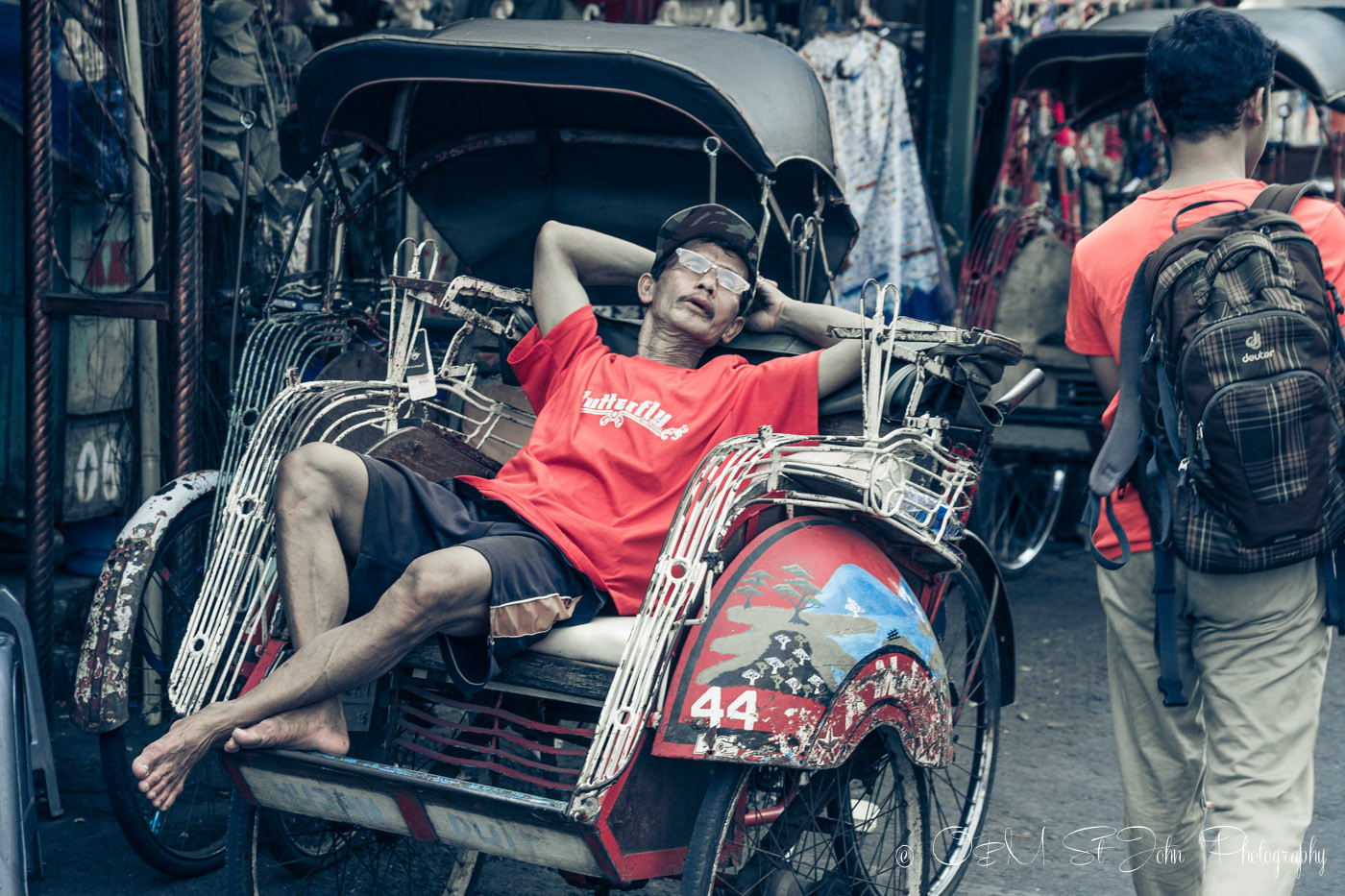 Get Lost On Your Way To Taman Sari
The neighbourhood near Taman Sari is probably our favourite part of the entire city. Exploring it quickly became one of our favourite things to do in Yogyakarta. Here, tiny alleyways wind lazily in random directions creating perfect neighbourhood playgrounds for the local children.
Watch adults go about their daily life as you pass by their humble homes. Enjoy the kids giggling and screaming "bule" (foreigner) as they point in your direction and shyly run to hide in their homes.
Visit Surrounding Villages
When the hustle and bustle got a bit too much, and we started thinking of what to do in Yogyakarta past the city limits, we hopped on a scooter and set off to explore the villages surrounding the city.
There is nothing particular to see and nothing special to do. But we always find that exploring the countryside is the best way to see real life outside of the tourist hot spots. Drive around, stop for lunch at one of the local warungs, and experience true Javanese culture away from the other tourists.
Ratu Boko
Some Yogyakarta tour companies may offer Ratu Boko as an add-on to the Prambanan trip. This archaeological site, known to local Javanese as Kraton Ratu Boko, is located on a plateau about three kilometres south of Prambanan.
We didn't get a chance to check it out ourselves, but from what we heard from other travellers it is well worth an addition to your Yogyakarta itinerary.
Avoid the main roads and travel to Ratu Boko via smaller side roads for a chance to admire some of the countryside and local life.
Learn Batik Painting
Join a Batik Workshop, where you get to learn this traditional Javanese art technique with expert instructors. This Batik Painting Workshop includes all tools and materials, plus personalized instruction on how to create your own artwork. At the end, you'll bring home a one-of-a-kind souvenir, unlike anything you'll find at a market.
Explore Mount Merapi
Located about 1.5 hours from downtown Yogyakarta is Mount Merapi, the most active of all the volcanoes in Indonesia. It's best not to take this on solo, as it is very much an active volcano, but as part of a guided tour. This Mount Merapi Guided Jeep Safari will pick you up from Yogyakarta and take you on a 4×4 drive through the lava flows and viewpoints to take in the amazing scenery.
Take A Day Trip To The Beach
If you have time and need to unwind from the busy, crowded city, consider a leisurely day trip to one of the region's beautiful, peaceful beaches. Whether you like sandy beaches or wild, rocky beaches, you can definitely find a spot not far from Yogyakarta. Just head south on Jalan Wates, and you'll have your choice of beaches along the southern coast.
Indrayanti Beach, Timang Beach, and Parangtritis Beach are popular, and there are so many more spots along the coast that are more secluded and wild. It's best to do a bit of research ahead of time to sort out amenities and the road situation.
Get Your Adrenaline Fix Rappelling Into Jomblang Cave
Rappel 60 metres down into the magical Jomblang Cave, where you'll hike through a dark cavern to a spectacular hidden forest. This is definitely for the adventurous, as there is no easy way in or out – there's a pulley system to get you out of the cave once you've hiked back.
If outdoor adventures like this are your cup of tea, but you don't have much time, consider combining them in a full-day tour like this one. You'll watch the sunrise from Mount Merapi, explore the Jomblang Cave, and wind down at Timang Beach.
Where To Stay In Yogyakarta
When it comes to choosing where to stay in Yogyakarta, we always narrow down our search by selecting environmentally responsible Yogyakarta hotels or guesthouses owned by members of the local community.
Amongst Yogyakarta hotels, Greenhost Boutique is the most sustainable. It was designed based on the principles of 'agricraftcure'. The staff works hard each day to decrease their ecological footprint through their operating practices, purchasing policies, and water and waste disposal systems. They are conveniently located in the heart of Yogyakarta.
For an authentic homestay experience, stay at "NOMORE" Gallery and Guesthouse. The hosts, Rolly and Lala, are committing to creating a positive change through art. They offer one bare-bones room in their home and invite guests to contribute to their ever-changing art exhibit. They are located close to the Sultan's Palace in Yogyakarta in a residential neighbourhood.
Griya Asih is located in a quiet neighbourhood in the centre of the city. Their rooms sleep two people, and every stay includes breakfast with fresh juice. The guesthouse itself is large, airy, and constructed in a traditional Javanese style.
Where To Eat And Drink In Yogyakarta
You'll never go hungry in Yogyakarta, as the city offers over 500 restaurant choices ranging from basic eateries on Jalan Malioboro to high-end western restaurants scattered all over the city and close to most of the top places to visit in Yogyakarta.
If you want our advice, check out one of the city's vegetarian restaurants or choose to eat at one of the small mom-and-pop shops that are set up on the side of the road in the evenings.
Our favourite was Warung Mie Jakarta, located on Jalan Pakuningratan right across the street from Hotel Pakuning. The shop is run by a local family and has only 1 table, which we always share with other locals.
The food was so good that we were there daily in an attempt to try every dish on their menu (we fell a few short). Try Nasi Gudeg, Cap Cay, Fuyunghai, or Biskit Ayam. And of course, don't forget to order a glass of their delicious Es Teh.
If you are after a vegetarian restaurant, check out Milas Yogyakarta. They put a strong emphasis on procuring organic and seasonal produce and never use MSG. They serve western and Indonesian-inspired meals. Plus, every Wednesday and Monday, they hold an organic market.
Warung Vegetarian Somayoga offers great vegan and vegetarian alternatives to traditional Indonesian food. Had your eye on satay? Try the vegetarian version at Warung Vegetarian Somayoga. The food is reasonably priced, and the restaurant itself is located next to a field of rice paddies.
Otherwise, head to one of Yogyakarta's markets. It became our favourite way to stock up on snacks. As well as try new street foods and watch the locals go about their daily life in Yogyakarta. For the full experience and a proper education in Yogyakarta street food, consider joining a food tour. This Night Walking and Street Food Tasting Tour takes you by local landmarks and to food vendors to sample traditional dishes, snacks, and desserts.
How Much Time Do You Need In Yogyakarta?
We recommend spending no less than 2-4 days in Yogyakarta. This will give you 1-2 days to explore Prambanan and Borobudur. Then, a couple more to tackle the lesser-known things to do in Yogyakarta.
Many travellers wonder what to do in Yogyakarta after Prambanan and Borobudur. However, there are many lesser-known attractions to explore. Despite the intensity of the city, it is one filled with character and authenticity. It needs to be given a few days on your itinerary!
Have You Ever Visited Yogyakarta Or Plan On Adding It To Your Travel Wish List?