This post was first published in 2017 and has since been updated with more advice and tips for things to do in Beijing.
Beijing, the capital of China, is often compared (and contrasted) to its great rival, Shanghai, the glitzy and glamorous metropolis and the country's biggest city and a global financial hub. But the two couldn't be more different.
*This post may contain affiliate links, as a result, we may receive a small commission (at no extra cost to you) on any bookings/purchases you make through the links in this post. As an Amazon Associate, we earn from qualifying purchases. Read our full disclosure
Beijing prides itself on thousand-year-old history and Shanghai is often labeled as a glittering tribute to modernity and the Western lifestyle. Both are interesting cities that in a way complement each other, offering you an opportunity to see the various sides of Chinese past, present, and future.
But if you only have time to visit one or the other, choose Beijing. It's a fascinating city with a vibrant mix of history and modern-day luxuries that in and of itself will shock and inspire the everyday traveler.
There are endless things to do in Beijing. It's home to centuries-old traditions, numerous historical monuments, bustling city streets, traditional cuisine, and great nightlife. And we know what you're thinking: Beijing is notorious for its poor air quality – why should I visit?
Well, here's the rub: the red-alert pollution levels that the city has been experiencing over the past couple years have paved the way for environmentally responsible businesses to sprout up all over the city! Plus, there are definitely ways for you to experience the Beijing attractions in a responsible way.
Best Time to Visit Beijing
Unlike many other cities around the world that offer a unique travel experience any time of the year, Beijing isn't very welcoming for the majority of the year. There are four distinct seasons in Beijing: windy spring, long hot summer, cool autumn, and long cold winter.
You don't want to find yourself in Beijing in the winter, which goes from early November to late March. It is bone-chilling cold, windy and incredibly unpleasant.
Don't be fooled by the warm summers (from early June to late August), the weather is very hot and rainy and the smog makes the experience of visiting Beijing tourist attractions during this time of the year just as unpleasant as visiting in the heart of winter.
Without a doubt, the best time for Beijing sightseeing is in the fall (September to early October) when the weather is reasonable (about 20-25°C) and rainfall is limited. Spring (April-May) can be another alternative.
For more info on weather in Beijing throughout the year, check out "Best Times to Visit Beijing" by US News Travel.
Things To Do in Beijing
You won't have to wonder long about what to do in Beijing. The city has a plethora of sights and Beijing attractions to explore during your visit. Having served as the capital of China for more than 800 years, Beijing is home to some of the most important historical and cultural remains in the country.
The Great Wall of China, one of the most famous monuments in the world, is, of course, one of the must-see Beijing tourist attractions. You can visit different sections of the wall and enjoy a completely different experience at each one.
We spent a day hiking on the Mutianyu Section and loved our visit. This section of the wall has been restored and is well set up for visitors, but it wasn't nearly as crowded and busy as we expected. The scenery was beautiful and the hike very manageable.
If you are looking to check out some unrestored sections, or want to get an idea of what options are available, consider reading up on The Best 10 Sections/Parts of the Great Wall to Visit before you go.
Inside the city, the most important landmark is Tiananmen Square in Dongcheng District. It is the world's largest public square that attracts visitors from all over the world.
Comparable to the likes of Times Square in New York and Red Square in Moscow, Tiananmen Square can accommodate upwards of a million people and is surrounded by important landmarks like the Great Hall of the People, the Museum of Chinese History, the Museum of the Chinese Revolution, the Qianmen Gate, and the Forbidden City.
The Forbidden City, (also known as the Palace Museum) which housed 24 emperors of the Ming and Qing dynasties is the best preserved imperial palace in China and is one of the most important Beijing attractions to add to your itinerary. This massive complex sits on the northern edge of Tiananmen Square at the epicenter of Beijing.
Plan ahead for your visit to the Forbidden City, especially if you are in Beijing in the summer, during the busiest tourist season. Tickets to the Forbidden City are limited to just (!) 80,000 per day, a limit that's frequently surpassed in the summer.
You can pre-book your tickets in advance on a local website (your hotel/hostel will be able to help) or arrive before 9am to ensure that you grab a ticket first thing in the morning.
EXTRA TIPS: WHAT TO DO IN BEIJING
If you're wondering what to do in Beijing when you need a break from the hustle and bustle, there are plenty of options.
Aside from the Palace Museum, there are more than 100 other museums in Beijing, although most are not visited by tourists. Among them are, the National Museum in Dongcheng District, the Military Museum (in Haidian District), the Capital Museum in Xicheng District and the China Aviation Museum located in the Beijing/Northern Suburbs.
Locals and visitors alike also love to spend time visiting Beijing's parks and green areas. The locals escape to these green oases not only to relax but also for sports, dancing, singing and general recreation. If you are looking to spot an authentic Tai Chi be sure to visit one of these parks in the early hours of the day.
The Summer Palace located just 15 km from central Beijing is said to be the best-preserved imperial garden in the world, but there are other parks also scattered around Beijing. Some of the best are Zhongshan Park in Xicheng District, Beihai Park in Xicheng District, Chaoyang Park in Chaoyang District, and Ritan Park in Chaoyang District.
Temple of Heaven complex, located in the southeastern part of central Beijing is another great nature escape. While the main Beijing tourist attraction here is the Taoist temple, the area around the temple grounds cover 2.73 km² of parkland.
One of the best ways to experience Beijing tourist attractions is to explore the city on a Free Walking Tour. The tours start at 5pm (April to September) and 4:30pm (October to March) every Monday, Wednesday, Friday, Sunday at Nanluoguxiang Subway Station.
The tour takes you to the Drum and Bell Tower and helps you explore Beijing's famous hutongs (ancient alleyways), where you can find traditional architecture and get a chance to witness the daily life of locals.
If you want to see even more of the city, but want to skip out on taxis or hop-on-hop-off buses, rent a bike! Beijing is the world's original city of bikes, so it's easy to find train stations offering hourly rentals. If you're really into ecotourism and cycling, check out Bamboo Bicycles Beijing – it's a DIY bike shop where you can learn more about bamboo bicycles, rent one, or BUILD ONE for yourself!
How cool, right? Not necessarily the easiest souvenir to carry home with you, but it will be one of a kind and totally environmentally friendly!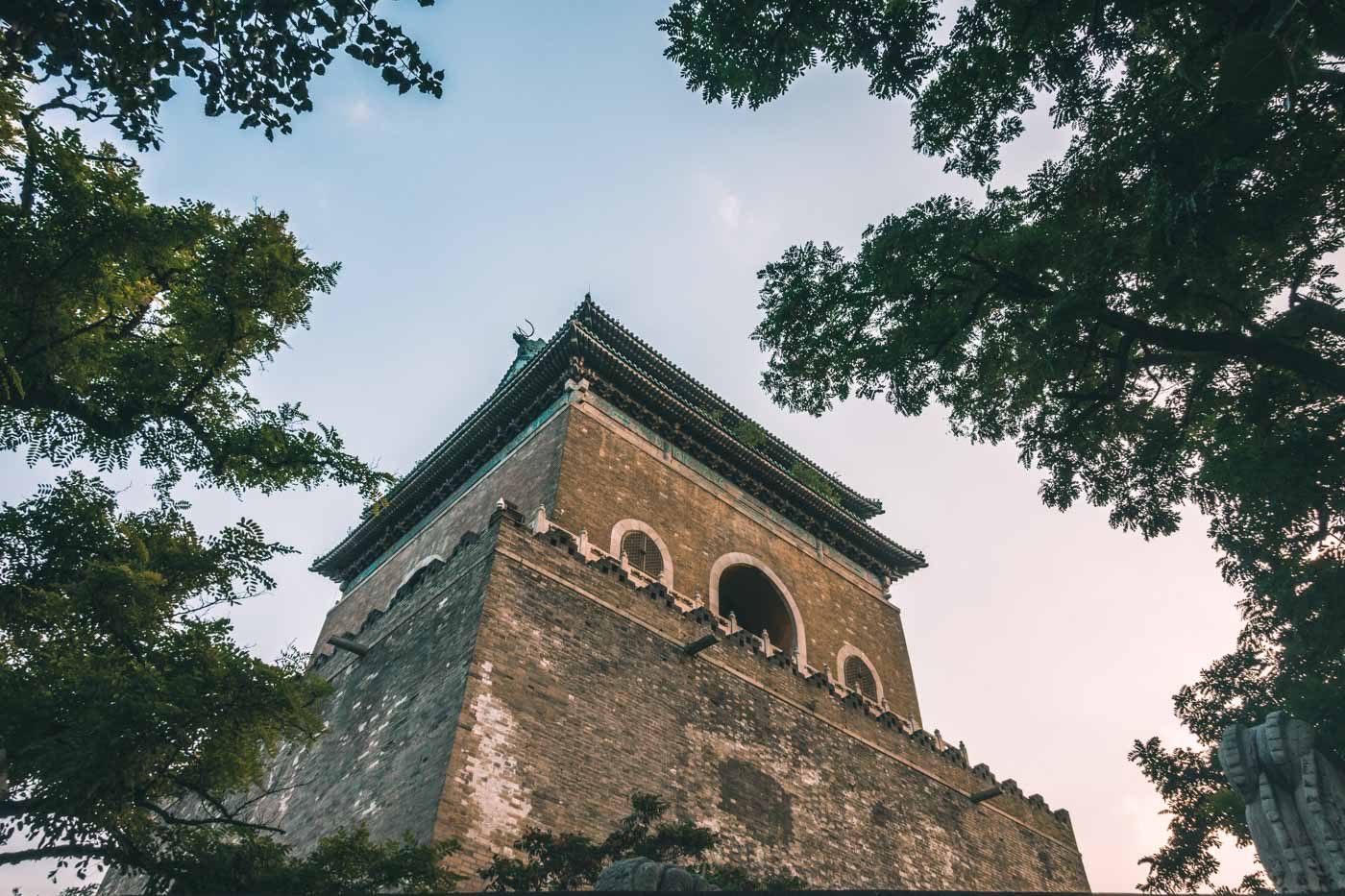 But Beijing is not all about the historical sights and thousand-year-old landmarks. There is another side to the city, which is modern, vibrant and full of interesting things to discover.
Beijing is a great place for shopping, from street markets to small boutiques and high-end shopping malls, there is something here for everyone. Follow a fashion designer's favorite shopping route by exploring CNN Travel's Beijing's Best Shopping Areas or Huffington Post's guide to Ten Best Places to Clothes Shop in Beijing.
If you are looking for other cool things to do in Beijing, check out Matador Network's 6 Unusual Things To Do in Beijing or take to heart Time Out's Checklist to Best Things To Do in Beijing and see how many of these quirky Beijing must do's you can cross off the list during your visit.
Where to Stay in Beijing
Deciding on where to stay in Beijing can be tough as a lot of the city's attractions are spread out. Staying in the city center (Dongcheng suburb) definitely helps and we think the east side of the center is a bit easier than the west side if you want to be in close proximity to sights, shopping, and entertainment options.
WHERE TO STAY IN BEIJING: LUXURY
It's easy to find amazing luxury hotels in Beijing that won't cost an arm and a leg. During our trip, we stayed at the Fairmont Beijing, located in the heart of Beijing's central business district and within easy access to Wangfujing Street and the Forbidden City.
The hotel offered the utmost hospitality and was a perfect introduction to the confusing world of Beijing. Plus, their state-of-the-art purifying air service, "Blueair Zone", installed in every bedroom helped us escape Beijing's horrific smog and stay well throughout our visit. Oh, and their breakfast spread was by far the best we've had in our time in Beijing!
WHERE TO STAY IN BEIJING: BUDGET
If you are looking for a more affordable option, we highly recommend staying at one of Beijing's many hostels. Hostels in Beijing are not the usual stuffy dorm rooms, they offer beautiful clean and well stocked private rooms that beat many hotel rooms, so don't let them turn you off. Our favorite was the locally owned Happy Dragon Alley Hotel, located near Dongsi Subway station in Dongcheng.
WHERE TO STAY IN BEIJING: SUSTAINABLE
If you're trying to choose an accommodation that minimizes your environmental impact during your trip to Beijing – there are options for all budgets! Here are some of our favourites:
The Opposite House: This hotel is in the heart of the city, and offers bamboo bicycles to all of their guests to sightsee with! The hotel was constructed with repurposed material, was designed to rely on natural light, and is completely paperless!
Brickyard: This accommodation is a restored tile factory turned hotel. It's located in a beautiful village near the Great Wall and aims to provide guests with a luxurious stay without negatively affecting the local environment or community. Everything about this hotel – from its construction to the food served in its restaurant – is eco-friendly!
Airbnb is an excellent option for those looking for a more local experience in Beijing. With over 300 accommodation options to choose from, you are bound to find a home you love for your stay in China's capital. Private rooms start at just $10/night and you can easily find a nicely decorated apartment in the heart of the city for just $30/night.
Don't have an Airbnb account yet? Sign up now and get $40 off your first stay.
Where to Eat & Drink in Beijing
Chinese food in Beijing is nothing like the Chinese food you might've tried back home. Here you'll find restaurants that specialize in cuisine from all over China, from Sichuan, Hunan, Guangzhou, Tibet, Yunnan, Xinjiang, and more.
These are some of the Most Popular Beijing Dishes You Should Try while in Beijing, along with the best restaurants that serve these delicious finds. Don't miss an opportunity to sample Beijing's famous Peking Duck at one of these Top 10 Peking Duck restaurants in Beijing.
If you are looking to sample some of Beijing's best, check out CNN Travel's 20 Best Beijing Restaurants, a list that features renowned hotspots like Capital M (Permanently Closed), Duck de Chine, and one of Beijing's longest-lived fine dining institutions, Aria.
For brunch, head to one of these Beijing's Best Brunch Places that offer everything from delicious hangover meals to indulgent weekend splurges.
If you're looking for a sustainable/green/eco-friendly restaurant to try in Beijing, here are a few of the most popular options. But truly, there are so many of them popping up all over the city that a quick Google search will reveal new options all the time!
Another tip to make your Beijing trip more environmentally friendly is to take your own cutlery or chopsticks with you.
For a unique food experience, you can sign up for an organised food tour. It's not only a great chance to taste authentic homemade cuisine, but the tours also support the local community.
For something a bit quirky, why not check out one of Beijing's cat cafes? The locals love them and if you can successfully locate any of these cat cafes in the tiny hutongs, you'll probably be the one foreigner in the house.
For Beijing's best street food follow this beginner's guide to the quintessential street food dishes of the capital and be sure to try Jianbing or Baozi, Beijing's most famous breakfast food and Roujiamo, Slow-cooked pork belly sandwich. Alternatively, refer to Guardian's Guide, Where to find the best Beijing street food.
If partying is on your list of things to do in Beijing, then be prepared to be overwhelmed! From amazing international-standard bars to cocktail lounges, clubs, plays, ballets and live music, the city has it all. But as Lauren Johnson points out in her article on USA Today, once the party once the party really gets started the group always ends up at one of these amazing clubs.
For more options of nightlife and things to do in Beijing, check out Time Out's Best Guide to bars, DJs, and nightlife in Beijing.
For a different kind of drink, don't miss an opportunity to visit one of the Best Teahouses in Beijing, but be careful not to become a victim of the Beijing Teahouse Scam.
How Much Time Do You Need in Beijing
The majority of visitors stay in Beijing for 3-5 days, just enough time to cover most of the Beijing attractions and venture out to the Great Wall. Tour companies suggest that 3 days should be the minimum, but we managed to linger for over 10 days and never got tired of this vibrant city!
Here are a few itineraries to help you figure out what to do in Beijing and plan your stay in China's capital:
4-Day Grand Beijing Travel
Have you ever been to China's capital? Can you suggest other things to do in Beijing? Tell us your favorite places to visit in Beijing!