Of
all the destinations we visited in Ethiopia
, the Danakil Depression was by far the most unique and the most memorable one. The out of this world images of bubbling volcano lava, sulphurous lakes, and salt flats have attracted a fair share of visitors to this part of Ethiopia and we were no exception.
*This post may contain affiliate links, as a result, we may receive a small commission (at no extra cost to you) on any bookings/purchases you make through the links in this post. As an Amazon Associate, we earn from qualifying purchases. Read our full disclosure
Despite all the stories of hot unbearable temperatures and tough travel conditions, we couldn't miss an opportunity to explore the Danakil Depression ourselves!
What is the Danakil Depression?
The Danakil Depression in Ethiopia is one of the hottest, driest, and lowest places on earth. It's sweltering, sometimes life-threatening heat can overwhelm even those most accustomed to extremely high temperatures. At 125 m below sea level, the Danakil Depression ranks as the sixth lowest point on Earth's surface. It only sees about 100 to 200 mm of rain per year.
Traveling Soon?

Here is a list of our favourite travel providers and accessories to help get you ready for your upcoming trip!
Why Visit the Danakil Depression?
Though this destination is certainly not for the faint of heart, it is well worth a visit due to its extraordinarily unique geography. It's almost like a moonscape, like another planet unto itself. In fact, scientists take a special interest in the Danakil Depression because studying life here helps to understand the possibilities for life on other planets.

The Danakil Depression is within a larger depression area known as the Afar Depression, and the even larger East African Rift Valley. It is the location of a junction of three tectonic plates: the Indian, African, and Arabian. This unique geological meeting point is responsible for a lot of the extreme weather and geography that defines the Danakil Depression in Ethiopia. This includes two volcanoes, crater lakes, sulphur hot springs, and salt flats.
In August of 2018 during our 3-week visit to Ethiopia, we embarked a one day Danakil Depression tour. This was our experience.
Our Danakil Depression Tour
At 4 am, we were picked up in Mek'ele, the capital city of the Tigray region of Ethiopia. We drove for four hours through the towns of Berhale and Hamed Ela, stopping at the latter for breakfast.
Here, we were able to have coffee with the locals in the area and see the accommodations for those taking a multi-day trip to the Danakil Desert. These included mattresses on shaky wooden frames, protected from the elements by simple straw huts.
Dallol
After a short break, we continued on to Dallol. This town holds the record for the highest average recorded temperature of any inhabited place on Earth. The Danakil Depression temperature is not to be underestimated – it is deathly hot here, regularly crossing the threshold of 50°C. Oksana nearly fainted from the heat.
Dallol is the starting point to visit the Dallol volcano, an active volcano that last erupted in 2011. The volcano is formed from the combination of magma and salt deposits, mixed together through hydrothermal movement.
We walked for 15 minutes in scorching heat to our first stop where we saw sulfuric geysers, considered the lowest subaerial volcanic vents in the world. The colours were vibrant and flashy, prominent due to all the rich minerals in the Earth. The smell, however, was terrible!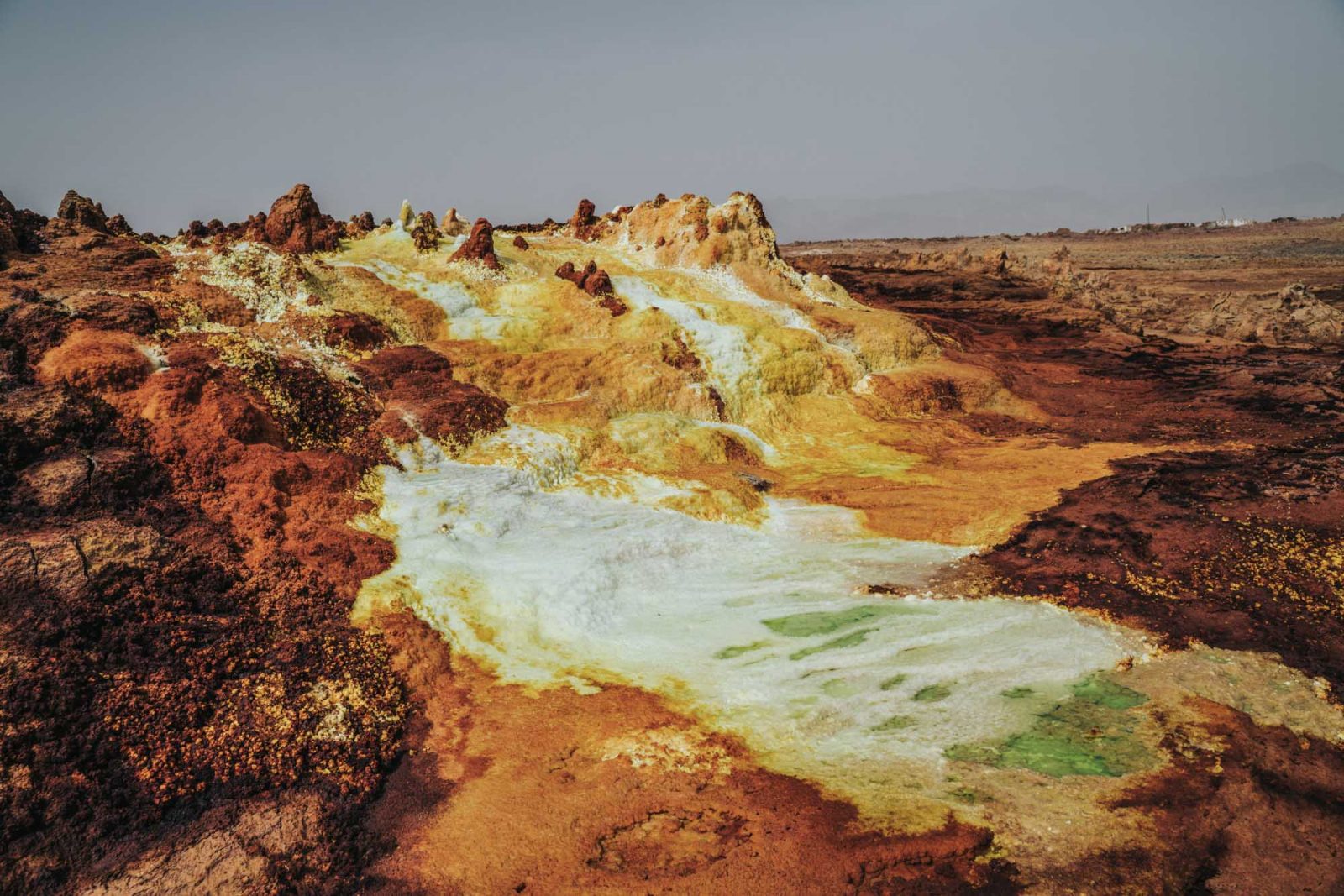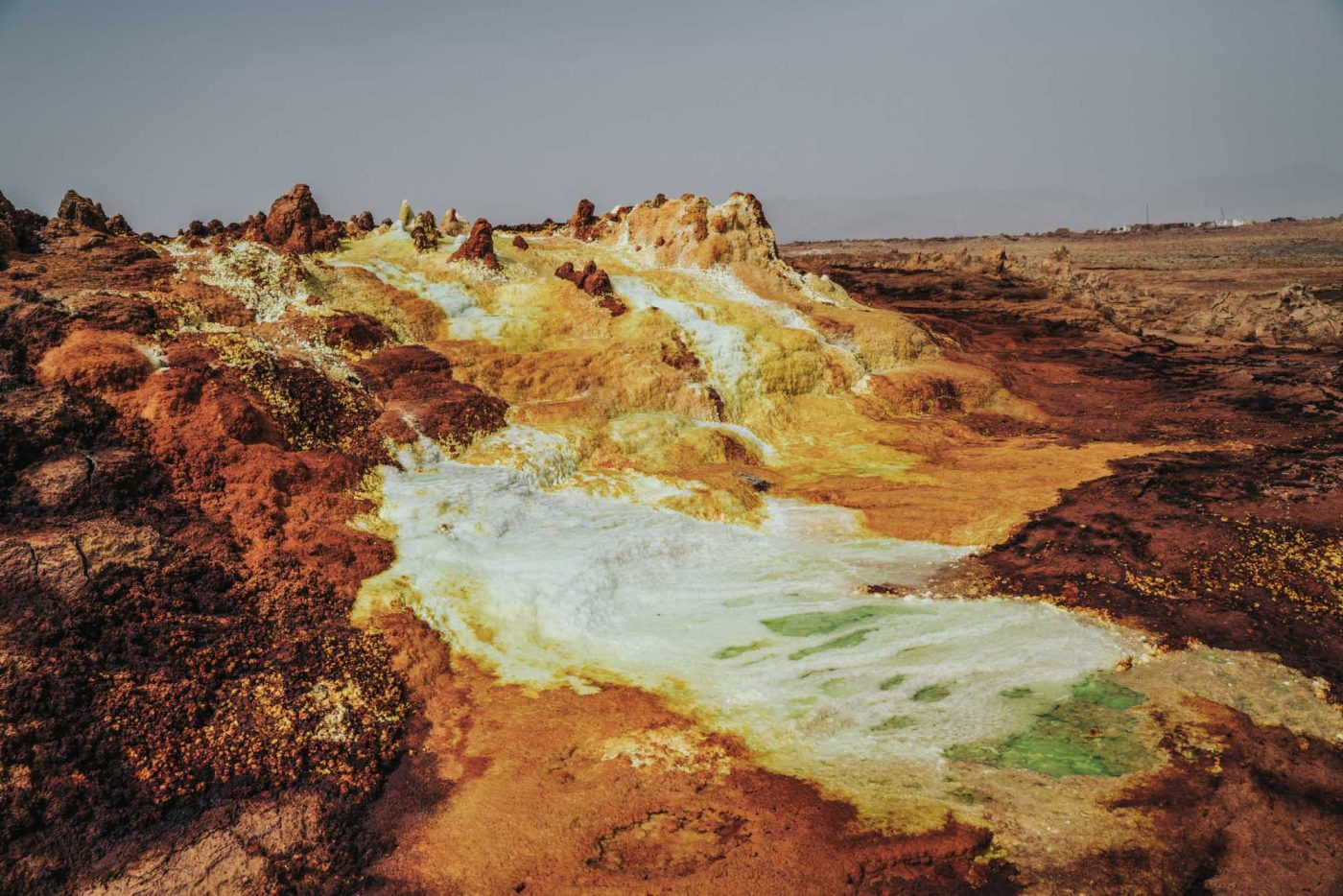 Salt Mountain
After spending an hour at the first stop, we continued on to the Salt Mountain. Here, hot springs spouted acidic liquid resulting in many cones of salt, each one 5 -10 m tall. We spent some time walking in the area and exploring the formations.
Potash Lake
Nearby, we saw a potash lake filled with mineral-rich water. According to locals, this water has great skin benefits, especially if you have eczema or extremely dry skin.
Ragad
We began our drive back, passing through the arid environment on our way to Ragad (Asebo). It is at this location that the locals mine salt, the traditional export of the area. The workers cut the dense salt deposits into rectangular blocks and load them on the backs of their camels to be transported out of the area. Unfortunately, we were not visiting at the right time of year to witness the salt mining in action. The Danakil Depression temperature in August was too hot for even the camels to tolerate.
Lake Assale
From Raga, we drove to Lake Assale (also known as Lake Karum.) The lake is a vast, reflective salt flat lying at 120 m below sea level. Its landscape was very beautiful, reminding us of the Salar de Uyuni salt flats in Bolivia.
From Lake Assale, we drove back to civilization. We first stopped once more in Berhale for lunch and were returned to Mek'ele by 4 pm.
Multi-Day Danakil Depression Tour
Since we opted for a single day Danakil Depression tour, there a number of things that we, unfortunately, missed while we were there. One notable stop is the Erta Ale volcano, a very active basaltic shield volcano and the largest volcano in Ethiopia. Its 30 km diameter base makes it quite a large spectacle. It is one of only four active lava lakes in the entire world.
We also missed Lake Afrera, a lake of 100 km² and salinity levels higher than that of the ocean. Salt is also mined here in great quantities. The only island in the lake, Franchetti Island, is considered the lowest elevation island in the world.
Is it safe to visit the Danakil Depression?
The political and social situation in the Afar region of Ethiopia has improved greatly recently. The country's relationship with its neighbour Eritrea has also seen much progress in the last years. We never once felt unsafe during our visit.
As far as health and physical safety are concerned, this trip was very extreme and we could see how it can be extremely dangerous, especially if you are not properly prepared. In addition, if you are not in good physical shape, or suffer from conditions like high blood pressure, this journey may be especially risky for you.
Danakil Depression Temperatures
The Danakil Depression temperatures are not something to be taken lightly. The experience can be very hard on your body and potentially detrimental to your health. We heard rumours about a number of tour guides dying each year due to the extreme heat and dehydration.
It was because of this that we decided to do a single day Danakil Depression tour and not a longer one. If we were to do it again, we would not visit in August, but rather in a (comparatively) cooler month. Remember that the temperature during the day can often surpass 50 degrees Celsius (122 Fahrenheit), so it is absolutely imperative to make sure that your car has air conditioning and that you have lots of water with you!
Danakil Depression Tour Operators
When considering tour providers, look no further than ETT. This tour provider has the largest fleet of cars in the Danakil Desert which is a huge benefit to ensure trip satefety in the harsh Danakil Depression environment. The cars travel in caravans so if one breaks down or has problems, there are plenty of other cars to take visitors back. You do not want to get stranded out there in the barren desert heat.
The food provided by ETT was very decent as well. We had a substantial breakfast and lunch consisted of pasta for lunch. If you want something more local, ask for a fasting bayonet instead. It's even better than the pasta and is worth the extra price.
Have you experienced the extremes of the Danakil Depression? Share your story with us in the comments below!