Ethiopian food is something that most westerners have little knowledge of. If you've never traveled to Ethiopia or happened upon an Ethiopian cafe at home, it's likely you have no idea what Ethiopian cultural food entails.
*This post may contain affiliate links, as a result, we may receive a small commission (at no extra cost to you) on any bookings/purchases you make through the links in this post. As an Amazon Associate, we earn from qualifying purchases. Read our full disclosure
During our travels in Ethiopia, we took a food tour of the capital, Addis Ababa. We learned all about the traditions of Ethiopian food and even got to experience a traditional coffee ceremony. The tour offered a great introduction to Ethiopian food and prepared us for what ended up being a 3-week long Ethiopian culinary adventure!
Traveling Soon?

Here is a list of our favourite travel providers and accessories to help get you ready for your upcoming trip!
If you're curious about this unique east African cuisine, what ingredients are used, how it is eaten, or you're wondering what is injera, read on to discover all the of the best Ethiopian dishes and cuisine.
Ethiopian Food: The Basics
What is Injera?
Injera is the lifeblood and a staple of Ethiopian cuisine. Injera is a type of a crepe, made out of sourdough that has a bit of a foamy, spongy texture. It is made from the ground seeds of teff grass, a grain plant native to Ethiopia and Eritrea. However, other grain flours such as wheat, barley, and corn may be substituted.
In most cases, injera only contains two ingredients – ground teff seeds (teff flour) and water. These are mixed together and left to ferment. When the batter is ready, it is ladled onto a large flat pan called a mitad in a spiral motion.
Normally, injeras are about 50 centimetres in diameter and are eaten with your hands. Ethiopians use pieces of injera like to pick up the accompanying food.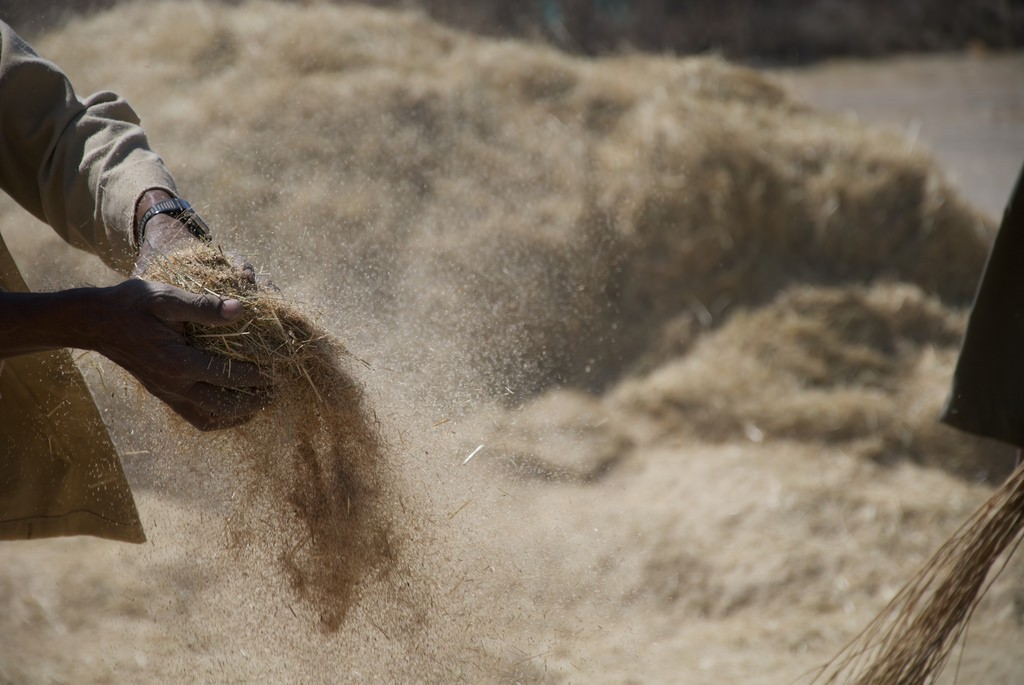 Berbere Spice
Ethiopian food is notoriously spicy and most often contains a wide mixture of different spices. This mixture is most often referred to as Berbere spices and usually contains garlic, chilli powder, basil, and ginger, among others. It ranges from light orange to deep red in colour and provides a base for many Ethiopian dishes.
Fasting in Ethiopia
Ethiopia is a very religious country and as a result, religion dictates some of the Ethiopian cultural food habits in the country, as well as when fasting should be observed.
The two main religious groups in Ethiopia are Orthodox Christian and Islam. In the Ethiopian Orthodox tradition, fasting is required during the entire season of Lent as well as abstaining from eating meat and other animal products on Wednesdays and Fridays. In the Islamic tradition, fasting is required from dawn until dusk during the month of Ramadan.
On average, devoted locals will fast for around 165 to 250 days a year. We quickly learned that most Ethiopians are truly devoted tot eh fasting schedule as meat dishes were not easy to find on Wednesday and Fridays.
Vegetarian/Vegan Food
Since there are so many religious restrictions on meat intake in Ethiopia, it's very common and easy to find vegetarian and even vegan dishes in the country.
In fact, it is one of the most vegan-friendly destinations in the world, as everyone in the country understands the concept of a vegan diet (or as the locals call it – fasting).
(Keep reading for a deeper dive into some of the best vegan Ethiopian dishes)
A Typical Ethiopian Meal
A typical Ethiopian meal will always include injera as the base which is served with one or more traditional stew(s).
These stews are spicy and savoury and will likely include some kind of meat, usually beef or lamb. Pork is hardly ever used as it is considered restricted by Ethiopian Christians and Muslims alike. These stews will usually also include vegetables as well. Lentils are a very common ingredient in Ethiopian cooking and are often added to these stews.
Finally, no Ethiopian meal would be complete without a coffee ceremony!
The Best Ethiopian dishes
Wat
Wat is one of the most standard and essential Ethiopian dishes. It is a traditional stew with a strong red onion base. Oil and Berbere spice is added to the softened onions to make the stew base. From there, you can choose a multitude of different ingredients. Next, vegetables such as peas, potatoes, and carrots are added. If it's not a vegetarian wat, beef, chicken, goat, or fish is often thrown in as well.
For this reason, wat varies greatly across Ethiopia but always has the same signature base. The final dish is served with injera.
Tibs
One of the highlights of Ethiopian cultural food is tibs. In essence, tibs is a giant sautée of meat, vegetables, and spiced butter. Like wat, it can be prepared in a wide variety of styles ranging from extremely spicy to mild, and from rich and hearty to light. It's basically the African version of a stir-fry and can be served with injera, bread, or rice.
The Best Vegetarian Dishes
As previously mentioned, vegetarian and vegan dishes are everywhere in Ethiopian food. Here are some of the best Ethiopian dishes to try that are meat-free.
Messer
Messer is the signature Ethiopian lentils dish. The lentils are simmered in a broth of spices and onions and served piping hot.
Shiro
Shiro is a variation of wat that is made with beans or chickpeas. It normally contains much more garlic and onions than other Ethiopian dishes and is also served with injera.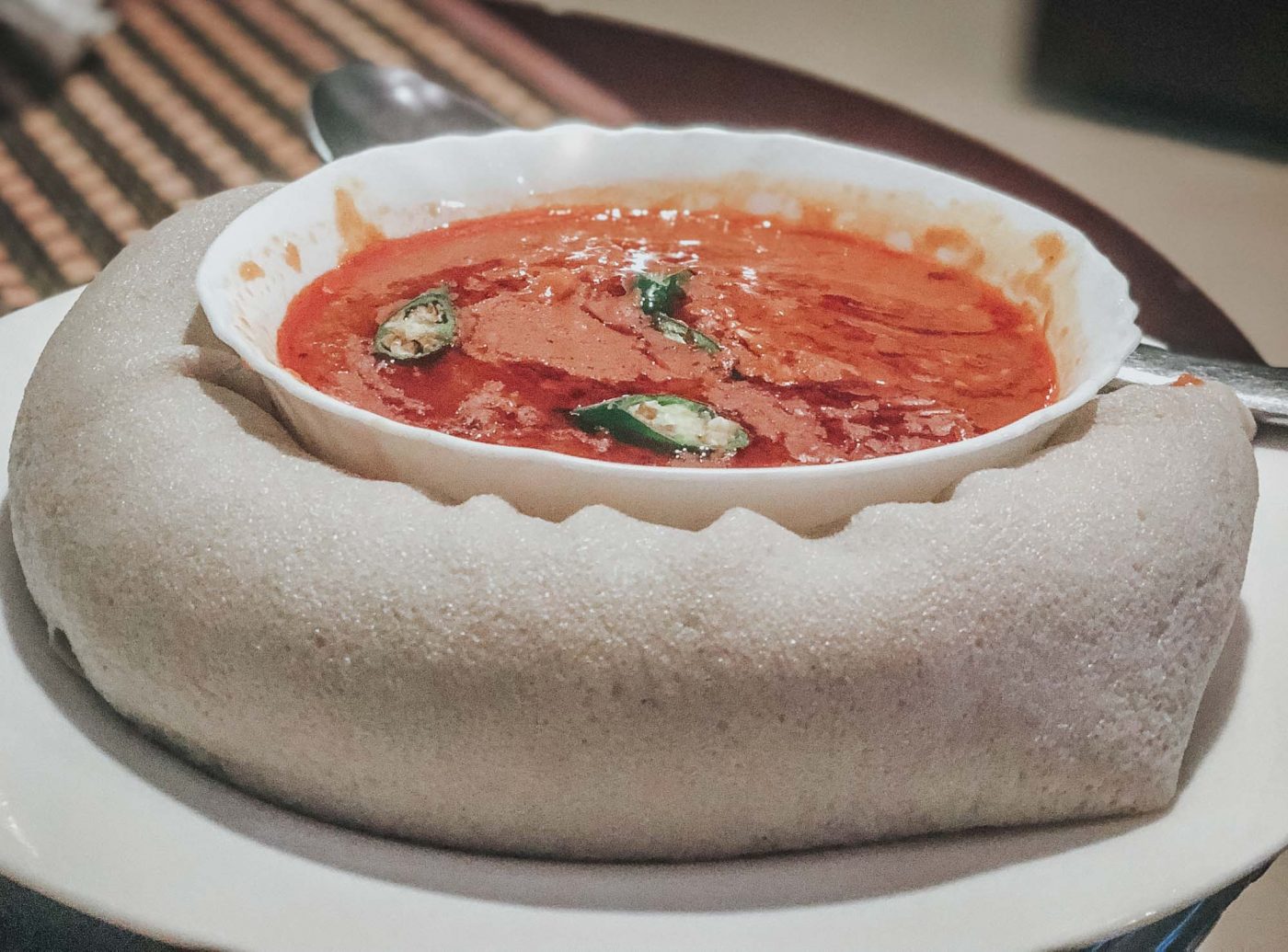 Fir-Fir
Most often served as a breakfast dish, fir-fir makes use of injera in a unique way. The bread is shredded and combined with butter and spices to make a spoonable dish. When injera is not used, kitcha, another type of unleavened bread, is also used.
Beyaynetu (Combination Platter)
If you're looking for a little bit of everything, give bayaynetu a try. It's usually a mix of different curries and vegetable portioned out on a bed of injera. It was by far our favourite dish in Ethiopia!
Atkilt
This vegetarian wat is full of cabbage, carrots, and potatoes. It has tons of spices and is quite simple, but savoury and delicious.
Azifa
Azifa is a spicy lentil salad that is served cold. It contains cabbage, lettuce, carrots, and spices, and can be a great option on a hot day.
Gomen
Another typical Ethiopian salad, gomen is made with collard greens. The greens are mixed with butter as well as cardamom and nigella seeds.
Key Sir Alicha
A final Ethiopian salad that you should try is key sir alicha. It's a gingery mixture of beets and potatoes and is served hot with injera.
Other Dishes Worth Trying
Kitfo (raw meat)
Eating raw meat, in particular, beef is a trendy thing to do in Ethiopia. Especially at the food markets, you can find these delicacies being sold by master butchers. Try kitfo, a thinly sliced beef dish with spices and butter.
Fried fish
Fried fish is a simple yet classic Ethiopian food. The fish are often fried whole, or chopped and combined with chilis, onions, and garlic.

Tej
If you're a fan of wine and want to try something truly unique to Ethiopian cultural food, try tej, an Ethiopian honey wine. To counteract the sweetness of the honey, ground leaves and twigs are added to the wine to make it slightly more bitter. Take care when drinking tej – it is quite a deceptively strong drink!
Ethiopian Coffee Ceremony
Coffee ceremonies are very traditional and common in Ethiopia. After a particularly large or important meal, honoured guests will gather to watch coffee beans being roasted especially for them creating plumes of fragrant smoke.
The coffee is then ground by hand using traditional tools and put into a large clay pot to be boiled with water. The coffee is then served in small cups called si'ni. Sugar or salt may be added to the coffee, and tea is sometimes served as well. Oftentimes, there are snacks such as popcorn or dried grains to accompany the coffee.
Ethiopian food is some of the best in Africa and we would highly recommend trying everything you can during your travels in Ethiopia. Personally, our favourite dishes were shiro, messer, and the glorious vegetarian Beyaynetu platter!
Have you ever tasted Ethiopian food? What are the best Ethiopian dishes in your opinion?