The sunbleached plains of the Serengeti have wowed and awed visitors for hundreds of years. They are home to some of the world's most exotic animals like lions, giraffes, antelopes, and to one of the most incredible wildlife sightings on the planet – the Great Serengeti Migration!
*This post may contain affiliate links, as a result, we may receive a small commission (at no extra cost to you) on any bookings/purchases you make through the links in this post. As an Amazon Associate, we earn from qualifying purchases. Read our full disclosure
Migration in Serengeti National Park
Once a year over 1.5 million wildebeest, zebras, and their predators migrate on a path through Tanzania's Serengeti National Park. If you are wondering where is the Serengeti on a map, it is located in Eastern Africa in North Tanzania.
Animals aren't the only things that roam the Serengeti plains. The semi-nomadic tribes of Masaai people have lived in the area for millenniums. In fact, the Masaai gave the Serengeti its name, which means "endless plains" in their local language.

Traveling Soon?

Here is a list of our favourite travel providers and accessories to help get you ready for your upcoming trip!
Planning a Responsible Safari in the Serengeti
A safari in the Serengeti does not have to be based around the migration in Serengeti National Park- although it is spectacular. There are wildlife viewing opportunities year-round.
We know that planning a responsible safari in the Serengeti can be daunting so we've broken down the basics, so you can get the most out of your Serengeti safari tour.
Weather in the Serengeti
The weather in the Serengeti influences animal behaviour and therefore determines when the best time to plan a safari in the Serengeti is. The seasons are split into two: the wet and dry season.
The dry season takes place from late June to October and is known to be better for wildlife sightings. Animals in the Serengeti are forced to congregate around scarce water sources out in the open, making them easier to spot.
The only downside to the dry season is that the weather in the Serengeti can get quite cold in the mornings and evenings. Also, the areas around Seronera and Ngorongoro may get crowded with an influx of tourists.
That doesn't mean you won't see wildlife in the wet season too… you will! The season takes place between November and May and due to the weather in the Serengeti, during the wet season, the landscape is at its lushest. Also, tourism is at its lowest, so you might be able to get a good deal on a safari in the Serengeti.
Predator interaction is high when wildebeest give birth to their calves from January to February. However, March to May is when the rainy season is at its height so it is best to plan a safari in the Serengeti outside of that time.
The wildebeest migration takes place during the dry season and typically takes place twice a year, in June and July and then again in September/October. Pinpointing the exact date is tough, but websites like the herd tracker can help pinpoint the best time to go.
Where to go on a Responsible Serengeti Safari Tour
Seronera Valley & Central Plains
The Seronera Valley and Central Serengeti plains are the most popular safari spots in the park. In part, because Nabbi Gate, the 'entrance' to the Serengeti, opens up into the Seronera Valley and because of the area's world-renowned big cat population.
It would be uncommon NOT to see a lion, leopard, cheetah, or hyena while on a safari in the Serengeti in this area. The available shade and rivers that run through the area entice prey to linger in the area year-round so big cat predators do in turn.
However, the biggest downfall to the Seronera Valley and Central Plains is that, due to its popularity, it can get quite crowded during the high season.
Grumeti Reserve & Western Corridor
The Grumeti Reserve gets its name from the crocodile-infested Grumeti River that runs through it. The Grumeti River is a marvel to behold any time of year but becomes even more spectacular when enemies clash during the great migration. When the migrating wildebeest, zebra, and gazelle must decide whether to attempt a crossing or face the consequences of trying to go around.
The Western Corridor is one of the most secluded areas in the Serengeti and much greener with hills, valleys, and patches of forest and woodland sprouting out of it. In the woodlands, visitors can find Patas monkeys, black and white Colobus monkeys, as well as a myriad of birdlife.
Northern Serengeti
Reaching the Northern Serengeti is no easy task since getting there requires a long, arduous drive or an expensive flight. But those that do will be greatly rewarded.
You can catch the wildebeest migration, a crocodile-infested river crossing at the Mara River or, at other times of the year, enjoy the vast plains almost exclusively to yourself. The Northern Serengeti is home to an abundance of year-round animal residents like lions, leopards, elephants, hippopotamus, crocodile, giraffe, antelope, and more.
Southern Plains
The Southern Plains are what most people think of when they think of a quintessential African landscape. Various outcrops of rock formations rise out of the grasslands, which are otherwise only dotted by the occasional acacia tree.
In fact, the Southern Plains are what the Disney movie the Lion King was based on. Cheetahs are more abundant in the Southern Plains than anywhere else in the Serengeti.
Serengeti Safari Tour Itinerary
Serengeti National Park is by far the biggest attraction in Northern Tanzania, but instead of flying straight to the Serengeti from Arusha, most travelers choose to follow a typical Northern Circuit safari itinerary. The itinerary starts in Arusha, has them visit Tarangire National Park or Lake Manyara, as well as Ngorongoro Crater before arriving in the Serengeti.
We are big fans of this type of itinerary, as it allows you to start small and build-up to the incredible experience in the Serengeti. Here is what a potential 2-week Serengeti safari tour could look like:
Arusha National Park- 1-2 days
Start your Serengeti safari tour with a visit to Arusha National Park. Go for a walking safari to visit Tululusia or Napuru waterfall or opt to trek Mount Meru, Africa's fifth highest peak. Animals are abundant but predator numbers are low, which makes walking safaris possible.
Another alternative is to go on a horseback safari, a unique experience that will allow you to get up close to the animals like gazelles, zebras and many others.
Visit the grasslands and watch buffalo, warthogs, and giraffe graze alongside each other. In the rainforest, you can see black and white colobus monkeys and mitis monkeys dart from tree to tree. Then keep your eyes out for flamingos and other birdlife in Momela Lakes.
Tarangire National Park or Lake Manyara National Park- 2 days
Depending on what time of year you plan a safari in the Serengeti, it should depend on which park you visit next: Tarangire National Park or Lake Manyara National Park.
Tarangire National Park is best visited in the dry season when the Tarangire River and its surrounding swamps become some of the only reliable water sources in the area. Many animals from Lake Manyara National Park migrate to the river at this time.
Look out for large migratory herds of elephants– a highlight of any visit to Tarangire National Park. As well as gazelles, zebras, antelope and gorgeous African baobab trees.
Lake Manyara National Park is best visited in the wet season before water sources start to deplete and animals go in search of water. During the wet season, visit the park in search of migratory herds of elephants, tree-climbing lions and the large population of baboons that live there. With luck, you might even see flocks of thousands of flamingos descend onto Lake Manyara.
Ngorongoro Conservation Area- 1-2 days
The Ngorongoro National park gets its name from the famous Ngorongoro Crater that resides within it. It is the world's largest inactive caldera, at about 19km wide, and has become a natural enclosure for almost every notable East African species. You might even be lucky to spot the Big 5 all in one day. Some animals like elephants and lions are easy to spot, others, like the rare black rhinoceros, can be quite the challenge. But that's part of the fun, isn't it?
For a dose of history, visit Olduvai Gorge and the Olduvai Museum to see and learn about the ancient bones and tools found there. Then at Laetoli, see the 3.7 million-year-old footprints left behind in stone by our ancient ancestors. Finally, if you have time, help support a local Maasai village by visiting their Boma to learn about their unique lifestyle.
Central Serengeti – 2 days
Officially enter the Serengeti National Park through the Seronera Valley and you'll be treated to a rich river valley with abundant wildlife.
Visit the Retina Hippo Pool, make a trip to Moru Kopjes, home to some of the world's last remaining populations of Black Rhinos, then over to Masai Kopjes to see two of the biggest lion prides in the Serengeti. After, watch top predators compete for food at Makoma Hill and check out the lions at Simba Kopjes, the tallest kopjes in the Serengeti.
Northern Serengeti – 3-4 days
Have the savannah all to yourself in the Northern Serengeti. It will be a welcome reprise after visiting the Ngorongoro Crater and Seronera Valley and a great way to recharge at the end of your trip.
Visit the idyllic Bolgonja Springs, close to the Kenyan border, for its abundance of birdlife, herds of antelope, buffalo, and elephants. Then on to the Lobo Valley to see big cats in action.
If you are lucky enough to time your Serengeti safari with wildebeest migration, enjoy one of the best wildlife spectacles on earth!
How to Make the Most of Your Serengeti Safari Tour
Don't Rush!
Sometimes the best sightings happen when you least expect it. The waiting game is key.
Appreciate All the Wildlife you See
Try to manage expectations and don't compare your experience to another person's safari.
Get to Know your Guide
And don't be afraid to ask questions. Aside from having a wealth of information on the wildlife in the area, your guide can give powerful insight into the cultural landscape of the area. Our Lemala guide was an incredible source of information during our safari in the Serengeti, but over time, after spending many days watching the wildlife, he also became a friend and someone we really enjoyed sharing the incredible wildlife encounters with.
Wake-up Early
Sunrise is a great time for wildlife watching and often when animals are at their most active.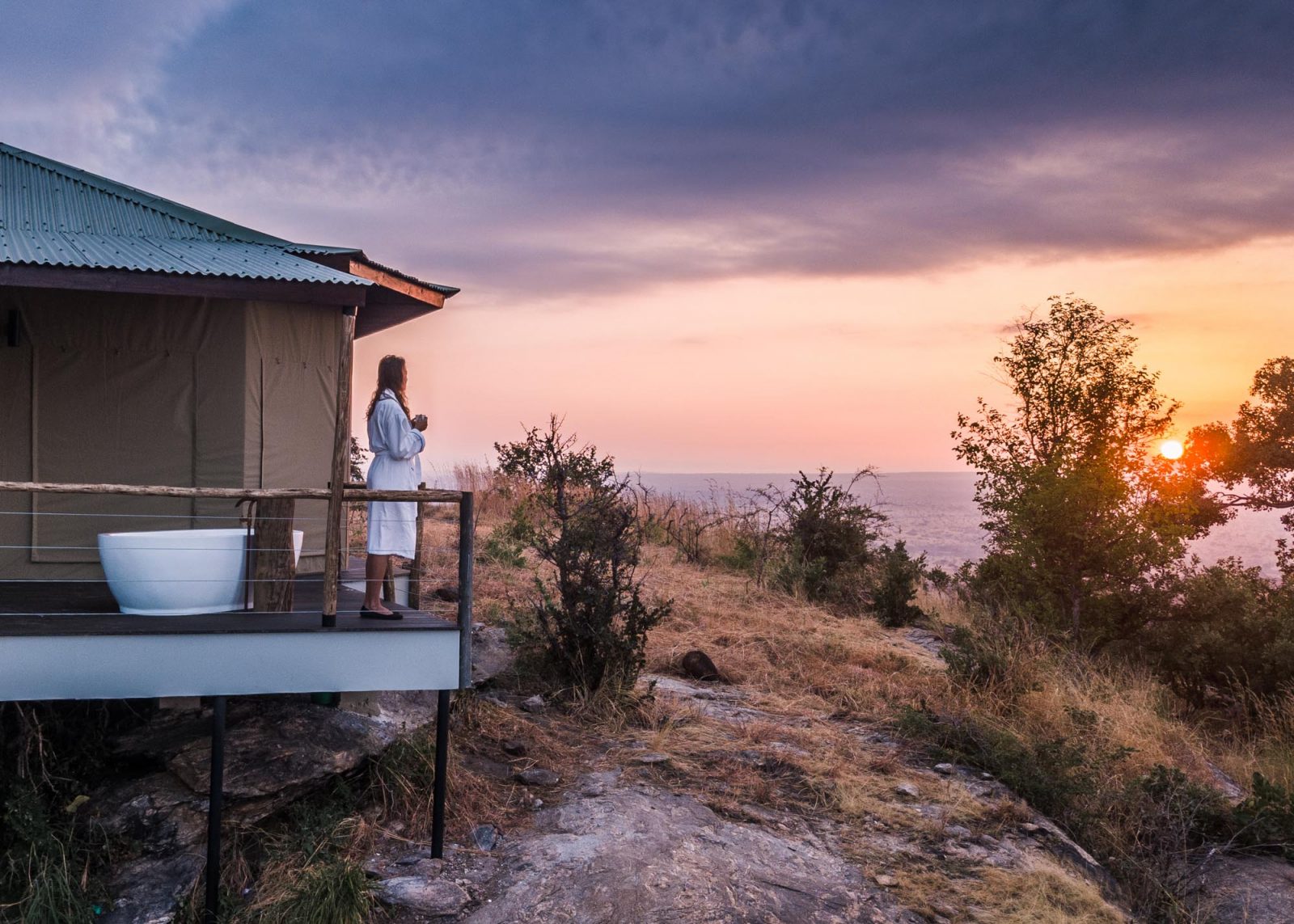 Stay a Night in a Tent in the Serengeti
Camping is a must but don't be afraid to mix a bit of comfort into your camping Serengeti trip. We found that a combination of sustainable camps and eco-lodges work best.
Choose a Responsible Safari Operator
Opt for a responsible Safari operator that demonstrates their knowledge of conservation issues, pays attention to their impact on the local economy, and offers job opportunities to locals. Here are a few of our suggestions to help you kick-start your search:
&Beyond Lodges
&Beyond is an award-winning responsible luxury travel company, renowned for their exclusive tailor-made East Africa tours. We loved our safari with &Beyond in Tanzania and enjoyed spotting countless animals in Lake Manyara and Ngorongoro Crater with &beyond's fantastic guides.
Their core ethic of "Care of the Land, Care of the Wildlife, and Care of the People" was evident in the way they operate their business and we were particularly impressed with their large-scale conservation efforts that have helped reintroduce rhinos, lions and other wildlife into parks all across Africa.
Lemala Camps & Lodges
Lemala Camps are a more affordable option for anyone wanting to do a safari in the Serengeti. They've got multiple locations throughout the National Parks in Tanzania with safari accommodations ranging from tented camps to lodges, and villas. The best part about doing a safari in the Serengeti in Lemala is that they own properties in every single park which makes for a very smooth and easily planned safari experience.
Nomad Tanzania
Nomad Tanzania is another luxury East Africa travel company, that operates safaris in the Serengeti. They actively invest in local communities and wildlife conservation through their Nomad Trust health-care, education, and conservation projects.
Need more help to plan your Safari trip to the Serengeti? Feel free to ask us questions below!