For most travelers, Ethiopia is a destination wrapped in mystery. It's a country like no other, known for its rich history, unique culture, and breathtaking natural beauty and full of things to do and incredible sights to discover.
*This post may contain affiliate links, as a result, we may receive a small commission (at no extra cost to you) on any bookings/purchases you make through the links in this post. As an Amazon Associate, we earn from qualifying purchases. Read our full disclosure
While traveling in Ethiopia is not easy and tourist infrastructure is still a work in progress, tourism here has steadily been on the rise in recent years and more and more travelers are curious to learn more about Ethiopia's greatest attractions.
Allow us to share! After spending 3 weeks exploring Ethiopia and having visited many of the best cities in Ethiopia, we can honestly say that there is lots to do in Ethiopia and even more to see!
Here are our suggestions for the top destinations to include to any Ethiopia tour or self-made itinerary!
The Ultimate Ethiopia Tour: Suggested List of Top Things to do in Ethiopia
Addis Ababa 2-3 days
The vibrant capital of Ethiopia, Addis Ababa, is the first stop on most Ethiopia tour itineraries. It is the countries diplomatic hub and an excellent introduction to Ethiopia.
But if you are expecting a cosmopolitan city with neat sidewalks, fancy restaurants, and great hotels, you are in for a big surprise.
Traveling Soon?

Here is a list of our favourite travel providers and accessories to help get you ready for your upcoming trip!
Addis is raw, it's unorganized, it's busy, but it's booming and developing faster than any other city in Africa.
The city has a number of museums and cathedrals worth checking out. These include the National Museum of Ethiopia, famous for its remains of some of mankind's earliest relatives, and Addis Ababa's Museum of Ethnology. Addis Ababa's famous cathedrals include St.Geogre's, The Holy Trinity, and Bale Medhane Alem Cathedrals are all very impressive.
It may be hard to explore the city on your own, so we recommend exploring with a local guide from a wonderful organization called Go Addis Tours. They run full day tours, 1/2 day tours and food tours that allow you to truly experience the city through a local's eyes.
On our Food Tour with Go Addis Tours, we got to know the country through our stomach by tasting some local staples like shiro, messir, and injera, as well as some more unique dishes like kitfo (raw beef) and grilled fish.
Thanks to this wonderful introduction to Ethiopia, we were well equipped to enjoy food in Ethiopia throughout our 3 weeks in the country!
Where to Stay in Addis Ababa
Located in the center of Addis Ababa, the Caravan Hotel offers a free shuttle service from the airport, breakfast, and so much more. They are known for their great service, knowledge of things to do Ethiopia, and their rooms are clean, modern, and well-equipped.
Ethiopia Tour Suggestion: Southern Circuit
Bale Mountains National Park 2-3 days
Bale Mountains National Park rises up 4000 meters above sea level and is perhaps best known as the home to vast numbers of wildlife including the endemic Ethiopian wolf (aka the Simien Fox).
We found that hiking was the absolute best way to experience Bale Mountains National Park and discovered that while it is possible to explore the park in one day we believe 2-3 days would be a more sufficient time to explore the natural wonders of one of the best Ethiopia tourist attractions.
Lake Langano 1-2 days
Those looking for things to do in Ethiopia to relax should look no further than Lake Langano. It's milky brown waters are mineral-rich and have been declared bilharzia-free which means it's perfectly safe for swimming.
Aside from swimming the picturesque area is good for birdwatching. It is framed by the Asri Mountains and many of the beaches are blanketed in black gravel sand left over from Ethiopia's volcanic activity.
Where to Stay in Lake Langano
The award-winning Hara Langano Eco Lodge is located on the shores of Lake Langano. They offer quiet, environmentally conscious, and socially responsible lakeside accommodation and simple but comfortable facilities.
Omo Valley 3-5 days
Omo Valley may not be the most accessible place to get to on an Ethiopia tour but that is not reason enough to scratch it from your list of things to do in Ethiopia. The 16 plus indigenous tribes living in the Omo Valley have followed in their ancestor's footsteps for hundreds of years.
The landscape of the region can be unforgiving, so you will no doubt walk away with a deep respect for the Omo Valley tribes. Plus relatively few tourists visit the valley and Ethiopia tourism is pretty undeveloped in the area so walking around the villages you will get a sense of the refreshingly real authenticity of the region.
Ethiopia Tour Suggestion: Northern Circuit
Bahir Dar 2-3 days
Bahir Dar is one of the biggest cities in Ethiopia and the gateway to Lake Tana and the impressive Blue Nile Falls.
In the local language, Blue Nile Falls is known as Smoking Water to describe the mist created by the waterfall. But the falls are so much more than that and often likened to other impressive waterfalls like Iguazu Falls in South America.
The Blue Nile River itself starts it's journey from Lake Tana, Ethiopia's largest lake and one of our favourite tourist attractions in Ethiopia, and flows onward to the Mediterranean
While in Bahir Dar, take some time to also explore Lake Tana and visit at least a few of its 20 Christian monasteries that occupy the various islands and peninsulas around the Lake
Simien Mountains National Park 2-3 days
High mountains, deep gorges, and lush meadows make up this majestic national park and UNESCO World Heritage Site best known for its dramatic lush scenery and excellent hiking opportunities.
It is possible to arrange multi-day hikes in the Simien Mountains, but you can also explore the park and take in its beautiful surroundings on day hikes.
One of the highlights of visiting Simien Mountains National Park is a chance to spot Gelada monkeys, a species of the Old World monkeys that are endemic to the Ethiopian Highlands and are easily spotted in the Simien Mountains National Park.
Geladas are also known as the "bleeding heart monkey" thanks to the bare patch of skin on the chest which varies from pink to red depending on the social status of the male and the reproductive state of the female.
These guys live in massive troops all and are completely oblivious to human presence.
We spotted them numerous times during our time in the Simien National Park and got a chance to get pretty close to snap some awesome shots and watch their fascinating behaviour!
The other highlight is the spectacular sight of the Jinbar Waterfall, accessible via the main road or a short 2-hour hike from the Simien Mountains Lodge.
Gonder 1-2 days
The historic town of Gonder, located just a few hours from Bahir Dar and the Simien Mountains National Park was once the home of many powerful people who built marvelous fortresses and palaces to showcase their wealth and dominance.
It all started with Fasil Ghebbi in the 17th century. The man responsible for putting an end to nomadic dictatorship and establishing the Fasil Ghebbi Royal Enclosure and its centerpiece- the Fasil Ghebbi palace.
The remains of the palace and its surroundings are one of the main reasons to add Gonder to your Ethiopia itinerary.
Where to Stay in Gonder
Mayleko Lodge offers comfortable rooms with traditional touches and a nice restaurant on the outskirts of Gonder. The property is beautifully landscaped with native flora, has mountains views and knowledgeable staff who offer great travel advice to Ethiopia.
Gheralta, Tigray Region 2-3 days
The Tigray Region is home to a unique smattering of sandstone mountains ranges known as the Gheralta Mountains. But the more unique sight of this region are not the mountains themselves, but the rock-hewn churches carved into these mountains.
Gheralta Churches are not as well known in Ethiopia tourism as the rock-hewn churches at Lalibela but in our opinion, the views and intricate details of the frescoes and paintings inside these churches make them that much more impressive. There are over 30 different churches in the Gheralta region, but Maryam Korkor Church, Daniel Korkor, and Abuna Yemata Guh Church stand out from the rest.
Getting to these 1000-year old churches requires climbing sheer rock walls and cliff edges and the adventure is not for the faint-hearted. But the views inside and the stunning vistas that surround the churches are well worth the journey.
Where to Stay in Gheralta
Gheralta Lodge was built with the techniques and traditions of the local people and with efforts to have a minimal impact on the environment and boost Ethiopia tourism in the area. The lodge offers 5 comfortable self-contained bungalows, a restaurant, and great views of the Gheralta mountains.
We thoroughly enjoyed our stay at Gheralta Lodge and loved the close proximity to the region's best churches and would definitely recommend it for those looking to explore the region and its attractions.
Mekele 3-4 days
As far as cities in Ethiopia go, Mekele can be considered quite cosmopolitan. There are dining and nightlife options in Mekel that should definitely be explored. However, it is perhaps more well-known for being the jumping off point for one of the most famous things to do in Ethiopia- a trip to the Danakil Depression.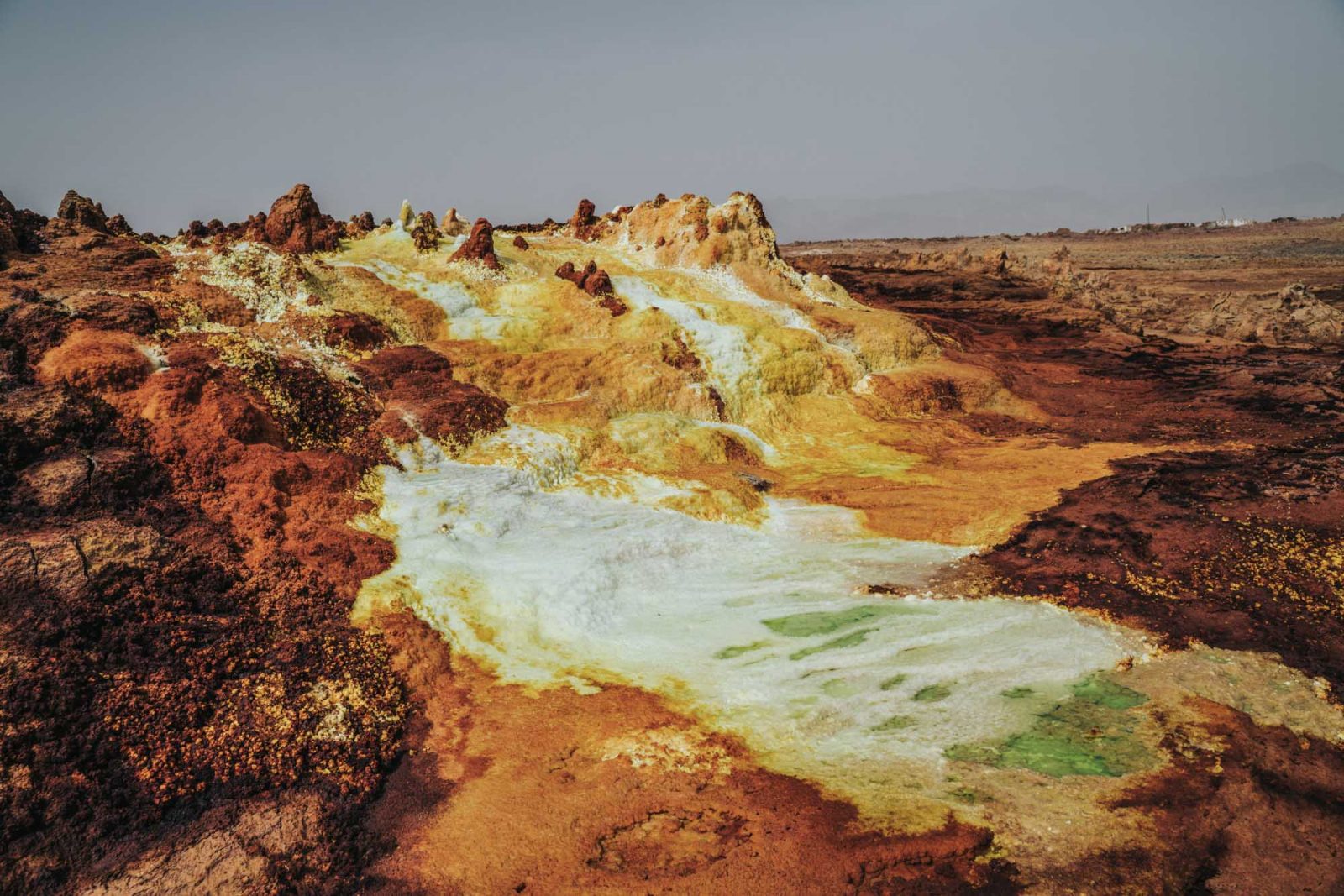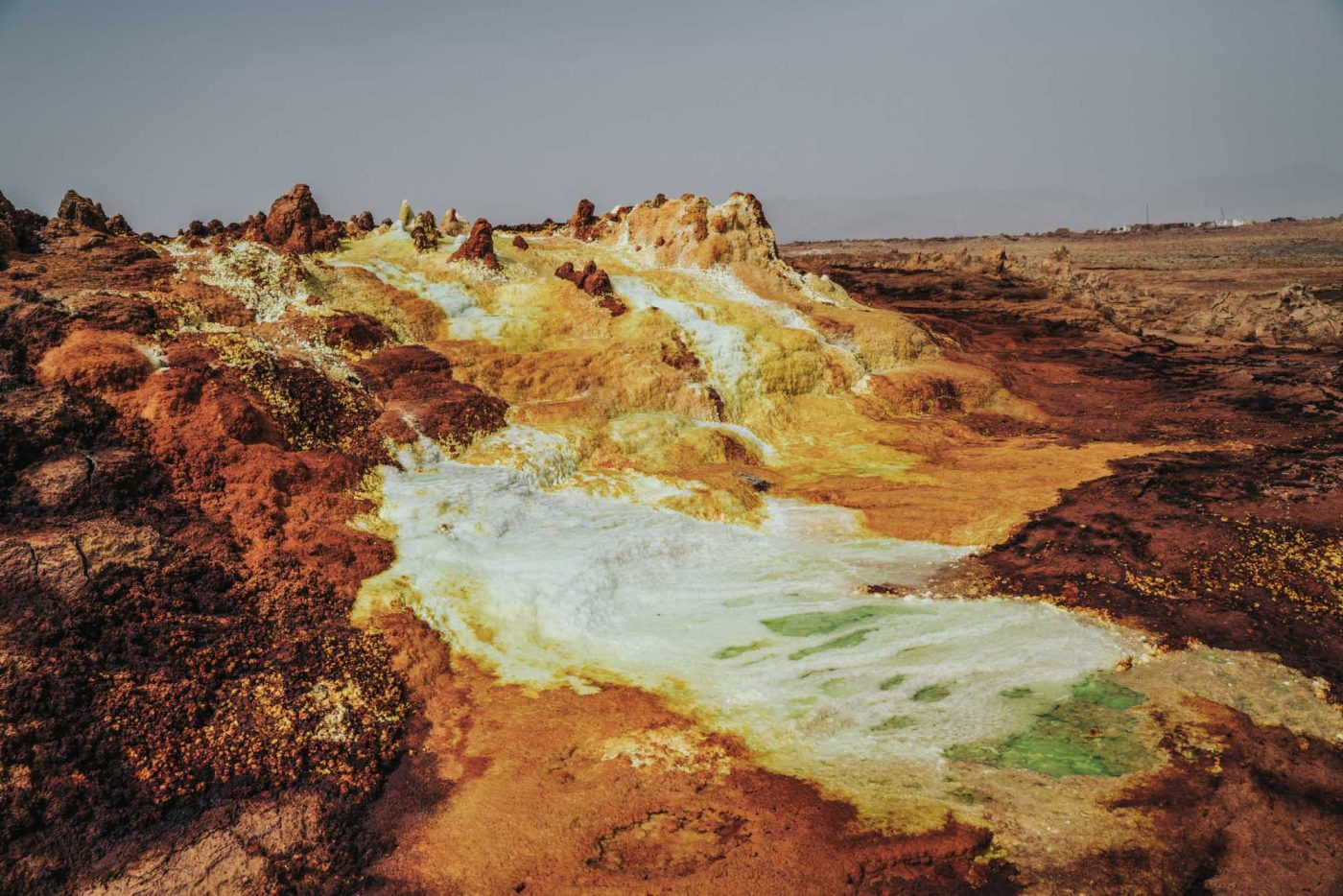 Majority of travelers join a 3-4 day tour of the Danakil Depression, visiting Dallol, Lake Giulietti (Lake Afrera), Erta Ale Volcano while camping in the Danakil Depression for 2-3 nights. It's a tough trip as the temperature in this part of Ethiopia is extreme, often reaching upwards of 40-45C. There are no showers, no drinking water, and facilities at the camps are incredibly basic, but those willing to "rough it" will find the tour very unique.
It is possible to explore the Danakil Depression on a day tour, visiting Dallol to admire the unique landscape formed by volcanic activity, and Lake Assal (-130 m) the center of salt mining in the region. The tour leaves Mekele in very early hours of the morning and returns late at night, saving you the need to camp out in the desert.
Regardless of which tour you choose to take, be sure to go with a reputable tour operator like Ethio Travel and Tours (or ETT), a leading provider of Danakil Depression tours in Ethiopia. They are well equipped with knowledgeable guides, durable cars, and provided us with the support we needed to have a good trip to the Danakil Depression.
Where to Stay in Mekele
Asimba Guest House offers accommodation in a beautiful family home in Mekele. The owners, Chris and Saba go above and beyond in ensuring the best stay for their guests. They cooked for us, helped us with tour arrangements, and provided lots of fascinating insider info on life in Ethiopia.
Lalibela 1-2 days
Lalibela is known as one of the best Ethiopia tourist attractions due to its plethora of unique stone cut churches, some of which have been literally dug out of the bedrock. The churches that date back to the 11th century were carved during the reign of King Lalibela (1181 – 1221) and are now registered as a UNESCO World Heritage Site.
The churches in Lalibela are different from those in the Tigray region. They are easy to get to (no rock climbing required), fun to explore (thanks to a maze of passageways and tunnels that connect the churches), and offer an opportunity to admire intricate icon paintings housed inside.
There are eleven monolithic and semi-monolithic churches right in the town of Lalibela which can be visited in just one day. Don't miss the Church of Saint George, Biete Abba Libanus, Bete Maryam, and Biete Medhane Alem.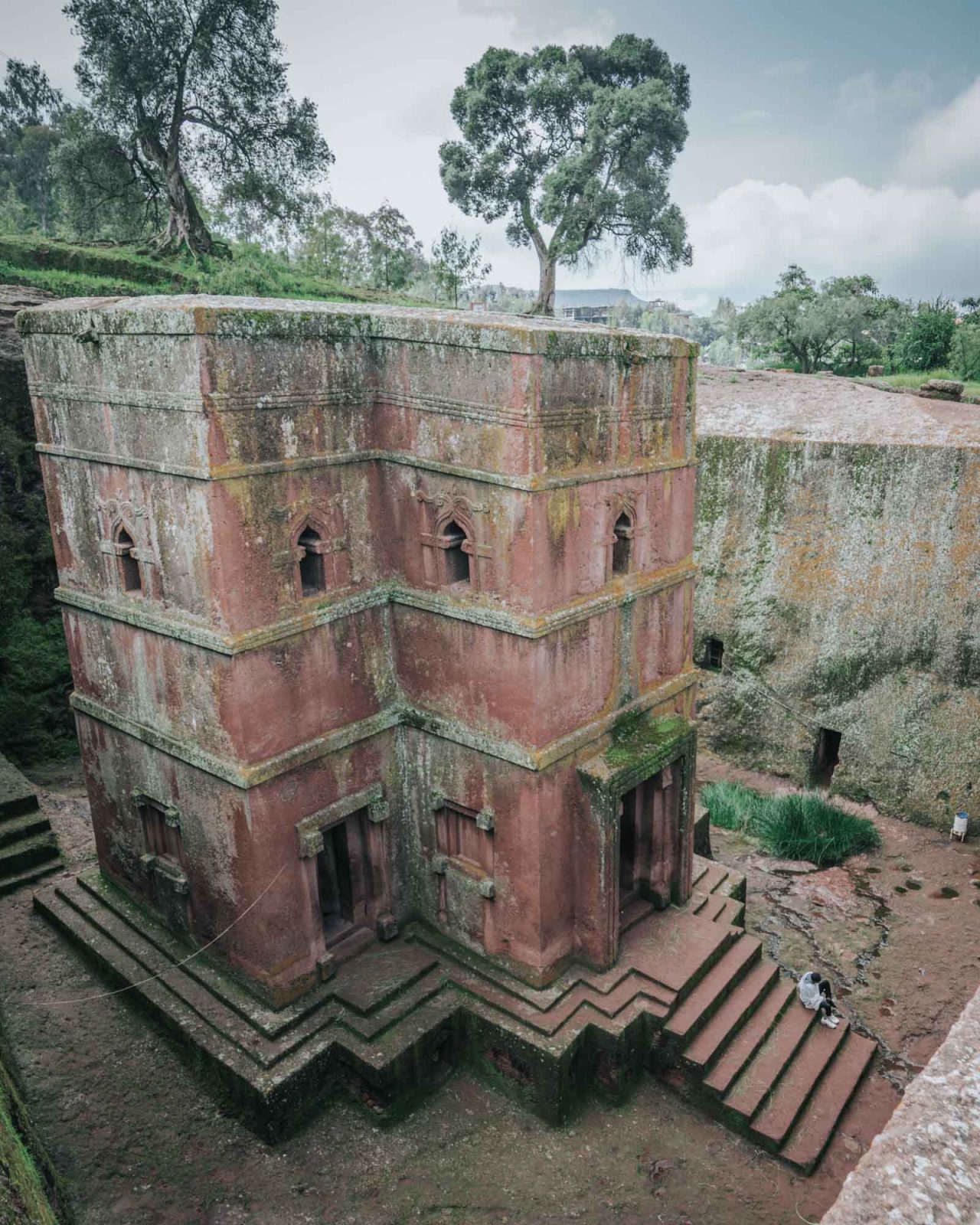 Where to Stay in Lalibela
Mezena Lodge is nestled into the verdant hillside and is located in close proximity to the center of town. The lodge is owned by a well-respected Ethiopian family and offers everything you need for a comfortable stay. Spacious clean rooms, good service and even an on-site pool (in the high season). Their on-site restaurant serves up great local and international food and the lodge even offers private guides to help you tour Lalibela's churches.
Ethiopia is a country full of beautiful landscapes, fascinating sights, and unique experiences and while it's not a destination that would appeal to all, it's one that's bound to inspire and excite a truly intrepid traveler!
BEFORE YOU GO: DON'T FORGET TRAVEL INSURANCE

We can't stress enough the importance of travel insurance, especially in a country like Ethiopia. Whether you just plan to explore the cities, do a little bit of hiking, or go extreme (think surfing, scuba diving, or even skydiving) being protected on your travels is an irreplaceable peace of mind. We learned about the importance of travel insurance the hard way and now we never travel without coverage.

From the US? Get a quote through Allianz Travel Insurance, our recommended travel insurance provider for US citizens/residents.
Is Ethiopia on your travel bucket list? Which one of these destinations are you most interested in visiting?