Hotel Costa Verde in Manuel Antonio, Costa Rica has been on our list of "cool places to visit in Costa Rica" for a long time. The hotel caught our attention back in 2014 when in preparation for our first visit to Costa Rica together, we came across a photo of its 727 Fuselage Home, a refurbished Airplane hotel room that sat perched up amidst the jungle setting.
*This post may contain affiliate links, as a result, we may receive a small commission (at no extra cost to you) on any bookings/purchases you make through the links in this post. As an Amazon Associate, we earn from qualifying purchases. Read our full disclosure
It was definitely the most unique accommodation we have ever seen, and one that quickly sparked our curiosity.
Traveling Soon?

Here is a list of our favourite travel providers and accessories to help get you ready for your upcoming trip!
It took us 2 years to finally make our way to Hotel Costa Verde, Costa Rica, but when we did, we quickly realized that the 727 Fuselage Home was just a small part of what makes this hotel a destination worth visiting in Costa Rica.
Hotel Costa Verde, Costa Rica
Costa Verde, Costa Rica dates back to the 1990s, when the town of Manuel Antonio was just starting to pop up on travelers radars. Today, 25 years later, it's a real institution in town. The hotel grounds span more than 20-acres, running the length of 1km along the main road to Manuel Antonio National Park.
The hotel seems to perfectly blend in with the surroundings, making it feel like you really are staying in the jungle. Costa Verde features 75 different rooms divided into six different sections, each one separated from the other by thick vegetation.
Rooms at Costa Verde Hotel
There are your usual hotel rooms (located in Costa Verde II building), self-catered studio apartments (located in Costa Verde II and Building B), along with one 3-bedroom house (Casa Quinta), four 2-bedroom bungalows, and of course, the iconic 2-bedroom 727 Fuselage Home and the smaller, Cockpit Cottage.
Each home is unique in its own way and that's one of the things that we love most about Costa Verde, Costa Rica. You could literally visit Costa Verde every year and never stay in the same type of room twice.
During our initial visit back in 2016, we stayed in the Costa Verde II building, designed for couples and families with children 17 years or older. Our studio apartment had 2 double beds, a sitting area, a dining table, kitchenette, and a spacious balcony overlooking the Pacific Ocean and the adult-only pool area.
In the subsequent visits at Costa Verde Hotel, we've had the pleasure of enjoying the Cockpit Cottage and the 727 Fuselage Home, during our friends' wedding held at Costa Verde Hotel.
The Grounds at Costa Verde Hotel
Walking around the grounds of the Costa Verde, Costa Rica we loved being immersed in the jungle. There were thousands of varieties of trees and plants, some labelled as if in a national park or conservations, and all meticulously cared for by gardening staff.
We spotted white face capuchin monkeys jumping from tree to tree, a whole family of them feeling completely at ease in their surroundings.
When exploring the property we discovered 3 pools in different parts of the hotel grounds. The adult only pool overlooking the coast was definitely our favourite, although we have also enjoyed a quieter setting of the smaller pools scattered around the property.
Needless to say, a pool is always close by regardless of where your room is located.
But it wasn't just the unique hotel layout and close proximity to Manuel Antonio National Park that impressed us about this unique destination.
Sustainability at the Costa Verde Hotel
For us, the beauty of Costa Verde is all in the details and the elaborate process that goes into the continuous design and preservation of this special area. We loved the focus on recycling throughout the premises, the fact that rainwater is used for laundry services, and that solar energy is used to heat up the water.
Costa Verde Hotel prides itself in going well beyond the efforts of the typical eco-resorts that are abundant across Costa Rica. And we love that!
From the traditional wooden bed frames, dining tables, to the quintessential Costa Rican rocking chairs, all furniture at Costa Verde is made in their own wood shop (which you can visit during your stay there) using the naturally downed trees from the region.
All throughout the grounds, thousands of recycled bottles are used as lighting fixtures to add a unique design element to the already unique hotel rooms and restaurants on site.
Restaurants at Costa Verde Hotel
Costa Verde Hotel occupies a huge section of the main road to Manuel Antonio. The hotel grounds include all the rooms along with 4 restaurants scattered around the property, offering visitors plenty of options for dining during their stay.
Each restaurant is unique in its own way, offering locally inspired dishes with a twist.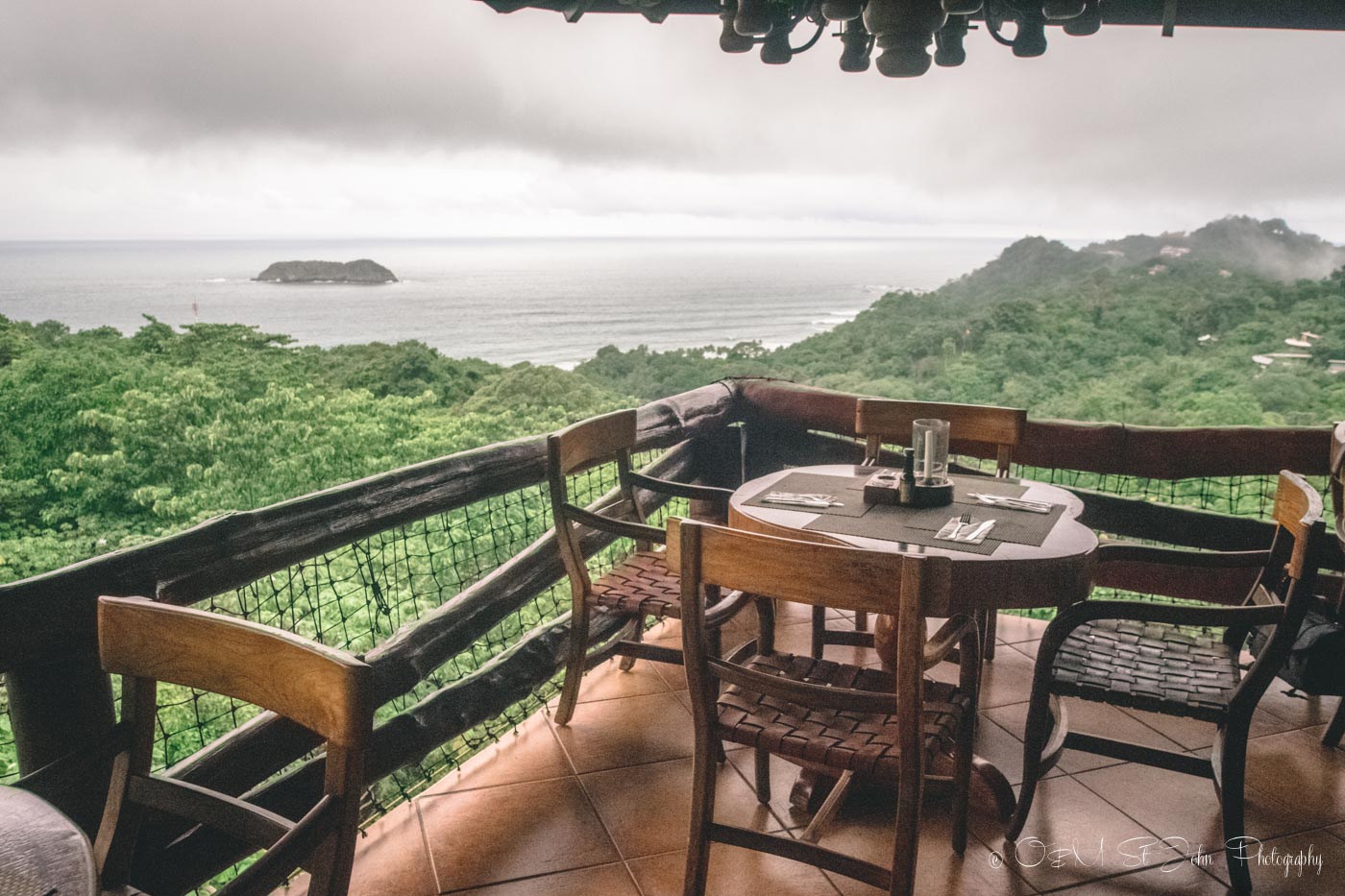 A Personal Connection
We had a pleasure of meeting the founder of Costa Verde Hotel, Allan Templeton, during our stay at Costa Verde. An American by birth, world traveler by heart, and a die-hard Costa Rican by life experience, Allan shared incredible stories about his life in Costa Rica, his travels around the world, and tales of how Costa Verde came to be and how it continues to grow and evolve to this date.
Hearing first hand the story of the inception of the 727 Fuselage Home, and the El Avion Restaurant, allowed us to see Costa Verde in a whole new light, to feel its unique story radiating through every corner of the property, and its old Costa Rican charm rooted in the soil.
Over the years, Allan's hospitality and the beautiful location of the Costa Verde have seen us come back to this unique hotel over and over again.
A Beautiful Wedding Destination
Costa Verde is not just a popular tourist destination (some visitors have been coming to Costa Verde for 10-15 years), but also a booming destination wedding location.
Parts of the hotel, like the helipad in front of the Costa Verde II and the reception hall overlooking the jungle and the Pacific Ocean, have been built specifically to provide a unique environment for wedding receptions.
In June 2017, we had the pleasure of attending a beautiful wedding of our dear friends, Chris and Shalini at the Costa Verde Hotel and were blown away by the magical setting this unique hotel provided for their special day. They opted for a travel-themed wedding so having the hotel at an airplane hotel was incredibly suiting!
Check out the video we shot on their special day!
If you are thinking about planning your own Costa Rican wedding, at Hotel Costa Verde Costa Rica or another venue, check out our post on planning a wedding in Costa Rica for first-hand tips and advice.
Have you ever stayed at Costa Verde? What do you think you would enjoy most about staying at Hotel Costa Verde, Costa Rica?
Like this post? Pin it for later!
Disclaimer: Big thanks to Allan and his team for hosting us at the Costa Verde II during our time in Manuel Antonio. As always opinions provided in this article are our own, no matter who is footing the bill.