Costa Rica is a relatively small country, but it is jammed packed with reasons it should be on your future holiday list. If you were to try and fully experience everything this amazing country has to offer, you'd be here for months!
*This post may contain affiliate links, as a result, we may receive a small commission (at no extra cost to you) on any bookings/purchases you make through the links in this post. As an Amazon Associate, we earn from qualifying purchases. Read our full disclosure
But since that's not a realistic option for everyone, we've compiled a few separate versions of a 2-week Costa Rica itinerary, to cover any type of holiday you would want to take. Before you decide on your ultimate Costa Rica itinerary, though, check out our guide to the best time to visit Costa Rica, it may make a difference to your Costa Rica Itinerary.
When you're deciding on your Costa Rica itinerary, 14 days can be a lot to fill! If you want to do Costa Rica in 1 week, or create your own Costa Rica 10 day itinerary, then this will help you pick the best of the best for the time you have. Let's dive in!
Don't leave your home without Travel Insurance!

From the US? We recommend Allianz Travel Insurance, a world leader in travel protection and our trusted Travel Insurance partner for the last 5 years. Allianz offers Single Trip and Annual Travel Insurance Policies that include medical coverage, trip cancellation, rental car insurance and more! (Benefits vary by state and by plan, so read your policy carefully!)

Not a US resident? Consider Safety Wing, a budget friendly travel insurance provider with travel insurance plans for Digital Nomads and travelers from all around the world
Sun & Surf Costa Rica Itinerary
Beach bums looking for a relaxing 2 weeks in Costa Rica should focus their trip on the Guanacaste region.
Its relatively dry climate, white sand beaches and incredible surf make it a must-see for any beach lover out there. Here's a sample of a surfer's dream 2 week Costa Rica itinerary:
Playa Conchal – 2 days
This beach is famous because it's not composed of sand, but crushed shells! Nestled in a bay, this is the perfect beach for laid-back fun. The waves don't get too crazy, which makes the waters perfect for swimming and snorkeling. It's the perfect place to either start or end your holiday – you can grab a drink and a book and just relax!
Bonus: If you'd also like to go diving on your trip, pop over to the Papagayo Peninsula. Still relatively unspoiled, this gulf has some of the best diving opportunities in the country. You can do easy dives along the coastline, or head out to Catalina's Islands for more in-depth dives.
Playa Avellanas – 3 days
Though most people planning a beach getaway to Costa Rica are going to focus their trip around Tamarindo, we'd recommend staying at Playa Avellanas instead! It is hands down one of the most beautiful beaches in the country – and way less crowded than its neighbour, and that alone is enough of a reason to factor it into your Costa Rica 2 week itinerary. It's easy to take a day trip to Tamarindo, but staying here for a few days allows you to relax, be surrounded by nature, and enjoy peaceful beaches.
Bonus: If you love to surf, we recommend taking on a few extra days in this area! Nearby Playa Negra is a surfing paradise. And you can easily take a day trip out to Witch's Rock or Ollie's Point for some serious swells.
Playa Samara/Carillo – 3 days
This area has so much to offer. Not only is the beach beautiful and perfect for relaxing, suntanning, snorkelling and swimming – there are also a bunch of activities in the area that are worth checking out! Whether you like beach yoga, fishing or horseback riding, Playa Samara's got you covered.
Santa Teresa – 3 days
This is another wonderful option for surfing enthusiasts – but don't worry, Santa Teresa's got so much more to offer than its waves!
There are a bunch of spas, yoga classes and relaxation opportunities in this town, too. It also boasts some of the best sunsets you're ever going to see.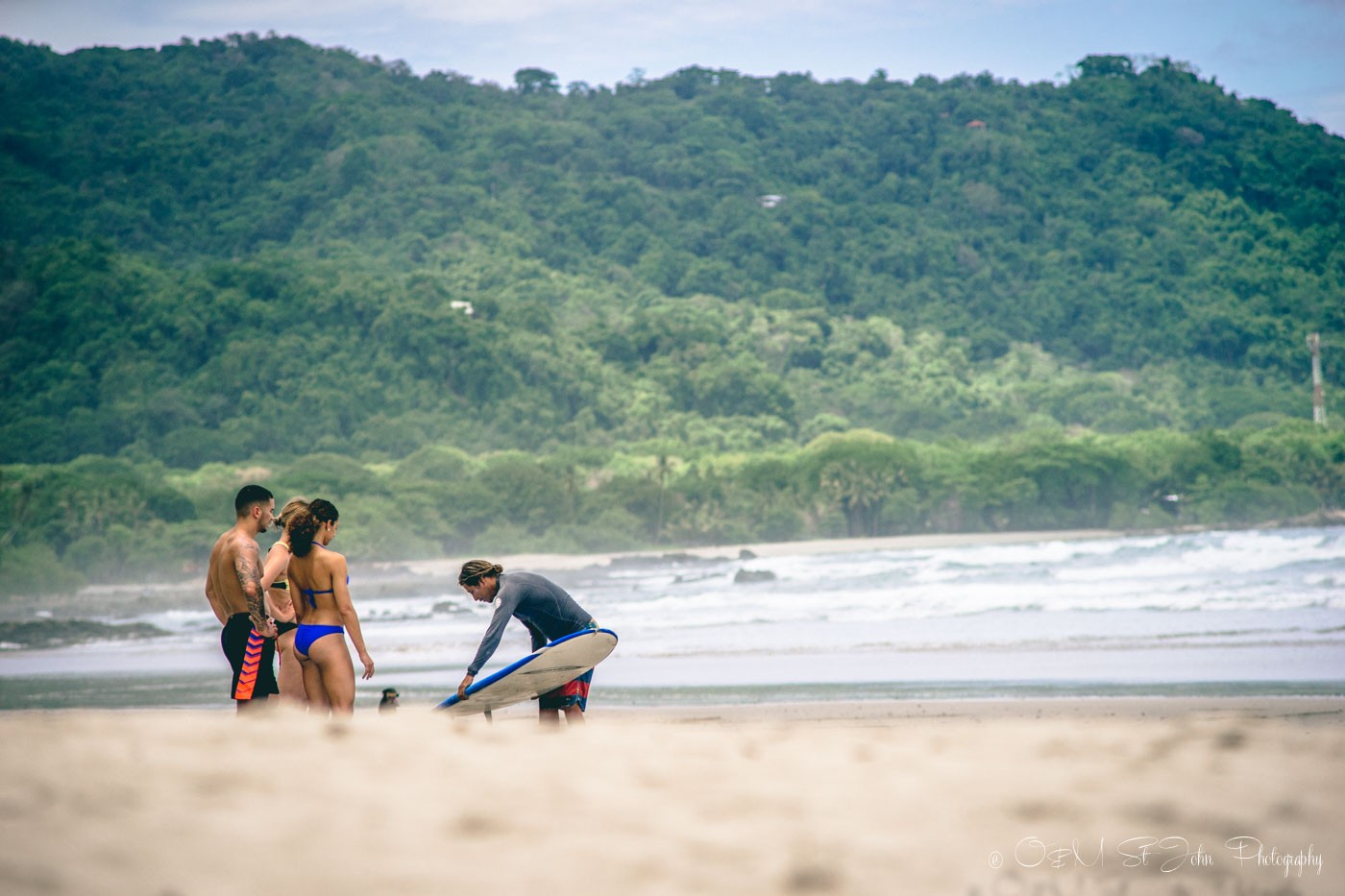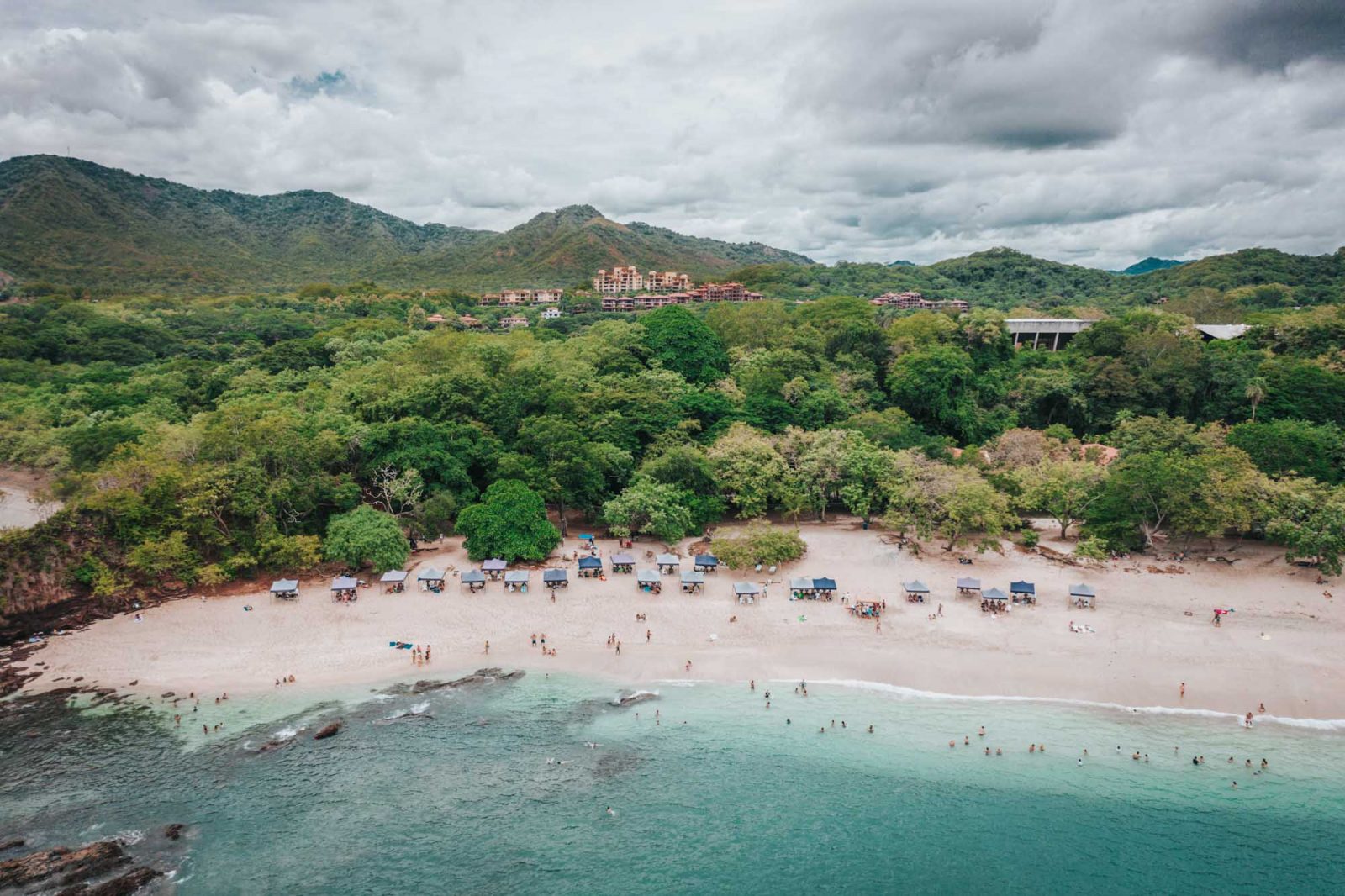 Book the Best Car Rental in Costa Rica

Renting a car in Costa Rica can be one of the most challenging parts of your visit! Unfortunately, car rentals in Costa Rica often come with significant hidden insurance fees, result in many frustrations at pick-up. The experience has ruined many trips and ballooned trip budgets for friends, family and followers. After years of not having a good solution, we finally found an honest car rental company that we proudly recommend to our readers.

We recommend booking with Vamos Costa Rica – a local car rental company that offers fantastic service and NO HIDDEN FEES and get 10% of your rental rate plus FREE additional driver, FREE child seat and other perks and benefits when booking through our link below!

Book early as rental car availability all across Costa Rica is currently lower than demand!
Nature & Wildlife Costa Rica Itinerary
Costa Rica has so much more to offer the outdoor lover than just its beaches. Heading even slightly inland unlocks a whole new realm of beauty.
If you like to hike, camp, or visit a national park, this is the Costa Rica itinerary for you!
Monteverde or Arenal– 3 days
Begin your two weeks in Costa Rica high up in the mountains in Monteverde, famous for its cloud forests. The most popular one is the Monteverde Cloud Forest Reserve, but just a bit down the road is the Santa Elena Cloud Forest Reserve. It provides you with exactly the same experience – the same unique flora and fauna – with half the crowds!
The Arenal Volcano National Park and the surrounding area are some of the most visited parts of Costa Rica. And with good reason! You can hike, go on guided tours, relax in hot springs and explore the national park; all within view of the country's largest volcano! You can see a lot of Costa Rica in 2 weeks, but the volcano is by far one of the most impressive parts.
Manuel Antonio – 4 days
Manuel Antonio National Park has been recognized as one of the most beautiful in the WORLD. It's the real deal. It's located along the coast, so not only can you soak in all of the unique flora and fauna, go on hikes and even camp – you can also chill on the beach!
Need to do Costa Rica in one week? Manuel Antonio area could be the best option to see the beauty and biodiversity of Costa Rica.
BONUS: The Dominical region in Costa Rica is another great place for outdoor lovers. No matter if you are on a Costa Rica 10 day itinerary or have two weeks in Costa Rica, you can't skip on a day trip to the Nauyaca Waterfalls. And if you're interested in whale watching, make sure to check out the Ballena Marine Park!
Corcovado, Osa Peninsula – 4 days
Located at the very bottom of the Gold Coast in Costa Rica, the Osa Peninsula is a remote paradise. It is the country's most biodiverse region – which is saying something considering how biodiverse the entire country is!
Over half of this peninsula is taken up by Corcovado National Park, and you definitely don't want to miss an opportunity to spend a few days hiking around there. Plus, if you love birds, Osa Peninsula is the best place in the country for bird watching. There are more species of birds than you can count, and you can count on seeing plenty regardless of the time of year!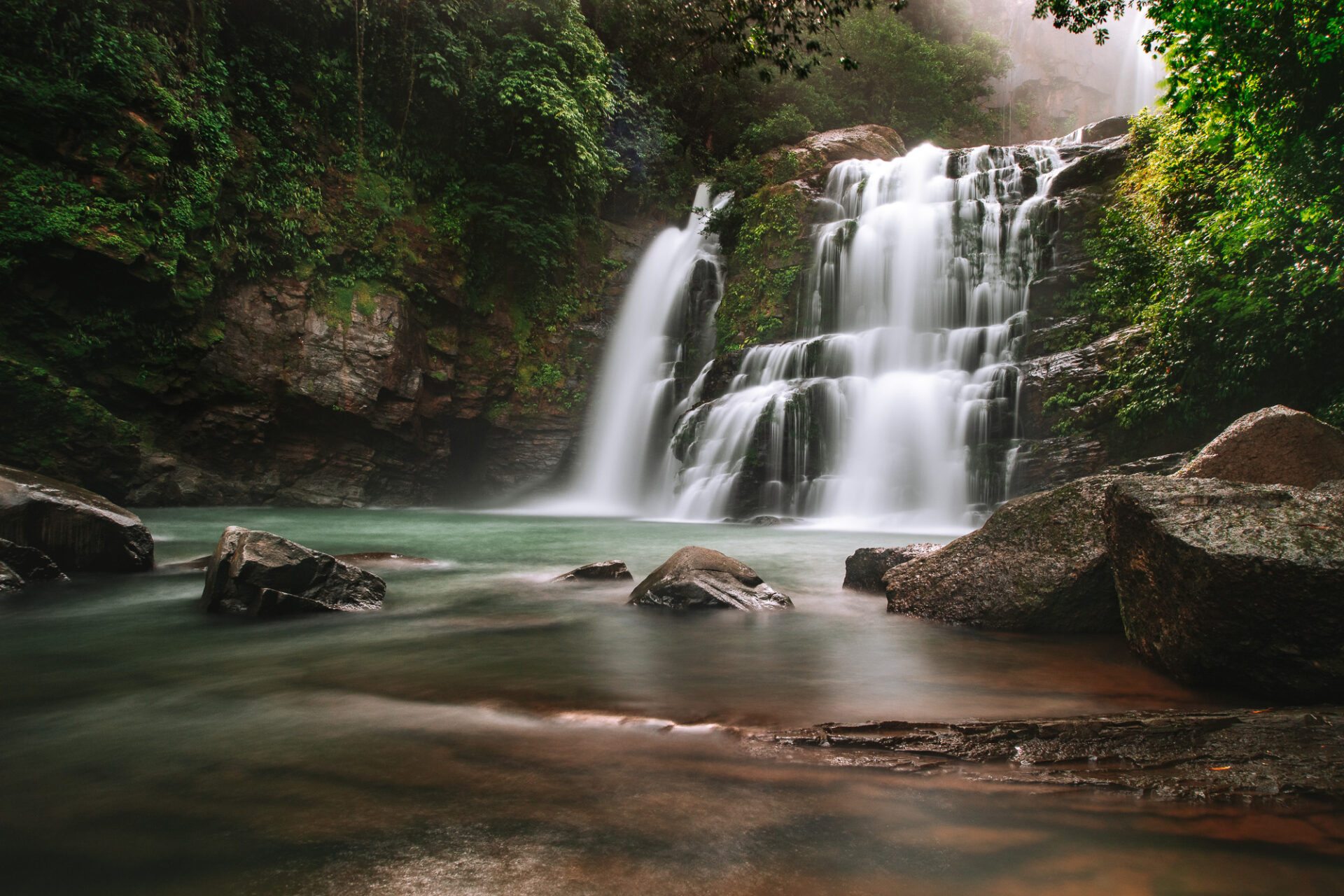 Active Costa Rica Itinerary
If you're not only an outdoor lover but also want to keep your adrenaline flowing throughout your trip, these destinations are perfect for your two weeks in Costa Rica!
Monteverde – 2-3 days
Begin your Costa Rica itinerary with spectacular views and amazing wildlife experiences in the Monteverde Cloud Forest. If you're staying in the town of Santa Elena, there are a few different reserves you can spend your days hiking around. You can also experience the longest zip line in Latin America in Monteverde!
Arenal – 2-3 days
The Arenal Volcano National Park has an array of hiking trails that cater to every level of fitness. You can also experience Rio Balsa's class IV and V whitewater rapids here! (If you're interested in rafting but aren't experienced, there are plenty of class I-III options in the Arenal region as well).
Mt. Chirripó – 3 days
If you're interested in climbing Costa Rica's highest peak, make sure to visit during the dry season (February – March). You can only undertake this hike with a guide that helps you acquire a permit, which is necessary as only 60 climbers are allowed per day. Take your time climbing this mountain – the views from this trek are incredible!
Osa Peninsula – 4 days
Round off your Costa Rica itinerary with a visit to the Osa Peninsula. More than half of the Osa Peninsula is taken up by the Corcovado National Park – a hiking destination you definitely don't want to miss. But beyond the national park, Osa Peninsula has an array of awesome activities you can do! Make sure to check out the ocean kayaking and diving at Cano Island during your 2 weeks in Costa Rica.
Relax & Unwind Costa Rica Itinerary
While action-packed adventures can be fun, sometimes the ultimate Costa Rica itinerary is all about chilling out. Many of the places already mentioned in this article can easily double as places to kick back and escape the chaos of your life!
Depending on how long your trip is, these ideas can easily be adapted to fit a Costa Rican 10-day itinerary. Or pick and choose, relax in Costa Rica for 1 week and then have a jam-packed 7-day Costa Rica itinerary. The best thing about Costa Rica is that it offers so many options for every type of traveler.
Here's our sample easy-to-adapt Costa Rica itinerary for unwinding.
Arenal – 3 days
While it has come to be known as the adventure capital of the country, Arenal is also quite a serene place. Considering that pretty much everything you do boasts incredible views of the country's largest volcano, it's easy to see why people post up here and let time slip away from them. Make sure to visit the Tabacon hot springs – a sustainable, luxurious hot spring where you can easily spend an entire day.
Playa Avellanas – 3 days
As mentioned previously in this article, Avellanas is located pretty near to Tamarindo – the most popular (and crowded) beach town in Costa Rica. If you're looking for the same vibes minus the crowd, Avellanas is the perfect place for you. You can soak up the sun, snorkel and swim without bumping elbows!
Nosara – 3 days
If you're looking for a great place to connect with nature, do some yoga, and do a bit of detoxing, Nosara's a must.
They've got plenty of healthy restaurants all over town that are affordable and delicious. And pretty much any resort that you choose to stay at is going to have yoga class/retreat options!
Santa Teresa – 3 days
If you're looking for a luxurious (and sustainable) beachfront getaway, stay atone of the eco-hotels in Santa Teresa. You can post up in one of the ocean-front hammocks and read all day, take a surf lesson or have a delicious meal and beverage at their beachfront restaurant.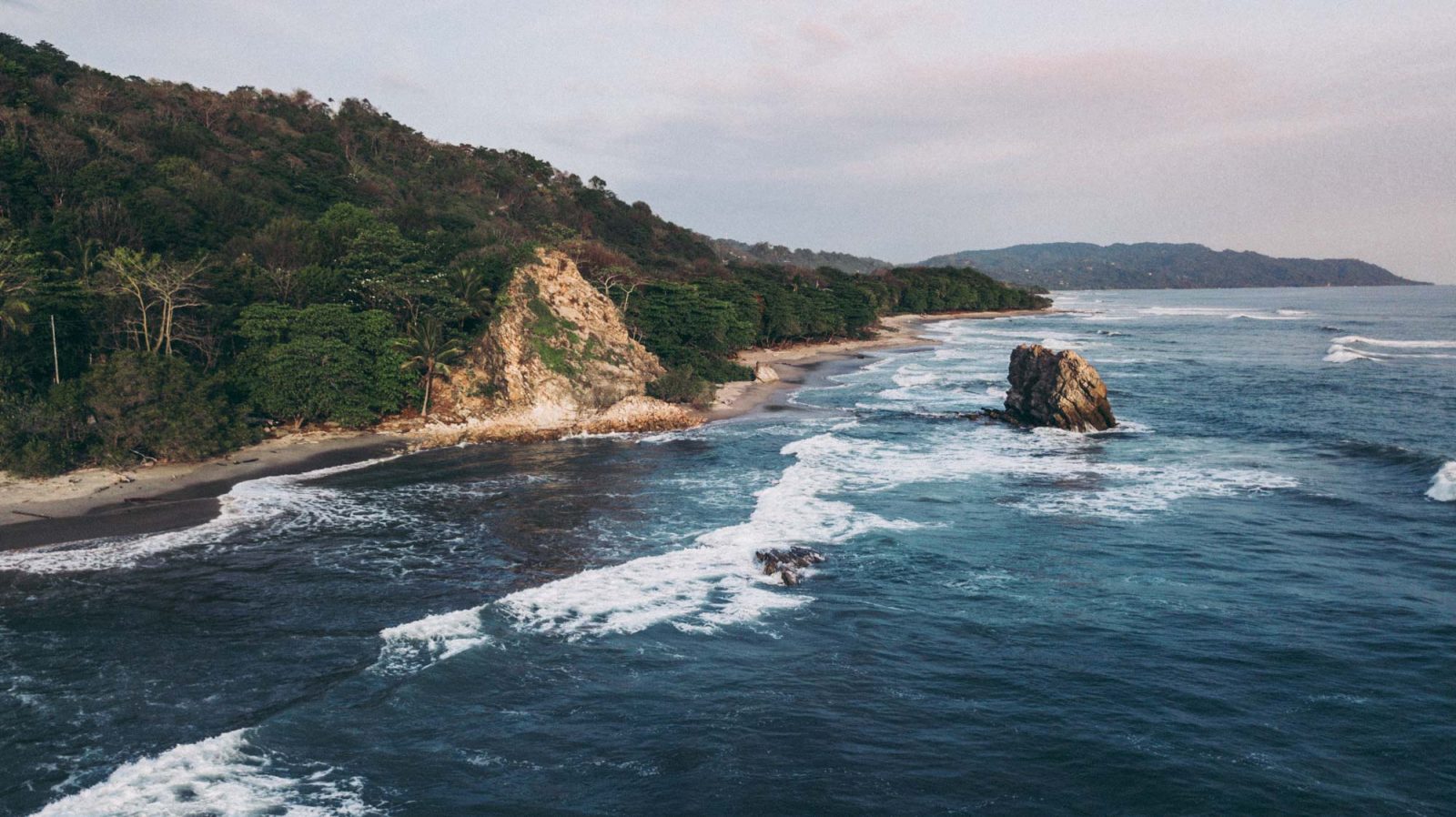 Highlights of Costa Rica Itinerary
If you still are finding it impossible to choose just one kind of Costa Rican holiday, how about a little taste of everything you can do in Costa Rica in 2 weeks? This is the ultimate Costa Rica itinerary!
Manuel Antonio – 4 days
This national park is located along the coast, so you can experience the flora, fauna, and beaches all in one place! While planning out your Costa Rica itinerary, 4 days should give you plenty of time to appreciate it all.
Arenal – 3 days
You can spend one day wandering around the Arenal Volcano National Park, one-day white water rafting, and the last day relaxing in world-class hot springs.
Playa Avellanas – 3 days
Escape the chaos of Tamarindo and get some quality relaxation in this beach town known for great surfing, easy living and an up and coming wellness community.
Santa Teresa or Nosara – 2 days
If you're looking to bask in some calmness during your 2 weeks in Costa Rica, either of these places is a great option. They've got spas about, there are yoga classes/retreats for everyone's skillset, and they are surrounded by nature. Don't miss these must-do activities: Horseback riding, surf lesson, a cooking class, and embracing the Pura Vida lifestyle!
Bonus: If you have more time, add a trip to Nauyaca Waterfalls, Costa Ballena National Park, and a day trip to Tamarindo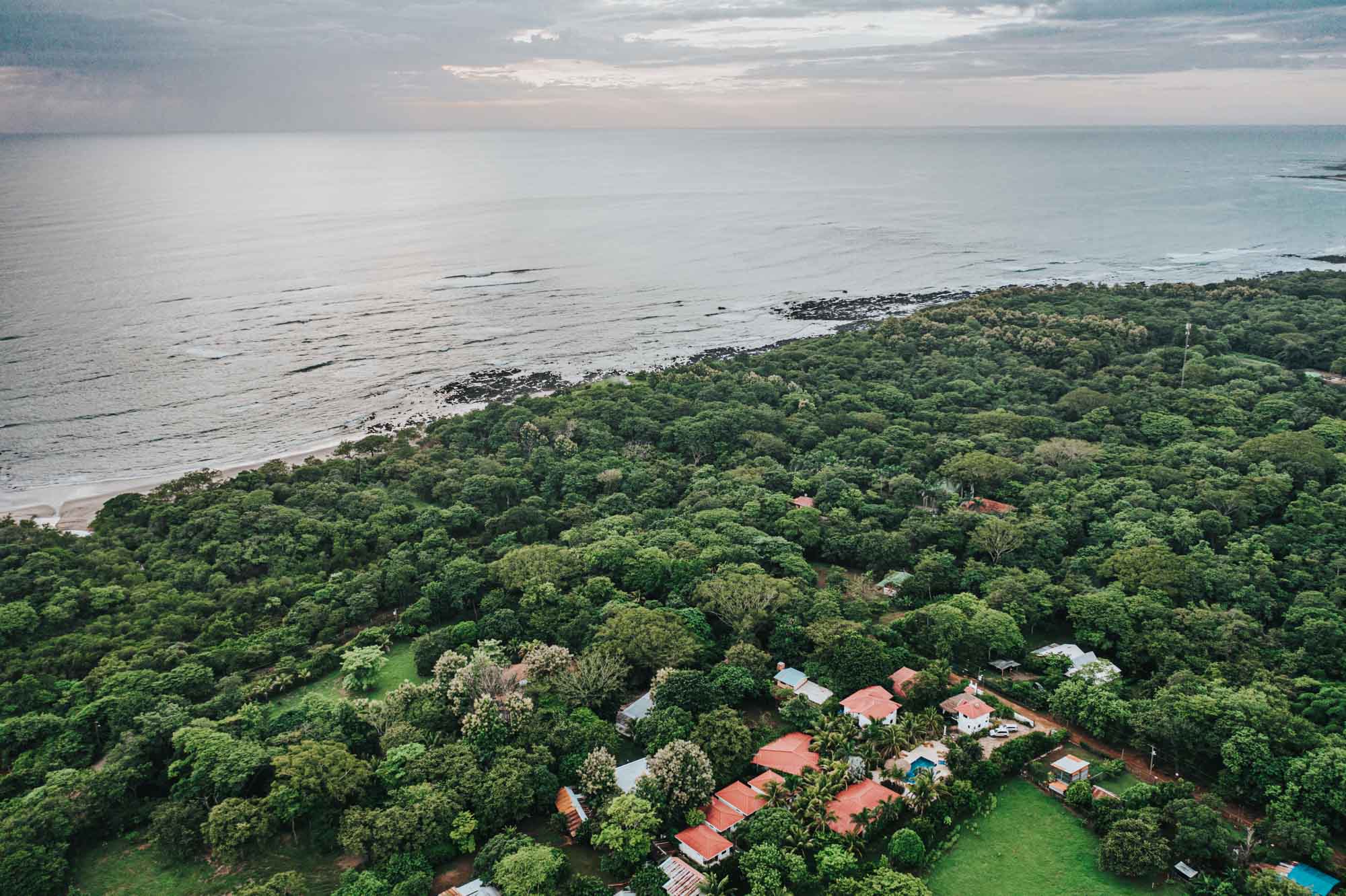 Costa Rica truly has something for everyone. If you haven't already, it's time to move it to the top of your future holiday list and start planning your own Costa Rica 2 week itinerary!
What would be on your Costa Rica itinerary? Let us know in the comment section below!