Over 2 million people visit Costa Rica on a yearly basis, most travelling here in search of adventures, wildlife and natural beauty in this part of Central America.
*This post may contain affiliate links, as a result, we may receive a small commission (at no extra cost to you) on any bookings/purchases you make through the links in this post. As an Amazon Associate, we earn from qualifying purchases. Read our full disclosure
There are plenty of things to see in Costa Rica, like great beaches, lush rainforests and unique wildlife. For a relatively small country, there is a vast variety of fun things to do in Costa Rica, making it extremely difficult for most people to choose where to go and which places and activities to add to their itinerary.
Don't leave your home without Travel Insurance!

From the US? We recommend Allianz Travel Insurance, a world leader in travel protection and our trusted Travel Insurance partner for the last 5 years. Allianz offers Single Trip and Annual Travel Insurance Policies that include medical coverage, trip cancellation, rental car insurance and more! (Benefits vary by state and by plan, so read your policy carefully!)

Not a US resident? Consider Safety Wing, a budget friendly travel insurance provider with travel insurance plans for Digital Nomads and travelers from all around the world
Having spent many years exploring this beautiful country, we have had the pleasure of seeing most of the corners of Costa Rica. But we know that most of you are limited to only a few weeks for your Costa Rica vacation.
To help you make the most of your time, we put together a list of the top things to do in Costa Rica!
Best Time to Visit Costa Rica
One of the top Costa Rica things to know when planning your trip and things to do in Costa Rica is the seasons. We often get asked questions like what are the best places to visit in Costa Rica in January, or where to go in Costa Rica in March, or any other month for that matter so we have broken each month down in this article: Best Time to Visit Costa Rica: Monthly Breakdown & Recommendations.
Generally speaking, most activities and regions in Costa Rica are accessible all year round, but the country does have 2 distinct seasons: rainy season and dry season.
The green season (or the rainy season) lasts from May to November but it's really just the months of September/October that see the most rain and have the biggest impact on activities in Costa Rica. Some hotels, restaurants and tour operators actually shut down for the months of September – November, so be mindful of these dates when planning your trip. If you don't mind taking a gamble on the weather, the green season offers great prices and sparse crowds.
The dry season is from December to April. The dry season definitely sees the most tourists because the weather is at its peak but that also means more crowds and higher prices. There are no shortage of Costa Rica tours and Costa Rica attractions to keep you busy if you plan your visit during this time of the year.
Best Places to Go in Costa Rica
What can you do in Costa Rica? The options are endless!
Costa Rica offers a plethora of destinations and activities for any traveler. After spending many years exploring Costa Rica, and experiencing many top tourist attractions in Costa Rica, we've put together this list with our top recommendations.
The list covers some famous places in Costa Rica, some hidden Costa Rica must-sees, and our favourite Costa Rica tourist activities to help you decide what you must do in Costa Rica.
Manuel Antonio National Park
When to Visit: Year Round
Best for: Wildlife. Popular with Families and Nature Lovers
Located on Costa Rica's Central Pacific coast, Manuel Antonio is one of Costa Rica's best places to visit. At Manuel Antonio National Park, the white sand beaches, which have some of the warmest waters in all of Costa Rica, are surrounded by lush rainforest, making it the ultimate picture of paradise. If you're not much of a beach bum, then this park is an excellent destination for wildlife tours and hiking, and there are some nearby cultural attractions and waterfalls to explore.
Manuel Antonio is also a launch point to some of the lesser-known best places to go to in Costa Rica. Taking a day trip to Dominical or Quepos is one of the best things to do in Costa Rica and offers unique insight into the culture.
Top Things to do in Manuel Antonio, Costa Rica
Visit Manuel Antonio National Park. Seeing wildlife is a must when visiting Costa Rica, and Manuel Antonio is the place to do it. The park is home to monkeys, sloths, and a number of birds.
Enjoy the white sand beaches at Manuel Antonio Beach or Espadilla Sur.
Go on a unique Jungle Night Tour to see rainforest creatures come to life after dark. Bring a jacket and some bug spray and join the expert guide for a tour of the plants and wildlife of Rainmaker Conservation Park. The tour takes less than three hours, and you'll learn a ton about the local birds, lizards, snakes, and amphibians.
Spend the night in an Airplane Hotel, also known as Hotel Costa Verde.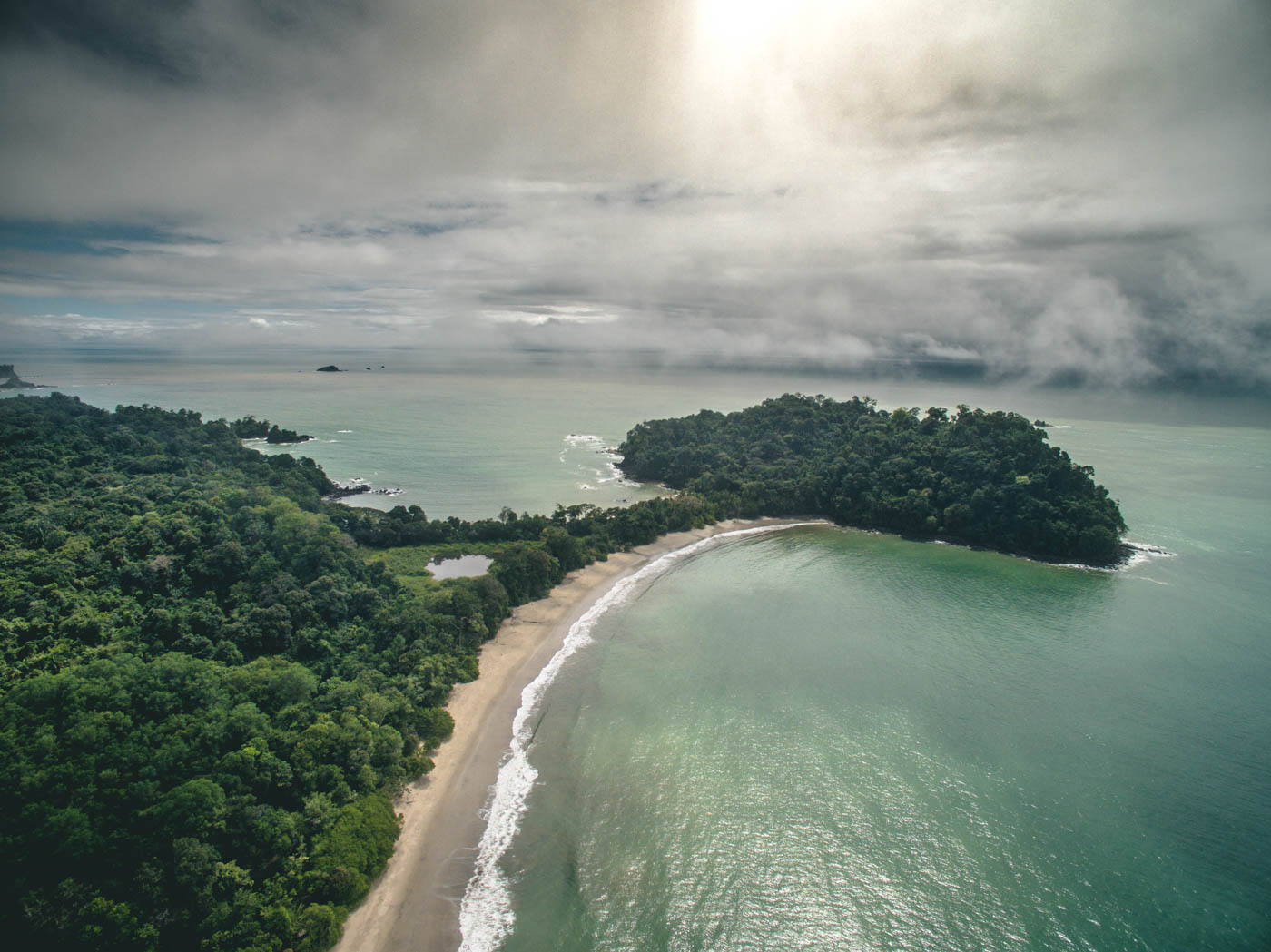 Traveling Soon?

Here is a list of our favourite travel providers and accessories to help get you ready for your upcoming trip!
Osa Peninsula
When to Visit: During Dry Season (Nov-April)
Best for: Wildlife. Popular with wildlife enthusiasts and off the beaten path travelers.
Osa Peninsula is considered one of Costa Rica's most remote destinations and one of the best places to visit in Costa Rica. This wild region is home to a wide variety of exotic wildlife, lush rainforest, and the largest stretch of mangroves in the country.
Corcovado National Park, located on the Osa Peninsula is one of the world's top eco-tourism destinations and one of the most biodiverse spots in the world!
Getting to the Osa Peninsula is an adventure in itself. The areas surrounding Drake Bay and Puerto Jimenez are wild and far less touristy than other destinations in Costa Rica. While the journey to get there is long, it's definitely worth adding to your Costa Rica to-do list!
Top Things to do on the Osa Peninsula, Costa Rica
Visit Corcovado National Park to see wildlife with the help of a local guide; it's one of the best things to do in Costa Rica. Conserving the largest primary forest on the American Pacific coastline, Corcovado National Park offers a ton to see and appreciate. From monkeys and sloths to jaguars and ocelots, you're sure to see and hear things that you would never get a chance to experience in your day-to-day life. You can take a day trip or spend the night in the park. Either option is one of the best activities in Costa Rica and well worth the trip!
Kayak in the mangroves near Puerto Jimenez. Costa Rica's mangrove swamps of Golfo Dulce are incredibly diverse and surrounded by exotic birds. Depending on when you're visiting, you may also get the chance to see dolphins, sea turtles, or whales out in the open ocean where the kayaking tour usually ends. PLus, if you are visiting int he right season, there is a chance for a bioluminescence encounter. Regardless of what's keeping you company in the water, it's one of the highlights of Costa Rica.
Learn about Costa Rica's gold mining history on a unique tour.
Nauyaca Waterfalls
When to Visit: Year Round
Best for: Swimming and Hiking
Located inland from Playa Dominical, the Nauyaca Waterfalls consist of two falls which are some of the most impressive in Costa Rica. The area is even more spectacular thanks to its jungle surroundings populated with monkeys and macaws. The upper falls cascade into a pool that is unswimmable, but the lower ones have a delightful little pool to go for a dip. You can hike, arrive on horseback or hitch a ride in the back of a pickup truck as we did. Arrive early to beat the crowds so you can enjoy the falls like nature intended.
If you choose to hike to the falls, keep your eyes peeled for wildlife along the way. You'll likely break a sweat on your way to the walls, so jumping into the lower falls will be a much-deserved refresher. Whether you go by foot, horse, or truck, the Nauyaca Waterfalls are certainly some of Costa Rica's must-sees!
Top Things to do at Nauyaca Waterfalls, Costa Rica
Swim under the lower falls. We recommend going early to have the pool to yourself!
Go on a horseback ride down to the falls. Just be sure to book early, as it gets very busy.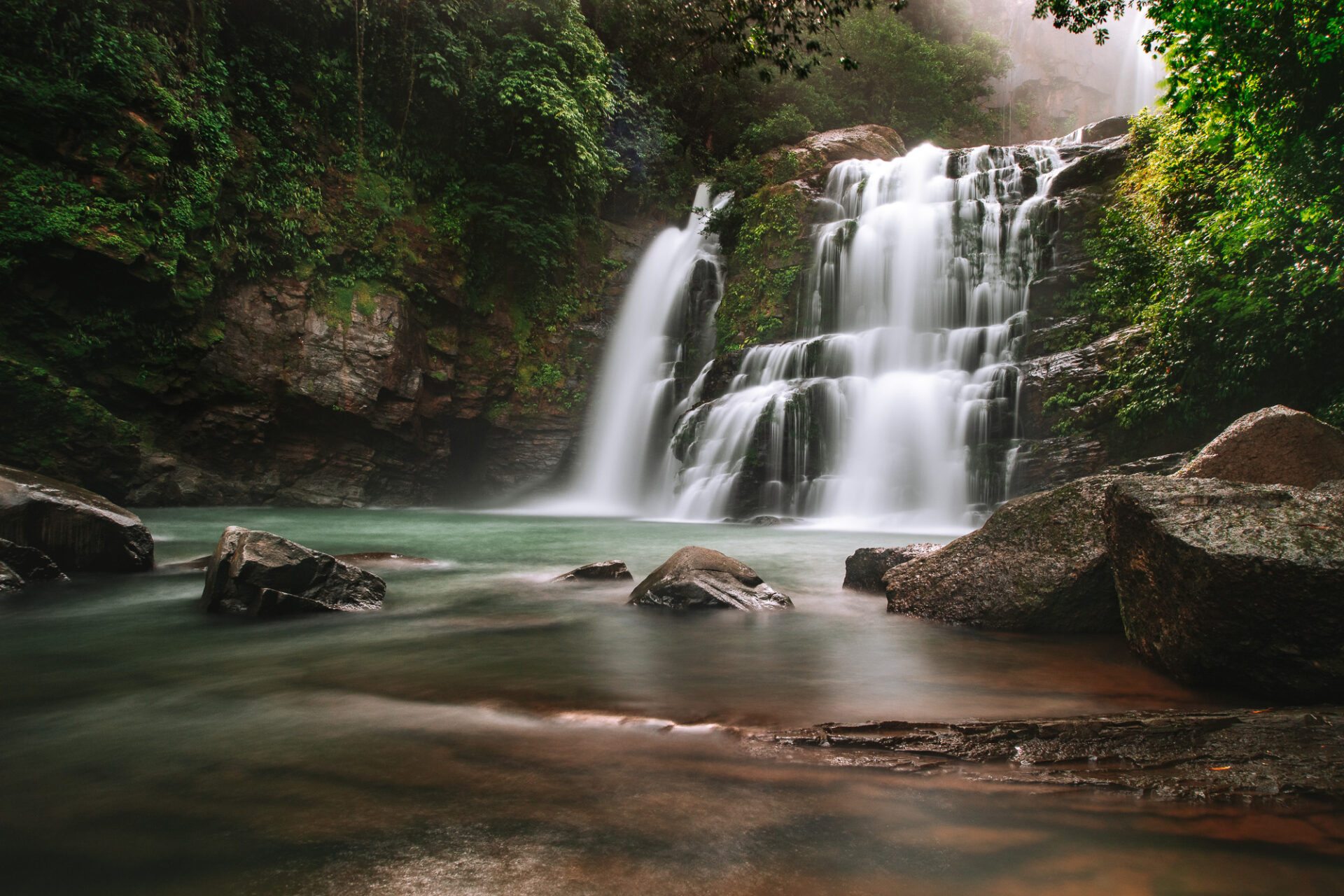 Poas Volcano National Park
When to Visit: Dry Season
Best for: Unique Volcano views close to San Jose. Popular with San Jose day trippers.
If you are looking for unique things to do in Costa Rica, then how about visiting an active volcano? Peer into its crater and admire the blue/green coloured lagoon of Poas Volcano. It's definitely one of Costa Rica's famous landmarks but due to unpredictable weather and frequent activity, it's not always accessible.
Plan to go on a clear day when visiting this Costa Rica must-see destination. In the rainy season, the cloud cover takes away from the vibrancy of the lagoon
You'll also not want to miss the La Paz Waterfall Gardens. The area is home to The Largest Animal Sanctuary in Costa Rica and spectacular waterfalls. It's a great way to end your day after exploring the volcano.
Top Things to do at Poas Volcano National Park, Costa Rica
Go for a hike. You'll find a number of geysers and crater lakes around Poas Volcano National Park.
Join a Poás Volcano Tour to visit the park and La Paz Waterfall. Despite the name, there's more to the tour than just the volcano; it's a full-day event, and it's one of the best things to do in Costa Rica. You'll start at the Doka Estate coffee plantation, where you'll learn about what goes into harvesting, roasting, and preparing Costa Rican coffee. After that, you'll head into the national park to see the volcano, hike to Botos Lagoon, and head to the La Paz Waterfall Gardens. Eat a bite of lunch, explore the rainforest, and appreciate the beauty of the region.
Arenal
When to Visit: Year Round
Best for: Adventure activities, hot springs and views. Popular with couples and thrill seekers.
When anyone asks, "what is there to do in Costa Rica?' – we always recommend a visit to Arenal! A trip to the Arenal Volcano National Park and the surrounding natural hot springs is one of the top things to do in Costa Rica. Although the volcano has been dormant over the last 10 or so years, we've seen it in its active glory, spewing up rocks and lava and lighting up the sky at night. But don't worry, the sight of this cone-shaped volcano is still breathtaking today!
Arenal Volcano National Park has plenty to offer, including long and short hiking trails through forest and lava fields. A perfect way to end the day is with a soak in one of the many hot springs in town. Tabacon Hot Springs is the most popular and luxurious option, but there are plenty of others to suit every budget. The gateway to Arenal is the sleepy town of La Fortuna.
Top Things to do in Arenal, Costa Rica
See the highlights of the area on an Arenal Volcano, La Fortuna Waterfall, and Hot Springs Tour. You'll follow the hiking trails with a guide to see the best sights, including the lava fields from the eruption in 1968. Enjoy a traditional lunch and a hot spring resort. Transportation is included so this tour is ideal if you don't have your own vehicle.
Visit Arenal Volcano National Park to hike the trails and see the volcano up close.
Hike to La Fortuna Waterfall. Located at the base of Cerro Chato Volcano, La Fortuna Waterfall is over 70 meters tall. There is an entry fee, but the ability to jump into the water after a long hike is well worth the cost of admission.
Soak in the geothermal baths at Tabacon Hot Springs.
Join a Rainforest Chocolate Tour to learn all about Costa Rican chocolate and get a hands-on experience of the process. The tour takes two hours and is suitable for the whole family.
Arenal Volcano, La Fortuna, Costa Rica
Rio Celeste
When to Visit: Year Round
Best for: Hiking & Instaworthy Photos.
Located inside Tenorio Volcano National Park, Rio Celeste is a beautiful turquoise-blue river with a picturesque waterfall in the midst of the lush rainforest. It is one of the best things to do in Northern Costa Rica and a rather off-the-beaten-track destination that often won't make it onto most tourist maps. However, thanks to the power of Instagram, Rio Celeste is becoming more and more popular, with everyone wanting to snap that Insta-worthy shot of the turquoise waterfall.
It's a bit of a trek to get to, but we really enjoy hiking in Tenorio National Park. There are a few other excellent viewpoints in the park which provide a great overall experience for those looking to connect with nature. Rio Celeste is definitely at the top of the list of must-sees in Costa Rica.
Top Things to do in Rio Celeste, Costa Rica
Hike your way through Tenorio Volcano National Park and visit Rio Celeste Waterfall
Visit Rio Celeste on a Full-Day Tour from La Fortuna. This 8-hour tour includes a 4-hour hike to the Rio Celeste, with pick up and drop off from La Fortuna, a guide to help you appreciate the wildlife and lunch to fuel you after your exercise.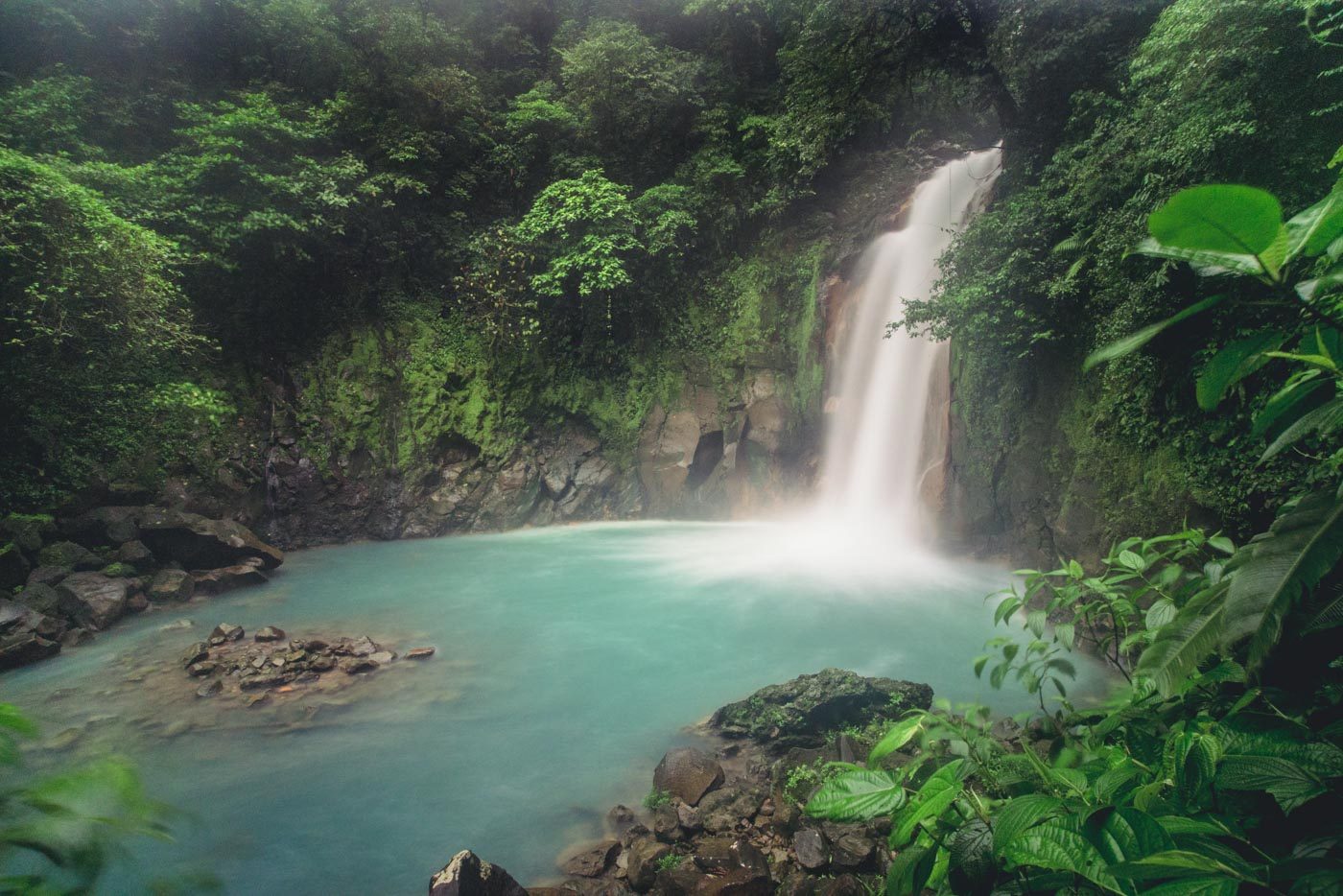 Monteverde
When to Visit: Year Round
Best for: Adventure Activities and Wildlife
The Monteverde Cloud Forest is consistently ranked amongst the top places to see in Costa Rica; it's one of the country's natural wonders. This unique ecosystem is entirely different from other National Parks in Costa Rica and warrants a visit to fully appreciate. Admire flora and fauna and experience the thrills of the zip lines or hanging bridges in Monteverde and Santa Elena Cloud Forest. There is an impressive amount of wildlife to be spotted in Monteverde. It's a destination particularly popular with birdwatchers. The cloud forest is among the Costa Rica things to see that you can't miss.
Monteverde is loaded with activities to do in Costa Rica, from bird watching to canyoning to exploring the forest from the hanging bridges, with some coffee farming in between. Plus, the Cloud Forest is one of the country's seven natural wonders. For us, this area is one of the best things to see in Costa Rica.
Top Things to do in Monteverde, Costa Rica
Walk the hanging bridges in The Monteverde Cloud Forest Reserve to see the trees from above the forest canopy.
Go ziplining—Monteverde's zip line is one of the top adventures in Costa Rica!
Explore the local town of Santa Elena to find good food, shops and local entertainment.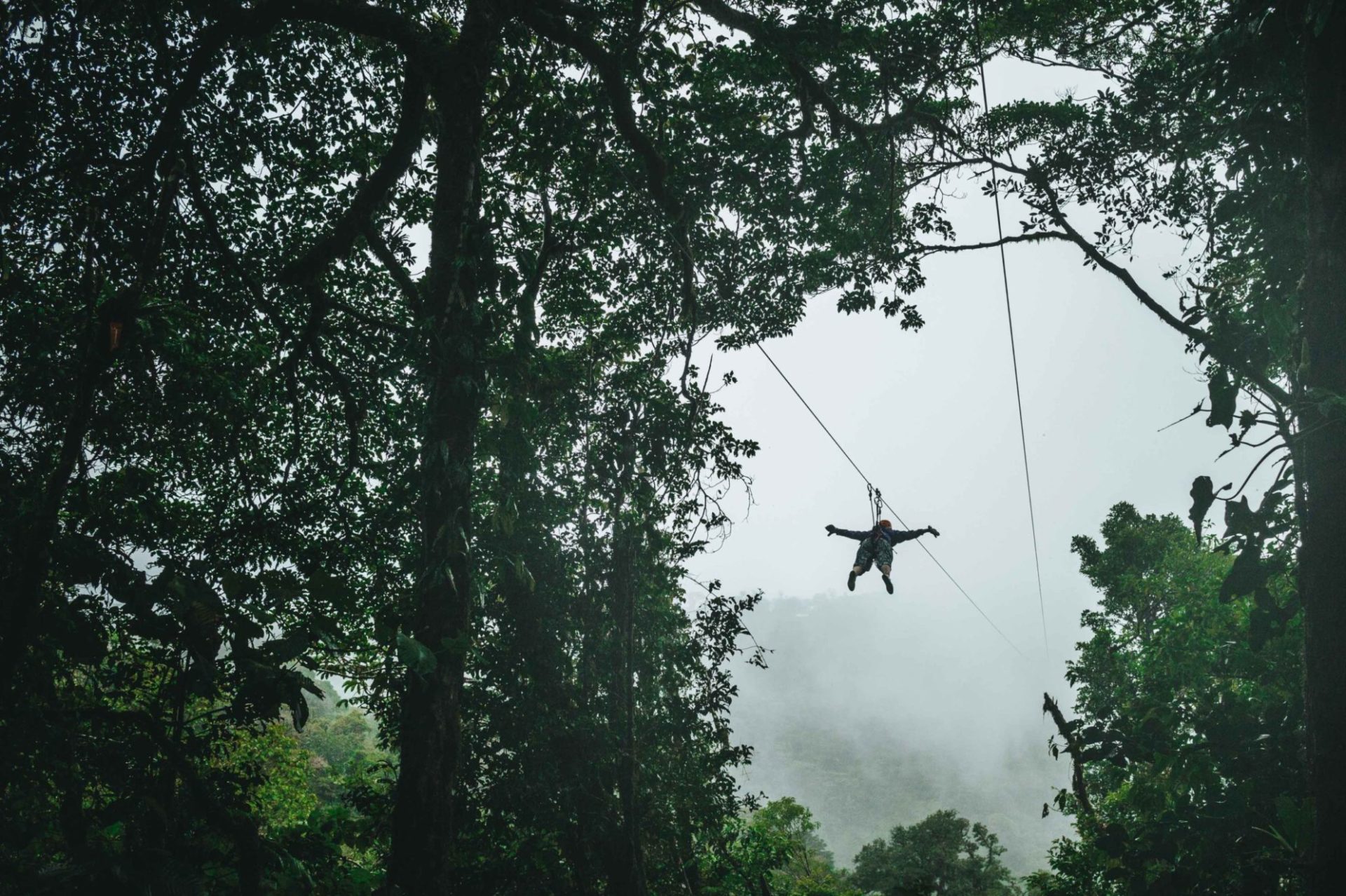 Santa Teresa
When to Visit: Year Round
Best for: Surfing & Laidback living
For a classic beach town experience with some great surf, Santa Teresa is one of the Costa Rica places to visit! Tucked away on the western edge of the Nicoya Peninsula, Santa Teresa has gained popularity for being one of Costa Rica's best surf spots. It's particularly popular with experienced surfers looking for larger, faster waves. For them, riding the variety of beach breaks in Santa Teresa is one of the best things to do in Costa Rica!
But Santa Teresa isn't just a destination for surfers. The town has many beautiful luxury accommodation options and other activities to keep everyone entertained. The area is nestled between stunning waterfalls, beautiful beaches, and thriving nature reserves. There are some great restaurants in town and a number of beautiful eco-hotels in the area.
Top Things to do in Santa Teresa, Costa Rica
Go surfing at Playa Santa Teresa, Playa Carmen, or in Mal Pais.
Visit a wildlife reserve to see monkeys, coatis, scarlet macaws, and hundreds of other Costa Rican species of tropical and migratory birds.
Enjoy the beach!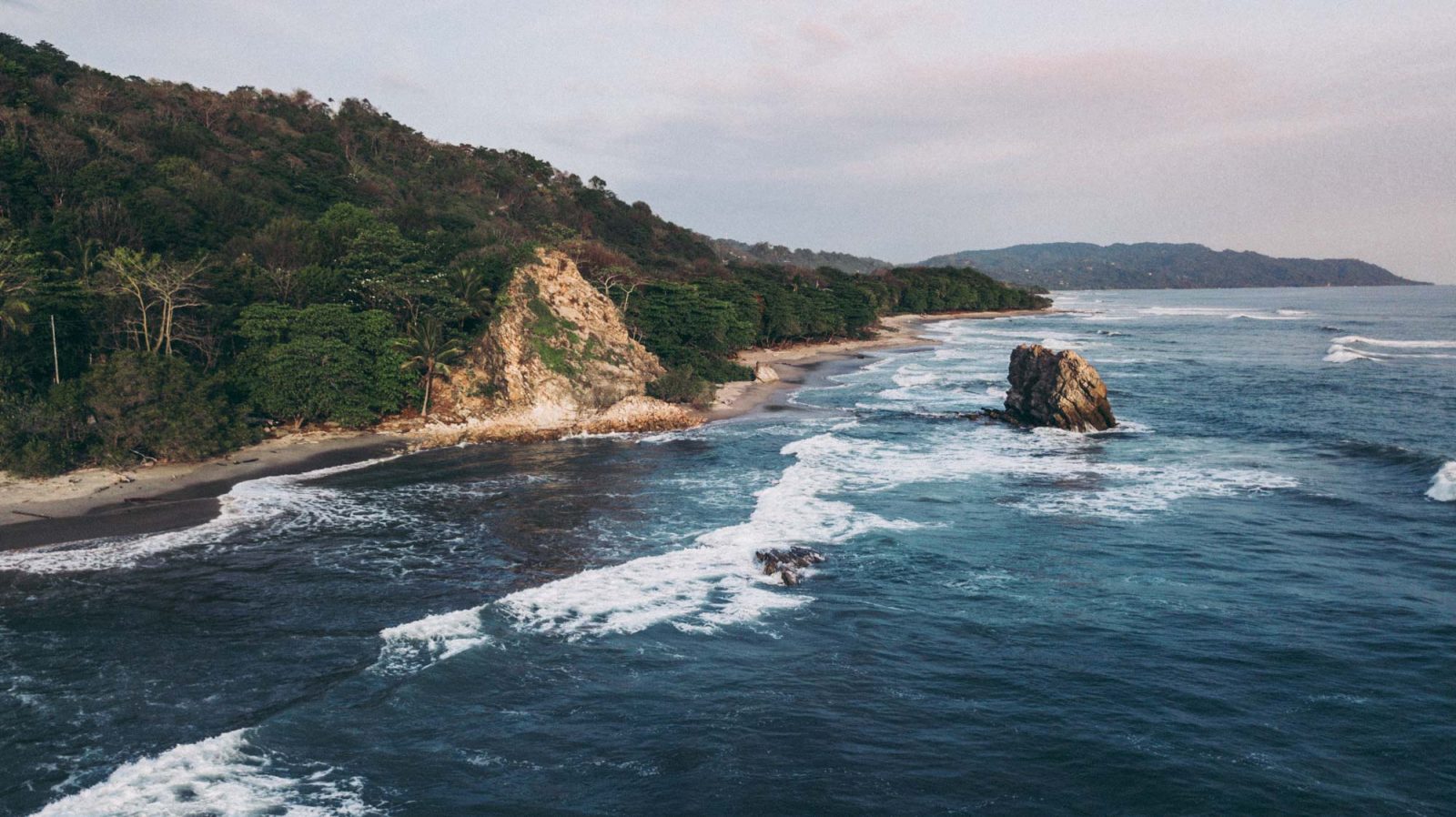 Nosara
When to Visit: Year Round
Best for: Yoga, Surfing and Laid Back Beach Living
Playa Nosara is one of the most popular beach towns in the Guanacaste region, stretching from Playa Ostional to the Boca Nosara (also known as the Nosara river mouth). If you are wondering where to visit in Costa Rica for some quiet time, Nosara is a great choice.There is also some great fishing, surfing, or local wildlife sanctuaries to visit in the area.
Nosara is a wellness hotspot, filled with yoga retreats, healthy restaurants, and sustainable shopping options. The lifestyle here is laid-back with plenty of go-to fun activities in Costa Rica.
Top Things to do in Nosara, Costa Rica
Enjoy the pristine beaches. We'd recommend Punta Pelada over Playa Guiones, especially for swimming.
Take a surf lesson to enjoy Nosara's waves—they're one of Costa Rica's highlights.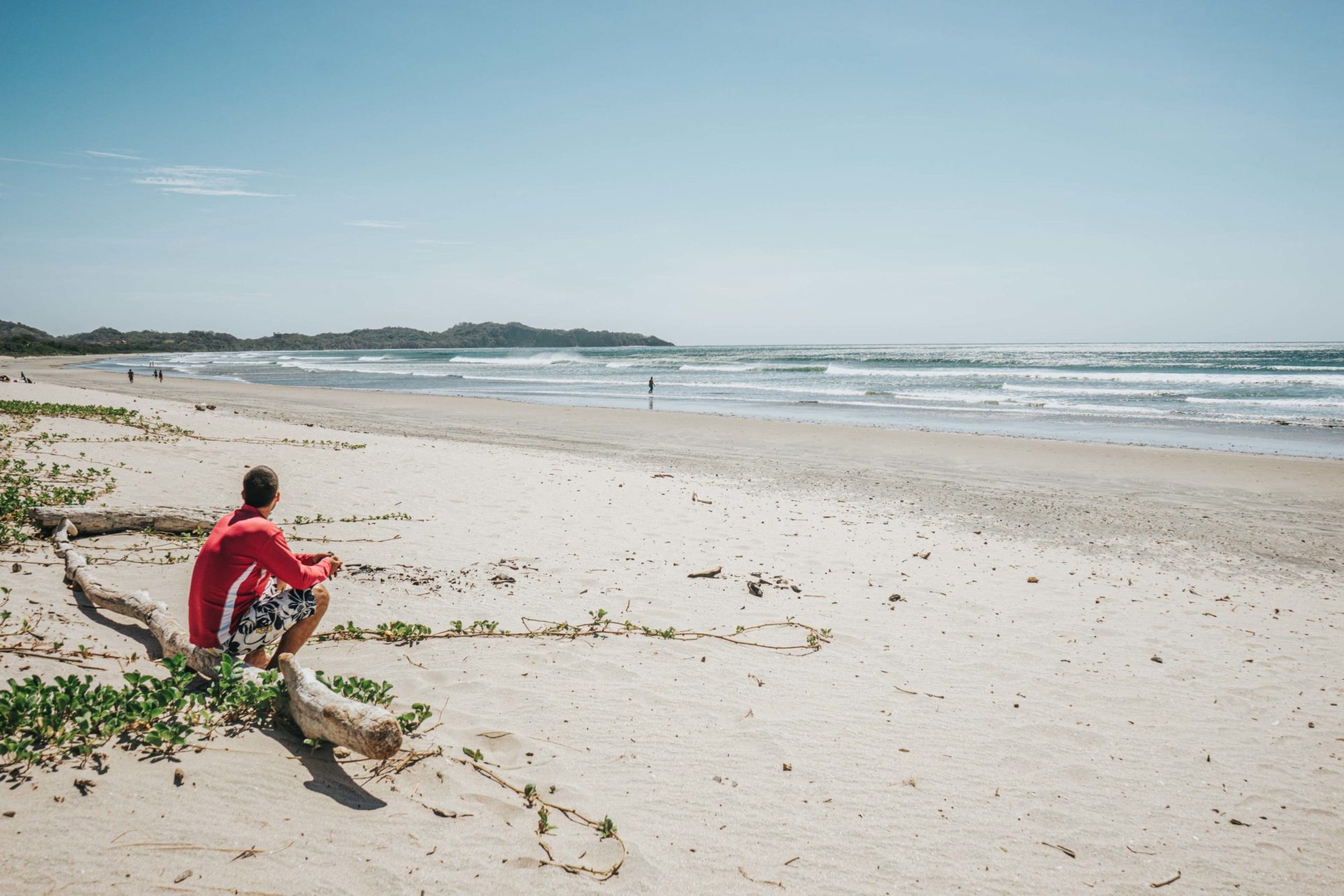 Playa Avellanas
When to Visit: Year Round
Best for: Surf and Beach Lovers. Popular with off-the-beaten-path travelers.
For a more authentic atmosphere, we recommend getting off the beaten path and paying a visit to the smaller beach town of Playa Avellanas. It's one of our favourite beach spots, known for 'Little Hawaii", one of the best surfing spots in the country. It's got a great beach, incredible surf, lots of nearby activities with all the beauty of the Guanacaste region and less of the crowds.
For us, Playa Avellanas is the best vacation spot in Costa Rica since it's just as beautiful but way quieter than Tamarindo. It's got a handful of great restaurants and lots of opportunities to stay active and enjoy the outdoors.
Top Things to do in Playa Avellanas, Costa Rica
Relax on the beach or hit the water on a paddleboard
Explore the estuaries by kayak
Take a surf lesson – Avellanas is one of Costa Rica's best beginner surf spots
Aerial view of Playa Avellanas
Tamarindo
When to Visit: Green Season (Dry Season is very busy)
Best for: Night life, activities. Popular with young travelers, backpackers and first-time visitors.
With its great waves, Playa Tamarindo (or Tamarindo Beach) is the perfect spot for surfing, whether you're just learning or a pro on the board. The town also boasts excellent nightlife with a lively party atmosphere and a plethora of restaurants, activities, and day trips. It's a great destination to base yourself in to explore the region of Guanacaste.
Once a quiet fishing village, Tamarindo is now a town bursting at its seams. There are tons of cafes, shops, and hotels in town and in the dry season – tons of people. That said, there are still pockets of nature in town, a beautiful beach, and plenty of opportunities for surfing, fishing, kayaking, and paddleboarding. Tamarindo is definitely one of the top places to visit in Costa Rica, especially for first-timers!
Top Things to do in Tamarindo, Costa Rica
Visit the beaches for sunbathing, surfing, fishing, and paddleboarding.
Go on a Sunset Sail and Snorkeling Tour. The boat has an open bar and offers a light meal, while you sail along the shores of Tamarindo. You can go snorkeling, go for a swim, or simply appreciate the beauty of the area. If you're lucky, you might even have an up-close encounter with the local dolphins or turtles.
Go zip-lining through a forest canopy. This half-day tour offers an opportunity to hike and zip-line in the forest through different levels of the canopy. If you get lucky, you might even see (or more likely hear) some howler monkeys while you make your way across the walking bridge.
Go on a Boat Safari at Las Baulas National Park. This half day tour sails through the mangrove swamps and bays of Las Baulas National Park, offering an opportunity to see crocodiles, sea birds, monkeys, dolphins, and other wildlife.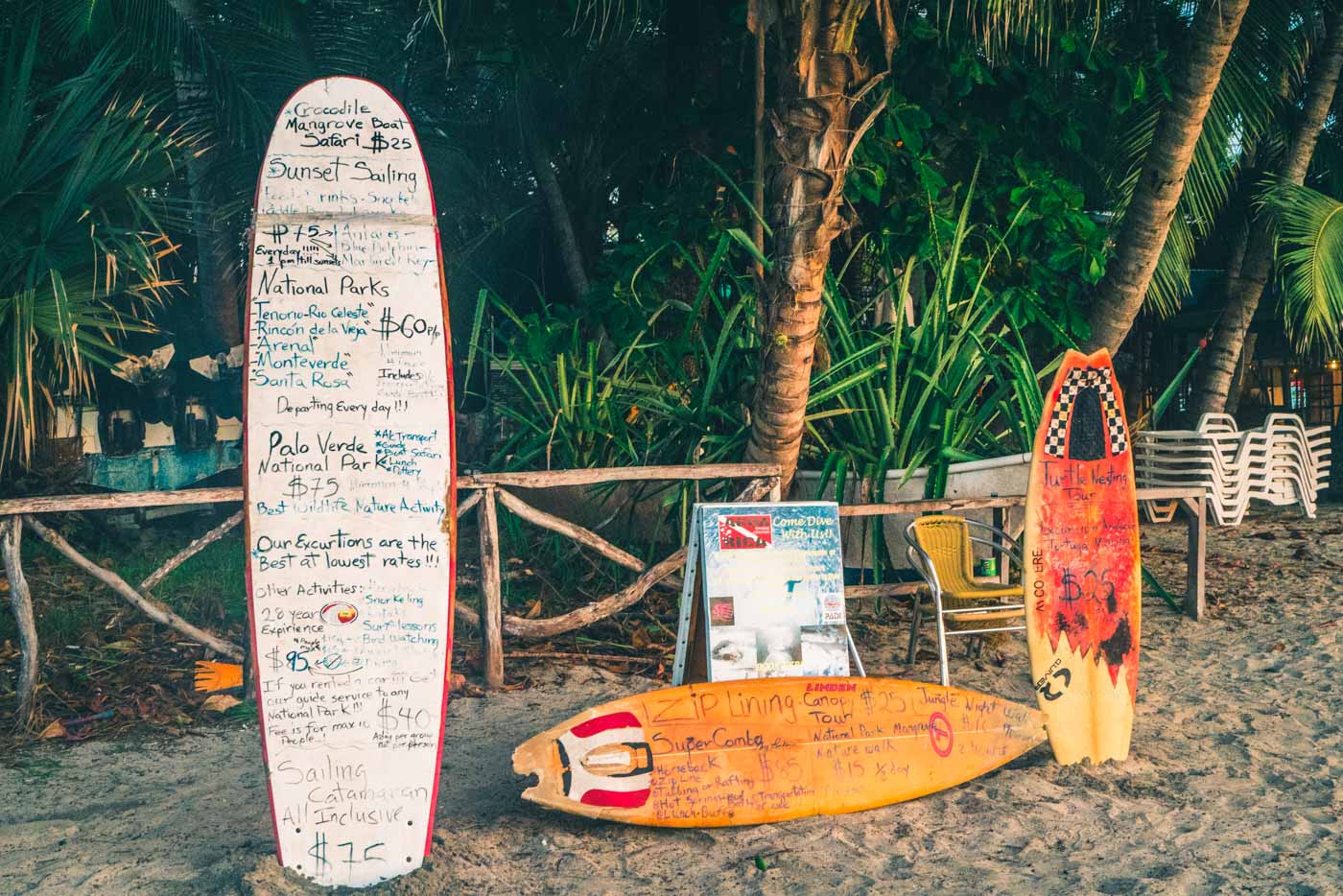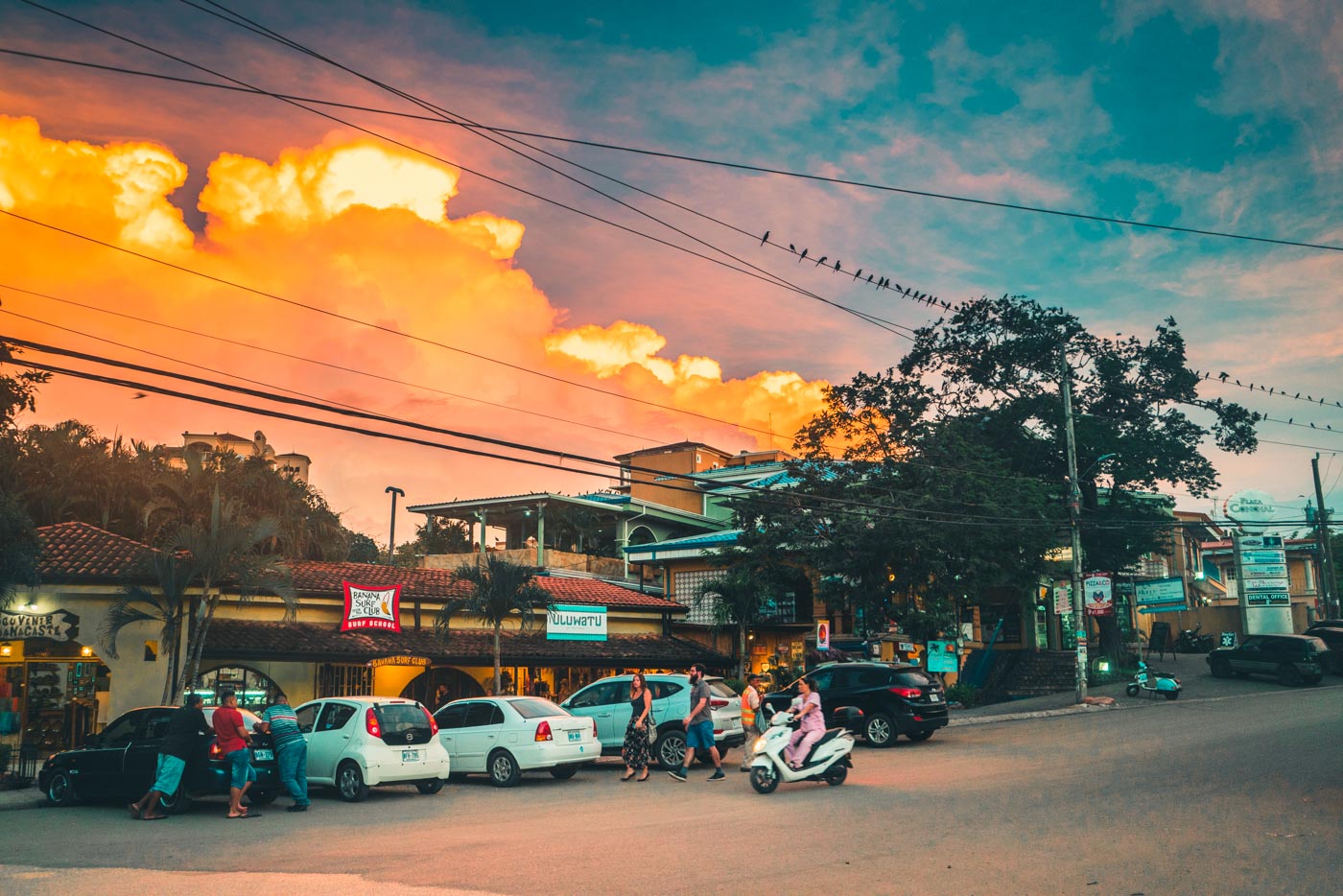 Tortuguero National Park
When to Visit: Year Round (Turtle nesting season from July to October)
Best for: Wildlife
Located on the Caribbean Coast, Tortuguero National Park is a remote tourist destination that's actually easy to visit. It takes 5 hours to get to Tortuguero from San Jose, but the journey is worth the trek! Visitors flock here to see the green and leatherback sea turtles nesting on the beach, as well as a plethora of other wildlife that can be spotted during boat cruises and kayaking experiences.
If you're looking for cool things to do in Costa Rica, seeing the nesting sea turtles is definitely up there. Turtle nesting season spans from July to October, but August is considered the best time to visit for turtle tours. Tortuguero offers a glimpse into the wild Amazon-like setting of Caribbean Costa Rica and is a destination worth visiting even if your timing doesn't line up with turtle nesting season.
Top Things to do at Tortuguero National Park, Costa Rica
Observe the sea turtle nesting from July to October
Walk up to Tortuguero Hill for panoramic views of the park
Go on a boat cruise or kayak through the river estuaries to look for monkeys, caymans, and a plethora of birds
Puerto Viejo & The Caribbean Coast
When to Visit: Year Round (Sunny during the Green Season)
Best for: Vibrant Culture and Unspoiled Nature
Costa Rica's Caribbean Coast is the least explored area in the country. It tends to be a bit cheaper and less crowded than some other Costa Rica tourist attractions. Check out the relaxed beach town of Puerto Viejo de Talamanca with its laid-back attitude, where you can take your fill of coconut rice and Reggaeton beats. Soaking up the culture is one of the best free things to do in Costa Rica!
Puerto Viejo shows a different side of Costa Rican culture that's unique to other places in Central America, whether you're more interested in shopping or visiting a jaguar rescue center. Spending a day exploring the town is a fun way to see artisan shops and check out yoga studios.
Top Things to do in Puerto Viejo, Costa Rica
Visit the secluded beaches like Playa Negra and Punta Uva.
Visit the Jaguar Rescue Center to see majestic animals you likely won't see anywhere else.
Spend a few days in town enjoying good food, and Pura Vida vibes
San José
When to Visit: Year Round
Best for: History Buffs and Culture Lovers
Unlike other Costa Rica destinations, San Jose isn't an area filled with gorgeous beaches and cloud forests. In fact, many of the nicest places to visit in San Jose, Costa Rica are actually indoors. Stroll through the city to see churches, theatres, and museums like the Jade Museum.
We suggest visiting on a Saturday to attend La Feria Verde. It's a market filled with sustainable crafts, produce, and snacks. There are also lots of great restaurants in town, especially in the Escazu neighbourhood.
Best Things to do in San Jose, Costa Rica
Stroll through the Mercado Centrale for local art and food
Visit The National Theater on a guided tour
Experience the nighttime vibe of Costa Rica's capital on a small group Food and Culture Night Tour. Join a local guide on a food-themed walking tour, starting at Morazán Park. You'll make your way through San Jose, experience its nightlife and learn about its history and architecture. The night will end with a meal and a drink at a local restaurant.
North Guanacaste & Papagayo Peninsula
When to Visit: Year Round
Best for: Families and Divers. Popular for its all-inclusive resorts.
Known as one of the best places to vacation in Costa Rica, Northern Guanacaste is spoiled with beautiful beaches. From Playa Flamingo to Playa Del Coco, the area boasts peaceful shores and mellow waters.
Catalina Islands on the Papagayo Peninsula are also one of the best places to go scuba diving in Costa Rica. You'll see colourful fish, and unique rock formations, and have a chance to spot sharks, manta rays and stingrays. Northern Guanacaste is all about enjoying some of the best things in Costa Rica: sand and surf.
Top Things to do in Guanacaste, Costa Rica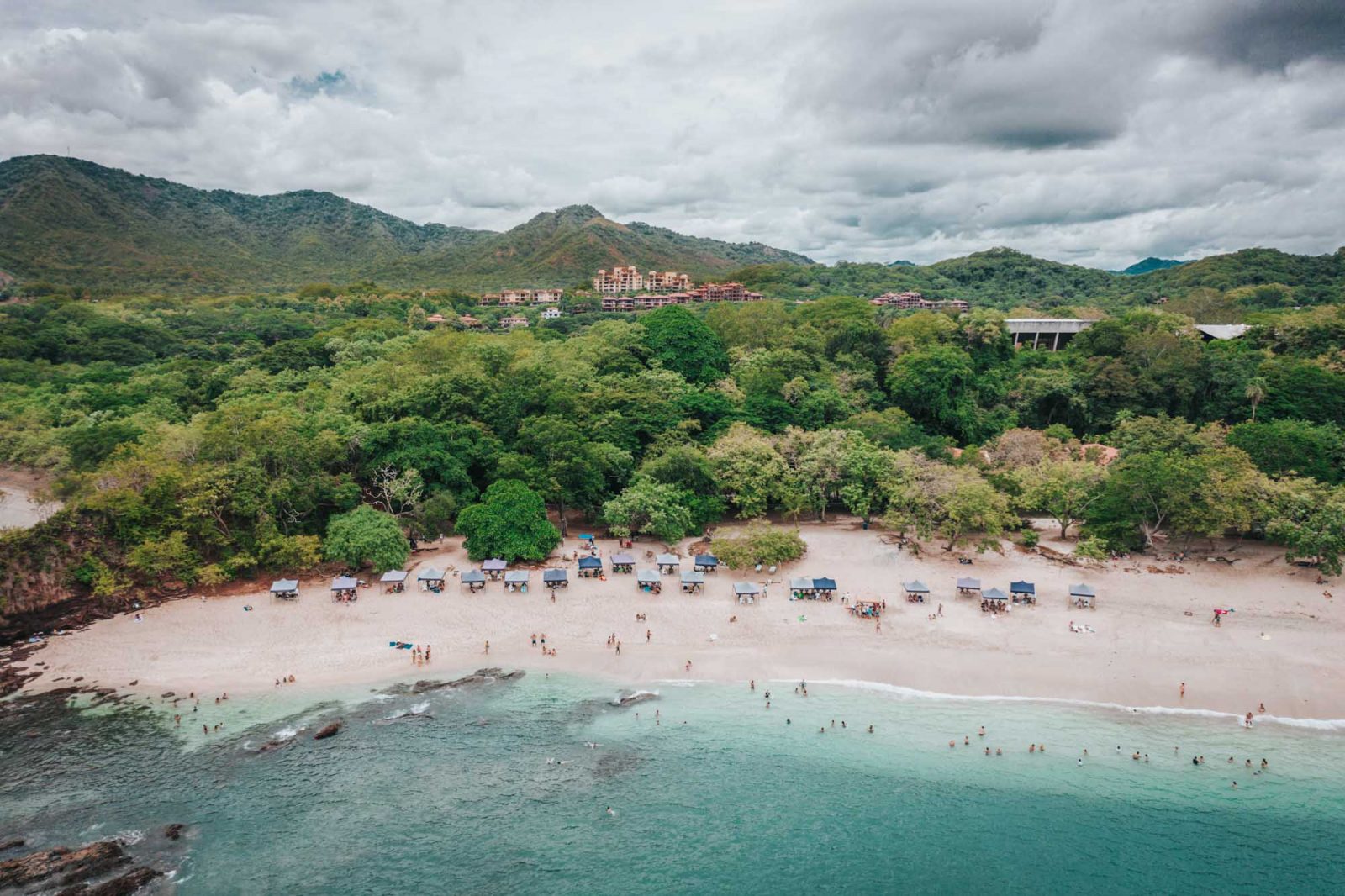 Jaco
When to Visit: Year Round
Best for: Solo Travelers
If you're looking for Costa Rica fun, Jaco is bursting with it. Tourists in Costa Rica flock to Jaco for vibrant nightlife, bustling restaurants, and the party atmosphere. That said, it's got a seedy vibe to it that isn't exactly our cup of tea.
It's still one of the most popular Costa Rica tourist places for solo travelers, backpackers and, surprisingly, retirees. Beyond the nightlife, Jaco offers great surfing, access to waterfalls, and beautiful Carara National Park.
Top Things to do in Jaco, Costa Rica
Sign up for surf lessons to learn the ropes of one of the top Costa Rica activities to do.
Join a zip line and adventure ATV tour through the rainforest. It takes just a couple of hours to zip line through a course made up of 10 cables and 14 platforms and to visit a waterfall.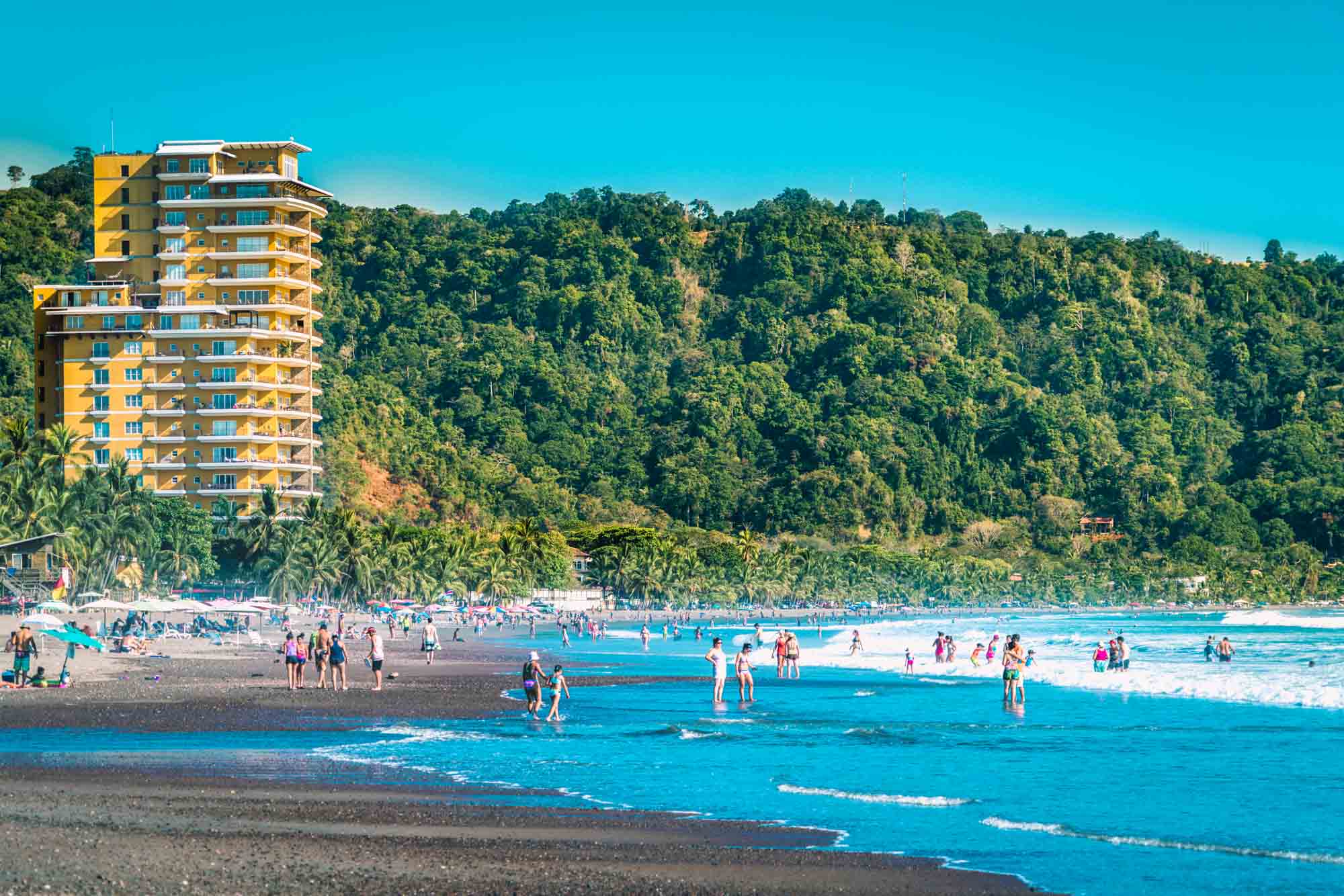 Uvita
When to Visit: Year Round
Best for: Beaches and Marine Life
Uvita is a hidden gem south of Dominical on the Costa Ballena coastline. Costa Ballena means "Whale Coast" referring to the whale tail-shaped beach that only appears at low tide. It's also where humpback whales migrate, which is a special sight to see during the dry season.
Uvita itself is a quiet town surrounded by postcard-worthy beaches and pristine rainforests. Marina Ballena National Park is a highlight of the area with mangrove forests, coral reefs, and a wild coastline. It's great for relaxing and of course, wildlife viewing.
Top Things to do in Uvita, Costa Rica
Visit Playa Uvita's whale's tail for one of the lesser-known Costa Rica tourism attractions
Join a whale watching tour
Check out Uvita Waterfall
Costa Rica Must-Do Adventures
Now that we've covered Costa Rica's most popular destination, let's talk a bit about activities. There are a lot of activities you can do while traveling around the country and while many of them do overlap from town to town, some are truly unique and worth the investment. If you're looking to make some memories these things to do in Costa Rica are sure to impress.
This list of adventure activities in Costa Rica will get your heart pumping in a beautiful natural setting!
Ziplining in Monteverde National Park
Get a bird's eye view of the Costa Rican rainforest at one of the adventure parks! There are many canopy companies throughout the country, but the best place to zip line in Costa Rica is probably in Monteverde. Monteverde Sky Adventures has the longest zip line in Latin America, which lets you experience the cloud forest canopy and Monteverde's rich biodiversity in an adrenaline-pumping way! Try the Tarzan swing, a free-fall experience that's not for the faint-hearted.
Other Places to go Ziplining in Costa Rica: Arenal's Sky Adventures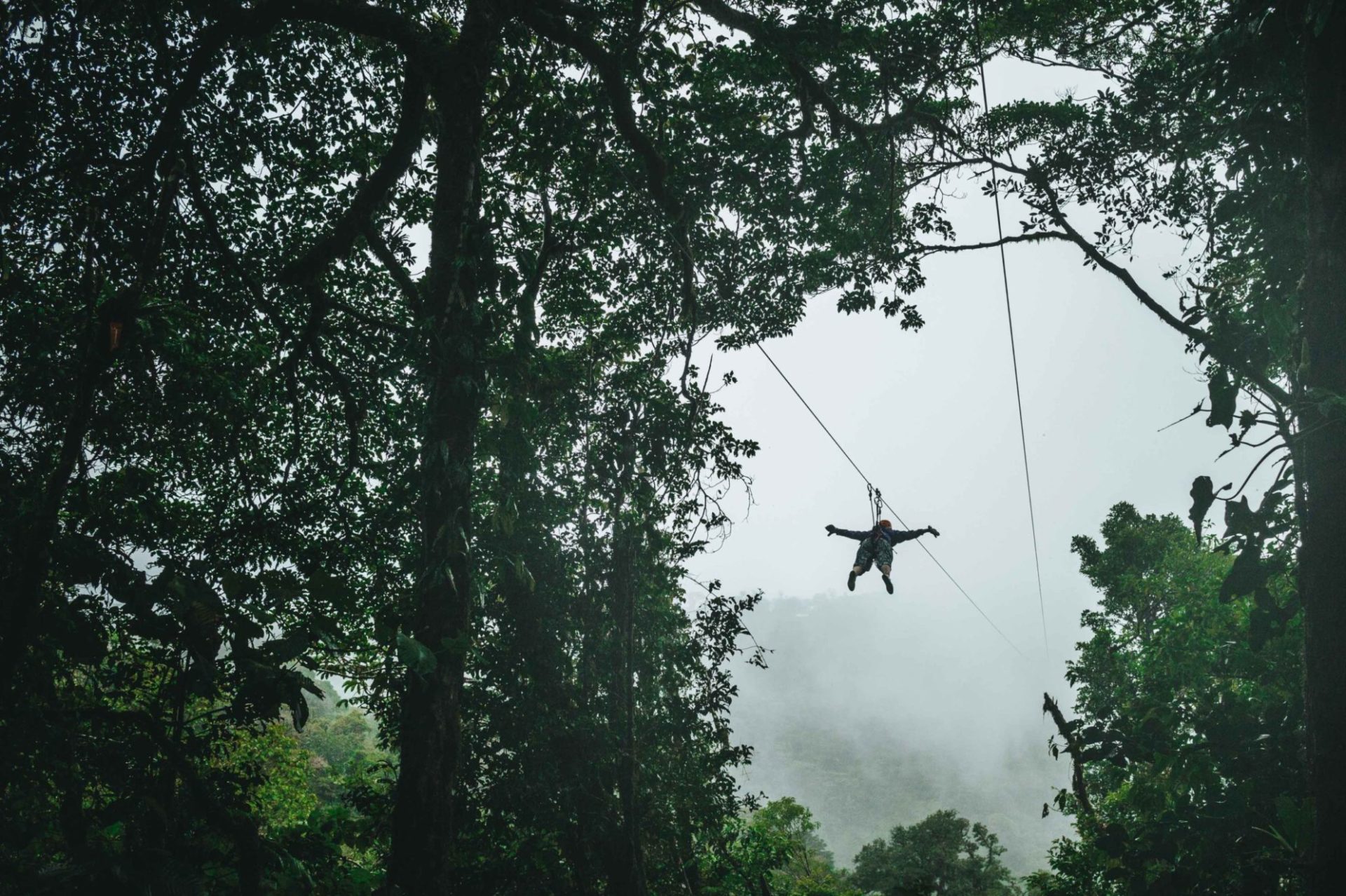 White Water Rafting in Arenal
For us, one of the best things to do in Costa Rica is white water rafting, it is one of those Costa Rica outdoor activities which are perfect for adventure junkies. You can combine exciting rapids, lush greenery and exotic birds and animals as you descend down the river. There are many operators offering different types of whitewater rafting experiences in La Fortuna, near Arenal National Park. From three-hour tubing to eight-hour-long rafting trips, you can find something that suits your courage and your budget!
Other Places to go White Water Rafting in Costa Rica: Manuel Antonio's Naranjo River
SUP (Stand Up Paddleboarding)
SUPing can sometimes be difficult on the open ocean so we would suggest you take advantage of stand-up paddleboarding on the calmer river estuaries and lakes. Arenal Lake is the ideal place to test your balance and take in the beauty of the Arenal Volcano region aboard your SUP board. It's one of the must-do things in Costa Rica and a popular activity near Arenal Volcano.
Best Place to SUP in Costa Rica: Lake Arenal or the protected Gulf of Papagayo
Yoga
Yoga and other wellness activities are widespread all around Costa Rica. Most towns now have yoga studios or an opportunity to practice yoga at your hotel. Yoga is a particularly popular past-time in Nosara, Tamarindo, Avellanas/Playa Negra, Santa Teresa, and Puerto Viejo. Our favourite yoga experience was at the Harmony Hotel in Nosara, where we joined one of their drop-in classes.
Best Place to do Yoga in Costa Rica: Nosara, Playa Negra and Santa Teresa host some of the best activities in Costa Rica for yogis
Horseback Riding
Horseback riding on the beach or in the rainforest is a really cool way to explore the nature of Costa Rica in a different way. There are many places that offer half-day, full-day, or multi-day experiences, so it just depends on your location and the time you have to spare. You can trek the beaches of Guanacaste (Tamarindo, Avellanas, and Nosara) or take a trot through the mountains near Arenal Volcano but for the most spectacular ride, choose to go horseback riding at sunset!
Best Place to go Horseback Riding in Costa Rica: A horseback riding tour to Arenal is one of the top attractions in Costa Rica
Soak in the Arenal Natural Hot Springs
If you're taking a trip to Costa Rica, then visiting the hot springs is a must. If there is one place to experience natural hot springs, it's in Arenal. Thanks to the geothermal activity surrounding Arenal Volcano, the area is home to tons of hot springs resorts and hotels. Our favourite is the Tabacón Hot Springs. If you can splurge on spending a few nights at this beautiful resort, do it, otherwise, you can book a half-day or full day at the springs that includes breakfast, lunch or dinner.
Other best places to travel in Costa Rica for hot springs: If Arenal is not on your itinerary, you can still soak in natural hot springs at Rincon de la Vieja National Park or at hot springs surrounding Miravalles Volcano.
Surfing
Ask yourself, what is Costa Rica known for? We have an answer: the Pacific Coast of Costa Rica is considered one of the best year-round surf destinations in the world. However, there are peak seasons that provide more consistent swells, so be sure to time your trip to Costa Rica properly. The South Pacific swell season is from June to September and provides the west coast with great surf. The North Pacific Coast swell season is from November to April, and provides even better waves than the South Pacific season! Everyone from beginners to advanced surfers will find a beach break right for them in Costa Rica.
Best Place to go Surfing in Costa Rica: Jaco or Playa Avellana for beginners, Playa Tamarindo for everyone, Dominical or Playa Grande or Playa Negra for experts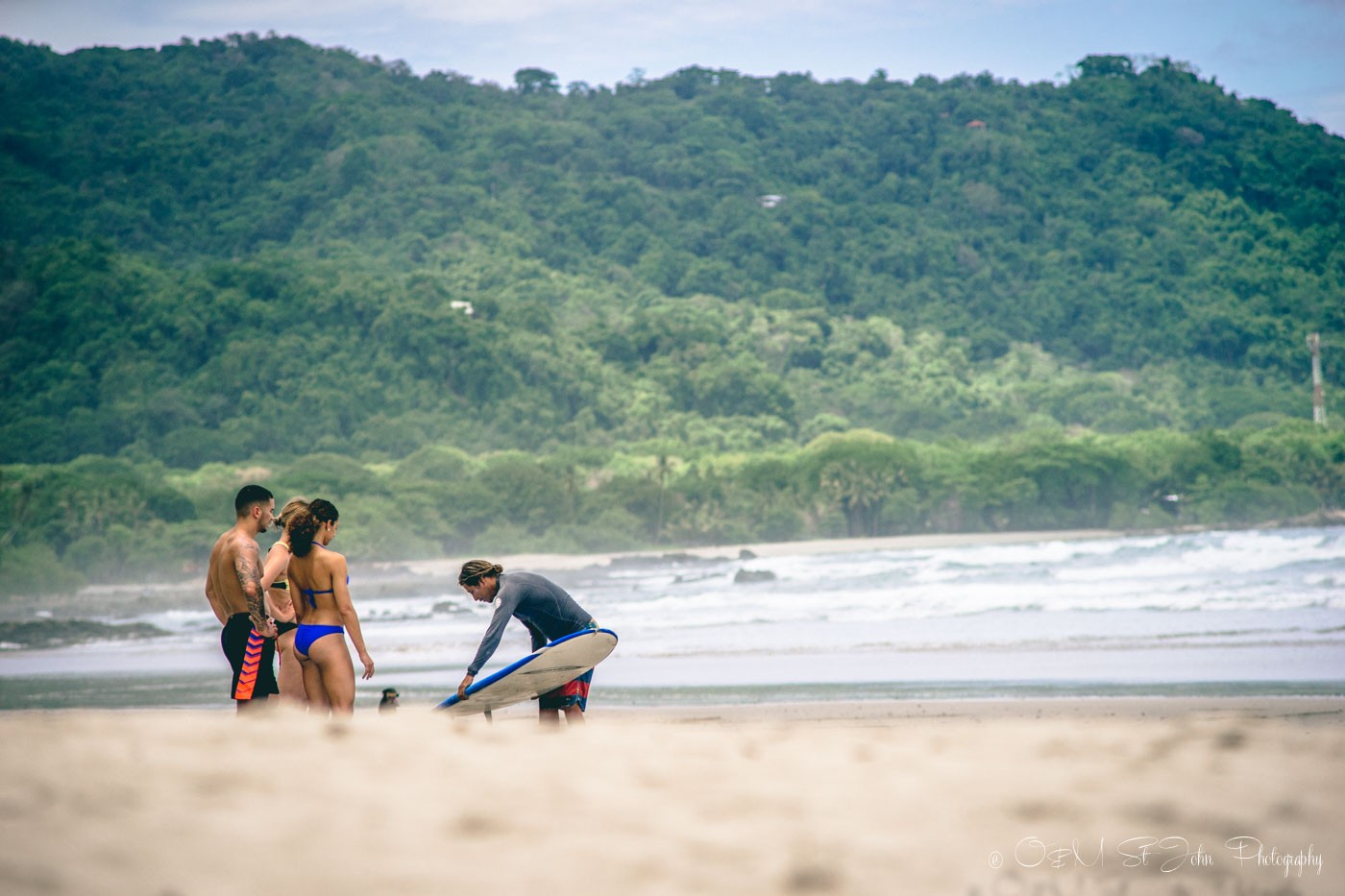 Hiking
When you're deciding on things to do in Costa Rica, hiking and Costa Rica should be synonymous. The plethora of National Parks and nature trails are some of the top places of interest Costa Rica has to offer. The national parks often have excellent hiking opportunities and tend to be the best way to spot wildlife in their natural habitat.
Best Place to Hike in Costa Rica: For an epic hike, try Mount Chirripò, the tallest mountain and most challenging hike in Costa Rica. For other great hikes to explore Costa Rica, try El Manglar Trail in Manuel Antonio or Las Pailas Loop Trail in Rincon de la Vieja.
Canyoning
This relatively new adventure sport consists of rappelling down waterfalls and cliffsides. It's a heart-pumping Costa Rica sightseeing activity that does not disappoint. The top spots for canyoning in the country are Monteverde, Arenal, and Manuel Antonio, Costa Rica. What not to do? Miss out on canyoning!
Best Place to go Canyoning in Costa Rica: For family-friendly canyoning, try Arenal Volcano's Lost Canyon or La Fortuna Waterfall. Or if you're craving something more extreme while you're in Central America, try an Extreme Canyoning Tour in Jaco at Vista Los Suenos Adventure Park.
Caving
One of the best things to do in Costa Rica with kids is to go caving. You'll don a helmet and headlamp and descend into the underground world to check out stalactites and stalagmites. Venado Caves in Arenal and Barra Honda National Park Caves on the Nicoya Peninsula are the best places to see these special places of Costa Rica.
Best Place to go Caving in Costa Rica: Go on a Spelunking Tour at Venado Caves for one of the coolest Costa Rica adventures.
Diving
Given that Costa Rica means "rich coast" it's no wonder that one of the top Costa Rica activities is scuba diving. There are opportunities for diving on both the Caribbean and Pacific Coast. However, the Caribbean tends to have more colourful reefs, which have warmer waters and easier dives than the Pacific Coast, and it's better suited to beginners. The Pacific Coast still has an abundance of marine life, but it often comes hand in hand with strong currents which are more suited to advanced divers.
Best Place to Dive in Costa Rica: The Gulf of Papagayo or Caño Island in Drake Bay
Must Do Tours in Costa Rica
For simplicity in planning the top things to do in Costa Rica, unique, local experiences, and for the chance to meet new other travelers don't miss these Costa Rica excursions. They are some of the best things to do in Costa Rica.
Visit a Coffee Plantation Near San Jose
Get your caffeine kick with a Costa Rican coffee tour. They are one of the top things to do in Costa Rica, San Jose, since the plantations are typically found in the mountains that surround the capital. You can take in the gorgeous scenery, learn about the harvesting and roasting processes and maybe even participate in picking coffee beans. Here are a few tours worth checking out:
Cooking Class
One of the best ways to get to know a culture is through your stomach. So take a Costa Rican cooking class with a local chef for the ultimate cultural experience and insight into the local Tico diet.
You can find cooking classes all over the country, and cuisine may sometimes vary from region to region.
Visit a Chocolate Plantation in the Highlands
If you're looking forward to Costa Rican cuisine, one of the sweetest Costa Rica excursions is to the nation's many chocolate plantations. They are typically found in the country's highlands. On a typical chocolate plantation tour you'll learn about the origins and historical significance of cocoa, see how it is made first hand and get a chance to taste freshly made chocolate.
Go on a Bird-Watching Tour
Did you know Costa Rica's forests are home to over 890 bird species? That's more than the number of birds in the US and Canada combined! So it's no wonder bird watching is one of the top Costa Rica things to do. There is great birdwatching all around the country! You can wander the trails on your own with binoculars in hand but you will have a much better chance of spotting with a guide.
On this dedicated bird watching tour you'll travel through Caño Negro Wildlife Reserve spotting birds from a boat.
Whereas on this private bird watching tour from Liberia you'll wander through the dry forest with a bilingual guide. It's one of the best things to do in Liberia Costa Rica.
Sea Turtle Nesting and Hatching Tour
Without a doubt one of the top Costa Rica things to do is to see turtles nesting and hatching on the beaches around Costa Rica. Head to Playa Grande or Playa Ostional, where you can watch leatherback sea turtles lay eggs or hatch in front of your eyes. You can also catch turtle nesting/hatching in Tortuguero National Park on this 3-Day Tortuguero National Park Tour from San Jose.
Horseback Riding Tour to the Oropéndola Waterfall
Located in Rincon de La Vieja National Park, this excellent horseback riding experience to Oropendola Waterfall is amongst the best in Costa Rica. On a horseback ride, you will discover a variety of flora and fauna before reaching the 25-meter waterfall. We suggest this 2.5-hour horseback riding tour.
White Water Rafting Tour
For a heart-pumping tour, book this Arenal Rafting Upper Balsa Class 3 and 4 Rapids tour. You'll travel over 10 kilometres and over 30 continuous rapids and feel the real thrill of the Balsa River. For a softer adventure tour in Arenal, choose this Family-Friendly Balsa River Rafting tour, where you'll cross over Class 2 rapids.
Staying Safe When Visiting Costa Rica
Even if you know what you want to do once you get there, planning your dream trip can still be a little daunting. So, here are some things to keep in mind when you're planning your Costa Rica vacation.
Driving in Costa Rica
It can be a bit nerve-wracking. The drivers here are can be more aggressive, some roads are not paved and often not maintained, and most roads are not labelled, which makes navigating the country a bit tricky. If you are not a confident driver and have never driven outside of North America, we recommend that you opt to get around Costa Rica using shared shuttles instead.
Staying connected while in Costa Rica
Another challenge for many visitors. While wifi is available in most hotels, you won't find it in all restaurants and certainly not in National Parks and other attractions. We recommend that you buy a local sim card when you arrive in Costa Rica to stay connected no matter where the adventure takes you. Roaming plans for your phone can be expensive, but a local sim card and a prepaid plan will likely cost less than $5. If that isn't an option, though, then look into getting a WiFi hotspot – these can sometimes be added to your car rental package.
Book the Best Car Rental in Costa Rica

Renting a car in Costa Rica can be one of the most challenging parts of your visit! Unfortunately, car rentals in Costa Rica often come with significant hidden insurance fees, result in many frustrations at pick-up. The experience has ruined many trips and ballooned trip budgets for friends, family and followers. After years of not having a good solution, we finally found an honest car rental company that we proudly recommend to our readers.

We recommend booking with Vamos Costa Rica – a local car rental company that offers fantastic service and NO HIDDEN FEES and get 10% of your rental rate plus FREE additional driver, FREE child seat and other perks and benefits when booking through our link below!

Book early as rental car availability all across Costa Rica is currently lower than demand!
Safety in Costa Rica
It's another concern for visitors. So let us make things clear. Costa Rica is generally known as one of the safest countries in Latin America. Most Costa Ricans are kind and lovely and will make you feel very welcome in the country. But it's important to always stay vigilant as opportunistic crime is quite common in Costa Rica, petty theft in particular.
Leave your valuables at home or in a hotel safe and always lock your hotel room when you leave. Be careful with your belongings on the beach and especially if you are out late at night. If you are driving in Costa Rica, you may be stopped for a random inspection, so some recommend carrying your passport on you at all times. We think it's better to have a photo of your passport and your entry stamp on your phone.
Be careful wandering off the beaten path at night, try not to go moseying around alone. Use some common sense and you'll have no problems while traveling in Costa Rica.
Tell us about your favourite things to do in Costa Rica!