*This post may contain affiliate links, as a result, we may receive a small commission (at no extra cost to you) on any bookings/purchases you make through the links in this post. As an Amazon Associate, I earn from qualifying purchases. Read our full disclosure.
Over 2 million people visit Costa Rica on a yearly basis, most travelling here in search of adventure and things to see in Costa Rica like great beaches, lush rainforests and unique wildlife. For a relatively small country, there is a vast variety of fun things to do in Costa Rica, making it extremely difficult for most people to choose what to do in Costa Rica and which places and activities they want to add to their itinerary.
Planning a Trip in the time of COVID?

Keep in mind that information found in this article may have been impacted by travel restrictions and other closures. Double check opening hours, tour providers and hotel status before you go. And don't leave your home without travel insurance! If you are looking for an insurance provider that covers COVID-19, we recommend SafetyWing. Get Medical and Travel Insurance starting at just $40/month and you can sign up even if your trip has already started!
We would all love to have unlimited time to explore every corner of this beautiful country, but we know that most of you are only limited to a few weeks.
To help you make the most of your time, we put together a list of the Costa Rica top things to do and the best places in Costa Rica to visit.
Best Places to Go in Costa Rica
The best places to go are a combination of famous places in Costa Rica and points of interest Costa Rica tour books don't normally tout. After experiencing them all first hand we highly recommended you add these places to your bucket list.
Manuel Antonio National Park
When to Visit: Year Round
Located on the Central Pacific coast of Costa Rica, Manuel Antonio is one of the Costa Rica best places to visit. At Manuel Antonio National Park, the white sand beaches which have some of the warmest waters in all of Costa Rica are surrounded by lush rainforest making it the ultimate picture of paradise. If you're not much of a beach bum, then this park is an excellent destination for wildlife tours and hiking and there are some nearby cultural attractions and waterfalls to explore.
Osa Peninsula
When to Visit: During Dry Season
One of the country's most remote destinations and one of the best places to visit in Costa Rica. This wild region is home to a wide variety of exotic wildlife, lush rainforest, and the largest stretch of mangroves in the country, which are best showcased in Corcovado National Park, one of the world's top eco-tourism destinations. Plus we love that the area has the highest concentration of sustainable eco-lodges in the country so you can discover the best things to do in Costa Rica while staying somewhere in good conscience.
Nauyaca Waterfalls
When to Visit: Year Round
Located inland from Playa Dominical, the Nauyaca Waterfalls consist of two falls which are some of the most impressive in Costa Rica and made even more spectacular by their jungle surrounds which are dotted with monkeys and macaws. The upper falls casand into a pool which is unswimmable but the lower ones have a delightful little pool to go for a dip. You can hike, arrive on horseback or hitch a ride in the back of a pickup truck like we did, just ensure you try to beat the crowds so you can enjoy the falls like nature intended.
Poas Volcano National Park
When to Visit: Dry Season
If you are looking for unique things to do in Costa Rica, then how about visiting an active volcano? Peer into its crater and admire the blue/green coloured lagoon of Poas Volcano. You'd never list Poas amongst Costa Rica famous landmarks as it is relatively off the beaten path but it's worth a visit nonetheless. Just try to remember to go on a clear day when visiting this Costa Rica must see destination. In the rainy season the cloud cover takes away from the vibrancy of the lagoon.
Arenal
When to Visit: Year Round
When anyone asks, "what is there to do in Costa Rica?' Arenal always gets brought up. A visit to the Arenal Volcano and the surrounding natural hot springs are one of the top things to do in Costa Rica. The volcano is currently 'sleeping', but until 2010 the volcano had been throwing up rocks and lava. It is still breathtaking and the Arenal Volcano National Park has plenty to offer, such as long and short hiking trails through forest and lava fields from previous eruptions. Afterwards your muscles will thank you for a dip in the hot springs. Hit all the highlights on an Arenal Volcano Tour with transportation from San Jose.

Rio Celeste
When to Visit: Year Round
Located inside Tenorio Volcano National Park, Rio Celeste is a beautiful turquoise blue waterfall in the midst of the lush rainforest. It is one of the best things to do in Northern Costa Rica and a rather off the beaten track destination which often won't make it onto your foreigner tourist map, Costa Rica. However, it is popular amongst locals. There are a few really nice viewpoints in the park which provide a great overall experience for those looking to connect with nature.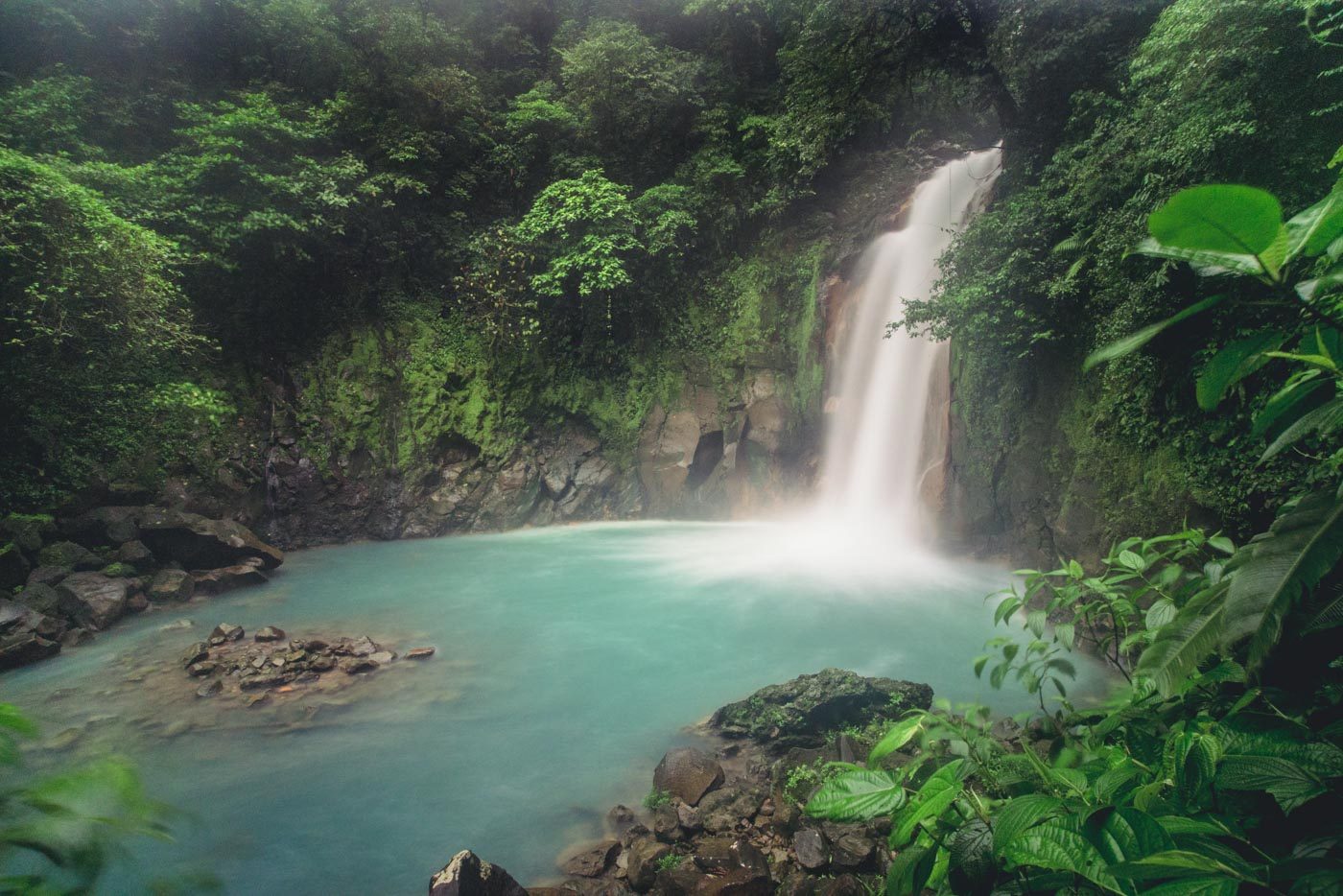 Monteverde
When to Visit: Year Round
The Monteverde Cloud Forest is often considered the birthplace of the Costa Rican ecotourism movement and is always ranked amongst the top places to see in Costa Rica. Admire the flora and fauna or experience the thrills of the zip lines or hanging bridge walkways in Monteverde Cloud Forest. There is an impressive amount of wildlife and feathered friends which live here. The cloud forest is among the Costa Rica things to see that you can't miss.
Santa Teresa
When to Visit: Year Round
For a classic beach town experience with some great surf, Santa Teresa is one of the Costa Rica places to visit you can't miss. Tucked away on the western edge of the Nicoya Peninsula, Santa Teresa is one of the best surf spots in Costa Rica. Especially if you are looking for larger, faster waves, then this is the beach for you. Playa Santa Teresa is popular with backpackers for its chilled vibe and the more experienced surfers, for its variety of beach breaks, particularly during a good swell.
Nosara
When to Visit: Year Round
Playa Nosara is one of the most popular beach towns in the Guanacaste region, stretching from Playa Ostional to the Boca Nosara (also known as the Nosara rivermouth). If you are wondering where to visit in Costa Rica for some quiet time, Nosara is a great choice. However, there is also some great fishing, surfing, or local wildlife sanctuaries to visit.
Playa Avellanas
When to Visit: Year Round
For a more authentic atmosphere, we recommend getting off the beaten track and paying a visit to the smaller beach town of Playa Avellanas. It's one of our favourite beach spots, known for 'Little Hawaii", one of the best surfing spots in the country. It's the location of our eco lodge, Drift Away Eco Lodge, and one of the more non touristy things to do in Costa Rica. It's got a great beach, incredible surf, lots of nearby activities with all the beauty of the Guanacaste region and none of the crowds.
Tamarindo
When to Visit: Year Round
With its great waves, Playa Tamarindo (or Tamarindo Beach) is the perfect spot for surfing, whether you're just learning or a pro on the board. It also boasts great nightlife with a lively party atmosphere and a plethora of restaurants, activities, and day trips. It's no wonder that Tamarindo is one of the top places to visit in Costa Rica!
Tortuguero National Park
When to Visit: Year Round (Sunny during the Green Season)
Located on the Caribbean Coast, Tortuguero National Park is one of the more remote tourist attractions in Costa Rica. However, it is worth the trek! Visitors flock here to see the green and leatherback sea turtle sanctuary and the magnificent "arribadas". You can also find great boat cruises and kayaking experiences down the river estuaries.
Caribbean Coast
When to Visit: Year Round (Sunny during the Green Season)
The Caribbean Coast is the least explored part of Costa Rica and much cheaper and less touristy than the Pacific side of the country. Check out the relaxed beach town of Puerto Viejo with it's laid back attitude where you can take your fill of coconut rice and Reggaeton beats. Plus, soaking up the culture is one of the best free things to do in Costa Rica!
Costa Rica Must Do Adventures
These activities in Costa Rica will get your heart pumping in a beautiful nature setting. If you're looking to make some memories these things to do in Costa Rica are sure to impress.
Ziplining in Monteverde National Park
Get a bird's eye view of the Costa Rican rainforest! There are many canopy companies throughout the country, but the best place to zip line in Costa Rica is probably in Monteverde. Monteverde Sky Adventures has the longest zip line in Latin America, which lets you experience the cloud forest and Monteverde's rich biodiversity in an adrenaline-pumping way! Try the Tarzan swing, a free fall experience that's not for the faint-hearted.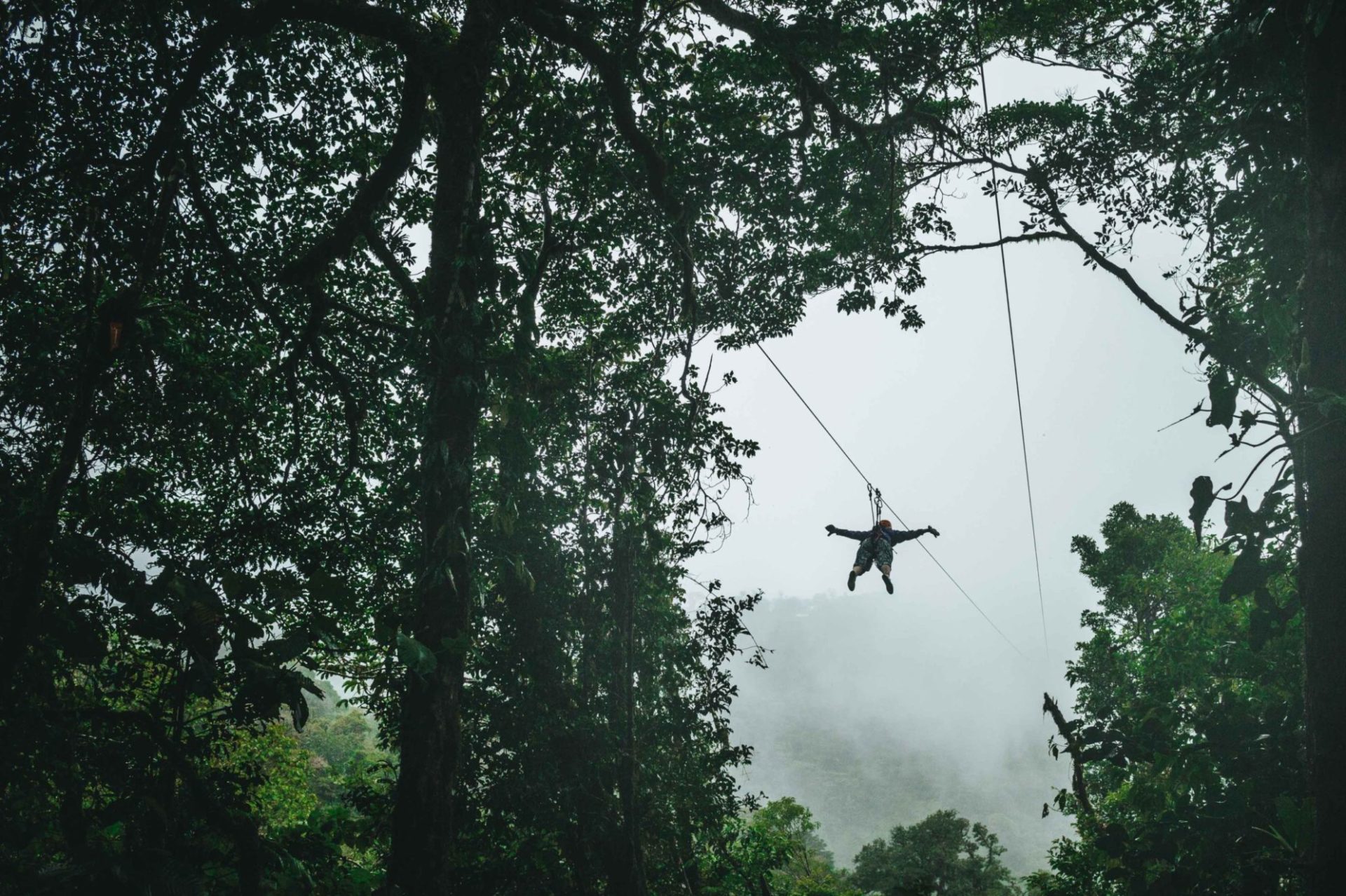 White Water Rafting in Arenal
For us, one of the best things to do in Costa Rica is white water rafting, it is one of those Costa Rica outdoor activities which are perfect for adventure junkies. You can combine exciting rapids, lush greenery and exotic birds and animals as you descend down the river. There are many operators offering different types of whitewater rafting experiences in La Fortuna, near Arenal National Park. From three hour tubing to eight hour-long rafting trips, you can find something that suits your courage and your budget!
SUP (Stand Up Paddleboarding)
SUPing can sometimes be difficult on the open ocean so we would suggest you take advantage of stand up paddleboarding on the calmer river estuaries and lakes. Arenal Lake is the ideal place to test your balance and take in the beauty of the Arenal Volcano region aboard your SUP board.
Yoga
You will often find some excellent yoga studios in the beach towns along the Guanacaste coast. We especially like the yoga shala at Harmony Hotel in Nosara for drop in classes. However, if you are looking for a yoga retreat there is something for everyone in Costa Rica. There are singles, couples, just for women, combining surfing, adventure or just relaxation yoga activities in Costa Rica. For a multi-day affair we would highly recommend the yoga retreat packages at Drift Away Eco Lodge.
Horseback Riding
Horseback riding on the beach or in the rainforest is a really cool way to explore the nature of Costa Rica in an intimate way. There are many places that offer half-day, full-day, or multi-day experiences, so it just depends on your location and the time you have to spare. You can trek the beaches of Guanacaste (Tamarindo, Avellanas, and Nosara) or take a trot through the mountains near Arenal Volcano but for the most spectacular ride, choose to go horseback riding at sunset!
Soak in the Arenal Natural Hot Springs
Costa Rica's soothing all natural jacuzzis are amongst the best in the Arenal Volcano region. The huge number of hot springs in the area means that many resorts offer these Costa Rica tourist attractions however we suggest you visit the Tabacón Hot Springs for this must do in Costa Rica. Not only is the property gorgeous but they also have a strong commitment to sustainability.
Surfing
The Pacific Coast of Costa Rica is considered one of the best year-round surf destinations in the world. However there are peak seasons that provide more consistent swells. The South Pacific swell season is from June to September and provides the west coast with great surf. The North Pacific swell season is from November to April, and provides even better waves than the South Pacific season! Everyone from beginners to advanced surfers will find a beach break right for them in Costa rica.
Hiking
Hiking and Costa Rica should be synonymous. The wealth of greenlands and jungle are some of the top places of interest Costa Rica has to offer and they are best explored on foot. The national parks often have excellent hiking opportunities and tend to be the best way to spot wildlife in their natural habitat.
Canyoning
This relatively new adventure sport consists of rappelling down waterfalls and cliff sides. It's a heart pumping Costa Rica sightseeing activity that does not disappoint. The top spots for canyoning in the country are Monteverde, Arenal, and Manuel Antonio, Costa Rica. What not to do? Miss out on canyoning!
Caving
One of the best things to do in Costa Rica with kids is to go caving. You'll don a helmet and headlamp and descend into the underground world to check out stalactites and stalagmites. Venado Caves in Arenal and Barra Honda National Park Caves on the Nicoya Peninsula are the best places to see these special places of Costa Rica.
Diving
Given that Costa Rica means "rich coast" it's no wonder that one of the top Costa Rica activities is scuba diving. There are opportunities for diving on both the Carribean and Pacific coast. However, the Carribean tends to have more colorful reefs which have warm waters and easier dives which are better suited to beginners. The Pacific Coast still has an abundance of marine life but it often comes hand in hand with strong currents which are more suited to advanced divers.
Must Do Tours in Costa Rica
For simplicity in planning the top things to do in Costa Rica, unique, local experiences, and for the chance to meet new other travelers don't miss these Costa Rica excursions. They are some of the best things to do in Costa Rica.
Visit a Coffee Plantation Near San Jose
Get your caffeine kick with a Costa Rican coffee tour. They are one of the top things to do in Costa Rica, San Jose, since the plantations are typically found in the mountains that surround capital. You can take in the gorgeous scenery, learn about the harvesting and roasting processes and maybe even participate in picking coffee beans.
This great Aquiares Estate coffee tour with tasting takes place at the largest Rainforest Alliance Certified coffee farm in Costa Rica. For a more interactive experience, Cafe Britt offers a multimedia tour where locals dress in traditional garb to demonstrate classic processing techniques.
Cooking Class
One of the best ways to get to know a culture is through your stomach. So take a Costa Rican cooking class with a local chef for the ultimate cultural experience and insight into the local Tico diet.
You can find cooking classes all over the country and cuisine may sometimes vary from region to region however, this Cooking Class and Salsa Dance tour from La Fortuna will have you checking off two bucket list items in one go. Alternatively, if you are interested in making bread with a local family this is a great cooking tour in Monteverde.
Visit a Chocolate Plantation in the Highlands
One of the sweetest Costa Rica excursions is to the nation's many chocolate plantations. They are typically found in the country's highlands. On a typical chocolate plantation tour you'll learn about the origins and historical significance of cocoa, see how it is made first hand and get a chance to taste freshly made chocolate. This chocolate plantation tour from La Fortuna is affordable, eco-certified and comes highly recommended. Or if you're in the Central Pacific, join this Chocolate Experience and Plantation Tour that's 10 minutes outside of Jaco.

Go on a Bird Watching Tour
Did you know Costa Rica's forests are home to over 890 bird species? That's more than the number of birds in the US and Canada combined! So it's no wonder bird watching is one of the top Costa Rica things to do. There is great birdwatching all around the country! You can wander the trails on your own with binoculars in hand but you will have a much better chance of spotting with a guide.
On this dedicated bird watching tour you'll travel through Caño Negro Wildlife Reserve spotting birds from a boat. Whereas on this private bird watching tour from Liberia you'll wander through the dry forest with a bilingual guide. It's one of the best things to do in Liberia Costa Rica.
Sea Turtle Nesting and Hatching Tour
Without a doubt one of the top 10 Costa Rica things to do is see turtles nesting and hatching on the beaches around Costa Rica. Head to Playa Grande or Playa Ostional where you can watch leatherback sea turtles lay eggs or hatch on a tour from Nosara. Otherwise, head into the remote wilds of Costa Rica on this 3-Day Tortuguero National Park Tour from San Jose. You'll have a great chance of spotting green and leatherback turtles here.
Horseback Riding Tour to the Oropéndola Waterfall
Located in Rincon de La Vieja National Park, this great horseback riding experience to Oropendola Waterfall is amongst the best of Costa Rica. On a horseback ride you will discover a variety of flora and fauna before reaching the 25 meter waterfall. When it comes to choosing a tour operator we suggest this 2.5 hour horseback riding tour.
White Water Rafting Tour
For a heart-pumping tour, book this Arenal Rafting Upper Balsa Class 3 and 4 Rapids tour. You'll travel over 10 kilometres and over 30 continuous rapids. However, for a more light hearted tour in Arenal choose this Family-Friendly Balsa River Rafting tour where you'll cross over Class 2 rapids.
Seasons and Costa Rica Things to Know
One of the top Costa Rica things to know when planning your trip and things to do in Costa Rica is the seasons. We often get asked questions like what are the best places to visit in Costa Rica in January, where to go in Costa Rica in March, or any other month for that matter so we have broken each month down in this article: Best Time to Visit Costa Rica: Monthly Breakdown & Recommendations.
You'll find that things to do in Costa Rica in December and the best place to visit in Costa Rica in May differ greatly based on where you want to go in the country and how it is affected by the green and dry season. The green season lasts in Costa Rica from May to November and the dry season is from December to April.
Dry season definitely sees the most tourists because the weather is at its peak but that also means more crowds and higher prices. If you don't mind taking a gamble on the weather, green season offers great prices, sparse crowds, and some great places to add to your Costa Rica attractions map.
No Shortage of Things to do in Costa Rica!
And this is just the tip of the iceberg! There are multiple Costa Rica tours and Costa Rica attractions to keep you busy for weeks and months!
Tells us about your favourite things to do in Costa Rica. Leave a comment below!