*This post may contain affiliate links, as a result, we may receive a small commission (at no extra cost to you) on any bookings/purchases you make through the links in this post. As an Amazon Associate, I earn from qualifying purchases. Read our full disclosure.
Over 2 million people visit Costa Rica on a yearly basis, most travelling here in search of adventure, great beaches, lush rainforests and unique wildlife. For a relatively small country, Costa Rica offers a vast variety of activities, making it extremely difficult for many to pick and choose the ones to add to their itinerary.
We would all love to have unlimited time to explore every corner of this beautiful country, but we know that most of you are only limited to a few weeks.
To help you make the most of your time in Costa Rica, we put together a list of the top 12 Things To Do in Costa Rica.
1. Explore Manuel Antonio National Park
Located on the Central Pacific coast of Costa Rica, the Manuel Antonio National Park is the perfect place to spend a full day (or more!). Despite being the smallest of Costa Rica's many parks, it packs in everything you expect and more. There are three beautiful beaches inside the park which have some of the warmest waters in all of Costa Rica.
The white sandy beaches are surrounded by a lush rainforest making it the ultimate picture of paradise. But, if you're not much of a beach bum, then the park is an excellent destination for wildlife tours and hiking.
Our tip: Venture off the main trail inside the park for a chance to spot sloths, monkeys, and other wildlife. Also- we can personally recommend taking a detour to Nauyaca Waterfalls. It's the perfect day trip from the Manuel Antonio area.
2. Visit Poas Volcano
If you are looking for unique things to do in Costa Rica, then how about visiting an active volcano? Peer into its crater and admire the blue/green coloured lagoon. This natural gem is located about a 1.5 hour drive from San Jose. The mountain roads are quite winding so you might prefer to take a bus tour to the Poás Volcano National Park instead of driving yourself.
Our tip: be sure to go on a clear day, if there are any clouds in the sky you won't see anything. And keep your cameras handy, when those clouds part the perfect photo opp will not last long.
3. Walk Through the Monteverde Cloud Forest
Admire the flora and fauna or experience the thrills of the zip lines or bridge walkways in Monteverde Cloud Forest. Costa Rica's forests are home to over 890 bird species, that's more than the number of birds in the US and Canada combined.
Despite the fact that the Monteverde Cloud Forest is easy to navigate on your own, we highly recommend hiring a guide. Their knowledge of the plants and animals really bring the forest to life. A half-day guided Monteverde tour costs USD $75 and includes transportation to and from the reserve, it's well worth it in our opinion!
Our tip: Bring binoculars or a zoom lens, as some of them are tricky to spot.
4. Visit the Arenal Volcano and Soak in the Tabacon Hot Springs
A visit to the Arenal Volcano is one of the top things to do in Costa Rica. The imposing formation rises above the lush vegetation at its base. The volcano is currently 'sleeping', but until 2010 the volcano had been throwing up rocks and lava. It is still breathtaking and the Arenal Volcano National Park has plenty to offer, such as long and short hiking trails through forest and lava fields from previous eruptions. Cool, huh?
Our tip: visit the hot springs after a day of hiking in Arenal Volcano National Park. Your muscles will thank you for it.
5. Soak up the Sun on the Beaches of Guanacaste
If you are looking for things to do in the Guanacaste region of Costa Rica, then you are truly spoilt for choice! There is no shortage of beautiful spots scattered all along the coast, and each beach has something unique.
Playa Grande or Playa Ostional
For animal and nature lovers, head to Playa Grande or Playa Ostional where you can watch leatherback turtles lay eggs that hatch on the beach.
Playa Tamarindo
With its great waves, Playa Tamarindo (or Tamarindo Beach) is the perfect spot for surfing, whether you're just learning or a pro on the board. It also boasts a great nightlife with a lively party atmosphere.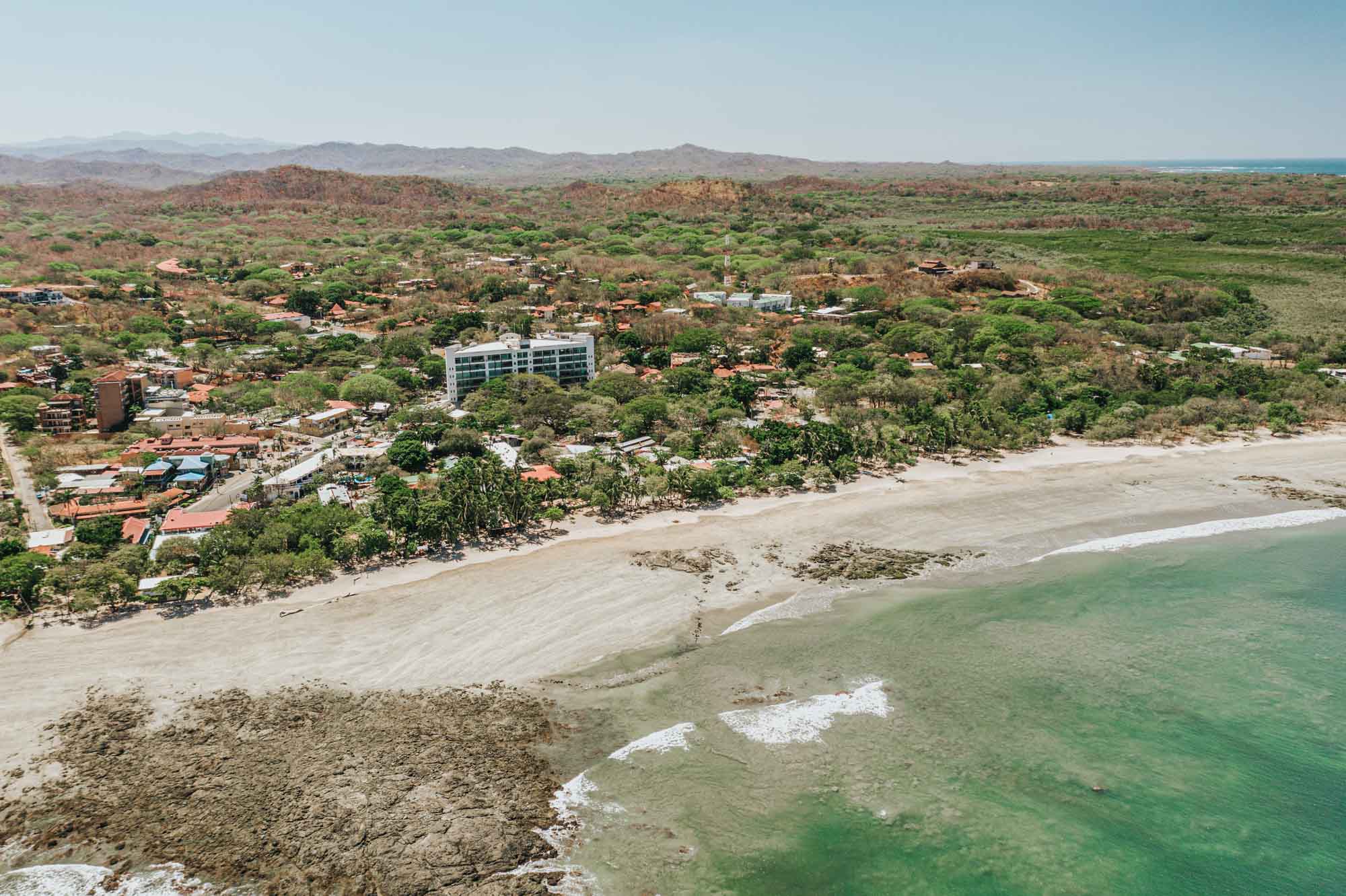 Playa Nosara
Playa Nosara is one of the most popular beach towns in the region, stretching from Playa Ostional to the Boca Nosara (also known as the Nosara rivermouth). It's a great location for when you want some quiet time. It's also great for fishing.
Playa Samara
Playa Samara is a great option for a family beach holiday. Its shallow water is safe for the kids, but with enough waves to make bodysurfing a fun activity. It also has some great bars and restaurants along the shoreline.
Playa Santa Teresa
If you are looking for larger, faster waves, then this is the beach for you. Playa Santa Teresa is popular with the more experienced surfers, for its variety of beach breaks, particularly during a good swell.
Our tip: For a more authentic atmosphere, we recommend getting off the beaten track and paying a visit to one of the smaller beaches, such as Playa Avellanas. It's one our favourite beach spots. It's got all the beauty and none of the crowds.
6. Explore the Reggae Infused Caribbean Coast
It's the least explored part of Costa Rica, and it's cheaper and less touristy than the Pacific side of the country. Check out the relaxed beach town of Puerto Viejo with it's laid back attitude where you can take your fill of coconut rice and Reggaeton beats. Plus, soaking up the culture is one of the best free things to do in Costa Rica!
Our tip: this activity is only suitable for the dry season (Nov – May), as the rainy season floods a lot of the roads, sometimes making it impossible, or as Max would say, "very difficult and rather adventurous" to get to the other side of the country. You can check out our month-by-month guide to pick the best time to visit Costa Rica.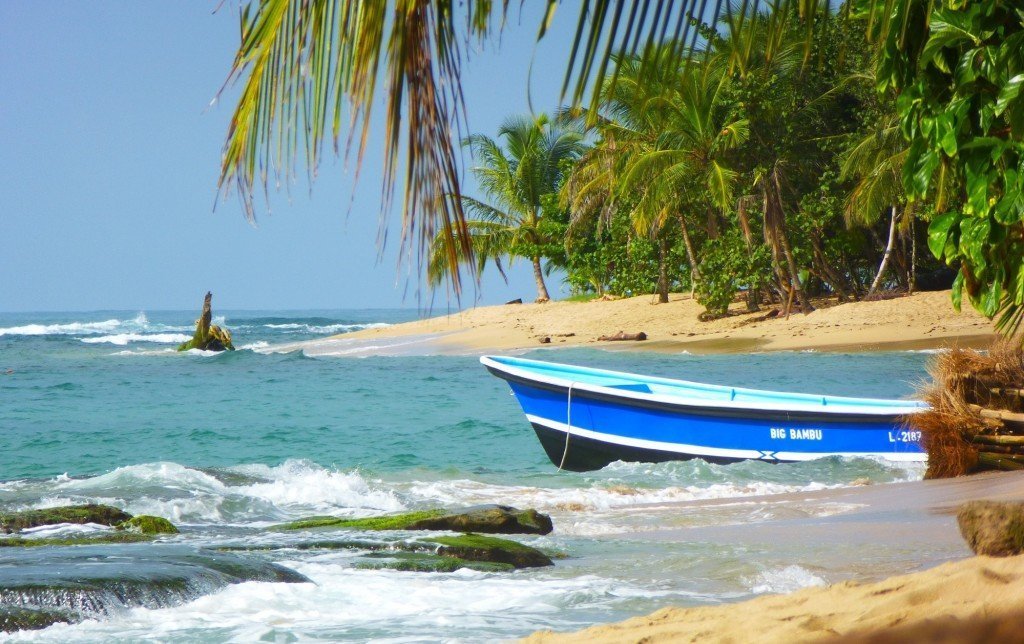 7. Get away from the crowds and experience a small town vibe
If you are looking for non-touristy things to do while in Costa Rica, then get off the beaten track and visit some of the smaller towns. Montezuma is a laid-back beach town with a vibrant, bohemian feel to it.
Playa Avellanas, known for 'Little Hawaii", one of the best surfing spots in the country, as is a beautiful part of the Pacific Coast. Or, go even smaller with the beach village, Santa Teresa. Tucked away on the western edge of the Nicoya Peninsula, Santa Teresa is one of the best surf spots in Costa Rica.
Our tip: don't stuff your itinerary full of tours and activities and just let yourself enjoy the nature, peace, and quiet of these little lesser-known spots in Costa Rica.
8. Visit one of Costa Rica's many coffee plantations
Get your caffeine kick with a Costa Rican coffee tour. You can learn about the harvesting and roasting processes, maybe even participate in the picking of the coffee beans. These plantations are usually situated in some of the most stunning scenery, so even if you're not a coffee snob, they are worth going to for the experience.
Our tip: these are mostly found in the mountains that surround San José, so this is best scheduled at the start of your trip, on the way out of the capital, or at the end of your trip, before your departure.
9. Visit the Osa Peninsula
One of the country's most remote destinations is the Osa Peninsula. This wild region is home to a wide variety of exotic wildlife, lush rainforest, and the largest stretch of mangroves, all of which make it one of the world's top eco-tourism destinations.
The Osa Peninsula is the top Costa Rica attraction in our eyes simply because it speaks to our passion for sustainable travel and accommodation. The area has the highest concentration of sustainable eco-lodges in the country!
Our tip: take a 2-3 day trip into Corcovado National Park to hike the trails, spot wildlife, and experience the most the region has to offer.
10. Zip Line Through the Rainforest
Get a bird's eye view of the Costa Rican rainforest! There are many canopy companies throughout the country, but the best place to zip line in Costa Rica is probably in Monteverde. Monteverde Sky Adventures has the longest zip line in Latin America, which lets you experience the cloud forest and Monteverde's rich biodiversity in an adrenaline-pumping way!
Our tip: Try the Tarzan swing, a free-fall experience that's not for the faint-hearted!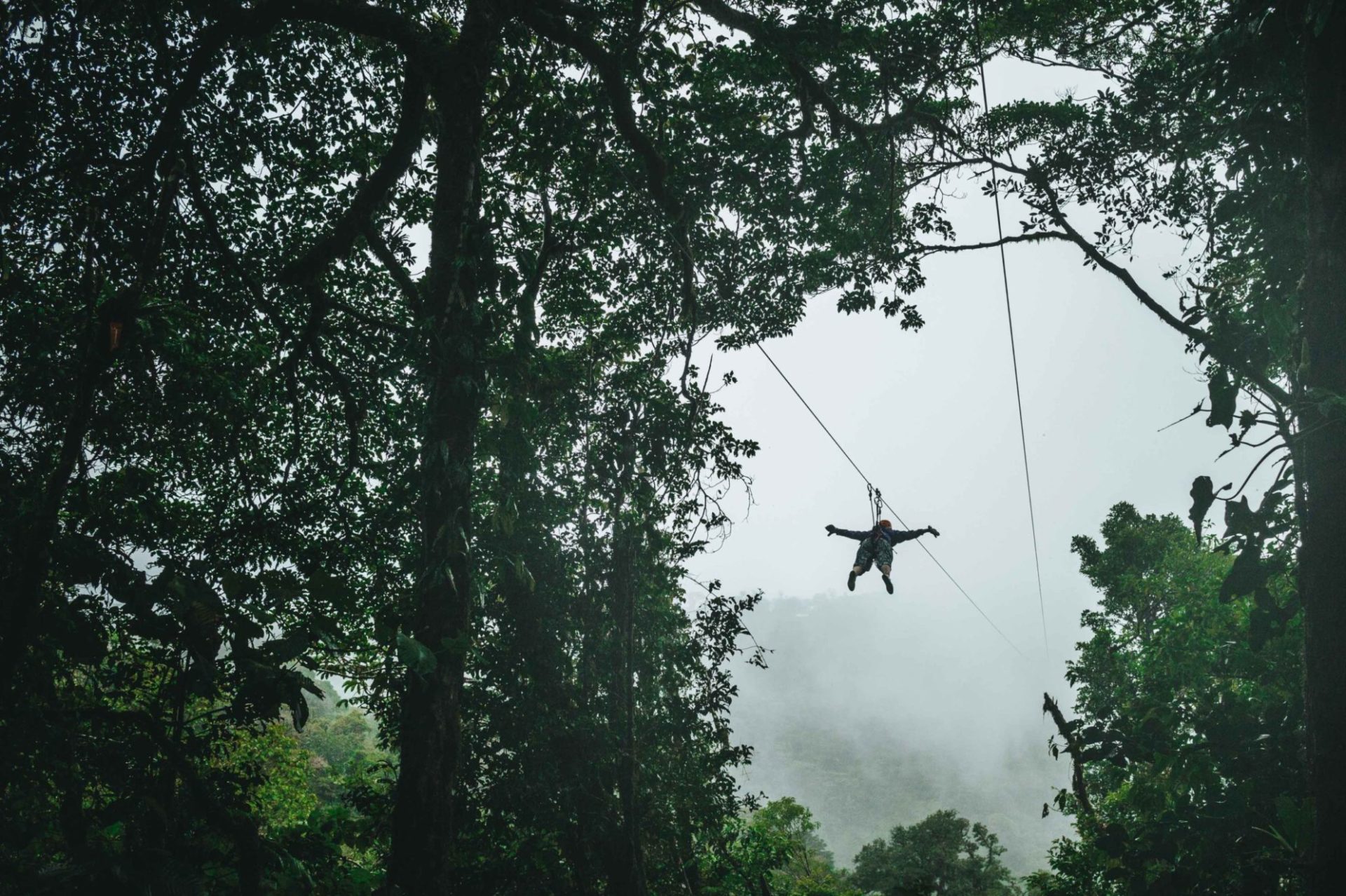 11. Horseback Riding on the Beach
Horseback riding on the beach or in the rainforest is a really cool way to explore the nature of Costa Rica. There are many places that offering half-day, full-day, or multi-day experiences, so it just depends on your location and the time you have to spare. You can trek the beaches of Guanacaste (Tamarindo, Avellanas, and Nosara) or take a trot through the mountains near Arenal Volcano.
Our tip: for the most spectacular ride, choose to go horseback riding at sunset!
12. Try White Water Rafting in Arenal
For us, one of the best things to do in Costa Rica is white water rafting. If you are a bit of a thrill seeker, then this is the activity for you! You can combine exciting rapids lush greenery and exotic birds and animals as you descend down the river.
There are many operators offering different types of whitewater rafting experiences in La Fortuna, near Arenal National Park. From three hour tubing to eight hour-long rafting trips, you can find something that suits your courage and your budget!
Our tip: make sure you book with a legitimate and fully-trained operator. Safety first!
No Shortage of Things to do in Costa Rica!
And this is just the tip of the iceberg! There are multiple Costa Rica tours and Costa Rica attractions to keep you busy for weeks and months!
Tells us about your favourite things to do in Costa Rica. Leave a comment below!