Manuel Antonio National Park is one of Costa Rica's most famous National Parks. It's a real treasure, home to many endangered species like sloths, toucans, iguanas, howler, spider, squirrel, and white-faced monkeys.
*This post may contain affiliate links, as a result, we may receive a small commission (at no extra cost to you) on any bookings/purchases you make through the links in this post. As an Amazon Associate, we earn from qualifying purchases. Read our full disclosure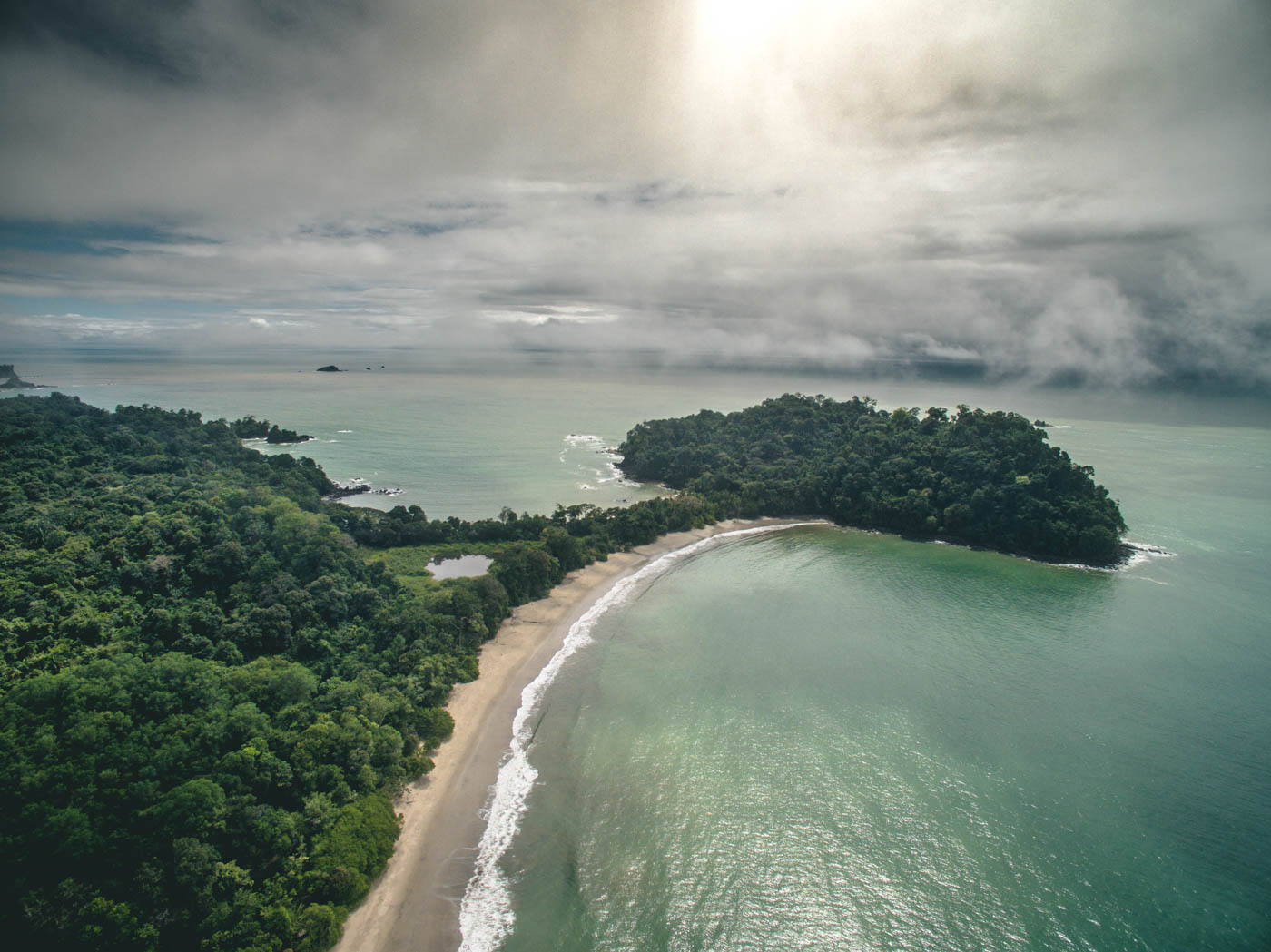 Traveling Soon?

Here is a list of our favourite travel providers and accessories to help get you ready for your upcoming trip!
Manuel Antonio town is a big tourist destination and has no shortage of accommodation options, no matter what time of year you visit Costa Rica. But with over 100 different hotels in Manuel Antonio, it can be difficult to decide which ones are truly making a positive impact on the environment and this community.
Eco Hotels in Manuel Antonio Costa Rica
The jungle doesn't just stop at the park's boundaries and the eco hotels and resorts in Manuel Antonio Costa Rica realize this. They are doing their part to protect the surrounding ecosystems by embracing environmental sustainability and empowering the local communities they operate in.
And did we mention the eco hotels in Manuel Antonio are doing it in style too? These hotels and resorts in Manuel Antonio will have you wishing you could extend your stay!
Costa Verde Hotel is among the most unique resorts in Manuel Antonio, and possibly, the world. It first caught our attention with its 727 Fuselage Home, a refurbished Airplane hotel room. But upon staying at Costa Verde we realized that this eco-hotel in Manuel Antonio is so much more than its most iconic room.
The Costa Verde hotel grounds span more than 20-acres and their facilities seem to blend perfectly with the jungle surroundings. They offer a vast array of accommodation options from basic hotel rooms to suites to full homes and their unique airplane rooms.
Rates start at $147/night in the Green Season. Facilities include on-site restaurants, pools, and outstanding views.
Costa Verde goes beyond the efforts of typical eco-resorts that are abundant across Costa Rica. And we love that! They use rainwater for laundry services, solar energy for some heating, old wine and liquor bottles for light fixtures, and much of their furniture is built locally and comes from naturally downed trees.
Check availability of Costa Verde Hotel and book your stay HERE.
Arenas Del Mar is a real stand-out among resorts in Manuel Antonio. Their luxurious facilities are located just a stone's throw from the National Park and are nestled on 11 acres of pristine beachfront rainforest.
The property is connected to two beaches: their private Playitas beach and the public Espadilla beach. They also have two pools, two restaurants with outstanding views, and have been praised for their great customer service.
In terms of accommodation, there are 38 rooms and suites on site. They are modern and offer personalized touches with rates starting at $357.
Arenas Del Mar has some of the best green initiatives in place among hotels in Manuel Antonio Costa Rica, which include their no single-use plastic policy, a vegetable garden on site, and they only use electrical powered vehicles to traverse the property.
Check availability of Arenas Del Mar and book your stay HERE.
Gaia is part boutique hotel, part nature reserve, and has been working with the Costa Rican Ministry of Ecology since 2013 to reintroduce the Red Scarlet Macaw to the area. There are no other hotel in Manuel Antonio with a similar program.
The hotel, itself, has 22 modern studios, suites, and villas. Each room has its own terrace to be closer to nature and room rates start at $360/per night. For the vegans out there, their onsite restaurant, La Luna, is known for being the only restaurant in Manuel Antonio to offer a full vegan menu.
Other facilities include a 3-tiered infinity pool, on-site spa, and fitness center. A complimentary tour of the Gaia Nature Reserve is included with each stay and free shuttle buses transport guests between the Manuel Antonio beaches.
Check availability of Gaia Hotel & Reserve and book your stay HERE.
Si Como No Resort & Wildlife Refugee is more than just a leader in sustainable hospitality among hotels in Manuel Antonio. They were among the first hotels in Costa Rica to operate in an environmentally friendly manner when they opened their doors decades ago. Over 20 years later that vision has not changed.
Si Como No Resort offers rooms and suites with outstanding jungle and ocean views. They are comfortable, spacious, and tastefully decorated. Rates start at $152/night for a standard room and go up from there. There are 3 on-site restaurants and a pool-side bar which offers locally inspired dishes with views of the Pacific ocean.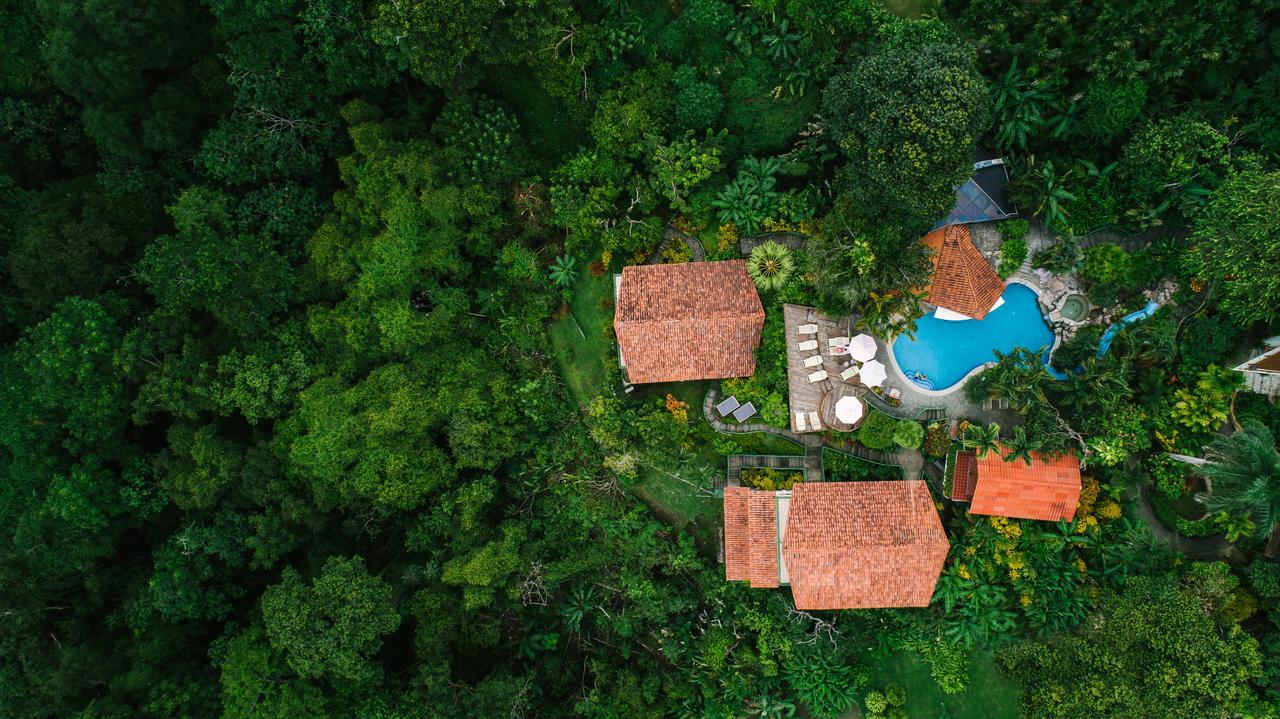 There are a number of tours leaving from the resort to explore the surrounding Greentique Wildlife Refuge. These include the Butterfly Atrium, Amphibian Gardens, Crocodile Lagoon Day Tour, Jungle Night Tour, and Butterfly Atrium and Botanical Gardens Day Tour.
Check availability of Si Como No Resort & Greentique Wildlife Refugee and book your stay HERE.
Makanda is a one of a kind, adults-only resort and has succeeded in its vision of unifying nature, in a non-harmful manner, with 5-star comfort.
Like the other eco hotels in Manuel Antonio on this list, Makanda by the Sea has a jungle setting and great Pacific Ocean views. They recently completed a renovation in 2017 to make the property more eco-friendly by implementing energy saving technology.
Makanda by the Sea offers unique studios, suites, and villas with rates starting at $330/per night. They have a pool, spa, and an on-site restaurant. Arbol Resturant is particularly noteworthy for sourcing seasonal local produce for their innovative dishes.
Check availability of Makanda by the Sea Hotel and book your stay HERE.
Not only are these hotels in Manuel Antonio among the most eco-friendly, they have some of the best service, natural properties, and facilities of any hotels in Manuel Antonio. Which one will you choose?!
Disclaimer: This post contains affiliate links which means that we receive a small commission on your bookings at no additional cost to you.