This post was originally written in 2016, but was updated in early 2019 to include the latest tips and advice for a sustainable Colorado Road Trip itinerary.
*This post may contain affiliate links, as a result, we may receive a small commission (at no extra cost to you) on any bookings/purchases you make through the links in this post. As an Amazon Associate, I earn from qualifying purchases. Read our full disclosure.
Colorado has got to be one of the most picturesque states in the US. We fell in love with it on our recent road trip across the US and ended up lingering around for much longer than originally anticipated.
We quickly learned that to properly enjoy all that Colorado has to offer, you really need to spend 2 or more weeks exploring the state. Rent a car, or even better, find yourself an awesome RV and get ready for one of the best experiences of your life with a road trip to Colorado.
Planning Your Trip to Colorado
If you want to be able to explore all of Colorado on your Colorado road trip, plan your visit for after Memorial Day weekend. We traveled around in April and were disappointed to find out that some of the roads and a lot of campsites and activities remain closed from October until the end of May.
That's not to say that a winter Colorado road trip won't be amazing. Being among the snow-capped mountains, soaking in hot springs, and enjoying the crisp fresh air in the Spring had its own appeal, but a summer Colorado road trip does allow you to see more, spend more time outside, and appreciate your Colorado road trip just that little bit more.
Colorado Road Trip Route
Regardless of when you choose to visit, here is where we suggest you go and our advice for the best route to navigate your way around the state. (Click here for the Google Maps version of the route below). We've also included some Colorado road trip ideas, including where to stay and activities to easily fill a 1-week itinerary in Colorado.
Denver – 2-3 Days
Start your Colorado road trip adventure in Denver. The capital of Colorado, also known as the "Mile High City," will welcome you with open arms.
Whether you are all about outdoor experiences or someone who wants to explore Denver's vibrant arts scene and unique experiences in its diverse neighbourhoods, plan to spend at least 2-3 days here at the start of your road trip in Colorado.
Don't Miss These Activities in Denver
Eco-Friendly Hotels in Denver
Whether you're planning a weekend trip to Colorado or a longer stay, you'll need somewhere to take a break from the driving. We recommend:
Warwick Hotel

for its sustainable practices and great location.

The Brown Palace Hotel

is a good option for its great location, comfort, and award-winning eco-practices. They even have a bee colony on their rooftop.
Boulder – 1-2 Days
From Denver, take a day trip to Boulder and spend a day exploring Pearl Street Mall and its surroundings. It's a great spot for unique shopping, with some good restaurants and entertainment options. But there is lots more to do in Boulder outside of the Pearl Street Mall, including exploring 45,000 acres of designated trails, perfect for hiking or riding a bike.
Don't Miss These Activities in Boulder
Boulder Hike & Beer Tour:

With a local guide, you can wander the hiking trails past amazing rock formations and enjoy the fresh mountain air before a nice cold beer (or coffee).

Rocky Mountain National Park Tour:

You can't plan a trip to Colorado and not factor in a visit to the Rocky Mountains. This tour will let you take in the stunning mountain landscapes with a local guide, and includes a picnic lunch.
Eco-Friendly Hotels in Boulder
We recommend:
Hanging Lake – Lunch Stop
From Boulder, make your way along the I-70 towards Glenwood Springs. Take your time making your way to the Western Slope and make sure you don't miss a few really cool stops along the way.
Our favourite was the Hanging Lake Trailhead, a short but challenging 2-mile hike that leads to a beautiful turquoise lake, suspended on the edge of Glenwood Canyon's cliffs. It's a great place for a lunch break on your Colorado road trip!
Glenwood Springs – 2-3 Days
Continue along the I-70 towards Glenwood Springs. Get your camera out, as you are about to pass through Glenwood Canyon, one of the most scenic drives on your Colorado road trip.
Don't Miss These Activities in Glenwood Springs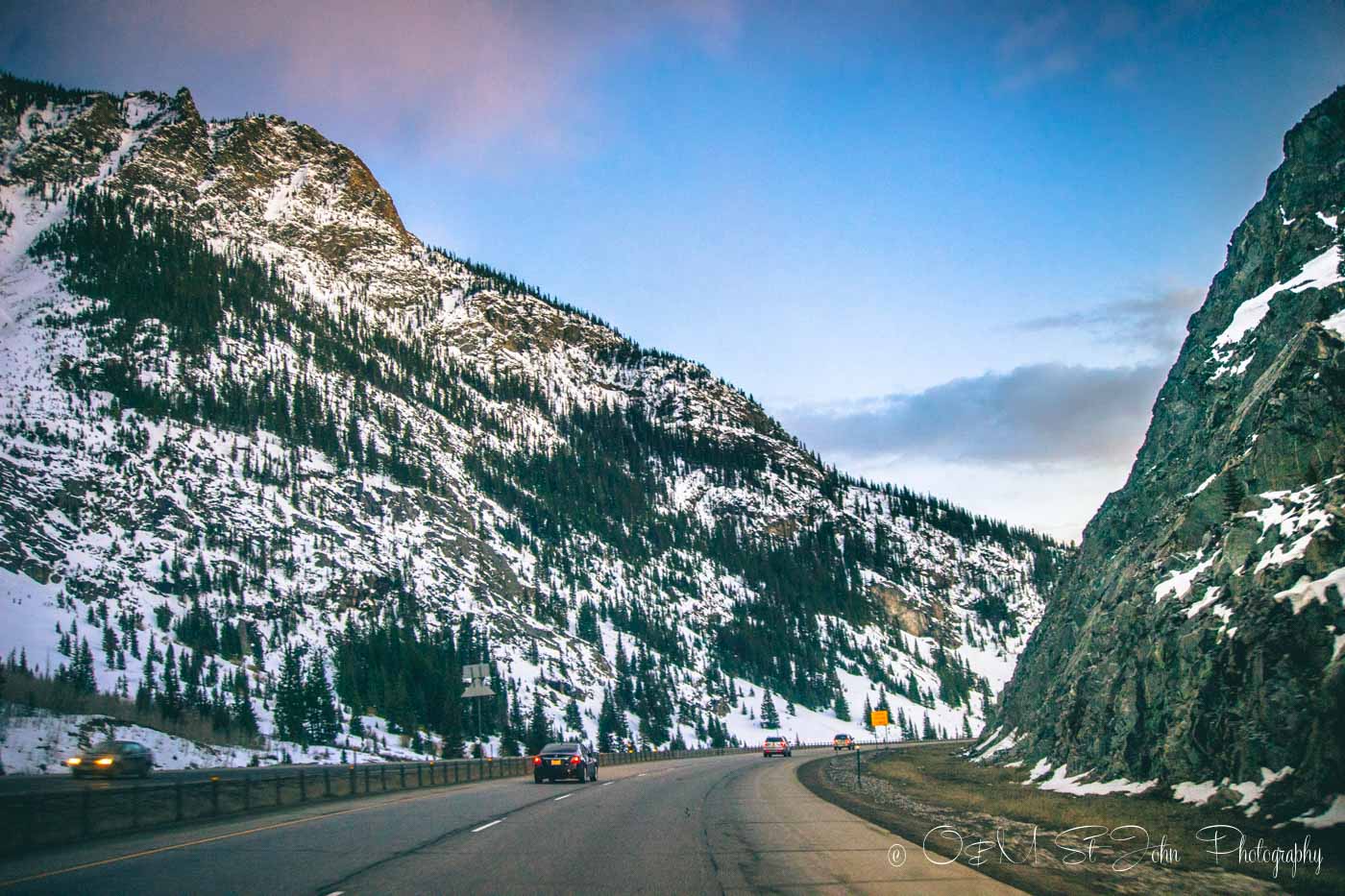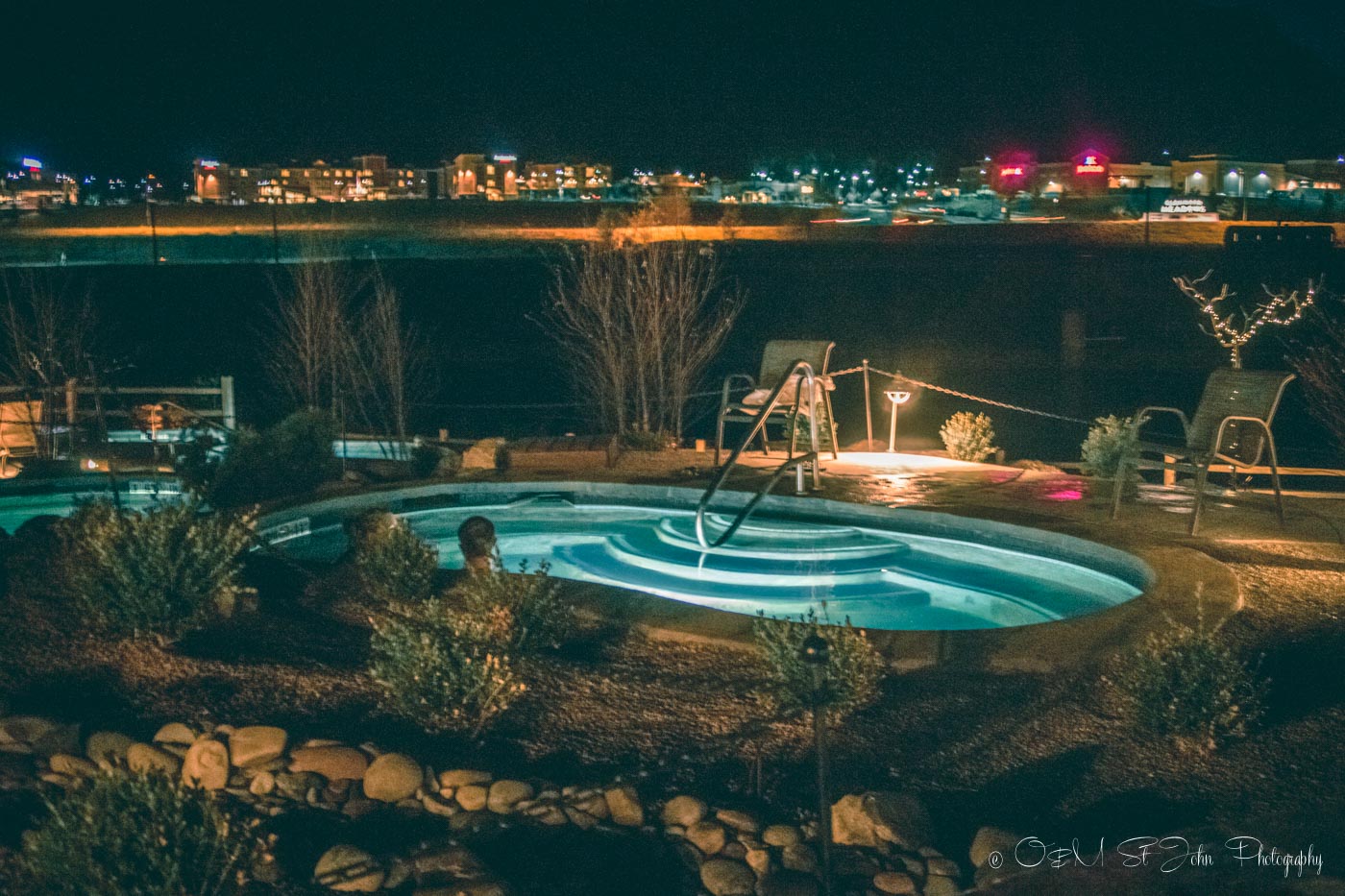 Eco-Friendly Hotel in Glenwood Springs
There are not a ton of great hotels in Glenwood Springs, so check out Glenwood Springs Cedar Lodge for its sustainable practices and great value.
Grand Junction – 1-2 Days
A short 1.5 hour drive from Glenwood Springs gives you plenty of time for stops along the way.
Don't Miss These Activities in Grand Junction
Rifle Falls State Park: Don't miss a stop in Rifle Falls State Park,

just outside of Glenwood Springs. With lots of hiking/nature trails and the beautiful Rifle Falls setting, it's a

perfect picnic spot

en route to Grand Junction.
Palisade: A

nother cool spot to check out en route to Grand Junction on your Colorado road trip, or as a day trip from Grand Junction.

It is known for its peach orchards and wine vineyards

. There are over 100 wine producers in the region with lots of cellar doors opened to the public all year round.
Colorado National Monument:

Grand Junction itself isn't anything amazing, but if there is one spot in the area that you can't miss it's the

Colorado National Monument

. We didn't get a chance to explore it due to

my limited mobility during our trip

, but it's renowned for its

spectacular canyons, red rocks, and sandstone towers.
Eco-Friendly Hotel in Grand Junction
We recommend Hotel Doubletree by Hilton Grand Junction for its sustainable practices and great location.
Ouray – 1-2 Days
From Grand Junction head south along US-50 E. It's about a 2-hour drive to get to Ouray, but with lots of stops along the way. Ouray itself is all about hikes and beautiful waterfalls. The main street in this charming little town is full of cute boutiques and coffee shops.
We loved hanging out here, chatting up the locals and enjoying being completely disconnected from the outside world for this section of our Colorado road trip (no cell service here, folks, so come prepared to be offline).
Don't Miss These Activities in Ouray
Black Canyon of the Gunnison National Park: E

njoy stunning views into the Gunnison River.

The Dallas Divide:

Perfect for photography lovers on a road trip of Colorado in the fall months. The colours will take your breath away!

Orvis Hot Springs: Spend an afternoon at the Orvis Hot Springs.
Million Dollar Highway: A beautiful drive from Ouray to Silverton along the famous Million Dollar Highway

, stretching through the San Juan National Forest.
Eco-Friendly Hotels in Ouray
We recommend:
Mesa Verde National Park – 1 Day
About 2.5 hours from Ouray, just west of the town of Durango, lies Mesa Verde National Park, a World Heritage Site with fascinating history and dwelling remains of the Ancestral Pueblo people.
It's an easy park to explore (most of the lookouts are located just off the main park road), so you won't need more than a day on your Colorado itinerary to check out all of its attractions.
Eco-Friendly Hotel near Mesa Verde National Park
We recommend Far View Lodge for its sustainable practices, beautiful property, and proximity to the park.
Buena Vista – 2-3 Days
Buena Vista is the only town on this Colorado itinerary that we didn't get a chance to check out ourselves. Partially because the roads to Buena Vista, the Rio Grande National Forest pass and the Pikes Peak Highway towards Colorado Springs, are often closed due to unfavourable weather conditions, but partially because we didn't actually have the time to complete the loop as it's described in this post on our Colorado road trip.
Despite having never visited the town ourselves, we would definitely recommend it if you are doing a Denver to Denver loop around Colorado on a Colorado road trip.
It sounds like Buena Vista offers a ton of great activities ranging from hiking and biking to rafting, and of course, summiting any of the 20 fourteeners located within 5 minutes or a day's drive from Buena Vista.
Don't Miss These Activities in Buena Vista
Eco-Friendly Hotel in Buena Vista
We recommend Hotel Surf Chateau for its sustainable practices and great location.
Colorado Springs – 2-3 Days
From Buena Vista, it's a short and pretty spectacular drive on this section of your Colorado road trip through the Pike National Forest (keep in mind that this is another road that is closed until Memorial Day weekend).
Once in Colorado Springs, stay for a few days, as there is lots to do. Explore Pike's Peak, be it by driving up, hiking up, or taking a Cog Train to view the beautiful vistas from above.
Visit Garden of the Gods, home to crazy red sandstone rock formations that are as much as 300 million years old, or spend the day at the North Cheyenne Canon Park, known for its diverse plant and animal life.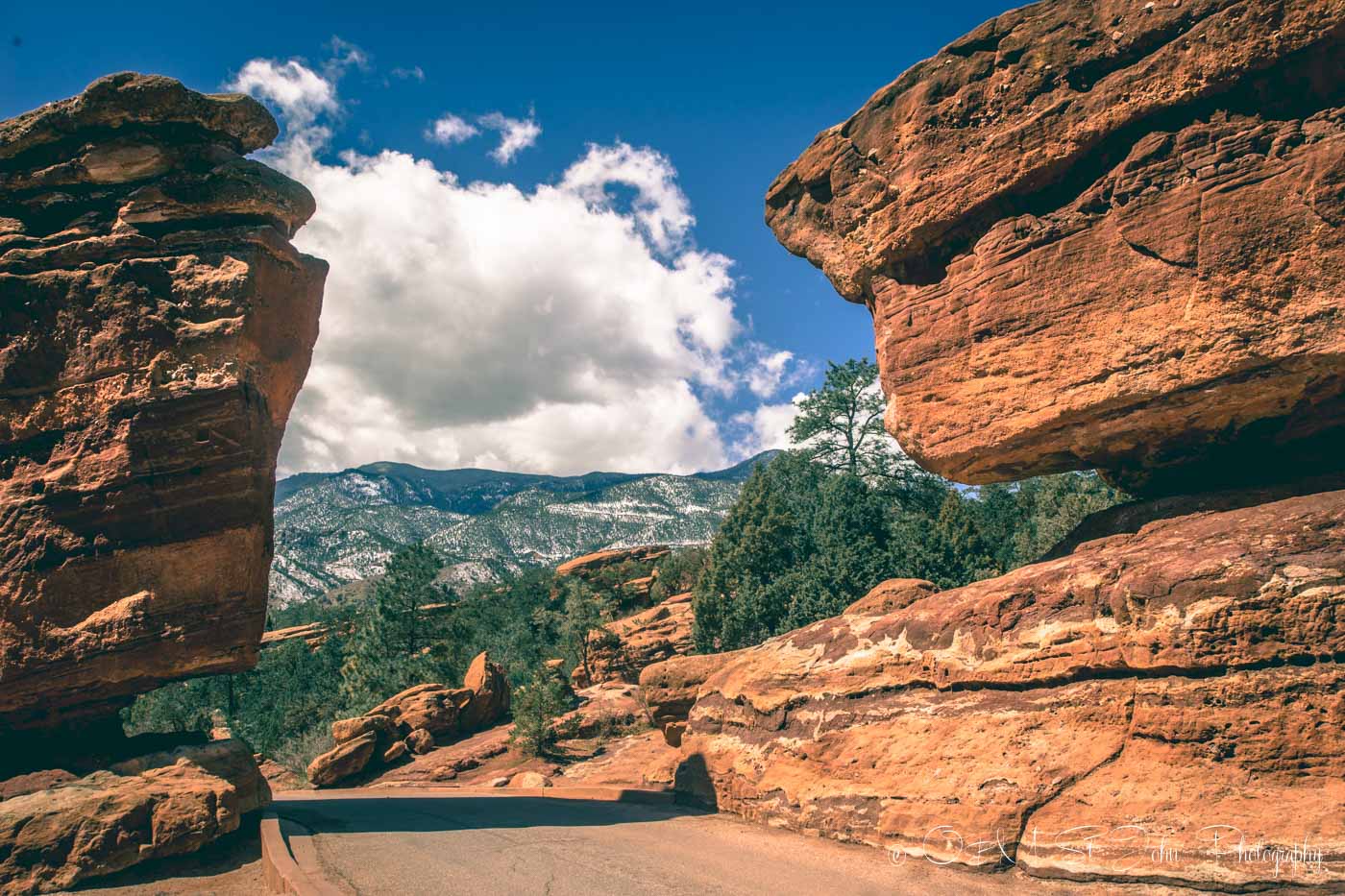 Don't Miss These Activities in Colorado Springs
A scenic ride along the

Old Cabin Road

to

Helen Hunt Falls

!

Segway Tour: Garden of the Gods: Juniper Loop:

For a unique and eco-friendly tour of the Garden of the Gods, jump abroad a segway and whizz by the geologic formations, and take in the nature and wildlife along the way.
Eco-Friendly Hotels in Colorado Springs
We recommend:
Back to Dever
Make your way back to Denver to complete the ultimate Colorado Road Trip!
Tips for a More Eco-Friendly Colorado Road Trip
A road trip to Colorado tends not to be the most eco-friendly activity. However, there are ways to make it a little greener. Follow the tips below.
Choose a hybrid model or energy-efficient vehicle whenever possible.
Get your car serviced prior to your Colorado road trip, and check your oil and tire pressure regularly for better fuel efficiency.
WANT TO EXPLORE USA BY CAR?

Get the best car rental rates by booking on our favourite car rental website, DriveNow. It compares prices across all major car rental companies in the USA, so you are guaranteed to get the best deal.
When it's hot out roll down the windows instead of using A/C for better fuel economy. You'll not only save money on your Colorado road trip, but you'll help lower your carbon footprint.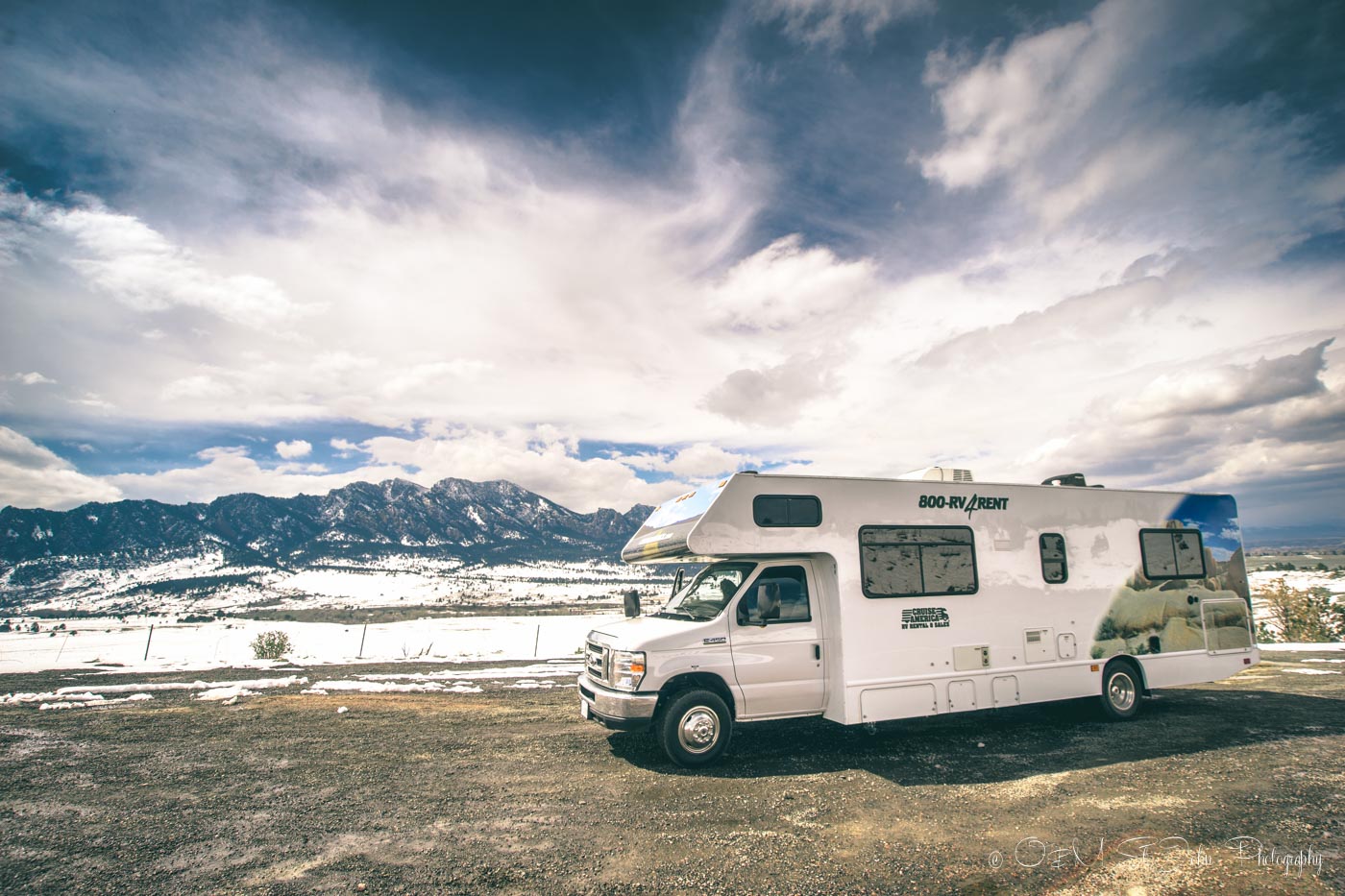 Choose eco-friendly hotels and restaurants as you make your road trip of Colorado. Or even better, try camping and supporting local farmers markets.
Avoid single-use plastics, and minimize packaging by using reusable grocery bags or water bottles when you need to restock food and refreshments.
Bring your friends! It's always better to travel with a full car. A five-person vehicle is more eco-friendly then travelling with a couple of two-seaters, and a weekend trip to Colorado is a perfect group activity!
BEFORE YOU GO: DON'T FORGET TRAVEL INSURANCE

We can't stress enough the importance of travel insurance! We learned about the importance of travel insurance the hard way and now we never travel without coverage.

From the US? Get a quote through Allianz Travel Insurance, our recommended travel insurance provider for US citizens/residents.
Live elsewhere? Check out World Nomads, a great travel insurance provider for those based outside of the US.
What other stops and detours would you add to this Colorado itinerary?