Colorado has got to be one of the most picturesque states in the US. We fell in love with it on our recent Colorado road trip across the US and ended up lingering around for much longer than originally anticipated.
*This post may contain affiliate links, as a result, we may receive a small commission (at no extra cost to you) on any bookings/purchases you make through the links in this post. As an Amazon Associate, we earn from qualifying purchases. Read our full disclosure
We quickly learned that to properly enjoy all that Colorado has to offer. You really need to spend 2 or more weeks exploring the state. Rent a car, or even better, find yourself an awesome RV and get ready for one of the best experiences of your life with a road trip through Colorado.
Traveling Soon?

Here is a list of our favourite travel providers and accessories to help get you ready for your upcoming trip!
Don't leave your home without Travel Insurance!

From the US? We recommend Allianz Travel Insurance, a world leader in travel protection and our trusted Travel Insurance partner for the last 5 years. Allianz offers Single Trip and Annual Travel Insurance Policies that include medical coverage, trip cancellation, rental car insurance and more! (Benefits vary by state and by plan, so read your policy carefully!)

Not a US resident? Consider Safety Wing, a budget friendly travel insurance provider with travel insurance plans for Digital Nomads and travelers from all around the world
Planning Your Road Trip Around Colorado
If you want to be able to explore all of Colorado on your Colorado road trip, plan your visit for after Memorial Day weekend. Take it from us, you'll get to experience the best of the state if you choose a Colorado summer vacation itinerary.
We traveled around in April and were disappointed. We found out that some of the roads, a lot of campsites and some Colorado destinations remained closed from October until the end of May.
That's not to say that a winter Colorado trip itinerary won't be amazing. Being among the snow-capped mountains, soaking in hot springs, and enjoying the crisp fresh air in the spring had its own appeal, but a summer Colorado road trip does allow you to see more, spend more time outside, and appreciate your Colorado road trip just that little bit more.
Colorado Road Trip Route
Regardless of when you choose to visit, here is where we suggest you go. Our advice for the best Colorado road trip routes to navigate your way around the state. (Click here for the Google Maps version of the route below).
We've also included in our Colorado travel blog post some Colorado road trip ideas, including Colorado road trip destinations you have to see and suggestions on where to stay along the way.
Denver – 2-3 Days
In our opinion, the best road trips from Denver are those that explore the whole state! So, you'll need to mark Denver as the starting point on your Colorado road trip map. The capital of Colorado, also known as the "Mile High City," will welcome you with open arms.
Whether you are all about outdoor experiences or someone who wants to explore Denver's vibrant arts scene and unique experiences, plan to spend at least 2-3 days before embarking on your road trip from Denver.
By starting in the big city, you'll have plenty of stores to choose from to stock up on supplies you'll need for your Colorado road trips from Denver.
Things to Do in Denver
Go to Lookout Mountain:

Take a scenic drive to the Lookout Mountain summit. Located in the foothills of the Rocky Mountains this summit offers spectacular views of the area from above. At the top, you'll find the Buffalo Bill Museum and Grave.

Get the Denver Mile High Culture Pass:

For a chance to visit the city's top 7 cultural attractions like the Denver Art Museum, Botanic Gardens, Denver Museum of Nature & Science grab the Culture Pass.

Visit the Red Rock Amphitheatre:

Visit Denver's amazing Red Rock Amphitheatre. Big-name acts and large events are held here regularly. But, if you happen to miss a performer the Red Rock Exhibit at the Visitor Centre is still a worthwhile venture.

The Rocky Mountains: 6-Zipline Adventure Tour:

Just 30 minutes from Denver you'll find Colorado's longest and fastest zipline, where you can travel at speeds up to 60 miles per hour and 250 feet above the ground. It's one of the best activities for a Colorado road trip with kids.

Explore Revitalization Neighbourhoods with a Locally Sourced Lunch:

This road trip Colorado walking and food tour is an activity that makes a difference. Rover North is an up-and-coming neighbourhood of Denver with trendy cafes and mini-breweries. The tour is led by a local guide, who will help you get to know the trendiest spots, you'll enjoy lunch at an all-locally sourced café, then sample some of Colorado's best craft beer.

Take a Drive to Rocky Mountain National Park.

Rocky Mountain National Park is located less than 2 hours from Denver, on the outskirts of Estes Park. It is a national treasure known for its breathtaking scenery at Rocky Mountain National Park. If you have extra time, spend a night camping in the Rocky Mountain wilderness. Estes Park is considered the gateway to the park.
Where to Stay in Denver
Whether you're planning a weekend trip to Colorado or a longer stay, you'll need somewhere to take a break from the driving. We recommend:
Warwick Hotel:

This comfortable hotel is known for its sustainable practices and great location. Plus it has a rooftop pool that can't be beat!

The Brown Palace Hotel :

This option has a great location, is comfortable and boasts award-winning eco-practices. They even have a bee colony on their rooftop.
Boulder – 1-2 Days
Denver to Boulder Drive: 29 miles // 35 minutes
From Denver, take a day trip to Boulder and spend a day exploring Pearl Street Mall and its surroundings. It's one of the best places to see in Colorado. It's a great spot for unique shopping, with some good restaurants and entertainment options.
But there is lots more to do in Boulder outside of the Pearl Street Mall, including exploring 45,000 acres of designated trails, which are perfect for hiking or riding a bike. It's a great way to stretch your legs before jumping back in the car for your CO road trip.
Things to do in Boulder
Boulder Hike & Beer Tour:

With a local guide, you can wander the hiking trails past amazing rock formations and enjoy the fresh mountain air before indulging in a beer at a local craft brewery.

Rocky Mountain National Park Tour:

You can't plan a trip to Colorado and not factor in a visit to Rocky Mountain National Park. You'll take in the stunning mountain landscapes of Rocky Mountain National Park with a local guide and enjoy a picnic lunch on this tour.

Go on a Scavenger Hunt

: This unique walking tour of Boulder is likened to an interactive board game. With your smartphone leading the way you'll visit some of Boulder's top attractions.

See the Street Performers at Pearl Street Mall:

Besides great shopping and restaurants, Pearl Street Mall is known for its delightful street performers. The majority can be found between 12th and 15th streets and you can expect to see everything from fire eaters to performers who can make shocking body contortions.

Summit Flagstaff Mountain

: This moderate trail is 5.4 miles in length and offers captivating views of Boulder and the surrounding mountain range.

Go Whitewater Rafting

: For a thrilling adventure down the Arkansas River, jump on a whitewater rafting experience through Browns Canyon.
Where to Stay in Boulder
Briar Rose Bed & Breakfast

. This charming B&B is set in a charming historic house. It has a long list of sustainable practices in place and includes an organic vegetarian breakfast and a yoga room for guests all for great value.

St Julien Hotel & Spa

: This comfortable, modern hotel is located in the heart of Boulder. One of their many initiatives is their commitment to Zero Waste.
Hanging Lake – Lunch Stop
Boulder to Hanging Lake Drive: 167 miles // 3 hours and 5 minutes
From Boulder, make your way along the I-70 towards Glenwood Springs. Take your time making your way to the Western Slope and make sure you don't miss a few really cool stops along the way.
Our favourite was the Hanging Lake Trailhead, a short but challenging 2-mile hike that leads to a beautiful turquoise lake, suspended on the edge of Glenwood Canyon's cliffs. It's a great place for a lunch break on your Colorado road trip itinerary so mark it on your driving map of Colorado!
Glenwood Springs – 2-3 Days
Hanging Lake to Glenwood Springs Drive: 10 miles // 15 minutes
Continue along the I-70 towards Glenwood Springs on your Colorado rv trip itinerary. Get your camera out, as you are about to pass through Glenwood Canyon. It is one of the most scenic drives in Colorado.
Glenwood Spring is a laid back town with a touch of history. It has an impressive amount of attractions for its small size and meets the needs of year-round adventure seekers. However, it is perhaps most well known for its geothermal attractions.
Things to Do in Glenwood Springs
Relax in the Hot Springs:

There are two options for hot springs in Glenwood Springs. Iron Mountain Hot Springs is located on the Colorado River and has 16 natural pools. Whereas Glenwood Hot Springs Resort has won the title of the world's largest mineral hot springs pool. Both are great places to visit in Colorado.

Check out the Glenwood Caverns Adventure Park

: If you are traveling with kids you need to add the Glenwood Caverns Adventure Park to your Colorado trip planner. Nestled into the mountainside there's gondola rides and roller coasters on-site, all with a stunning background.

Go Whitewater Rafting on the Colorado River

:

For a fun day on the water join a whitewater rafting tour from Glenwood Springs. On this tour, you'll experience Class 3 and Class 4 rapids and you'll gain a unique perspective of the Glenwood Canyon along the way.

Explore the Glenwood Caves

: These unique caves deserve a visit on your road trip, USA Today, rated them "one of the top places to go underground."

Hike the Grizzly Creek Trail

: This moderate, 6.8 mile track is set in a quintessential Colorado forest which is known for its flora and fauna. It is especially good looking in Autumn when the leaves begin to change.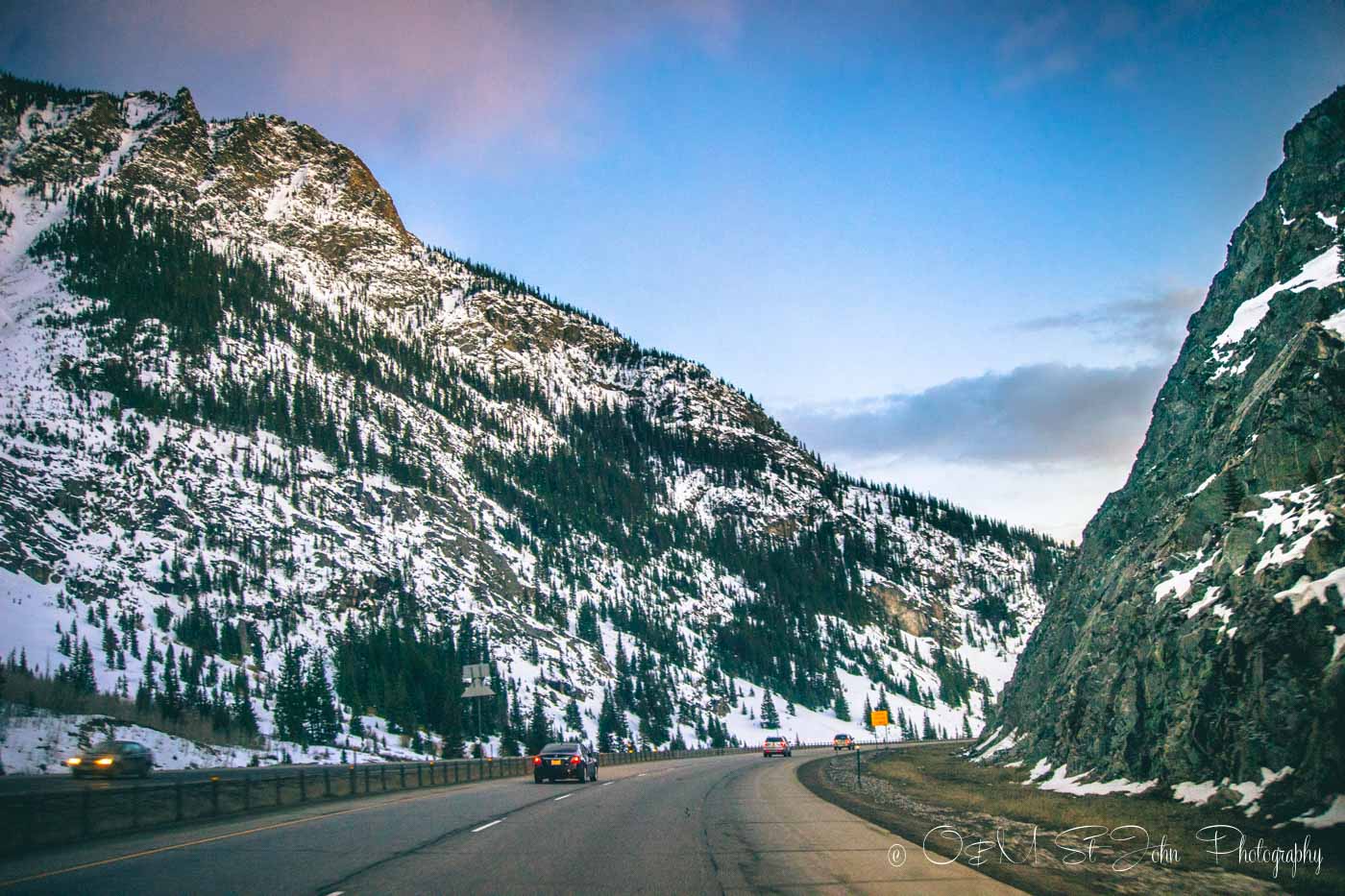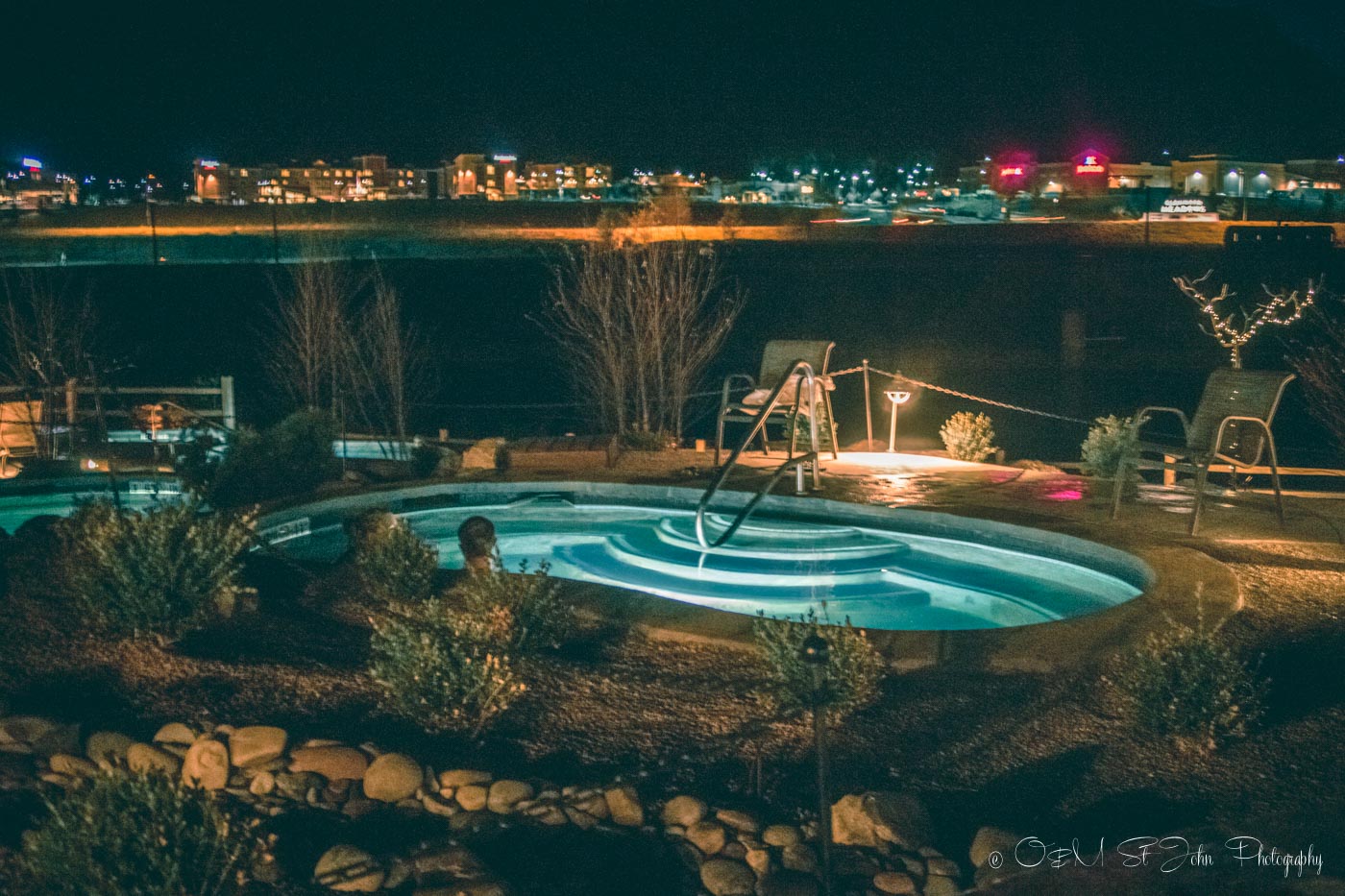 Places to Stay in Glenwood Springs
Glenwood Springs Cedar Lodge

: Located 5 minutes from the heart of Glenwood Springs, this hotel has sustainable practises in place and offers great value.

Best Kept Secret B&B

:

This locally owned B&B is known for its wonderful hosts and cozy atmosphere. They offer free bikes and are located just 1 mile from the Caverns Adventure Park.
Grand Junction – 1-2 Days
Glenwood Springs to Grand Junction Drive: 87 miles // 1 hour and 20 minutes
Grand Junction is just a short 1.5-hour drive from Glenwood Springs on your Colorado road trip itinerary. This means you'll have plenty of time to stop at attractions between these two Colorado towns.
Grand Junction is most well known for being the gateway to the Colorado National Monument. It is a true outdoor playground known for its desolation and canyons which will make you feel like you're back in the way gone era of the wild west.
Things to Do in Grand Junction
Explore Rifle Falls State Park:

Don't miss a stop in Rifle Falls State Park

,

just outside of Glenwood Springs on your road trip. Colorado comes alive in this national park with lots of hiking and nature trails. It's a perfect picnic spot en route to Grand Junction.

Visit the Vineyards in Palisade:

This is another cool spot to check out en route to Grand Junction on your Colorado road trip, or as a day trip from Grand Junction.

It is known for its peach orchards and wine vineyards. There are over 100 wine producers in the region with lots of cellar doors opened to the public all year round.

Visit Colorado National Monument:

Grand Junction itself isn't anything amazing, but if there is one spot in the area that you can't miss it's the Colorado National Monument. We didn't get a chance to explore it due to

my limited mobility during our trip

, but it's renowned for its spectacular canyons, red rocks, and sandstone towers.

We suggest you visit the Colorado National Monument at sunrise when it is most captivating.

Visit the Museum of the West

: For a dose of history head over to the Museum of the West. The interactive exhibits enlighten visitors on what it would have been like living in the area thousands of years ago for both native Americans and settlers.
Places to Stay in Grand Junction
Ouray – 1-2 Days
Grand Junction to Ouray Drive: 176 miles // 3 hours
From Grand Junction head south along US-50 E. It's about a 3-hour drive to get to Ouray, but with lots of stops along the way. Ouray itself is all about hikes and beautiful waterfalls around Black Canyon of the Gunnison National Park. The main street in this charming little town is full of cute boutiques and coffee shops.
It's one of those locations that made our trip one of the best road trips from Colorado. We loved hanging out here, chatting up the locals and enjoying being completely disconnected from the outside world for this section of our Colorado road trip (no cell service here, folks, so come prepared to be offline).
Things to Do in Ouray:
Visit Black Canyon of the Gunnison National Park

: Enjoy stunning views into the Gunnison River and Black Canyon at this national park. Pick up a map of hiking trails for

Black Canyon of the Gunnison National Park

from the Visitor Centre

. Keep your eyes peeled for golden eagles and deer at Black Canyon, you'll have a fairly good shot at spotting them.

The Dallas Divide:

This delightful mountain pass is perfect for photography lovers on a road trip of Colorado. Especially in the fall, the colours will take your breath away!

Orvis Hot Springs:

Spend an afternoon at the Orvis Hot Springs. There are 10 delightful natural pools that range in temperature from 65 to 112 degrees.

Take a Drive Along the Million Dollar Highway:

The drive is beautiful from Ouray to Silverton along the famous Million Dollar Highway. It stretches through the San Juan National Forest.

Visit Box Canyon:

This Canyon has a unique role in the mining history of the region. However nature lovers will enjoy a visit to Box Canyon Falls. This beautiful waterfall is 285 feet tall.

Ouray Ice Park:

This special Colorado road trip attraction is made for adventure seekers. It is a man-made ice climbing wall and NGO. There are no guided tours on site but you can arrange a lesson or rent equipment from one of the outfitters in town.
Places to Stay in Ouray
Black Bear Manor:

This charming country lodge has sustainable practices in place and a great breakfast included. The rooms are comfortable and well equipped.

Box Canyon Lodge and Hot Springs:

This lodge is known for its beautiful natural setting and green initiatives. Their tiered hot tubs are a highlight of any stay.
Mesa Verde National Park – 1 Day
Ouray to Mesa Verde National Park Drive: 126 miles // 3 hours
About 3 hours from Ouray, just west of the town of Durango, lies Mesa Verde National Park, Colorado. A visit to this World Heritage Site is a highlight of any of the best road trips in Colorado because of its fascinating history and dwelling remains of the Ancestral Pueblo people.
It's an easy park to explore (most of the lookouts are located just off the main park road). So, you won't need more than a day on your Colorado itinerary to check out all of its attractions.
Things to Do in Mesa Verde National Park
Stop by the Visitor Centre by Museum:

Grab a map at the Visitor Centre and then gain some insight into the history of the park at the museum next door. The 45-minute documentary serves as a wonderful introduction. It is complemented by many displays and interactive exhibits.

Drive the Mesa Top Loop Road

: For stunning views of the ancient dwellings, this 6-mile drive is a must. Don't miss Sun Point lookout, Sun Temple, and Cliff Palace.

Take a Ranger Guided Tour:

You can book a guided hike to Cliff Palace, Long House, or Balcony House at the Visitor Centre. You'll have an opportunity to walk inside the archaeological dwellings which is not otherwise permitted.

Hike to Step House:

This one-mile hike is about 45 minutes in length and leads to an archaeological site dating back to 626 AD. There is a ranger on site who will readily answer any questions you have about this national parks ancient dwelling site.
Places to Stay in Mesa Verde National Park
Far View Lodge

: This sustainability-minded lodge has a beautiful property with gorgeous views and is located within close proximity to the park. The rooms are big, bright, and nicely decorated

Holiday Inn Express Mesa Verde-Cortez

:

Located in the nearby town of Cortez, this hotel is dependable and highly rated. The rooms are well equipped and breakfast is included.
Great Sand Dunes National Park – Lunch Stop
Mesa Verde National Park Drive to Great Sand Dunes National Park : 223 miles // 4 hours and 30 minutes
The desert landscape of Great Sand Dunes National Park is an anomaly in the midst of the Colorado mountain ranges. Making the Great Sand Dunes National Park one of the most unique national parks in the nation.
If you commit to a detour on your Colorado road trip ensure you stop by the Great Sand Dunes National Park visitor centre to learn about the park. Then head to the dunes themselves to try your luck at sandboarding. The dunes at Great Sand Dunes National Park are the tallest sand dunes in the country.
You can rent sandboards from these retailers. Otherwise, just enjoy the unique beauty of the sand dunes by admiring them from below. Or, by taking a quick jaunt to the top of the sand dunes. It's a great lunch stop on your Colorado road trip.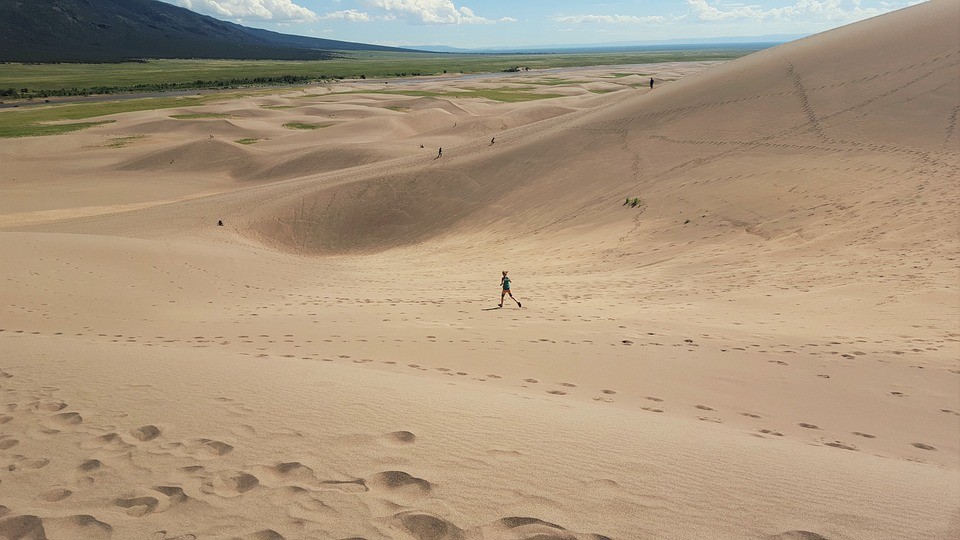 Buena Vista – 2-3 Days
Great Sand Dunes National Park to Buena Vista: 110 miles // 1 hour and 50 minutes
After the Great Sand Dunes National Park head to the town of Buena Vista for more Colorado road trip fun. Buena Vista is the only town on this Colorado itinerary that we didn't get a chance to check out ourselves.
Partially because the roads to Buena Vista, the Rio Grande National Forest pass and the Pikes Peak Highway towards Colorado Springs, are often closed due to unfavourable weather conditions, but partially because we didn't actually have the time to complete the loop as it's described in this post on our Colorado road trip.
Despite having never visited the town ourselves, we would definitely recommend it if you are doing a Denver to Denver loop around Colorado on a Colorado road trip.
It sounds like Buena Vista offers a ton of great activities ranging from hiking and biking to rafting, and of course, summiting any of the 20 fourteeners located within 5 minutes or a day's drive from Buena Vista.
Things to Do in Buena Vista
Climb a 'Fourteener':

The Collegiate Peaks, which are part of the Rocky Mountains, are often called the "fourteeners" since most have an elevation of at least 14,000 feet. Climb, hike, or view from afar one of these mountain peaks.

Whitewater Rafting at Browns Canyon:

Browns Canyon National Monument offers some excellent whitewater rafting. You'll venture past some spectacular scenery and over 9 different stretches of rapids.

Head out to Cottonwood Lake:

Located on the outskirts of Buena Vista, this scenic lake is the perfect place to bring a kayak or stand up paddleboard. Afterwards, share lunch with family or friends at the Cottonwood Lake Picnic Area.

Explore Browns Canyon National Monument:

You can also enjoy the trails and fishing opportunities in Browns Canyon. This is one of the USA's newest national parks in Colorado. It was only established in 2015 and covers a massive 21,500 acreage.

Stop by the Buena Vista Heritage Museum

: Explore the rich heritage and the geological wonders of the Arkansas River Valley and area with the interactive exhibits of this museum. It is set within the old Chaffee County courthouse.

Visit Jumpin' Good Goat Dairy

: For a chance to explore a family-owned farm and creamery add the Jumping Good Goat Dairy to your Colorado road trip planner. They sell artisan goat cheese and offer free tastings and guided farm tours.
Places to Stay in Buena Vista
Hotel Surf Chateau

: This sustainability-minded hotel is thoughtfully designed and most rooms have a pretty river view.

Mount Princeton Hot Springs Resort

: Offering free bikes, a hot spring pool and comfortable rooms. You can't go wrong with the cabin charm of this 4-star resort.
Colorado Springs – 2-3 Days
Buena Vista to Colorado Springs: 94 miles // 1 hour and 50 minutes
From Buena Vista, it's a short and pretty spectacular drive on this section of your Colorado rockies road trip through the Pike National Forest (keep in mind that this is another road that is closed until Memorial Day weekend).
Once in Colorado Springs, stay for a few days, as there is lots to do.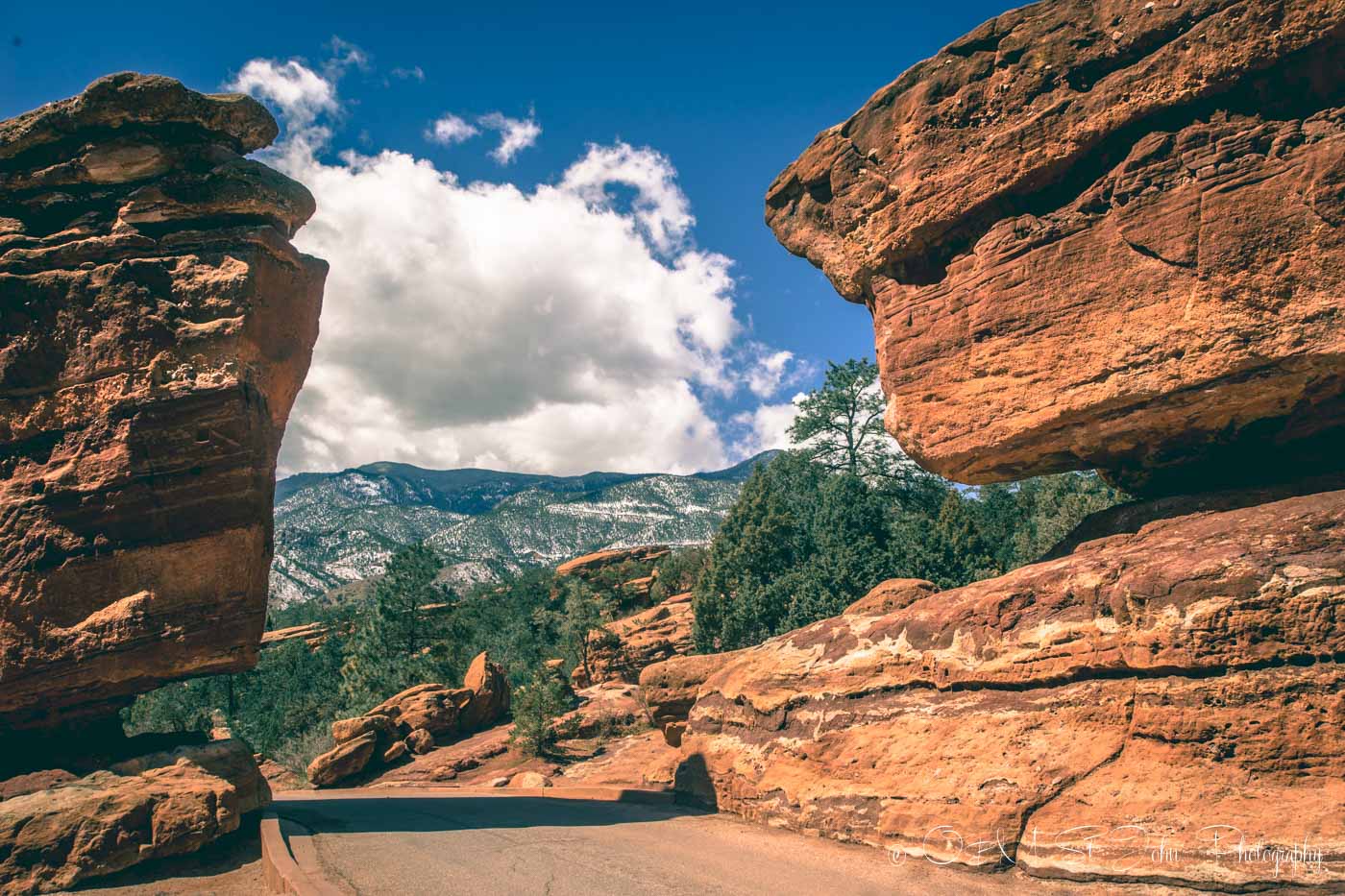 Things to Do in Colorado Springs:
Explore Pike's Peak:

Be it by driving up, hiking up, or taking a

Cog Train

to view the beautiful vistas from above at Pikes Peak, this is a Colorado Springs must-do. The peak is famous as the highest summit of the southern Front Range of the Rocky Mountains.

Visit Garden of the Gods:

This natural phenomenon is home to crazy red

sandstone rock formations that are as much as 300 million years old. Explore the park on your own or join one of the

adventure programs

, climbing trips, jeep or rent bikes from the Visitor Centre.

Spend the day at the North Cheyenne Canon Park:

This park is known for its diverse plant and animal life. Don't miss a stop at Helen Hunt Falls while you're here.

Visit the Manitou Cliff Dwellings

: These dwellings were built from collapsed Ancestral Puebloan sites near Mesa Verde National Park and were rebuilt in Manitou Cliff. The Puebloan people never lived in the area but the dwellings and museum complement a visit to Mesa Verde.

Experience a Hot Air Balloon Ride in Colorado Springs:

For unrivalled views of Longs Peak and the Rocky Mountains, take a balloon ride through the Colorado mountainscape. You'll be treated to a light breakfast post-flight.

Go on an Old West High County 4×4 Tour:

For a really local experience, join a local guide on a 4×4 tour of the area. You'll tour the countryside as only homegrown Colorado folk do.
Places to Stay in Colorado Springs
Cheyenne Mountain Resort

: This modern hotel has stunning rooms, impressive views and country charm. However, what we like best is its commitment to sustainability.

Colorado Springs Marriott

: This hotel has a lovely outdoor pool, an assortment of rooms and is known for its consistent service that strides towards becoming greener.
Back to Denver
Colorado Spring to Denver: 71 miles // 1 hour and 15 minutes
Make your way back to Denver city to complete the ultimate Colorado Road Trip!
How Much Time Do I Need For a Colorado Road Trip?
We would recommend that you spend at least 2 weeks exploring the state. However, if you don't have the luxury of time you can still explore the area on a 7 day Colorado road trip.
If you only have time for a 7 day Colorado itinerary then we would suggest that you choose 3-4 destinations to explore on your road trip. This will give you enough time to explore each destination's attractions without spending your whole time driving during a 1-week itinerary.
You can explore Colorado in less time. However, we would suggest cutting your number of destinations again. For a 5-day Colorado Road Trip itinerary we would suggest only exploring two destinations. While weekend road trips from Denver Colorado would only warrant one stop.
Some of the short road trips from Denver could include a trip to Boulder, Buena Vista, Glenwood Springs, Pikes Peak, or a trip to the Rocky Mountain National Park from Estes Park. They are all less than 3 hours from the capital on a Denver road trip.
If you have more than two weeks then peg on 2-3 days in Estes Park. We can say that it's the gateway to Rocky Mountain National Park and a comfortable place to spend the night. There are limited facilities in the Rocky Mountain National Park. So, if you would prefer a hotel to camping then Estes Park is likely the best place for you to stay.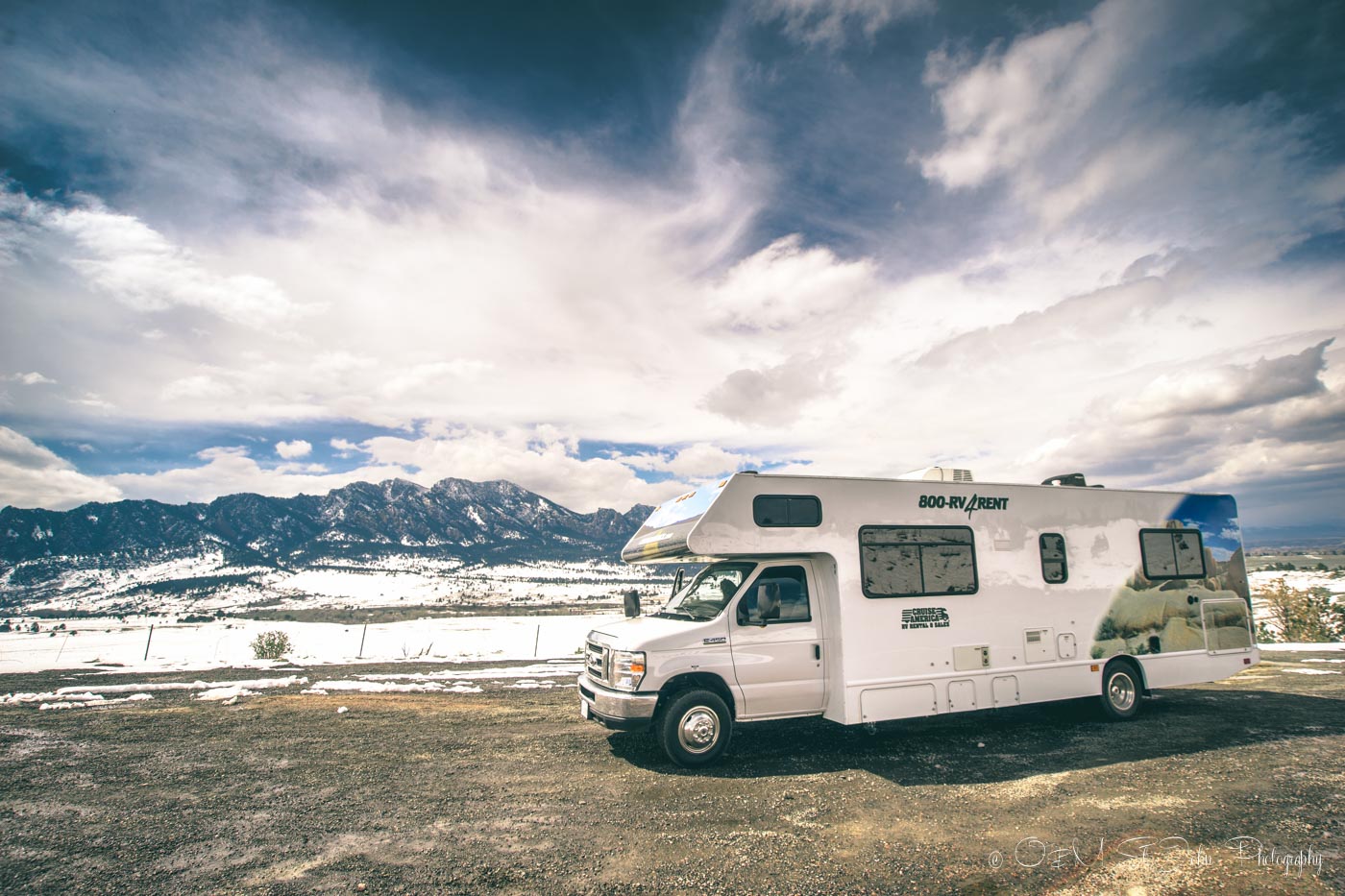 Tips for a More Eco-Friendly Colorado Road Trip
A road trip to Colorado tends not to be the most eco-friendly activity. However, there are ways to make a Colorado road trip a little greener. Follow the tips below.
Choose a hybrid model or energy-efficient vehicle

whenever possible.

Get your car serviced prior to your Colorado road trip, and check your oil and tire pressure regularly

for better fuel efficiency.

When it's hot out roll down the windows

instead of using A/C for better fuel economy. You'll not only save money on your Colorado road trip, but you'll help lower your carbon footprint

Choose eco-friendly hotels and restaurants

as you make your road trip around Colorado. Or even better, try camping and supporting local farmer's markets.

Avoid single-use plastics, and minimize packaging

on your Colorado road trip by using reusable grocery bags or water bottles when you need to restock food and refreshments.

Bring your friends!

It's always better to travel with a full car. A five-person vehicle is more eco-friendly then travelling with a couple of two-seaters, and a weekend trip to Colorado is a perfect group activity! Start brainstorming Colorado road trip ideas with your friends now.
WANT TO EXPLORE USA BY CAR?

Get the best car rental rates by booking ahead! Discover Cars compares prices across all major car rental companies, so you are guaranteed to get the best deal.
A Colorado road trip is sure to be a memorable experience. It is perfect for nature lovers or anyone interested in the western mountain ranges. It's a road trip that we hope to recreate again soon and know you will enjoy!
What other stops and detours would you add to this Colorado itinerary?