After spending 2 weeks in the US, we were stoked to return to Costa Rica in mid-February. Within just a few days we were back into our Pura Vida lifestyle: healthy eating, yoga, runs along the beach, sunset swims, and lots of cuddles with our adorable furry kitten, Mia.
*This post may contain affiliate links, as a result, we may receive a small commission (at no extra cost to you) on any bookings/purchases you make through the links in this post. As an Amazon Associate, we earn from qualifying purchases. Read our full disclosure
Traveling Soon?

Here is a list of our favourite travel providers and accessories to help get you ready for your upcoming trip!
We had exciting plans for the upcoming months. We'd planned to spend the rest of February and all of March exploring Costa Rica beyond Playa Avellanas, the little surfing beach area that we currently call our home base. On our list were trips to Arenal Volcano, Manuel Antonio National Park, Uvita, and Dominical to name just a few. In April, we were meant to set off for a month in Peru.
But one unlucky day surfing in Playa Avellanas was about to change it all…
I'm still a newbie when it comes to surfing. I learned how to surf in Australia back in 2010 when I spent a week at Spot X Surf Camp. But I hadn't surfed much since then. It was something I really wanted to get back into now that amazing surfing was available right at our doorstep in Playa Avellanas.
We'd gone out surfing in Avellanas a few times before and while I was far from an expert, I felt like I was getting better every time. In fact, that day felt like my best day ever. I had managed to catch and ride to shore at least 10-15 waves. My last wave was no exception. I felt the wave under my board and was up on my feet riding it within a few seconds. I didn't fall. I didn't get hit by the board. I simply jumped off when the board reached the shore…
It was nothing more than bad luck. A freak accident. My left foot didn't absorb the impact. I fell down and immediately felt an unmistakable crack in my shinbone. There was no question about what had happened. I could see the outline of bone protruding from under the shin. F***K!!!!
"Max!", I started yelling at the top of my lungs, waving my hands to attract his attention. He was about chest deep, getting ready to take on another wave. "Max", I bellowed again, this time attracting attention of a few surf instructors conducting a lesson 300 m away from me.
They sprinted towards me beating Max by about a second and within a minute, a crowd was hovering over me.
"I broke my leg, I broke my leg", I kept repeating in a state of complete shock. "Can someone just pop it back in?" For some reason, I thought that would fix all my problems. (I blame it on all those years of watching Grey's Anatomy)
"The instructors ran to get help," explained Max trying to keep his cool. "Just breathe, help is coming".
Help consisted of a few bartenders from "Lola's" the restaurant along the beach, who helped lay me onto the surfboard and sat with me while Max ran to get our car from the parking lot.
"Max is going to get the car," one of the guys explained while holding my leg still, "we'll load you in and you'll go to the clinic in Hacienda Pinilla. It's just 5-10 mins away. "
The car shook and bounced as 10 guys helped push our car across the soft sandy beach and onto the dirt road. I screamed the entire time. The pain was unbearable.
"I call ambulance", someone announced. "You stay here they come and take you to hospital".
I felt a wave of relief when the ambulance pulled up 15 mins later and a young looking man introduced himself to me as a Medical Doctor. He stabilized my leg (sort of) and after spending 10 minutes poking my arm managed to get an IV in. (It fell out half way through the ride to the hospital)
"We need to know what hospital to take you to", he said, dialing a number on his phone. "Here, talk to my boss".
"Hello m'am," said the voice on the other line, "Do you have travel insurance?".
My heart sank. Our travel insurance expired at the end of 2015 and even though we kept reminding ourselves to renew our insurance for 2016, we never did.
"No, I don't", I said quietly.
"Oh, ok this is going to be very expensive for you then. Do you have money? We can take you to the private hospital in Liberia but you need to show them you have enough money or they won't admit you"
"How much would it cost?"
"If you need surgery could be $8,000-10,000".
I felt sick to my stomach.
"Please talk to my husband. I can't think", I said, handing the phone to Max.
They took me to the public hospital in Nicoya, some 1.5hrs away from Avellanas. The bumpy ride offered a perfect opportunity for me to reflect on what had just happened. I wish I could buy white vein kratom as I believe I could use some. On the way, I could see max go through to know if he could file for a personal injury claim as this would help us cover up a little on the large sum of expenditure which was headed our way.
I had never broken a bone before and had no idea what to expect. Naively I thought a few weeks in a cast might put a damper on our plans to explore Costa Rica. I thought of Peru and felt a little relieved that we most likely wouldn't be able to go on that long 8 day hike to Machu Picchu after this type of injury. I was secretly ok with taking the touristy train way there…
"Your leg is broken in 2 places.", Max translated the gist of his conversation with the doctor in the Nicoya Hospital. "Shin bone, called tibial and the fibula (ankle)"
No one here spoke any English, but I didn't need an explanation. The x-rays were self-explanatory.
"You will keep the long cast on for 1 months", Max continued to translate as the doctor wrapped the cast around my leg, "Then another long cast for 1 month. And a removable cast for another month. Then physiotherapy"
I was in so much pain during the casting. I didn't register the timeline. I just wanted to go home.
The pain was so bad I barely slept that night. And the night after. Living with a full leg cast was hell on earth. I couldn't sit, I could barely move, I couldn't do anything on my own. I was completely bedridden, forced to pee into a jar and rely on Max for everything. (Talk about the ultimate husband test, eh?) I cried daily. I couldn't possibly imagine this life for another 3 months, despite the fact that I have the best husband in the world!
Over the next few days, we consulted with other doctors, looked over the x-rays and a week later decided to go in for another consult at the private hospital in Liberia.
Another set of x-rays proved that the bones weren't aligned and that surgery was ultimately the recommended course of action.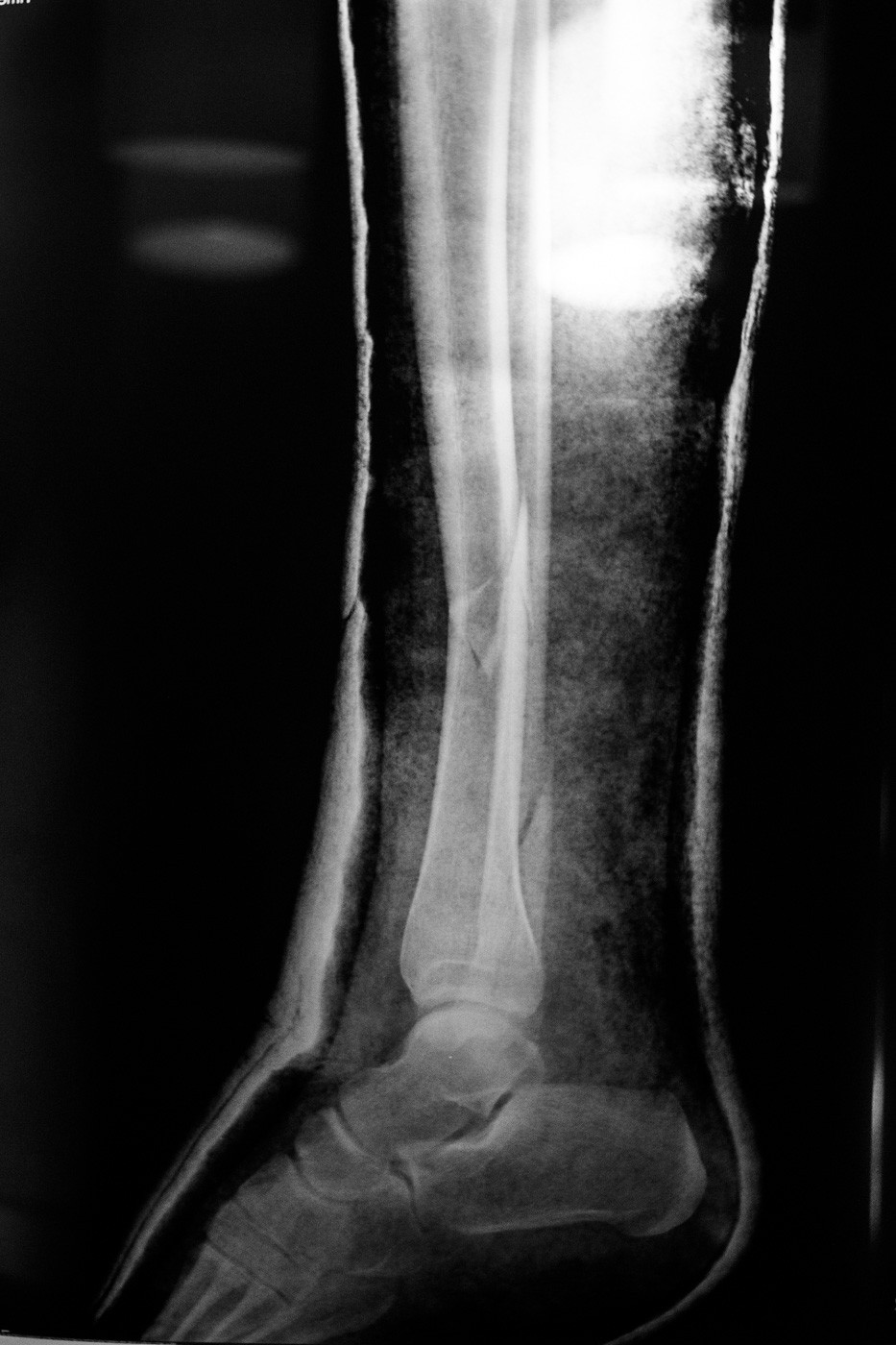 We debated traveling back up to Canada, where the surgery would potentially be covered by the provincial health insurance, but in the end opted to drop $7,000 on an operation here in Costa Rica. It was easier (private practice surgeon was ready to operate on me the next day), it was less risky (I didn't have to fly with a cast), and we were running out of time (the best time for this surgery is within 10 days of the accident).
I went under the knife on Saturday. 1 x 38cm titanium rod was inserted into my tibia bone, 1 x 10cm titanium plate was put around my fibula fracture, and 10 x titanium screws were inserted into my leg to hold the rod and plates in place. The 2-hour long surgery went well. The doctor left me with 5 scars, a bit of bruising/swelling and a month supply of OxyCodone pills. It finally looked like my broken leg was on the road to recovery.
72 hours after the surgery and I already feel 10x better than I did a week ago with that damn cast. I can bend my knee, I can lift my leg, I can walk on crutches, and I am finally able to sleep through the night. My physiotherapy will start in about 3 weeks with doctor prescribed daily pool sessions. (Sounds like a perfect excuse to book ourselves into a nice all inclusive resort with a big nice pool). If everything goes well, I should be back on my feet in about 8 weeks.
We won't' be traveling through Costa Rica this month and we won't be going to Peru in April. But there'll be lots of time for travel later this year. And nothing motivates me to work harder and get better sooner than a dangle of a little carrot called – travel!