There is nothing better than a road trip! The independence and flexibility of spending a couple of days or weeks on the road is second to none.
*This post may contain affiliate links, as a result, we may receive a small commission (at no extra cost to you) on any bookings/purchases you make through the links in this post. As an Amazon Associate, we earn from qualifying purchases. Read our full disclosure
Compared to typical vacations, road trips are more about the journey than the destination. However, in order to make the most of those long rides there are some road trip essentials that we recommend.
Why You Need a Road Trip Packing List
At the beginning, it was rare for us to leave on a road trip without forgetting something. But having now been on so many road trips, we've compiled a list of the road trip essentials for every trip!
Don't leave your home without Travel Insurance!

From the US? We recommend Allianz Travel Insurance, a world leader in travel protection and our trusted Travel Insurance partner for the last 5 years. Allianz offers Single Trip and Annual Travel Insurance Policies that include medical coverage, trip cancellation, rental car insurance and more! (Benefits vary by state and by plan, so read your policy carefully!)

Not a US resident? Consider Safety Wing, a budget friendly travel insurance provider with travel insurance plans for Digital Nomads and travelers from all around the world
Essential Road Trip Items
From US and Canada to Australia and Namibia, we have been on our fair share of road trips. Along the way, we have come up with this tried and tested road trip packing list. These long road trip essentials have kept us happy, healthy and entertained along the way.
Basic Essentials for a Road Trip
Don't leave the house without adding these road trip car essentials to your packing list. In some cases, you won't even be allowed to hit the road without them!
1. License & Registration
The most important thing you need to consider before jumping in the car is paperwork. It is a road trip essential.
Whether you are at home or abroad ensure that you are licensed to drive. If you are abroad you may need to obtain an international driver's license. For some countries, your home license is not enough so check with local laws before departing for your road trip.
Nearly as important as your driver's license is car registration. This proves that the vehicle you are driving is legally owned by yourself, a friend/family member or the rental car company. In most countries, if you get pulled over by a police officer they will ask to see your registration alongside your driver's license.
2. Car Manual
Don't forget to add the car manual to your road trip checklist. Whether you are driving your own car or a rental car, a car manual is handy to have with you at all times. This instructional book contains information about the vehicle's maintenance program, safety and is great for troubleshooting.
Not sure how to turn on the AC? Need to know your vehicle's ideal tire pressure? Your car manual is one of the road trip essentials that has the answers.
Traveling Soon?

Here is a list of our favourite travel providers and accessories to help get you ready for your upcoming trip!
3. Car and Travel Insurance
We have made the mistake of traveling without travel insurance and we won't do that again! Make sure you and your car are protected against accidents.
If your car is hit or if you get into a car accident you are financially protected with car insurance. It usually comes at an additional cost at most rental agencies but it is mandatory to drive with insurance in many countries including in Canada and the USA.
If you are abroad, you may also need to invest in travel insurance outside of your car insurance. Check to see if personal injury is covered with your car insurance policy or if your travel insurance policy will cover injury as a result of a motor vehicle accident.
Car Road Trip Essentials
No list of road trip essentials is complete without mentioning the items that will keep your car running in case of the unexpected. Road trips may take you off the beaten path, so it's important to be able to fix basic car problems like flat tires on your own.
4. Spare Tire
There are lots of reasons why you might get a flat tire. Wear and tear, bad road conditions, and even heat can contribute to flat tires. Be prepared by adding a spare tire to your packing list for road trip adventures.
Most cars come with a spare tire. They are often located under the car, attached to the back of the vehicle or located in the truck. If you are renting a car, ask the rental agency where you can find it.
5. Jack
It's all well and good to have a spare tire but if you can't change it you are back at square one. Make sure to pack a car jack with your car trip essentials. Having one on hand will make it much easier to change that blown tire.
6. Roadside Emergency Kit
A roadside emergency kit contains the items you may need if you run into trouble on the road. This road trip essential comes in all shapes and sizes but typically includes items such as jumper cables, tire pressure gauges, road flares, washer fluid, and oils. It is also a good road trip essentials gift.
If you are embarking on a cold-weather road trip, road trip essentials such as hand and feet warmers, a thermal reflective blanket and an ice scraper are good things to store in your roadside emergency kit.
7. Map
As much as we rely on technology sometimes we lose cell reception or it fails. A backup map is one of the most important long car ride essentials. Especially when you are on isolated roads with no one to ask for directions.
A paper map can help you orientate yourself in an otherwise unfamiliar setting. It gives us the chance to take the scenic route, which your all too efficient GPS may not have suggested.
If a paper map is too old school for you, consider downloading our favourite offline maps app "Maps.me". Download the map of the country or region you will be road-tripping in and enjoy navigation and detailed maps without a need for wifi connection while on the road.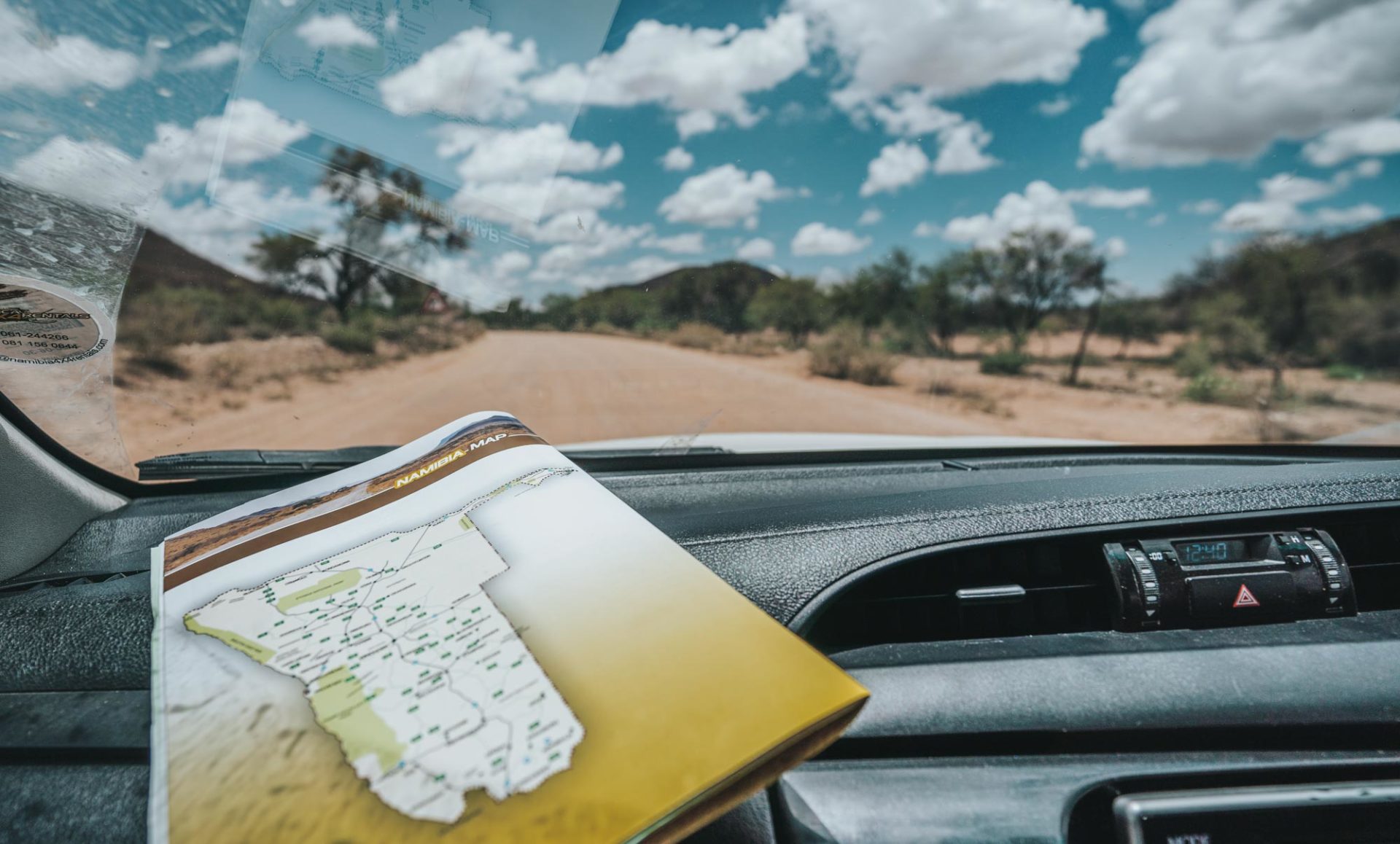 8. Flashlight
Some rural towns may not have the same level of light you are used to. If you are driving at night or camping – bring a flashlight. A regular flashlight will do the job, but we prefer to bring a headlamp for its versatility and hands-off approach.
9. Multi-Tool
A multi-tool is great for fixing all kinds of minor auto repairs or providing solutions for everyday obstacles. A multi-tool is equipped with everything from scissors to wine openers and files without weighing you down.
10. First Aid Kit
One of the first family road trip essentials you should pack is a first aid kit for minor aches and pains. If you are making your own, we recommend you add the following to stay comfortable on the road.
Tylenol:

effective at relieving pain and fever

Ibuprofen/Advil:

an anti-inflammatory and pain reliever

Pepto Bismol:

if you haven't heard their catchy commercials, Pepto is effective for nausea, heartburn, upset stomach, diarrhea.

Imodium:

treats traveller's diarrhea

Tums:

an antacid used to relieve upset stomach and heartburn

Benadryl:

an antihistamine used to treat allergies

Polysporin:

an antibiotic cream used to protect against infection and speed up the healing

Bandages:

to cover wounds and cuts
Electronics
If you want to want to stay connected on the road, don't forget to add these to your road trip list of essentials.
Charge anything, anywhere with this handy power inverter. It has an outlet and two USB slots. It plugs into your car's cigarette holder and it won't drain your battery. If you are on a family trip, add this to your road trip essentials with kids. It's perfect for tablets or laptops which need an outlet to charge.
12. Phone Charger
To stay connected, remember to pack a phone charger. Did you know that a phone charger is one of the most frequently forgotten items? Your phone is a line to the outside world, your GPS, game and music player. You don't want to leave for your next road trip without it.
13. USB Cord
A universal charger is essential for keeping some of your most precious electronics charged. Most cameras are charged via USB cords, same with personal battery packs and wifi hotspots.
We do not endorse looking at your phone or texting while driving. So, if you are using your phone as a GPS or can't resist the temptation of grabbing your phone when you hear a "ding", then consider a dashboard cell phone holder. It is one of the car essentials for a road trip.
Make sure to get the Ram X-Grip cell phone holder or something similar so you can move it in different directions, based on the driver's preferences.
15. Wifi Hotspot
If you want wifi on the road, a wifi hotspot, like Solis Hotspot is one of the best essentials for long road trip journeys. Solis allows you to connect to up to 10 devices and works in over 130 countries with high-speed data whether you are in the US, Europe, or the rest of the world. You can choose plans by the month, by the day, or by gigabyte with no contracts and hidden charges.
Fun Road Trip Essentials
Don't just count on the radio. Stay entertained with these games and other cross country road trip essentials.
16. Car Games
Car games aren't just for kids. Come armed with games to keep you and your travel companions laughing along the way. These 14 road trip games from Buzzfeed are essential for road trip travel with friends or family.
17. Spotify Playlist
Some say the playlist makes the road trip! So don't forget to add it to your road trip checklist. Make and download some playlists from Spotify before you leave so there are no connectivity issues on the road. If you are going abroad, why not download a few playlist with local music? It will give you a feel for the local culture.
18. Podcasts
Keep your mind engaged, learn about current issues, or have a laugh with your favourite podcast. Podcasts top the list for solo road trip essentials. However, if you are travelling with someone else a good way to pass the time is by starting a new podcast series together.
19. Games for Kids
If you don't want to hear "are we there yet" for hours on end, don't forget to pack some road trip games for the little ones. Cards, mini board games, and tablets are road trip essentials for kids.
Food & Drink
If you want to avoid "hanger" on the road, don't forget to add some food and drinks to your road trip packing list. They will keep hunger and thirst at bay when you don't know where the closest supermarket or eatery is.
20. Snacks
Opt for high fibre, high protein snacks which are recommended for long periods of inactivity. Apples, bananas, cereal bars, and trail mix are all good options.
21. Water Bottle
Staying hydrated on the road is just as important as eating healthy. So, don't forget a water bottle. We always take our handy Hydro Flask bottles with us.
They are double-wall vacuum insulated and stay cold for up to 24 hours so even if you leave your water bottle in the car for a few hours you won't come back to boiling hot water. Unless you've opted to keep hot water in your bottle and in that case it will stay hot for up to 12 hours. We also love that Hydroflask bottles are crafted with sustainability in mind and they support social initiatives like Parks For All.
22. Steripen
If you are in an area with questionable tap water, carry a SteriPen with you to zap the water clean. It works using UV rays to kill 99.99% of protozoa, bacteria and viruses. You can even use it to clean water from rivers and lakes.
One of the best accessories for road trips is this great personal filter straw. Using carbon media, the straw filters out 99.9% of bacteria and other pathogens in the water, eliminating the need to buy bottles water. The Filter Straw can be used as a straw on its own or with the included filter bag – a perfect way to make sure you never have to worry about water safety again!
23. Coffee and Tea Mug
You might think that your coffee cup is recyclable but the truth is that the majority have a thin plastic coating which makes it impossible to recycle. Do your part to keep coffee cups out of the landfill by adding a reusable mug to your road trip pack list. Fill it up at a drive-through or home before hitting the road.
Portion your snacks and save leftovers in easy-to-access storage containers. These collapsible silicone storage containers are one of the road trip essentials for car journeys. They help save space when they are not being used and are ideal for long road trips or short weekends away.
Overnight Road Trip Camping Essentials
What to pack for road trip adventures? Anything that will keep you feeling fresh. Especially if you are camping on the road or spending any significant time outside. The following are road trip essentials to add to your road trip packing list.
Personal Hygiene Products
25. Toiletry Bag
Keep your toiletries nice and organized with a toiletry bag. We recommend the Wash Pouch from Peak Design, a well-made and meticulously designed bag that keeps all of our day-to-day necessities. It's made with 100% recycled 200D nylon and DWR impregnated shell for long-lasting use and carry. It has a convenient hook at the top, so you can let it sit on the counter or hang it on a hook in the bathroom/shower or in your room.
26. Toothbrush and Toothpaste
At the last minute, a toothbrush and toothpaste can be easy to forget to add to your road trip packing list. To protect your toothbrush from the other contents of your bag use an antibacterial toothbrush cover.
27. Moisturizer
Road Trips can be dehydrating. Keep your skin looking vibrant with a good face and body moisturizer. Bonus points if your face moisturizer contains SPF. It is one of the essentials to pack.
28. Make-up
Look good, feel good. If makeup is part of your daily routine then add it to your road trip packing list. Recently, I (Oksana) transitioned to zero-waste make-up and featured a list of my favourite zero-waste makeup brands that are good for your skin and the planet.
29. Bug Spray
Fight off annoying mosquitos, flys or ticks with a good bug spray. It is one of our must-haves! Bug spray will also help you avoid diseases that mosquitoes, flys or ticks may spread.
30. Sunscreen
Whether you are travelling somewhere warm or cold, sunscreen should be added to your road trip essentials list. Pick a product that's water-resistant, safe for the environment, and for you by opting for an all-natural variety.
Clean up any food or drink spills will biodegradable wet wipes. If you are traveling with kids, adding wet wipes to your road trip packing list is a must if you want to keep your vehicle clean.
32. Toilet Paper
This one is pretty self-explanatory. Whether you are camping or stopping at roadside facilities, don't get caught road tripping without this necessity.
33. Hand Sanitizer
Hand sanitizer kills harmful bacteria and viruses that can make you sick. When handwashing is not an option, hand sanitizer is a great alternative that you should pack for a road trip.
34. Lip Balm
There is nothing worse than chapped lips and no lip balm in sight. Make sure you add lip balm to your essentials for road trips. Two, if you seem to lose them!
Clothing & Other Travel Accessories
35. Travel Clothing
We can't talk about packing for a road trip and not mention the importance of road trip-proven clothing. You'll want to pack clothing that's light, multi-functional, comfortable but most importantly, easy to take care of. After all, you want to look great, smell great but not have to worry about keeping your clothing wrinkle-free and clean for the entire road trip. To avoid the complexity of doing daily laundry while on your road trip, we recommend packing a smart capsule wardrobe with items in natural fabrics that can be easily layered, mixed and matched. Here are our favourite road-trip-approved brands!
prAna – Our favourite sustainable clothing brand with a great selection of athleisure, travel, and everyday clothing for men and women. You'll find great quality items with styles on-trend and prices – affordable. They have everything from hiking gear to sweats, jeans, and nice dresses and dress shirts! US-based, ships worldwide.
Unbound Merino – another great his and her clothing brand that focuses on all things Merino Wool. Knowns for its anti-microbial and thermo-regulating properties, Merino wool clothing is perfect for travel, road trips, or weekends away. The items are super easy to take care of – they don't wrinkle easily and don't require as much washing! Canadian-based – ships worldwide!
36. Rain Jacket
Weather can change at the drop of a hat. You can still enjoy those outdoor road trip activities you've been dreaming of if you are prepared with the proper rain gear on your next road trip.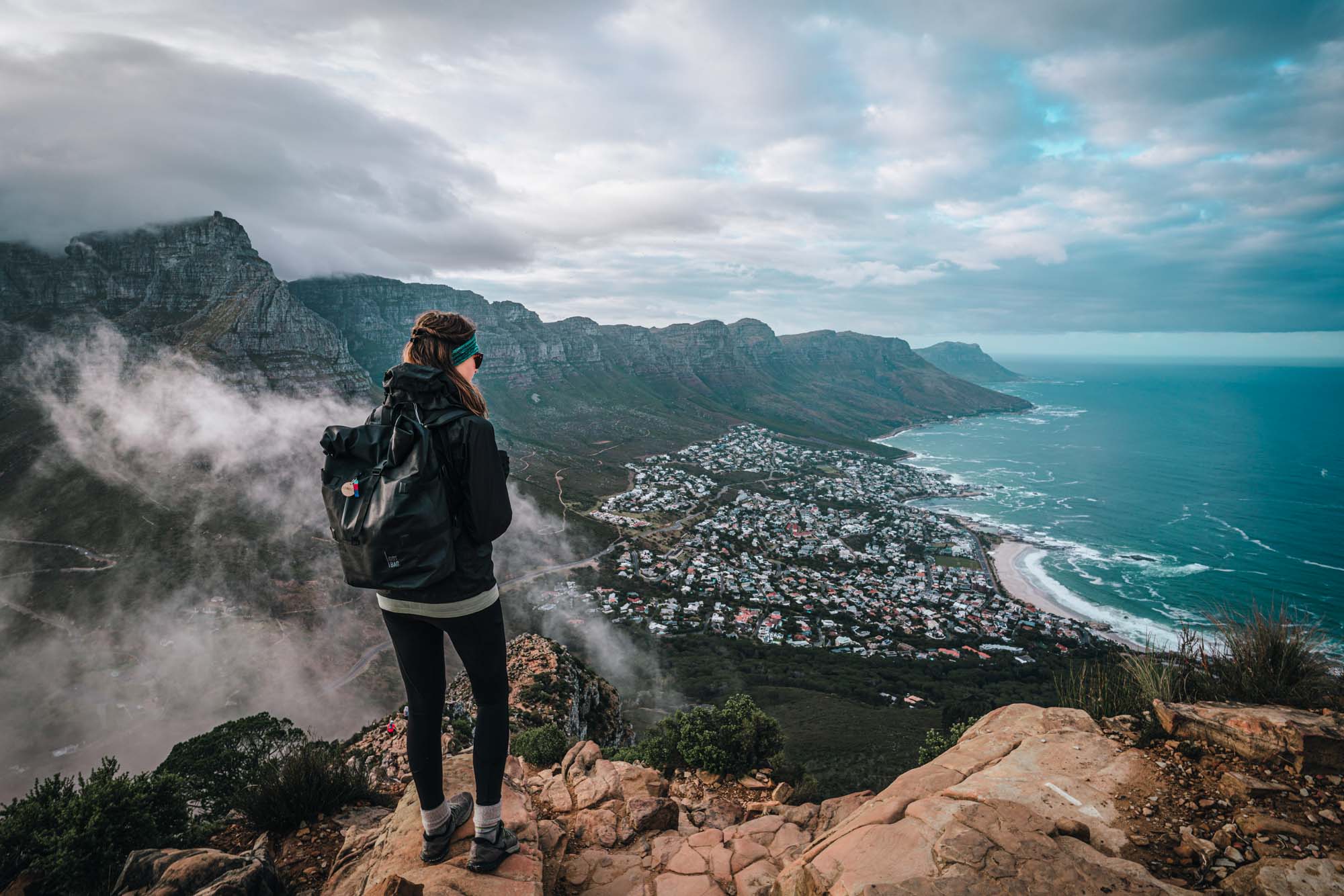 37. Rain Pants
Don't let the weather ruin your trip. While often overlooked, rain pants are must-haves to keep you dry if you are out and about in the rain.
38. Running Shoes
Running shoes are a double-duty road trip essential. They make road trip activities like exploring cities or going hiking more comfortable and they are good for driving. Close-toed shoes are recommended footwear for driving. In Canada, you can even get fined for wearing flip flops while driving
39. Flip Flops
Flip flops are lightweight and great camp shoes in the warmer months. They are also perfect when you're in the car and want to kick off your shoes between gas stations or pit stops.
Invest in a pair of Chaco flip flops or sandals and we promise you, they will last you for years to come. No blowouts, no broken soles – it's the best brand of flip flops we have ever owned.
40. Blanket
A blanket or cozy rug will keep you and your passengers warm and comfy while having a road trip snooze, or just driving on a chilly day. It's also a great accessory to bring to the beach, or use for a picnic in nature.
41. Hat(s)
Will & Bear is a small brand of road trip tested hats from Australia. Will & Bear hats come in a variety of styles, ranging from baseball caps to straw hats, wool hats, and beanies. All hats are made from 100% Australian wool and mirror the earthy tones of the Australian landscapes. Their hats are a perfect travel accessory, be it for a hike in the mountains or a day on the beach. Although the company is based in Australia, Will & Bear has a warehouse in the US and their hats are shipped worldwide.
42. Sunglasses
Avoid squinting your whole trip. Sunglasses are one of the top car essentials for road trip journeys. Since they reduce glare and improve visibility, they will also keep everyone in the car safe. We recommend Pela Sunglasses, eyewear with 33% less CO2e Emissions, 34% less water usage, and 82% less waste compared to conventional sunglasses and packaging.
Road trip packing but have limited space? Microfiber towels are one of the best travel accessories and one of the road trip necessities that shouldn't be overlooked. They are super absorbent, small and compactable. Plus, they usually come with their own bag to store them in.
44. Daypack
When you need a little more space than a purse and less than your suitcase, a day pack is an answer. A day pack will fit your water bottle, snacks , camera and other electronics, and anything else you'll need for an active adventure away.
Our favourite backpacks:
Everyday Backpack from Peak Design: an urban-style backpack that can be filled with camera gear and electronics or with snacks and spare clothing. It's just as comfortable on long hikes as it is on short strolls around the city.
Mckinnon Camera Bag from Nomatic: our go-to camera bag for days when we have to carry a LOT of gear while traveling. This bag is a collaboration with Nomatic and Peter Mckinnon, one of Canada's top photographers, so its design specs are top-notch. The bag comes with tons of great pockets for all your photography accessories, tons of room for camera, lenses, drone, etc. Plus it's ergonomically well done and comfortable enough for long hikes thanks to the well-designed hip straps and shoulder straps.
Other Important Road Trip Accessories
45. Garbage Bags
Not only is littering bad for the environment but you will get a ticket in most countries if you are caught throwing anything out the window. As sustainable travel advocates, we encourage you to add biodegradable garbage bags to your road trip packing list and dispose of them at appropriate receptacles.
46. Cooler
Take a portable cooler with you if you want to keep your snacks and other food cool and away from insects. We have found a Yeti cooler to be one for the road trip essentials for couples that we never leave home without.
47. Reusable Utensils
Swap out plastic forks and knives with reusable utensils. If you choose bamboo utensils, they are lightweight, 100% biodegradable, and can be used time and time again.
48. Reusable Straws
Just like reusable utensils, reusable straws keep plastic out of landfills. There are all sorts of reusable straws on the market including metal, bamboo, silicone and glass. Most of which come with individual straw cleaners to pack for a road trip.
49. Solar Powered Light
You'll want solar-powered lights for camping. They harness the sun's energy and don't require any pesky battery and light bulb changes.
50. Portable Power Bank
A portable power bank will keep your USB electronics from dying. It's a great alternative to in-car charging if you are nervous your electronics will drain the car battery or if your vehicle is turned off for the night.
.
Your Next Road Trip
Wherever the road trip takes you, make sure your next road trips are a success by packing these necessary items. You'll be packing light but prepared for anything.
Need some inspiration? Check out some of our favourite road trips below!
USA Road Trip
If you are travelling domestically throughout the USA this year, we have provided a breakdown of what it costs for a 2 week USA road trip. Not sure where to go? It contains advice on the best USA road trips, too. Our favourite was definitely our Colorado road trip!
Australia Road Trip
Live in Australia and want to explore some of your own backyard? We have broken down the 5 best road trips in Australia. The Pacific Coast and Western Australia road trips were some of our favourites.