Finding the best layout for a camper van bedroom can be tough. On one hand, beds that run lengthwise give you lots of space for sleeping but take up more than 50% of your living area. On the other hand, horizontal beds won't fit without flares to gain extra width in the walls.
*This post may contain affiliate links, as a result, we may receive a small commission (at no extra cost to you) on any bookings/purchases you make through the links in this post. As an Amazon Associate, we earn from qualifying purchases. Read our full disclosure
Living tiny requires creative ideas to maximize your storage space and living area. We knew we wanted a non-permanent bed that didn't need to be set-up every day.
Our solution? An elevator bed.
Traveling Soon?

Here is a list of our favourite travel providers and accessories to help get you ready for your upcoming trip!
Why Choose an Elevator Bed for a Van or Tiny House
Elevator beds are a great space-saving solution for a camper van or tiny house. They allow you to double up on space and have a living room and bedroom in the same area. Unlike a loft bed, you can change the position of the elevator bed as you need it. You're not committed to one layout since you can lift your bed out of the way when it's not needed.
Having no permanent bed means you have more room for storage and more flexibility in how you use your space. Plus, you don't have to worry about making up the bed every day. If you've ever lived tiny, you know that this is a major perk!
Elevator Bed vs Murphy Bed
A common solution to the permanent bed conundrum is a wall bed, called a Murphy bed. While these are a great way to have periodic access to the bed, the design can be complicated. Most people's plans include a Murphy bed kit to bring the idea to life.
Murphy beds for vans create a ton of open floor space when they're up. But, you won't be able to have a permanent couch or table in that area. They're perfect for transporting gear around but ultimately, they're probably better suited for a tiny home.
On the flipside, elevator beds for campervans free up living space while allowing you to have a couch or table permanently on-site. Elevator bed hardware is relatively easy to find and doesn't require special kits like an RV overhead bed kit. The only drawback is sacrificing the ceiling height that you lose when the bed is raised. So this might not work for a minivan bed platform, but it works great in a Sprinter van.

Why We Chose an Elevator Bed for our Tiny Home on Wheels
In our van build, we decided to give up the extra ceiling height to maintain our panoramic 270° views. This way, we were able to have a larger queen size bed frame that raises and lowers without covering up our windows. We always get lots of light, whether we lift the position of the bed or not. A Murphy bed would have only accommodated a twin bed and covered up a whole wall of windows. Our elevator bed DIY is the perfect compromise!
Check out our elevator bed in action in our van tour video
How We Built our Campervan Elevator Bed
We created our own elevator bed kit with the following materials.
Materials Used
Step-by-Step DIY Elevator Bed Build Instructions
1. Install the pulleys
Attach all pulleys to the beams of the Sprinter van ceiling. We bolted 2x Harken 16mm Airblock Cheek pulleys to the cross beams on the driver side of our Sprinter ceiling, 2 x Harken Micro Upright Lead Blocks as well as the Harken 16mm Airblock Double and Harken 16mm Airblock Single on the passenger side of the beams.
2. Attach the ropes
Pull the ropes through the pulleys and connect them to one another. The red circles in the photo indicate where the ropes are connected. You can do this by lock stitching or with an attachment ring.
Next, attach a turnbuckle at the end of each rope in all four corners of the bed. Note that you can always skip this step and attach the ropes directly to the bed frame. But, we wanted to be able to disconnect the bed from the winch when it's down as a safety feature. This way, if the winch motor ever decides to come to life in the night, our bed won't lift with it.
*Note: We recommend pulling the ropes through before installing the ceiling. Pulling them through from one side of the van to the other becomes harder once the ceiling is in place. But not impossible—use a cable snake if needed.
3. Build the frame
Using 80/20 aluminum, we built a bed frame with 4 horizontal bars. In hindsight, it would have been a better idea to use 6-8 horizontal bars to improve structural integrity and weight distribution.
On the underside of the frame, we attached a sheet of plywood and the same planks we used on our ceiling. We used 1×4 pine slats on the ceiling of the rest of our van so we continued the design here.
On the top of the frame, we attached a sheet of pegboard. Pegboard is lightweight and the pre-drilled holes allow for air circulation under our mattress. We used t-slot nuts to attach the pegboard to the bed frame. They fit perfectly into the 80/20 aluminum.
Finally, we attached the eye bolts to the frame where the turnbuckles will connect with the bed.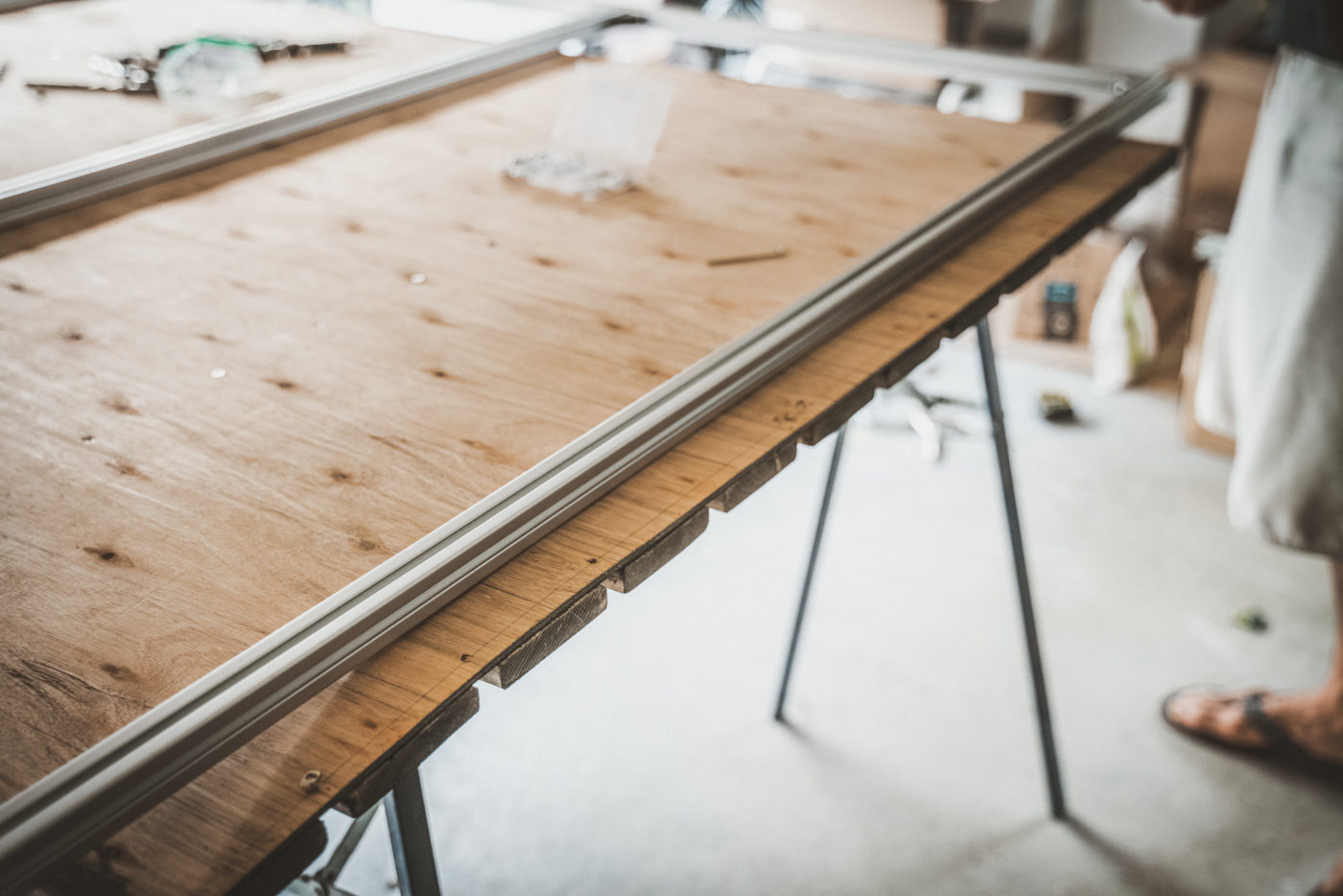 4. Install the winch
We bolted an ATV winch as our electric bed lift to the side of the van's wall using our existing L track system. If you don't already have an L track system, you'll need to install one. Then, taking note of the fuses and wire gauge you'll need, hook the winch up to your electrical setup. If you don't want to bring electricity into the mix, you can always use a manual hand crank.
5. Test the build
Take your elevator bed mechanism for a spin and push the up/down button on your winch. In the event of power failure, checking all the fuses on your winch is a good place to start. Once the motorized bed lifts are up and running, play around with the turnbuckle/eye bolt placement so the bed position is centered. Make sure it's not swinging to one side or another when you lift and lower it.
6. Secure the bed
Once testing is complete, your retractable ceiling bed is good to go! For additional security, we added more rope to ease the strain on the winch and to further protect the bed during bumpy rides. We looped tie-down straps through the beams of the van and attached heavy-duty carabiners to the ends. When the bed is up, we secure it by looping the carabiners through.
Tips for a Successful Van Conversion Elevator Bed Build
Choose a winch with a synthetic rope to minimize the noise when raising and lowering the bed.

Some winches can be very noisy. We built a soundproof box with pine plywood and

soundproofing foam

to muffle the noise.

Install the rope mechanism before you finish the ceiling.

Make your bed a suitable size for the dimensions of your van. Remember that in a Sprinter, the width of the van is smaller at the top than in the middle. This meant that our bed size was limited by the width of our ceiling.

Ensure that you have built something secure for the bed to rest on when it is lowered down. We recommend cabinets on both sides of the van to create a raised platform bed effect with lots of storage.
How Much Does it Cost to Build a DIY Elevator Bed?
In total, our elevator bed price was CA$692.46 (approximately US$545 for our American friends). See the full cost breakdown below:
Wood
Plywood + wooden slats – $141.00
Pegboard – $33.89
Hardware
Pulleys + screws – $231.94
Turnbuckles + eye hooks – $41.42
Ropes – $83.48
Winch + bolts – $138.74
Soundproofing foam – $21.99
Total – CA$692.46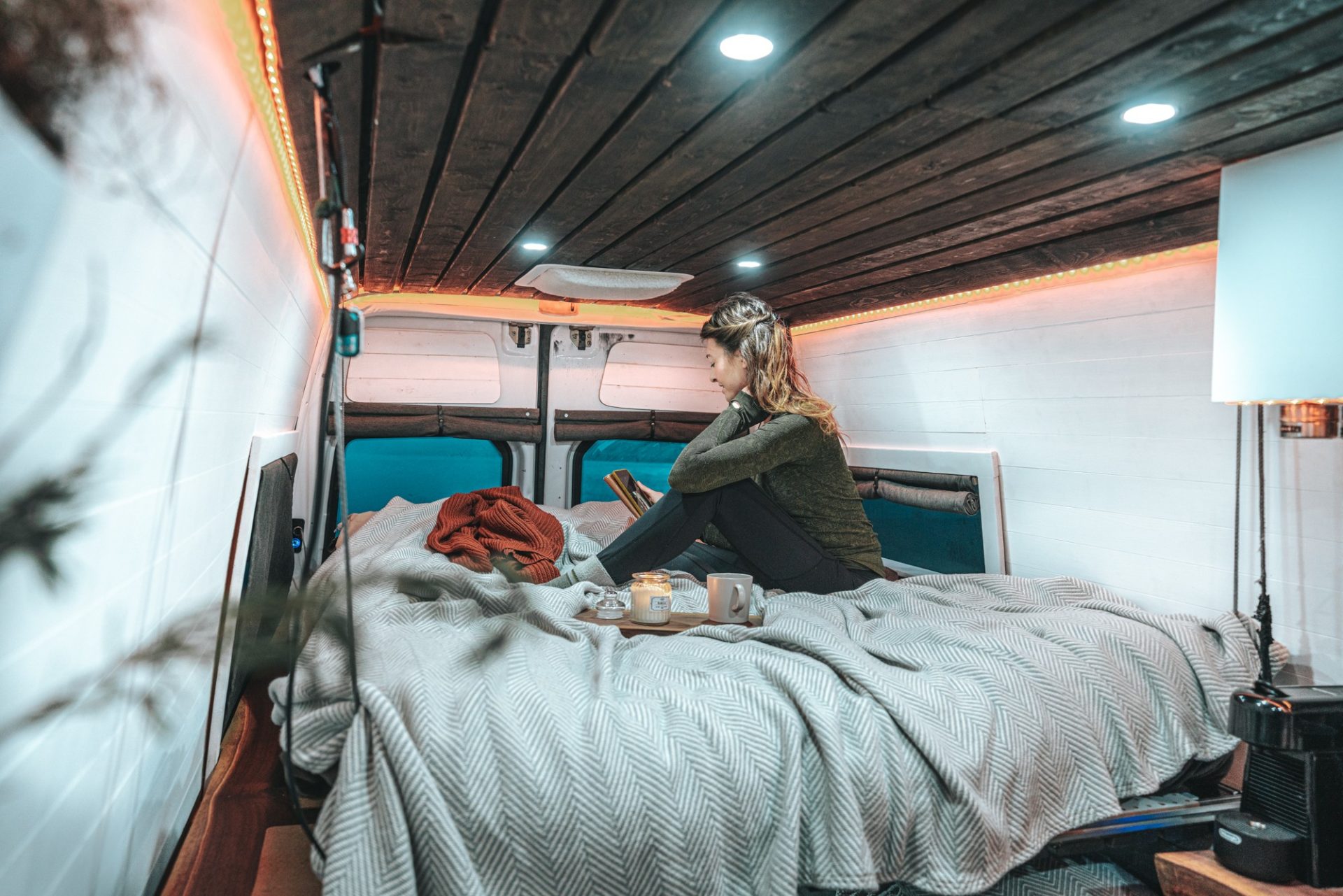 All in all, we're super happy with our DIY elevator bed. RV electric beds that can be raised and lowered open up lots of extra living space in a van or tiny house. They're a great alternative to loft beds that require a ladder or a convertible dinette that needs to be put together every day. Hopefully, this information will help you create the bed elevator of your dreams!
Do you have any questions about this installation? Have you installed a space-saving bed in your van or tiny house and have tips to share? Leave a comment below!