Downsizing from an apartment or a house into a camper van doesn't mean you have to sacrifice all of your comforts and conveniences. We learned this first hand while living in our van, Benji, full time. Over the last few months, we've taken the time to find the best van life accessories! Thanks to these essentials, we have turned Benji from a regular campervan to a comfortable and cozy tiny home on wheels.
*This post may contain affiliate links, as a result, we may receive a small commission (at no extra cost to you) on any bookings/purchases you make through the links in this post. As an Amazon Associate, we earn from qualifying purchases. Read our full disclosure
We knew we wanted our van to be as functional and homey as possible so we were very thoughtful about each and every item that earned its place in our cupboards.
To help you in figuring out what you need in your van, we've put together this list of the 52 best van life essentials that make van living easier.
Van Life Kitchen Essentials
Here are all of the van life kitchen essentials that make our camper van, Benji, into a mobile kitchen that even a traveling chef would enjoy.
Instead of fussing with propane, we skipped the camp stove and went for a super speedy induction cooktop. It heats up quickly and is easy to tuck away when we're not using it because it's so compact. This is perfect campervan equipment because it's energy-efficient and is much safer to run in a small space than gas.
Traveling Soon?

Here is a list of our favourite travel providers and accessories to help get you ready for your upcoming trip!
This 2.2 cubic feet RV fridge is surprisingly spacious and runs on DC power directly off our batteries. It only draws 40W, which is amazing considering it has a small freezer compartment too. The black exterior looks sleek and modern and we never have to worry about propane or ammonia as you do with traditional RV fridges.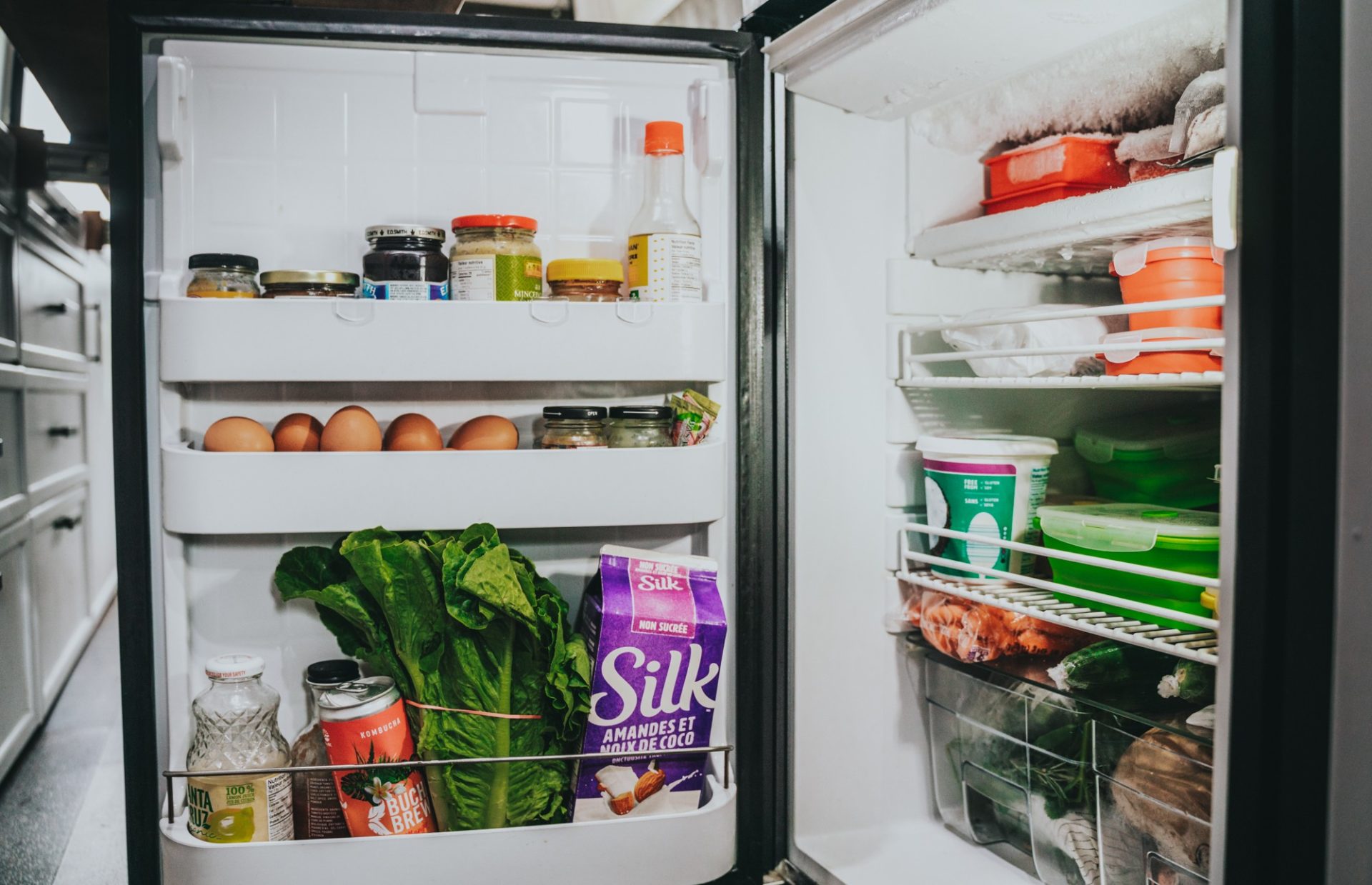 A toaster oven is a super versatile van life essential that'll have you covered for breakfast, lunch, and dinner. We use it every morning to make toast and it's the perfect van-sized oven to roast veggies, bake pizza, and even bake dessert! We pack ours away into the cupboard when we're not using it. It's also electric and runs off the same circuit as the rest of our appliances.
This isn't just an espresso machine, but a coffee machine and a kettle all-in-one. The best thing about it is that it boils water in 30 seconds, so it's perfect for tea and for boiling water for cooking without the need for a kettle. Tea lovers and lazy chef's dream! And, it's pretty good at making fancy coffee too 😉
Our Hydro Flasks are our go-to when we want to keep our tea hot on a cold day or bring ice-cold water on a hike. We never have to worry about leakage and the bottles are easy to carry around wherever we go. They come in lots of different sizes and cute colours too!
When you're living in a van, counter space is prime real estate. Vanlife products that give items a spot to live without taking up counter space, like this wall mounted paper towel holder, are super helpful. The best part about this one is that it has a ratchet system so you can tear off paper towels easily with one hand.
Another great way to free up counter space is with these wall-mounted kitchen baskets. They're perfect for storing fruit to prevent bouncing and bruising while we're driving. They also look nice and modern so you can put them anywhere. We use 2 of these on our kitchen wall and another one under our sink for storage.
These non-slip silicone placemats are great for protecting our table and countertops from hot pots and pans. They're washable and roll up nicely to pack away into the cupboard.
These wheat straw bowls are a triple threat: they look nice, they're good for the environment, and they're unbreakable. The wheat straw material is an amazing alternative to plastic but is just as durable and lightweight. These are perfect for bumpy rides and can withstand all the bumps that come with backroad driving and life in a van.
Just like the bowls, these wheat straw plates are an eco-friendly alternative to plastic dishware. They're versatile, durable, and look nice too. Definitely add these to your car living essentials packing list!
With limited space, having van life gear that can collapse down to lay flat and tuck away when you're not using it is really helpful. These collapsible food storage containers are made of silicone so they're durable and non-toxic. The four different sizes are great for storing our leftovers! They're easy to clean and easy to store. We have 8 of them!
Finding a compost bin that's compact and blocks odours well was really important in completing our van life kitchen. This slim 4-litre compost bin is the perfect solution. It has an air vent and comes with a mounting bracket so it can be secured while driving and not take up counter space. We've never had a problem with compost smells of leaks, so it's been a perfect solution for our kitchen.
We love this collapsible trash can that can hook onto any cupboard door and be completely flattened and out of the way when we're not using it. It's small enough to not be bulky but big enough to handle whatever garbage we create on a daily basis (we try to live low waste, but we are not zero waste yet!). This should be included on any list of campervan essentials.
We lined our drawers and cabinets with this self-adhesive cork liner that looks great and helps keep things in place when we're on the road. We love the look of cork and the fact that it's an environmentally friendly renewable material.
Anything that creates more space in your tiny cupboards is on the van life essentials list for us. These adjustable cabinet shelves are an easy solution for adding shelf space to our cabinets. We use these for our toiletry cabinet, but they can be used for any kitchen/bathroom storage.
An expandable drawer organizer is the best way to store your cutlery. It keeps ours neat and organized. We love this eco-friendly bamboo tray because it's versatile and looks great too.
Magnetic spice containers are perfect van life accessories for storing spices and other small bulk items. They offer an easy way to free up storage space and reduce your waste from unnecessary packaging. We buy our spices and dry goods in bulk. This set also comes with pre-made labels so you can keep everything nice and organized.
This durable and easy-to-clean quartz sink makes our kitchen look sleek and modern and can hold up to the wear and tear of van living. It's the perfect size for washing our hands and dishes without taking up too much counter space.
This black faucet matches our quartz sink and works just like a regular home faucet. It has a sprayer that you can pull out and a button for a convenient switch between spray or stream mode—perfect for a quick sink shower to rinse off shoes or sandy feet. The faucet swivels so you can make the most of all the space in your sink, which van lifers know is a huge perk.
Everyone knows that cooking is made a lot easier when you have the right tools. This Damascus steel knife is a great versatile tool that makes meal prepping a breeze. It's hand-forged, super sharp, and feels secure and comfortable in your hand.
Having a functional van kitchen means that we can't have knives that dull easily since it's not practical to carry a knife sharpener. We opted for more expensive ceramic knives to ensure that we always have sharp blades that are durable and rustproof.
Silicone utensils are a great alternative to metal or plastic because they're durable, they won't scratch your pots and pans, and they're easy to clean. The handles won't heat up while you're cooking and cleaning is as simple as wiping them down with soap and water.
Essentials for Van Life: Water System
Having a functional water system and good plumbing is a big part of feeling like you're living in a home and not just a vehicle. These water system components are excellent for van camping equipment.
High on our van life essentials list is an on-demand electric water heater. Having hot water whenever we need it has been fantastic for cold days and for washing up properly. This mini 4-gallon water heater is easy to install and heats up in just 20 mins. It is a bit of a power hog, it uses on average 50-100A of power with every use, but since we have plenty of juice in our batteries, it's one of the best van life accessories we have!
Having a tank filler allows us to fill up our freshwater tank super fast and without worrying about any backflow in the line. This Camco filler has a shut-off valve so we can control the flow of water and be able to turn it off once the tank is full without having to run over to quickly turn the hose off.
This spring hose saves space by retracting into a small coil but extends to be very long when we need the extra reach. It's super handy for being able to get water wherever we are without having to worry about storing a bulky hose.
Having a water filter system was a must for us since we fill up freshwater from lots of different sources that all have different chemical and mineral content. With a filter, we know that our water is clean and free of any traces of chemicals like chlorine and lead.
One of the best accessories for van life is this great personal filter straw. Using carbon media, the straw filters out 99.9% of bacteria and other pathogens in the water, eliminating the need to buy bottles water. The Filter Straw can be used as a straw on its own or with the included filter bag – a perfect way to make sure you never have to worry about water safety again!
Camper Van Bedroom & Living Area Essentials
Having a comfortable bed and sitting area are van life essentials that make sleeping, hanging out, and going on a road trip much more enjoyable.
Installing a Scopema Swivel Seat in our Sprinter was a GAME CHANGER, as it allowed us to create additional seating space inside the van when our elevator bed was down. The Swivel Seat allows you to rotate your driver or passenger side (or both) seats to face the back of the van when the van is not in motion. We got a passenger-side Scopema swivel seat designed specifically for our 2008 Sprinter from The Swivel Shop. Getting the right swivel for our van made for super easy installation and ease of use.
To make our mattress, we used this 4-inch gel memory foam topper that is much denser and more body-conforming than regular foam. The gel memory foam is an amazing temperature regulator and it supports your body nicely. Our bed is now so comfortable, we would choose it over any most hotel beds – how many van lifers can say that?
Topping our mattress with this additional 2" topper makes our bed super comfy. We bought a king-size, cut it to fit our queen size bed, and used the leftover pieces to make cushions for our front seats. Long drives are now super comfortable too!
We love these bamboo drawer dividers for keeping our clothing drawers tidy and organized. These ones are awesome because they're made of eco-friendly bamboo and they're adjustable so they can fit in any drawer.
Safety & Automotive Essentials
In addition to all of your living and cooking needs, some of the most important things on your van life packing list are your safety and automotive gear.
Being prepared for whatever comes your way is a big part of living on the road. This kit comes with a portable air compressor, tow ropes, and a first aid kit among many other useful things and gives us peace of mind.
This portable fire extinguisher is a lightweight aerosol can that's easy to use and takes up very little space in our van. It's the perfect option to keep in a car or van to protect yourself and your vehicle in the event of a fire.
A carbon monoxide and smoke detector are camper van essentials that no van is complete without. We have a battery-powered alarm so we don't need to worry about wiring and can feel safe with this 2-in-1 detector. A carbon monoxide detector is especially important if you have any camping van equipment that uses propane.
A pair of snow tire chains are great to have on your camper essentials list if you're ever in high-elevation or snowy areas. We're traveling in Canada so having tire chains is a given and is actually required for winter driving in British Columbia.
A set of reliable booster cables are van life necessities that you'll probably need at some point—even if it's to help someone else out. These are must-haves for any road trip or van life adventure.
When it comes to van accessories for camping or any other outdoor adventure, a folding shovel is a handy tool to have. You can use it to shovel dirt or snow or take it with you when duty calls in the woods. This shovel is foldable so it's portable and easy to carry.
Essentials for Electronics & Van Life Gadgets
Although living in a van is all about living simply, having some nifty van life tech makes the experience that much more enjoyable.
Whether we're sitting by the fire, hanging out at the beach or just relaxing inside our van, this waterproof outdoor Bluetooth speaker is an awesome device to make sure we can listen to music or podcasts wherever we go. It's durable for outdoor use and the battery lasts a long time between charges.
Having your cell phone mounted in a sturdy location that allows you to use GPS while you're on the road is super handy. This mount slides onto your air vents and holds your phone securely without having to fuss with suction cups or other mounts.
WiFi Range Extender
Being able to work from our van wherever we are is an important part of our lifestyle. One of our top van life essentials is this WiFi range extender that boosts wifi signal reliability. It's easy to set up works whether we're at a campground with a weak signal, or in a Walmart parking lot.
Between our laptops, camera equipment, phones and iPad, we have a ton of electronics that need to stay charged. Our van is outfitted with not one, not two but 5(!!!) of these outlets and socket charges. There is one in every corner of the van and a few in our electronic drawers.
These dimmable LED lights serve as the main lighting source inside our van. They offer cool or warm lighting and are ideal for a work setting or relaxing evening. There are 10 brightness levels controlled by a remote so we can match the light to our mood and control them from anywhere.
We love how versatile these LED strip lights are with a million different colours for every mood. They're programmable to turn on and off when we want and can be controlled with the click of a button from the remote or on our phones.
We use these magnetic lights inside of our cabinets to give more light. They're motion activated and can be recharged via USB, so no need for batteries. Plus, we can stick them on the side of our van and give ourselves light outside while camping!
Van Life Power Essentials
Our solar system is the key to renewable energy while living in a van. Here is what we've got.
A solar kit has everything you need to get started and take the guesswork out of putting together your electrical system. We bought all the pieces separately at a local solar distributor in Canada, but 3 of these would be is the equivalent of our solar setup. The kit comes with solar panels, a charge controller, and the wiring and mounting brackets you'll need to connect to your batteries.
Along with the solar panels, your batteries are some of the most important components of an off-grid solar setup. We purchased our four lithium-ion batteries from a local supplier but these are very similar to the ones we have.
An inverter is essential for turning the DC power from your batteries into AC power for your appliances. This inverter is pretty quiet and gives us clean, pure sine wave power for all of our electrical needs.
Camper Van Comfort Essentials
Adjusting to different temperatures and climates is all part of a traveling lifestyle. These van life essentials will help you stay comfortable along the way.
Traveling in Canada means we need a powerful heater to keep us warm in the winter. This diesel heater is a Webasto alternative for a fraction of the price that definitely delivers. It keeps us warm and cozy even at -20°C and creates dry heat, unlike propane furnaces like a Mr. Heater.
Having an exhaust fan is important for van lifers to prevent excess moisture and condensation. This dome exhaust fan works great in the bathroom to draw out moisture from the shower and keep our van mould-free.
We have two of these 2-way fans that create great air circulation and help to regulate temperatures when it's hot out. Airflow is key in preventing excess moisture, especially when you're cooking or boiling water. We have one over our bed and one in the kitchen.
An air conditioner wasn't originally on our list of camping van accessories, but after spending 2 hot summers adventuring around Canada, we learned that it was a must-add! We did a whole lot of research to find the best AC for vanlife and found ZeroBreeze Mark II – a portable AC perfect for our set-up.
The Zero Breeze Mark II barely uses any power and can cool our entire sleeping area in a matter of minutes. It's great for those sticky hot days when the fan just doesn't cut it. Plus, it's completely portable so you can use it anywhere. ZeroBreeze Mark II is a real air-conditioner with a built-in 24V adaptive frequency micro compressor. It doesn't require ice or water and runs on AC power when plugged into our power supply in the van, but it can also run off battery for 3-5 hours of portable usage.
Bathroom & Cleaning Van Life Essentials
Having a toilet on board is essential for any van lifer. We started our van life journey with a portable toilet on board but hated how smelly it got after just a few uses. We looked at a number of composting toilet solutions, but eventually, decided on the Separett Waterless Toilet. And honestly, we LOVE IT! The separate is a unique toilet solution for the van, as it uses no water, no chemicals and no composting yet keeps our bathroom smelling fresh even after a whole week of use.
The Separett Waterless Toilet is designed with 2 compartments, one for liquids and one for solids. Both compartments are kept shut when not in use so there is no odour and no messy clean-up either. There is a light that indicates when the liquids need to be emptied. The liquid container is easy to pull out and dump into any sani station or regular toilet (no harmful chemicals inside so it's completely safe to dump into any sewer). The solids, along with toilet paper, can be dumped into a composting bin, similarly to a doggy doo-doo bag. Easy and mess free!
It's one of our must-have items for vanlife and if you're in Canada, you can purchase one through a Canadian distributor, Canadian Eco Products. Trust us, it's a worthy addition to your packing list! Van life products like these make living on the road comfortable and convenient.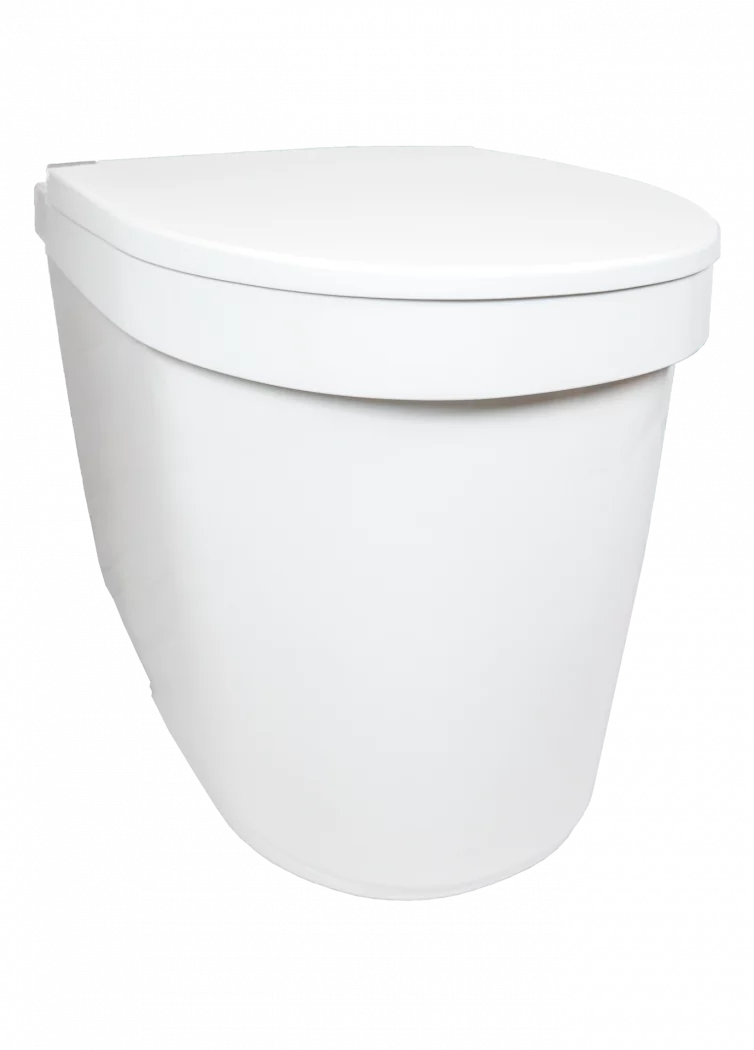 Laundry days mean limited drying space so we use this portable hanging drying rack that can hook on anywhere. It's great for smaller items like socks and can tuck away easily when we're not using it.
A handheld vacuum is one of the van living essentials that we use way more than we'd ever think! It's lightweight and portable while still being powerful enough to keep our bed and floors clean after a muddy hike or a messy day in the kitchen.
If you haven't heard of Dr. Bronner's Pure Castile Soap, you're totally missing out. This is an all-in-one solution for washing dishes, body wash, shampoo, detergent, etc. It cuts grease and dirt even in cold water and it's biodegradable, making it one of our top van camping essentials.
These items have all helped to make van living easier and more comfortable for us as we travel the country in our campervan. We hope this list of the 52 best van life essentials helps you start planning your packing list once you've gone through the exciting process of choosing your van (link to van conversion article) so you can hit the road and start your adventure!
What are your must-have items for van life?