Diverse wildlife, stunning landscapes, and rich cultural heritage – this is Kenya, a destination that's long been on our travel wish list. Located in East Africa, Kenya boastst many landscapes, from the snow-capped peaks of Mount Kenya to the semi-arid savannahs of the Maasai Mara and the tropical forests of the coast.
*This post may contain affiliate links, as a result, we may receive a small commission (at no extra cost to you) on any bookings/purchases you make through the links in this post. As an Amazon Associate, we earn from qualifying purchases. Read our full disclosure
While there are plenty of reasons to visit Kenya, most visitors, us included, come here to admire the country's diverse wildlife. With over 50 National Parks and Nature Reserves, plus over 100 community conservancies focused on wildlife conservation, Kenya is often considered to be one of the best destinations for a classic safari in Africa. After many trips to Africa and safari in destinations like the Serengeti National Park in Tanzania, Kruger National Park in South Africa and Chobe River in Botswana, we were curious to find out if Kenya's Maasai Mara would live up to its hype.
Planning a trip to Kenya always seemed like a big undertaking. Our knowledge of the country was limited, and the idea of organizing a self-guided trip felt like a daunting task. Enter Alluring Africa.
Traveling Soon?

Here is a list of our favourite travel providers and accessories to help get you ready for your upcoming trip!
About Alluring Africa
Alluring Africa is an award-winning safari outfitter offering bespoke safari experiences to some of the most beautiful and remote parts of Africa. The company prides itself on putting together personalized experiences and unique trips with custom itineraries for trips all around the continent.
We immediately fell in love with Alluring Africa's take to trip planning – a holistic approach focused on delivering a trip customized to your needs and wishes. We didn't need a lot of convincing – it felt like the perfect company to design our first Kenya safari!
---
Could Alluring Africa travel experts wow us with a unique Kenya adventure? Only time would tell!
---
We armed them with our Kenya wish list: an abundance of wildlife action, comfortable accommodation and a sustainable travel itinerary for a bite-size taste of Kenya. The result? An 8-day Kenya Safari in partnership with Governors Camps that surpassed all of our expectations! And the best part of it all – we didn't have to lift a finger in coordinating or planning the trip – we simply showed up at the airport ready to enjoy our Kenyan safari!
About Governors Camps
Our Kenya Safari itinerary was created in collaboration with Governors' Camps, a long-term partner of Alluring Africa, operating in Kenya since 1972.
Governors Camps collection features six camps and lodges located in some of the most breathtaking wildlife reserves in the country, including the Masai Mara, Laikipia, and the Great Rift Valley.
Known for its luxury Kenya safaris, exceptional service, unforgettable wildlife experiences, and strong commitment to sustainable operations and conservation initiatives, Governors Camps turned out to be the perfect accommodation group for our Kenyan safari.
Their award-winning properties offered the perfect combination of the natural beauty of Kenya while providing all the modern amenities and comforts.
For those looking to replicate our Kenya safari itinerary or pick up some inspiration from our trip, here is a day-by-day account of our time in Kenya.
Our 8-Day Kenya Safari Itinerary by Alluring Africa
Day 1 – Arrival in Nairobi
We arrived in Nairobi and were welcomed by the Governors Camp representative. After a quick stop for tea at a nearby hotel, we began our trip to our first accommodation – Governor's Loldia House. The transfer took 2 hours, but the journey was comfortable, and we were able to enjoy the scenic views of the countryside as we made our way to our destination.
Where We Stayed: Governor's Loldia House
Loldia House is a historic farmhouse set on the shores of Lake Naivasha, a freshwater lake in the Great Rift Valley. The lake is home to many different types of wildlife and is considered to be a birdwatcher's paradise, with over 400 migratory and indigenous bird species.
We were immediately struck by the serene beauty of Loldia House. The house features a mix of accommodations, including rooms in the main farmhouse or in one of the charming guest cottages onsite. There is an onsite infinity pool and beautiful gardens with plenty of indigenous plants and birdlife.
Our room at Loldia House was spacious and tastefully decorated, featuring beautiful antique furnishings, hardwood floors, and ornate rugs, adding to the ambiance. Despite its traditional decor, the room had all the modern amenities we needed for a comfortable stay, including a spacious en suite bathroom with delicate details and a tub that oozed charm and ultimate relaxation.
After settling in, we indulged in some pampering with a massage at the onsite spa – exactly what we needed after a long overnight flight to Kenya.
We spent hours relaxing on the verandah and admiring the stunning views of Lake Naivasha while enjoying a delicious lunch. And as the sun set, we joined our guide Gidian, for an afternoon safari game drive and sundowner at Lake Naivasha. It was our first peak at the wildlife in Kenya, and we were impressed to spot hippos, zebras, warthogs, and various antelope species such as impalas and waterbucks.
We ended the day with a lovely dinner at Loldia House, crafted with our dietary preferences in mind. With satisfied appetites and very tired bodies, we collapsed in our bed, ready for the adventures that awaited us in the days to come.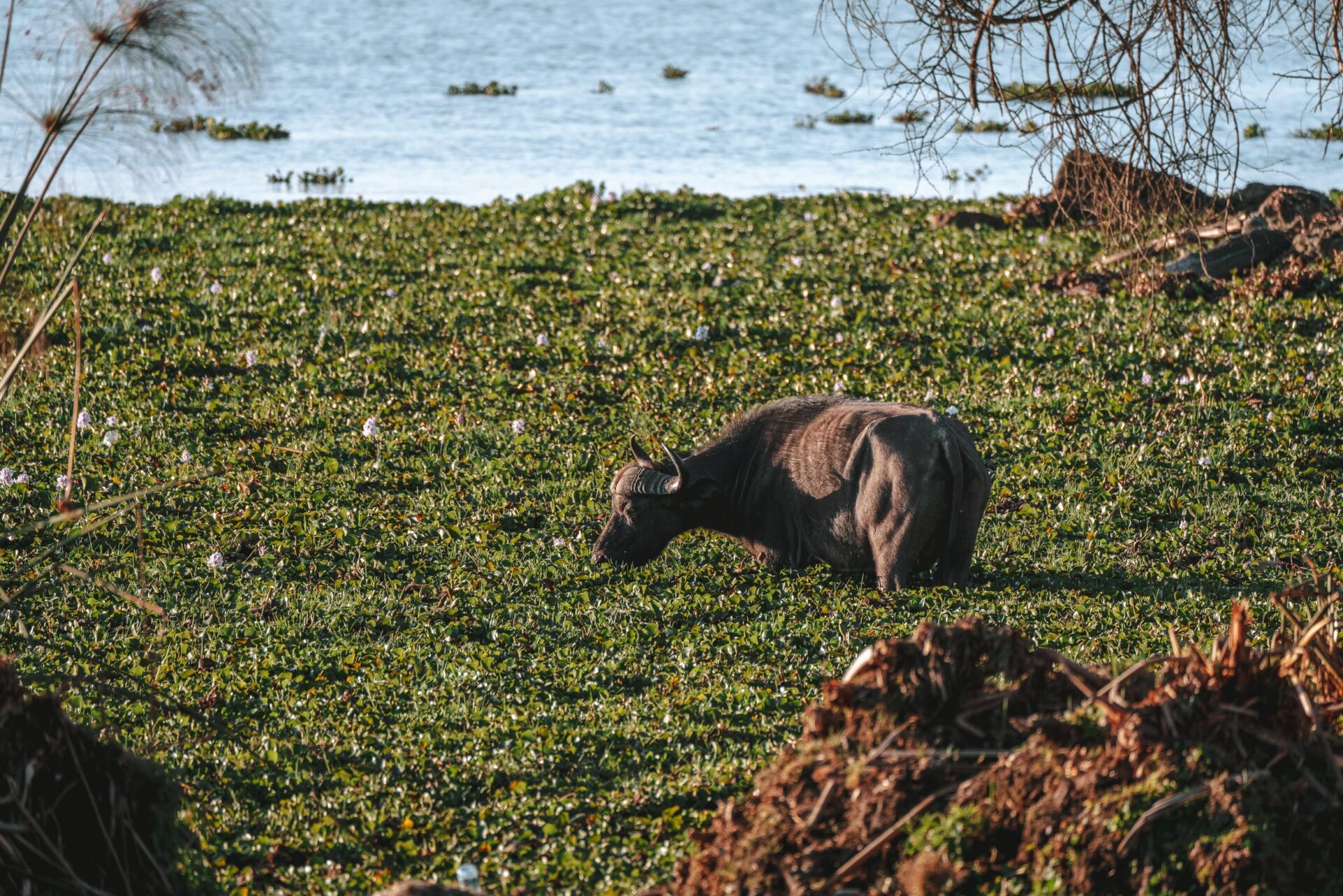 Day 2: Lake Nakuru National Park
On day two of our Kenya safari, we departed early for a day trip to Lake Nakuru National Park, a UNESCO World Heritage Site located about 2 hours by car from Loldia House. This is a common day trip for Kenya safari tours organized by Governors Camps.
Lake Nakuru National Park is one of Kenya's smaller National Parks, first created in 1957 as a sanctuary for birds, mainly flamingos. In 1977, it was declared a sanctuary for Rothschild's giraffes, which are critically endangered. The park is abundant with a wide variety of wildlife, including white rhinos, leopards, lions, hippos, impalas, waterbucks, over 450 bird species, and millions of Great and Lesser Flamingoes.
We were fortunate to see many of these incredible creatures on our visit and were particularly in awe of the pink-hued flamingos gathered against the lake's brilliant blue waters.
A picnic in the park offered us an opportunity to extend our visit and to snap some great photos of the Colobus monkeys playing in the trees above.
Upon returning to Loldia House, we had a few hours to relax, grab dinner and set off on a night drive around Lake Naivasha. It's not common to experience a night safari, so we jumped on the opportunity and were awarded with incredible sightings of hippos and hyenas, making for a very unique ending to our stay in Loldia House.
Day 3: Lake Naivasha to Mugie Conservancy
On Day 3 of our Kenyan safari, we spent a beautiful morning on a boat tour on Lake Naivasha. The light was perfect as we made our way around the lake in search of birds and other wildlife. The watched fishermen cast their nets into the lake and fish eagles swooping in to snatch the fish from right under their nose. It was a peaceful and relaxing way to experience a different type of safari in Kenya.
After breakfast, we said good bye to Loldia House and embarked on a 3-4 hour drive to our next destination – Mugie Conservancy. The drive was long, but the time flew by – we were captivated by the vibrant and diverse daily life of rural Kenya outside of our windows.
Where We Stayed: Governor's Mugie House
Upon arriving at Governor Mugie House, the newest addition to the Governors' Camp Collection, we were immediately taken aback by the lodge's beautiful luxurious setting. Situated on a hill, the Mugie House provides stunning views of the Laikipia plains, Mt. Kenya, and a watering hole that attracts wildlife. The main house features sitting areas, an infinity pool, and a dining area.
Despite visiting in the high season, the lodge wasn't too busy, and we were treated to an upgrade to their stunning Honeymoon Pool Suite. The suite offered breathtaking views across the Laikipia plains and a luxurious private pool featuring floor-to-ceiling windows, a luxurious copper freestanding bathtub, an en-suite bathroom, and an open log fireplace.
It was a dreamy room, and we immediately regretted not staying here for 3 nights!
But while the accommodation was incredible, the Mugie Conservancy and its wildlife was just as impressive.
This 49,000-acre wildlife conservancy is located on the northwest edge of Laikipia and includes 22,000 acres of sanctuary for wildlife, a 156-acre lake, and a golf course. The conservancy is home to the northern endemic species such as Grevy's zebra, reticulated giraffe, Jackson's hartebeest, as well as elephants, lions, leopards, cheetahs, hyenas, and more. The conservancy is also home to several bird species, including the Somali ostrich, African fish eagle, and vultures.
That afternoon, our first game drive allowed us to see some of Mugie's more common animals and a more rare striped hyena!
Back at Mugie House, the staff prepared us a delicious dinner. We were beyond impressed by the creativity of the menu at Mugie and excited to find out that many of the ingredients, particularly the vegetables were all sourced from the onsite garden.
Day 4: Full day at Mugie Conservancy
Day 4 was a busy day on our safari in Kenya, as we spent the day exploring Mugie Conservancy. Our morning game drive included a surprise breakfast in the bush, which was a delightful way to start the day.
After breakfast, we visited the Mugie Conservancy anti-poaching unit, where we met the resident bloodhound dogs and took part in a unique demonstration of their poacher-tracking skills. An impressive hunt!
From there, we traveled to meet Tala the giraffe, an orphaned rescued giraffe who calls Mugie her home. Tala was brought to the conservancy at just a few days old by a local herder and cared for the staff at the Mugie Conservancy. Due to her unique upbringing, she wasn't able to return to the wild. Now eight years old, Tala roams the conservancy freely but often returns to her chosen 'home' at the Mugie headquarters. We were lucky enough to meet this gentle giant and were in awe of her towering presence and super long, sticky-icky tongue.
Back at the lodge, we indulged in a delicious lunch with a wide variety of delicious dishes, including excellent low-carb vegetarian options. The chef really took our dietary needs to heart!
After a relaxing break in our rooms, we embarked on an afternoon game drive in search of lions, using Mugie researchers' antenna to track their movements. It was a fascinating exercise offering an insight into wildlife conservation at Mugie and a fun game-like approach to finding the elusive cats!
We returned to the lodge just in time for sunset drinks and another incredible dinner.
That evening, we embarked on a night drive and had the rare opportunity to observe the incredible night sky filled with millions of stars. The highlight of the day was spotting the elusive striped hyena and aardvark. An unforgettable day of wildlife sightings, education, and relaxation at Mugie Conservancy.
Day 5: Mugie Conservancy to Masai Mara
Our 5th day of this amazing Kenya safari adventure began with an early wake-up call. We packed up our bags and said goodbye to the beautiful Mugie House, taking breakfast to go en route to the airstrip. It was time for our flight to the magical Masai Mara!
We squeezed in a game drive en route to the Loisaba airstrip, arriving just in time to hop into a tiny Cessna plane for our journey to the Mara. The flight, operated by Governor's Aviation, was incredibly scenic, providing an intimate flying experience and stunning vistas of rolling hills, vast grasslands, and distant mountains. We were grateful to the team at Mugie House for transferring our big luggage to Nairobi, as it couldn't be taken on the Cessna plane.
We were so excited to arrive at the Masai Mara National Reserve. It's been our dream to come here for many years.
The anticipation of the next 3 days in one of the most incredible wildlife places in the world had us giddy with excitement.
The Maasai Mara National Reserve, established in 1961 as a wildlife sanctuary, started as 520 sq km but now stands at 1510 sq km and has been converted to a game reserve. The Masai Mara is famous for the annual Great Migration of millions of wildebeest across the Mara River, which is a magnificent sight to behold.
The rest of the year, Masai Mara is still one of the most impressive and abundant wildlife spots in Africa, home to the Big Five: lion, leopard, African elephant, Cape buffalo, and black rhino, as well as many other large predators: cheetahs, hyenas, jackals, wild dogs, grazing animals, herbivores, primates, reptiles and birds.
Where We Stayed: Little Governors Camp
Little Governors Camp, located on the edge of the Masai Mara National Reserve, was unlike any other accommodation we had experienced so far. It was the complete opposite of Mugie House – down to earth and in nature, exactly what you would expect from tented camps in the Mara. .
The camp consisted of 17 luxury tents situated around a large marsh filled with birdlife. The tents were basic, in line with a more typical Kenya camping safari experience, but comfortable and outfitted with everything we needed for a great stay. Our tent had an ensuite bathroom with running hot and cold water, showers, and flush toilets. There was a wooden deck and veranda for wildlife viewing, allowing us to watch wildlife without leaving our tents. At night, we'd hear the hippos munching on the grass right outside of our tent walls, and during the days, vervet monkeys frequented the nearby trees.
The common area at Little Governors consisted of a large tent and a spacious deck overlooking the marsh. The tent housed a sitting area, as well as a restaurant and bar. It was here that we enjoyed our meals and pre/post-dinner drinks.
Eager to jump into a safari vehicle and explore the Mara, we didn't waste much time upon arrival and joined our guide, Jackson, for an early afternoon safari.
"What's on your wish list?" Jackson asked us as we climbed into the safari vehicle.
"Action", we answered in unison. Having been on safari many times before, we weren't interested in just seeing the animals, we wanted to see their life in action. And boy, did Jackson deliver!
That afternoon, he took us to see a pride of lions feasting on a recent buffalo kill. The male lion was fully engrossed in his meal, his face, mane and paws smeared with blood. The rest of the pride stood guard to a cackle of hyenas surrounding the area. The lions growled and hyenas laughed with every attempt to take over the meal. It was an action-packed evening, as we sat in silence, mesmerized by the sounds and sights in front of our eyes.
Day 6: An Action-Packed Day in the Mara
We agreed that Day 6 of our Kenya safari was the single best safari day of our lives! A big statement, we know – but the sightings were really that impressive!
Our early morning game drive started out like any other day on our Kenya safari adventure. Morning tea in hand, our safari vehicle bounced and swayed over the bumpy terrain, carrying us through a dense thicket and into the open grassland of the Masai Mara. The sky lit up in a canvas of orange and pink hues as the sun peeked above the horizon, painting the morning with warm light. Hot air balloons dotted the sky, a ride that's commonly included in Kenya safari packages. We felt a ping of jealousy at their sightings – nothing beats seeing the savannah from above. But a close encounter interrupted our thoughts.
"It's a serval", exclaimed Max grabbing his camera with excitement. A rare and very special sighting. Its distinctively large ears twitched as it silently padded across the savannah, its spotted fur glistening in the soft morning light. Mesmerized by this elusive feline, we sat in awe, watching as it disappeared into the tall grasses, leaving us with a sense of wonder and appreciation for the beauty of the Mara.
Our guide, Jackson, was determined to show us as much action as possible and suggested that we take a long drive to catch a glimpse of a resident cheetah family. After a bit of a drive, we were thrilled to spot a cheetah mom with three sub-adult cubs who appeared to be on the hunt.
After observing them from a distance, we had breakfast nearby, keeping a watchful eye on their movements. When the cheetahs started to move, our guide expertly anticipated their actions and led us to a remarkable sighting – the cheetahs successfully taking down their prey. It was an incredible experience to witness nature in action.
That afternoon, we set off on another game drive to the other side of the river in search of a leopard named Romi, who was known to be with her cub. Jackson had received word that she had made a kill and was resting in a tree with her young cub. The cub was small and obviously really nervous. Jackson admitted that it was the first time this cub had been seen with Romi. The crowd of cars gathered to witness the spectacle was on another level.
We took way too many photos while enjoying this special sighting.
Day 7: Safari in Masai Mara
On Day 7, we rose early to catch the stunning sunrise in the Mara. As we set out on our morning game drive, we were lucky to spot another serval cat as the first light rays illuminated the savannah. Our excitement didn't end there as we heard about a lion pride feasting on an elephant carcass and rushed to see the spectacle. Over 20 lions, including a tiny cub, were devouring the massive animal right before our eyes.
After a hot lunch at the camp, we set out on our afternoon game drive for another search of Romi, the leopard. We drove all around the bushline whe we had seen her the day before, but luck was not on our side. Today, her and her cub were not feeling very friendly.
Despite the quiet wildlife day, we enjoyed a serene sunset overlooking a river. Our day ended with a another delicious dinner at the camp.
Day 8: Masai Mara to Nairobi
Day 8 was our final day in the Mara, and it did not disappoint. We started the morning with another beautiful sunrise, and we were lucky enough to spot yet another serval cat. We couldn't believe that we'd seen 3 of them in our short stay in the Mara!
Then, we returned to check out the lion pride that was feasting on an elephant and found a completely different scene compared to the day before. Hyenas, jackals and vultures have come onto the scene, making inroads to getting their share of the carcass. Little fat lion cub continued to fill his belly, along with a few young males. Eventually, the pride moved on, leaving a frenzy of activity at the carcass.
It was a fun way to end our time in the Mara and a great sighting to cap off our morning!
A few hours later, we found ourselves on another Governor's Aviation plane heading back to Nairobi, where our adventure began a week ago.
Where We Stayed: House of Waine
House of Waine felt like a tranquil retreat away from the hustle and bustle of Nairobi city, an ideal choice for a peaceful and relaxing last night in Kenya. The hotel's lush gardens and serene atmosphere offered the perfect setting to unwind and recharge before a long-haul flight back to North America.
Located in the quiet Karen neighbourhood, this luxury boutique hotel offered 11 bedrooms and a 2-bedroom cottage set on 2.5 acres of beautiful, serene surroundings. Originally the private home of the Waine family, it now blends comfortable living with modern African charm to create a great home base while in Nairobi.
The staff at House of Waine showed us the utmost hospitality during our stay. We were particularly grateful to have an opportunity of late check-out and use the room throughout the day on the day of our departure.
That day, we ventured out to the Kiambethu Tea Farm.
Kiambethu Tea Farm
Kiambethu Tea Farm is a historic and scenic tea estate located about 30 minutes from Nairobi. The farm was originally owned by an English settler family, and has been in operation for over 100 years. Today, it is run by the third and fourth generations of the family. The current farm owner, Fiona, was our knowledgeable and friendly guide. Her deep knowledge and passion for tea was undeniable. We could've spent hours chatting with her about her estate.
During the tour, we learned the history of the farm and the steps involved in tea production, from planting and harvesting the tea leaves.
The chance to eat a freshly made lunch in the gardens while taking in the stunning scenery was one of the tour's highlights. The tea was some of the best we have ever had, the food was fresh, served buffet style with lots of vegan/vegetarian options.
It was the perfect ending to our time in Kenya and exactly what we needed before boarding our flight back to North America.
Final Thoughts
Our 8-day classic safari was a fantastic introduction to Kenya. We were so impressed by the itinerary put together by Alluring Africa and by the incredible wildlife sightings we had during our trip.
We loved visiting the Mara but also enjoyed spending time in lesser-known destinations, like Lake Naivasha and Mugie Conservancy. Our experience meeting Tala, the giraffe, and getting involved with the anti-poaching unit at Mugie offered a real insight into the conservation projects and wildlife management at this great destination. The wildlife action in the Mara was so much more incredible than we could have ever imagined! It really is one of the best destinations in East Africa for wildlife sightings!
The only thing that could have made this Kenyan safari better for us was more time. An extra week would have allowed us to visit some of Kenya's other National Parks and Private Conservancies, like Mt Kenya, Samburu National park, Aberdare National Park, Tsavo East, Amboseli National Park with its iconic view of Mountain Kilimanjaro, Nairobi National Park and the Swahili coast.
We also felt like our trip lacked a bit of a cultural component, as we didn't get a chance to meet the Maasai Warriors or tour any of the Maasai villages.
But that just means we've got a few more reasons to return to Kenya for another visit!
Disclaimer: Big thanks to Alluring Africa and Governor's Camps for organizing our trip and hosting us during our time in Kenya. As always, all opinions expressed in this article are our own, no matter who is footing the bill.