*This post may contain affiliate links, as a result, we may receive a small commission (at no extra cost to you) on any bookings/purchases you make through the links in this post. As an Amazon Associate, I earn from qualifying purchases. Read our full disclosure.
The Greek Islands are long known to be gorgeous and Crete certainly lives up to the reputation. The largest island in Greece, Crete is a wonderland of secluded coves, rolling dunes, and pastel pink sands that look surreal. With over 1,000 km of coastline, beaches on Crete are oozing with natural beauty.
Planning a Trip in the time of COVID?

Keep in mind that information found in this article may have been impacted by travel restrictions and other closures. Double check opening hours, tour providers and hotel status before you go. And don't leave your home without travel insurance! If you are looking for an insurance provider that covers COVID-19, we recommend SafetyWing. Get Medical and Travel Insurance starting at just $40/month and you can sign up even if your trip has already started!
Crete sits in the southern Mediterranean, flanked by the Aegean Sea to the north and the Libyan Sea to the south. Its rich history shines in charming villages and vibrant towns full of seafood taverns and beach bars fit for a glorious beach holiday. Crete has over 100 Blue Flag beaches and a diverse range of seaside scenery.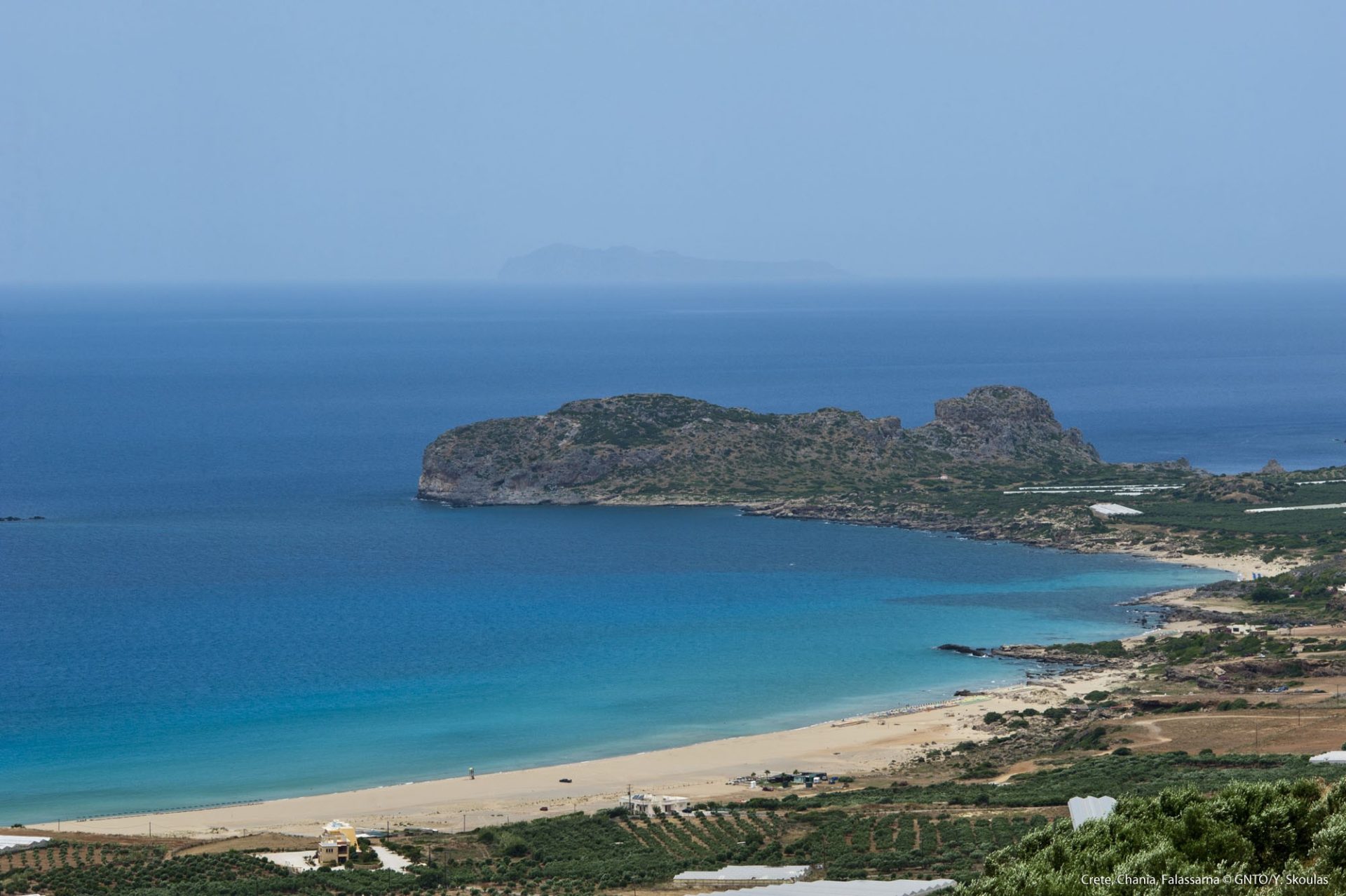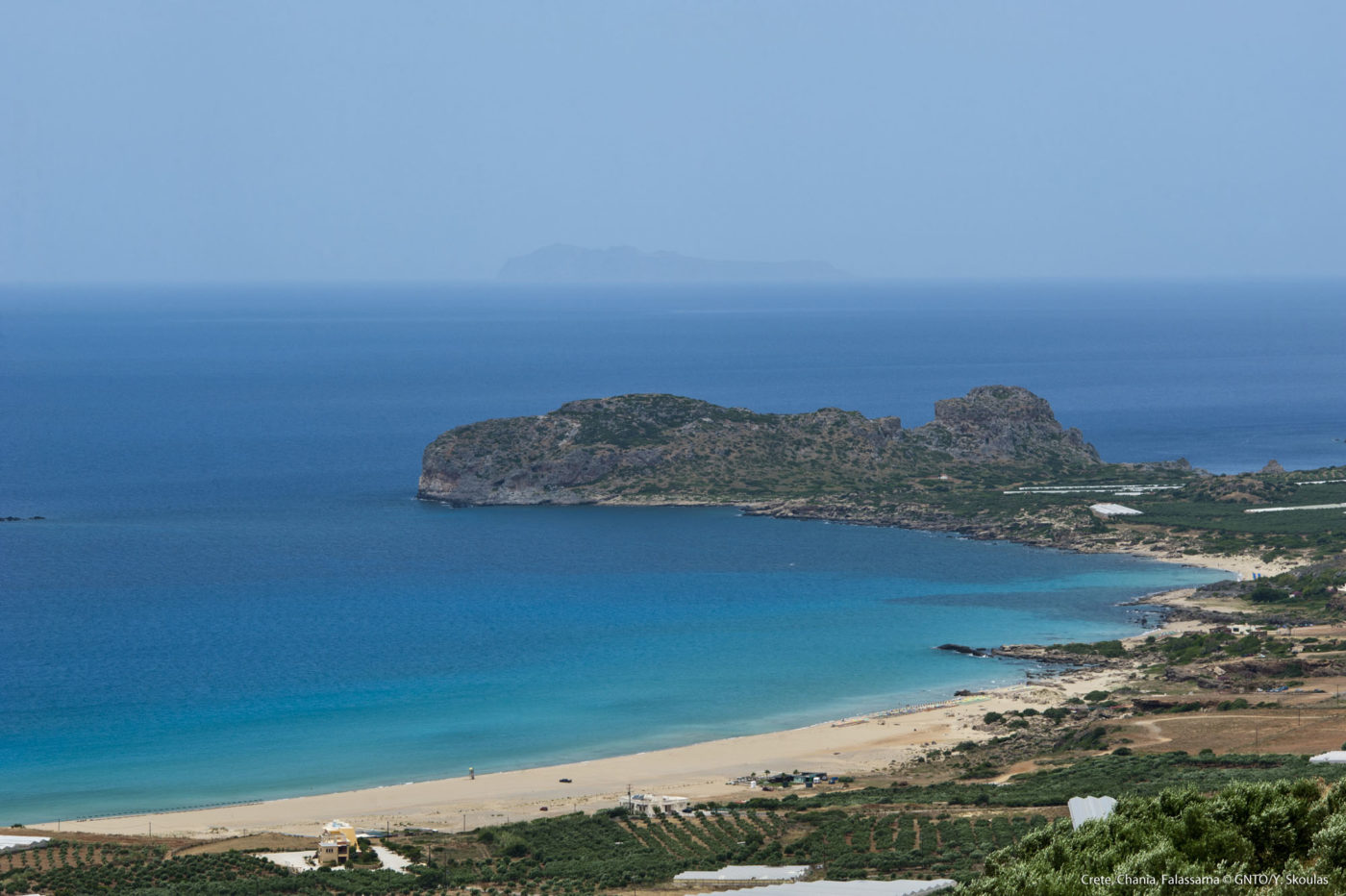 We've narrowed it down to a selection of Crete's finest beaches. So start planning your trip to check out the best beaches in Crete that you have to visit!
Where are the nicest beaches in Crete?
While the Island of Crete has beautiful beaches from coast to coast, the Chania prefecture has some of Crete's nicest beaches. These western Crete beaches are sandy with crystal clear turquoise waters that look straight out of the Caribbean.
Which is the nicest part of Crete?
Much like its beaches, the town of Chania is nothing short of picturesque. It has a charming Old Town filled with Venetian architecture and cobblestone streets. But, we've found that the nicest part of Crete is actually in its smaller, less touristy towns. Matala, for example, is an amazing laidback village with scenic caves and sandy beaches. Likewise, Kissamos is an underrated eco-tourism destination still rich in local traditions.
Best Beaches in Crete
Below are the top beaches of Crete, Greece in order of distance from the capital city of Heraklion.
Stalis Beach
Family friendly: Yes
Pebbled or Sandy: Sandy
Restaurants nearby: Yes
Facilities available: Yes
Reminiscent of the palm trees of Vai Beach, Stalis Beach is a lush retreat near Malia. Stalis, also called Paralia Stalidas, is one of the best beaches in Crete for families. The long sandy beach backed by palm forest has shallow waters that are blissful for swimming and relaxing. In fact, the word stalis actually comes from the Greek word stalizo, meaning "stop for a rest." We will abide!
How To Get To Stalis Beach
Stalis Beach in Stalida is located just east of popular resorts in Hersonissos. From Chania, you'll simply follow route E75 for 2 hours along the coast to reach north east Crete. Better yet, if you're visiting from Heraklion, the drive is only half an hour.
Restaurants, Facilities, and Things to Do at Stalis Beach
Being a resort-style beach, Stalis has every facility that beach goers may need—sunbeds, umbrellas, showers, toilets, and more. Hop onto the beach volleyball court or try your hand at parasailing before lounging under the palm trees. There's also the start of the Bulgarian Trail to Mochos, which boasts stunning views of the Bay of Malia. After your hike, cool down with an ice cream from Maria's Golden Beach.
Potamos Beach
Family friendly: Yes
Pebbled or Sandy: Sandy
Restaurants nearby: Yes
Facilities available: Yes
Tucked away from the crowds of Malia Beach, Potamos Beach is a tranquil place to enjoy the calm waters of Malia Bay. The natural cove is home to wild vegetation and many birds that like to hang out in nearby wetlands.
How To Get To Potamos Beach
Potamos Beach is a 10 minute drive outside of Old Town Malia, which you can walk in 30 minutes. It's half an hour away from Heraklion and a 2.5 hour drive from Chania.
Restaurants, Facilities, and Things to Do at Potamos Beach
Like many sandy beaches in Crete, Potamos is a Blue Flag beach perfect for swimming. The water is crystal clear and has a shallow bay that's great for kids. The beach has common services like sunbeds, toilets, and snack bars that are far less busy than other top beaches in Crete. Wander over to snap a photo at Malia Palace Archaeological Site or sit down for a seafood feast at Taverna Kalyva.
Matala Beach
Family friendly: Yes
Pebbled or Sandy: Fine Pebbles and Sand
Restaurants nearby: Yes
Facilities available: Yes
Flanked by rocky cliffs and shaded caves, Matala Beach is certainly one of the best beaches in Heraklion and a beloved favourite in Greece. The beach gained recognition as a refuge for hippies in the 1960s who tucked into the caves and passed the days away. Now, this once quiet fishing village is a tourist hotspot that many consider the best beach in Crete.
How To Get To Matala Beach
Matala is located in the Heraklion Prefecture, 1 hour southwest of the city of Heraklion by way of Mires. The road is newly repaired and easy to travel. Meanwhile, the trip from Chania takes 2 hours, passing through the pretty towns of Rethymno and Spili.
Restaurants, Facilities, and Things to Do at Matala Beach
The 300 m stretch of golden sand is a fantastic place to lay on a sunbed beneath a beach umbrella. The blue waters are deep and excellent for swimming. After your swim, venture over to the caves, which are now an archaeological site. Or, go on a Land Rover Safari to explore quieter nearby beaches that are beautifully pristine.
Matala has plenty of facilities with toilets, showers, umbrellas, snack bars, and more. There are many exciting water sports to enjoy, or you can join in on a beach volleyball match. After, settle into one of the various restaurants, like Scala for seafood pasta or George's Yard for a glass of wine.
READ NEXT: 10 Stunning Lefkada Beaches That Will Make You Want To Visit This Lesser Known Island In Greece
Triopetra Beach
Family friendly: Yes
Pebbled or Sandy: Sandy
Restaurants nearby: Yes
Facilities available: Yes
One of the best beaches on Crete's south coast, Triopetra Beach is a stunning spot south of Rethymno. The name triopetra means "three stones," coined after the massive geometric rocks that separate the small beach from its larger counterpart.
How To Get To Triopetra Beach
Head to the village of Akoumia, 45 minutes south of Rethymno, which is in between Chania and Heraklion. The road from Akoumia is a bit rough, so it takes 20 minutes to reach Triopetra.
Restaurants, Facilities, and Things to Do at Triopetra Beach
Visitors to the region are often here to explore Agios Pavlos, but Triopetra has its own charm and is well worth visiting. The water is crystal clear and the sand is perfect for sunbathing. There are sunbeds, taverns, and umbrellas scattered about, along with a range of watersports on offer. Settle in for a seafood dinner at Taverna Apanemia and stay to watch the sunset. You'll soon see why this is one of the best beaches in Crete!
Chrissi Island
Family friendly: Yes
Pebbled or Sandy: Sandy
Restaurants nearby: No
Facilities available: No
If remote white sand beaches are calling your name, head to Crete's south coast and set sail to Chrissi Island. This 5 km2 uninhabited island is one of the southernmost islands in the Mediterranean and looks like paradise. The island has multiple beaches, with Belegrina (Golden Beach) being the most popular. There are several walking trails lined with cedar forests and juniper trees. The entire island is a Natura 2000 protected area so it's only accessible for day trips.
How To Get To Chrissi Island
Chrissi Island is located in the Lassithi prefecture, accessible only by boat from Ierapetra. The sailing takes 1 hour to cruise through the Lybian Sea from mainland Crete. We suggest booking your boat cruise ahead of time or joining a day tour from Heraklion or Agios Nikolaos. This way, you don't need to worry about getting yourself to Ierapetra.
Restaurants, Facilities, and Things to Do at Chrissi Island
As you'd expect, this remote nature reserve of an island doesn't have much in the way of facilities. But, that's what makes it so special! You'll have to pack your own water and snacks and bring a towel to lay on but it's well worth it. The pristine waters surrounding Chrissi Island are amazing for snorkelling and there are lots of beaches to explore.
Georgioupolis Beach
Family friendly: Yes
Pebbled or Sandy: Sandy
Restaurants nearby: Yes
Facilities available: Yes
Located on the warm shores of western Crete, Georgioupolis Beach is a long 10 km stretch of golden sands. The area is rich in lush vegetation thanks to nearby river valleys and peaceful springs. The shallow water at Georgioupolis is a favourite for children and beach activities are plentiful.
How To Get To Georgioupolis Beach
Because there are several hotels and resorts at Georgioupolis Beach, you can easily take a bus from Chania or Rethymno. To drive yourself, it's 40 minutes east from Chania along the E75.
Restaurants, Facilities, and Things to Do at Georgioupolis Beach
A must-do when visiting Georgioupolis Beach is to walk out along the long rocky path to Agios Nikolaos church. The brilliant white church appears to be floating in the bay, flanked by rivers in a sheltered cove. After, pop into one of the many seaside fish taverns for lunch and enjoy the sunbeds, umbrellas, and showers nearby.
Plakias Beach
Family friendly: Yes
Pebbled or Sandy: Sandy
Restaurants nearby: Yes
Facilities available: Yes
The gorgeous emerald waters of Plakias Beach adorn the rocky coast dotted by sun loungers and umbrellas. Plakias is a popular resort town with one of the best sandy beaches in Crete. There's plenty of space to spread out and the path behind the beach is a lovely place to cycle before a swim.
How To Get To Plakias Beach
Plakias Beach is on the southern coast of Crete, 45 minutes south from Rethymno. You can drive or take the bus, which is the most inexpensive way to travel in Crete. Don't doze off on the bus ride though, as you'll want to see the rocky gorges that mark the entrance to Plakias!
Restaurants, Facilities, and Things to Do at Plakias Beach
The long beach is well stocked with facilities from toilets and showers to beach volleyball courts and water sports. There are several cafes, taverns, and restaurants lining the strip, like Beach House that serves freshly squeezed OJ beneath a cozy thatched roof. You can spend the day enjoying the waves before snuggling up to watch the glow of the sunset swallow the beach.
Agia Marina Beach
Family friendly: Yes
Pebbled or Sandy: Sandy
Restaurants nearby: Yes
Facilities available: Yes
Agia Marina Beach is one of the best beaches near Chania and is home to some of the best beach resorts in Crete. The long sandy stretch is brimming with taverns and watersports, with lots of places to sit down for a snack. This beach sees more waves than other western Crete beaches, setting it up for a fun day in the water.
How To Get To Agia Marina Beach
Located just 9 km from Chania town, Agia Marina is an easily accessible beach by car or bus. It's a 15 minute drive from Chania or a €2 bus ride on one of 6 bus routes from Chania.
Restaurants, Facilities, and Things to Do at Agia Marina Beach
There's no shortage of places to eat, drink, and be merry at Agia Marina Beach. Best of all, many restaurants and beach bars offer free sunbeds when you buy a drink. Agia Marina is considered a Blue Flag beach with crystal clear water that's cool and refreshing for a swim. There are endless facilities with toilets and showers and you'll be spoiled for choices of restaurants. We recommend Akti for amazing salads right on the beach.
READ NEXT: Visiting the Pelion Peninsula, A Hidden Gem In Greece
Balos Lagoon
Family friendly: Yes
Pebbled or Sandy: Sandy
Restaurants nearby: No
Facilities available: Yes, but limited
Not only one of the most beautiful beaches in Crete, but Balos Beach is also a crown jewel of Greece. You've probably seen photos of it on the cover of travel magazines with its crystal clear waters and rugged natural beauty. Balos Beach & Lagoon has a stunning white sand beach that's home to Natura 2000 protected wildlife like monk seals and loggerhead sea turtles. It's a world-class destination for nature lovers visiting the Greek Islands.
How To Get To Balos Beach, Crete
Balos' remote beauty is well worth the trek to visit. The starting point is in Kissamos, where you can either take a ferry or an off-road vehicle. There's a 10 km dirt road from Kaliviani that requires a 4WD vehicle and a €1 per person fee to access the Gramvousa Nature Reserve.
Otherwise, taking the ferry is the easiest route. It costs €25 and offers scenic views of Gramvousa Island and its towering Venetian castle. We suggest booking a boat cruise ahead of time where you'll have a chance to stop at Imeri Gramvousa before hitting Balos.
Restaurants, Facilities, and Things to Do at Balos Lagoon
Since Balos is part of a nature reserve, there's more to the beach than just sunbathing. Hike the rocky cliffs, snorkel with exotic fish, and comb the beach for pink shells. They do have some sunbeds and umbrellas for hire, along with a small canteen and toilet. It's best to pack your own snacks or have lunch on the ferry on your way over.
Elafonissi Beach
Family friendly: Yes
Pebbled or Sandy: Sandy
Restaurants nearby: Yes
Facilities available: Yes
Nestled among pink sands and dazzling turquoise water, Elafonissi Beach is pure magic. This dreamy pink beach in Crete is easily one of the most stunning beaches in the entire world. The pink sand is formed from years of tiny shells washing up onshore and tinting the once white sands. The beach is surrounded by shallow reefs, forming a calm lagoon that connects Crete's mainland to Elafonisi Island. The area is devotedly protected by Natura 2000 and serves as a habitat for rare flora and fauna.
How To Get To Elafonissi Beach
Elafonisi is tucked away in southwest Crete, about 1.5 hours from Chania and 3 hours away from Heraklion by car. The drive can be strenuous at times as you wind through the mountains, but it's absolutely gorgeous. For one of the best beaches in Crete, the journey is totally worth it.
Alternatively, there are busses departing Chania daily that you can book ahead of time for a day trip.
Restaurants, Facilities, and Things to Do at Elafonisi Beach
This Crete pink beach attracts tourists and beach lovers from all over the world. Needless to say, it can get pretty crowded in the summer so be sure to get there early! The perfect day at Elafonisi involves splashing in the shallow waters, sinking your toes in the soft sand and laying in the sunshine. The beach offers sunbeds, umbrellas, showers, and changing areas to enjoy the day.
For those seeking a less crowded area, the sand dunes and hidden coves are more private, with places to go natural if you fancy. We recommend joining a sea kayaking tour to explore the glimmering coastline and scope out the rocky reef. After, pop into Kalomirakis Tavern for a traditional Cretan lunch of grilled fish and local vegetables.
Kedrodasos Beach
Family friendly: Yes
Pebbled or Sandy: Sandy
Restaurants nearby: No
Facilities available: No
Another one of the best beaches in Chania, Crete, Kedrodasos Beach is a treat for the senses. The stunning sandy beach is dotted with sand dunes, fragrant juniper trees, and cedar forest. Though Kedrodasos is just 1 km from bustling Elafonisi, it's one of Crete's most pristine untouched beaches. It's peaceful and calm with plenty of secluded coves to lay down your towel and enjoy nature.
How To Get To Kedrodasos Beach
The beach is a short drive from Elafonisi that takes about 10 minutes. But, that 10 minutes is slow going because the road is quite rocky and bumpy. Once you've arrived, Kedrodasos offers free parking that's a 10-minute walk to the beach.
Restaurants, Facilities, and Things to Do at Kedrodasos Beach
Unlike its neighbouring beach, you won't find umbrellas, toilets, or canteens at Kedrodasos. It's best to enjoy its secluded charm to the fullest and bring along whatever you need for a picnic. The lovely clear water is ideal for swimming and the remote coastline is a favourite for naturalists. Plus, the cedar and juniper forest behind the beach is a great place to camp for free for a night under the stars.
Have you spent any time on Crete beaches? What was your favourite?