Are you planning an African safari? If so, you've probably been over the details of a safari lodge, transportation, animal migration patterns, and more. One thing people tend to overlook, however, is safari clothing and the process of packing for a safari.
*This post may contain affiliate links, as a result, we may receive a small commission (at no extra cost to you) on any bookings/purchases you make through the links in this post. As an Amazon Associate, we earn from qualifying purchases. Read our full disclosure
Choosing safari clothes can be more challenging than choosing outfits for the average city break or beach vacation. It requires carefully thinking through each and every item you pack.
Traveling Soon?

Here is a list of our favourite travel providers and accessories to help get you ready for your upcoming trip!
Whether it's your first safari or your tenth, being prepared with the right safari clothing is essential. This guide will teach you what materials work best, why colour matters, what to wear at the lodge, and more, along with specific recommendations from our favourite brands of safari clothing.
What to Consider When Choosing Your Safari Clothing
When it comes to the overall look of the outfit, there are no real guidelines, as the animals don't care what you wear. However, there are a few tips to follow that will definitely make finding the right safari clothing a lot easier.
Colour Matters
If you've ever seen photos of people on safari, you may have noticed that their colour choice is quite bland. Tan, brown and army green clothing isn't just a trend (maybe just a bit). The colour of your clothing while on safari does matter and earthy tones are the typical recommendation.
First of all, blending in and not attracting attention to yourself is always good practice while around wildlife. What you wear on a safari while inside a vehicle doesn't matter too much, as the animals generally view the car as one entity and do not differentiate the different people inside it. But if you are planning to go on any walking safaris, where you may come face to face with animals outside of a vehicle, wearing earthy colours is critical to your safety.
Another reason to wear neutrals is to avoid attracting the aggressive Tsetse flies that call central Africa home. They're especially attracted to blue and black so whatever you do, avoid these colours.
Comfort Above All
Safaris are no fashion show. The thing that matters most is ultimately your comfort. You'll likely be sitting in a car all day under the hot African sun or walking through the bush with your guide. You'll need clothes that fit you well but not too tight, leaving room to breathe. The best safari clothing is made from soft, natural fabrics.
Pack Different Clothes for the Lodge
After a long day out on the savannah, you won't want to stay in your safari clothing any longer. That's why some travelers like to pack separate things to wear at the lodge that are also comfortable, but perhaps slightly more dressy. Most of the lodges, even the fanciest ones, do not have any dress code for their restaurants, but when you are wining and dining in such beautiful settings, it can be tempting to dress up just a bit to fit the scene.
Specific recommendations for lodge clothes can be found in the section below.
Layers
Layering up is a great idea while out on safari. Nights can be freezing cold and days can be steamy, so having multiple layers is a great solution. Especially since most game drives start during early mornings when the air is still very cold but run well into the heat of the day. This even goes for Southern Africa safaris where summers get blistering hot.
Watching the sunset in the Serengeti, Tanzania
Don't Pack Too Much
Although it might be tempting to pack a lot for your safari, it's essential to keep your packing list to the minimum. The main reason for this is that to get to some of the safari camps you'll likely be taking a small plane from a major African city to a smaller town out in the bush.
These planes have strict weight limits most of the time and anything that exceeds this will have to be left behind. Make sure to research your airlines ahead of time and plan to adhere to these weight limits. Our best advice is to pack right so you can pack light! Safari clothing is all about versatility.
What to Wear on Safari: The Best Safari Clothes for Women and Men
Safari Pants
It might be tempting to pack shorts since you'll be in hot weather, but they're generally a bad idea. You'll want your legs covered when the Tsetse flies come out as well as when the sun gets dangerously strong. We highly recommend opting for great safari pants instead of safari shorts.
Best Safari Pants for Women
Halle Pant from prAna
Comfortable, durable, and sun protecting, the Halle Pant from prAna are a safari wear staple. Long hours in the hot sun call for lightweight travel pants instead of wearing shorts. An added bonus with these pants is that you can roll them up and snap them into capris when you need to cool off. The fabric dries quickly and is wrinkle-free so they're ideal safari attire. If you only had to bring one pair of pants as safari clothing, it would be these.
Crestwood Pant from prAna
Another great pair of versatile pants from prAna are the Crestwood Pant. They're made from a blend of organic cotton and Coolmax for all-weather comfort. They'll keep you cool during long periods in the sun and cozy when evening comes around. Plus, they look great and make for a practical yet stylish African safari outfit.
Quandary Pants from Patagonia
Patagonia's Quandary Pants are another great all-around pick for safari trousers. Synthetic fabrics really shine when it comes to breathability and drying fast. Their blend of recycled nylon and spandex is super comfortable and offers sun protection with a water repellent coating. Similar to the Halle Pant, you can roll them into capris and ride in a safari vehicle comfortably all day.

Best Safari Pants for Men
Stretch Zion Pant from prAna
The Stretch Zion Pants from prAna are pretty much the perfect travel pants. They're wrinkle-free, water repellent, quick-dry, and offer UV protection. The soft nylon fabric is as durable as it is comfortable and can hold up to anything an African safari might throw at it.
Organic Cotton Gi Pants from Patagonia
Safari clothes for men are all about comfort and durability and Patagonia's Organic Cotton Gi Pants are exactly that. They pair the ease of slipping on sweatpants with the look and resilience of denim. They're made from 100% organic cotton and have plenty of pockets for all your gear. Plus, the dark green colour is perfect as an earthy neutral that won't attract flies.
Safari Shirts
With shirts, it's a great idea to layer a t-shirt with either a safari button-down shirt or a sweater. Make sure that both your t-shirt and your safari shirt are made of breathable, natural fabrics. We like to go for a linen safari shirt with a collar to stay breezy and protect our necks from the hot African sun.
Our Favourite Safari Shirts for Women
Sahara Long-Sleeve Shirt from REI
Women's safari clothing is best kept loose for maximum comfort and breathability. The Sahara Long Sleeve from REI is my perfect safari shirt because it's lightweight and super comfortable. The fabric is UPF 35 rated with moisture wicking properties that's easily packable and looks great too. A lot of hiking and outdoors clothing makes great safari wear for ladies!
Ezra Shirt from Kuhl
The stretchy woven fabric on the Ezra Shirt from Kuhl is nice and soft with excellent sun protection. Roll the sleeves up on hot days or wear it open over a tshirt as an extra layer. This shirt dries quickly and is loaded with pockets, which is always a great feature for African safari clothes.
Pilsner Peak Novelty Shirt from Colombia
For hot days, I like to wear a short sleeve safari shirt like the Pilsner Peak Novelty Shirt from Colombia. It has hidden vents for increased breathability and air circulation to keep you cool. The lightweight fabric wicks moisture and offers an impressive UPF 50 sun protection.
Our Favourite Safari Shirts for Men
Sahara Solid Shirt from REI
Likewise, a short-sleeve breathable button-up, like REI's Sahara Solid Shirt, is ideal safari wear for men. The shirt is carefully designed with extra ventilation in peak areas (hello armpits!) to stay cool and fresh. The fabric is easily packable and can be touched up with a cool iron to double as a lodge outfit.
Sahara Solid Long-Sleeve Shirt from REI
Just like its short-sleeved counterpart, the Sahara Solid Long-Sleeve Shirt from REI is a safari clothing essential. The long sleeves offer sun protection and the synthetic materials are breezy and quick drying. The khaki safari shirt is ideal for staying cool and comfortable with lots of pockets for gear. What's more, it has a built-in loop to store your sunglasses so you won't have to worry about losing them.
Safari Boots
Unless you are doing a walking safari, boots are not a requirement for any game drives. You'll be pleased to know that it does not matter whether you wear flip flops, running shoes, or boots inside the safari vehicle. So what you choose to wear is completely up to you.
However, keep in mind that practically all morning game drives include a coffee/tea break or an evening sundowner. This means that at one point or another, you will get out of the car and find yourself walking on red dusty soil. You'll venture through bushes (those bush toilets don't have any paths) and your feet will be exposed to the elements.
Max loves wearing flip flops while in the car, they let his feet breathe and he is not at all bothered by the cold or the dust that often gets kicked up into the vehicle during the drive. I, on the other hand, prefer to wear boots. They keep me warm during cool mornings and chilly evenings while keeping my feet protected from elephant poop and other dust/dirt on the ground.
The best safari boots are those that cover your ankles as well as your feet. There's no need to pack hiking shoes or boots, as most days you won't be walking great distances. Instead, look for more of a combat-style boot that can be worn every day.
Good Safari Shoes for Women
Bata Safari Boots
The go-to for any traveler heading to Africa, Bata Safari Boots are a classic. The thick sole protects against Acacia tree thorns piercing through and the suede material is extra durable. They're made locally in Kenya and have been put to the test in East Africa for over 50 years.
Red Wing Silversmith Boots
When I'm packing for a safari, I like to bring boots that I can wear on the safari vehicle and at the lodge. The Silversmith Boots from Red Wing are a perfect combination of durability, style, and comfort. You can easily wipe away any dust and dress them up for dinner—perfect safari attire for ladies.
Allbirds Tree Runners
Running shoes are a great all-around option for safari clothes for lightweight comfort. The Allbirds Tree Runners are made from renewable materials and are super comfy, even for a walking safari. The best part is that they're machine washable so even African safari dust can be washed off.
Good Safari Shoes for Men
Chacos
Like I said earlier, Max prefers to wear sandals on a safari and Chacos are our go-to. Their hiking sandals and flip flops are super comfortable and can hold up to any terrain. They're easy to toss in your suitcase without taking up much space or weight and come in all kinds of colours.
Red Wing Moc Boots
The Classic Moc Boots from Red Wing are a great addition to any men's safari clothing wardrobe. They're built to withstand pretty much anything, while still being comfortable and easy to throw on. These boots are incredibly versatile so you can wear them all day, from the safari vehicle to the lodge.
Rain Jackets
When it starts to pour on the savannah, you'll be very happy you packed a good rain jacket. The best ones are light and breathable while still fully waterproof. You'll especially want to pack a rain jacket if you're going on safari during the rainy season. Linen safari jackets make for fashionable safari clothes, but they just won't cut it in the rain.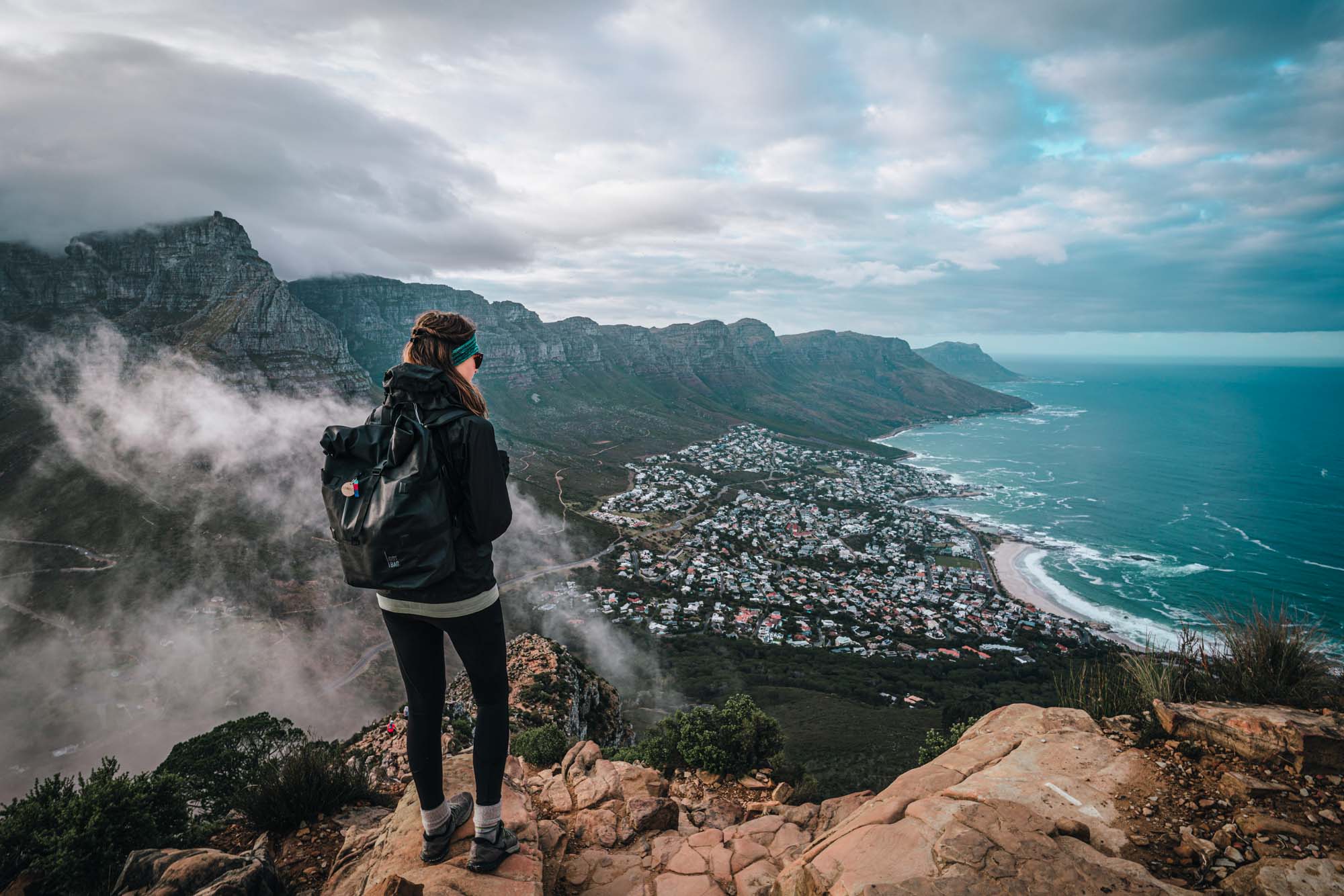 Best Ladies Safari Rain Jackets
Arc'teryx Zeta SL Rain Jacket
Our favourite rain jacket for women is the Zeta SL Rain Jacket from Arc'teryx. The double-layer GORE-TEX fabric is fully waterproof while still being breathable. The jacket is constructed with a hood and pockets in all the right places for all-day comfort. It's lightweight and can pack down nice and tiny without any extra bulk. It's a great safari coat for days and evenings when you want to layer up.
Marmot Packable Anorak
The Marmot Packable Anorak is exactly what a safari jacket needs to be—lightweight, breathable, and packable. It's made from recycled nylon and has fully taped seams. What makes it especially good for safari clothing is that it can pack into its front pocket. This way, you can throw it in your day pack and always have a rain jacket handy if the weather turns.

Best Mens Safari Rain Jackets
Arc'teryx Zeta SL Rain Jacket
Just like the women's version, the Zeta FL Rain Jacket from Arc'teryx is our top pick. It's ultra lightweight and has 2 layers of GORE-TEX so you'll be covered in any weather. The fabric is completely waterproof yet still breathable and has a durable windproof hood for stormy weather.
Marmot PreCip Eco Jacket
With taped seams and a breathable waterproof shell, the PreCip Eco Jacket from Marmot marries performance with eco-consciousness. The lightweight material is made from recycled nylon with "pit zips" for added ventilation. It packs into its own pocket and has a built-in hood that you can tuck away into the collar. Good safari clothes are all about versatility and this jacket ticks all the boxes.
Safari Hat
For both sun protection and classic safari style, a good hat is absolutely essential. Go for something with a brim to keep the sun out of your eyes and off of your face.
Best Women's Safari Hat
No safari wardrobe is complete without a wide brim hat. We recommend the Columbia Global Adventure Packable Hat because it travels well and is made from fabric with UV protection. You can throw it in your suitcase and it'll bounce back into shape, which is perfect for travel. Plus, it has an adjustable chin strap to stay secured while you're out in the bush. Any person wearing a hat that's flown off before knows this is essential in a safari vehicle!
Best Men's Safari Hat
Tilley is one of the best safari clothing brands for durable and functional attire. Their Wanderer Hat is a classic when it comes to safari-style clothing, with an adjustable brim and wind cords. It has a built-in sweatband to keep you cool, sun and water resistant fabric, and it floats! Maybe we're biased because it's made in Canada, but this hat is perfect for a safari in Africa.
Clothes for the Lodge
At the end of the day, you'll want to get out of your safari clothing and into something nicer to wear around the lodge.
We suggest packing the following:
Dresses/Dinner Outfits: Sundresses or maxi dresses are perfect for nice dinners at the lodge. Note that modesty is important in Kenya and other countries, so leave any above-the-knee safari dress at home. For men, pack shorts, long pants, and a few button-down shirts.
Warm Sweater or Jacket: When the nights get especially chilly, you'll want a cozy sweater to stay warm. A lightweight fleece is a great option because it's easily packable and dries quickly.
Sandals: To go with your dinner outfits.
Bathing Suit

: If your safari lodge has a pool (and most of them do), make sure to bring at least one swimsuit with you.
Other Things to Bring
These don't necessarily count as clothing, but they're still essential items for your safari packing list.
Water Bottle: A reusable water bottle is an essential item for a day out on safari. We use and love Hydroflask bottles.
Binoculars: To see the animals up close, binoculars are a must-have.
Sunglasses: Protect your eyes from the harsh, direct sunlight.
Camera with a Telephoto Lens: If you're a photographer, you won't want to miss the chance to photograph some of the most beautiful animals on earth in their natural habitats. Make sure to bring a good telephoto lens with you so you can zoom in close enough.
Unlocked Phone With a SIM Card or Solis Hotspot: The wifi at safari camps tends to be pretty bad in general, so it's good to have a SIM card and/or mobile wifi device.
Day Pack: For all your extra items that you'll need throughout the day, we highly recommend a reliable day pack, such as this one from Peak Designs.
What NOT to Wear on Safari
Here are a few quick tips to simplify your safari clothing packing based on our first-hand expert advice:
Avoid dark colours like dark blue and black clothing to ward off Tsetse flies. Tsetse flies are especially prevalent in Eastern Africa.
Leave your white clothes at home. The African bush can get pretty dusty so prepare to have a layer of red dust on pretty much everything.
Avoid bright colours or prints so you don't scare the animals.
Khaki green is great, but avoid camo prints. Many countries in Africa consider camouflage to be a military-only print for tactical gear.
Don't bother bringing jeans. Convertible pants made from quick dry fabric will have you covered for game drives and dinners at the lodge. Jeans are heavy and take forever to dry—a no-go for safari clothing.
Skip any perfume or heavily scented beauty products. Fragrances attract bugs and we promise the animals won't care how you smell.
While it may seem like there are a lot of requirements for what to wear on a safari, it isn't as complex as it appears.
Choosing the best safari clothes really comes down to practicality. If you make sure everything is comfortable, neutral in colour, and within your plane's weight allowance, you should be in excellent shape.
What's your favourite article of clothing for a safari or other outdoor activities?