Located in East Africa, Kenya is a popular destination for travelers looking to experience the unique culture, incredible wildlife, and stunning landscapes.
*This post may contain affiliate links, as a result, we may receive a small commission (at no extra cost to you) on any bookings/purchases you make through the links in this post. As an Amazon Associate, we earn from qualifying purchases. Read our full disclosure
From the savannahs of the Maasai Mara to the peaks of Mount Kenya and the stunning Kenyan coastline, this destination is home to a variety of landscapes. But it's not just about the scenery in Kenya. In our opinion, the biggest drawcard of this East Africa destination is an opportunity to experience an authentic African safari.
Kenya is home to over 50 National Parks and Nature Reserves and more than 100 community conservancies focused on wildlife conservation, creating plenty of space for animals to thrive in their natural environment.
With so many great destinations offering safari, planning a trip to Kenya can be a bit daunting if you're not sure where to start. That's why we were so happy to have our first trip to Kenya organized and planned by the amazing experts from Alluring Africa. Given their knowledge of Kenya and strong relationships with on-the-ground lodge and tour operators, we knew we were in great hands for our trip!
Thanks to their guidance and an abundance of knowledge about things to do in Kenya, we've put together this article to give you some tips and ideas for your visit.
So let's dive right in!
Traveling Soon?

Here is a list of our favourite travel providers and accessories to help get you ready for your upcoming trip!
Best Time To Visit Kenya
The best time to visit Kenya depends on what type of experience you're looking for. Kenya has two distinct dry seasons and two rainy seasons.
The rainy seasons in Kenya are from April to June and November to December. The rains bring lush and green vegetation, making the scenery throughout Kenya really beautiful. This, unfortunately, makes wildlife spotting a bit more challenging, as the animals tend to be a lot more spread out through the bush and do not tend to congregate at the watering holes. You can still enjoy a safari during this time, but sighting will be harder. Muddy conditions can also pose a challenge.
The first dry season in Kenya runs from January to March. This is a great time to see wildlife as animals tend to congregate around watering holes, making them easier to spot. Parks are dry and road conditions are at their best. The warm and sunny weather make this time of the year a good time to climb Mount Kenya or go on a beach vacation.
The second dry season runs from July to October and is the best time to come to Kenya if you want to see the annual wildebeest migration in the Maasai Mara. This is also a great time for wildlife viewing in general, as the dry conditions make animals easier to spot.
The Annual Migration brings wildebeest, zebras, and other grazing animals cross the Mara River in search of fresh grass. It's an incredible sighting and a massive annual attraction in Kenya. It's worth noting though that the timing of the migration fluctuates every year, so its important to talk to safari tour operators or plan your trip with an African safari expert, like Alluring Africa to ensure that you time your visit in the right window.
Getting To Kenya
By air: The most popular way to get to Kenya is by air. There are 3 major airports in the country, including Jomo Kenyatta International Airport (NBO) in Nairobi, Moi International Airport (MBA) in Mombasa and Kisumu International Airport (KIA).
These serve major geographical hubs of the US, Canada and Europe with daily direct flights from cities such as London, New York and Toronto.
By Boat/Cruise: Traveling to Kenya by boat is a great way to experience the country's stunning coastline and islands. The main seaport is Mombasa, which includes Kilindini Harbour (the main port), Port Reitz, Port Tudo and the Old Port.
From the US, Europe or Canada, you can take a plane or car ferry to get to Mombasa. Once you arrive, you can take a boat to explore the coast of Kenya or head further inland on the Safari cruise.
Note: that we do not recommend cruising as a way to explore Kenya. The cruising industry is unsustainable and often does more damage than good, particularly in third-world destinations like Kenya.
Overland: If you're feeling adventurous, you can travel overland from neighbouring countries such as Uganda or Tanzania. This option allows you to explore more of East Africa while making your way to Kenya.
Getting Around Kenya
Kenya is not the easiest destination is to get around, but there are a number of options for every type of traveler.
By Bus: This is one of the most popular ways to explore the country for backpackers, as it's relatively affordable and safe. The main bus line in Kenya offers services that connect major cities, including Nairobi and Mombasa.
By Train: The Madaraka Express train, operated by Kenya Railways, offers an easy and comfortable way to get from Nairobi to Mombasa or vice versa. Prices range from 500-3000 Kenyan Shillings ($5-$20 USD) depending on the class.
By Car: In our opinion, the best way to get around Kenya is by car. You can rent your own car in Kenya or choose to hire a driver and a vehicle to get you from point A to point B. This will help support a local and allow you to have a stress-free journey. A 4×4 vehicle is recommended.
The roads in Kenya are often unpaved and not for the faint-hearted. But if you are brave enough to drive yourself, remember that Kenya drives on the left side of the road. The lack of signage and variable speed limits can make driving challenging, so it's important to remain vigilant.
Note: Carjacking and theft are risks in Kenya, particularly in Nairobi, so we recommend avoiding traveling at night. Don't forget to park your car in a safe spot overnight and leave it locked at all times.
Tips for Sustainable Travel in Kenya
Kenya is a beautiful country with plenty of opportunities for sustainable travel when visiting famous tourist attractions. It's important to consider the impact that your trip will have on the local environment and community.
One way to do this is by visiting community-owned conservancies. These conservancies are managed by local communities and provide a great way to support the people, preserve the land and wildlife and learn more about the culture and people of Kenya.
It's also important to be mindful of your environmental impact when traveling in Kenya. Reduce flights and use public transportation where possible. By traveling by road in groups, is another way to help reduce your carbon footprint.
Be sure to minimize the use of single-use plastics and choose eco-friendly accommodations wherever possible. Many properties in Kenya now offer compostable materials, low-energy lighting, solar power, and other sustainable practices.
You should also visit during the shoulder or wet seasons when there are usually fewer tourists around. By visiting year-round, you can take advantage of magnificent experiences like the annual Great Migration or hike Mount Kenya.
Best Things To Do In Kenya
There are plenty of things to do in Kenya, ranging from wildlife safaris to hiking and trekking, as well as lazy days on the Kenya coast.
Here is our list of the top destinations and things to do in Kenya.
1. See the Wildebeest Migration in Masai Mara National Reserve
Maasai Mara National Reserve (also spelled as Masai Mara), located in southwestern Kenya, is a world-famous wildlife sanctuary that covers an area of 1,510 sq km (580 sq miles). It is home to the Great Migration, a spectacular event that occurs annually between July and October when over two million animals cross the Mara River in search of better grazing areas.
In addition, Masai Mara national reserve is home to an incredible diversity of wildlife, including the Big Five and many other iconic and endangered animals in Kenya, along with 570 bird species. While traditional safari game drives are the most popular way to experience the Masai Mara, balloon safaris, boat safaris and guided walks are also available.
Masai Mara is also a significant cultural destination. The Maasai people, who inhabit the area, have a rich cultural heritage and offer visitors the opportunity to learn about their traditional dances, artisanal crafts, and distinctive dress. If you have extra time, we recommend visiting a Masai village to learn about the Maasai way of life first hand.
---
For us, the Maasai Mara National Reserve is the highlight of any visit to Kenya.
The abundance of wildlife in this region is absolutely incredible. While we only spent 3 days in the Maasai Mara, it was the most exciting, action-packed day of our trip, with lots of incredible sightings and unforgettable experiences.
---
Note: There are lots of accommodation options in and around the Masai Mara, ranging from luxury lodges to tented camps. During our visit, we stayed at the Little Governor's Camp, one of the oldest camps in the Mara. The camp was located right beside the Mara River, with tents set up in a semi-circle around the marsh, making for a cozy and intimate setting. Accommodation at Little Governor's Camp was more like glamping, with comfortable tented rooms featuring double beds and en suite bathrooms with hot and cold running water. When it comes to selecting the best lodge or camp in the Mara, we think it all comes down to the guides, and the guides at Little Governor's were the best!
2. Take a Peek at Mount Kilimanjaro in Amboseli National Park
Amboseli National Park is a popular destination to add to your list of things to do in Kenya if you are looking to experience a safari in a beautiful setting in Kenya.
Amboseli National Park may not be the best destination for wildlife viewing, but it is certainly one of the most scenic. With stunning views of Mount Kilimanjaro serving as the backdrop of a safari, this park allows you see and photograph some of Africa's most iconic wildlife in a very special setting. Elephants, lions, cheetahs, and zebras are found inside the park as well as over 600 bird species.
Visitors can explore the park through various activities, including game drives, guided walks, and cultural tours with the Maasai people, who live in the surrounding areas of Amboseli National Park.
3. See Conservation at work in Mugie Conservancy
Mugie Conservancy is a lesser-known 46,000-acre wildlife sanctuary located on the edge of Laikipia, Kenya. Focused on sustainable development and tourism, the conservancy works towards preserving and protecting endangered species and biodiversity.
The conservancy is home to over 70 mammal species, including endangered African wild dogs, leopards, and elephants, as well as over 280 bird species. There is a 156-acre lake inside the conservancy (with a few hippos inside), offering an opportunity for a boat safari in addition to game drives and nature walks.
We visited Mugie Conservancy during our time in Kenya and were particularly impressed by their conservation work, research and monitoring programs. One of the highlights of our visit to Mugie Conservancy was the opportunity to see some of these programs first-hand. We tracked big cats learned about the bloodhound anti-poaching unit and even met Tala, a famous rescue giraffe.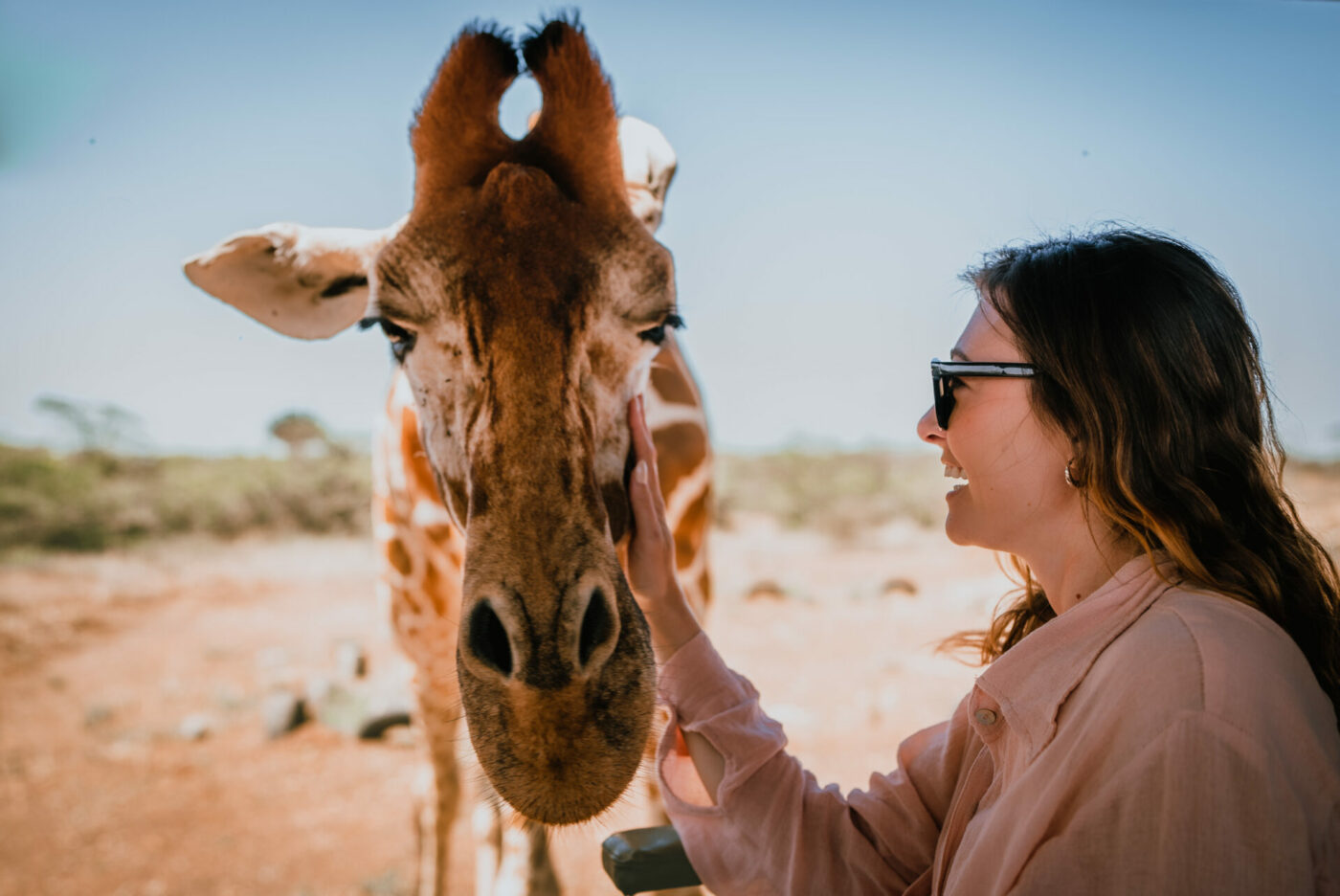 Note that with only a few hotels inside Mugie Conservancy, accommodations in this region are somewhat limited. We stayed at the Governor's Mugie House, a beautiful luxury safari lodge located in the heart of the conservancy. The lodge overlooks a watering hole frequented by wildlife and offers luxury suites, an infinity pool, spacious dining and sitting areas, and an elevated deck with beautiful sunset views. It's a beautiful spot to base yourself during your time in Mugie.
4. Go on a Boat Safari in Lake Naivasha
Lake Naivasha is a freshwater lake located in Kenya's Rift Valley. It's another lesser-known safari destination in Kenya that covers an area of 150 sq km (57.9 miles). The lake is surrounded by lush green forests and grassland.
This area is best for birdwatching, with over 350 species of migratory and native birds in the area. You can see these birds in their natural habitat on a morning boat safari or guided walking tours.
Besides birdwatching, the lake and its surrounding area are home to a variety of other wildlife. There are over 100 animal species found at Lake Naivasha, including hippos, zebras, buffalos, giraffes, and other wildlife. There are opportunities for traditional game drive safaris, as well as boat tours and even night drives.
Where to Stay: There are several safari lodges located around the Lake. We stayed at the Governor's Loldia House, a beautiful, peaceful property with a unique blend of colonial-style elegance and African charm. The hotel is located right on the lake and offers private rooms in the main house and in individual cottages on site. There is a pool, a spa and beautiful gardens to explore. Game drives and boat tours, as well as a full board stay, is included in the price.
5. See Flamingos in Lake Nakuru National Park
Lake Nakuru National Park is another great example of a conservation area in Kenya. Designated as a protected area in 1957, this park has been one of the best examples of wildlife conservation in Kenya for decades.
With over 400 species of birds found in the area, the park is a birdwatcher's paradise. But the main draw of Lake Nakuru is its flamingo colonies that gather along the shores of Lake Nakuru. To further protect the unique ecosystem required by the flamingos, Lake Nakuru National Park was designated a UNESCO World Heritage Site in 2011.
There is plenty to see in Lake Nakuru besides the flamingos and other birds. The park is home to 100 endangered rhinos (both black and white), as well as the endangered Rothschild's giraffe and over 50 other animals, including buffalos, waterbucks, lions, and impalas.
Lured in by the promise of beautiful flamingos, we visited Lake Nakuru on a day trip from Lake Naivasha. We found the journey from Lake Naivasha to be quite long and tiring. It's a worthy park to add to your list of things to do in Kenya, especially if you've never seen flamingos in such numbers before, but we would not recommend it as a day trip experience. Instead, find accommodation inside the park and enjoy the beauty of flamingos and other wildlife in the morning and dusk.
6. See Red Elephants in Tsavo East National Park
Tsavo National Park is Kenya's largest National Park, located between Nairobi City and Mombasa in the southeastern of the country. Covering an area of nearly 22,000 sq km (8494 sq miles), the park is divided into Tsavo East National Park and Tsavo West National Park. The park is known for its diverse wildlife and is particularly renowned for being the home of red elephants.
Tsavo East National Park is slightly larger than Tsawo West. It is generally flat, and known for its dry plains and the Galana River. The Yatta Plateau and Lugard Falls are the other landmarks of the area. Tsavo West National Park features more mountains and wooded grasslands and has several other attractions including Mzima springs, known for its hippos and crocodiles, Ngulia Rhino sanctuary, and the Shetani lava flow.
Both sections of the park are home to lots of wildlife, including the Big Five, as well as hippos, hartebeests, impalas, elands, fringe-eyed oryx, giraffes, kudu and many others.
As of 2023, entrance fees for the park are 52 USD for adults and 35 USD for children. The park is located 5 hours away from Nairobi and is often combined with a safari in Amboseli National Park
7. Climb Mount Kenya
Mount Kenya is the second-highest peak in Africa, with an impressive height of 5,199 meters above sea level. Mt Kenya's impressive glacier-clad summits and forested middle slopes make it one of the most visually impressive destinations in Kenya.
There are 12 remaining glaciers on the mountain and four lesser peaks at the top of the glacial valleys. The mountain itself is a beautiful sight. In addition, conquering its peak is one of the top things to do in Kenya for active travelers.
The climb to the top of Mt Kenya is challenging and requires a fair bit of preparation. There are a number of routes you can take to ascend Mount Kenya. The most popular routes are Chogoria, Naro Moru, and Sirimon. Each one offers a different scenery.
The climb usually takes 3-7 days and is typically undertaken as a part of a guided tour which includes meals, porters and overnight accommodation in mountain huts or campsites en route.
If you don't want to climb Mount Kenya, it's worth traveling to the area to glimpse Kenya's tallest mountain. Mount Kenya National Park is a great place to visit to admire the views of the mountain and its surroundings. There are a number of walking trails inside the park and some picnic spots to enjoy the scenery.
8. Spend a Few Days in Nairobi
The capital of Kenya is a sprawling metropolitan and an economic, cultural, and political center of the country. Nairobi has a busy city center with shops, restaurants, big buildings and some popular museums and markets worth visiting.
The Maasai Market, in particular, is a great place to buy souvenirs on your way out of Kenya. The market is full of stalls selling traditional Kenyan crafts, such as beaded jewelry, wooden carvings, and woven baskets.
Some of the more popular museums in the city include Nairobi National Museum, where you can learn about Kenya's history, culture, and natural heritage and Karen Blixen Museum, dedicated to the famous author Karen Blixen.
9. Visit Nairobi National Park
Nairobi National Park is the only national park located within Kenya's capital city. The park spans an area of 117 sq km (45 sq miles), It is home to a diverse range of wildlife, including lions, leopards, cheetahs, zebras, giraffes, and more.
One of the coolest features of this park is that its the only place in Africa where you can see wildlife with a backdrop of a city. Nairobi National Park is best enjoyed on a game drive, although guided walks and night safaris are also available.
10. Chase Waterfalls at Karura Forest Reserve
Karura Forest Reserve is an urban upland forest located on the outskirts of Nairobi. The reserve offers a stark contrast to the hustle and bustle of the city. It is also one of the most popular things to do in Kenya for nature lovers.
Karura Forest Reserve covers approximately 1,000 hectares (2,500 acres). This is a good example of how businesses and individuals can take responsibility for protecting natural resources in Kenya.
The reserve has many attractions, including waterfalls, caves, and groves of indigenous trees. It's a peaceful and relaxing spot for a hike not too far from the city.
11. Meet Rescued Giraffes at Giraffe Centre
The Giraffe Centre in Nairobi is a non-profit giraffe sanctuary that focuses on restoring the population of the endangered Rothschild Giraffe. The center offers visitors a unique opportunity to interact with these gentle giants in their natural habitat. But their main purpose is to educate Kenyan school children and youth about their country's wildlife and environment.
Inside the Giraffe Centre, you'll find lots of things to do. There is an elevated platform where you can come close to the giraffes, a peaceful 1.5-kilometre nature trail, an information centre and a tea house where you can grab a snack at the end of your visit.
We didn't visit the Giraffe Centre firsthand, but we had an opportunity to meet another rescued giraffe at the Mugie Conservancy and found that experience to be really fun! If you don't get a chance to visit Mugie on your trip, consider adding a stop to Giraffee Centre instead.
12. Go Tea Tasting at Kiambethu Tea Farm
Kiambethu is a family-run tea farm that has been in operation since 1910. The current owner, Fiona and her team offer tours of farm and share tons of information about tea production in Kenya. If you love tea and want to try some great tea in Kenya, be sure to add this visit to your list of things to do in Kenya.
Tours include a visit to the tea fields and a demonstration of how tea is processed. It also includes a delicious lunch made with fresh vegetables from the farm's own garden.
You'll have the opportunity to buy tea and explore the farm and the nearby indigenous forest.
13. Take a day Trip to Hell's Gate National Park
Hell's Gate National Park is a unique corner of the Great Rift Valley, covering an area of 68 sq km (26 sq miles). The park is known for its geothermal features and is a popular destination for a day trip from Nairobi.
Some of the main natural attractions in Hell's Gate National Park include towering cliffs, beautiful gorges, rock towers, and extinct volcanoes. There are also hot springs to enjoy, a health spa on site as well as nature trails for visitors. Some wildlife can also be found in the park. These include buffalo, zebra, eland, lipspringer antelope, hartebeest, Chandler's mountain reedbuck, Thomson's gazelle and baboons.
13. Enjoy the Beaches of Kenya Coast
Kenya is known for its beautiful coastline. Mombasa, the main coastal city in Kenya, boasts stunning beaches and crystal-clear waters. The city is situated along the Indian Ocean and is often a destination combined with a safari visit in Kenya.
There are several great white sandy beaches located near Mombasa, including Diani Beach, Watamu Beach, Nyali Beach, and Bamburi Beach, among others.
With swimming, snorkelling, and even scuba diving opportunities, the beaches are a perfect spot to relax and unwind after spending some time on a safari in Kenya. There are many resorts and restaurants dotted along the beaches, offering plenty of accommodation and places to eat while you relax during your stay.
Mombasa itself is a vibrant city with good nightlife, bars and clubs that cater to both locals and tourists. The city offers a unique blend of culture, history, and natural beauty. Mombasa is really a must-see destination for anyone visiting Kenya.
14. Visit the Gede Ruins
If you are going to make your way to the Kenya coast, be sure to add a visit to the Gede Ruins Museum to your itinerary. This museum, located on the Kenyan coast near Watamu Beach, is a historical sights of an ancient Swahili town dating back to the 13th century and provides visitors with a unique glimpse into the region's rich cultural heritage.
The ruins comprise a vast complex of mosques, a grand palace, and residential buildings. These are all nestled in 45 acres of pristine forest. Visitors can explore the ruins and learn about the history of this once-thriving city through guided tours and informational displays.
You are bound to have a great time in Kenya no matter which of these activities you choose to add to your itinerary. To cover most activities, plan a minimum of 2 weeks in Kenya. This includes Rift Valley safari, visiting multiple national parks, and a trip to the Kenya Coast.