*This post may contain affiliate links, as a result, we may receive a small commission (at no extra cost to you) on any bookings/purchases you make through the links in this post. As an Amazon Associate, I earn from qualifying purchases. Read our full disclosure.
If you love the outdoors, if your heart beats faster with every breath of fresh air, if camping and hiking are your idea of a perfect weekend, then a visit to Colorado is probably already on your bucket list. The beautiful vistas of the Rocky Mountains, the hip and vibrant neighborhoods in Denver, and the colorful college town of Boulder were just a few of the highlights that enticed us to visit this scenic state on our recent U.S. road trip . But the truth is, they weren't the reason we lingered in Colorado for as long as we did.
Planning a Trip in the time of COVID?

Keep in mind that information found in this article may have been impacted by travel restrictions and other closures. Double check opening hours, tour providers and hotel status before you go. And don't leave your home without travel insurance! If you are looking for an insurance provider that covers COVID-19, we recommend SafetyWing. Get Medical and Travel Insurance starting at just $40/month and you can sign up even if your trip has already started!
"Are you planning to check out the Western Slope?", Maria, a local from Boulder asked us as she sat beside us on a bench in Pearl Street Mall. "It's home to some beautiful hikes, amazing drives, great towns, and is generally much less visited than the east. It's where we go when we want to get out of Boulder for a few days"
We didn't need a lot of convincing. The idea that the Western Slope offers an opportunity to go beyond the major sights and tourist attractions was appealing enough. We spent the next week traversing through the heart of Colorado, making our way from Denver to Grand Junction and then south towards Durango. Here are just a few of the highlights we discovered in the region.
Scenic Drive from Denver to Glenwood Springs
We read a lot about Colorado's most scenic drives before arriving in the region, but the lists never seemed to mention the beautiful views along the I-70. So imagine our surprise when we hit the road from Denver to Glenwood Springs and found ourselves surrounded by the snow-capped peaks of the Arapaho National Forest, the ski hills of Vail, and jagged rocks of the Glenwood Canyon.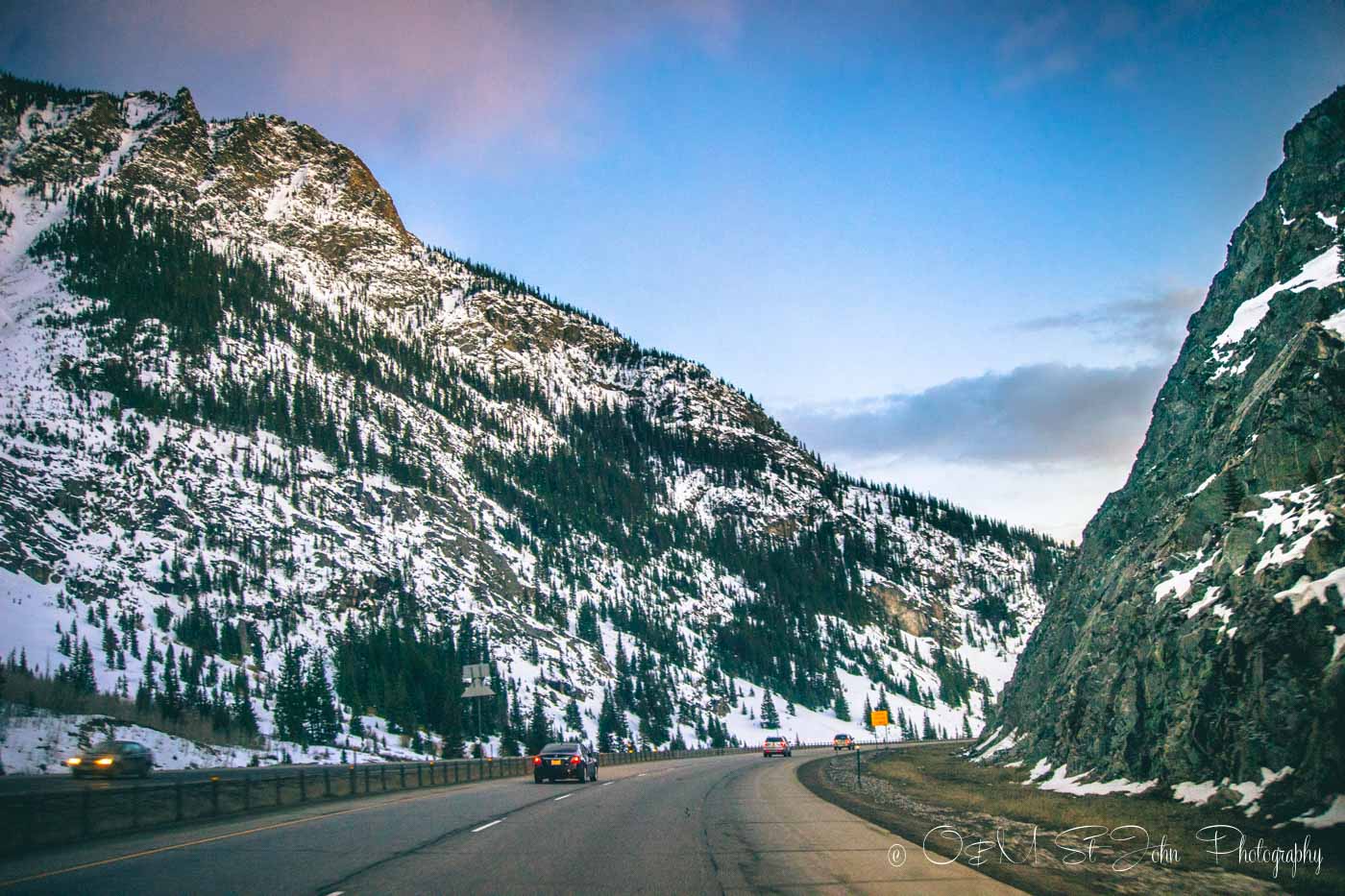 Hike to the Hanging Lake
The Hanging Lake hike is one of the most popular day hikes in Colorado, but one that's easy to miss if you are only visiting the state for a few days. We came across the Hanging Lake Trailhead along highway I-70, about 7 miles (11 km) east of Glenwood Springs. Max embarked on the hike on his own (it was short, just 2-3-hour return, but too challenging for me in my current condition) following the Dead Horse Creek and making his way through the lush fine forest before reaching the beautiful greenish blue waters of the lake itself.
Getting Social in Glenwood Springs
Glenwood Springs may have built its fame on its hot springs pool, but that wasn't what attracted us to this town perched at the end of the striking Glenwood Canyon. We opted to spend our day in the newest hot spot in town, the Iron Mountain Hot Springs. The 16 mineral pools at the Iron Mountain Hot Springs promise the same healing benefits as the city's famous hot springs pool but offer a much more social atmosphere. We spent over 5 hours soaking in the pools chatting away with other visitors and enjoying the views of the Colorado River beneath.
Hike to the Rifle Falls
Rifle Falls is a triple 70-foot (21 m) waterfall located inside the Rifle Falls State Park, about 45 min drive west of Glenwood Springs. For us, Rifle Falls was a day stop, but having seen the Rifle Falls State Park, we wish we had spent the night here and had more time to explore the area. There were 13 drive-in and seven walk-in campsites inside the park, along with picnic sites and over 3 kms of hiking trails.
Wine Tasting in Palisade
Some say that Palisade, a small town just outside of Grand Junction has become the Napa Valley of Colorado. Known for its peach orchards and wineries, Palisade hosts 75 percent of Colorado's premium wine grape vineyards. While the cellar rooms are opened all year around, the best time to visit Palisade is in early fall right before harvest season, when the vineyards are full of grapes and vibrant colours.
Red Rock Canyons at Colorado National Monument
The scenery at the Colorado National Monument is reminiscent of more popular parks in southern Utah. Prepare to be amazed by the spectacular canyons, red rocks, sandstone towers,  and Monument Canyon, the biggest attraction of the area which runs the width of the park.
Orvis Hot Springs
This small hot springs resort located just 10-15 mins away from Ouray is a destination on its own. Orvis is the only clothing optional (and be warned 70% of the visitors here do go nude) hot springs resort in Colorado, often attracting a very cool alternative crowd. Their grounds and soaking areas are electronics free, making this the kind of place you come to completely disconnect from the outside world. The best part of the stay, which we, unfortunately, missed out on, is that those staying at the resort overnight have access to the hot springs throughout the night. Who doesn't want to soak while star gazing?
Charming Town of Ouray
The charming town of Ouray was another one of our favourites. It looks and feels like a village in Switzerland (the locals even refer to it as the Switzerland of America) filled with cute little shops lining the main street and surrounded by the snow-capped mountains of the San Juan Forest. The town is home to some great hikes, beautiful waterfalls, and is particularly popular in the winter when it plays host to the Ouray Ice Festival.
Million Dollar Highway
Stretching from Ouray to Silverton in Southwestern Colorado, the Million Dollar Highway is one of the most spectacular drives not only in Colorado but in all of the US. The highway runs through the San Juan National Forest, stretching for about 25 miles (40kms). The road is opened all year around and while it was really beautiful during our visit in the spring, it would be that much more picturesque in the fall.
Mesa Verde National Park
Don't expect incredible vistas in Mesa Verde National Park. Located in Montezuma County in southern Colorado this World Heritage Site offers more of a cultural immersion and historical significance. Exploring the park allows you to take a peek into the lives of Ancestral Pueblo people who made it their home for over 700 years, from AD 600 to 1300. Luckily for me and my poor mobility, Mesas Verde was easily accessible by car with many of the viewpoints located just a short walk away from the road.
We only spent a week exploring Colorado's western slope, given my limited ability to hike and explore, but we felt that was ample time to get a feel for the area. With that said, if you are well and eager to explore each one of these attractions in depth (which we will definitely do again in the future), allocate at least a day or 2 for each destination above.
Like this post? Pin it for later!
Have you ever explored Western Colorado? What other attractions in the area would you add to this list?