Tamarindo is a bustling beach town full of places to eat, drink, shop and enjoy the beautiful beach. Located on the North Pacific coast of Costa Rica, Tamarindo is a hub for tourists looking to explore the Guanacaste province. The region boasts world-class sand and surf and is known to be one of the most popular destinations in the country.
*This post may contain affiliate links, as a result, we may receive a small commission (at no extra cost to you) on any bookings/purchases you make through the links in this post. As an Amazon Associate, we earn from qualifying purchases. Read our full disclosure
With so many activities in Tamarindo, Costa Rica, lots of visitors base themselves there for their entire holiday. It's an excellent central launch point to experience all that Guanacaste has to offer.
Whether you're planning a full-day tour or a last-minute afternoon adventure, there are tons of great day trips from Tamarindo. You can reach all of these places by car, by bus, or on an organized tour. You can book most tours in Tamarindo, Costa Rica town, online, or at your hotel.
We've spent plenty of time exploring Guanacaste from Tamarindo throughout the years and today, we are sharing our 8 favourite day trips from Tamarindo.
Playa Avellanas
Playa Avellanas is a well-known spot among surfers. You can find both beginner and advanced surf breaks here. And visitors flock from all around the country and the world for waves that have been described as some of the best in the Pacific.
The beach itself is really quiet, with near-white sand and clear waters. There are no big hotel chains, shops or restaurants in the area. Just a beautiful beach and a very popular beachside restaurant, Lola's.
Playa Avellanas is located about 25 minutes outside of Tamarindo, you will have to drive down a bumpy dirt road… But that only adds to the adventure of finding this hidden gem!
Traveling Soon?

Here is a list of our favourite travel providers and accessories to help get you ready for your upcoming trip!
READ MORE: Things To Do In Playa Avellanas Costa Rica, Local's Favourite Beach In Guanacaste
Rincon de la Vieja National Park
Looking for things to do near Tamarindo, Costa Rica but don't want to be surrounded by a lot of tourists? Spending a day at Rincon de la Vieja National Park may be the best option for you. There's no shortage of spectacular hiking trails inside and unique activities the park!
The park is named after the Rincon de la Vieja Volcano, which is a focal point in the area. Alongside the volcano, you'll find a few waterfalls and beautiful natural hot springs. With seven main hiking trails of various lengths and difficulties, you just need to decide where you want to start. You can hire an English-speaking guide to learn about the forest and all the wildlife that call it home.
And if a hike through the forest isn't what you're after, switch it up with a ziplining or horseback riding tour to the hot springs!
Unlike nearby Palo Verde National Park, Rincon de la Vieja is perfect for day trips year-round. It takes 2 hours to reach the park from Tamarindo, so pack snacks and plan for a full-day adventure.
READ MORE: Guide To Visiting Rincon De La Vieja National Park in Costa Rica
Scuba Diving in Las Catalinas
Scuba diving is not a typical thing to do in Tamarindo. But avid scuba divers will be happy to know that the Catalina Islands, located just a short drive and boat ride from Tamarindo, offer some great diving in the area.
The rocky islands are known for their unique underwater arches and caves and for diverse aquatic life. The water surrounding them is home to devil and cownose rays, turtles, sharks, and huge schools of fish.
To reach Las Catalinas, head to Playas del Coco where you'll take a 45-minute boat ride to the dive site. Your divemaster will provide information on safety and what to see, but diving here is not for beginners. The dive sites are non-anchored and prone to strong currents, so we only recommend this spot to experienced divers.
Nosara
If you're feeling like going a bit further outside of Tamarindo, then the ex-pat community of Nosara could be of interest to you. Whether you're interested in surfing at Playa Guiones, taking a yoga class at the renowned Harmony Hotel, or simply checking out this unique town, Nosara is close enough to be reached on a day trip from Tamarindo.
Nosara is located just a 2-hour drive away from Tamarindo, but you won't find a usual assortment of over-priced souvenir shops here. Instead, be prepared to spend a day in a relaxed, laidback atmosphere that's unique to Nosara.
But it's not all about surfing and yoga in Nosara, the town is surrounded by lush forest filled with wildlife. There are wildlife sanctuaries and great snorkelling opportunities that you can't miss! You'll quickly find that a day trip to Nosara is all about enjoying the free-flowing pura vida lifestyle.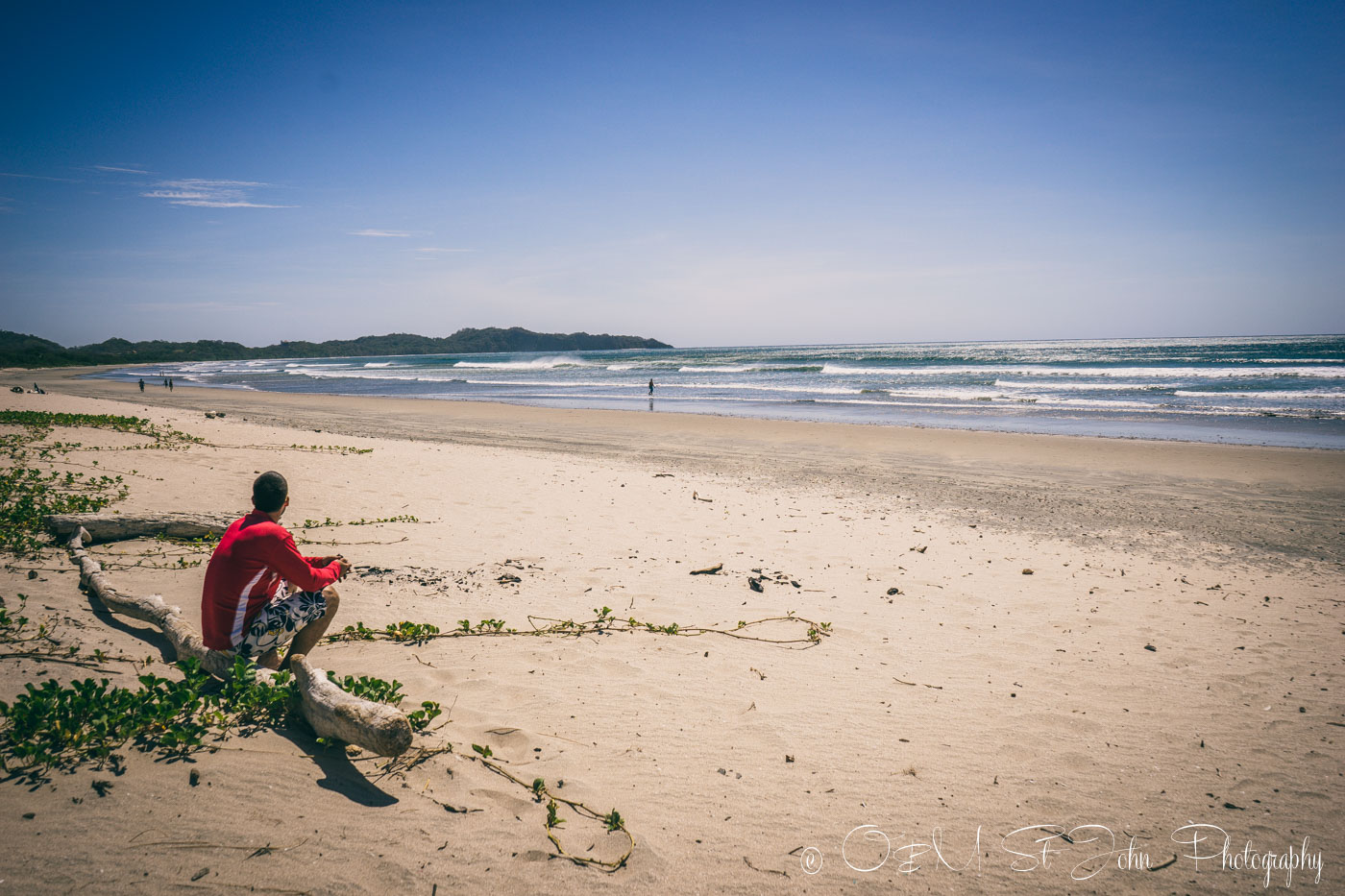 READ MORE: Visiting Nosara, Costa Rica – A Surfing Expat Community In Nicoya Peninsula
Playa Grande
If seeing sea turtles is on your Costa Rican bucket list, a trip to Playa Grande is one of the best places to do it. The beach is located directly north of Tamarindo and is home to hundreds of leatherback turtles. Because much of the local wildlife is endangered, the beach is a heavily protected area.
The only way to see the turtles is to visit Playa Grande from May-October and hire a tour guide. Guides from Las Baulas National Marine Park conduct daily tours that provide lots of information about the turtles while ensuring their safety as they nest and hatch.
Another popular way to spend a day at Playa Grande is to go surfing. The waves here are suitable for both beginners and experienced surfers and are far less busy than Tamarindo. Plus, you can get here in less than 1 hour so it's perfect for a spontaneous day trip. Between the excellent surfing and unique turtle-watching tours, you can easily spend a full day exploring Playa Grande.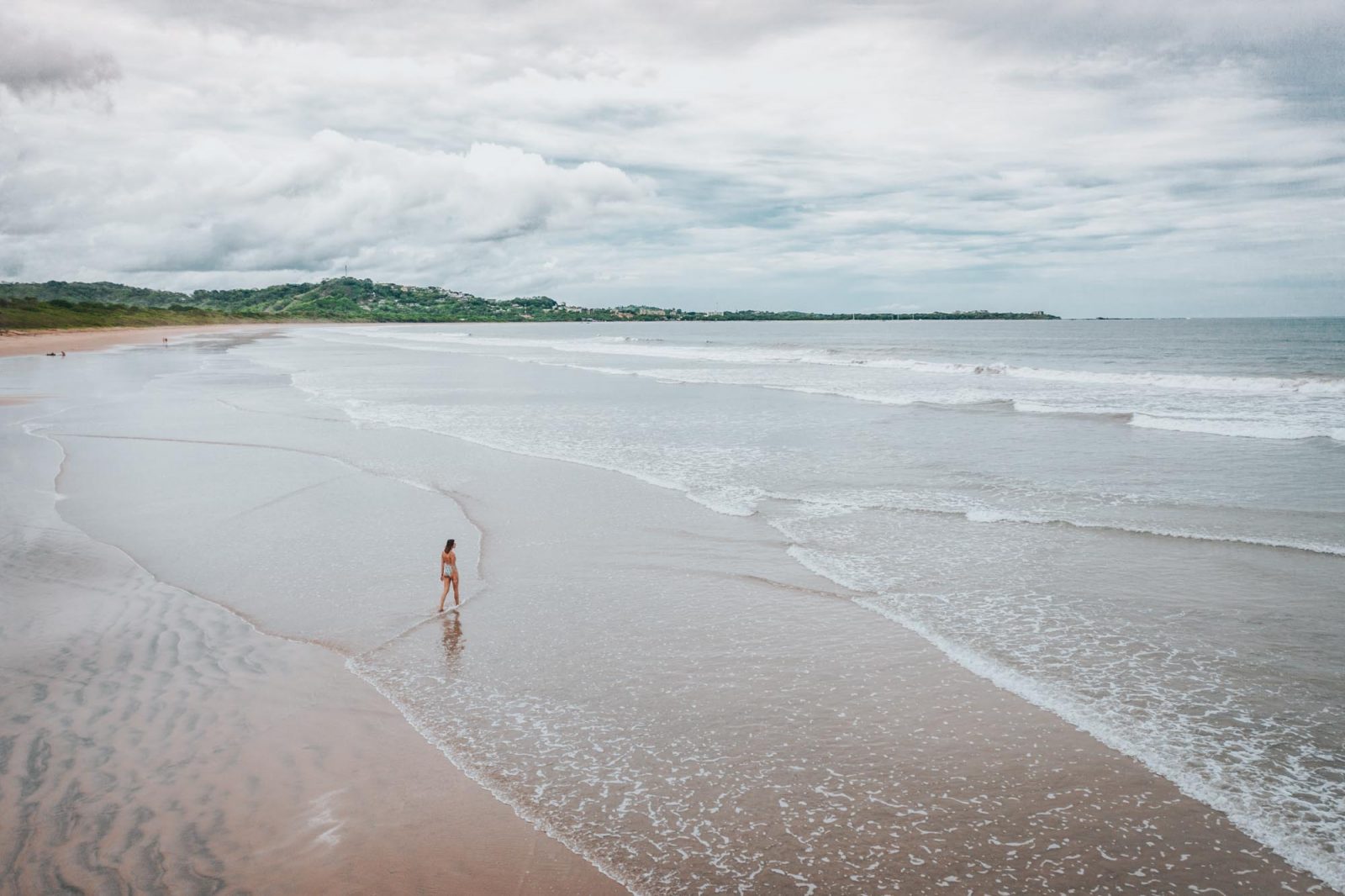 READ MORE: Guide To Visiting Playa Grande, Costa Rica
San Juanillo
Tamarindo, Costa Rica is a tourist hotspot where you can often be surrounded by more expats than Ticos. If you want to get a feel for how local Costa Ricans really live, check out San Juanillo. This small village is 1.5 hours south of Tamarindo and is definitely worth the stop—especially if you're on your way to Nosara.
Swimming at San Juanillo Beach is a great way to spend an afternoon since the waves are fairly calm. For the best swimming experience, time your visit to arrive at high tide. This way, you'll be able to peacefully enjoy the clear turquoise waters of the Pacific.
In town, there are a few places to enjoy local Costa Rican cuisine. The vibe in town is very laid back and feels far from the hustle and bustle of Tamarindo.
Playa Conchal
Covered in millions of crushed-up conchas (shells), Playa Conchal is one of Costa Rica's most beautiful beaches. Located a short 45 minute drive from Tamarindo, the beach is made up of tiny seashells.
Tourists and locals alike flock to the pristine beach year-round to enjoy its superb swimming conditions. The water is crystal clear and has moderate waves that are perfect for a full day of swimming. Unlike other North Pacific beaches in Costa Rica, Playa Conchal also offers great snorkeling opportunities.
The pleasant waters also make sailing and other boat-based day tours a popular choice at Playa Conchal. Travel here on a weekday to experience the best of this beach without the crowds.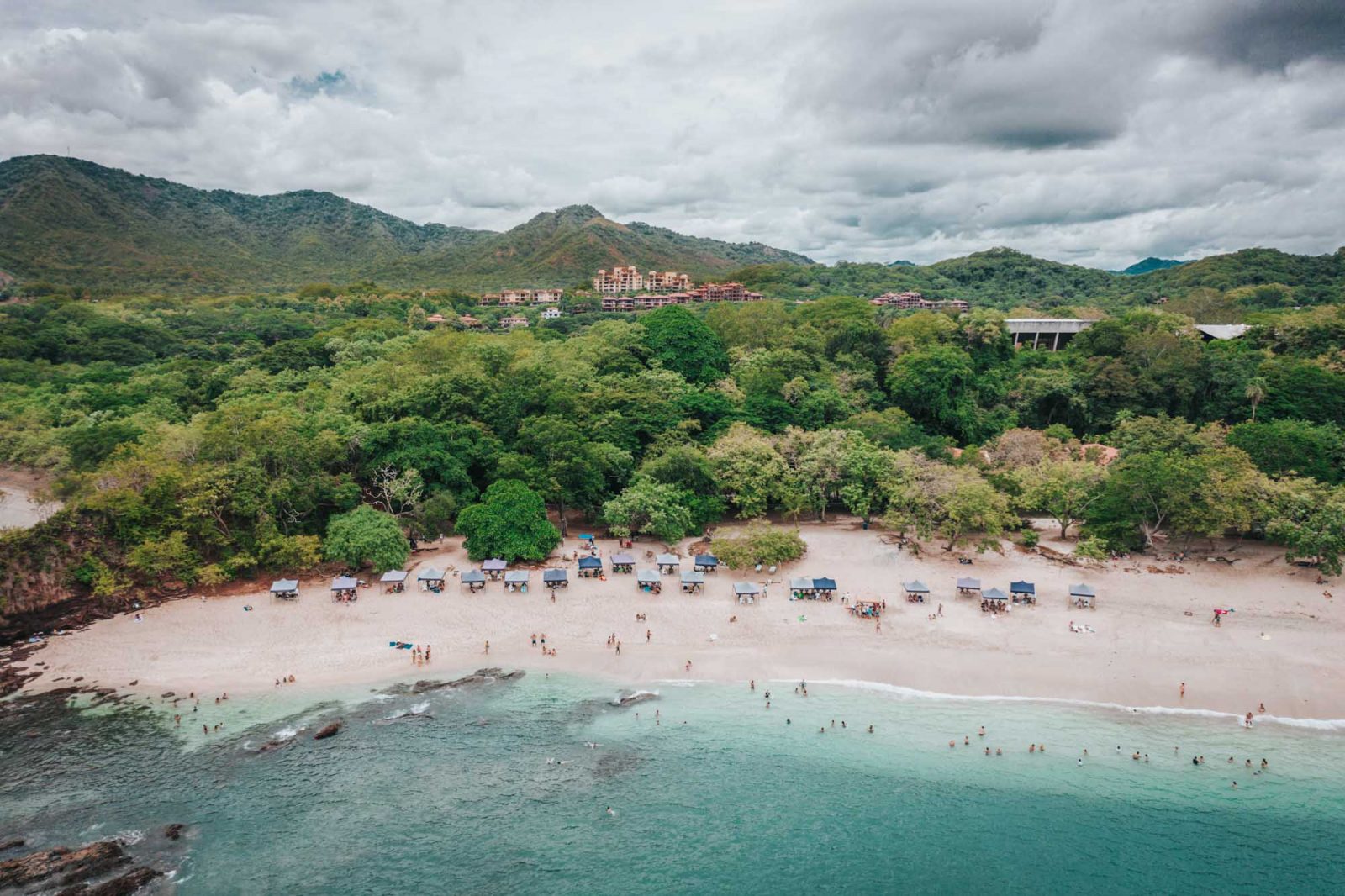 READ MORE: What You Need To Know About Visiting Playa Conchal, Costa Rica
Playa Flamingo
Just 30 minutes north of town, Playa Flamingo is one of the most popular Tamarindo day trips. The area is a favourite in Costa Rica for its pristine beaches and mellow waters. Playa Flamingo is perfect for a one-day jaunt!
Day trips to Playa Flamingo are all about enjoying the beach and soaking in the Gold Coast sunshine. Playa Flamingo also offers world-class sport fishing where anglers can fish for marlin, mahi-mahi, and even yellowfin tuna. For adventure seekers, take a boat tour to dive at Isla Plata or the Catalina Islands.
No Tamarindo day trip is complete without a beachside lunch of local veggies and sustainably sourced seafood. There are a few restaurants in Playa Flamingo that offer bites and beers perfect for a day at the beach.
READ MORE: Guide To Visiting Playa Flamingo, Costa Rica
Longer Excursions from Tamarindo, Costa Rica
If you're keen to wake up early and hop on a bus, there are plenty of other day tours from Tamarindo, Costa Rica. Travel 3 hours to Rio Celeste to see the breathtaking waterfall in Tenorio National Park or hike the lava trails of Arenal Volcano. You can even plan a fun overnight trip to Monteverde to experience the cloud forest.

After all, Tamarindo is the perfect home base for exploring all the things that make Costa Rica a traveler's paradise!
Where's your go-to spot for day trips from Tamarindo? Have you been to any of these places before?