If you're anything like us, sustainable travel is extremely important to you. We love visiting destinations and finding small ways to contribute to sustainable, ethical tourism, and the local economy. But what we love even more is visiting destinations that are already KNOWN for their dedication to environmental responsibility. Luckily for us, and for you, there are lots of options!
*This post may contain affiliate links, as a result, we may receive a small commission (at no extra cost to you) on any bookings/purchases you make through the links in this post. As an Amazon Associate, we earn from qualifying purchases. Read our full disclosure
We hope that this list of the most sustainable countries and eco-conscious destinations will inspire you in your travel planning for the upcoming year!
Costa Rica
We're kicking this list off with one of the greenest countries, renowned for its eco-friendly practices! The Costa Rican government makes protecting the biodiversity in their neck of the woods a huge priority. Costa Rica has so many green destinations throughout the country, but one spot that should definitely be on your list is the Osa Peninsula!
There are few places in the world where you'll have access to such diverse wilderness. It's a wild, tropical paradise that is off the beaten path, yet still tourist-friendly and eco-conscious. All of the guided tours, activities and accommodations available to you are run with low impact on the environment and with positive income on the communities in the area. You can relax knowing that your incredible holiday to the Osa Peninsula will not be at the expense of your surroundings!
Traveling Soon?

Here is a list of our favourite travel providers and accessories to help get you ready for your upcoming trip!
Slovenia
Slovenia is undoubtedly one of Europe's hidden gems and is one of the most sustainable countries. The Slovenian government has made it their mission in the last decade to provide responsible tourism, to not only expand their tourism sector but to do so while protecting their country's pristine lands.
And if their three consecutive years of winning the European Destination of Excellence Awards is any indicator, they're doing a great job!
If you love the outdoors and a chance to get closer to nature, Slovenia is the perfect place to do so! There are glaciers, caves, beaches, and lakes (one of which is the world famous Lake Bled) galore. You can tour these areas – as well as partake in outdoor adventure sports – knowing that the best practices for sustainability are in place.
We visited Slovenia in 2018 and fell in love with one of the greenest countries we've had the pleasure of visiting.
Norway
You've undoubtedly heard about the unbelievable beauty of Norway – everyone wants a peek at a jaw-dropping fjord! But not only is this country chock-full of natural beauty, but the country's residents are also all in on making Norway one of the most sustainable countries!
The Norwegian mindset is that of collective sustainability – everyone's got a foot in the game, so everyone needs to work together to protect their land! Here's a quote from the Norwegian tourist bureau: "What we enjoy experiencing today will be even more enjoyable to future generations, and it's our job to make sure it's still there when their turn comes."
Here are a few key regions you should check out while visiting this eco-friendly country:
The Golden Road
Located in Central Norway, known for its incredible landscapes and eco-friendly activities.
Geilo
A town located in between two of Norway's most frequented tourist destinations Oslo and Bergen. It's also right in between two incredible national parks. This town is known for having year-round outdoor activities.
Svalbard Islands
One of the most untouched places you can visit in Norway. It's located halfway to the North Pole! It's also an incredible place to see the Northern Lights when the season's right.
Rwanda
It may come as a surprise that Rwanda is one of the cleanest and greenest countries not only in Africa but in the world! In recent decades, the Rwandan government has taken an extremely proactive approach to sustainability – from banning plastic bags to instating a monthly nation-wide cleanup day.
The tourism bureau has a unique approach to attracting visitors – they are not looking for massive amounts of tourists, but the RIGHT tourists! People who are just as interested in protecting and improving the Rwandan environment as they are. This gives priority to tourist activities that are passionate about wildlife conservation and wilderness protection.
Singapore
If you're wanting to go on a city-based holiday, but still want your trip to be classed as responsible tourism, Singapore is the perfect compromise. This city-state and island country is a green destination like no other.
You can have all of the luxuries of a metropolitan holiday – shopping, fine dining, sightseeing – while keeping nature close. In fact, there's a primary rainforest within Singapore's city limits and green zones cover over 50% of the island to date.
Patagonia
Covering the southernmost regions of both Argentina and Chile, Patagonia is even further down under than the Land Down Under! And it is one of the most naturally diverse and greenest destinations in the world – you can experience glaciers, volcanoes, hot springs, jutting mountain ranges, and lush rolling hills. Not to mention the incredible wildlife – from walking with penguins to whale watching to getting up close and personal with guanacos.
Whether you're interested in multi-day treks, glamping, or embarking on a road trip through Patagonia's unspoiled landscapes, this part of the world is bound to provide a once-in-a-lifetime experience while at the same time providing responsible tourism. Since this area of the world is so pristine and frequented because of its natural beauty, your holiday there will be inherently eco-friendly.
Brazil
Though Brazil as a whole may not be known for its environmental sustainability or appear on most lists of green countries, the island of Fernando de Noronha is a stand-alone sustainable treasure.
The island, located off the coast of Natal, is famous for incredible scenery, beautiful beaches, and wildlife. It is also home to one of the most beautiful marine parks in the world and is a popular destination for divers, hikers, and outdoor enthusiasts looking to escape the cities and connect with nature.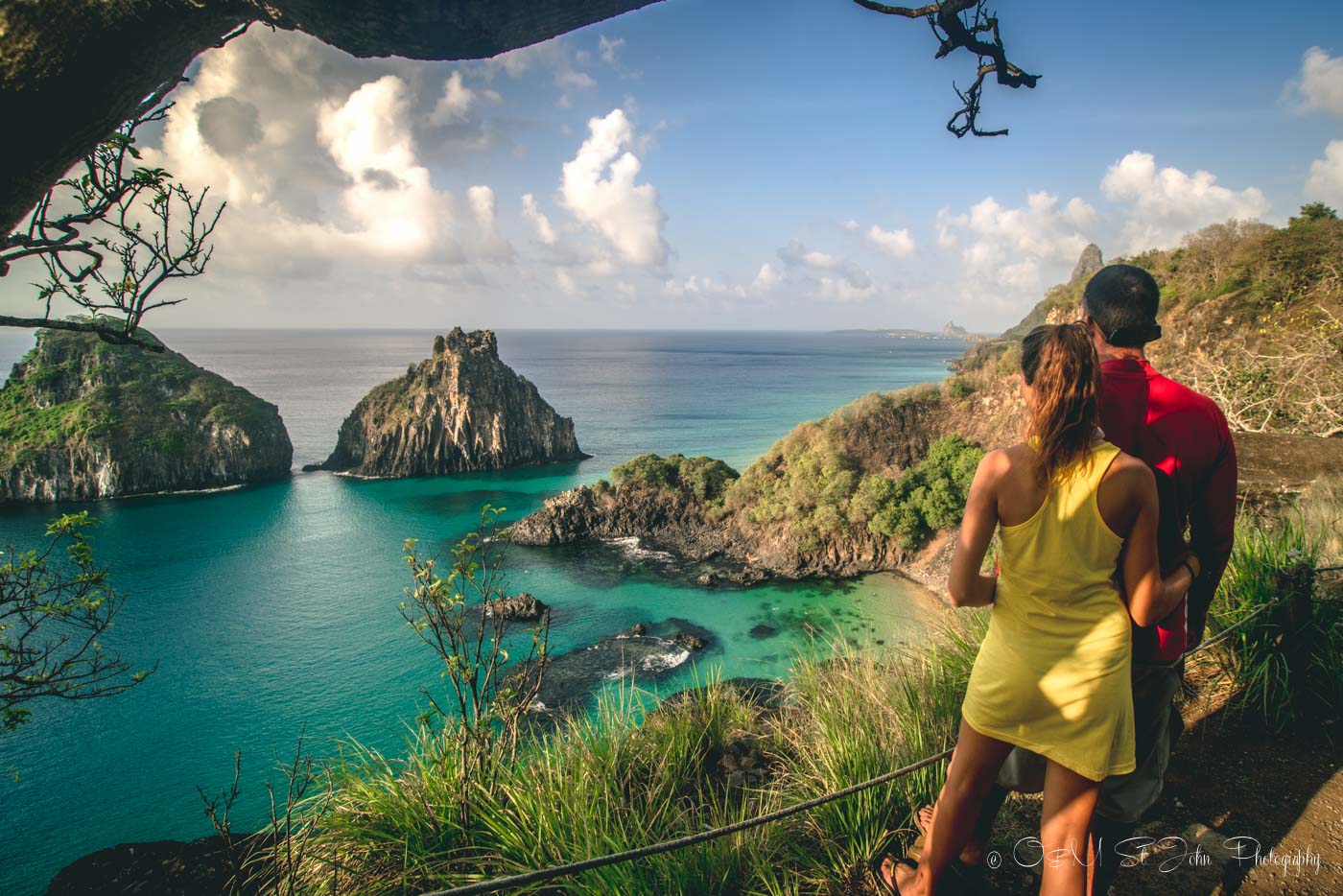 If it wasn't for the island's exponential Environmental Tax, this eco-conscious destination would be heaven for those looking for that dream island escape. It's a place where a week will fly in a flash and where you'll never run out of things to do!
New Zealand
New Zealand is one of the greenest countries and widely recognized for having the most unique landscape in the world – oftentimes making you feel like you have just ventured to the far reaches of Earth. Part of that has to do with the fact that all of the country's wilderness feels wholly untouched and unspoiled. Regardless of if you're visiting the Northern Island, the Southern Island, or both – you're in for a trip of a lifetime!
As you would expect from one of the most eco-friendly countries, their responsible tourism offers a wide variety of activities which support and protect the natural environment.
You can experience the local wildlife (from bird or whale watching to ethically-run zoos), see glow worms in action, and even take some time to visit a farm to see where your food is coming from. And bonus – New Zealand is one of the only places in the world where you can see the Southern Lights!
United States
Believe it or not, but there are areas of the USA that have put them on the map of greenest countries in the world. San Francisco, for example, is one of the country's green destinations.
Located smack dab in the middle of California's coastline, San Francisco has recently earned the title as the most eco-friendly city in the USA. And considering California is helping lead the way in sustainable practices for the US – it isn't much of a stretch to say San Francisco is one of the country's most sustainable cities.
They've already got bans on plastic bags and bottles in place, and are working towards being completely coal-free within the next few years. All of the food is fresh and locally sourced; most restaurants only serve organic food, and even the architecture is eco-friendly.
And of course, there are a million and one things to do in this bustling metropolis. There are over 200 parks within city limits – and you can get around by walking, biking or using the vast network of public transportation. Many local businesses, restaurants, and accommodations are eco-friendly, so creating the perfect ecotourism itinerary won't be a problem in San Francisco!
Uruguay
If you've never thought about adding Uruguay to your ever-growing list of green destinations for your next holiday – you definitely will now! There are pristine beaches, beautiful vineyards, and a whole lot of wilderness for you to take in. Though it may be the second smallest country in all of Latin America, it's also one of the safest, most peaceful, and greenest countries in this corner of the world.
In the last few years, the country has made major efforts to not only expand their tourism industry but do so in a green, sustainable fashion. This responsible tourism initiative is working in tandem with Uruguay's overall shift towards being greener, in a big to be one of the most sustainable countries.
Palau
Located in the Pacific Islands, Palau is one of the nations in the world that is directly being negatively affected by climate change. Coupled with the fact that its development pre-2005 was pretty detrimental to their local ecosystems, Palau decided to completely revolutionize the way they approached development and tourism.
In the last decade, the country has committed to not only maintaining their coastlines but expanding the conservation areas that were already in place! This, and a dedication to responsible tourism, is helping to make Palau one of the greenest countries on our list.
As one of the world's most impressive diving destinations, it's important that the island nation of Palau retains pristine coasts and clean beaches. But the conservation doesn't end there. There are several organizations working to maintain the island's unique environment and wildlife. There are even organizations like Blue Planet United that take people on multi-day, eco-themed tours of the island that include conservation projects.
Dominica
Bigger in size than some of its more popular neighbours (like St Lucia, Barbados and the Cayman Islands), Dominica is one of the last hidden gems of the Caribbean. And though it doesn't boast the same white sandy beaches as those neighbours, Dominica has more than enough to offer and is now considered one of the most eco friendly countries.
Within the last decade, the government has funneled a lot of money and resources into their tourism sector, with a heavy emphasis on responsible tourism. So much so that most of the resorts on the island are sustainable and eco-friendly – and can offer you all-inclusive packages that allow you to experience the island in a responsible fashion.
But even if resorts aren't your speed, you can easily participate in sustainable and responsible tourism on the island. Whether you like to snorkel, dive, hike or experience the local culture – you can do all of this while helping out the local economy and community.
Iceland
Iceland is a hot-button destination right now – it seems like everyone we know has either already been or really wants to go to Iceland (including us!). If you look to the past as an indicator, many countries sustain a heavy blow to their environment and ecology when their tourism industry takes off.
This is not the case in Iceland, though! They've taken huge precautions to make sure that everyone coming to visit their country will have the time of their lives without having it be a detriment to their surroundings.
As MyNatour puts it, Iceland's got all it needs to ensure sustainability – "a cooperative government, like-minded citizens, vast and stunning landscapes, pure water sources, exceptional wildlife, and an overall commitment to the conservation of nature."
Since tourism in Iceland has only really taken off in the last decade, you can pretty much guarantee that your accommodation will be modern and eco-friendly. This is because properties offering accommodations are rewarded if they have awesome sustainability and environmental consciousness levels. And there are plenty of eco-friendly activities to do while there – from hot springs to wildlife tours to ice hiking and trekking. There is something for every kind of eco-tourist here!
Bhutan
Nestled at the far east end of the Himalayas, this country is still a bit of a mystery to the outside world. You're only allowed into the country if you book through an official tour company – which means that you're paying a pretty steep daily price. But if you're willing to shell out a bit extra in order to visit one of the world's literal greenest countries (with 70% of its land covered by forest), it'll be totally worth it. Especially since Bhutan is the only country in the world that measures their prosperity in Gross National Happiness. And yes, that's a real thing!
It all comes down to choosing a tour operator that offers responsible tourism which benefits the local economy and community. And that's pretty simple to do – the government has a list of official operators to choose from right on their website! Each tour operator offers a range of tour options, with plenty of ecotours available.
Tanzania
Tanzania is probably not one that springs to mind when thinking about green countries, but responsible tourism has become more and more popular here especially in the Serengeti. You can now find a number of really great eco-friendly safari options and accommodation.
But if you go a little further off the beaten track you can find the ultimate ecotourism experience – on Chumbe Island. The Tanzanian island is located off the coast of Zanzibar and is privately owned by a nonprofit specializing in marine life conservation and ecotourism. A small number of tourists are let on to the island every year to experience its unparalleled beauty. The coral reef just off of the island is one of the most biodiverse and best-conserved reefs in the world.
The island is extremely small, and spending time on it requires a fully guided tour package. Packages include the opportunity to explore the island's historical monuments, hike the entire island, see its vast array of wildlife, and snorkel among the coral reef.
Have you visited any of these top eco-friendly countries before? Do you have any to add to this list? Tell us in the comment section below!