There is a secret island in Brazil that you probably have never heard of before. It's called Fernando de Noronha and it is the most exclusive and unique eco-tourism destination we have ever visited.
*This post may contain affiliate links, as a result, we may receive a small commission (at no extra cost to you) on any bookings/purchases you make through the links in this post. As an Amazon Associate, we earn from qualifying purchases. Read our full disclosure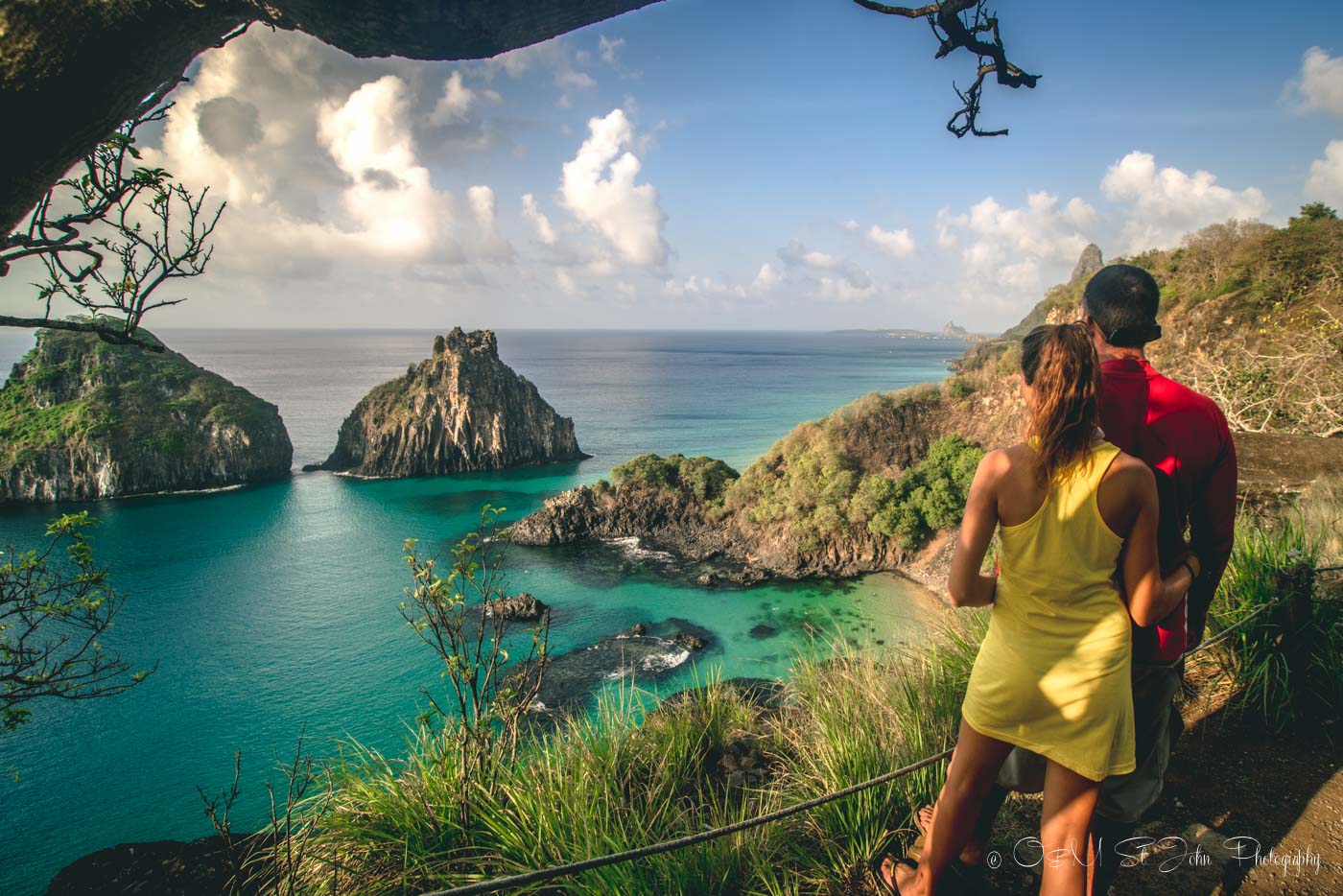 Traveling Soon?

Here is a list of our favourite travel providers and accessories to help get you ready for your upcoming trip!
Fernando de Noronha, Brazil is a volcanic archipelago and a UNESCO Natural World Heritage Site situated 215 miles off the coast of Brazil. The island is famous for incredible scenery, beautiful beaches, and amazing wildlife. It's also a popular honeymoon destination and an eco-travelers paradise!
Its famously crystal clear waters and pristine beaches are nature at its best. The main island is not spoilt by tourists (in fact daily visitor numbers are limited to just 400 people) and marine life is protected – making Fernando de Noronha island one of Brazil's best-kept secrets.
Here's our Vlog from when we visited
Why Visit Fernando de Noronha
The real question should be 'why not?!' Home to 21 islands and islets, Fernando de Noronha is one of the most beautiful marine parks in the world. It's a destination for divers, hikers, and outdoor enthusiasts looking to escape the cities and connect with nature.
Did you know?

The islands are named after Portuguese merchant, Fernao de Loronha. His name was often mistaken for Fernando de Noronha – and as you can see, that name remained. The main Fernando de Noronha island is the only one that is inhabited and has an area of only 18.4 km sq (7 miles sq). About 3000 people live on this remote island.
Emerald Waters Teeming With Marine Life
Fernando de Noronha has the most beautiful emerald and turquoise waters we have ever seen! The water is so clear that you can see pods of rays swimming in the distance and you don't have to look hard to spot their black spots.
Dolphins, whales, fish, and turtles – that normally aren't seen on the busy beaches of mainland Brazil can also be spotted in the waters around Fernando.
Beautiful Secluded Beaches
The beaches on Fernando de Noronha, Brazil are absolutely incredible – untouched, protected, and often absolutely secluded. Some are easily accessible from the residential part of town, others can only be accessed via a trail through the jungle.
Best Time to Travel to Fernando de Noronha
The rainy season on Fernando de Noronha runs from April to August and brings sunny weather peppered with heavy showers. Rain brings lush tropical vegetation, which makes this island even more beautiful.
We visited the island in the dry season, which runs from August to January and enjoyed clear skies, hot weather, and a warm ocean.
How to Get to Fernando de Noronha
The only way to reach the island is by air. Daily flights are offered by Azul Airlines and Gol Airlines, departing from Recife and Natal. Flight time is less than 2 hours, but a return ticket will set you back a hefty $300-500 USD/person.
On top of that, you'll need to pay a daily Environmental Preservation Tax of about $70 USD/week that increases exponentially with the length of the visit as well as a fee to access the Marine Park.
What to do on Fernando de Noronha Island
Explore Spectacular Beaches
The main beaches on Fernando de Noronha, Praia Sancho, Praia Porcos (Pig's Bay), and Praia Leão, are frequently rated among the top beaches in all of Brazil
Spending time on these beautiful secluded beaches is one of the biggest drawcards for visitors of Fernando de Noronha. Laze in the sunshine, slip into the crystal waters, swim among the rocks, and enjoy the uncrowded beauty of some of Brazil's best beaches. However, aside from enjoying the pristine beauty of this island, there are still plenty of things to do in Fernando de Noronha. Here are some of them:
Scuba Dive & Snorkel
The South Equatorial current brings warm waters to the beaches of Fernando de Noronha, which makes for ideal snorkeling and diving conditions. Visibility here can reach up to 50 meters and the waters are home to more than two hundred species of fish, as well as shark species, sea turtles, and dolphins.
Given the island's location and climate, there's no surprise that one of the best things to do in Fernando de Noronha is scuba diving. There are a couple of scuba diving companies on the island that offer day trips to some 20+ dive sites around Fernando de Noronha. Dive trips from Noronha start at $140 USD/pp.
During our visit in September, the Eastern side of the island was too rough for diving, so we opted to dive on the Western side.
We dove with the top rated diving company on the island, Atlantic Divers, but unfortunately didn't have the best experience. Their boat was too busy and disorganized and while we did see some colourful fish, a few turtles, and stingrays, we didn't feel like the hype of the Marine Park lived up to our expectations.
We did, however, really enjoy our snorkeling session at the marina, located on the Northeastern tip of the island. This site is home to a massive and shallow shipwreck that can be explored with just a snorkel. Snorkeling equipment can be rented at the marina (only $10 USD/per person).
Explore Eco-Trails
Outdoor lovers will enjoy exploring the island by foot. There are a number of trails on Fernando de Noronha, full of flora and fauna unique to the island. The trails range in difficulty and length from challenging 5-6 hour hikes on rough rocky terrain to short walks on the boardwalk suitable for travelers of all fitness levels.
There are 5 protected trails in the National Marine Reserve area, which can only be explored with an accredited guide, and another 3 trails inside the Environment Preservation Area, which have free access. Enjoy the scenic landscapes, views of the bays, and see the remains of 18th-century forts, as you walk through the marine park.
The trail that leads to the Baia dos Golfinos, has a wonderful view of the bay where you can see spinner dolphins. The Schad Grass Trail leads you through the wilderness of the jungle and takes you to the lighthouse at Ponta de Sapata. From there a rocky beach path leads to Praia do Leao.
Reservations for the guide/trail permits, just like everything else on the island, has to be arranged at the Visitor's Centre, located inside a small hut in Vila dos Remédios.
Cruise Around in a Dune Buggy
Hop on a dune buggy, a popular form of transportation on Noronha, Brazil to explore the island beyond the main town or make your way to the start of a trail or to the beach.
Enjoy Sunset
There is not much to do on the island past dusk but sunsets here are an activity of their own. A couple of bars/restaurants in town offer great views and are perfect places to sit back, relax and cool off with a few well-deserved drinks. After a day in the sunshine, listen to live music and feel the beat of the Fernando de Noronha island. Now that's what we call a day in paradise!
Where to Stay on Fernando de Noronha
When it comes to Fernando de Noronha hotels, options are pretty limited. You won't find any luxury accommodation on the island. Instead, 70+ pousadas (local guesthouses) open their doors to visitors all year round. They are a bit overpriced and offer pretty basic accommodation, but you don't really need much, as you'll be spending most of your time outdoors.
The plus side is that your local host will give you a warm island welcome and point you in the right direction to enjoy the best activities on the island. You can get a real feel for the local way of living and be able to support a small business, too.
If it wasn't for the island's exponential Environmental Fees, this eco-conscious destination would be heaven for those looking for that dream island escape. It's a place where a week will fly in a flash and where you'll never run out of things to do!
But today, most limit their stay to just 3-5 days, taking home nothing more than beautiful photos and unforgettable memories from Brazil's secret paradise island.
Check out our video from Fernando de Noronha below:
Have you ever heard of Fernando de Noronha?