Despite being a tiny nation, tucked in between Austria, Italy, Hungary and the Adriatic Sea, Slovenia offers an abundance of natural beauty and an incredible selection of destinations to visit.
*This post may contain affiliate links, as a result, we may receive a small commission (at no extra cost to you) on any bookings/purchases you make through the links in this post. As an Amazon Associate, we earn from qualifying purchases. Read our full disclosure
Spectacular mountains, colourful lakes, dense forests, karst caves, and enchanting waterfalls offer plenty of opportunities to connect with nature and serve as a perfect backdrop to an amazing Slovenia holiday.
We were fascinated to discover all the things to do in Slovenia. Highly speaking, we were blown away by the beauty of this country from day one.
Locals welcomed us with open arms and their love for their country, their land, and their sustainable way of living helped us understand why Slovenia is often regarded as one of the greenest and most eco-friendly destinations in the world.
What surprised us the most was that some of the most charming, most beautiful places in Slovenia are still rather unknown to the masses. These must-see destinations offer a unique opportunity to experience unspoiled nature, century-old traditions, and delicious food and wine pairings at an affordable price.
Traveling Soon?

Here is a list of our favourite travel providers and accessories to help get you ready for your upcoming trip!
WANT TO EXPLORE SLOVENIA BY CAR?

Get the best car rental rates by booking ahead! Discover Cars compares prices across all major car rental companies, so you are guaranteed to get the best deal.
We only spent 2 weeks exploring the most beautiful places in Slovenia, but that was enough to completely fall in love with the country and everything it has to offer.
So, if you are wondering what to do in Slovenia, there are plenty of beautiful and conscious options to consider as you travel the countryside.
These are our recommendations for top things to do in Slovenia!
Ljubljana
In recent years, the capital of Slovenia won the prestigious World Travel Market Responsible Tourism Award for its efforts in sustainable tourism development and its commitment to goals in quality of life for citizens and visitors alike.
The city is small and easy to explore on foot or on a bike, which means that you can see most of the attractions and what the city has to offer in 1 or 2 days.
Explore Ljubljana Old Town
Ljubljana's old city centre is a must-see when you visit Slovenia. This historic area is the most picturesque part of the capital city. It also features landmarks like the Town Hall, Ljubljana Castle, the Triple Bridge, and beautiful cathedrals. While you're in Old Town, be sure to visit Stari Trg Square. You'll get to see some lovely architecture, shops and cafes, and the Fountain of Hercules.
Explore the Ljubljana Castle, where you can enjoy sprawling views of the city and its surroundings, stroll along Ljubljanica River bustling with shops and restaurants, grab some local produce from the Central Market (biggest farmers market and one of the best places in Slovenia), and get your first taste of local cuisine at one of the many farm-to-table restaurants in the city centre. We recommend a visit to the new zero-waste Georgie Bistro!
To see a different side of the city, visit Republic Square. There is a stark contrast to the Old Town. The communist-era architecture and sculptures are very different from the romantic historic city centre. Republic Square also features monuments honoring those who were lost during World War II, and symbols of Slovenia's journey to independence.
Take photos at the Dragon Bridge
While you're in Old Town, be sure to check out the iconic Dragon Bridge. This reinforced concrete bridge is the first one of its kind in the city. Also, the four dragons protecting the entrances are impressive sculptures.
If you have time, take a beekeeping tour to learn all about Slovenia's favourite hobby. Visit a few urban beehives, and try some locally made honey and honey liquor.
Save a day for a trip to Velika Planina, Slovenia's biggest shepherd meadow where you can learn all about the life of local herdsmen and their cattle. Join a guided tour that departs every Saturday morning, or choose to explore on your own.
The herdsmen in the area are incredibly friendly. They will likely invite you into their homes for a glass of homemade apple juice, cheese, or a shot of local schnapps. There are lots of nice trails at the top, so wear comfortable shoes!
Where to stay in Ljubljana
Escape to the countryside after a long day of sightseeing Slovenia attractions in Ljubljana and stay in the charming setting of Ljubljana Marshes area in Trnulja Estate, an organic farm that offers fully equipped holiday apartments, built solely with sustainable eco materials.
They also offer an incredible organic breakfast consisting of local ingredients and Slovenian delicacies.
Lake Bled
The picturesque views of Lake Bled were one of the iconic sights that had originally drawn us to spend our holidays in Slovenia, but surprisingly, the reality of Bled was less appealing.
Don't get us wrong Bled is a beautiful destination and a Slovenia must-see. With so many activities to offer like boat rides to the Bled island, rowing, stand-up paddle boarding, swimming, and even zip lining. However, unfortunately, the lake has now become very touristy and busy. This ruins the appeal. This is our honest opinion as it is important for us to shed light on the positives and negatives in our Slovenia travel blog.
For us, the best way to admire the natural beauty of Bled was actually over an evening meal at the Bled Castle Restaurant. It is an intimate setting that allows you to appreciate the best of Bled's picturesque setting while avoiding the crowds.
Where to stay in Lake Bled
Trade the busy Lake Bled for a quiet stay in the nearby town of Zgornje Gorje at AMS Beagle, a beautiful eco-hotel in the area. This small hotel feels like home and offers spacious rooms and a delicious organic breakfast. The staff are absolutely wonderful and went above and beyond to ensure we had an amazing stay!
Lake Bohinj
Those looking for a genuine experience in nature should dedicate a few days to visiting Bled's neighbour, the lesser-known Lake Bohinj. Located just 30 mins away from Bled inside Triglav National Park, Bohinj is surrounded by mountains and offers activities suitable for a more adventurous traveler.
You can explore the area on foot by following numerous trails, go paragliding, rafting, canyoning or horseback riding. Biking tours are also popular in this area.
Where to stay in Lake Bohinj
The charming town of Stara Fuzina offers a great and quiet base for discovering the area and local guides Grega and Maja from Hike and Bike Slovenia can set you up with an ideal itinerary and accommodation for your visit.
Soca Valley
Soca Valley offers not only a beautiful natural setting but is also the epicentre of adventurous activities in the country. Whitewater rafting, kayaking, paragliding, mountain biking and canyoning can all be organized from Kobarid town centre.
We loved our whitewater rafting experience with Positive Sport in Kobarid. It was really fun and not very challenging. Also, the trip allows us to see a different part of the Soca River.
If you love hiking, we also recommend hiking the Historic Trail that starts in Kobarid. It's a beautiful 3-hour walk that offers great views of the town and the entire valley and offers some insights into the historical significance of Kobarid, which is a must-see for any Slovenia itinerary.
Where to stay in Kobarid
We stayed at Camp Koren, a green-certified campsite that offers camping spots, glamping cabins, eco-cabins, and fully furnished chalets just outside of Kobarid town centre. The camp is an ideal low-impact accommodation to stay at for a few nights while exploring the area.
Vipava Valley
This part of the country is still relatively unknown but offers amazing food and wine experiences.
In our short time in the region, we got a chance to visit a few vineyards including the renowned Burja Estate, sample some delicious local cuisine and try some wonderful local wines, including the most notable local Karst Teran wine.
Be sure to visit a few local restaurants, like Cejkotova Domacija in the town of Goce to sample some farm-to-table cuisine.
Where to stay in Vipava Valley
Hotel St Daniel, located outside of the small town of Stanjel, is the ideal place to stay in Vipava Valley.
This 100% organic hotel is a part of the Bio Hotels chain and perfectly embodies the best of the region with amazing food, great hospitality and a beautiful location among the vineyards.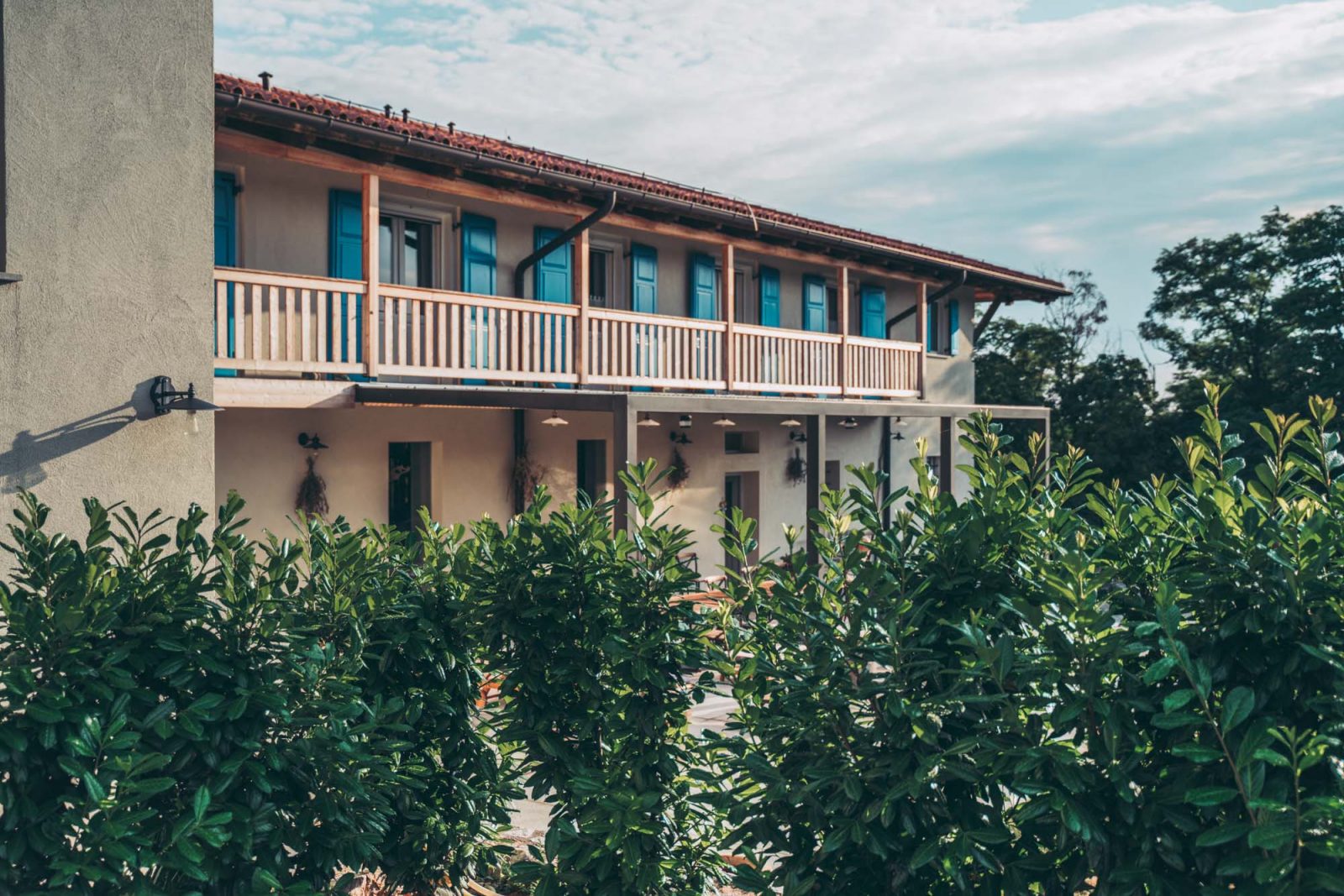 Piran/Portorož
The seaside of Slovenia spans only 46 kilometres, which is what makes these two small coastal towns popular Slovenia attractions. Piran is the more attractive of the two towns. It has more of an Italian coastal feel with narrow cobblestone alleyways and cute restaurants dotted around the old town centre.
Portorož is more modern and busy, but it does offer a sandy beach, something that Piran definitely lacks. While the towns themselves are worth a visit, for us the highlight of this part of Slovenia was the Sečovlje Salina Nature Park, home to the largest Slovenian salt evaporation pond.
The salt pond is one of the few places in the world where salt is still produced in a traditional way and if the weather cooperates, you can watch the action live on your tour around the salt pans.
The Nature Park is also home to Lepa Vida Thalasso Spa, a unique outdoor spa center that specializes in thalassotherapy using natural products, produced in the Sečovlje Salina Nature Park.
It was in this region that we also visited Gramona Farm, an organic olive farm where we got a comprehensive lesson in olive oil tasting. But even outside of the tastings, food in this region was on a whole other level!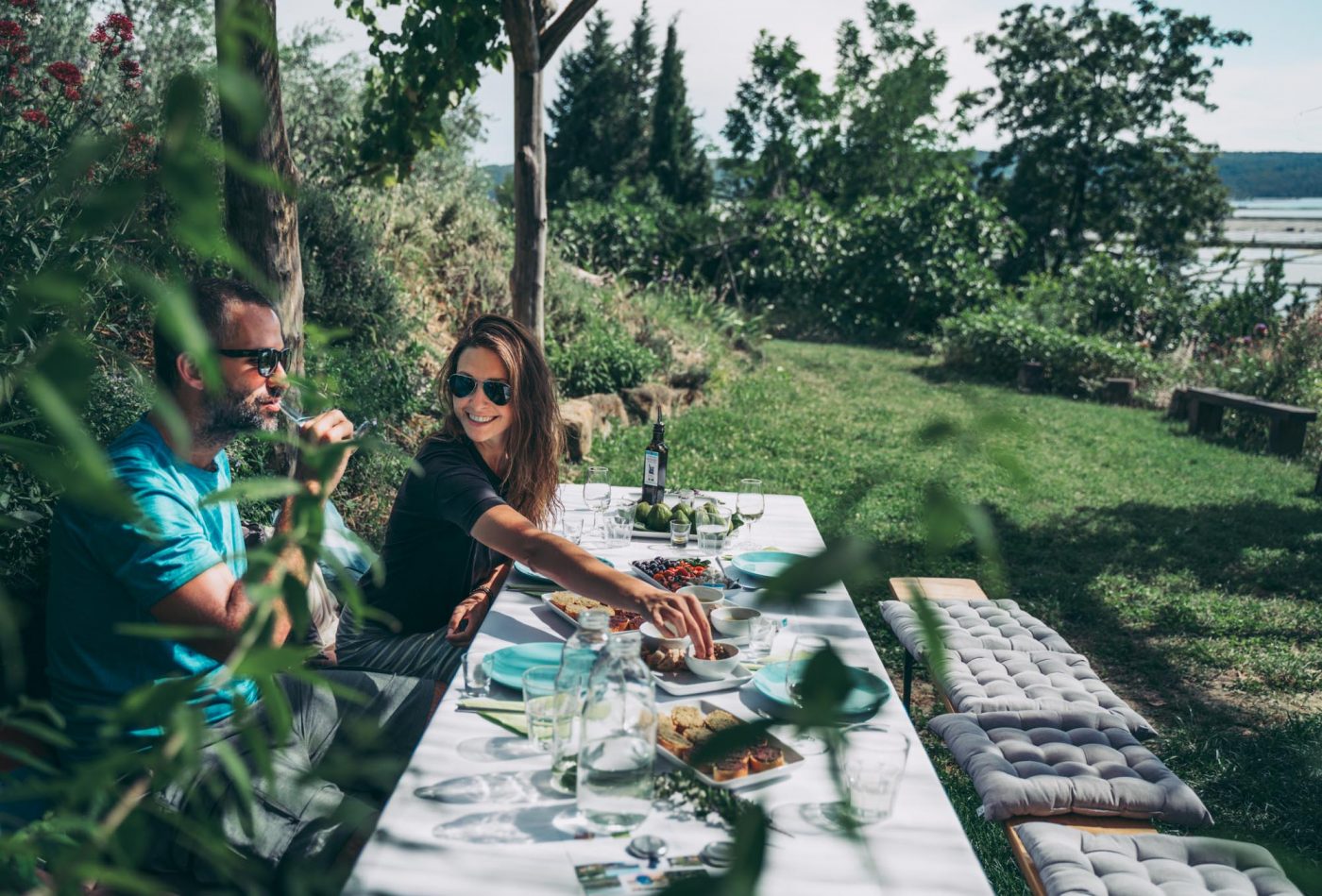 Slovenian Istria
Piran or Portorož offers a great place to spend a day, but we recommend that you also spend some time in this area enjoying Slovenian Istria and its peaceful inland and away from the hustle and bustle of the coast.
Where to stay in Slovenian Istria
If you are looking for a unique local stay, head into the heart of Slovenian Istria, just a 15-minute drive away from Koper town centre and enjoy a few nights at the Holiday Houses of Slovenian Istria set amidst a beautiful vineyard, surrounded by rolling hills and fruit tree plantations.
The accommodation offers an opportunity to stay in traditional-style houses or in nicely decorated rooms and gives guests an opportunity to learn more about the traditional customs of the area.
Delicious food is the primary reason to visit Slovenian Istria! We had a chance to indulge in a delicious homemade dinner and a unique Istrian Breakfast experience with ingredients sourced from local farms.
Bela Krajina
For a chance to get away from the tourist trail altogether, visit the Bela Krajina region. Bela Krajina is located in the Southeastern part of Slovenia on the border with Croatia. Here you can stay among nature and get a chance to sample the unique cuisine and learn about local traditions and customs in the area.
Where to Stay in Bela Krajina
The Kolpa River area offers a great escape for nature lovers and a unique mobile home resort Big Berry is an ideal place to stay in this area. The resort acts as a hub of the area. They have partnered with a variety of small businesses in the community to offer guests an opportunity to experience traditional cooking and cultural events in the area during their Slovenia travel.
Skocjan Caves
Skocjan Caves is a spectacular cave system in the southwestern corner of Slovenia. Protected as a UNESCO World Heritage Site, the caves are full of stalagmites and stalactites and plunging rock faces with the powerful Reka River flowing through.
Guided tours are offered. Also, be sure to make reservations because this is one of the few UNESCO sites to visit in Slovenia. The tour lasts 2-3 hours, is about 5 km long, and it's well worth it. The views inside the cave system are magical – you'd think you were in The Lord of the Rings.
Where to stay near Skocjan Caves
Hostel Škrla is located just 8 minutes from the caves. It offers affordable rooms with all of the amenities you would need. The owner is also a chef, and offers meals prepared with locally sourced ingredients. This is also a great home base for a visit to Predjama Castle – it's less than 20 kilometres away!
Triglav National Park
Slovenia's only national park. Triglav is the country's largest protected area and it covers the majority of the eastern Julian Alps. The park is carefully managed to preserve its many ecosystems. Also, the Triglav National Park Public Institute works with local residents and government agencies to ensure sustainable development in the Alps.
The park is full of biking and hiking trails of varying difficulty that lead to breathtaking viewpoints. Also, there's plenty of opportunities for water sports. This park deserves at least a full day of exploration, and the adventurous will enjoy a guided white water rafting tour that allows you to cover a lot of ground in a single day.
If you have a rental car, be sure to drive the ancient Vršič Pass, the highest mountain pass in Slovenia. The viewpoints along the pass are amazing, and you get a good overview of the park along the way.
Where to stay near Triglav National Park
You can stay in Bled, which is just outside of the eastern boundary of the national park. If you prefer a less touristy spot, Bohinj is a great home base.
Residence Novak Bohinj offers spectacular views of the mountains and is just a 5-minute walk from Lake Bohinj. For skiers visiting Slovenia during the winter months, there are 3 ski lifts nearby
Visit Inner Carniola
Located in the southern part of Slovenia, Inner Carniola is one of the least populated regions of the country. Even so, there is plenty to do and see, including natural attractions like cave networks and lakes, or picturesque castles.
Predjama Castle is a must-see if you're in the area. This 13th-century castle is built into the mouth of a cave. Also, it is considered to be the world's largest cave castle. The castle is wonderfully preserved, and guided tours include a walk through secret tunnels underneath the castle.
Where to stay in Inner Carniola
Postojna is the major city of the region, central to a lot of attractions in the area. Predjama Castle is a 15-minute drive from town, and the famous Postojna Cave is just 5 minutes away. Smrekarjeva Domačija is a beautiful, century-old homestead that offers comfortable accommodations. They also offer home-cooked meals that feature ingredients produced onsite, or at local farms.
Have you visited Slovenia before? What other stops would you add to this Slovenia holiday itinerary? Let us know in the comment section below!
Disclaimer: We traveled to Slovenia as guests of the Slovenia Tourism Board and the Big Berry Mobile Resort, but all opinions expressed in this article are our own.