Wildlife experiences abroad are a popular travel bucket list item for all ages. Interacting with animals in their natural environments can be an incredibly enriching and memorable experience. But unfortunately, not all wildlife experiences are responsible and ethical.
*This post may contain affiliate links, as a result, we may receive a small commission (at no extra cost to you) on any bookings/purchases you make through the links in this post. As an Amazon Associate, we earn from qualifying purchases. Read our full disclosure
In recent years, more and more information has become available highlighting the exploitation of animals that are part of these wildlife experiences. It's becoming impossible to ignore – especially when huge travel companies like TripAdvisor ban the sale of tickets for experiences that involve touching wildlife.
It's definitely still possible to get that once-in-a-lifetime wildlife experience on your next holiday – so let's talk about how to choose the most ethical option. We want to make sure we are putting the welfare of the animals before our need to have a cool new profile picture!
Red flags
Before getting into what makes a wildlife experience ethical, let's talk about ways you can easily identify a red flag scenario – one you definitely should not participate in.
If you have the opportunity to TOUCH the animals in any way, it's not an ethical experience. While holding a baby koala in your arms sounds like an adorable experience, it is not safe for the koala!
If the animals have BEEN TRAINED to do anything out of the ordinary – when their behavior caters to the human experience, and not to the needs of the animal – their welfare is not at the heart of the experience.
Avoid any and all situations where animals are being HELD IN CAPTIVITY! This goes for not only wildlife experiences, but restaurants and hotels as well. If you see cages, tanks, aquariums, etc., get out of there!
If the tour company, a shop, or a market offers SOUVENIRS made from parts of the animals (shells, skin, teeth, tusks, etc.,), this too should be treated as a serious red flag.
Some wildlife experiences that are unethical no matter which way you spin it – you should never ride an elephant, walk with a lion, or hold a sea turtle. But while there are a lot of unethical scenarios for wildlife interactions,
…there are plenty of examples of ethical wildlife experiences you can add to your next vacation!
Here are just a few of our favourites to add to your travel wish list!
Swimming With Whale Sharks in Western Australia
While swimming with whale sharks is an incredible experience that we highly recommend, we suggest staying away from this experience in Oslob, Philippines and Isla Mujeres, Mexico.
Though these are two of the most famous places in the world to swim with whale sharks, the practices that they have in these regions are doing nothing to help the "vulnerable and declining" status of the whale shark species.
Here whale sharks are baited and human interactions with the animals are actually encouraged. There is also no practices or policies for crowd control. Over time this has led to the animals' behavior change and a severe impact on their natural habitat.
Those who want to swim with whale sharks in a responsible environment can do so in Western Australia!
Australia is the world leader in sustainable whale shark tourism. They've got strict licensing laws for tour operators, someone monitoring the waters at all times, vessel-monitoring systems, investments in whale shark research, and the industry in Ningaloo Reef as a whole, continues to make improvements to ensure the safety and welfare of the whale sharks.
Visiting Orangutans in Sabah, Malaysian Borneo
Southeast Asia offers plenty of opportunities to interact with various species of primates, but unfortunately, many of these are not responsible. A "Monkey Show", for example, is one of the most unethical wildlife experiences on the market!
Another example of this is Nha Trang Island (otherwise known as Monkey Island) in Vietnam. The tourism industry there has forced breeding of the monkeys which caused the island to become overpopulated with them – a practice that in itself is dangerously unsustainable. Not only that, but the monkeys on this island are no longer able to enjoy their natural environment and are often held in inhumane conditions.
If you are looking for an ethical primate experience in Southeast Asia, consider visiting orangutans in Sabah, Malaysian Borneo.
There are several conservation organizations all over the island of Borneo that use the ecotourism model to generate funding and awareness for the conservation oforangutans! You can volunteer with one of the organizations, or simply walk through one of the sanctuaries.
We recommend the Sepilok Orangutan Rehabilitation Centre, one of the biggest and most well known Orang Utan sanctuaries in Malaysia. Here over 75 rescued Orang Utans roam the grounds of the 43 square kilometer site, swinging from the trees onto the feeding platforms. The center is responsibly run and puts the wellbeing of orangutans (and other primates) above any tourist interactions.
Admiring Turtles (and Tortoises) in the Galapagos Islands
The Galapagos Islands are one of the most regulated destinations in the world. Due to the fact that the Ecuadorian government wants to preserve the islands, the majority of tour providers and operators have no choice but to follow responsible practices. However, there are always a few exceptions to the rule.
Avoid diving/snorkeling companies that offer you an opportunity to "get close enough to touch sea turtles" and opt to admire sea turtles and tortoises from afar.
We are big proponents exploring the Galapagos by land and highly recommend traveling around the islands with Galakiwi, a land-based tour operator based in San Cristobal Island.
A trip with Galakiwi means that you'll have the most dedicated and knowledgeable guide and a guarantee of the most sustainable way to visit the islands!
You'll have a chance to visit the Tortoise Breeding Centre on Isabela Island and learn more about the breeding practices at the center and even see the various stages of tortoise development inside the egg.
On Santa Cruz Island, you can also visit the El Chato Tortoise Reserve, where tortoises can be found roaming free in their natural environment across thousands of square meters of high pastures
Spotting the Big Five on a Safari in Africa
An African Safari can be an unforgettable experience, but it's important to choose a company that goes above and beyond their responsibilities to ensure the low environmental impact of their safaris.
Prolonged exposure to humans can change the behavior of the animals, so it's important to choose a company that limits the amount of time each vehicle spends with the animals.
It's also critical to ensure that guides stay well within the designated routes and roads of the parks, limiting going off the path as much as possible.
And finally, it's important that you choose a safari operator that is directly involved in conservation projects, anti-poaching initiatives, and those that bring about positive change to the local communities they operate in.
We highly recommend going on a safari with &beyond, a company that's dedicated to their core ethic of caring for the Land, caring for the Wildlife, and caring for the People.
Across their lodges in East and Southern Africa, &beyond participates in the reintroduction of an endangered species, encourages enterprise development in communities they work in, and look for many other ways to leave a positive legacy through all of their actions. Guest can have an opportunity to learn more about &beyond and their work at every lodge and on every safari drive.
Volunteer at an Elephant Sanctuary in Thailand
Riding elephants use to be an activity for every Thailand bucket list, but thanks to the plethora of media coverage more and more travelers are now aware of the harsh truths about elephant training for this popular activity. Unfortunately, there are no laws that to protect Thailand's captive elephant population, and sadly over 80% of Thailand's elephants live in captivity.
Luckily, there are a few responsible organizations that offer ethical ways to interact with elephants.
Many of these organizations serve as sanctuaries, welfare projects, and rehabilitation centers that focus on educating visitors about the conservation issues facing Thailand's elephants.
Elephant Nature Park in Chiang Mai is the most well know of them, but a few other organizations are also available across the country. Elephant Nature Park rehabilitation center has received dozens of awards for its commitment to rescuing and rehabilitating Thailand's working elephants. The park offers daily tours with an opportunity to feed, bathe, and walk with elephants as well as week-long volunteer assignments.
Swim with Dolphins in the Amazon River in Peru
Dolphin encounters are available in a variety of aquariums and beaches worldwide, but these "Swim with the Dolphin" programs are anything but responsible. The environment the dolphins live in is not humane and dolphins kept in captivity suffer not just physically but also mentally.
So we urge you to opt out of swimming with dolphins in these establishments and instead choose to swim with dolphins in the wild.
The Amazon River in Peru is one of the destinations where you can have a chance of swimming with dolphins in the wild.
While on a week-long tour with Amazonia Expeditions, we traveled to Charo Lake where we spotted the elusive pink and grey dolphins just a few feet away from our boat.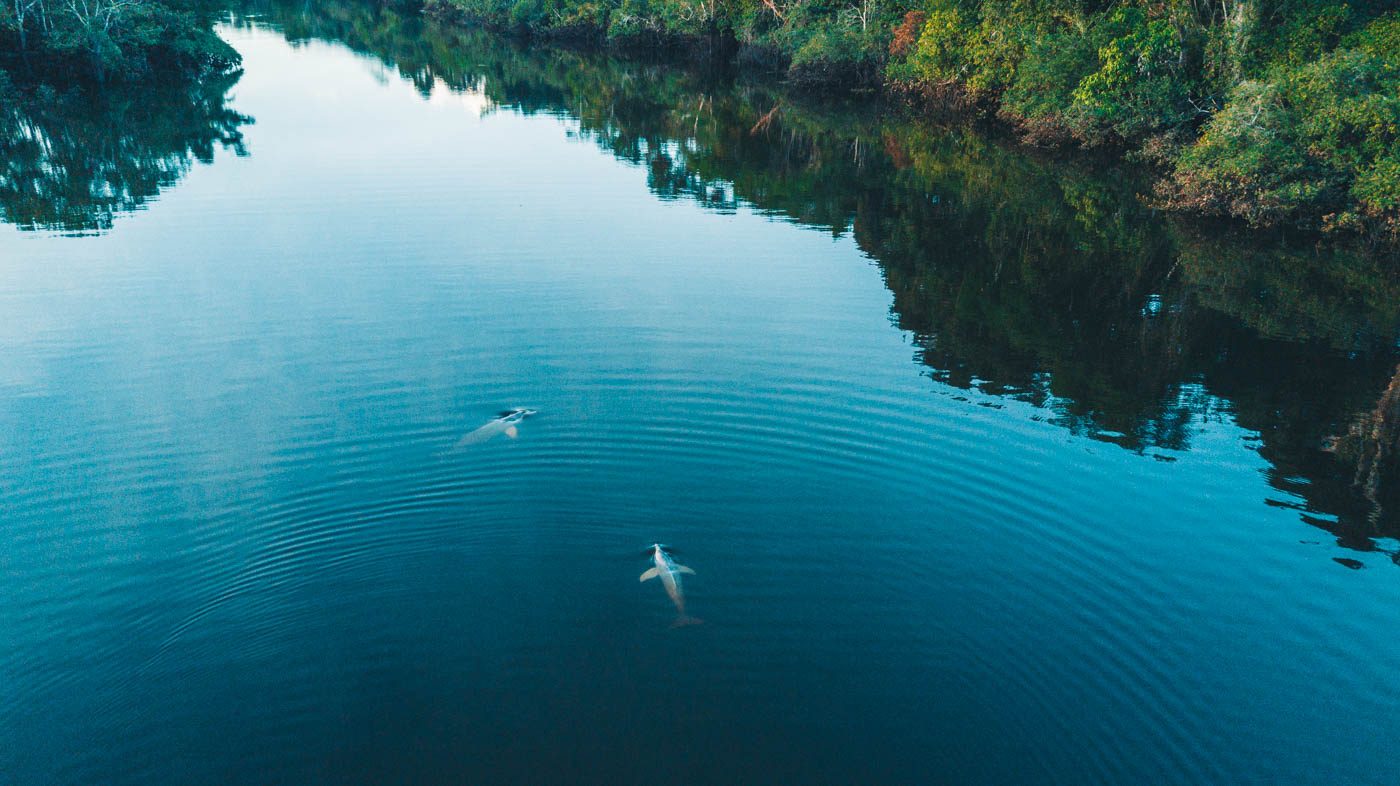 With the permission of our guides, we jumped into the water and swam around the lake hoping that one of the dolphins would come to "check us out".
They didn't. After all, this experience was with dolphins in the wild, not in an aquarium, but we did swim in the same lake probably just mere meters away from the dolphins. Our swim with dolphins didn't involve touching the dolphins or disturbing their natural environment, but it was still a very cool experience!
In addition to being a kind way to see these beautiful creatures up close, a trip to the Amazon River with the right tour provider, like Amazonia Expeditions, will also support conservation efforts and ongoing research of the Amazon River ecosystem.
We definitely encourage you to get out there and choose unique and ethical wildlife experiences on your next holiday!
Making sure that you're contributing to (instead of harming) the welfare of the animals you're interacting with will not only make the experience more pleasant for you and the animals but also sustain a responsible practice for generations to come.
Which ethical wildlife experiences are on your travel wish list?