*This post may contain affiliate links, as a result, we may receive a small commission (at no extra cost to you) on any bookings/purchases you make through the links in this post. As an Amazon Associate, I earn from qualifying purchases. Read our full disclosure.
For such a small country, there is a lot on offer when it comes to Costa Rica scuba diving. With both Caribbean and Pacific Ocean waters, you can find a huge variety of diving conditions and underwater life. With a name meaning "rich coast," it's no wonder that Costa Rica diving is a can't miss experience. The best scuba diving in Costa Rica is, of course, a matter of personal preference, but rest assured there is something for everyone here!
The Caribbean side features stunning coral reefs overflowing with life. The biodiversity here is remarkable and you're likely to see hundreds of different species of marine animals on any given dive. These reefs are often in warmer, more protected waters making for less challenging diving than the Pacific side.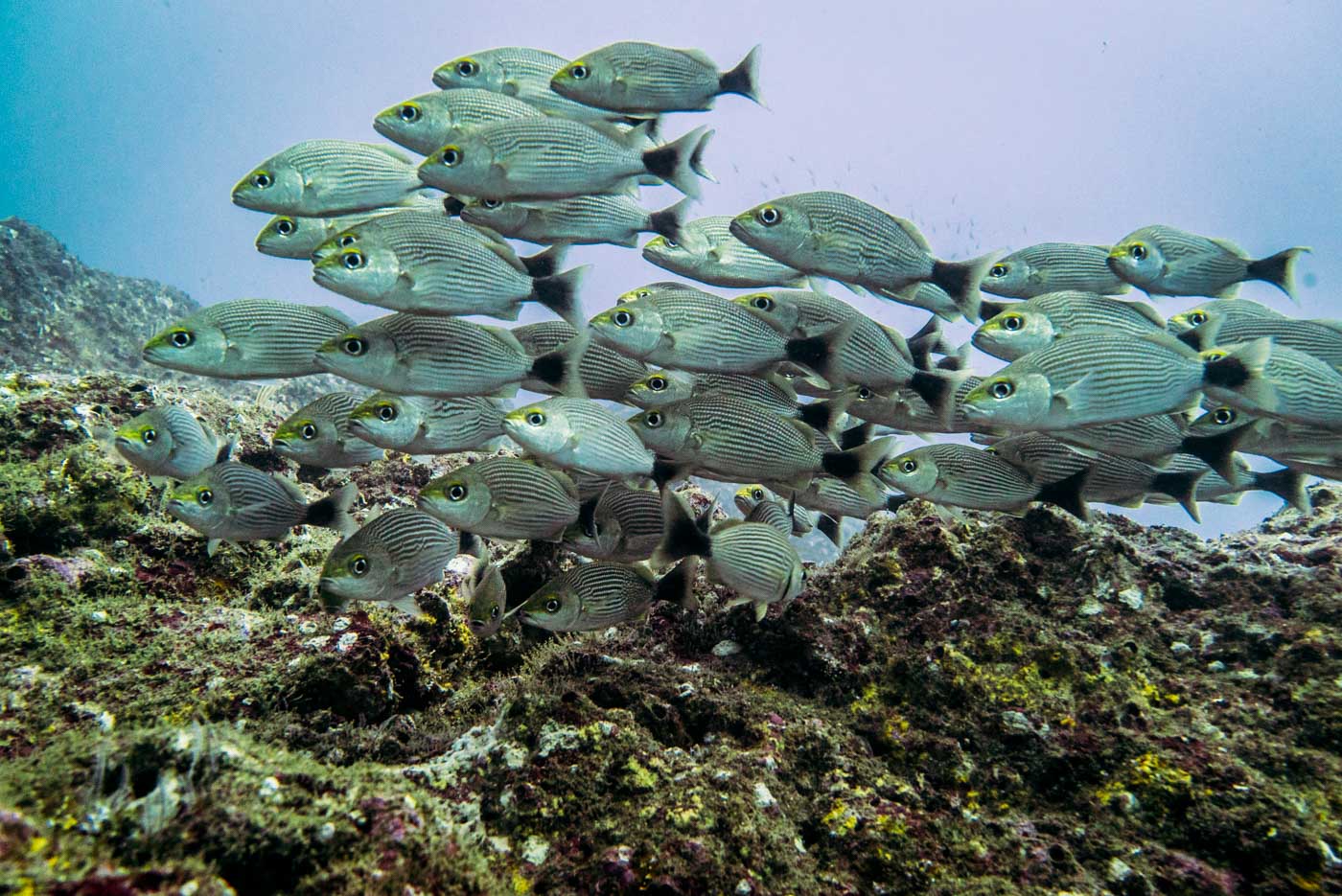 The Pacific Ocean side is home to whales, rays, and other incredible sea life in these colder and deeper waters. The south half of the coastline is a protected nature reserve, making it an ideal diving location.
There is less vegetation in these waters, with a rocky and barren underwater landscape and oftentimes strong currents. This doesn't limit life here, however, and you're practically guaranteed to see large schools of fish on every dive. Shark diving in Costa Rica is also best on this side of the country, and it plays host to a very famous shark migration.
The best time to go scuba diving in Costa Rica
While the best scuba diving in Costa Rica depends on your location and personal preference, it also depends on the time of year. There are a number of factors that change from season to season including rainfall, currents, sea life, and underwater visibility.
The Dry Season
The dry season in Costa Rica is from December to May and normally sees a calmer ocean. Visibility is often higher during this time, reaching up to 30 m. These factors make it the best choice for beginner divers who have less experience or confidence in the open ocean.
During the dry season, marine animals from deeper waters generally stay away from the coasts. Instead, you're more likely to see fish and other creatures that are native to the shallower waters. In general, this is the best time to dive on the Pacific coast in terms of conditions.
The Green Season
The green season, or rainy season, in Costa Rica lasts from May to November. During this time, you can expect at least some rainfall every day. This time of year is a better choice for more experienced divers who are comfortable in stronger currents and are interested in swimming with larger animals. In this season, there are much higher chances of seeing whales and sharks on your dive. However, visibility is often lower as the strong ocean currents stir up plankton and debris from the ocean floor.
The Best Diving in Costa Rica
Isla del Cocos
If you're a fan of sharks, Cocos Island should be your top choice for Costa Rica scuba diving. Famous for its schools of scalloped hammerheads, hammerhead shark diving in Costa Rica on this uninhabited island is considered some of the best in the world.
The only way to go about diving Cocos Island is to book a trip on a liveaboard boat leaving from the mainland. Normally the trips last anywhere from a week to 10 days. This includes over 2 full days of travel time to get there and back, as the island is quite far out in the ocean. Once there, you'll dive at 20 different dive sites around the island. The most popular dive sites are Bajo Alcyone, Dirty Rock, Dos Amigos Grande, and Dos Amigos Pequena.
While diving, you'll have the opportunity for heartstopping sightings of hammerhead sharks, as well as Galapagos, silky, silvertip, and tiger sharks. Manta rays and whale sharks also inhabit the waters year round and if you're diving during the rainy season, you'll have a chance of spotting turtles and dolphins too.

Cocos Island is both a tectonic and volcanic island, which explains it's mountainous underwater landscape. In fact, there is a famous underwater peak called Everest at 100 m below which can be visited with a submersible.
The island receives extremely strong currents and is therefore only recommended for advanced divers. Even so, this is generally considered the best scuba diving in Costa Rica due to its incredible uniqueness.
Caño Island
Caño Island off the coast of the Osa Peninsula is one of Costa Rica's most exciting and unexplored corners. Caño Island is a protected ecological reserve and its claim to fame is the large population of reef sharks that inhabit the reefs there. Unlike Cocos Island, Caño Island is well suited to divers of all levels and is one of the only places in Costa Rica well suited for snorkelling too.
In order to dive at Caño Island, you'll need to take a boat from the town of Drake Bay. Once within the Caño Island Biological Reserve, descend below the surface for a chance to spot turtles, rays, moray eels, and the occasional dolphin. Sometimes, there are even whales to be seen, migrating through the reserve's waters.

The marine terrain is a mix of colourful coral reefs and rocky landforms including caves, arches, and cliffs.
Papagayo Peninsula
Located in the Northwest province of Guanacaste, the Papagayo Peninsula is another great site for Costa Rica scuba diving. Here, you'll have great opportunities to spot some eels, octopus, rays, and large schools of fish. The visibility conditions are quite unpredictable here, so make sure to check the conditions frequently.
Gulf of Papagayo
The Gulf of Papagayo is the main scuba diving area on the Papagayo Peninsula. Here, you can find both the Catalina Islands and Bat Island, the two most popular dive sites.
Las Catalinas
The Catalina Islands are located about a half hour offshore from the Papagayo Peninsula and offer a handful of different dive sites.
The island chain consists of a series of small rocky islands that are completely uninhabited. Underwater, you'll find lots of cool rock formations such as caves and arches. The currents here can be strong, so this dive site is not an optimal spot for absolute beginners.
Bat Island
In Murcielagos Bay off the coast of Santa Rosa National Park, you'll find Islas Murcielagos, or Bat Island in English. The island sits inside a marine reserve that is protected by the government and is truly some of the best diving in Costa Rica. The main highlight of this dive site is the bull sharks that call it home. This is the only place in Costa Rica where you'll be able to dive with these particular sharks.
Marine biologists are quite active in the area, studying them regularly and learning about their behaviours. Manta rays are another big attraction at Bat Island and, when visibility is good, you can find them in large, graceful schools. If you're extra lucky, you might even see some hammerhead sharks there are well. Again, currents here are quite strong so it is not an ideal dive site for beginners.
Diving conditions and what to expect
Costa Rica scuba diving is a great experience to have on your trip. To maximize your diving, make sure to time your visit well. During the rainy season, visibility can drop considerably, making your dive a lot less enjoyable. However, during the rainy season, the water average water temperature is higher than in the dry season. If you're diving during the dry season, you might want to consider a thicker wetsuit for better insulation if you are prone to the underwater chills. Also, make sure to time your visit based on the marine life you're hoping to see.
In general, be aware of the currents in Costa Rica as they can be quite strong, especially on the Pacific side. Most Pacific coast dives are recommended for more experienced scuba divers for this reason. If you want to be even more prepared for this kind of diving, consider doing a drift diving course.
Have you been scuba diving in Costa Rica? Where are the best dive sites? Share your scuba diving Costa Rica tips with is in the comments below!