The beach town of Tamarindo is one of the most popular destinations in all of Costa Rica. As the largest developed beach town in Costa Rica's Guanacaste province, it welcomes hundreds of thousands of visitors and offers no shortage of great restaurants.
*This post may contain affiliate links, as a result, we may receive a small commission (at no extra cost to you) on any bookings/purchases you make through the links in this post. As an Amazon Associate, we earn from qualifying purchases. Read our full disclosure
During the high season, Tamarindo is a crowded party town with superb nightlife. In the low season, it's peaceful and relaxed, known for its beaches and its surfing opportunities.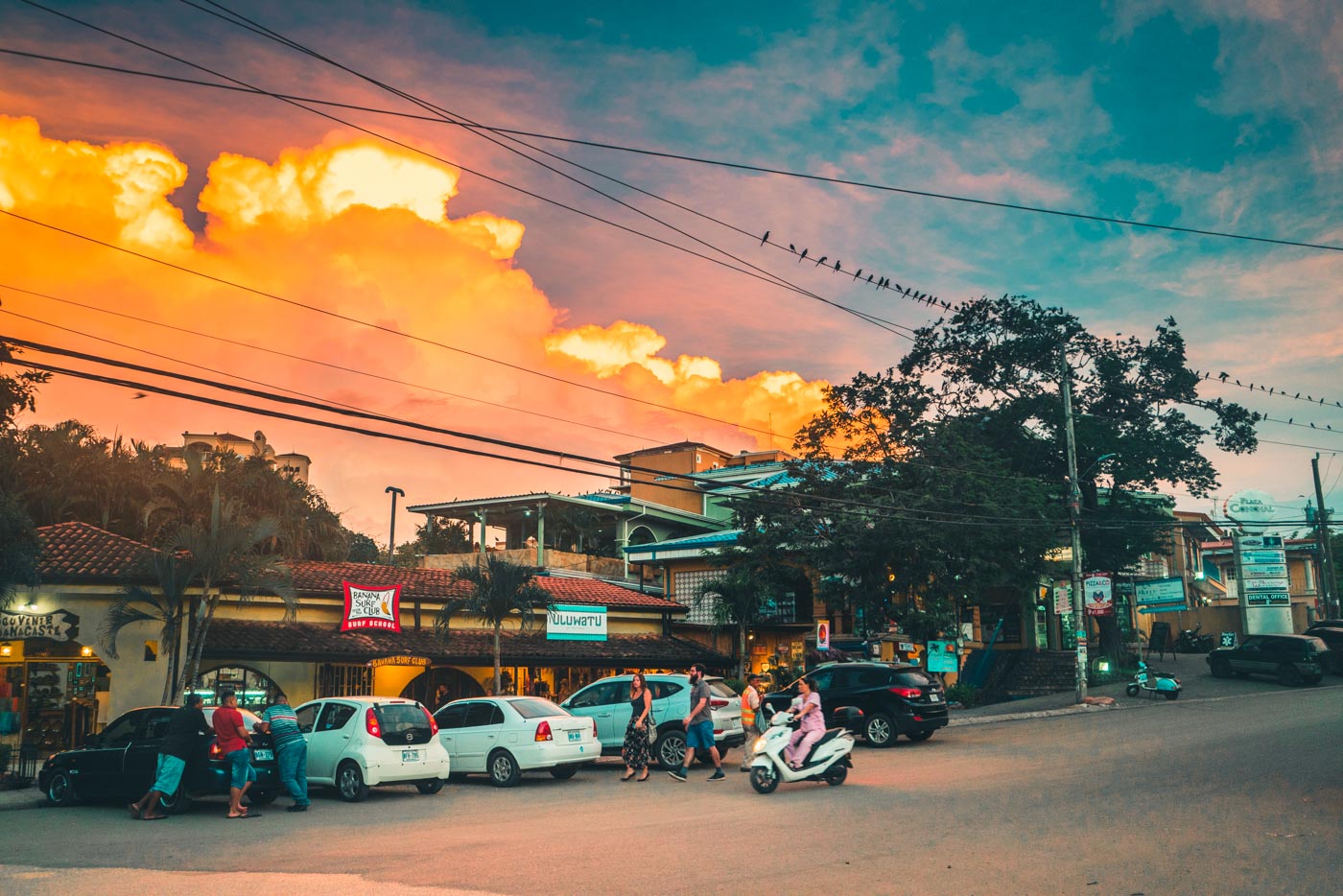 Traveling Soon?

Here is a list of our favourite travel providers and accessories to help get you ready for your upcoming trip!
But no matter what time of the year you visit, you'll be guaranteed a great selection of Tamarindo restaurants, serving up traditional Costa Rican dishes as well as Costa Rican takes on international fares.
---
With over 150 restaurants in town and the surrounding area, it's easy to get overwhelmed in your search for good food in Tamarindo, Costa Rica.
---
So we are here to help! Over the years of living in Costa Rica, Tamarindo has become our go-to destination for frequent outings. We've eaten at many of the town's establishments and have put together our list of 10 best places to eat in Tamarindo, Costa Rica.
Best Restaurants in Tamarindo, Costa Rica
La Bodega
$, Cafe, Costa Rican, International
La Bodega is a locally owned Tamarindo cafe that serves local favourites as well as international dishes. It has won the Certificate of Excellence for three years in a row, so it should be at the top of your list for where to eat in Tamarindo.
The food at La Bodega is fresh, organic, and sustainably sourced. The restaurant serves up homemade coffee, drinks, sandwiches, salads, and baked goods every day.
They have also put efforts into cutting down on plastic waste, as plastic straws have been replaced with reusable metal straws. You can find a moderately priced breakfast, brunch, or lunch here, and vegetarian, vegan, and gluten-free options are available. It's the cream of the crop when it comes to Tamarindo, Costa Rica restaurants.
Falafel Bar Mediterranean Cuisine
$, Mediterranean, Healthy
If you're looking for the best Mediterranean food in Tamarindo, Costa Rica then Falafel Bar is the restaurant you're looking for. It's open for lunch, dinner, and late at night, with a menu of healthy, fresh Mediterranean and Middle Eastern food.
The prices are affordable, the staff are attentive, and the portions are generous. Gluten-free, vegan, and vegetarian options dominate the menu, so it's a perfect spot for vegan/vegetarian travelers. If you're looking for good Tamarindo food and a good drink, then the menu at Falafel won't disappoint you.
El Mercadito de Tamarindo
$ – $$$, American, Costa Rican, Asian, Pizza
Serving up an eclectic mix of American food, Chinese food, and pizza, Tamarindo's El Mercadito de Tamarindo is a great place to stop for lunch or dinner without breaking the bank.
It's not actually a restaurant but more like an outdoor food court with 5-10 stalls set up around the perimeter. It's a great place to eat in Tamarindo if you are traveling with a group of friends or a family that can't agree on what they want to eat. There are pizza stalls, vegan stalls, Asian stalls and much more, so everyone can find something they like here. There is live music and a bar at the center, making it the perfect place to get together with some friends for a drink.
Green Papaya Taco Bar
$$ – $$$, Mexican, Fusion, Central American
Green Papaya, Tamarindo is our go-to for fresh and budget-friendly Latin American fare. The Green Papaya Taco Bar specializes predominantly in Costa Rican, Mexican, and Central American dishes sold at affordable prices.
The service is friendly and the atmosphere is inviting. We particularly like their outside patio. Highly restrictive diets can still be accommodated, as gluten-free, vegetarian, and vegan options are available on the menu. You can get most meals other than breakfast here, and it's open until late at night. However, keep in mind that it's cash only.
Dragonfly Bar & Grill
$$ – $$$, International, Grill, Fusion
If you're going to be near the center of town, then a trip to Dragonfly, Tamarindo's international fusion restaurant, is well worth it. The Dragonfly Bar & Grill has been around since 2005, serving great seafood and fusion cuisine.
It's a great place to sit back and relax with a good drink and some great food. The atmosphere is easy going and inviting, and the staff are friendly and welcoming. The menu changes from season to season, based on whatever can be sourced locally at that time of year, so you know your food will be the best quality.
Sprout Tamarindo
$$ – $$$, American, Central American, Costa Rican
With a great location, amazing Costa Rican food, and a fantastic staff, there's not much more you could ask for from Sprout Tamarindo.
The food is fresh, healthy, organic, and moderately priced, and everything is sourced from local, sustainable suppliers. There are vegetarian and vegan options, and anything on the menu can be made gluten-free if you mention it to your server; the staff are friendly and always happy to accommodate.
They serve breakfast, lunch, and dinner, but we recommend it as a lunch spot.
La Oveja Tamarindo Mexican Restaurant
$$ – $$$, Costa Rican, Mexican, Bar
If you're on the hunt for any Mexican restaurants, Tamarindo, Costa Rica still has you covered. While it has an impressive international menu, La Oveja Tamarindo Mexican Restaurant is most known for –you guessed it– Mexican food.
The daily specials are sure to impress, there's live music nearly every night, and you can get 2-for-1 drinks all day long. The staff are friendly but unobtrusive. They serve breakfast, brunch, lunch, and dinner, and vegetarian, vegan, and gluten-free options are available. If you're looking for a good time, then La Oveja isn't going to disappoint you during your hunt for the best Tamarindo, Costa Rica food.
Bamboo Sushi Club
$$ – $$$, Japanese, Seafood, Sushi
Just off of Central Avenue, Bamboo Sushi Club is the perfect place for any sushi-lovers visiting Tamarindo, Costa Rica. They're open for lunch, dinner, and at night, and they have vegetarian, vegan, and gluten-free options available. As the name suggests, they specialize in sushi although the menu also has a selection of poke bowls, donburi dishes and some salads. Our favourite is the Tico Roll.
The restaurant itself is very cute and a perfect spot for any celebration. The prices do get a little bit higher than at other restaurants, but the quality more than justifies it.
Patagonia Argentinian Grill & Restaurant
$$ – $$$, Steakhouse, Latin, Argentinean
If you are in the mood for a steak, consider a meal at the Patagonia restaurant, Tamarindo, Costa Rica's one of the top-rated Argentinian steakhouses in town.
This Tamarindo restaurant's prices can get a bit high, but the price reflects the quality of the food. They serve lunch and dinner and are open late, and there are gluten-free and vegetarian options available.
While it's a steakhouse and, as such, is known for its beef dishes, there are also incredible pasta and seafood dishes. It's one of the best restaurants in Tamarindo, Costa Rica, and whether you're in the mood for a filet or some great seafood, Patagonia will give you a good time and some great food.
Nogui's
$$ – $$$, American, Seafood, Central American
If you're looking for some good food and a great view of the beach, then Nogui's, Tamarindo, Costa Rica's well-known Central American seafood restaurant, should be right up your alley.
As one of the oldest restaurants in Tamarindo, Nogui's is a true institution. They specialize in local Costa Rican and Central American dishes, focusing on showcasing Costa Rica seafood. Their ceviche is the best, and surprisingly so are their deserts!
Nogui's is located right on the beach, so it's about as relaxing as a restaurant can get. There are vegetarian, vegan, and gluten-free options, and they're open from the morning to late at night, so you can stop in for whatever meal you're craving the most. We recommend stopping in for dinner, so you'll have a front-row seat for the sunset. This is by far one of the best tamarindo beach restaurants.
Have you been to Tamarindo? What are some of your favourite restaurants in town?