Victoria Falls located on the border between Zambia and Zimbabwe is one of the seven natural wonders in the world and a bucket-list destination for many travelers. It's a truly awe-inspiring sight and a must-see on any trip to Southern Africa.
*This post may contain affiliate links, as a result, we may receive a small commission (at no extra cost to you) on any bookings/purchases you make through the links in this post. As an Amazon Associate, we earn from qualifying purchases. Read our full disclosure
Traveling Soon?

Here is a list of our favourite travel providers and accessories to help get you ready for your upcoming trip!
The falls have been referred to as "mosi-oa-tunya" or "the smoke that thunders" by the local people for centuries, a nickname that makes total sense as soon as you arrive at the falls. The roaring noise and tremendous spray from the falling water is undeniably powerful and you get the feeling that you're truly witnessing a grand force of nature.
We had an opportunity to visit Victoria Falls in November 2019 and to spend a couple of days exploring the town of Victoria Falls in Zimbabwe.
---
While the falls were as magnificent as we imagined, we were surprised to learn about all the other activities you can do in the busy town of Victoria Falls.
---
Where is Victoria Falls?
The location of Victoria Falls is at the border between Zambia and Zimbabwe in Southern Africa. The Zambezi River forms a natural boundary between the two countries and the falls make up most of the Victoria Falls National Park that straddles both countries.
If you're wondering how to get to Victoria Falls, and where to stay while visiting Victoria Falls, you have a few options.
In Zimbabwe, the nearest town to the falls is appropriately called Victoria Falls. The town thrives on tourism and is well connected to other cities in Zimbabwe as well as in Southern Africa and even internationally. The Victoria Falls Airport serves as a main transportation hub for the region.
On the Zambian side, the closest town to the falls is Livingstone. It's only a 15-minute drive from Livingstone to Victoria Falls. Both towns also have an airport for Victoria Falls.
You can base yourself on either side of the falls. Both Livingstone and Victoria Falls offer accommodation options, restaurants, and activities. But we particularly enjoyed our stay in Victoria Falls, Zimbabwe and would recommend this town as the base for your Victoria Falls activities.
What to do in Victoria Falls
Although the falls themselves are the main attraction, Victoria Falls town is known as one of Africa's biggest adventure capitals. There are all sorts of adventure activities in Victoria Falls on offer to keep you busy for days.
Top Victoria Falls Activities
Visit Victoria Falls National Park
Seeing the "smoke that thunders" is a completely awe-inspiring and once in a lifetime experience. The Victoria Falls National Park straddles both sides of the border between Zimbabwe and Zambia. There is much debate between which side is better to view the falls from, but in reality, you can and should visit both and decide for yourself. We found that each side offers a unique view and experience.
The majority of the National Park lies in Zimbabwe and there is a long cliff sidewalk that allows you to get a wide view of the falls and some of the best photo opportunities. The walk along the boardwalk is about 1.5km and takes anywhere between 1-2 hours depending on how many photos you want to snap at each view point. The view of the falls on the Zimbabwean side is best during the dry season when you can get close to the viewing platforms without getting wet from head to toe. In the rainy season, snapping that perfect photo will be challenging, due to the spray from the falls
Zambian side offers a view of the falls from another angle and is popular both in the dry season, thanks for the unique Devil's Pool formation (more on that below) and rainy season. There are a number of hiking trails that reach viewpoints of the falls and you can sometimes feel the spray of the water more from this side before you can even see it.
Important tip: Make sure to ask for the KAZA Visa upon arrival into the country (regardless of whether you fly into Victoria Falls or Livingstone), as it allows you to cross the border between Zimbabwe and Zambia to view the falls from both sides. If you're worried about the cost to visit Victoria Falls, this will save you money as it means you don't have to purchase both the Zambia and Zimbabwe visas independently.
Swim in the Devil's Pool, Zambia
The aptly named Devil's Pool is a naturally formed rock pool at the edge of the falls on the Zambian side. It's one of the most incredible infinity pools in the world, but it's not an experience for the faint-hearted – hence the name. For a few months of the year, during the dry season, you can swim in the Devil's Pool and peer over the edge of the roaring water as it plummets hundreds of feet below.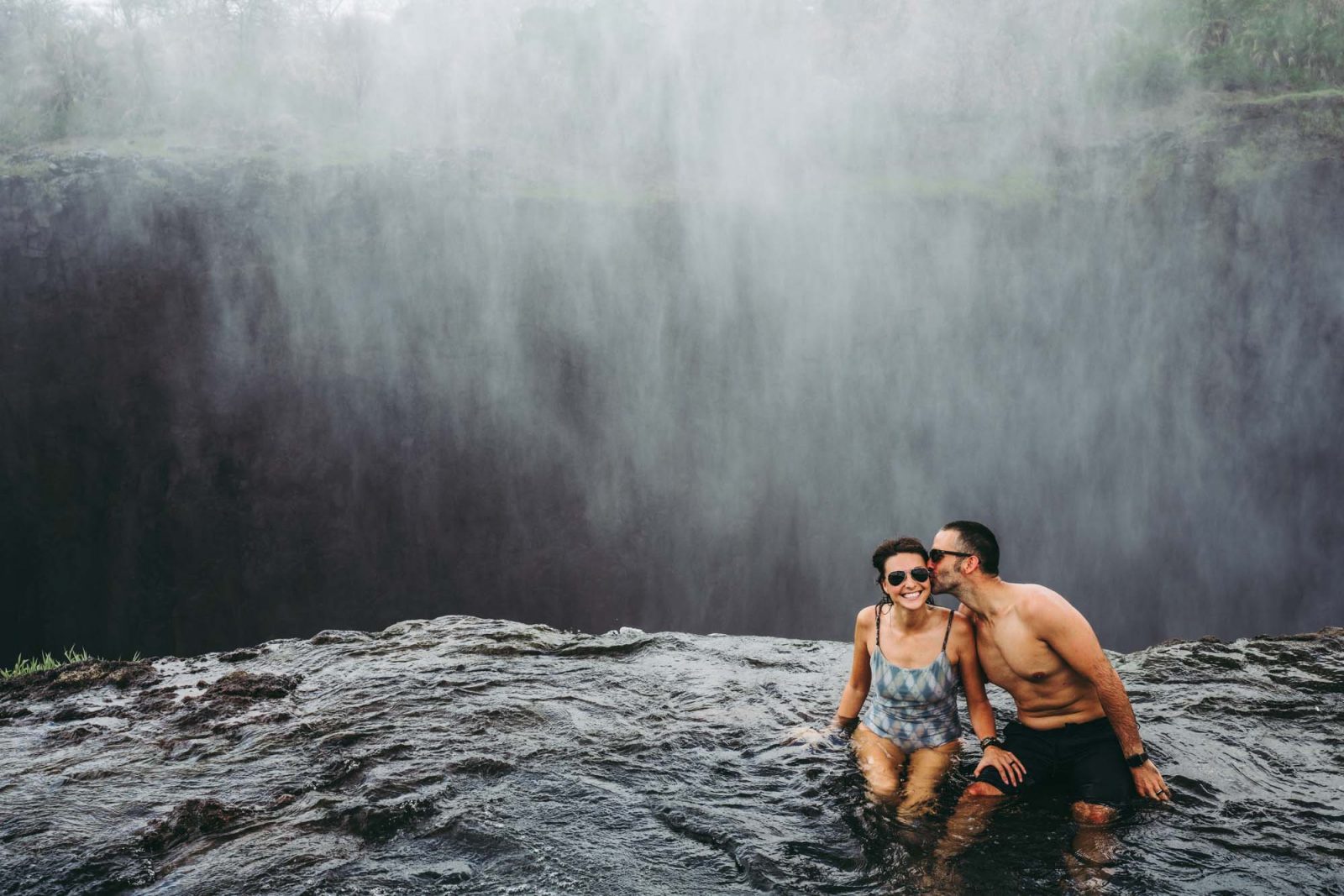 The experience is only possible from September to December and a visit is conducted as a tour with great safety measures and local experts. If you had to choose just one guided tour, a visit to Devils Pool, Victoria Falls is definitely one that we recommend. It was a great thrill and a very well organized experience! By far one of the most memorable things to do at Victoria Falls.
The Devil's Pool tour is organized by Tongabezi Lodge and can be done from either Livingstone or from Victoria Falls.
Canopy Tour, Victoria Falls
Zipline across the Batoka Gorge at over 100km/h while suspended 120 metres above the rapids of the Zambezi River. It's a complete adrenaline rush and takes you right across 425 metres from the Victoria Falls bridge to the other side of the gorge.
Organized by Shearwater Victoria Falls. You can view prices and book online HERE.
Bungee Jump, Victoria Falls
If you're a self-confessed adrenaline junkie, then bungee jumping in Victoria Falls and over the Zambezi River may be the best activity for you. The bungee jump is a 111-metre drop off the Victoria Falls Bridge, which connects Zambia and Zimbabwe. The view of the falls from the bridge alone is worth a trip but the bungee jump in Victoria Falls is certainly one of the most memorable experiences.
Organized by Shearwater Victoria Falls. You can view prices and book online HERE
Bridge or Gorge Swing, Victoria Falls
If zip-lining isn't adventurous enough for you, there's also a gorge or bridge swing. Similar to the bungee jump, you free fall for up to 80 metres before swinging out over the raging Zambezi River below.
There are several options for the Victoria Falls bridge swing in terms of free fall height so you can make it more gentle for yourself. The views from the platforms are amazing!
Organized by Shearwater Victoria Falls. You can view prices and book online HERE
White Water Rafting, Victoria Falls
White water rafting down the rapids of the Zambezi River is definitely the top activity for thrill-seekers. It's a world-class location with grade 3 to 5 rapids offering a real thrill experience. You'll get a full safety briefing before departing, including all the instructions, so the experience is suitable for all, even if it's your first time ever rafting.
Over the course of a few hours, you'll travel a distance of 23km down the mighty Zambezi through the Batoka Gorge tossed around by the white cap waves. The natural washing machine is at its best between July and January when the water levels are optimal for rafting Victoria Falls.
There are a number of Victoria Falls tour operators offering white water rafting in Victoria Falls, but we recommend the tour organized by Shearwater Victoria Falls. You can view prices and book online HERE
Flight Over the Falls
A Victoria Falls helicopter tour is often referred to as the Flight of Angels as you get to see the falls from an incredible bird's eye view perspective. For 20 minutes you'll be able to take in the astonishing split in the earth's surface with a 1700 metre curtain of water tumbling over its edge. Witnessing the extent of the spray that rushes upwards is often the most impressive part, as it gives you a perspective you can't get from the ground.
You can do a Victoria Falls helicopter ride all year round, although it's best during the rainy season when the spray often makes seeing the full beauty of the falls on the ground more difficult. Victoria Falls sightseeing doesn't get much better than this.
Organized by Shearwater Victoria Falls. You can view prices and book online HERE
Zambezi River Sunset Cruise, Victoria Falls or Livingstone
The Zambezi River is over 2500km long and forms the natural boundary between Zambia and Zimbabwe. It's filled with abundant wildlife from crocodiles to hippos and is best enjoyed on a relaxing sunset cruise with a drink in hand.
For two hours you can watch the setting sun and keep your eyes peeled for any game viewing. The dinner cruise has an open-air viewing area where you can enjoy drinks and snacks on the water with the sunset in the background.
The cruise can be arranged from Victoria Falls through Shearwater Victoria Falls or from Livingstone through Livingstone's Adventure.
River Safari in Zambezi National Park
If you're interested in seeing more animals, you can head away from the roaring falls and further upriver to where the waters are calmer. You can ride through the rapids in a speedboat at a thrilling speed before reaching the upper Zambezi where you can easily spot hippos and crocodiles floating just beneath the surface.
The Zambezi National Park may not be as famous for game viewing as other parks in the country but it's still one of the best things to do in Victoria Falls as a day trip.
The river safari is organized by Livingstone's Adventure and is usually done from Zambia. You can view prices and book online HERE
Day Trip to Chobe National Park
Just one and a half hours down the road from the falls is the Chobe National Park in Botswana. In a full Chobe day trip from Victoria Falls, you can travel across the border and head to the park most known for its significant elephant and lion population.
You can do both a boat trip down the Chobe River followed by a safari game drive through the wilderness as you try to spot the big five animals. It's certainly one of the best day trips from Victoria Falls. The distance from Chobe to Victoria Falls is not too long. At the end, you can travel back from Botswana to Victoria Falls after a long but rewarding day.
Organized by Africa Zim Travel Tours. You can view prices and book online HERE
Dusty Road Restaurant and Township Experience
For something completely unique, consider a visit to a traditional Zimbabwean restaurant in Chinotimba. This is the largest and oldest township in Victoria Falls.
Dusty Road Restaurant cooks their food in a traditional Zimbabwean way on open fires and in cast iron pots and ovens and offers a unique selection of dishes using traditional local ingredients.
The Dusty Road experience includes an all you can eat buffet lunch. It consists of appetizers, selection of mains and dessert with tea or coffee. You can try lots of their delicious local recipes. Also, take a look at the handicrafts which are made from recycled materials by local vendors. The Dusty Road Restaurant aims to support local livelihoods. By visiting, you can feel confident that your money is going back to help the local community.
The experience is only available at lunch and reservation is required. Learn more HERE
The Boma Dinner and Drum Show
The Boma Victoria Falls Restaurant is housed inside the Victoria Falls Safari Lodge and is best known for its nightly Dinner and Drum Show. The experience consists of a four-course dinner that includes traditional African game meat like buffalo and ostrich as well as a show with singing, dancing, drumming and face painting.
It offers great insight into the traditional customs of the local tribes. You even have the option to join in at the end of the show to find your own African rhythm.
Other Things to do in Victoria Falls
Best Restaurants in Victoria Falls
Pariah State Victoria Falls
This pub-style restaurant is relatively new on the scene in Victoria Falls. But, they have fast become a favourite with tourists and locals alike. It's a relaxed vibe with a gravel floor and wooden tables and chairs. The food is mostly Western style with pizzas, wraps and burgers and an extensive drinks menu.
The Three Monkeys
This is one of the trendier places to eat in Victoria Falls and is built around an old railway carriage. There's a much-photographed and instagrammable illuminated sign of "I Heart Vic Falls" outside too. They serve all sorts of traditional game meats like impala and crocodile, along with Western favourites like pizza.
The Shearwater Café
This cool and chic café has an extensive menu for all three of your daily meals. They serve local twists on Western favourites like crocodile wasabi wrap and grilled Zambezi bream. It has a big outdoor seating area for sunny days too.
Makuwa-Kuwa Restaurant
This award-winning restaurant is inside the Victoria Falls Safari Lodge and overlooks the stunning waterhole. It's open for breakfast, lunch and dinner. However, it's the evening that offers the most picturesque views with the opportunity to see some wildlife. It's certainly one of the best restaurants in Victoria Falls.
The Rainforest Café
This café sits at the heart of the Victoria Falls rainforest and just inside from the Visitors Centre. It has hearty breakfasts , burgers, sandwiches and fresh juices. It's a popular place to stop after sightseeing or a guided tour of Victoria Falls.
The River Brewing Company
This brewery is set inside a contemporary warehouse-style space with a spacious beer garden out the back. The highlight is beer tasting and you can sample the six beers which are brewed on-site. Their food is also delicious and ranges from Mexican tacos to American style BBQ.
Best Hotels in Victoria Falls
Victoria Falls Safari Lodge
Victoria Falls Safari Lodge is a beautiful accommodation option on the edge of Victoria Falls, Zimbabwe. Located just 4km from the mighty falls. It's one of the best lodges in Victoria Falls and offers various room options for different budgets.
They also have an onsite restaurant and bar from where you can watch the sunset with a drink. Also, you can partake in the Boma Dinner and Drum show which is hosted at the lodge most nights. The lodge offers free transfers from the lodge to the town centre. It makes it easy to get to and from activities and check out restaurants in Victoria Falls without any trouble.
Shearwater's Explorers Village
Shearwater's Explorers Village is a great Victoria Falls hotel option. It's within walking distance from most parts of town, including the main Victoria Falls attractions. This lodge has an outdoor pool, bar and large restaurant and dining area. You have the option of spacious rooms or, for the more mid-range and budget traveller, glamping style tents. They can arrange any of the Victoria Falls tours that you want from their doorstep.
Ngoma Zanga Lodge
For accommodation on the Victoria Falls Zambia side, you can opt for beautifully decorated Ngoma Zanga Lodge in Livingstone. It has stunning artwork displayed on its walls with a modern twist on traditional African architecture. The hotel has a pretty garden and pool for relaxing and offers free parking on site. It can also organize all sorts of tours to Victoria Falls.
Have you visited Victoria Falls? What Victoria Falls activities were your favourite?