Choosing a hotel in an unfamiliar city can be a daunting task for any traveler, and it's particularly true for those visiting Quito. Quito is roughly divided into 3 districts:
*This post may contain affiliate links, as a result, we may receive a small commission (at no extra cost to you) on any bookings/purchases you make through the links in this post. As an Amazon Associate, we earn from qualifying purchases. Read our full disclosure
Old Town,

also known as El Centro Histórico (Historic Center), is home to old churches, theaters, squares, monasteries, and is considered to be the main area of focus for tourists in the city

New Town,

broken down into

La Mariscal,

also known as Gringolandia, due to its dense concentration of clubs, bars, restaurants, and backpacker hotels and thus popularity with tourists, and

La Floresta,

an upscale area with a mix of high-rise apartments, neo-colonial-style mansions, hotels, restaurants, and shops.

North of New Town

, a poorer, crowded, working-class neighbourhood
While there are pros and cons to staying in Old Town and New Town, we choose to base ourselves in La Floresta, for a glimpse of modern day life in Quito. Our home away from home in Quito was Hotel Finlandia.
Traveling Soon?

Here is a list of our favourite travel providers and accessories to help get you ready for your upcoming trip!
From Humble Beginnings to Modern Design
When we arrived at Hotel Finlandia, it didn't strike us as anything, but a modern hotel chain in the heart of Quito's upscale district. We took note of the hotel thanks to its great value and excellent rating and were pleasantly surprised to learn so much about its humble beginnings.
The hotel dates back to 2002, when it first opened its doors as a small B&B, welcoming guests to share the comforts of the Bustamante's family home. After a few successful years, they decided to build a second floor and add another 18 rooms to their B&B. The hotel's wonderful up and coming location and the personalized service made it a popular accommodation option for Quito visitors.
Hotel Finlandia continued to grow and between 2012-2015, it underwent a major renovation, turning what once used to be a small B&B into a modern 122 room hotel. But one thing remained untouched – the attention to detail and the family like atmosphere that guests experienced while staying at Hotel Finlandia.
Our Stay at Hotel Finlandia
Our room was clean, spacious, and very modern. Cool art hung on the walls and the glorious bed welcomed us with opened arms. We needed it after a long day of travel.
The staff were lovely, attentive, and kind, helping us with every single inquiry with a smile on their faces. We learned that many of them have been working at the hotel for over a decade and some have been around since the hotel's conception. Their turnover is low, which in our minds speaks volumes of the owners and the work culture they have created at Hotel Finlandia.
The Way to Our Heart is Through Our Stomach
But it wasn't Finlandia's modern rooms, comfy beds, or the squeaky clean bathrooms that made a lasting impression on our time in Quito – it was Cinco Sentidos, their on-site restaurant.
The executive chef at Cinco Sentidos is a part of the Bustamante family and he has been cooking up a storm at Hotel Finlandia since the hotel's humble beginnings. His dishes combine Ecuador's traditions and fresh local ingredients and are a popular not just with the hotel's guests, but also with the locals.
Our stay at Hotel Finlandia coincided with Semana Santa (Easter Week), one of the most important cultural holidays in South America. And keep up with local traditions, Cinco Sentidos's menu featured a traditional Ecuadorian Semana Santa dish, known as Fanesca, a stew of sweet grains and dried fish. Their take on the dish was so great that it was voted one of the Top 15 Fanesca's in the entire city of Quito!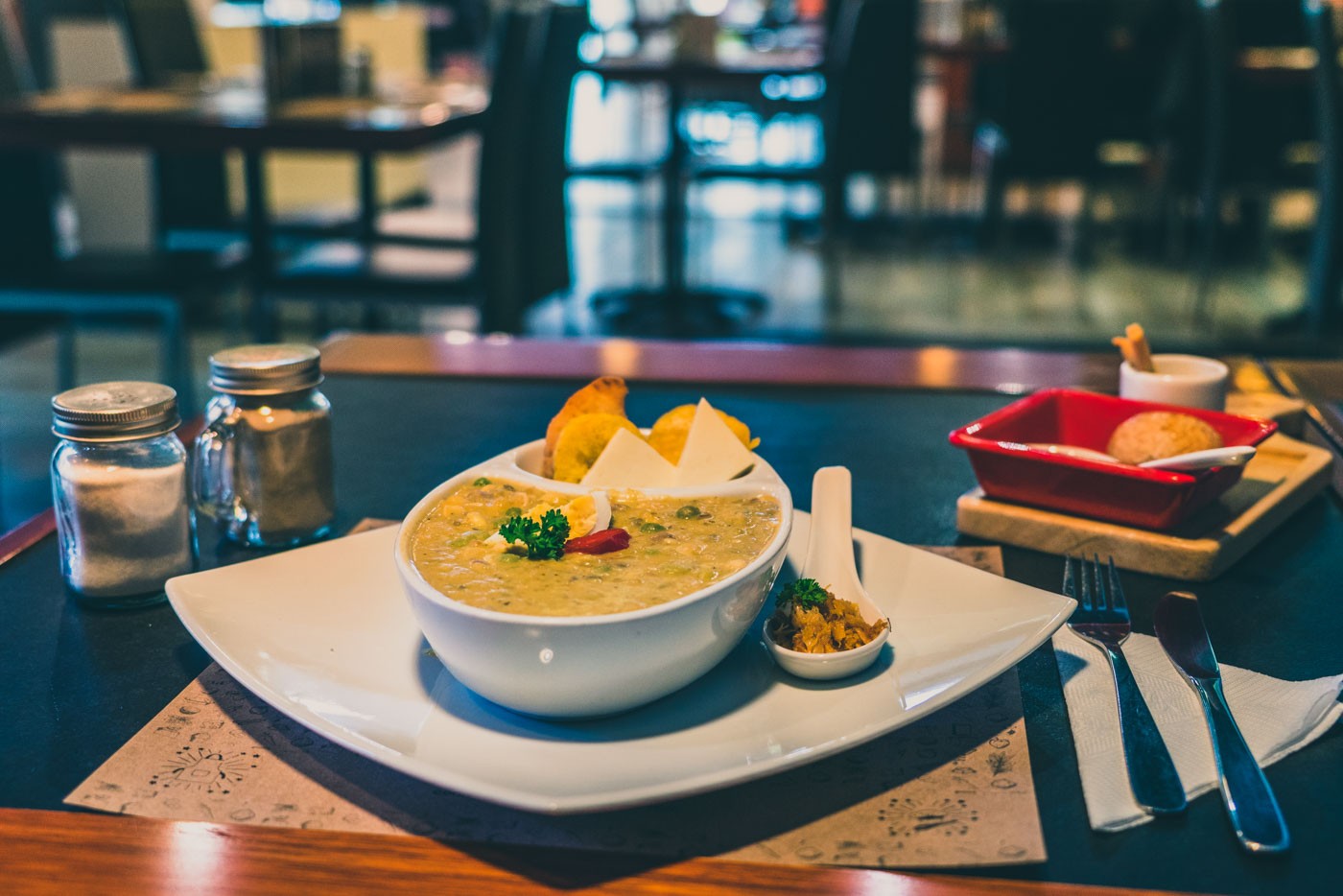 That week, the restaurant was full for breakfast, lunch, and dinner with locals filling the tables for a chance to try a taste of one of the best Fanesca's in town. Luckily, we stayed at the hotel long enough to give a few other menu items a try, including Rollitos Apanadas de Camaron, Churrasco Cinco Sentidos, and Seco de Chivo Quiteño.
The meals were amazing, prepared with locally sourced fresh ingredients. Cinco Sentidos was by definitely one of the best hotel restaurants we've ever had a chance to dine in and it was the highlight of our stay in Quito!
Like this post? Pin it for later!
Have you ever come across any great hotel restaurants on your travels?
Disclaimer: Our stay in Quito was provided courtesy of Hotel Finlandia, but as always all opinions expressed in this article are our own, no matter who is footing the bill.