In our opinion, the historical city of Quito is one of the most beautiful cities in South America. While plenty of visitors tend to skip the capital of Ecuador, it's definitely worth stopping to spend a few days in Quito.
*This post may contain affiliate links, as a result, we may receive a small commission (at no extra cost to you) on any bookings/purchases you make through the links in this post. As an Amazon Associate, we earn from qualifying purchases. Read our full disclosure
Quito sits high up in the Andes Mountains at 2,850 meters (9,350 ft) above sea level, making it one of the highest capital cities in the world. It's built on former Incan territory, but the city itself dates back to 1534, when the Spanish colonized the country.
This long history can still be appreciated today, with the historic Old Town in the city center around Plaza Grande recognized as a UNESCO World Heritage Site. With the incredible colonial architecture, fantastic food, and stunning mountainous scenery, it's a buzzing city to explore in Latin America.
It can be tempting to avoid the chaotic and congested traffic and head straight off to the Galapagos Islands or to the Amazon, but if you give the city some time, you'll soon come to appreciate its vibrant historic center.
Make sure you set aside at least a few days to explore Quito, especially if you want to understand more about the culture and origins of Ecuador and head off on a day trip. This guide to the best things to do in Quito will provide everything you need to know to make your visit enjoyable and responsible.
Traveling Soon?

Here is a list of our favourite travel providers and accessories to help get you ready for your upcoming trip!
Best Time to Visit Quito
Thanks to its equatorial location, the city of Quito enjoys a relatively constant cool and comfortable climate. The average temperature during the day is around 20°C (68°F) and about 10°C (50°F) at night.
There are 2 seasons in Quito:
Dry (summer) season,

which runs from

June to September
Rainy season,

which runs from

October to May
The best time to visit Quito is during the dry season. This is when the skies are clear, and you'll have far less chance of rain. October until May is the wet season and when you can expect over 100mm of rain each month. However, this is usually experienced in afternoon showers and won't stop you from exploring Quito too much. March to May is the wettest time of the year and is the only time we recommend avoiding a trip to Quito.
How to Get Around Quito
With the chaotic traffic and congested streets, it can be a challenge to navigate the transport options in Quito, Ecuador. The easiest way to get around is by taxi or Uber. Local taxis and ride-sharing options are plentiful in the city and are relatively affordable.
Quito also has an excellent public transport system. Hence, it offers a more eco-friendly way to get around the city. There are three electric bus lines: Trole, Ecovia, and Metrobus. They run on designated lines that aren't accessible by regular traffic, like trams. This can be very beneficial, especially if navigating the city during rush hour. Public transit is very affordable – a single trip can cost less than a dollar.
The historical center is also very walkable. There are plenty of pedestrians enjoying the center's street vendors and colonial architecture. You can easily explore Old Town Quito on foot, as many of the main attractions are walking distance.
The other eco-friendly option is to rent a bicycle. BiciQuito is the free bike-sharing program in the city. Register online or fill out an application and hand it in to the Agencia Metropolitana de Transito. Once registered, you can pick up a bike from any rental station for free with your mobile phone!
Things to See and Do in Quito, Ecuador
There are plenty of things to see in Quito, Ecuador. No matter how much time you have in the city, you'll easily be able to find something to do.
Here are our must-see places in Quito, including top-day trips from Quito and more!
Visit Historical Center and Plaza Grande
Quito's center was the first city to be recognized as a UNESCO Cultural Heritage Site for its incredible colonial architecture. No list of things to do in Ecuador, Quito would be complete without a visit to Quito's Old Town. It's known as Latin America's best-preserved Old Town and least altered historic center. A wander through the old streets is a must-see in Quito.
The heart of the center is Plaza Grande or Independence Square. Within a short walking distance from this plaza are some of the most beautiful buildings in Quito, including the Presidential Palace, San Agustin, Plaza San Francisco, La Merced and the City Museum.
Another one of the must-see places of interest in Quito Historinal Center is La Virgen de Quito or Virgin of the Panecillo. The wooden sculpture of a winged Virgin Mary sits on a rounded hilltop just outside of the old town overlooking the city.
Join a Free Walking Tour
A great way to learn some of the city's history is to join a walking tour. Free Walking Tour Ecuador and Quito Free Walking Tour offer great free walking tours of Quito and include all the main sights mentioned above. They typically last a few hours and run daily, departing from Community Hostel. These tours offer a great way to save money and meet fellow travelers.
You can also enjoy longer and more tailored Quito sightseeing tours around the city.
Get a View of the City from Basilica del Voto Nacional
Basilica del Voto Nacional is a unique fixture in the city and is one of the best places to visit in Quito, Ecuador. The stunning church is the largest neo-Gothic basilica in Latin America.
A visit inside the church was enjoyable, but the highlight for us was the panoramic views from the top of the Basilica. The entrance fee to the Basilica del Voto Nacional is only a couple of dollars, so it's definitely one of the top 10 things to do in Quito on a budget.
Stroll along La Ronda Street (Calle de la Ronda)
Calle la Ronda is a vibrant pedestrian-only street in the historic center of Ecuador's capital. It's widely considered one of the most beautiful streets in the city, with old colonial buildings and a cobblestone path.
Some of the buildings on Calle la Ronda date back to the 1600s and many of them have been converted into local cafes and shops. Calle la Ronda is located a couple of streets south of the Plaza Grande, so it's a great place to visit while exploring the Old Town.
Enjoy the Lively Atmosphere on Plaza Foch
Plaza Foch is the place to go for late-night entertainment in Quito. The lively square in the La Mariscal area has plenty of cafes, bars and restaurants, and it's a great place to visit in the evening and fun during the day.
The area has plenty of hostels and is generally considered the heart of the backpacker quarter.
Shop at Mercado Artesanal La Mariscal
If you want to pick up any last-minute souvenirs or local goodies before leaving Ecuador, then Mercado Artesanal La Mariscal is the place to go. This vibrant market is located in the Mariscal district, which isn't far from Plaza Foch.
You'll find many souvenirs and handicrafts in the market, including llama jumpers, paintings, leather bags, flutes, Ecuador chocolate and South American blankets. Bargaining is expected, as the prices are often inflated for the popular souvenirs, but it's a great way to support local makers.
Admire La Floresta's Street Art
Located in the new part of town, La Floresta has become a trendy neighbourhood. What makes it stand out from the rest of the areas in Quito is the incredible street art, and murals and graffiti make it a great big outdoor museum.
The area also has lovely local cafes, art galleries, gastropubs and an indie movie theatre. If you've got a free day and wonder what to do in Quito, Ecuador, that's slightly different, and a stroll around the arty streets here is worthwhile.
Enjoy a Stroll in Carolina Park
You might be surprised to find many parks and green spaces in Quito. Our favourite during our time in the city was Parque Carolina, which reminded us of New York's Central Park. The park has ample space for outdoor activities, and it's at its most active on weekends when it attracts both locals and visitors alike.
There's a skatepark, walking trails, football pitches and an artificial river where you can take a boat trip on rented paddle boats. You'll also find a great selection of street food and vendors selling everything from fresh juices to ceviche de choco. A visit to Carolina Park is one of the best things to do in Quito on a Sunday!
Take the TeleferiQo
One of the top tourist attractions in Quito, Ecuador, is the TeleferiQo. This incredible cable car ride takes passengers up above the city to the base of the Pichincha Volcano in just 18-minutes. It reaches heights of 4000m above sea level and is considered one of the highest cable cars in the world.
Most visitors take the cable car to admire the views of Quito from above, but there are plenty of other attractions to be found once you reach the top. The upper TeleferiQo cable car station is located on the eastern slope of the Pichincha Volcano, which offers hiking trails, horseback riding and mountain bike riding opportunities.
Avid hikers can also follow the trail to the top of Pichincha Volcano, a hike that requires excellent fitness and 5-6 hours.
For many, the final stop on TeleferiQo is one of the big swings in Ecuador. Located a short walk from the cable car station, the swing offers an exhilarating sway overlooking the city.
Visit Ciudad Mitad del Mundo Monument
One of the most famous places to go in Quito, Ecuador, is the La Ciudad Mitad del Mundo or the Middle of the World. This is where the equator line passes through South America. The Mitad del Mundo is a touristy place, so plan your visit accordingly.
There is a monument and a long yellow equator line to snap an equator selfie. However, it's not in the exact location of the equator itself, and modern GPS shows that the monument was erected about 230 meters south of the actual equator. So, it's worth noting that your snap won't technically be in the real Mitad del Mundo or the middle of the World!
If you have spare time and wonder what to do in Quito, visiting Mital del Mundo is a great way to spend a morning in Quito. You can take a public bus from the La Ofelia Bus Station north of Quito for just a half-hour to reach Ciudad Mitad del Mundo.
Get a View of Quito from Above
With such a vast city sprawl surrounded by stunning mountain peaks, there are many places to get a great view. There are many bars and hotels with rooftops where you can sit back and enjoy the panorama over a drink or a meal. It was one of our top things to do in Quito, Ecuador, at night after exploring Plaza Grande by day.
A couple of our favourite spots with a beautiful rooftop are:
Vértigo Rooftop

near Carolina Park

The Secret Garden Hostel Quito

, situated just east of the historic center

Mama Cuchara Hotel,

located

on the edge of Old Town

Casa Gangotena

is located in the heart of San Francisco Square.
Best Day Trips from Quito
Quito is the perfect base for some of Ecuador's best things to do. Whether you join an organized tour or prefer a self-guided Ecuador itinerary, you can easily explore the surrounding mountains and towns while using Quito as a base.
If you're wondering what to do around Quito, these are the best day trips to add to your itinerary:
Otavalo Market
A trendy-day trip from Quito is to the famous Otavalo Market. The town is located just a three-hour bus ride north of Quito and is home to the largest market in South America.
The market is open every day of the week but is most lively on Saturdays when it attracts vendors from around the country. It's best to visit in the early morning to get an insight into the local culture before the tourists arrive.
Otavalo Market is the best place to pick up local souvenirs and handicrafts.
Baños
This famous backpacker town is set amongst the dense cloud forest of the Andes lowlands. It's the country's adventure capital and offers many things to do and see. There is rafting, ziplining, mountain biking, hiking, and canyoning for thrill-seekers.
The vibrant town is also home to natural hot springs, an active volcano and plenty of thundering waterfalls. One of the most popular things to do in Banos is the Waterfall Route (La Ruta de Cataratas), which takes you around to the most beautiful waterfalls in the area on a 61km mapped route.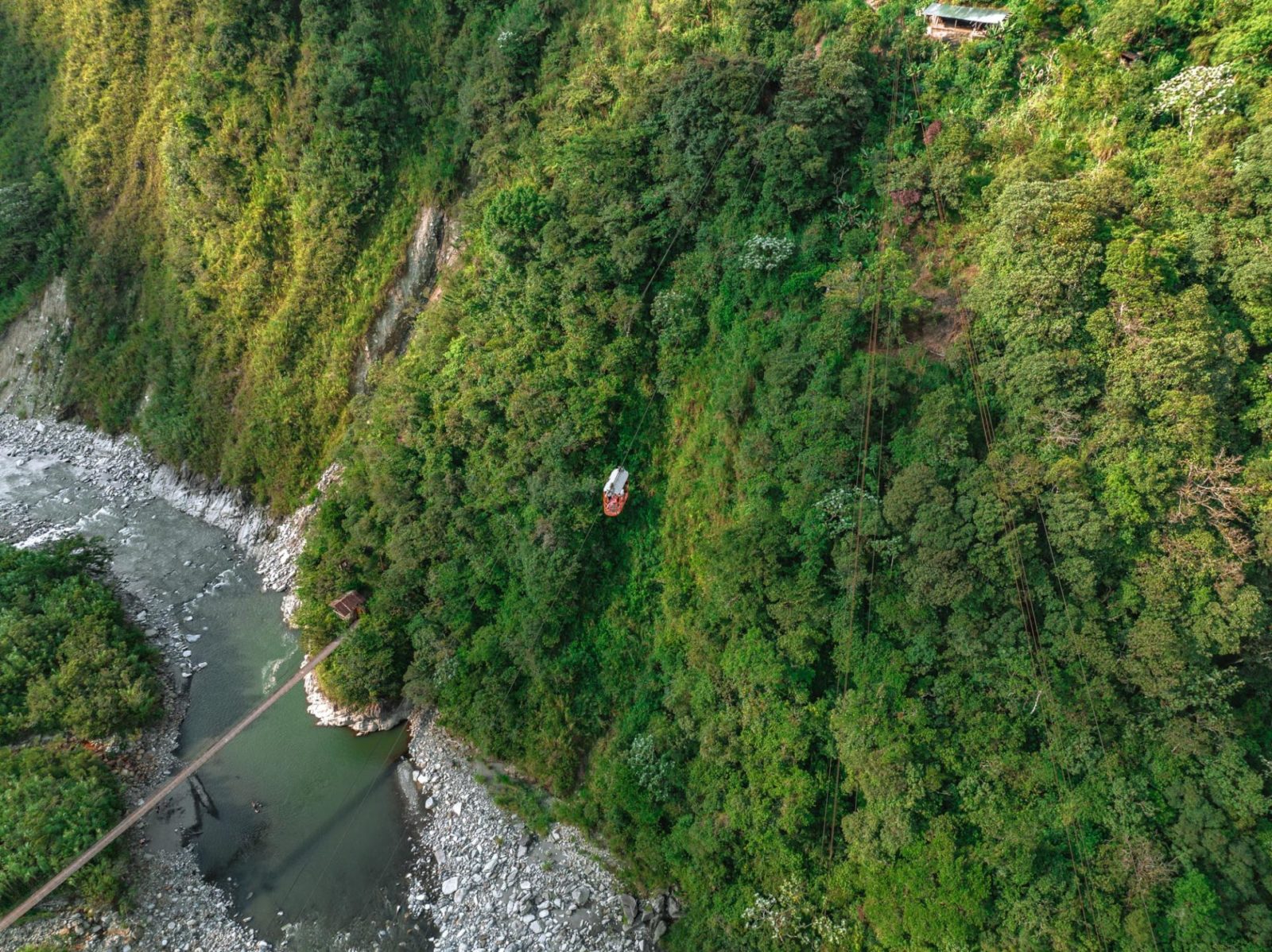 Papallacta Hot Springs
A nice escape from the bustling city of Quito is to the town of Papallacta. Just a 65km drive east of the city center, it's known for geothermal hot springs in the Andes Mountains. It's one of the top things to do in Quito, Ecuador, if you're looking for a relaxing place to spend time.
The Hotel Termas de Papallacta offers eight hot spring pools heated by natural geothermal energy. The entrance fee is around $9 for the standard pools or $23 for access to the spa facilities.
The hot springs are a romantic place to relax and unwind after a trek or mountain bike ride. It's one of the best things to do in Quito for couples.
Volcano Antisana
If you're looking for an off-the-beaten-track destination not far from Quito, consider visiting Volcano Antisana. It's home to some of the best outdoor activities to do in Quito, Ecuador. The volcano is the fourth tallest volcano in the country, standing at 5,753m (18,870 ft) and just a 50km (31 miles) drive southeast of Quito.
The climb to the summit of Volcano Antisana is a serious undertaking and is considered one of the most technical climbs in the country. It requires glacier and ice climbing experience, good acclimatization, and fitness level. Plus, it is strongly recommended that the hike is led by an experienced guide. It's a famous peak for mountaineering beginners to gain experience in high mountains.
But you don't have to climb the volcano to enjoy its beauty, and its proximity to the city and Papallacta Hot Springs makes for a great stop on a day trip from Quito.
Cotopaxi National Park
Cotopaxi is one of the most famous volcanoes in South America. The peak is the second highest in Ecuador at 5897m (12 500 ft) and is located just an hour and a half drive south of Quito. Adventurous travelers often hike the active volcano, but it's certainly no easy feat. The hike is typically done in 2 days. Hikers first reach the base camp at Refugio Jose Rivas, where they camp overnight. The summit from the Refugio takes another 6-10 hours. It's best to tackle this hike with an experienced guide.
If you are not interested in a challenging hike but still want to experience the volcano, you have 2 options.
Hike to the Refugio or even farther, to the start of the glaciers.

Rent a mountain bike and explore the park on the mountain biking routes.
The park is home to various wildlife, including wild horses, llamas and the Andean Condor.
Quilotoa Crater Lake
Quilotoa Lake is one of the most well-known tourist attractions in Ecuador. The vast crater lake spans 3km wide and is estimated to have been created around 600 years ago. It's a convenient place to visit along with Cotopaxi if you have time for a day trip from Quito. The lake is just 3 hours south of the city's historic center and can easily be reached by bus via Latacunga. Private day tours with a driver and guide are also available.
Aside from admiring the incredible view of Quilotoa Lake, you can hike down to the bottom of the lake and even take a kayak out on the water. The crater's steep walls can challenge getting back up, but horses are available for $10 per ride.
Best Restaurants in Quito
Eating in Quito should not be an afterthought, and Quito is where you'll find some of Ecuador's best restaurants. So, in our opinion, eating is one of the best things to do in Quito.
We had a chance to try out several restaurants on our visit to Quito. Here is a list of our favourite and best restaurants in Quito, Ecuador.
Urko
Urko is the best place to find local gourmet cuisine in Quito. This fine-dining restaurant takes you on a culinary journey with a 6-course meal through the regions. The dinner showcased some of the best food in South America. Dishes at Urko focus on seasonal variations and locally produced food. The menu varies with the seasons and can be paired with chocolate and drinks. A la carte menu is not available.
Zazu
This fine-dining restaurant is located just south of Parque La Carolina. Zazu offers an incredible gastronomic experience, with the head chef, Wilson Alpala, focusing on Ecuador's astonishing abundance of diverse locally grown food.
Casa Gangotena
Located in the heart of Centro Historico district, this restaurant is located inside Casa Gangotena Boutique Hotel. The exquisite food here combines rich flavours and textures in traditional Ecuadorian food, focusing on ancestral cooking techniques. The presentation is incredible, and the cocktails are elaborate, so don't miss a chance to try one with your meal.
Max was a big fan of the Pork Belly, and I enjoyed their unique taste on an Ecuadorian ceviche.
La Purisima
This classy restaurant was a pleasant surprise! It is located inside an art gallery but is a relatively affordable spot for good food and creative cocktails. Try their baked eggplant with lentils and a slice of traditional Black cake for dessert.
Miskay
Located in Plaza Foch, Miskay is known for its good local fusion food. It's committed to using 100% local ingredients to create incredible dishes. It's a must if you're wondering what to do in Quito city at dinnertime. But the restaurant also serves lunch, so don't be afraid to pop by mid-day.
Bandido Brewing
Of all the brewpubs that have recently popped up in Quito, this is one of the most famous in Quito's Old Town. Bandido Brewing is a must while visiting Quito, Ecuador and offers a laid-back vibe and a range of European and Ecuadorian food.
Best Hotels in Quito
There's a wide variety of places to stay in Quito ranging from budget hotels to luxury hotels. Luckily, your dollars can go very far here, so you'll be able to enjoy a bit more comfort for less.
We've stayed in various hotels during our time in Quito (changing spots every few days to taste new areas and hotels). Here are the top hotels in Quito we recommend.
Best Luxury Hotels in Quito
Mama Cuchara:

This excellent hotel is housed in a restored colonial-era house. The boutique hotel is lovely and offers impressive rooftop views of the city. We had a fantastic time celebrating New Year here and enjoyed fireworks on the rooftop. The rooms are beautiful, and there is an excellent patio restaurant in the middle of the hotel.

Plaza Grande Hotel:

If you want to stay close to all the tourist sites in Quito, Ecuador, this high-end hotel has posh rooms and a French-inspired restaurant. It's one of the most outstanding 5-star hotels in the city.

Casa Gangotena:

This upscale hotel is in an ideal location near the old town, with amazing views from the rooftop terrace. We enjoyed our stay here and appreciated the hotel's commitment to sustainability and rich history. There is a great restaurant on-site, and a stay at the hotel provides access to several unique experiences and tours.
Best Mid-Range Hotels in Quito
Vista del Angel Hotel Boutique:

Just outside of Centro Historico, this beautiful hotel has fantastic views of the city center and the Virgen del Panecillo. We stayed here for a few nights during our time in Quito and loved their complimentary breakfast offering.

NH Collection Quito Royal:

This modern hotel lacks character but is very clean and comfortable for a quick stay. We liked that it was close to the La Floresta neighbourhood, a must-see in Quito.
Best Budget Hotel in Quito
Casa Q:

This budget hotel has cozy rooms and is excellent value for money. We enjoyed the outstanding service and friendly staff when we stayed here. Plus, the hotel was built using recycled materials and local crafts and had a low environmental impact.

Hotel David:

This is a very affordable and cheerful hotel on the edge of Parque la Alameda. While it's not close to some of the best Quito attractions, a stay at Hotel David is an excellent option, if you want to stretch your dollar
How much time do you need in Quito, Ecuador?
You could get away with just a couple of days to see some of the main things to do in Quito city. However, we suggest staying for a bit longer.
3 to 5 days

will give you just enough time to enjoy all the top things to do in Quito

5-7 days

will allow you to take some day trips from Quito and enjoy a variety of great restaurants in the city.
No matter how long you end up spending in the city, Quito is the kind of destination you can come back to repeatedly. There is always another new restaurant to discover, a new rooftop to check out, and a new artisan shop to visit.