Although Indonesia is made up of tens of thousands of islands, the Raja Ampat Islands are some of the most magnificent in the country.
*This post may contain affiliate links, as a result, we may receive a small commission (at no extra cost to you) on any bookings/purchases you make through the links in this post. As an Amazon Associate, we earn from qualifying purchases. Read our full disclosure
Located off the western tip of New Guinea, the Raja Ampat islands are covered in tropical green jungles and surrounded by brilliant blue waters. Although remote, sparsely populated, and still relatively undiscovered by tourists, Raja Ampat is one of Indonesia's most idyllic destinations.
We've been dreaming about visiting Raja Ampat since our first visit to Indonesia back in 2015 and were so lucky to have finally had a chance to explore this remote part of the world earlier this year.
Traveling Soon?

Here is a list of our favourite travel providers and accessories to help get you ready for your upcoming trip!
The primary drawcard for our visit was the opportunity to discover Raja Ampat's rich biodiversity while diving in what is known as one of the best scuba diving destinations in the world!
Raja Ampat Diving
Similar to us, most people come to Raja Ampat to discover the world below the surface. Raja Ampat scuba diving is considered by many to be the best diving in the world.
Nowhere else on earth can you find the same level of underwater biodiversity, especially since Raja Ampat is located right at the center of the Coral Triangle, a hotspot for sea life of all kinds.
The 1500 islands of Raja Ampat, Indonesia are truly teeming with life. You'll have more than a few chances to spot everything from small fish to large pelagic life such as sharks, rays, and turtles.
The islands in Raja Ampat, Papua are especially well known for their hard and soft coral varieties that come in an amazing palette of colours. In fact, an unbelievable 75% of the world's corals species are found in Raja Ampat.
READ NEXT: 7 BEST DIVE SPOTS TO SCUBA DIVE IN INDONESIA
Best Time to Dive Raja Ampat, Indonesia
Although you can visit Raja Ampat any time of year, the best time for Raja Ampat diving is between October and April. During these months, the visibility is at its best and the ocean is generally calm. Temperatures remain constant in Raja Ampat all year round.
Some dive resorts and liveaboards close down between July and October due to monsoons and high winds, so make sure to check before you go.
Raja Ampat Diving Areas
Northern Raja Ampat
Northern Raja Ampat is known for being the most remote region. These areas are not inhabited, making the whole experience of diving there feel very special and exclusive. Located right on the edge of the open Pacific Ocean, deep ocean swells will often come into the shallows carrying lots of diverse sea life with it.
Northern Raja Ampat is a great destination not just for diving, but also for hiking.
While diving here, you'll have the chance to see turtles and their nesting grounds, saltwater crocodiles, and endless colourful fish. Although a lot of the islands are flat and sandy, underwater you'll find incredible topographic features such as canyons, cliffs, and swim-through passageways.
Some notable dive spots include Pelagic Rock, Magic Mushroom, One-Tree Island, and Black Reef.
Central Raja Ampat
The mounds of coral gardens are at their most beautiful in central Raja Ampat. The area is one big channel with mild currents and huge exchanges of water that take place in the channel continuously.
The main islands of Waigeo and Gam have numerous dive site around them that you should not miss including Sardine Reef, Cape Kri, Mike's Point, Melissa's Garden, and The Passage, the most famous in the area.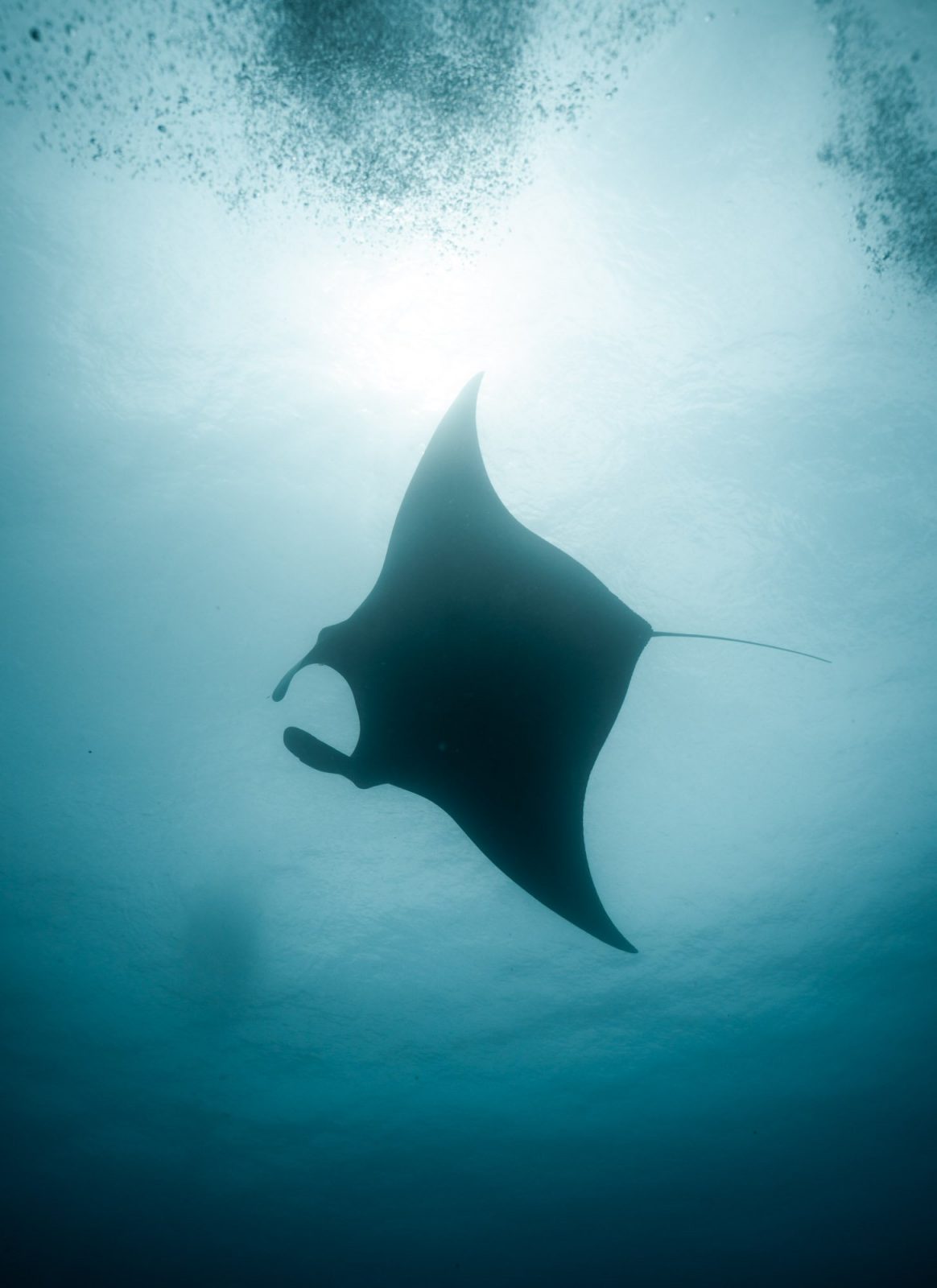 Muck diving can also be done here, with rich black sands providing the perfect habitat for microscopic critters.
Southern Raja Ampat Diving
Diving in southern Raja Ampat is perhaps the most challenging. With strong currents to navigate, drift and wall diving are common here. However, waters are comparatively shallow, making it all the easier to get up close to amazing sea life.
You'll likely dive right to the southeast of the island of Misool where the Misool-Daram Conservation Area can be found. This reserve is diligently protected by local naturalists, so make sure to do your part and respect the sea life while diving there.
Southern Raja is the place to be if you want to spot big fish such as sharks, groupers, and snappers. Some dive sites not to miss are Kaleidoscope Ridge, Friendly Canyon, Jamur Boo, and Shadow Reef.
Where to Stay in Raja Ampat
Raja Ampat diving requires a bit of thoughtful planning when it comes to accommodations. There are, in essence, three options to choose from: a resort, a homestay, or a liveaboard.
Resorts
One great thing about resorts in Raja Ampat is how eco-friendly many of them are. Since the region is so well protected, the hotels in the area have the obligation to adhere to strict ecological standards making most of them very sustainable overall.
However, the biggest downfall is that you are limited to one place during your time there. While you can take boats to different dive sites in the area, you won't be able to explore too far beyond that without changing resorts.
Homestays
Homestays offer guests the chance to save some money while getting to know locals and becoming immersed in Indonesian culture.
Many homestays are rudimentary but some can be a bit more like hotels. Either way, like resorts, homestays keep you stationary and limit your chances of getting to a multitude of Raja Ampat islands. In addition, you'll need to arrange your dives with a diving company separate from your accommodation which can be a bit of a pain.
Liveaboards
Because the Raja Ampat islands have so many incredible dive sites spread out over a large distance, a liveaboard boat is perfect for those who want to dive as many different areas as possible.
CLICK HERE to check availability and pricing for 60+ Liveaboards in Raja Ampat
Depending on your budget, you can find everything from basic accommodations to luxury yachts. We personally chose to do our Raja Ampat diving via a liveaboard and stayed on the Mantra Boat for eight days.
Usually, liveaboards do tours that last anywhere from 7 to 14 days all throughout the Raja Ampat islands. We would highly recommend a liveaboard boat if you are serious about experiencing the best and most diverse Raja Ampat diving.
What to Bring with You
Traveling with diving equipment can be cumbersome, but even so, it's a good idea to come to Raja Ampat with a few essentials including your regulator, wet suit, mask and snorkel, fins, and BCD.
If you aren't able to travel with these items, you'll be able to rent them in most places. Just make sure to check this ahead of time.
If you plan to bring a dive computer or underwater camera (both are recommended,) make sure you take some time to learn to use them before you arrive in Raja Ampat. It will make your experience much less frustrating as well as safer for you. Also, don't forget to bring your diving certification cards.
How to Get to Raja Ampat
A lot of people are unaware of how to get to Raja Ampat which is certainly understandable. Truth be told, it isn't the simplest of tasks.
You'll need to fly into Sorong, a coastal city in West Papua. However, there are no direct international flights and many flights will have stopovers on the island of Sulawesi or elsewhere in Indonesia.
If you're staying close to Sorong, many resorts and homestays can arrange pickups for you. If you're staying in an area beyond Sorong, you'll either need to get an onward flight or ferry to your final destination which might be Waisai on the island of Waigeo or the islands of Kri or Misool.
If you're going on a liveaboard boat, you'll need to get to the harbour to meet it. Getting around the islands by boat is really the only way to do it as there is not much infrastructure on land.
Although getting to Raja Ampat, Papua is indeed a challenge, its remoteness also has advantages. Only serious divers will be willing to make the journey and you'll see that this helps the islands remain sustainable and not overrun with tourism.
A Note About Safety
Raja Ampat diving is some of the best in the world, but it doesn't come without its risks. Since the islands are so remote, be aware that should you experience decompression sickness, you will likely need to be airlifted to Manado in northern Sulawesi. Because of this, it is extremely important to exercise great caution while diving in Raja Ampat.
In addition, travel insurance is absolutely essential and in many cases, you'll need to show proof of your insurance as well as your diving certification before you're allowed to dive.
In many ways, Raja Ampat diving is quite advanced and not recommended for beginners. If you've never dived before, it may be best to get a little experience before attempting Raja Ampat diving.
Not only will this be safer, but it will also make your experience a lot more fun and rewarding when you finally do dive in Raja Ampat.
Have you been scuba diving in Indonesia? Is Raja Ampat on your list of places to dive?