The beautiful island nation of Indonesia boasts many bucket worthy destinations. Particularly, the remote corner of North Sulawesi is known for having some of the best diving in all of Indonesia.
*This post may contain affiliate links, as a result, we may receive a small commission (at no extra cost to you) on any bookings/purchases you make through the links in this post. As an Amazon Associate, we earn from qualifying purchases. Read our full disclosure
On our recent trip to Indonesia, we had an opportunity to visit North Sulawesi and experience some incredible diving in this region while staying at the Gangga Island Resort & Spa. We were pleasantly surprised by the diving conditions. Not only that, the biodiversity of marine life in this area is vast. We highly recommend this region to any scuba diving enthusiast!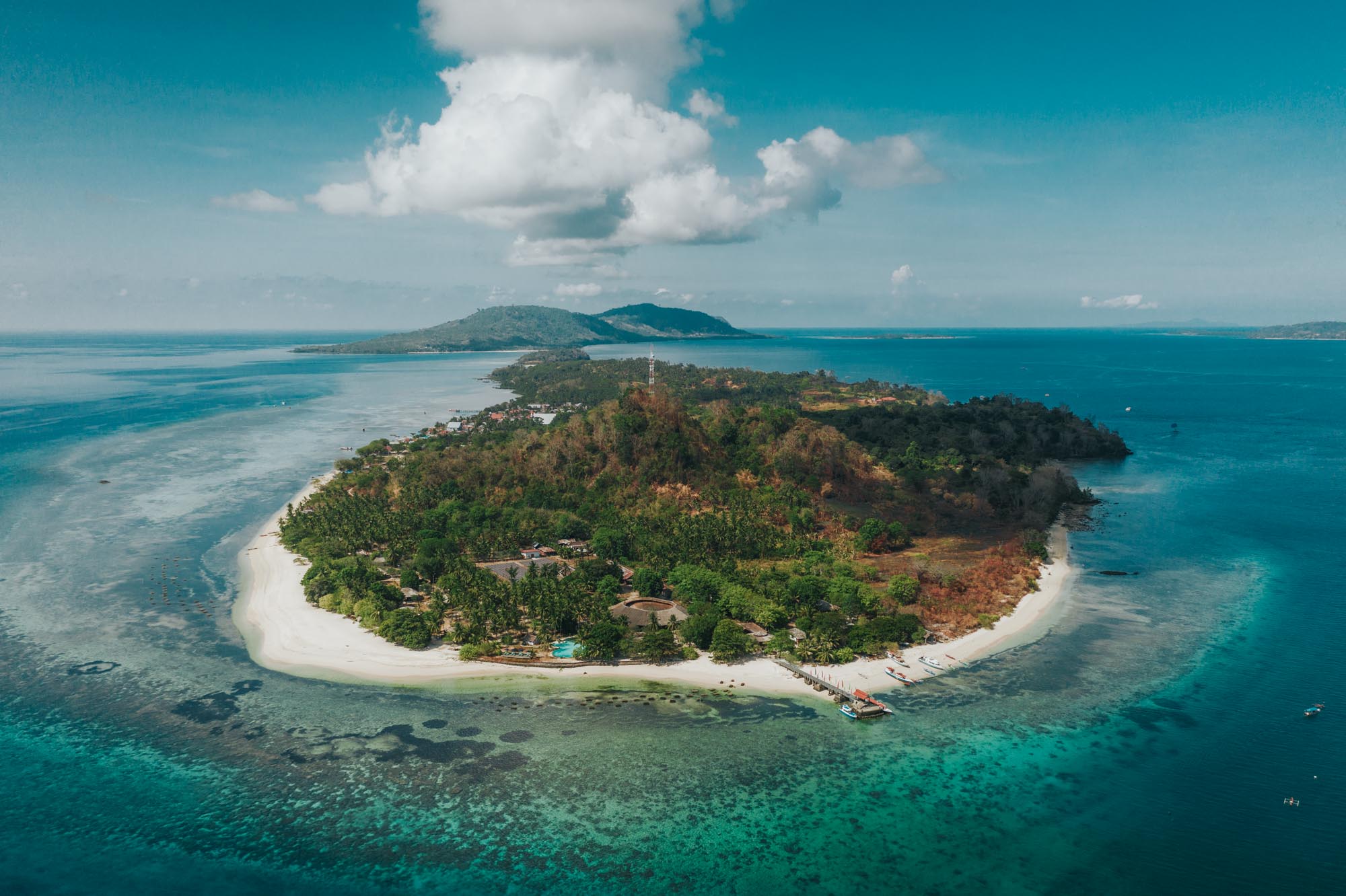 Diving in North Sulawesi
North Sulawesi province is situated on the Minahasa Peninsula on the island of Sulawesi, east of Borneo. It covers an area of over 13,000 sq.km and has a population of just over 2.4 million.
Unlike other parts of Indonesia, this region is pristine, away from modernity. So, you can say that this is the perfect spot for scuba divers. And also, those looking for a true off the beaten path experience.
As we discovered during our trip, North Sulawesi is home to some of the best diving in Indonesia. Certainly, strong currents bring nutrient-rich water from the ocean depths. It creates a thriving marine environment for a variety of inhabitants ranging from small critters to massive schools of fish.
The most popular diving destinations in the area include Bangka Archipelago, Bunaken National Park and Lembeh Strait.
Bangka Archipelago
Located at the juncture between the Indian and Pacific Oceans, Bangka Archipelago consists of the islands of Bangka and Gangga. Additionally, with smaller islands of Lihaga, Talisei, and Tindila.
This part of North Sulawesi boasts more than 30 world-class diving locations with a wonderful variety of marine life. Expect to see green sea turtles, schools of trevally and colourful reef fish along the many walls. Bangka and Gangga Island dive sites also feature a great selection of critters.
Bunaken National Marine Park
Covering over 75,000 hectares, Bunaken National Marine Park offers a chance to see nearly every species of coral fish native to Indonesia. And, thanks to its great visibility (20-30 meters), it is considered one of the best places in the world for diving.
Marine life in Bunaken National Marine Park includes eagle rays, jackfish, tuna, sharks, barracudas, turtles, and napoleons among others. Furthermore, there are at least 30 dive sites found in the area of Bunaken National Marine Park. Even more, Bunaken have plenty of unique diving opportunities for every level.
Lembeh Strait
Lembeh Strait offers a very unique diving experience, as it is a destination known primarily for muck diving. With an average of 10-20 meters of visibility, Lembeh Strait's 25 dive sites offer an amazing array of marine life.
What this area lacks in reefs, it makes up for in the sheer diversity of critters. Nudibranchs, eels, pygmy and giant seahorses are just some. Additionally, there's frog-fish, Pegasus sea moths, cockatoo wasp-fish, leaf scorpion-fish as well as many others.
READ NEXT: 7 BEST DIVE SPOTS TO SCUBA DIVE IN INDONESIA
Where to Stay: Gangga Island Resort & Spa
Therefore, if you are planning a trip to North Sulawesi and want to scuba dive in all of the regions mentioned above, it's important to station yourself in a central location, with easy access to all 3 diving destinations.
During our trip, we choose to base ourselves at the Gangga Island Resort & Spa. It's a beautiful eco-luxe resort located on the island of Gangga. The resort is located next to some of the best dive sites in Bangka Archipelago. Also, it's within 1.5 hours from Bunaken National Marine Park and Lembeh Strait.
The Rooms
The resort consists of 18 Superior Bungalows and 12 Deluxe Bungalows. Both styles of rooms are air-conditioned and have satellite TV, a ceiling fan, a double bed and a verandah. Additionally, the bungalows have various comfort. These include wireless internet, minibar, tea or coffee, bathrobes and linens. Also, a telephone, hairdryer, desk and comes with a room safe.
Facilities
There are facilities for billiards, volleyball, table tennis, a beautiful infinity-style swimming pool on-site. Additionally, it includes a spa and a boutique. Daily, from 5-6pm, you can enjoy tea and snacks by the pool while watching the sunset.
So, if you decide to treat yourself with an afternoon at the Pasung Spa, your options include not only several types of massages, but also reflexology and traditional Balinese massage. Furthermore, the spa is conveniently located at the resort and offers great treatments at affordable prices.
Food
Rates at the Gangga Island Resort & Spa are on a full-board basis and include buffet breakfast, as well as a la carte lunch and dinner at the on-site restaurant. The menu features a good mix of international and Indonesian cuisine, with a variety of fish and vegetarian options.
Sustainability Practices
Roughly 60% of the staff members are locals, and Gangga Island Resort & Spa works to help improve the health, education, and skill development of the local communities. They use profits from the resort to fund scholarships and to renovate and help construct local schools. The village on the island now also has a hospitality school, which helps prepare more locals for employment at the hotel and beyond.
Gangga Island Resort spreads awareness on the importance of protecting marine life, and they work with the Biorock program to help regrow reefs, as well as employing sea gardeners to help with beach clean-up. We loved learning about the Biorock coral reef program and the opportunity to see the fruits of their labour first hand on an afternoon dive just in front of the resort.
Gangga Island Resort is not only luxurious, but they take their responsibility to the community and to the environment seriously. Not only will you have a great time, but you know your money will be funding something worthwhile.
Diving: Gangga Divers
Gangga Island Resort and Spa is home to its own PADI 5-Star Dive Center, fittingly called Gangga Divers.
The dive centre caters to divers of all skill levels. They are able to organize a variety of dive trips. Not only to the dive sites near Bangka/Gangga Island areas but also to Bunaken National Marine Park and Lembeh Strait.
Gangga Divers has 5 all-wood boats. Each one built specifically for diving, so they have easy access both for getting on and getting off. The staff is highly trained and each boat is fully ready to help you get the most of your diving!
Other Things to Do in North Sulawesi
During your stay at Gangga Island Resort & Spa, you can go diving, snorkelling, or fishing with the locals, and you can also request tours of the island, the surrounding islands, the highlands, and Tangkoko National Park.
While most visitors come to North Sulawesi for diving, some also enjoy exploring the regions on the ground activities.
Manado
Manado is the capital city of North Sulawesi and the second-largest city in the region. Surrounded by highlands, volcanic mountains, and the sea, the scenery even from the city is a sight to behold. The 4th largest statue of Jesus Christ in the world stands over the city like a guardian! Additionally, there are tons of beautiful churches to explore and get pictures of.
The Highlands
Another day trip offered at the Gangga Island Resort & Spa is to the highlands, where you can see The Waruga, Lake Linow, Woloan, the lake at Tondano, and Tomohon. The tour departs at 7:30am and returns at 6pm.
Tangkoko National Park
Tangkoko National Park is located about 80 kilometres or 2 hours from Manado. Surprisingly, it's hassle-free to take a trip there! This is because Gangga Island Resort offers a tour to the National Park from the resort.
The park is home to some unique animals, like the black-crested macaque and Tarsius tarsier. The day trip from the resort lasts 9 hours.
A diving trip to North Sulawesi is bound to surprise and excite even the pickiest travelers. The biodiversity of the marine life is amazing. Moreover, the healthy coral reefs in the area make this region one of the best diving destinations in Indonesia! That's well worth adding to the travel wish list!
Have you been diving in North Sulawesi? What part of the region did you enjoy the most?
Disclaimer: Our stay at Gangga Island Resort & Spa and our dives in the region were provided courtesy of Lotus Hotels, however, all opinions expressed in this article are our own.