In case you didn't know, Australia is a pretty phenomenal country! There is so much to see on this beautiful continent. It's no wonder travelers often struggle to pick the best stops for their itinerary.
*This post may contain affiliate links, as a result, we may receive a small commission (at no extra cost to you) on any bookings/purchases you make through the links in this post. As an Amazon Associate, we earn from qualifying purchases. Read our full disclosure
But the truth is, if you want to spend a few relaxing couple of days surrounded by stunning natural beauty, then you've got to add a Fraser Island tour to your Australia itinerary! We loved our DIY Fraser Island tour on our Brisbane to Cairns road trip.
Traveling Soon?

Here is a list of our favourite travel providers and accessories to help get you ready for your upcoming trip!
Fraser Island, located just off the East Coast of Queensland is the largest sand island IN THE WORLD! It also happens to be a UNESCO World Heritage Site and one of Australia's greatest attractions!
It's the only place in the world where the rainforest grows right out of the sand dunes, obtaining all of their nutrients from the sand and the rain. Fraser Island is home to over 350 species of birds, possums, wallabies, sea turtles, dolphins, and of course Australia's favourite wild dog – the dingo.
Fraser Island lakes are absolutely stunning. There are 100 freshwater lakes on the island and over 30 walking tracks – enough to keep the most adventurous nature lovers entertained. But if you want to just kick back, unwind, and enjoy the tranquillity of nature, there's plenty of options for that on the island as well!
Have we got you hooked yet on tours to Fraser Island? Just wait…You haven't seen anything yet!
FRASER ISLAND TOUR: TOP ATTRACTIONS
1. Seventy Five Mile Beach
The name says it all, this stunning stretch of beach stretches over 75 miles and runs along most of the East Coast of Fraser Island.
Unfortunately, the beach is not a great place for a swim. With dangerous currents, Tiger sharks in the water, and dingoes roaming along the beach, you are better off opting for a swim in one of the beautiful Fraser Island lakes instead.
But 75 Mile Beach is still an incredible sight that serves as the island's National Highway, best explored in a 4WD
Keep your eyes out for dingoes frequently roaming around the beach. They may look friendly, but they are not, so keep your distance and admire from afar.
2. Lake Mackenzie
The most iconic of Fraser Island lakes, Lake Mackenzie is probably the most visited and admired attraction on Fraser Island.
Lake Mackenzie is a large perched lake with a white silica sandy beach. Perches means that it lies above the natural water sources and contains just rainwater, as no streams flow in and out of it.
On a sunny day, Lake Mackenzie is incredible, but even on a cloudy day its clear waters and surrounding greenery make it a picture perfect sight. It's a great place for a picnic lunch or to spend a few hours relaxing on the beach with a book in hand.
3. Eli Creek
A freshwater creek that's perfect for the whole family. Its waters hardly ever rise above waist height, making it a great place for a swim with the little ones. Floating or swimming down the creek with the current is a fun activity for all ages! And for those that don't fancy getting wet, the boardwalk along the creek offers a great alternative.
4. Lake Wabby
Located about 30 mins inland, this is our favourite place on the entire island. Tours to Fraser Island definitely need to include a stop here!
A short walk through the rainforest and you will arrive at the most incredible view of the Hammerstone Sandblow, a huge sand dune that's slowly encroaching upon the lake. The contrast between the green colour of the lake and the brightly coloured sands make it a breathtaking view.
The sand dunes leading up to Lake Wabby are an amazing example of tall rainforests growing on sand dunes at elevations of over 200 meters – a phenomenon that can only be found on Fraser's Island. Do us a favour and add Wabby Lake to your must-see Fraser Island lakes!
5. The Fraser Island Indian Head
Located at the Northern end of the main beach, this headland is the most easterly point on Fraser Island and one of the most popular stops on tours to Fraser Island. You can climb up the Fraser Island Indian Head for beautiful views of the 75 Miles beach and a chance to spot some wildlife. Sharks, dolphins, and turtles can be easily seen from the top of Indian Head, depending on the season.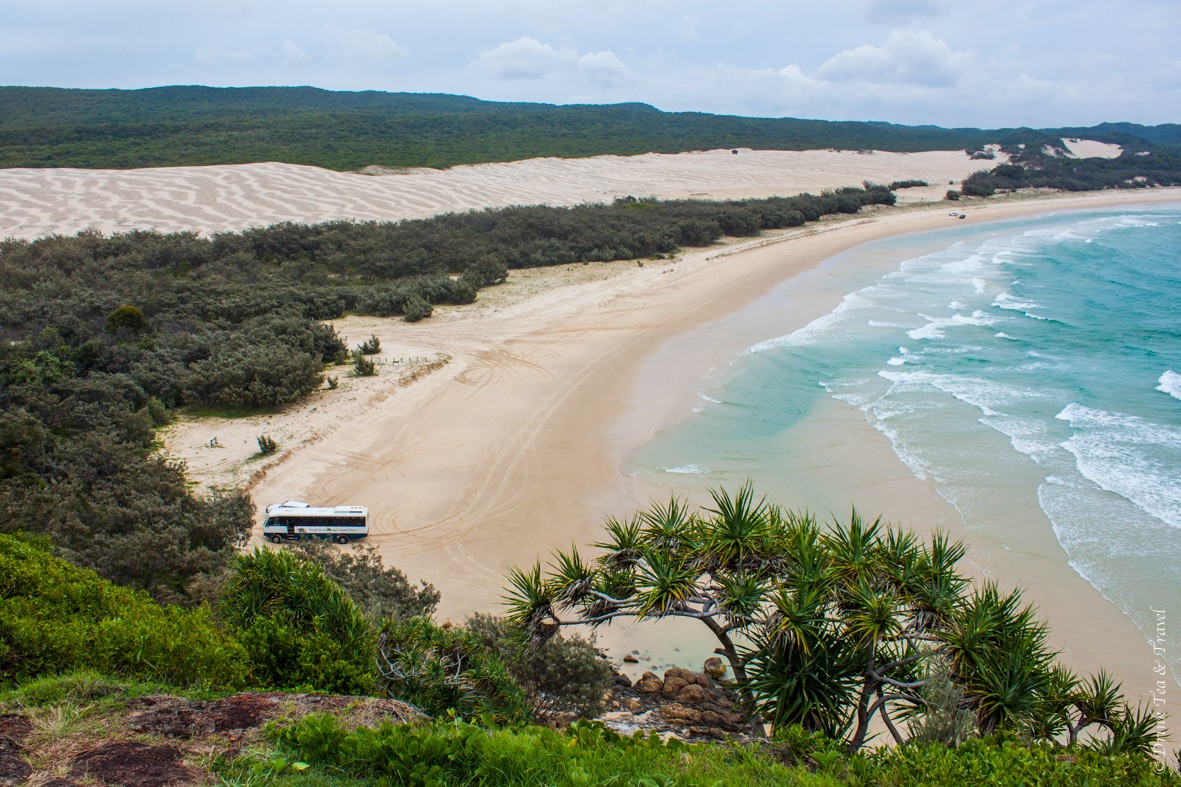 6. Champagne Pools
If you want to include a swim on your Fraser Island tour, this is the place to do it. Located between Waddy Point and the Fraser Island Indian Head, the Champagne Pools are rock pools formed by waves crashing over the rocks. The water in the pools is normally quite warm, making it easy to spend hours enjoying the sun and the ocean.
7. Coloured Sands: Red Canyon & The Pinnacles
Unique red coloured sandstone cliffs can be seen in a few spots along the 75 Mile Beach. These sands were formed over thousands of years ago and have gained their colour from iron-rich minerals.
While it may be tempting to grab a handful and bottle it up for a nice souvenir, Don't! Read our tips on how to travel Australia sustainably for more tips on how to explore this beautiful country without hurting the environment!
8. Maheno Shipwreck
Maheno was an ocean liner on its way to Japan for scrapping when it was forced ashore on Fraser Island by a storm in 1935. The ship was stripped of its fittings, but could not be refloated. Since then, the majority of the ship has disintegrated, leaving only a rusty outline of what once used to be one of the faster ships in the world.
One Fraser Island Tour is Never Enough
It's not just the natural sights and attractions that bring thousands of visitors to Fraser Island on a yearly basis. Australians have been visiting Fraser Island for decades.
For many, it brings back fond childhood memories of camping on Fraser Island. Year after year, they are drawn back to the island to relive, re-create, and share those experiences with their own kids. And I can certainly relate to the appeal. After visiting Fraser Island for the second time earlier this year, I could see it being a place that I would happily go back to!
Fraser Island is one of those places that you can visit again and again. The natural beauty and jaw-dropping landscapes of this unique destination make it easy to admire it for the 2nd time, the 3rd, or even the 10th.
So now that, I hope, I have convinced you to visit Fraser Island, let me share some of the nitty gritty details that will help make your trip to Fraser Island easier.
HOW TO GET AROUND FRASER ISLAND
Before you decide how you are going to get to Fraser Island, you need to decide how you are going to get around the Island itself. Your options are to:
Join a Fraser Island Tour
Create your own DIY Fraser Island tour and explore with a 4WD (4 Wheel Drive)
Conquer the Fraser Island Great Walk
More on #1 in a bit. First, let's talk about #2. There are a few things you need to know before embarking on the 4WD adventure.
EXPLORE FRASER ISLAND WITH 4WD (4 WHEEL DRIVE)
You need a 4WD to get around Fraser Island. If you don't own a 4WD,

hire one prior to taking the barge to Fraser Island. There are a few places for 4WD hire on Fraser Island but they tend to be more expensive.

Skip paying more for a 4WD hire on Fraser Island and opt for one of the many 4WD specific places to hire in Hervey Bay or Rainbow Beach. Rates for 2 people will vary from $300-$600 per day, depending on the car and # of days.
WANT TO EXPLORE AUSTRALIA BY CAR?

Get the best car rental rates by booking ahead! Discover Cars compares prices across all major car rental companies, so you are guaranteed to get the best deal.
All vehicles travelling to Fraser Island

must have an official permit

, which need to be displayed on your car while on the Island. Permits can be obtained

here. You'll need to create an account before you can log in. Click on Make a Booking, then Vehicle Permit and select Fraser Island from the list to obtain your permit. This will set you back by another $48.


When planning driving times on Fraser Island

keep in mind the low/high tide times

. During high tide driving along the 75 Mile Beach is not recommended.

The soft sand around the island means the risk of getting stuck, even with a 4WD, is really high.

Take great care while driving on Fraser Island

and make sure to

read some of these helpful tips

before you embark on your trip.
Driving around in a 4WD vehicle is, in our opinion, the most enjoyable way to get around Fraser Island. It allows you to create your own DIY tour of Fraser Island, staying at each attraction for as long or as little as you would like.
Your own vehicle allows you to get off the beaten path and explore some of the lesser known attractions on Fraser Island. But we know it's not for everyone! The cost of hiring a 4WD in Hervey Bay or Rainbow beach (or arranging a 4WD hire on Fraser Island), organizing a driving permit, and then dealing with the stress of driving around the island can be too much for some people.
Barge to Fraser Island
If you are exploring Fraser Island on your own there are a couple of ways to reach the island however a barge to Fraser Island will always be involved. A tour will take care of all this for you.
Ferry Fraser Island from Hervey Bay
River Heads is 20 minutes south of Hervey Bay and the most popular port to catch a barge to Fraser Island. The reason being that Hervey Bay is much more developed than Rainbow beach.
Fraser Venture Barges runs 3 daily services to Wanggoolba Creek and Kingfisher Bay Ferry runs 3 daily services from River Heads to the Kingfisher Bay Resort. Both companies offer service to vehicles and walk-ons and ferry times are 30 and 45 minutes respectively.
Ferry Fraser Island from Rainbow Beach
Manta Ray Barges runs out of Inskip Point in Rainbow Beach. They are a locally owned company and donate a portion of their profits back into the local community.
It is just ten minutes to Hook Point on Fraser Island from Inskip Point. Manta Ray prides themselves on offering customers virtually no wait time for a barge to Fraser Island.
JOIN A FRASER ISLAND TOUR
When I (Oksana) first visited Fraser Island in 2010, I was traveling by myself and there was no way I was going to hire a 4WD and attempt to explore the island on my own. So I opted to join a Hervey Bay to Fraser Island Tour.
Hervey Bay to Fraser Island tours or tours to Fraser Island from Rainbow Bay are a great way to see the island! There are number of different tours and tour companies to choose from. Most of the tours follow a very similar itinerary and charge a similar price.
I opted to go on a 2 day Hervey Bay to Fraser Island Tour which, which included 1 night accommodation at Eurong Resort. Tour prices for 2 day/1 night tour range from $300-400 pp. Most companies also offer a 3 day tour, which would give you a bit more time on the island and allow you to see a few more attractions along the way.
The biggest difference between the various providers is the number of people on the tour and the type of accommodation included in the price. So compare a few options and choose the one that fits your style of travel.
As advocates for sustainable travel, we encourage you to opt for a sustainable tour operator. Don't know how to choose a sustainable operator? Learn more here.
FRASER ISLAND ACCOMMODATION
Fraser Island accommodation options are quite limited. But from camping to hotels and resorts on Fraser Island there is certainly something for everyone.
Camping on Fraser Island
Now, in our opinion, this is the way to go on Fraser Island! There are 4 large formal camping areas on the island: Central Station, Dundubara, Waddy Point (top), Waddy Point beachfront. Most of these sites have dingo fences, showers, toilets, and gas bbq facilities, making them a great and easy choice for families, adventurous travelers and those on a budget.
Bookings for these sites must be made in advance and the booking number must always be displayed on your tent. For the more experienced and adventurous campers out there, there are number of other bush-type of campsites.
For more information on camping on Fraser Island and facilities at each site visit the Queensland Department of National Parks Website
Hotels and Resorts on Fraser Island
There are a number of eye-catching hotel and resorts on Fraser Island for travelers that don't want to sacrifice comfort to get amongst nature.
Mid range Fraser Island Accommodation
Eurong Beach Resort offers hotel rooms from $129 per night and 2 bedroom apartments from $219 per night. The resort is well equipped with various facilities: from swimming pools, to restaurants and a bar. It's ideally located just off 75 Mile Beach at Central Station allowing for easy access to shops and attractions on the island.
Cathedrals on Fraser offers 1-3 bedroom cabins starting from $180 night. Cathedrals also offers powered camp sites and permanent tent options for those that are looking for a camping experience on Fraser but don't have their own camping equipment.
Beachcamp Eco Resort offers the ultimate glamping experience on Fraser Island. They offer permanently erected canvas tents for rent which have their own ensuite bathroom and hot showers. Beachcamp is located just south of Wabby Lake on the beach. Their Queen Tent goes for $140 a night.
Fraser Island Retreat offers bungalows with private balconies just steps from the beach and close to Eli Creek. They have a swimming pool, an on-site bar and bistro. Their one bedroom bungalows are $190 per night.
Luxury Fraser Island Accommodation
Kingfisher Bay Resort is the more luxurious of resorts on Fraser Island. Their basic hotel rooms start from $169 per night, Villas from $279 and Kingfisher Houses from $600 and go up to $1500 a night.
Kingfisher offers an array of facilities: Four swimming pools, Three restaurants, four bars, Spa Sanctuary, Child minding, conference facilities and more. The downside of Kingfisher is that it's located on the other opposite side of the island, but the extra facilities and luxuries definitely make up for the location downside.
Hostels and Other Fraser Island Accommodation
There are currently no hostels on Fraser Island, but there are a few other hostel- like Fraser Island accommodation options, like the Cool Dingo Wilderness Lodge although these are reserved for Cool Dingo Tour customers only.
Besides these options there are a few holiday homes for rent throughout the island. Check the full Fraser Island accommodation listings here or try Airbnb.
Rainbow Beach and Hervey Bay
There are a ton of other accommodation options available on Rainbow Beach and in Hervey Bay. Many hotels and hostels on shore also organize day tours to Fraser Island, allowing you to spend the day exploring the island's main natural attractions, without the need to stay overnight.
Fraser Island is one of the few places in Australia that still retains a lot of evidence of aboriginal Australian culture that dates back to 5000 years ago. So as the Butchulla people would say, "Ngalmu galangoor Biral & Biralgan bula nyin djali!" or "May all our good spirits be around you throughout the day".
And don't forget, when visiting any UNESCO World Heritage Site…
"Wanya nyin yangu, wanai djinang djaa." – "Wherever you go, leave only footprints"
To learn more about living and traveling in Australia, check out these posts:
Top 10 Things to Do in Australia
A Guide to Visiting Barossa Valley
Moving to Australia: Debunking Myths and Misconceptions
Getting Around Australia on $1/day
What I Didn't Know About Australia Before I Moved Here
Like this post? Pin it for later!
[fbcomments]