We've heard it over and over again. "Australia is so beautiful! I'd love to travel there, but it's just so expensive, there is no way I could afford it". And we get it. The cost of living in Australia was exorbitant.
*This post may contain affiliate links, as a result, we may receive a small commission (at no extra cost to you) on any bookings/purchases you make through the links in this post. As an Amazon Associate, we earn from qualifying purchases. Read our full disclosure
A study by the World Bank, in 2014, showed that based on the costs of goods and services in Australia, it is now the most expensive G20 economy in the world. Yikes!
How Much Does a Trip to Australia Cost?
But despite all of that, it is still possible to travel Australia on a budget
You just have to know how.
Traveling Soon?

Here is a list of our favourite travel providers and accessories to help get you ready for your upcoming trip!
HOW MUCH DOES IT COST TO GO TO AUSTRALIA
If you are traveling Australia on a budget from Europe or North America, your flight will make up a good chunk of your total travel costs. And unfortunately, there is just no way around this trip to Australia cost.
No matter what tips or tricks you use for traveling Australia on a budget, a return flight to Australia will cost you no less than AUD $1,400 and upwards of AUD $2,000+.
Tips to Get the Best Rates on International Airfare to Australia
Plan Ahead
Book your flights to Australia as far in advance as possible, no less than 6-8 months prior to your trip. Airlines often release early-bird prices as early as 12 months in advance, so keeping an eye out for specials may help you score a great deal on a flight.
Fly Into Main Cities
Sydney and Melbourne will have the most flight options and thus the best deals for flying into Australia from North America or Europe. But don't discount Brisbane and Perth as the entry points, especially if you plan on staying in Australia for a while and can start/finish your trip in one of those cities.
And keep in mind that (when possible) direct flights – or itineraries with only one layover – dramatically decrease carbon emissions meaning your trip to Australia doesn't have to cost the earth too!
Do Your Own Research
Don't rely on a travel agent to give you an amazing deal on a flight. Doing your own research and booking online might take time and effort but it could easily save you a couple of hundred dollars (this goes for cheap car hire in Australia as well).
My advice is to use trusted booking engines to help you find the best and cheapest flight combinations. My go-to's are Skyscanner, Kayak and Momondo.
If you are flying into Australia from Asia, use low-cost airlines like Air Asia or Scoot to grab dirt cheap direct flights (as little as AUD$119-199) into Sydney, Melbourne, Perth, Adelaide, and Gold Coast.
HOW TO GET AROUND AUSTRALIA ON A BUDGET
Once in Australia, your options for cheap ways to get around the country are plentiful. The biggest mistake travelers make when planning their trip around Australia is booking their domestic travel with Qantas and Virgin.
Don't get me wrong, they are great airlines, and due to their worldwide recognition are often the ones recommended by travel agents and major booking sites. But they are not the best options for traveling Australia on a budget.
Use Low-Cost Airlines
Australia is a massive country, so if you only have a few weeks to spend here, traveling by air might be your best bet. Its quick, easy, and doesn't have to be expensive.
If your eco-conscience is feeling weary about multiple flights in one trip, it's fast and easy to buy carbon offsets to counteract the emissions from your flights!
Scoot Airways and Jetstar are 2 good low-cost carriers, offering affordable flights with dozens of routes across Australia. Again, use search engines like Skyscanner, Kayak and Australia's WebJet to compare low-cost flights. Or you can use individual airlines' sites to search for flights.
To help you save on domestic flights even further, consider the following tips:
Fly without checked baggage
Low-cost carriers will always charge you extra for checked luggage (as well as for meals and entertainment), so if you have an option of traveling light, do it! It will help definitely help with traveling Australia on a budget.
Plus it's better for the environment when the flight isn't bogged down with the extra luggage weight the airplane has better fuel economy.
Book red-eye or early morning flights
Since not many people want to fly those routes, they are often $20-40 cheaper than domestic flights throughout the day.
Sign up for airline email notifications
Both Jetstar and Scoot Airways are known for their amazing flight specials, like 2 for 1 deals, pay one-way get a free return, 50% off discounts and more.
Don't wait till the last minute
Just like international flights, domestic flights get more expensive closer to their departure date. Sometimes as much as x10 the original cost within the last few days leading up to it.
Share a Car or Travel by Campervan
If you have a bit more time in the country, getting around by car might be an even cheaper alternative. The best part about renting a car is, of course, the flexibility that comes with it.
You can come and go whenever you please, stop along the way and experience some amazing off the beaten track destinations en route from one major city to the other.
Opt for an electric or hybrid car if you do decide to rent. You can travel more responsibility while still having the freedom to move around.
Major Cities Only?
If you are planning to visit only the major cities in Australia, flying is probably still the cheapest method of transportation for you. But if you want to see more than just the capital cities, consider the following "car" options.
Bonus: if there are two or more of you traveling by car, getting a cheap car hire Australia, will be more environmentally responsible than flying or taking public transportation!
Cheap Car Hire in Australia
But only if you are traveling with more than 2 people. Car rental in Australia is not cheap ($50 a day and more) plus fuel is pricey. So unless you are traveling in a group and are able to split the costs, a renting a car often isn't really an option.
An electric or hybrid car will save costs on fuel. And for even better fuel economy, and a more environmentally way of traveling Australia on a budget, consider packing light and opening the windows rather than flicking on the air conditioning when possible.
WANT TO EXPLORE AUSTRALIA BY CAR?

Get the best car rental rates by booking ahead! Discover Cars compares prices across all major car rental companies, so you are guaranteed to get the best deal.
Share a car
Backpackers are always looking for people to share a ride with. Check opportunity boards in hostels or websites like Gumtree for other people traveling to your next destination. If you are flexible enough and have time to spare you might find not only a cheap ride but also a new travel buddy.
Campervan Relocations
This is by far the best and the cheapest way to get around Australia on a budget! Due to the popularity of campervan rentals in Australia, campervan companies are always looking for someone to relocate their cars from one destination to another and are willing to offer incredible deals for someone to do it!
With a bit of flexibility on your end, you can score a 4-6 berth campervan for $1 a day! In our opinion, it is definitely something to consider when you're wondering how much does it cost to go to Australia.
Save on Petrol
According to Savings Guide, Australia Tuesday and Wednesday are the most affordable days to fill up on gas. So hit the gas station mid-week, and try to avoid filling up on Sunday and Monday when gas prices tend to peak.
It also never hurts to save receipts from some of Australia biggest brand name stores like Big W, Woolworths, and Aldi which sometimes have gas saving coupons on their receipts.
WANT TO EXPLORE AUSTRALIA IN A CAMPERVAN?

Get the best campervan relocation rates by booking on our favourite campervan rental website, DriveNow. It compares prices across all major campervan rental companies in Australia, so you are guaranteed to get the best deal! CLICK HERE to search for campervan rentals from just $1/day now!
Get Around by Bus
The other affordable way to get around Australia is by bus. There are two major bus companies offering routes all across Australia: Greyhound Australia and Oz Experience.
Both offer a variety of hop-on/hop-off bus pass packages starting from just $149. Their buses are air-conditioned, clean, and comfortable enough for overnight travel.
To sweeten the deal Greyhound Australia's brand new coaches also offer free WiFi, USB charges, leather reclining seats, and panoramic windows – talk about getting around in comfort.
Busses are also a perfect place to meet other backpackers and make friends along the way. But again, these are only worth the money if you want to take advantage of hopping off and on the bus to make stops in towns along the way.
Plus this option is very environmentally friendly! Imagine all the cars bus passengers are keeping off the road by taking advantage of these major bus routes.
Use Public Transportation
The best way to get around the major cities is to use public transport. Public transportation also helps reduce the number of vehicles on the road, which cuts carbon emissions significantly!
Sydney, Melbourne, Adelaide, Perth, and Brisbane have a well-developed train/bus/tram transportation system that will allow you to get to practically anywhere you need to go for as little as just $5 each way.
If you are trying to get somewhere outside of public transport hours, use Uber. Uber has gained a lot of popularity in Australia over the last couple of years and is a great budget-friendly alternative to taxis.
It's safe, reliable, and widely available in most major cities. If you haven't used Uber yet, sign up for an account here and get your first ride free.
HOW TO FIND ACCOMMODATION WHEN YOUR TRAVELING AUSTRALIA ON A BUDGET
Standard hotel accommodation in Australia is not cheap. You will struggle to find a basic hotel for less than $100 a night even in smaller cities and large well-known hotel chains, like Radisson, Intercontinental, and Marriott will often charge you upwards of $300-$400 per night. So if you want to find accommodation in Australia that doesn't break the bank, you have to look for alternative options.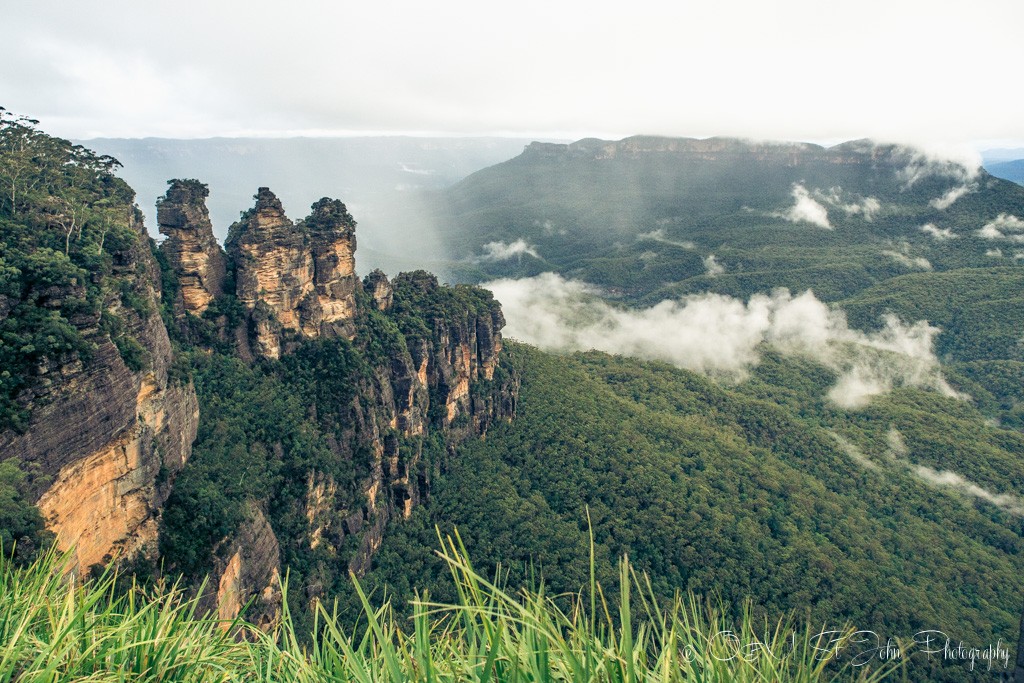 Stay in Hostels
There is an abundance of hostel options in Australia and even though staying in a hostel is significantly cheaper than staying in a hotel, it's still pricey. A basic dorm room will run you anywhere between $20-$30 per night, with prices in main cities (Sydney, Melbourne, Brisbane) getting up to $40-50 per night.
There are plenty of sustainable hostel options all over the country – from the Sydney Harbour The Rocks YHA to the Grampians Eco Hostel in Halls Gap, to Habitat HQ in Melbourne.
Stay in an Airbnb Apartment
If the idea of sharing a hostel room with 20 other 20-something backpackers makes you cringe, look for options on Airbnb and other sharing economy apps. Airbnb accommodation often costs the same as a hostel or cheap hotel, but in our opinion, is a much better experience, especially if you are traveling as a couple or a group of friends. (You can sign up for Airbnb here and get up to $35 credit towards your first stay, courtesy of us.)
There are always eco-friendly options on Airbnb – especially if you plan far enough in advance. Here's a list of some of the coolest eco-houses for rent in Australia on Airbnb in Australia right now!
Couch Surf
CouchSurfing is an online community site that allows you to find people willing to offer up their spare bed/couch to travelers. And the best part about it is that it's completely free! You get the benefit of meeting a local host, who's well versed in activities in the area and a budget accommodation option, for those traveling Australia on a budget, that can't be beaten!
Stay in a Campervan
Campervans are a great option for not just transportation but also accommodation in Australia. More on that in my post: Getting Around Australia on $1/day
Stay at a Campsite
Camping is not a glamorous option, but it is definitely a cheap one, and has the lowest environmental impact of any of the mentioned options! You can buy cheap camping gear when you arrive in Australia and use it for the duration of your stay.
It might make your backpack heavier, but it will certainly save you lots in accommodation. There are numerous campgrounds all over Australia and camping is often permitted in many National Parks for as little as $5 a night. Most campsites are well maintained and have great facilities: BBQs (hello, budget meals Australia), hot water showers, fire pits, etc. Campsites can be found through the official government National Park websites and pre-booked online.
Hotels
If you're looking for a more comfortable option for accommodation in Australia but don't want your stay to negatively impact the environment, consider an eco-hotel!
They're not going to be the cheapest option at your disposal, but the extra money is well spent in preserving their surrounding community and natural environment! Here are a couple great options:
Daintree Rainforest Eco Lodge: Located in the oldest rainforest in the world, just two hours south of Cairns, this eco-resort gives you the experience of a lifetime! They've got self-sufficient water systems, run almost exclusively on solar power, and all products in the hotel are fair trade and recyclable. This is a great place to stay if you're looking to explore the Great Barrier Reef.
Old Leura Dairy: Just outside of Sydney, this eco-accommodation is a quaint, quiet place to relax after the hustle and bustle of visiting the city.
If you're looking to splurge – we recommend Lady Elliot Island Eco Resort just outside of Brisbane. It is located within a strictly enforced 'Green Zone' – meaning the marine and wildlife within the area are protected, as is the portion of the Great Barrier Reef located within the zone. The resort itself has been certified as a Climate Action Leader – fully committed to environmental sustainability and protection.
Alto Hotel: Located in Melbourne's city center, this comfortable and stylish hotel was Australia's first carbon neutral hotel.
Travel in the Off-Season
Depending on where you are traveling to, sometimes tour operators and accommodation will offer off-season deals to entice potential clients.
This doesn't always mean monetary discounts but more often than not, upgrades. Since accommodation tends to be at lower capacity, hotel operators are usually happy to upgrade rooms or throw in some extras during your stay. It never hurts to ask.
HOW TO SAVE ON FOOD AND DRINKS IN AUSTRALIA
The Best Budget Meals in Australia
Eating out in Australia is expensive and unsustainable for someone traveling on a budget. However, there are a few money-saving options to help your budget go further.
Cook Your Own Meals
Utilize cooking facilities in hostels, the kitchen in your Airbnb apartment, or the portable stove that comes with your campervan to cook your own meals where possible.
Coles, Woolworths, and Aldi are the 3 main supermarkets in Australia with locations all over the country. Aldi may not have the best selection but offers good quality products at prices that are often 20-30% cheaper than Woolworths and Coles.
Aldi also does not sell any products with synthetic colors, hydrogenated oils or MSG in their stores nationwide.
Have a Picnic
Having a picnic is just as cheap as eating in, but better! Buy your groceries and head to the nearest park/beach for a picnic. You'll notice heaps of free public BBQs in almost every town, so you are never too far away from free cooking facilities. Plus it's such a local thing to do that you'll feel like a real Aussie having a sausage sizzle in a park. Cheap eats and culture all in one – score!
We are strong believers that trying local produce and cuisine are a huge part of any travel experience and even though Australia isn't the be all and end all of amazing food, it's still worth combining cooking your own meals with eating out. So here are a few ways you can eat out for less.
Visit Local Markets
Australians love pop-up farmers and produce markets! They are not just a great place to stock up on cheap fresh veggies and other produce but are also a great place to grab ready to eat food and support local businesses.
Here you'll find food stalls offering everything from fish and chips, to international street food, and desserts. Markets like the Wednesday night Queen Victoria Market in Melbourne, the Adelaide Central Market, Eat Street Markets in Brisbane or Salamanca Markets in Hobart are especially well known for their variety of amazing street food. Most dishes will cost between $7-10 – a bargain compared to the $20 restaurant bill.
Eat in Chinatown
Check out Chinatowns in Sydney, Melbourne, Adelaide and Brisbane for cheap $10-15 Vietnamese, Chinese, Malaysian and other Asian restaurants. Keep your eyes peeled for restaurants with vegan and vegetarian options too!
Use UrbanSpoon, Yelp, and Trusty Google
Go online to find other cheap eats and meal deals in each city. Many restaurants in Australia offer weekly specials like 2 for 1 Wednesday meals, or $10 Tuesday, and so on to attract customers to their restaurants on quiet days.
You won't find these deals on weekends, but they are a great cheap option for lunch/dinner during the week. Here are a few links to get you started:
50 Cheap Eats In Sydney Under $10
Save on Drinks
Drink less or be smart about not letting drinking drastically increase the cost of your trip to Australia. If you are going out on the town, pre-drink! Booze at bars and clubs in Australia are ridiculously expensive.
Beers start at $7 a pint, a glass of wine is often $8-9, and a cocktail will often cost more than $15. Buying alcohol from the liquor store is, of course, a much cheaper option. You can find a bottle of wine for under $12 and a carton of beer (24 bottles) for about $30-40.
If you want the cheapest stuff, cask wine (goon) is your best option. It's incredibly cheap 4 liters for under $10 and gives you really bad hangovers, but it's the most popular choice for backpackers traveling Australia on a budget.
Pop into Dan Murphy's, BWS, or LiquorLand to have a few drinks at home before the bar, or find a restaurant that allows you to bring your own (BYO) alcohol to enjoy with their meals. These are quite popular in Australia and are easy to find in any town.
Save on Coffee
If you still need your caffeine fix but don't want to foot the $4+ bill. Consider visiting your local gas station or convenience stores like 7-11. They tend to offer low-cost coffee options.
In the case of 7-11, all coffee is just one dollar. The main difference is that their lattes, flat whites, and long blacks won't be handmade. Rather they will be sprouting from a machine… but real coffee nonetheless.
Use Reusable Dishes
Skip buying water, and instead, bring with your own reusable water bottle like Hydroflask. All water is potable in Australia, and water fountains are plentiful in most parks and service stations.
Plus lots of cafes will offer discounted drinks when you bring your own mug. Bonus points: you'll be traveling Australia on a budget AND sustainably.
HOW TO SAVE ON ACTIVITIES IN AUSTRALIA
Activities in Australia are pricey and should be considered in your trip to Australia cost. It's easy to find yourself spending hundreds of dollars a day on tours and experiences. Pick and chose the ones that are really worth it for you and choose to entertain yourself for free for the rest of your time in Australia. After all, the best things to see in Australia ARE FREE!
Visit National Parks
There are hundreds of National Parks to explore in every state, with each one offerings hiking trails, beautiful lookouts, and unique experiences.
You can visit a national park for a day, or stay and explore for a few days, all for absolutely free. (Unless you want to camp there, which in most cases will cost you about $5-10/night). Here are a few of our favourites:
Hang out on the Beach
Australia is renowned for its beaches and with over 11,000 of them along the coastline, there is plenty to explore. Here is a list of the best of the best (in our opinion anyway): Best Beaches in Australia.
Check out Museums
There are heaps of free museums to get lost in every city. Check out Art Gallery of NSW in Sydney, National Gallery of Victoria in Melbourne, the Queensland Museum in Brisbane and many others that offer free admission
Visit the Wine Regions
Australia is renowned for its wine regions. Our favourite was the Hunter Valley wine region near Brisbane but the Yarra Valley, and Barossa Valley are also popular stops.
Most wineries offer a wide range of free tastings when you visit. Buying wine thereafter is not compulsory, however, it is appreciated.
Micro-breweries are beginning to pop up all over Australia, and just like most wineries, they offer a wide range of beer tastings. Plus buying in bulk at these micro-retailers tends to be more affordable than buying their equal in a local liquor store.
Take Advantage of Free Walking Tours
I'm Free is a company that runs free daily walking tours in Sydney and Melbourne. They vary in duration from 1.5 to 2.5 hour and offer a great alternative to paid tours in those cities.
You'll get a chance to explore the cities main sights, learn about their history, and maybe even meet a few new travel buddies along the way. Bonus: walking tours are an extremely eco-friendly option to acquaint yourself with a new city!
Follow the Festivals
Australia is all about its festivals. Whether it be a surf, food, or a cultural festival. Each festival typically offers its own list of complementary activities or events, that won't hurt your trip to Australia cost if the festival itself is not.
Here you can find a list of Aussie's major annual surfing events. A must-do if you're traveling to the land down under. Then, check here for 2018's best free music festivals.
Rent Gear Rather Than Booking a Tour
Rather than booking a tour why don't you chat up the locals, rent your own gear, and follow your own DIY tour.
There are lots of gear rentals shops all over the country. From scuba to surfboard to mountain bike rentals they have you covered. Simply ask your rental attendant where the best spots are for your chosen activity and they will be happy to help.
Escape the Big Cities
Food, accommodation, and even activities tend to be cheaper outside of the major cities, and in off-the-beaten-track destinations.
Consider visiting rural farming towns north of Melbourne like Echuca, or coastal towns like Port Fairy in Vic or Yamb in NSW. You'll find truly unique experiences outside of the hustle and bustle of Australia's big cities.
Keep in mind this rule doesn't apply to places like Fraser Island, or Alice Springs where food and drink have to travel long distances and tourism is the town's main source of income.
SAVE ON STAYING CONNECTED
Get a Local SIM
Do not use your home mobile phone when in Australia if you do not want to pay the exorbitant roaming charges when you get home. Instead, unlock your phone before you go, and upon arrival in Australia buy a local SIM card.
There are plenty of pay-as-you-go options available to travelers. You can top up a certain amount or buy a monthly plan that will give you a local phone number, a few GB of data and unlimited local texts/calls.
While you may not have the need to call while you are in Australia, the benefits of having data on your phone are enormous. If you don't mind spending a bit more, get a Telstra SIM card to guarantee the best coverage and good reception even in remote areas in Australia. Their pre-paid plans start at $30 for 2.5GB of data and unlimited local call and text.
Invest in a Wifi Hotspot Device
Alternatively, we recommend investing in a Wifi Hotspot device, like Solis Hotspot that gives you unlimited wifi for just $9 USD/GB. You can use it across multiple devices, so the whole family can stay connected at once! And the best part? Solis Hotspot is also a power bank with 4700 mAh capacity. Never go empty battery on the road!
Find Free Wifi
If your budget is really bare-bones check that your accommodation offers free wifi, or you can find free wifi at McDonald's all over the country. Unfortunately, free wifi is not as plentiful in cafes as it is in North America.
Otherwise, search for free wifi at your destination with this map.
Consider a Working Holiday Visa
If you have the time, one of the most cost-effective ways of seeing Australia is with a working holiday visa. The temporary visa allows eligible applicants to work and live in Australia for up to a year, with the option to extend.
You can work for one employer for up to 6 months at a time. Then, if you would like to get another year visa, you are required to work for 88 days or three consecutive months on a farm.
Sound good? Follow our top tips for moving abroad.
Get a Budgeting App
Getting a travel budget app on your phone, and keeping it up to date will give you greater control over your funds. We use Trail Wallet during our travels.
Trail Wallet allows you to set a budget, track where you are spending the most and on what. It definitely beats the Excel Spreadsheet approach we had before and is, in our minds, absolutely worth the $4.99/USD. (Trail Wallet is free for the first 25 items, but the full version (unlimited entries) requires a purchase)
It's just one of the 11 travel apps we can't live without.
HOW MUCH DOES IT COST TO GO TO AUSTRALIA? THE BOTTOM LINE
If you add up flights, hotels, meals out, and a heap of activities, your trip to Australia cost is definitely going to be pricey. But follow our tips, be smart with your spending, and you can easily stay and play in Australia for AUD $50-75 a day. It's not quite as cheap as Asia or South America, but it's a hell of a lot cheaper than you once thought, right?
Can you add any other money saving tips for Australia and beyond?
Like this post? Pin it for later