Isla Isabela is the largest island in the Galapagos, occupying a greater territory than all the other islands combined. Isabela Island was formed approximately 1 million years ago by merging six volcanoes – Alcedo, Cerro Azul, Darwin, Ecuador, Sierra Negra, and Wolf Volcano. And the majority of them—except Ecuador—are still active.
*This post may contain affiliate links, as a result, we may receive a small commission (at no extra cost to you) on any bookings/purchases you make through the links in this post. As an Amazon Associate, we earn from qualifying purchases. Read our full disclosure
This makes the island of Isabela one of the most volcanically active places on earth.
Despite being the largest island by area, Isla Isabela is home to only 2,200 residents. But that's what makes it the ultimate Galapagos paradise, where nature and wildlife dominate the landscape!
Traveling Soon?

Here is a list of our favourite travel providers and accessories to help get you ready for your upcoming trip!
Due to its location, Isla Isabela is not always visited on Galapagos cruises or included in Galapagos tour itineraries, which is an absolute shame! Isabela was our favourite island in the archipelago and a destination you can't miss while in the Galapagos! After scrolling through the following Isabela Island activities, you'll soon find out why!
Top Things to Do on Isabela Island in the Galapagos Islands
Visit the Town of Puerto Villamil
Isabela's main town, Puerto Villamil, is a small port village with sandy streets, a few locally run restaurants, and hotels. It's significantly less touristy than Puerto Ayora on Santa Cruz Island, and thus, Isla Isabela retains a laid-back vibe.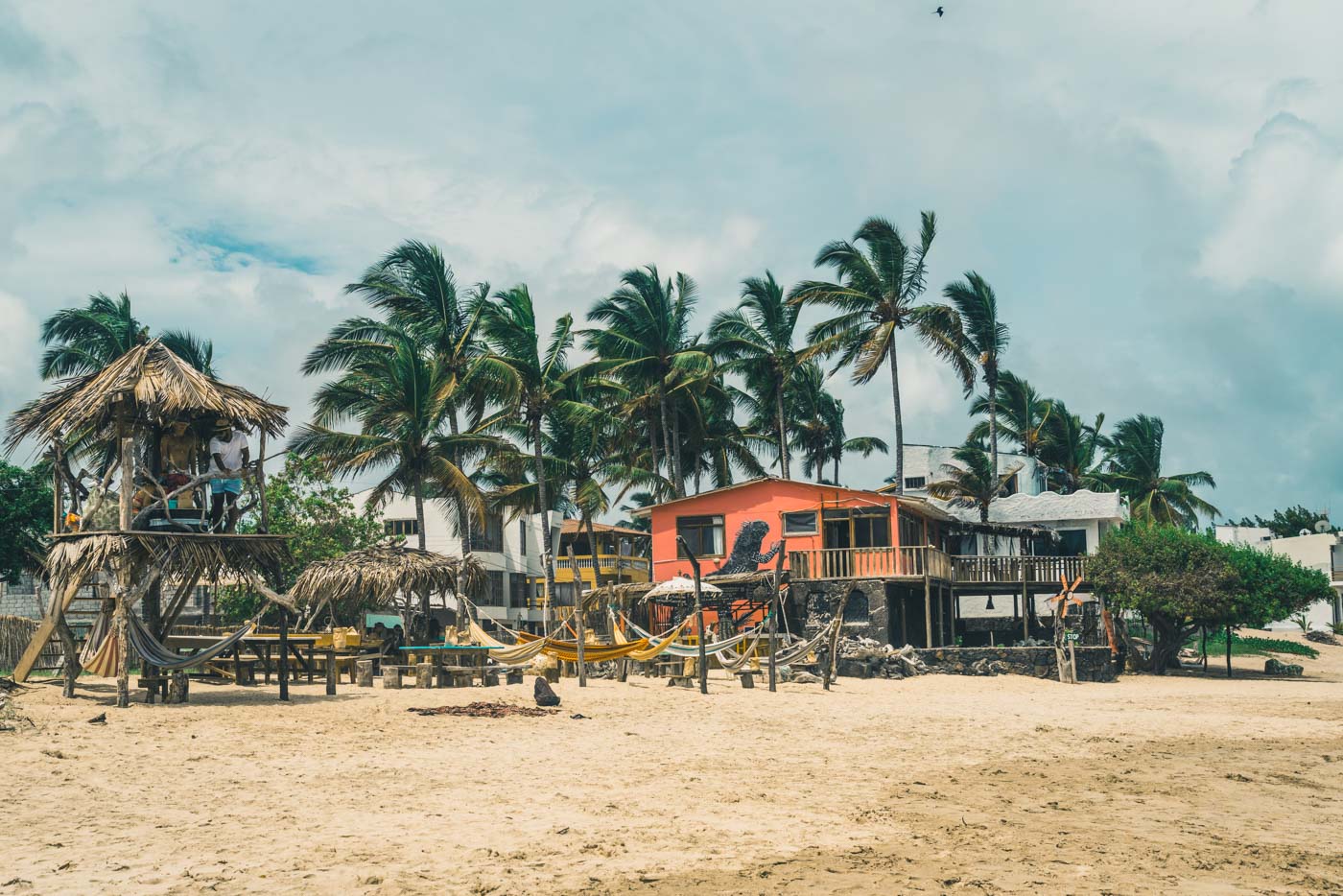 We loved exploring the island during the day and spending the evenings chilling out at one of the beach bars watching the sun go down with a cocktail in hand. There are hammocks and palm trees and everything you need to relax and take in the beautiful surroundings.
Swim With Marine Iguanas at Las Tintoreras Islet
Distance from Puerto Villamil: 10 minutes by boat
Las Tintoreras is an islet located just off the southern coast of Isabela Island by the bay of Puerto Villamil. It's part of Galapagos National Park (which means that a guide is required to accompany you on your visit) and is an area teeming with wildlife.
On a boat ride around the islet, we spotted the adorable Galapagos penguins, blue-footed boobies, marine iguanas, sea lions, marine turtles, blue herons, and lots of sally lightfoot crabs.
We then jumped in the water and got a chance to snorkel with sea turtles, whitetip reef sharks, and a slew of other fish! Las Tintoreras is one of the most amazing spots on Isla Isabela!
Visit the Wall of Tears (Muro de las Lágrimas)
Distance from Puerto Villamil: 25 minutes by car
This unique historical site, known as El Muro de las Lágrimas in Spanish, is a stark reminder of Isabela's darker times when a penal colony existed on the island between 1944 and 1959. The wall, constructed out of big rocks by prisoners in the penal colony, is about 25 m (65 ft) tall and is located approximately 5 km (3 miles) outside of Puerto Villamil town.
It is said that there was no real reason for the construction of the wall and that it was built purely as a way to punish the prisoners. Intended to break the prisoners physically and spiritually, some locals in town believe that the wall is a haunted place. Many claim that they can still hear the cries of those who died during the wall's construction at night.
We reached the Wall of Tears by bike, but it is also possible to get there on foot via a 2-3 hour return hike that offers a different perspective on the history of Isabela Island.
Hike to Sierra Negra Volcano
Distance from Puerto Villamil: 15 km (9 miles) hike
Sierra Negra (or Cerro Negro) is the only accessible volcano on Isabela Island. It has the largest caldera of all the volcanoes in the Galapagos Islands and is one of the most active volcanoes in the region.
The trail to the caldera is about 16 km (9.9 miles) return leading to the dry, moon-like landscape at the top. These days you can't visit without a guide, but in our opinion, you wouldn't even want to. There is lots to learn about the geology and natural habitat in the area to help you further understand the formation and evolution of the Galapagos Islands. And this is the place to do it!
We were lucky to hear the first account story of its last eruption from our Galakiwi guide, Pablo, who was living on Isabela Island at the time of the incident. Hearing the story while looking out onto the black caldera made the experience so much more surreal and impactful!
Explore Lava Tunnels at Los Tuneles
Distance from Puerto Villamil: 30 minutes by boat
When we arrived at Los Tuneles on one of our excursions on Isabela Island, we felt like we had landed on another planet. Los Tuneles is a geological formation with crystal clear canals flowing through lava rock archways covered in cacti. The canals are home to a variety of marine life, ranging from sea turtles to sharks and sea lions.
We arrived at Los Tunnels by boat and explored on foot, often finding ourselves peeking into the waters and just standing still, admiring the incredible landscape around us.
Visit the Galapagos Tortoise Breeding Center (Centro de Crianza Tortugas Gigantes)
Distance from Puerto Villamil: 20-minute walk
While there are many opportunities to see wild tortoises on Isabela Island, a visit to the Tortoise Breeding Centre gives an opportunity to find out so much more about these beautiful creatures.
Roaming around the center, you can see Giant Tortoises throughout all the stages of life and from various parts of the Galapagos. An interactive display inside provides further info on their life journey.
If you are visiting with a guide, like we did during our tour with Galakiwi, they'll be able to share more information about the breeding practices at the center. Plus, they'll even show you the various stages of tortoise development inside the egg. So cool!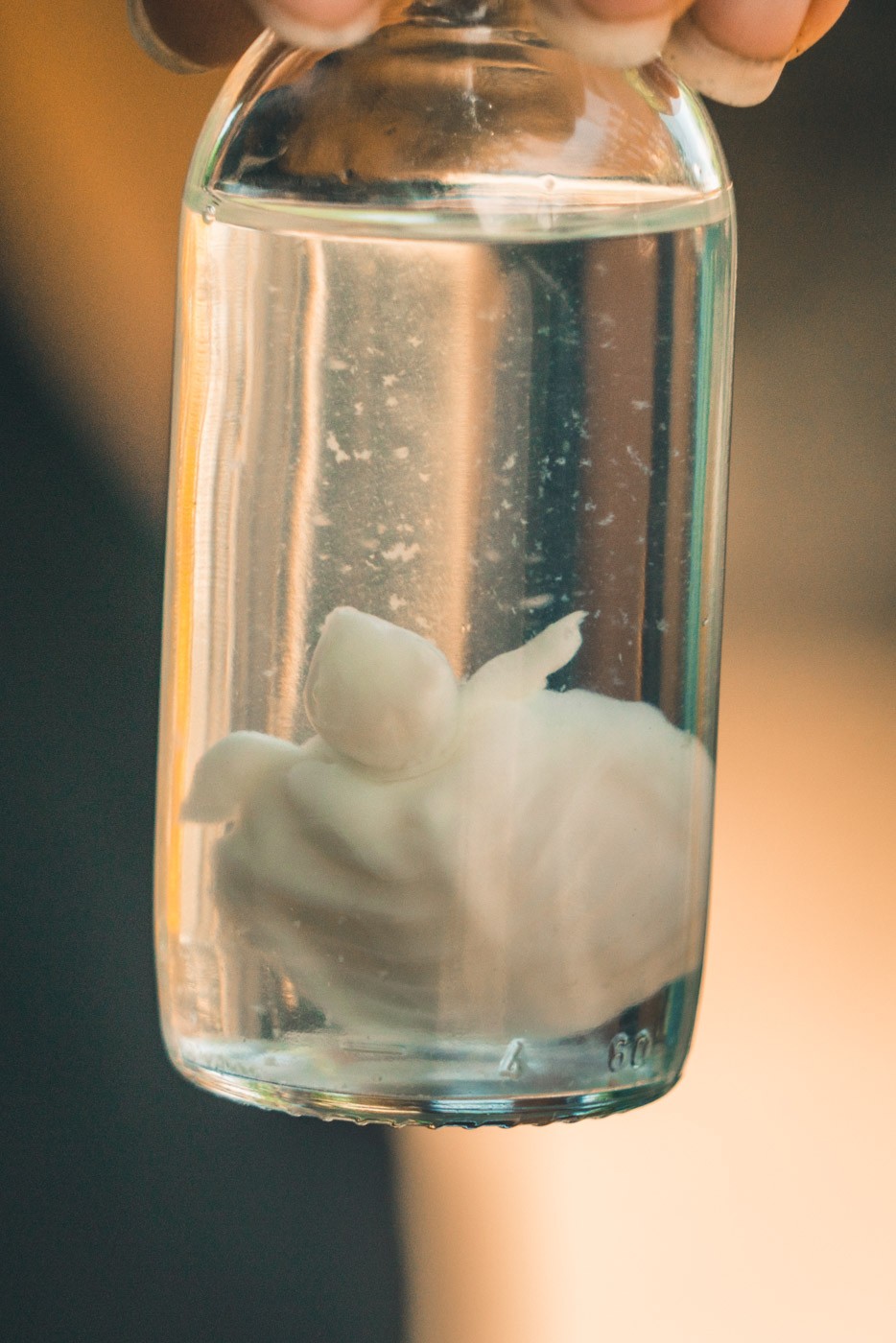 See Flamingos Grazing at Poza de los Flamingos
Distance from Puerto Villamil: 5-minute walk
On your way back from the Isabela Island Tortoise Breeding Center, stroll through the wetlands on the boardwalk. The boardwalk leads back into town and passes through a few different lagoons where flamingos spend their days.
Once you're back in town, wander over to Poza de Los Flamingos for a chance to see more flamingos grazing. They're most active in the early morning or evening hours, which aligns well with the stunning Galapagos sunsets you can see from here.
Walk the Mangroves of El Estero
Distance from Puerto Villamil: 45-minute walk
Just west of town, the mangrove forests of El Estero are surrounded by lava rocks and crystal clear lagoons. The area is home to heaps of wildlife and has a variety of air, land, and sea animals. You'll see land iguanas sunning themselves on the lava rocks while sea turtles swim and blue-footed boobies soar.
El Estero is a lovely place to have a picnic and cool off on a hot day. The water around the mangroves is shallow and clear and makes for a nice relaxing plunge. Before you go, be sure to check out the Tunel del Estero, a cave at the end of the trail.
Visit the Marine Iguanas of Playa del Amor
Distance from Puerto Villamil: 40 minute walk
On the other side of Tunel de Estero lies Playa del Amor, or Love Beach. Sure, this beach has nice views and plenty of places to swim, but the real attraction is the marine iguanas.
You might not notice them at first since they blend in with the volcanic rocks, but there are hundreds of them. They'll usually be sunbathing on the warm shore before plunging into the ocean. Keep your eyes peeled for blue-footed boobies and sea turtles in the water as well.
Go Snorkelling at Concha de Perla
Distance from Puerto Villamil: 15-minute walk
If you haven't guessed already, snorkelling is one of the top things to do in Isabela Island. At Concha de Perla, sea lions, sea turtles, and Galapagos penguins are all local residents. Hop in the mangrove-wrapped pool to snorkel with them and other marine life like rays and starfish.
Being so close to town, Concha de Perla can get pretty busy compared to other snorkelling spots. It's great to check out earlier in the day or in the evening to cool off after a long walk or bike ride. Don't forget your snorkel gear!
Visit Punta Moreno
Distance from Puerto Villamil: 1 hour by boat
Situated between two volcanoes, Punta Moreno is an off-the-beaten-path destination on Isabela Island. The unique landscape is covered in lava rocks and dotted with natural pools frequented by land and marine birds.
The flightless cormorant is known to visit the volcanic area, along with blue herons and brown pelicans. Getting to Punta Moreno is usually best on Isla Isabela tours of the western coast. It's not far from Elizabeth Bay and has striking views of Fernandina Island.
Search for Wildlife at Elizabeth Bay (Bahía Elizabeth)
Distance from Puerto Villamil: 1.5 hours by boat (no landing)
On the west coast of Isabela Island, Elizabeth Bay is surrounded by mangrove forests and rocky islets. There are no landing sites in the bay, so you'll have to keep your eyes peeled for wildlife from the boat.
A popular activity in Elizabeth Bay is kayaking, which makes for a great way to see land and marine life. Scan the shore for Galapagos penguins, flightless cormorants, blue-footed boobies, and marine iguanas. In the water, you may see marine turtles, sea lions, sharks, and eagle rays.
Spend the Day at Urbina Bay (Bahía Urbina)
Distance from Puerto Villamil: 1.5 hours by boat
In the shadows of Alcedo Volcano, Urbina Bay is a great place to see giant tortoises in the wild. While there may not be as many as on Santa Cruz, giant tortoises roam the arid landscape set back from the water. Land iguanas and mockingbirds join them while marine iguanas wander the beaches.
What's especially interesting about Urbina Bay is how recently developed it is compared to other parts of the Galapagos. The towering heads of coral were only pushed above land in the 1950s when a sudden uplift raised the seabed by 5 meters. Now, the coral is slowly weathering away as the elements run their course.
A day at Urbina Bay is best spent hiking and snorkelling, with plenty of opportunities to relax and birdwatch. You'll also find several endemic plant species here, like the Manzanillo and poison-apple tree. Pack your camera and walking shoes, and be on the lookout for a giant tortoise!
Hide Out Like a Pirate in Tagus Cove
Distance from Puerto Villamil: 2 hours by boat
On the northwestern coast of Isabela Island, Tagus Cove is a stunning seascape with a colourful past. Before the Galapagos Islands became Galapagos National Park, visitors would carve their names into the rocky walls. This was an ode to the pirates and whalers that used to hide out in the protected cove along the Bolivar Channel.
Along with pirates, Charles Darwin also visited the cove in 1835 on his first trip to the Galapagos. Now, it's a fantastic place to see land birds and sea life while reef fish flood the shores.
Most people visit Tagus Cove on a west coast tour or from Punta Espinosa on Fernandina Island. The landing is dry and surrounded by beautiful mangrove forests.
Go Birdwatching at Punta Tortuga
Distance from Puerto Villamil: 2 hours by boat
Punta Tortuga is a black sand beach on the west coast of Isabela, just north of Tagus Cove. It offers excellent views of Volcán La Cumbre on Fernandina Island and amazing wildlife viewing. The beach sits at the foot of the Darwin Volcano and is black and grey from volcanic activity.
The shores of Punta Tortuga are covered in mangrove forests, which are home to the mangrove finch. They're not always easy to spot, but these crafty birds are endemic to the Galapagos Islands. It's no surprise that bird watching is one of the best activities in Isabela Island!
Snorkel or Dive at Punta Vicente Roca
Distance from Puerto Villamil: 2 hours by boat
Punta Vicente Roca is one of the most popular dive sites in the Galapagos archipelago and tops the list of Isabela Island attractions. It's all the way on Isabela's northern peninsula at the base of the Ecuador Volcano.
Access to Punta Vicente Roca is by wet landing only for those seeking spectacular diving with abundant wildlife. Being in the Bolivar Channel, these waters are some of the richest in marine life, from sea horses to bullhead sharks.
Visitors can go on a deep-water snorkelling route that hugs the rocky coastline and dips into two underwater caves. For some of the most impressive diving in the Galapagos Islands, be sure to add Punta Vicente Roca to your list!
Cruise for Sea Birds at Punta Albemarle
Distance from Puerto Villamil: 2.5 hours by boat
Once a World War II radar base, Punta Albemarle is on the northern tip of Isabela. The name nods to Albemarle Island, which is another name for Isabela Island. With virtually nothing but open ocean surrounding it, Punta Albemarle is the highest point of all the main islands.
The point's mangrove forests and beaches are rich in marine life and shore birds. Dry landings are possible where you can walk the shore alongside flightless cormorants and Galapagos penguins. What's more, Punta Albemarle is home to the largest marine iguanas in the Galapagos Islands.
Dive the Coral Reef of Cabo Marshall
Distance from Puerto Villamil: 2 hours by boat
For excellent wall diving on the northeast coast of Isabela, head to Cabo Marshall, or Cape Marshall. The area has depths of up to 40 m (130 ft) and massive volcanic "walls" plummeting to the seafloor.
This is a wet landing-only dive site geared for experienced divers with a number of advanced dives under their belt. If that calls your name, you'll be treated to a wealth of sea life that isn't common in other places. Think hammerhead sharks, manta rays, and schools of barracudas.
Check out our video highlights from Isabela Island!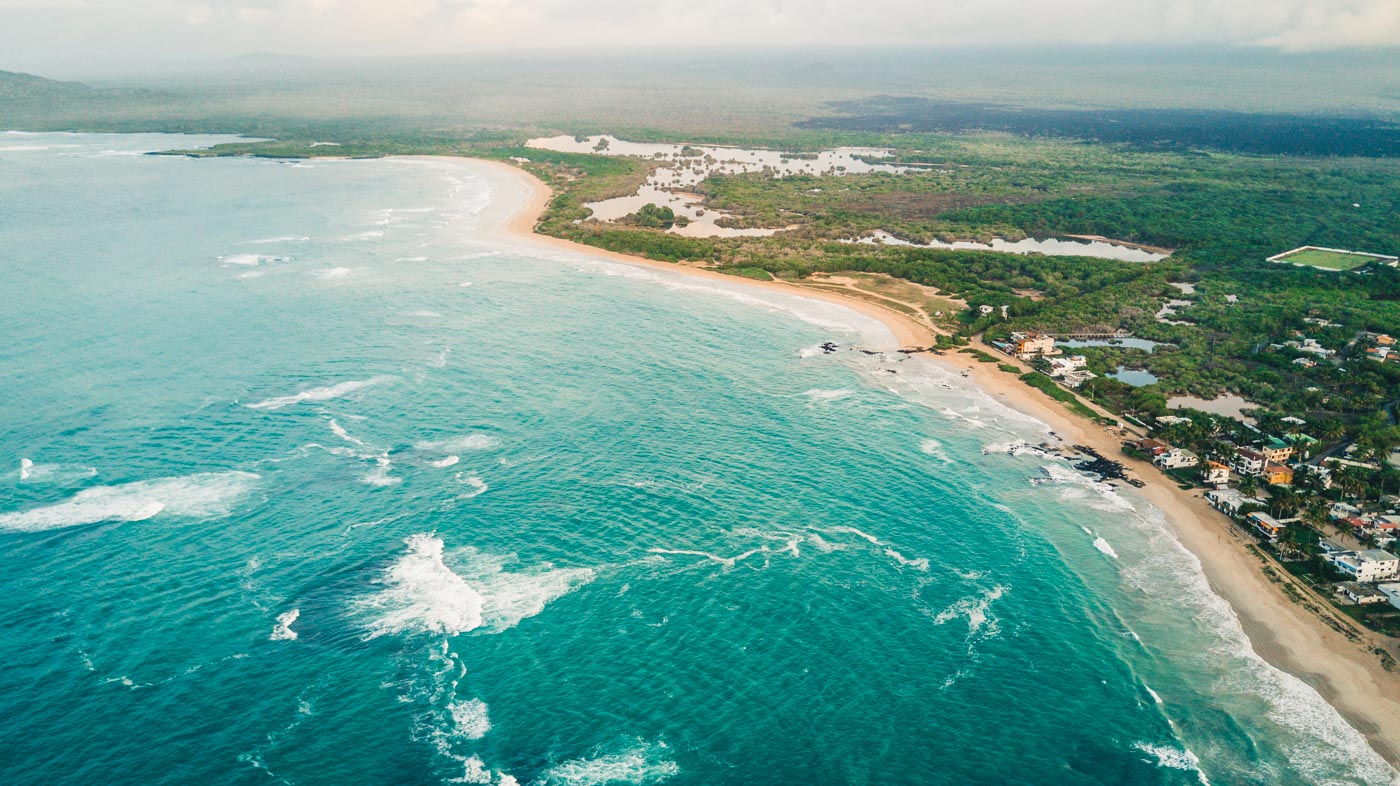 Where to Stay on Isabela Island, Ecuador
Being one of the few Galapagos islands with any human inhabitants, the hotel offerings can be limited. But there is enough choice to suit every type of traveller with fantastic sustainable options too.
Hostal Galapagos by Bar de Beto
Hostal Galapagos by Bar de Beto is just a stone's throw away from the beach and an excellent budget-friendly pick. The family-owned hotel is within walking distance of everything along Antonio Gil, with terrace views of the flamingo lagoon. Guests can use the hammocks and beach bar across the street and enjoy the organic food and local artwork. Rooms at Hostal Galapagos start at USD $32 per night.
Isabela Beach House
If you fancy waking up in the morning and having breakfast on the beach, then check out the Isabela Beach House. It combines garden, terrace and beach all in one and is just a short walk from the center of Puerto Villamil, the town square, many restaurants and the port. Plus, you can rest easy knowing the property makes conscious choices to reduce waste, conserve water, and work with local guides. Rooms at the Isabela Beach House start at USD $130 per night.
Chez Manany Galapagos Ecolodge 225
For travellers conscious of their impact on their destination, then Chez Manany Galapagos Ecolodge is a great way to support sustainable practices on Isabela Island. This family-run eco-lodge was built from natural materials by local craftsmen and is completely self-sufficient for power and water. It's also 400m from the Concha de Perla, one of the best dive and snorkel spots on Isla Isabela. Rooms at Chez Manany Galapagos Ecolodge start at USD $180 per night.
Have you visited Isabela Island in the Galapagos Islands? What was your favourite experience during your visit?
Disclaimer: We travelled to Isabela Island as a part of our 11-Day hosted tour with Galakiwi. But, as always all opinions expressed in this article are our own.