The Canadian East Coast is a vibrant region unlike any other part of the country. And its most remote province, Newfoundland & Labrador, truly feels like another world.
*This post may contain affiliate links, as a result, we may receive a small commission (at no extra cost to you) on any bookings/purchases you make through the links in this post. As an Amazon Associate, we earn from qualifying purchases. Read our full disclosure
The region has long been known for its rugged beauty and rich fishing heritage. It officially joined Canada in 1949 after being a British colony for centuries.
While Newfoundland and Labrador is certainly not new, recent years have put it on the map as a great outdoor adventure destination. This charming easternmost province has 4 national parks (2 in Newfoundland and 2 in Labrador) and miles of undeveloped coastal wilderness.
Pairing natural beauty with a vibrant arts & culture scene and some of the friendliest people around, Newfoundland is undeniably unique. It's been on our list for a while and we were thrilled to be able to explore it on the road in our campervan, Benji. So if you're considering a trip, check out these amazing things to do in Newfoundland and start planning!
Traveling Soon?

Here is a list of our favourite travel providers and accessories to help get you ready for your upcoming trip!
Where is Newfoundland?
Newfoundland is a large island off the east coast of Canada and the most popular part of the province of Newfoundland and Labrador.
Newfoundland occupies an area of 108,860 square kilometres (42,031 sq mi) and is the world's 16th-largest island and Canada's fourth-largest island.
Best Time to Visit Newfoundland
There is no denying that summer is the best time to visit Newfoundland. The months of July and August are known as high season in Newfoundland and for good reason. It's the only time of the year when the weather is warm and relatively dry when facilities and attractions across the country are fully opened and the region comes alive with activities.
But don't be alarmed, even in the high season, it is unlikely that you will EVER find Newfoundland crowded or too touristy. Expect average summer temperatures of 16°C (61°F) during the day and around 10-15°C at night. On the warmest days of the year, the temperature may reach 25-28°C (79-82 °F) in the far north, 30°C (86 °F) in inland areas, and only 24-25 °C (75-77 °F) in the southern coasts. Summers are also often affected by fogs and mists.
Shoulder season – June and September is a good alternative to visiting Newfoundland in the summer. The weather is relatively warm with temperatures ranging from 10-15°C during the day and 5-10°C at night. June is a particularly popular time of the year to visit if you are interested in seeing icebergs, as this is when icebergs are most frequently seen along the coast of Newfoundland.
It is precisely for this reason that we decided to visit Newfoundland in June. We were lucky enough to catch a couple of icebergs and enjoy mostly dry weather ranging from 10-20°C.
One thing we quickly learned through our 3 weeks in Newfoundland is that the weather in this region is constantly changing. Strong winds and dense fog are common occurrences in Newfoundland, even in the summer months. So no matter what time of the year you decide to visit, be sure to pack lots of layers, jackets and even hats and mittens. Trust us, you'll need them, even in the summer months!
How to Get to Newfoundland and Labrador
Newfoundland is an island and is not connected by road to the rest of Canada. Labrador can be reached by road from Québec but for the purpose of this article, we'll just be focusing on Newfoundland since we didn't get a chance to visit Labrador during our trip.
By Air
Flying is the quickest and easiest way to reach Newfoundland from the rest of Canada or internationally.
St John's International Airport (YYT) serves as the main hub of Newfoundland. Flying time to St. John's is 1.5 hrs from Halifax, 3.5 hrs from Toronto, 6 hrs from Edmonton/Calgary, and about 5 hrs from London, UK.
Other airports in Newfoundland are Gander International Airport (YQX), Deer Lake Airport (YDF), and St. Anthony Airport (YAY). These smaller regional airports offer good domestic flight options connecting Newfoundland with Ontario (Toronto, Kitchener, Hamilton), Quebec (Montreal) as well as Nova Scotia (Halifax) and Newbrunswick (Moncton). Air Canada, WestJet, Sunwing, Swoop, and Flair Airlines service these airports with daily flights in the summer months.
By Ferry
Another popular way to get to Newfoundland is via ferry. Marine Atlantic ferry offers two routes to Newfoundland, arriving in ports on either side of the island. Both routes depart from North Sydney, Nova Scotia and are fairly long sailings.
North Sydney to Port aux Basques:

The main route sails into Port aux Basques on the southwest coast and operates year-round. The Port aux Basques crossing takes about 7 hours (in good weather) and costs just over CAD $200 for a vehicle and two passengers. This is a great route to take if you want to start your trip in Western Newfoundland.

North Sydney to Argentia:

The other route sails into Argentia, which is on the Avalon Peninsula, about 1.5 hours south of St. John's. This crossing

only runs from June to September

and is a much longer journey, clocking in 16 hours on a good day. It costs about double—around CAD $470 for a vehicle and two passengers—but spares the long drive across the island.
Both ferries offer cabin accommodation which we highly recommend, especially for the longer, Argentia crossing. The cabins are similar to what you would expect to see on a small cruise ship. They are equipped with twin beds (2 or 4 depending on the cabin), a small desk, a bedside table and a private bathroom with a sink, toilet and even a shower with hot water. Having a cabin for the crossing makes the experience a LOT more enjoyable, as it allows you to arrive at your destination refreshed. Book ahead! Cabin spots are limited and sell out fast!
During our visit, we traveled around Newfoundland in our campervan, arriving on the island via Port Aux Basque ferry from Nova Scotia and departing on the Argentia ferry a few weeks later. We booked too late to get a cabin for our 7-hour sailing to Port Aux Basque, which made the crossing quite uncomfortable. The reclining seats on board were very comfortable and while the experience was much better than traveling on an overnight flight, we didn't get much sleep and were exhausted upon arrival.
On the way back, we booked a private cabin on the Argentia – North Sydney ferry and loved the experience. We had a 4 berth cabin with a private bathroom, plugs, and a small desk. 16 hours flew by and we got a great night's sleep and arrived in Nova Scotia fully rested and ready to take on the day!
How to Get Around Newfoundland
Most people don't realize how big Newfoundland actually is. It takes nearly 10 hours to travel across the island so we highly recommend having your own vehicle.
By Car: Renting a car is a great way to explore the island on your own schedule. Remember, many of the best places to visit in Newfoundland are off the beaten path, so having access to your own vehicle allows you to explore beyond the key transportation hubs.
With an RV/Campervan: RVing in Newfoundland is a popular way to explore the region. With many campgrounds and RV parks and plenty of wild camping spots, there is no shortage of RV/Camping accommodation options in every corner of the region. You can bring your own RV/Campervan to Newfoundland like we did, or rent one upon arrival into Newfoundland.
Top Things to do in Newfoundland, Canada
Now that we've gotten the planning portion of the trip out of the way, lets focus on all the amazing things you'll be able to see and do in Newfoundland. If you're wondering what to do in Newfoundland, these popular and one-of-a-kind Newfoundland attractions can't be missed.
Gros Morne National Park
Western Newfoundland
Gros Morne National Park is a UNESCO World Heritage Site and is an absolute must place to visit in Newfoundland and Labrador. It's a favourite for outdoors lovers and adventure seekers. The vast landscape of Gros Morne National Park formed over hundreds of millions of years, shaping a terrain that today looks otherworldly.
The park spans 1,805 square kilometres and boasts a variety of landscapes including barren Tablelands, moody fjords and Newfoundland's second highest peak – Gros Morne Mountain.
Things to Do in Gros Morne National Park
Hike the Tableland Trail (4 km / 2.5 mi) – The Tablelands can't be missed! This easy loop travels along the famous red rocky Gros Morne Tablelands landscape and is a must hike for anyone visiting the National Park.
Hike to Gros Morne Mountain (17km/10.5 miles return) – the trail to Gros Morne Mountain follows the path to the peak of Gros Morne, sitting at 806m above sea lever. You can hike this trail just to the base of the mountain (first 4.5km) or all the way to the top with 500m in elevation gain. This difficult hike through the beautiful Arctic-alpine terrain rewards you with views of the Long Range Mountains and the Ten Mile Pond gorge. Note: To protect wildlife during critical weeks of growth and reproduction, the mountain portion, from the base platform, is closed to hikers from May 1 until the June 23rd.
Enjoy other trails: There are a number of other popular hiking trails in the park including the Lookout Trail (5 km / 3.1 mi), which offers panoramic views, and the Eastern Point Trail (2.4 km / 1.5 mi) which follows the cliffside relief.
Explore Backcountry Trails: For those with more time in the park, there are some amazing backcountry hiking trails to tackle. The most famous of them is the Westernbrook Pond Fjord Trail (7-8kms) and the Long Range Traverse (3-4 nights, 35 km) multi-day trek that requires thorough preparation and previous backcountry hiking experience.
Go kayaking at Norris Point – We went on an amazing paddle through the Bonne Bay fjord with Gros Morne Adventures. The double-armed fjord has so many beautiful nooks and crannies to explore from the water. We loved getting an alternative view of the National Park and the Tablelands from the water and were lucky enough to even spot a whale while on the water! If you make your way to Bonne Bay, be sure to also stop in at the Bonne Bay Marine Station to learn more about whales and other marine life in this region.
Boat through ancient fjords at Western Brook Pond – After a 3 km (1.8 mi) stroll through the marshlands, hop aboard a boat and sail through a glacier-carved fjord. Reserve a spot ahead of time via Parks Canada or drop by the ticket office on Pond Road in Rocky Harbour. The boat tour offers spectacular views of the fjords in the Westernbrook Pond and a peak at some of the tallest waterfalls in eastern Canada.
Where to Stay in Gros Morne
The Hew and Draw Hotel – This family-owned hotel is in Corner Brook and features unique suites that pay homage to the region. Our room had beautiful finishes and featured custom-printed wallpaper of the Newfoundland marten. The hotel has a restaurant, brewery, and rooftop patio with hot tubs available to guests on a first-come-first-serve basis!
Water's Edge RV Park – Located on the shores of the Bonne Bay fjord, this Gros Morne RV Park is an ideal place to stay if you are traveling in an RV/Campervan. It has several tent and RV sites right at the base of the Tablelands. The sites overlook the water and offer an opportunity to spot whales and other marine life from your RV.
Inside Gros Morne National Park – There are 5 campgrounds within the park, most opening from May/June – September/October. Berry Hill and Shallow Bay are the largest with over 60 campsites each and oTENTik options. There's also Trout River, Lomond, and Green Point. We stayed at Green Point Campsite and found it to be conveniently located close to hiking trails and the Western Brook Pond. Amenities were great and our campsite was lush and private.
Viking Trail & St Anthony
Western Newfoundland
Icebergs, whales, and Viking history—the northern tip of Newfoundland is a special place offering all of that and more to the adventurous travelers that make their way to the tip of Newfoundland. Drive the Viking Trail north from Gros Morne to St. Anthony to reach the top end of Iceberg Alley. Keep your eyes peeled for whales as you soak in the sights of quaint fishing villages and classic coastal lighthouses.
Things to Do in St. Anthony
Visit L'Anse aux Meadows National Historic Site – L'Anse aux Meadows is a Viking settlement and one of two UNESCO World Heritage sites in Newfoundland. It's the site of the first known evidence of Europeans in North America. Now, it's a cool place to explore and try your hand at blacksmithing or basketweaving.
Go iceberg chasing – Whether from land or sea, watch for icebergs as they break off of Greenland and follow the Labrador current down the coast. You can track icebergs via Iceberg Finder and see what icebergs can be found along the Newfoundland coastline using the Iceberg Finder map.
Look north to see Labrador's lengthy coast – We didn't get a chance to touch ground in Labrador but Newfoundland's Northern Peninsula gets pretty close. You may be lucky enough to catch views of Red Bay, Belle Isle, and Battle Harbour, which is the salt fish capital of Labrador.
Where to Stay in St. Anthony
Quirpon Lighthouse Inn –

Stay in a historic lighthouse from the 1920s complete with a whale and iceberg viewing station.

Grenfell Heritage Hotel and Suites

– Conveniently located right in town, this year-round hotel offers ocean views and great local tours.
Alexander Murray Hiking Trail
Central Newfoundland
This 8.5 km (5.3 mi) loop is considered one of the best hikes in Central Newfoundland. The hike takes about 3 hours to complete and offers spectacular views of the lakes and forests in the Green Bay area. There is a beautiful waterfall you can check out along the way and picnic tables at the top – an ideal spot for a picnic lunch with a view! The trail is generally flat aside from the 2,200 stairs to get to the top!
Other Things to Do in Kings Point/Springdale
Go fly fishing – If you want to try your hand at fishing while in Newfoundland, the Indian River is an excellent spot. Starting from about mid-June, Atlantic salmon and trout come into these waters for their annual spawning season, so it's the perfect time to head out and do some fishing. Keep in mind as a visitor out of province, you'll need to buy a salmon license and go out with a certified local guide. We recommend Shawn from the Indian Falls Chalets in Springdale who was amazing at not only sharing his knowledge of the best spots to fish in the area but also teaching us some fly fishing techniques.
Learn how to smoke salmon – We didn't have any luck catching our own salmon, but we learned the ins and outs of the smoking process during the Smoked Salmon Workshop with Shawn. His smoked salmon was delicious and paired well with a glass of wine overlooking the rapids
Explore the Indian River Walking Trail – This easy 5.6 km walking trail winds along the river where you can catch some birds and ducks and other wildlife. We didn't see any moose but we've heard they are often seen on the trail.
Where to Stay in Springdale
Indian Falls Chalet – These beautiful self-catering chalets offer the perfect place to hang out and recharge after a day of fishing adventures. The modern chalets have everything you need for a comfortable stay, including comfortable beds, a fully stocked kitchen and even a washer and dryer. The chalets serve as a great launch point to explore the area.
Grand Falls-Windsor
Central Newfoundland
Grand Falls-Windsor, located on the edge of the Exploits River, is a great place to go whitewater rafting in Newfoundland. We joined Rafting Newfoundland for a fun morning of rafting on their Badger Chute rafting adventure. This is their most popular trip! It's medium intensity but has low chances of falling out (perfect for when the river is still very cold) but offers plenty of fun and some ​​exciting rapids. They also offer an Adventure Trip and an Extreme Trip perfect for those looking for some extra adrenaline or an excuse to jump into the river along the way!
Other Things to Do in Grand Falls-Windsor
Learn about salmon at the Salmonid Interpretation Centre – Watch wild Atlantic salmon travel through the Exploits River with conservation in mind. Here, you can enjoy an underground observation area and learn all about salmon conservation. A fascinating visit!
Dine at Third Place Cafe next to the Salmonid Interpretation Centre – the cafe overlooks the dam and offers a brunch/lunch menu featuring burgers, salads, and breakfast specialities. Try their breakfast poutine!
Where to Stay in Grand Falls-Windsor
Brookdale Inn & RV Park – A lovely family-owned and run Inn with an onsite RV park, suitable for those traveling with an RV/campervan or those looking for a hotel room in the area. The Inn is a labour of love built by the family and a stay with them has that family feel that you won't find at cookie-cutter hotels in town. There is a pool on-site and fire pits, but the most unique feature of the property is their Percherons – a magnificent breed of draft horses.
Twillingate
Central Newfoundland
The Iceberg Alley in the Atlantic Ocean is a true icon of tourism Newfoundland. It's on every list of the 10 best things to do in Newfoundland. But if you can't make your way up to Iceberg Alley in Western Newfoundland, you can still experience the magic of icebergs in Twillingate, the iceberg capital of Newfoundland. The colourful fishing town is one of the quintessential Newfoundland points of interest, with rocky shores and country roads.
Things to Do in Twillingate
Go on an iceberg boat tour – Seeing icebergs from the water is even cooler than seeing them from land. Get up close and personal with these magical bergs on a boat tour through the Alley.
Visit Long Point Lighthouse – The lighthouse looks over Notre Dame Bay and is an amazing lookout point for icebergs and whales.
Where to Stay in Twillingate
Whitsha Inn B&B – Stay at an oceanfront inn close to the coast and local attractions. They don't use single-use plastics and run off of fully renewable energy.
Fogo Island
Central Newfoundland
Fogo Island is definitely one of the most special places to see in Newfoundland. A small community rejuvenated by Fogo Island Inn, this island is as rich in culture and stories as it is in the beautiful scenery. Many wrongly assume that the only reason to visit Fogo Island is to stay at the famous Fogo Island Inn, but after spending 3 beautiful days exploring Fogo Island and not staying at the Inn, we can confirm that this stop is well worth it.
To get to Fogo You'll have to take a ferry from Farewell. It's a quick 75 min sailing to arrive at this rocky barren island with the most inspiring landscapes.
Things to do in Fogo Island
Visit Living Water Farms – Since Fogo isn't exactly a hotspot for agriculture, the folks at Living Water Farms have shifted to vertical farming. They now produce lettuce, kale, arugula, and other greens for the community of Fogo Island and beyond. Stop by their shop for a tour of the hydroponic farm or to pick up a pack of greens for your next meal.
Hike Brimstone Head at sunset – Brimstone Head is an incredible place to catch a sunset on Fogo Island. Take the 2 km (1.2 mi) trail up the stairs to a gorgeous lookout point that is known as one of the four corners of the earth.
Have cod at the Cod Jigger Diner – It's no surprise that Newfoundlanders and particularly residents of Fogo Island have survived for generations on cod and potatoes. There is no better place in town to sample some freshly caught local cod than at the Cod Jigger Diner.
Check out Arts & Crafts shops – Mona's Quilt & Jam Shop and Herring Cove Art Gallery and Studio were our favourites. They sell Fogo Islands' famous quilts along with other arts and crafts hand-made in Fogo.
Go on a walking tour of Tilting – A visit to Tilting is a must for anyone coming to Fogo Island and there is no better way to experience this small community than on Al's Walking Tour. As someone who was born and bred in Tilting, Al is full of fascinating stories and tales about life in Tilting and gives you an opportunity to see the island from a local's perspective. Hands down our favourite Fogo Island experience!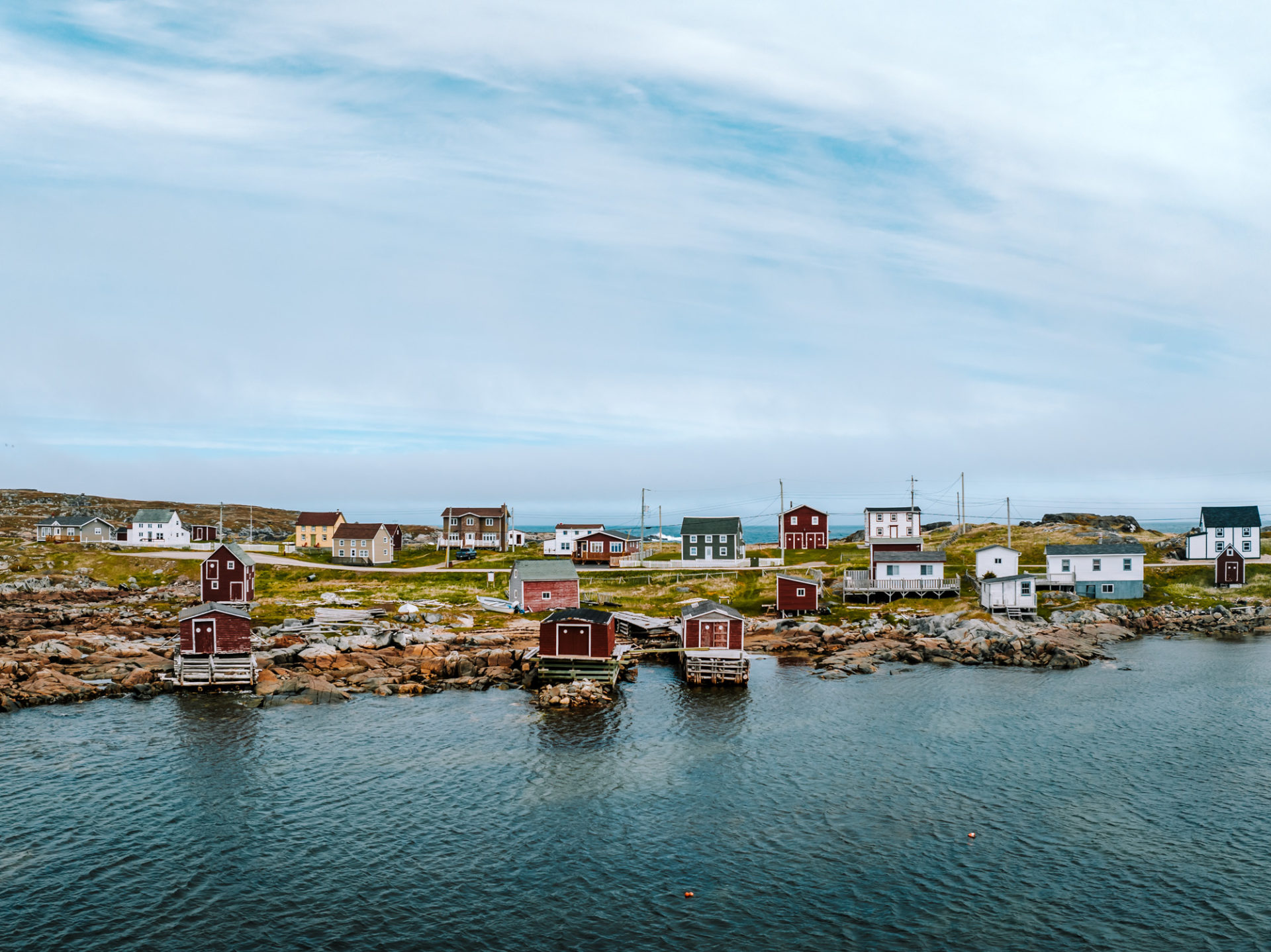 Where to Stay on Fogo Island
Fogo Island Inn – A truly beautiful luxury hotel that operates as a social enterprise plays a huge role in the overall economic development of this small community. The Fogo Island Inn has graced the covers of many architecture magazines and offers an all-inclusive package with dining, tours and accommodation.
Brimstone Head RV Park – A great campground for tents and RVs located at the base of Brimstone Head. One of the most picturesque campgrounds we stayed at in Newfoundland. Perfect spot to catch a sunset!
Change Islands
Central Newfoundland
We found the small islands and outport communities to be some of the most beautiful places in Newfoundland. The Change Islands are another set of islands located right next to Fogo, known and loved for their slow pace of living, beautiful scenery and for the Newfoundland Ponies. To get to Change Islands, take the Fogo Island ferry departing from the same port in Farewell. The ferry stops at Change Islands en route to Fogo and on the way back.
Things to Do in the Change Islands
Visit the Newfoundland Pony Sanctuary – The Newfoundland Ponies are a unique breed of horses you can visit in the Change Islands. The sanctuary is run by Netta, who works day in and out to look after the 11 ponies on site. Her work is unfunded by the government and is supported solely by visitor contributions. So stop in, meet the ponies, tour the barn, and learn all about this rare breed.
See the quirky oddities at the Olde Shoppe Museum – Explore the endless collection of oddities owned by Pete Porter. Play the accordion, listen to a jukebox, or just sit back and hear some of Pete's unique stories. Pete is an incredible character so a visit here is worth it just to hear his stories!
Walk the Squid Jigger's Trail – Walk the scenic yet rugged 3.5 km (2.2 mi) trail along rocky volcanic outcrops. There are several lookout points and coves to explore and the views of the coastline beneath you is truly breathtaking.
Where to Stay in the Change Islands
Seven Oakes Island Inn – Step back in time and stay at this restored 1800s fish merchant's home. The lovely owner, Beulah, has been running the Inn for over 30 years but offers the same friendly and loving experience today as she did back in the day. Staying at the Inn is like visiting your favourite grandmother in the country. Expect a homey, welcoming stay with a home-cooked meal and lots of chats over a cup of tea.
Gander & Around
Central Newfoundland
Once known as the "Crossroads of the World," due to its perfectly positioned airport, Gander is a small town and friendly community that continues to be an important transportation hub for all of Newfoundland. Aside from learning about its deep aviation history and an incredible story of the town's hospitality on 9/11, there isn't much to do in Gander. But the Kittiwake Coast, which spans from Terra Nova National Park in the south to the town of Lewisporte in the north is worth exploring.
Hop aboard with Hare Bay Adventures for an incredible adventure along the Kittiwake Coast. They offer a variety of customized tours including Whale and Bird Watching Tour, Resettlement Islands Tour, Fishing and much more! We were super lucky to jump on an afternoon boat adventure with them and a chance to see whales, and icebergs and have an amazing lobster cook-up served to us on a beautiful private beach in the bay. A true Newfoundland experience that became one of the most memorable experiences of our trip.
Stay in the wild in their incredible wilderness domes coming to market this summer. Positioned in remote but beautiful locations just a boat ride away, these domes offer the ultimate glamping experience and a chance to experience the beauty of this region at its finest.
Things to do in Eastport
Explore the new Damnable Trail Hiking System –

This newly developed network of trails takes you along the paths of historic settlers around the Eastport Peninsula.

Enjoy the sand at Eastport Beach and Sandy Cove –

Soft sand is a rarity in Newfoundland but Eastport has two white-sand beaches. Walk the boardwalk, lay in the sand, or go for a dip in the ice-cold Atlantic.

Take a drive to Salvage

, a quintessential Newfoundland town on the edge of Eastport Peninsula home to beautiful trails and stunning views of the bay.
Terra Nova National Park
Eastern Newfoundland
When it comes to Newfoundland tourist attractions, Terra Nova is often overshadowed by its west coast cousin, Gros Morne. But, the forested park is well worth a visit, especially if you plan on visiting the eastern part of the province.
What to Do in Terra Nova National Park
Hike the trails – Terra Nova has 80 km of marked and unmarked trails amongst 12 different routes. We really liked the Coastal Trail and Ochre Hill Lookout for sweeping views over the ocean.
See the park by kayak – Seeing the park from a different perspective is always neat after a day on the trails. Kayaking around Terra Nova is beautiful and has good odds of seeing whales and other marine life.
Where to Stay Near Terra Nova National Park
Happy Adventure Inn – The perfect place to stay, tour, and feast on delicious local seafood. The inn has 5 rooms, an on-site restaurant, and offers a number of tours including kayaking in Terra Nova National Park.
Camp in the park – Terra Nova has 2 frontcountry campgrounds, 29 backcountry sites, and over 30 oTENTiks. Newman Sound and Malady Head are the most popular, which you can reserve here.
Bonavista Peninsula
Eastern Newfoundland
According to the local tale, the Italian explorer Giovanni Caboto (aka John Cabot), exclaimed "O buono vista!" giving the name to the small town of Bonavista, the site of the historic landing in 1497. Over the years, Bonavista maintained a lot of its small-town charm, drawing visitors from all over Newfoundland and beyond to its humble shores.
There are lots to do on Bonavista Peninsula, so be sure to give yourself a few days to explore the region or to spend days soaking in its colourful towns and charms.
Things to do in Bonavista Peninsula
Discover the natural beauty and history of Trinity – Visit the visitor centre to get acquainted with the area and discover its popular Newfoundland sightseeing spots. The historic town is one of the most picturesque in Newfoundland and the kind of place you just want to enjoy for a while. We loved exploring the town of Trinity and wished we spent more time here! It's a visitor's favourite!
Visit the town of Bonavista – Walk along Church Street, visit Cape Bonavista Lighthouse, and explore Dungeon Provincial Park.
Go on a whale watching tour – Depending on the season, several species of whales can be found in this part of the North Atlantic. The Sea of Whales Adventures is a great operator on Bonavista offering whale-watching tours, iceberg tours, and more! We had a blast hitting the water with them during our visit and got lucky s we spotted whales and icebergs on our tour.
See puffins in Elliston – The Elliston Puffin Viewing Site can't be missed! If you hadn't had a chance to see puffins in Newfoundland yet, this is your chance. The puffins here nest on a rock very close to shore, making this one of the best places to see puffins from land. Be warned though, puffins are very small birds and are difficult to see with a naked eye. For the best experience, bring binoculars and a zoom lens for your camera.
Catch the sunrise from Gun Hill Lookout – This trail is part of the Hike Discovery Network and offers a panoramic view of the cliffs of Skerwink, Fort Point Lighthouse, Town of Trinity and Trinity Harbour. It's a great spot to catch a sunrise or visit on a clear day.
Hike the Skerwink Trail in Port Rexton – this incredible trail is another feature of the Hike Discovery Network. The Skerwink Trail is a moderate 5.3-km coastal loop offering incredible views of the rugged coastline. We didn't expect much from this trail but it surpassed all of our expectations. It's no wonder it was selected by Travel and Leisure Magazine as one of the top 35 walks in North America and Europe.
Have a beer at Port Rexton Brewing – you can't come to Bonavista without visiting Port Rexton Brewery. This local gem offers a large variety of craft beer that you can enjoy at their taproom, outdoor patio, and beer garden. Oh My Cheeses food truck is onsite serving gourmet grilled cheese sandwiches and street fries, making this a great stop for a drink and a bite to eat after a morning out of the trail!
Have dinner at Fisher's Loft – this amazing restaurant overlooking Trinity Bay is located in Port Rexton and offers beautiful views and an incredible dining experience. Their set menu is inspired by the availability of fresh produce from the kitchen garden and greenhouse, local fish and seafood in season, and berries and mushrooms from surrounding hillside meadows and forests. Our meal at Fisher's Loft was one of the best on our entire trip!
Where to Stay in Bonavista
If you want to stay in Trinity during your time in Bonavista, the Artisan Inn and Vacation Homes is the place to find the cutest houses in town. The Inn offers rooms starting at $125/night and the agency also manages the rentals of a number of holiday homes in town. These range from small homes suitable for a couple to large 3-4 bedroom houses perfect for a large family.
We stayed in the Admiral's Lookout home, a lovingly restored, registered heritage building and loved its homey vibe and incredible location right on the water. The home is decorated with the award-winning furniture of local woodworkers and had 4 bedrooms and a spacious living/dining area as well as an entertainment room. It was a perfect spot to base ourselves while exploring the peninsula.
Those traveling with an RV or campervan can enjoy camping near Port Rexton at Lockston Path Provincial Park. The campground is nicely shaded and offers lots of privacy and opportunities for kayaking, fishing, cycling, and bird watching
DETOUR: Take a Trip to St Pierre & Miquelon
France
Catch the ferry from the southern coast in Fortune in Newfoundland and venture 25 km by ferry to end up in France! Yes, you read that right – FRANCE! The small islands of St Pierre and Miquelon (SPM) are no less French than Paris itself. Be prepared to eat escargot and drink great French wine, stay in tiny rooms with European plugs! For a taste of France, SPM is the best it gets and luckily this French territory is located a stone's throw from Newfoundland.
Of course, it's not technically in Newfoundland, but a trip to SPM is one of the coolest places to go in Newfoundland. We just couldn't leave it off the list!
Things to Do in St Pierre & Miquelon
Take a walking tour of the city – If there was one thing we learned from our short visit to Saint Pierre and Miquelon is that a local guide is a must to help you understand the unique history and culture of this French Archipelago. We highly recommend starting your visit with a walking tour of the city's colourful old district. A local guide can be organized through Musee de L'Arche.
Hike the rocky coastline trails – We joined Escapade Insulaire to explore the wilderness of St Pierre. The rocky hills and coastal cliffs were very different from the vibrant streets of Saint Pierre, but are well worth the visit. The views from the top are particularly impressive, especially if you visit at sunset!
Join Les Zigotos for a scenic traditional boat ride. The fishermen share interesting history of St Pierre and the dory boats and take you to admire wildlife (hello, puffins!) and enjoy the scenic harbour of St Pierre.
Dine at Les P'tits Graviers – French cuisine off the shores of Canada? Yes, please! Les P'tits Graviers serves delicious meat and fish dishes in true French style.
Where to Stay in St Pierre & Miquelon
Auberge Quatre Temps – This lovely B&B is conveniently located within walking distance from the city centre and offers an immersive stay while in Saint Pierre. Pascal and his wife Marie-Andrée offer not only a comfortable stay but also delicious meals. Chef Pascal, who is from the archipelago, is certified in French gastronomy and has won several prizes and awards for his cooking. Our meal at Auberge was worth a trip to SPM in and of itself!
Explore the City of St John's
Eastern Newfoundland – Avalon Peninsula
St John's is undeniably Newfoundland and Labrador's top travel destination and one that's not to be missed by anyone visiting the region. The city's colourful jelly bean houses, winding streets, and historic harbour create a destination that's modern yet historical with plenty of attractions in and out of the city. The city boasts a history and culture that's older than any other city in Canada.
Things to Do in St John's, Newfoundland
See panoramic views of the city at Signal Hill National Historic Site – Once home to military battles, today, Signal Hill celebrates the rich communication and military history and offers a gorgeous vantage point over the city. Plan your visit to catch re-enactments of canon firings put on by the Royal Newfoundland Regiment. On the way back to the city, stop in at the Johnson GEO Centre to learn about the unique geology of the province.
Walk the jellybean house-lined streets of downtown St. John's – Walk the streets and peruse the shops before stopping into The Rooms for a dose of history and culture.
Visit Quidi Vidi Village – Enjoy a craft beer from Quidi Vidi Brewery with a side of quintessential Newfoundland scenery. Or a locally sourced meal seasonal meal at the Mallard Cottage, that's if you can snag a reservation, of course!
Visit Cape Spear Lighthouse – Cape Spear is a National Historic Site and Newfoundland's oldest surviving lighthouse. It's an iconic symbol of Newfoundland and Labrador's marine history and a must-see site in Newfoundland. Located at North America's most easterly point, Cape Spear is particularly magical at sunrise. Those that make it out here at the crack of dawn, will be rewarded with incredible views of crashing waves, whales, and in-season, majestic icebergs at the most beautiful time of the day. Plan to stay a while, as Cape Spear also provides an entry point to the breathtaking East Coast Trail.
Travel the Irish Loop – If you're not feeling up to hiking the East Coast Trail, the Irish Loop offers a great alternative! Stop in the town of Bay Bulls and take a boat tour with Gatherall's Puffin & Whale Tour through the Witless Bay Ecological Reserve. Check out Berry Head Arch, have a picnic at Ferryland Lighthouse and don't miss a stop at Mistaken Point, a barren cliff with a rare collection of fossils millions of years old.
Where to Stay in St John's
Pippy Park Campground –

Open May to October, Pippy Park is a convenient campground that's less than 10 minutes from downtown St. John's.

Sheraton Hotel Newfoundland –

The Sheraton is located right downtown St. John's and features an indoor pool and on-site restaurant as part of its amenities. The rooms offer beautiful harbour views.
Is Newfoundland worth visiting?
If you've made it this far in the article, it's likely that this is no longer a question at all! But in case you are still wondering, our answer is a resounding YES! Newfoundland is an incredibly beautiful and unique destination full of natural wonders, rich history and culture and a fair dose of WOW! Its rugged landscapes and a plethora of outdoor activities, make it an ideal destination for outdoor lovers, those seeking wildlife encounters, as well as history buffs!
We absolutely loved our time in Newfoundland and hope for a chance to return to Newfoundland and Labrador again in the near future! Because this is a destination you can return to again and again!
Have you ever been to Newfoundland and Labrador, Canada? What destinations and activities would you add to this list of best things to do in Newfoundland?
Disclaimer: We traveled to Newfoundland in collaboration with Tourism Newfoundland and Labrador, but as always, all thoughts and opinions expressed in this article are our own.