Located 906 km (563 mi) off the west coast of Ecuador, the Galapagos Islands are a unique destination surrounded by the lively waters of the Pacific Ocean. The region is known as Galapagos National Park and Marine Reserve, a haven for birds, mammals, and marine life and one of the most biodiverse destinations on the planet.
*This post may contain affiliate links, as a result, we may receive a small commission (at no extra cost to you) on any bookings/purchases you make through the links in this post. As an Amazon Associate, we earn from qualifying purchases. Read our full disclosure
Traveling Soon?

Here is a list of our favourite travel providers and accessories to help get you ready for your upcoming trip!
History of the Galapagos Islands
For millions of years, the islands were an ecological wonderland of unique flora and fauna, isolated from the rest of the world. The human discovery of the Galápagos Islands occurred in 1535 when Tomás de Berlanga, the first bishop of Panama, came across the islands during a sailing voyage to Peru. The islands were uninhabited then and wildlife dominated the landscape In 1570 the Galapagos Islands were added to the world atlas by a Flemish cartographer, Abraham Ortelius, under the name "Insulae de los Galopegos", Islands of the Tortoises.
Much has changed on the Galapagos Islands since their discovery almost 5 centuries ago.
In the

1920s and 1930s

, a wave of Europeans inhabited the islands.

In

1959

the Galapagos Islands became a National Park

And

in 1960s

, tourism activities officially commenced on the Galapagos Islands
Today, nature lovers from around the world continue to visit the archipelago to observe the picturesque landscapes and diverse endemic species.
Each one of the 18 islands in Galapagos has its own geological formations and native species that have evolved in the absence of humans and natural predators. 4 of the 18 islands are inhabited by local populations living in the main towns, the rest are still uninhabited by humans.
Having now visited the majority of the Galapagos Islands first hand, we wanted to put our knowledge to use in this detailed guide on the 18 Islands in the Galapagos. We hope it will help you get a better understanding of the islands in the Galapagos and help you plan your Galapagos adventure.
Climate and Weather in the Galapagos
The islands of the Galapagos have a tropical, semi-arid climate with two similar but distinct seasons.
The

dry season

lasts from

June-November

with average temperatures ranging between 21-26 ºC (69-78 ºF). It is characterized by clear skies and very comfortable conditions. This season sees stronger Humboldt currents with nutrient-rich waters and increased marine activity.

The

hot season

lasts from

December-May

with temperatures ranging between 24-31 ºC (75-87 ºF). This part of the year is known for

warmer temperatures, frequent but intermittent rainfall, and lush vegetation.
When is the Best Time to Visit the Galapagos Islands?
The Galapagos Islands are a year-round destination. The temperatures on the island are pleasant throughout the year, so the best time to go to the Galapagos depends on what you want to see and do while there.
In short, visit in the dry season if you want to see the most action in the water or is the hot season, for the most action on land.
FAQs About the Galápagos Islands
How Many Islands Make Up The Galapagos Islands?
There are 18 visible main islands in the Galapagos (with a land area of at least 1 km2) and several smaller uninhabited islands, islets, and rocks that make up the Galapagos archipelago.
Which are the 4 inhabited islands on Galapagos?
The only islands in the Galapagos that are inhabited by people are Isabela, Santa Cruz, Floreana, and San Cristobal. The other islands are pristine and untouched with visitor sites meticulously maintained by the Galapagos National Park Service.
Who Owns the Galapagos Islands?
The Galapagos Islands are owned by Ecuador, located in South America.
About the Galapagos Islands
With so many islands to choose from in the Galapagos, which islands to visit can be a hard choice. Below is a short summary of all of the Galapagos island facts and main attractions.
​
Isabela Island / Albemarle Island (Isla Isabela)
Size/Area: 4,640 km2 (1,790 sq mi)
Inhabited: Yes, Population: 2,200
Altitude: 1,707 m (5,600 ft)
Main Town: Puerto Villamil (pop. 2,200)
Isabela Island is the largest island in the archipelago and is home to land iguanas, giant tortoises, and very interesting lowland vegetation. It has a seahorse shape created by six different volcanoes — five of which are still active.
The iconic volcanic landscape of Isabela Island makes it a favourable environment for land iguanas. The island is a great place to spot a number of other species like Galapagos penguins, flightless cormorants, marine iguanas, and Sally Lightfoot crabs. On Isabela Island, thirteen endemic species of finches are common, making it a popular stop for bird watchers. The island offers a ton of other activities ranging from hiking and biking to kayaking and snorkelling.
The island is home to the third-largest human settlement of the archipelago, the town of Puerto Villamil. The town is located on the southeastern tip of the island and is home to the majority of 2,200 residents of Isabela.
Isabela Island is easily accessible with a daily ferry service from Santa Cruz Island. The island has a number of hotels, restaurants and tour operators. Many of the island's main attractions can be accessed from the town of Puerto Villamil, which makes this a great destination for land-based trips to the Galapagos.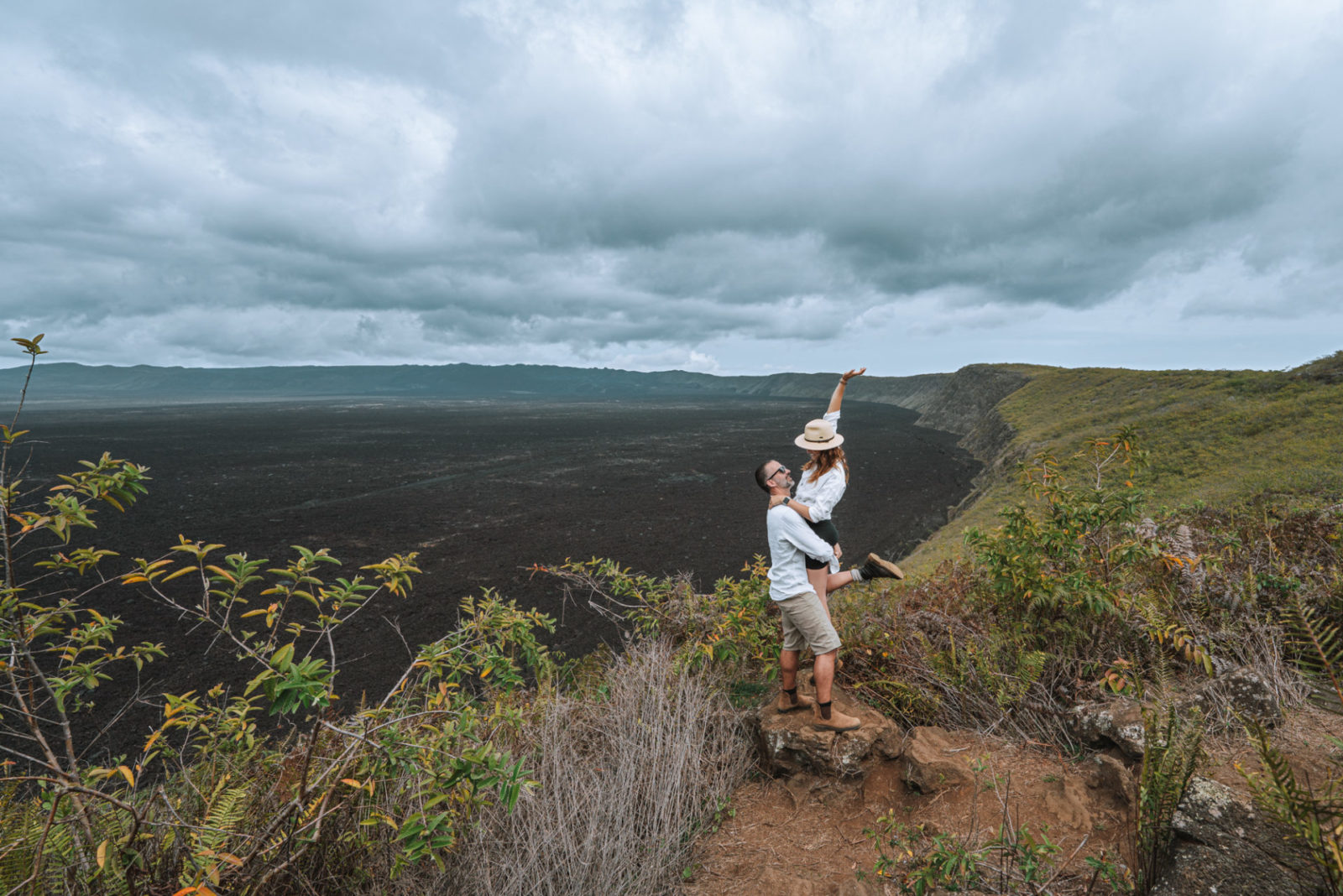 Santa Cruz Island / Indefatigable Island (Isla de Santa Cruz)
Size/Area: 986 km2 (381 sq mi)
Inhabited: Yes, Population: 18,000
Altitude: 865 m (2,836 ft)
Main Town: Puerto Ayora (pop. 12,000)
Santa Cruz Island is often considered to be the main hub of the Galapagos. The island is home to over 18,000 residents, the largest population in the Galapagos.
The main town of Puerto Ayora is the only place in the Galapagos with close to 100 hotels, plenty of restaurants and other city-like conveniences like shops and good internet connection. The island is also the headquarters of the Galapagos National Park Service and home to the Charles Darwin Research Station and a tortoise breeding centre. The island's highlands are famous for their vibrant native flora and resident tortoises. You'll also visit the iconic Las Grietas lava tunnels and Los Gemelos sinkholes.
Santa Cruz is a great place to see a land iguana and the colourful birds of the flamingo lagoon. Thanks to its convenient location close to Baltra Island airport, Santa Cruz is often the first stop on any Galapagos Islands visit.
San Cristóbal Island / Chatham Island
Size/Area: 558 km2 (215 sq mi)
Inhabited: Yes, Population: 6,000-7,000
Altitude: 730 m (2,400 ft)
Main Town: Puerto Baquerizo Moreno (pop. 6,672)
San Cristobal Island was the first island visited by Charles Darwin and is considered one of the oldest in the archipelago. The town of Puerto Baquerizo Moreno is the official capital of the Galapagos Province of Ecuador, but it retails a quiet and laid-back feel. It is home to one of only two airports in the Galapagos Islands.
San Cristobal Island boasts a host of wildlife like frigate birds, marine iguanas, tortoises, and red and blue-footed boobies. These animals roam the scenic highlands while colourful crabs and lava gulls wander the pristine beaches. However, the most memorable wildlife interactions on the San Cristobal island will be with the sea lions. These playful creatures can be spotted in hundreds all over the rocks and the benches along the waterfront in town. Playa de Oro is a particularly cool spot just outside of Puerto Baquerizo Moreno, where you can snorkel with sea lions right offshore.
Other popular stops on San Cristobal include La Galapaguera de Cerro Colorado tortoise reserve, Centro de Interpretación, and El Lobería beach.
Floreana Island / Santa María or Charles Island
Size/Area: 173 km2 (67 sq mi)
Inhabited: Yes, Population – 400
Altitude: 640 m (2,100 ft)
Main Town: Puerto Velasco Ibarra (pop. 100)
Named after the first President of Ecuador, Floreana Island is one of the first islands of Galapagos to be inhabited. It certainly has the most interesting human history, which is exemplified at Post Office Bay. Here, barrels of letters and postcards sit on the beach following the tradition of 19th-century whalers that used it as a makeshift post office.
Today, Floreana continues to host a small population of local residents. But the island serves, primarily, as a nesting site for flamingos and sea turtles. It's a popular stop on Galapagos Islands cruises and is reachable by boat from Santa Cruz.
Santiago Island / James Island
Size/Area: 585 km2 (226 sq mi)
Inhabited: No
Altitude: 907 m (2,976 ft)
Access: Cruise ONLY
Santiago Island is a fairly large uninhabited island to the northwest of Santa Cruz. It's home to black sand beaches and unique lava rock terrain. It is here that visitors will find the largest population of the endemic Galapagos fur seal. You can spot them hanging out in the crevices of the lava rock or cooling off in the water.
Santiago is a striking example of the harm caused to the islands by introduced species. Introduced by humans, pigs and goats once wreaked havoc on Santiago Island, causing some endemic species to perish. Thankfully, the island still offers plenty of wildlife and bird viewing. It is a particularly popular place to spot Darwin finches and Galapagos hawks.
The island has no roads or infrastructure of any kind. There are only 5-6 dry sites and another 5-6 marine sites, around the island, meaning that access to Santiago Island is limited to those exploring the Galapagos on a cruise.
Bartolomé Island / Bartholomew Island
Size/Area: 1.2 km2 (0.5 sq mi)
Inhabited: No
Altitude: 114 m (374 ft)
Access: Cruise or Day Trip from Santa Cruz
One of the youngest islands in the archipelago, Bartolomé is a barren volcanic islet off the coast of Santiago. It's famous for the pointy Pinnacle Rock, which visitors can climb for sweeping views of the sea and moon-like landscape.
It's also a prime destination to see the iconic Galapagos penguin swimming in the coastal waters. The island has only 1 land and 1 marine site and can be visited on a cruise or on a day trip from Santa Cruz.
Baltra Island / South Seymour Island
Size/Area: 21 km2 (8 sq mi)
Inhabited: No
Altitude: 100 m (328 ft)
Access: via plane, by road, by boat
Located right in the centre of the Galapagos Islands, Baltra Island welcomes visitors at the main Galápagos airport, Baltra (Seymour) Airport. The land here is flat and dry, with cactuses and palo santo trees throughout. It's a connection point for travel to the Galapagos Islands, with cruise ship docks and a ferry service to Santa Cruz.
Baltra has some World War II military history, which caused native iguanas to go extinct. In the 90s, scientists reintroduced land iguanas from North Seymour Island and successfully re-established their presence on Baltra.
North Seymour Island
Size/Area: 1.9 km2 (0.73 sq mi)
Inhabited: No
Altitude: 28 m (92 ft)
Much like Baltra, North Seymour Island was formed by geological uplift. The tiny island has a very healthy sea lions population and is a popular nesting site for sea birds. Frigatebirds inhabit the island in droves and when visiting Galapagos Islands by boat, you can often see them actively engaged in mating rituals.
Española Island / Hood Island
Size/Area: 60 km2 (23 sq mi)
Inhabited: No
Altitude: 206 m (676 ft)
Access: cruise ONLY
One of the oldest and most southerly of the Galapagos Islands, Española is a hotspot for endemic species. It is the only place where you can spot the critically endangered waved albatross nests, along with hood mockingbirds, Nazca and blue-footed boobies, and Darwin's finches.
You can spot marine iguanas gathering and soaking up the sun on the lava rocks before plunging into the sea. You'll want to visit Punta Suarez to see them on land. Alternatively, there is a good snorkeling and dive site near Gardner Bay. If it's that perfect photo of a posing sea lion that you are after, Bahía Gardner beach is where you'll find them.
Due to its remoteness, Espanola is a cruise-only destination and is often included in Southern Galapagos cruise itineraries.
Fernandina Island / Narborough Island
Size/Area: 642 km2 (248 sq mi)
Inhabited: No
Altitude: 1,494 m (4,902 ft)
Access: cruise ONLY
The youngest and westernmost island, Fernandina is another unique destination in the Galapagos. It's known to be a hotspot for colonies of marine iguana laying out on Punta Espinosa's lava rocks. The volcanic rock formations are very active, with the last major eruption in 2005 causing a cloud of vapour and ash to rise 7 km (23,000 ft) into the air.
On a Galapagos Island visit, travellers love touring Fernandina to see the flightless cormorants. They inhabit the island along with Galapagos penguins, sea lions, fur seals, and pelicans. Fernandina is only reachable on a cruise and is a stop usually included in Western itineraries.
Rábida Island / Jervis Island
Size/Area: 5 km2 (2 sq mi)
Inhabited: No
Altitude: 367 m (1,204 ft)
Access: cruise or day trip from Santa Cruz
Thanks to high iron concentrations in the lava crusts, Rábida is characterized by its distinct red sand. You'll often see Galapagos sea lions lounging on the beaches and flamingos grazing in the saltwater lagoon. It's an excellent place for snorkelling and a favourite for birdwatchers visiting the Galapagos Islands on a cruise of the western islands.
Genovesa Island / Tower Island
Size/Area: 14 km2 (5.5 sq mi)
Inhabited: No
Altitude: 76 m (249 ft)
Access: cruise ONLY
Coined Galapagos' "bird island," Genovesa is a remote northern island home to several endemic bird species. The volcanic cliffs of Darwin Bay make for a bustling breeding ground for frigatebirds, lava gulls, storm petrels, and the elusive red-footed boobies.
Though it's a long, rough sail to get there, Genovesa is a must for birdwatchers offering a unique bird-watching plateau at the top of El Barranco (Prince Philip's Steps).
Santa Fe Island / Barrington Island
Size/Area: 24 km2 (9.5 sq mi)
Inhabited: No
Altitude: 259 m (850 ft)
Access: cruise ONLY
Known for its tall forests of palo santo trees and Opuntia cactus, Santa Fe Island is a hotbed of land iguanas. Santa Fe land iguanas will grow over 5 ft long thanks to the nutrients they receive from the cactus. They're also joined by lava lizards and tropical birds perched on the weathered sea cliffs.
Sante Fe can only be reached on cruises following the Southern itinerary. The island offers beautiful anchorage surrounded by sea turtles and manta rays.
Darwin Island / Culpepper Island
Size/Area: 1.1 km2 (0.42 sq mi)
Inhabited: No
Altitude: 168 m (551 ft)
Access: Scuba diving liveaboard cruise
Named after no other than Charles Darwin, Darwin Island is located over 100km to the Northwest of the other islands in the Galapagos. As a result, it's a destination rarely visited by regular cruise ships.
Its remote location and strong surrounding Humboldt currents make Darwin Island a popular spot for scuba diving and a popular liveaboard diving cruise destination. The 2 dive sites around Darwin Island, offer an excellent opportunity to see whale sharks, whales, hammerhead sharks and other marine species.
The island's other main attraction used to be the nearby Darwin's Arch, which unfortunately collapsed in May 2021.
Wolf Island / Wenmanouis Island
Size/Area: 1.3 km2 (0.5 sq mi)
Inhabited: No
Altitude: 253 m (830 ft)
Access: scuba diving liveaboard cruise ONLY
Along with the main Darwin Island, Wolf Island is another great place to see hammerhead sharks. These islands are only frequented by experienced scuba divers but offer some of the richest marine life in the Galapagos.
On land, Wolf Island has frigatebirds, gulls, Nazca boobies, and the famed vampire finch.
Marchena Island / Bindloe Island
Size/Area: 130 km2 (50 sq mi)
Inhabited: No
Altitude: 343 m (1,125 ft)
Access: scuba diving liveaboard cruise ONLY
Marchena is a small northern island inhabited by Galapagos hawks, sea lions, and endemic Marchena lava lizards. It's quite off the beaten path and is typically only visited by scuba diving liveaboard cruise. The dive sites around the island offer great snorkelling and diving opportunities.
Pinta Island / Louis Island
Size/Area: 60 km2 (23 sq mi)
Inhabited: No
Altitude: 777 m (2,549 ft)
Access: cruise ONLY
Home to the last remaining Pinta tortoise, Lonesome George, Pinta is one of the northernmost islands in the archipelago. In his last years, Lonesome George was known as the rarest creature in the world. He eventually was moved off the island and relocated to the Charles Darwin Research Station, where he died in June 2021. All attempts to mate and continue his species were unfortunately unsuccessful.
Today, Pinta is only inhabited by hawks, gulls, fur seals, and marine iguanas. The island has no land sites but offers 4 marine visitors sites accessible to those visiting the Galapagos on a cruise. The island maintains a very fragile ecosystem.
Pinzón Island / Duncan Island
Size/Area: 18 km2 (6.9 sq mi)
Inhabited: No
Altitude: 458 m (1,503 ft)
Named after captains on a boat led by Columbus' voyage to the New World, Pinzón is in the centre of the Galapagos archipelago. It's very small, covered in low-lying vegetation, and flocked with birds like finches and doves. Pinzón Island has only one marine site which makes it one of the least visited of the Galapagos Islands.
Best Way to Visit Galapagos Islands
Tourism in the Galapagos islands relies heavily on cruises, that allow visitors to explore the majority of the islands in the archipelago. However, with the rise of environmental concerns surrounding cruises, more and more restrictions have been placed on cruise operators in the Galapagos and land-based tourism has been gaining popularity.
In our opinion, the best way to visit the Galapagos Islands is to join a short, small sustainable cruise, like Oniric Cruises, a cruise operator that offers a variety of Galapagos cruises aboard 4 different ships. We recommend that you also extend your stay by a few days to enjoy a land-based stay.
This combo visit will allow you to experience some of the more remote islands, accessible only by boat and also spend some time contributing to the local economy on the inhabited islands of Isabela, Santa Cruz or San Cristobal.
Have you been lucky enough to travel to Galapagos Islands? Which island was the most memorable on your trip?