The Galapagos Islands have been one of our top bucket list destinations for years! We dreamed about exploring the islands, interacting with the unique wildlife of the region, and scuba diving to discover the rich underwater world that lies beneath.
*This post may contain affiliate links, as a result, we may receive a small commission (at no extra cost to you) on any bookings/purchases you make through the links in this post. As an Amazon Associate, we earn from qualifying purchases. Read our full disclosure
This past April, our dreams finally came true! We spent 2 incredible weeks exploring the Galapagos on a tour with Galakiwi, falling in love with the islands, the people, and, of course, the wildlife!
Why Galakiwi?
While the majority of travelers choose to visit the Galapagos on a cruise, we opted for a more sustainable way and traveled to the Galapagos with Galakiwi, one of the first land-based tour operators in the region.
Traveling Soon?

Here is a list of our favourite travel providers and accessories to help get you ready for your upcoming trip!
Galakiwi pride themselves on being a sustainable operator, which is exactly what attracted us to their trips. Even before we embarked on the trip, we learned that Galakiwi operations support the locals and strive to minimize environmental impact on every one of their tours.
And the best part about Galakiwi? They actually walk the talk! They don't use "sustainable practices" as a marketing slogan, they don't do it for the certifications or awards, they just DO IT! They hire local guides, have their guests stay in locally owned hotels and eat at locally owned restaurants. They use reusable water bottles, use washable food containers, and motors that have a lower environmental impact on the environment, they recycle, they give back…and do so much more!
At the end of the day, their business is built with a sustainability mindset, and in our opinion, that's the best type of operator anyone can hvope for on their travels!
Our Galapagos Itinerary
Galakiwi offers a number of different trips to explore the Galapagos, with itineraries ranging from 6-14 days. Our trip was a special edition 11-day departure that visited all 4 inhabited islands and covered all the amazing adventure activities offered on the Galakiwi trips.
We hiked, biked, SUP'ed, snorkeled, kayaked, and explored the islands under the guidance Pepo and Pablo, Galakiwi's amazing naturalist guides.
San Cristobal Island
Our trip started with a visit to San Cristobal Island, where we had our first encounter with the incredible Galapagos sea lions that were easily found catching sun rays on the rocks at the port, chilling on benches, sleeping on the beach, and swimming in the waters surrounding the island. We also got a chance to snorkel at Kicker Rock, a spot renowned for rich underwater marine life, where we were incredibly lucky to spot hammerheads, swim with sea lions, and see schools of white and gray tips sharks.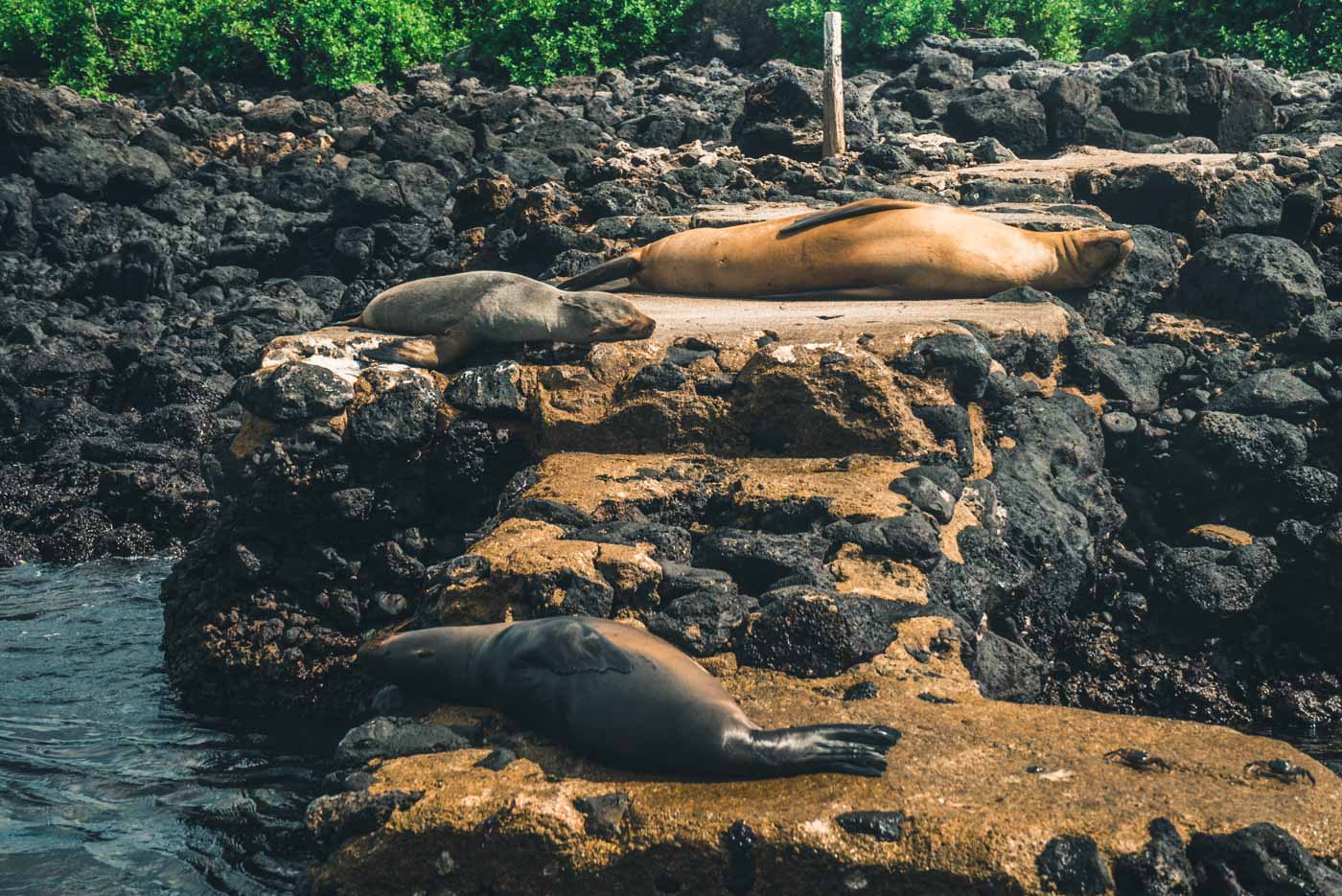 Floreana Island
From San Cristobal, we traveled to Floreana and were surprised by a pod of dolphins that circled our boat en route to the island. Once on Floreana, we hiked to the highlands, where we learned more about the Wittmer family, the original settlers of this mysterious island, and had our first encounter with Giant Tortoises. We also got to take our SUP boards one more time for a BEAUTIFUL sunset paddle on Playa Negra just outside of our hotel.
Floreana is the least populous inhabited island in the Galapagos and we really felt like we had the island all to ourselves here. It was just us, the wildlife, and the quirky residents!
Isabela Island
After saying goodbye to Floreana, we made our way to Isabella, a much more developed yet very laid back island in the Northern Galapagos. We spent 4 days in Isabela, which gave us plenty of time to explore!
We visited the Tortoise Breeding Center, learned about Isabela's penal colony past at the Wall of Tears, hiked up to the caldera of the Cerro Negro Volcano, snorkeled with sea turtles and white tip sharks, searched for wildlife at Las Tintoreras and got some free time to enjoy the island's laid back vibe and amazing beaches!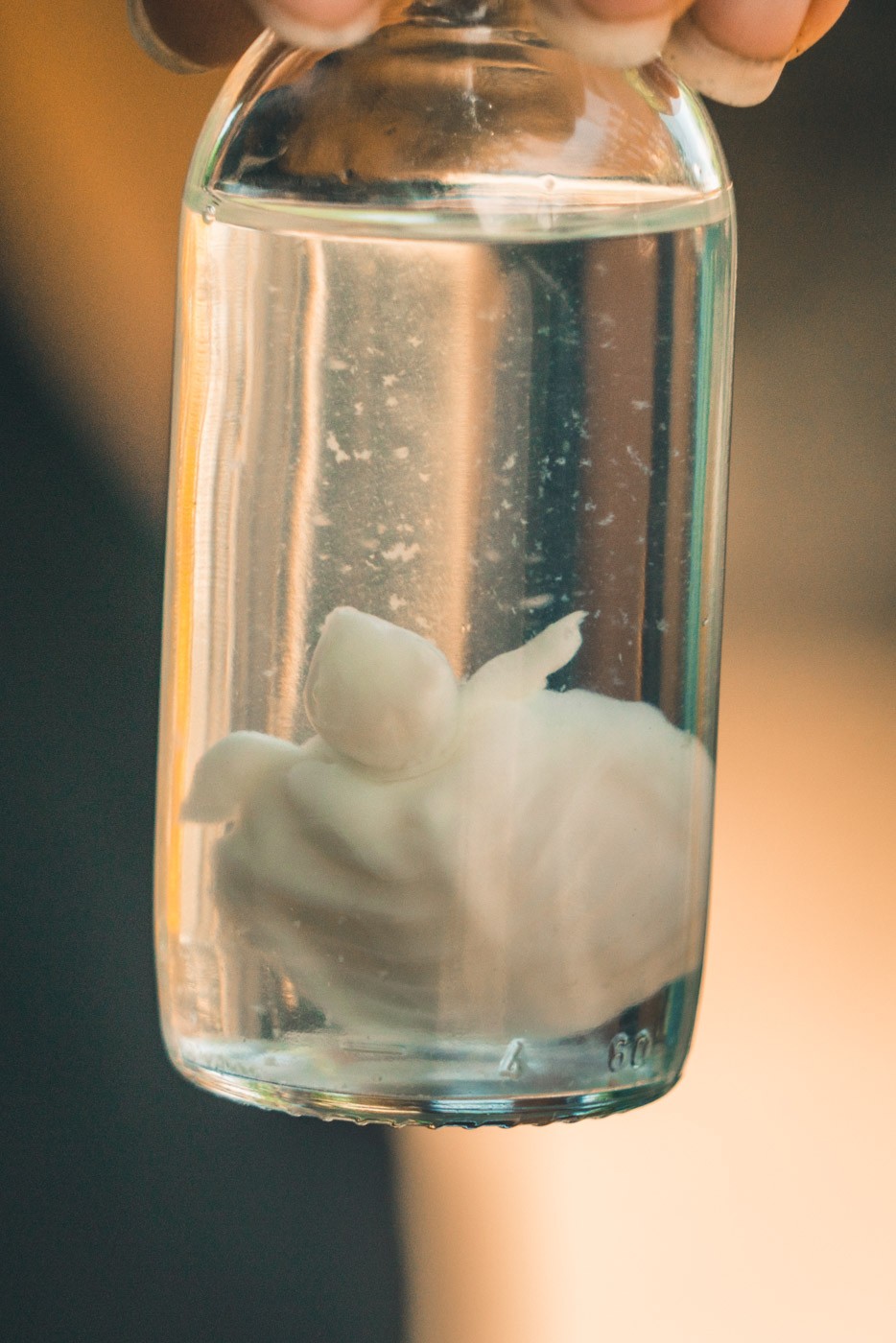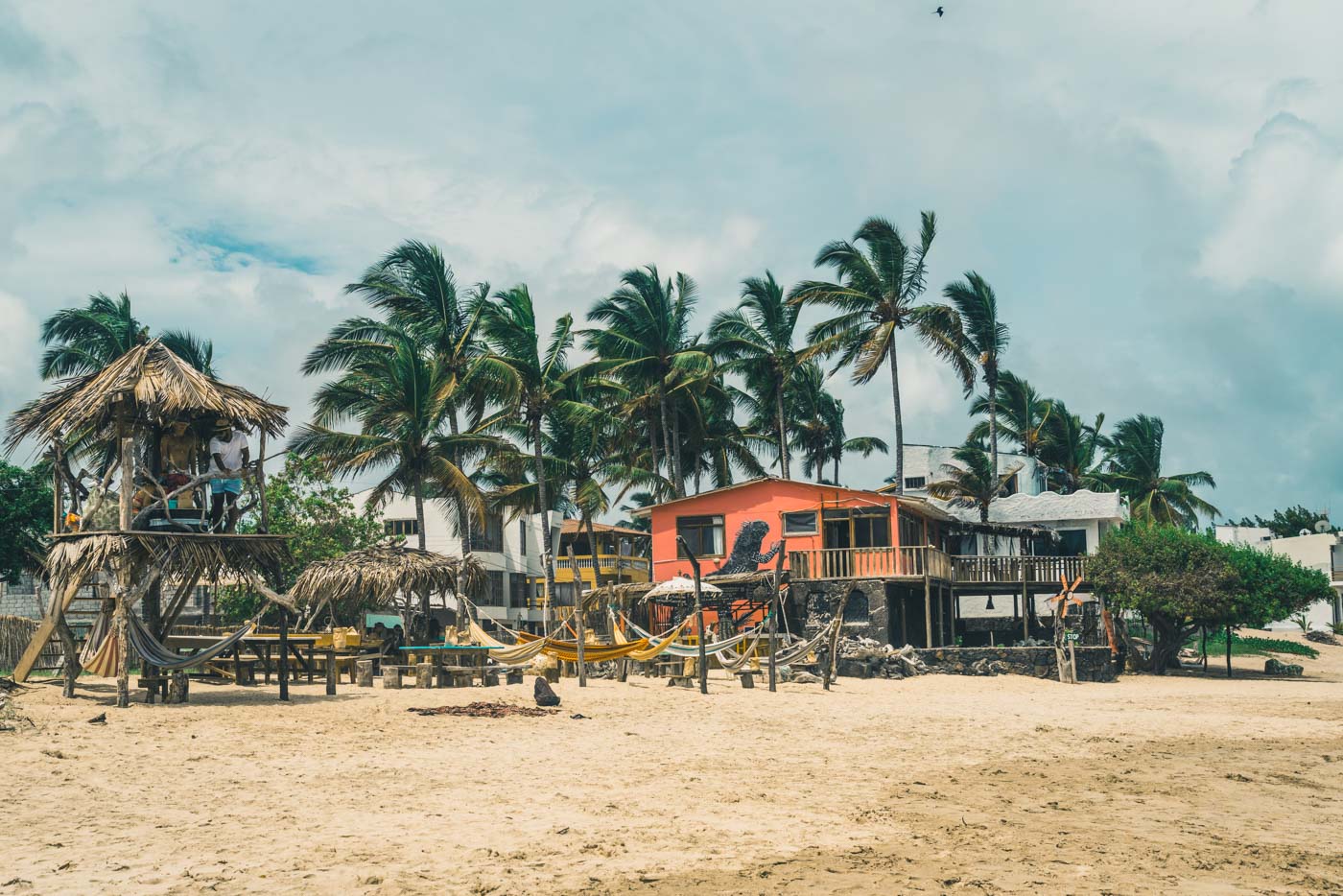 Santa Cruz Island
Our last stop was the Santa Cruz Island, where we SUP'ed around Las Grietas, snorkeled in the mangroves, explored the lava tunnels, and got to enjoy the vibrant town of Puerto Ayora.
Our days in the Galapagos started early, often at the crack of dawn, to give us as much time as possible to interact with wildlife before the day's heat. We'd always break for lunch and get back to exploring in the afternoon. Most days ended shortly after dinner. While we were sometimes keen for a night cap beer, we were always exhausted, so checking out the nightlife was definitely not a priority on this tour.
Accommodation in the Galapagos
We stayed in 4 different hotels over the course of our trip, each one ranging in style and comfort level.
On San Cristobal, we stayed at Casa Blanca, a cute locally owned Bed & Breakfast conveniently located right in front of the Tourist Pier on the Malecon.
We could hear the sea lions roaring all day long, but it didn't bother us at all! We had a private room, overlooking the ocean with AC, a double bed and a private bathroom. Wifi was available, but it was VERY slow.
On Floreana, our accommodation was much more basic, as there are literally only 1-2 options on the island. We stayed at the Wittmer Hotel, run by the descendants of Margaret Wittmer, one of the first settlers on Floreana. Our room at the lodge had a double bed, a private bathroom and a fan, but that night the heat made sleep a little (just a little) less comfortable. There was also no wifi at this hotel.
Luckily, island luxury awaited us on Isabella. We stayed at the beautiful Albemarle Hotel located right on the Malecon in the town of Puerto Villamil. Our room was really spacious, with comfy queen beds, great hot water shower, split AC system, and decent wifi connection. We were even spoiled with a freshwater swimming pool.
In Santa Cruz, we stayed at Posada del Mar, another well rated locally owned hotel conveniently located in the heart of Puerto Ayora town. We had a private double room with a private bath, and AC.
Food in the Galapagos
We were so happy to have a chance to sample so much incredible food during our Galakiwi tour. Every day the Galakiwi crew took us to a different restaurant, which helped to spread out the economic impact of our trip across a number of local family-owned restaurants and cafes.
We dined in small mom and pop backyard restaurants, like the Parilladas San Jose, where we had mounds of freshly caught fish, shrimp, and lobster, enjoyed a three course meal at the El Chato Reserve, popped into small cafes, like the Shawarma Hot, that had delicious vegetarian meal options, ate at the street market, and had some of the best seared tuna we've ever had at the Pelican Restaurant in Santa Cruz.
There was a lot of seafood (and it was always amazing), but chicken and beef/pork were often on offer as well. Every meal we essentially had a choice of one of the 3 mains and sometimes a soup or salad. Vegetarians were also catered really well for throughout the tour.
Our Naturalist Guides
There is no question about a need for a naturalist guide on any visit to the Galapagos. It's simply a must. We visited a lot of spots around the islands that you simply can't get to without a guide, but for us, the guides offered so much more than access to restricted sites.
Galakiwi's guides, Pepo and Pablo, were absolutely fantastic. They acted not only as naturalist guides but also as our tour guides, making sure we were always informed about the days plan, about what to wear, when to meet and what to bring with us. They traveled with us everywhere and were always ready to answer any of our questions. And boy, were they able to do it!
Pablo, who looked after us for the majority of our trip, was born on the mainland but spent the majority of his adult life in the Galapagos. He volunteered for the Charles Darwin Research Station and Galapagos National Park, worked with the Giant Tortoise Breeding Center on Isabela Island, and then as a freelance guide Isabella. He experienced many of the changes and discoveries on the islands first hand and his knowledge about the region just can't be beaten!
Every explanation told by Pablo, every story, every answer to even the simplest question was told with so much enthusiasm, so much passion that it literally left us with open jaws many times.
The Overall Experience
Our time in the Galapagos with Galakiwi was definitely a highlight of our entire South America adventure! Yes, our wildlife interactions were incredible and the landscapes in the Galapagos were breathtaking, but at the end of the day, it was the people behind our trip, our amazing trip mates and the entire Galakiwi crew that made this into an amazing experience!
It was the most fun and most enjoyable "press trip" we have even been on and by far the best-organized tour we've ever been on. If all organized trips were like this, we'd give up on independent travel in a heartbeat!
Disclaimer: Big thanks to Galakiwi for hosting us on this incredible tour of the Galapagos. As always, all opinions expressed in this article are our own.