Fraser Island, located just off the East Coast of Queensland is the largest sand island in the world, a UNESCO World Heritage Site and one of Australia's greatest attractions.
*This post may contain affiliate links, as a result, we may receive a small commission (at no extra cost to you) on any bookings/purchases you make through the links in this post. As an Amazon Associate, we earn from qualifying purchases. Read our full disclosure
It's the only place in the world where the rainforest grows right out of the sand dunes. It is home to over 350 species of birds, possums, wallabies, sea turtles, dolphins, and of course Australia's favourite wild dog – the dingo. But if that is not enough, Fraser island is truly stunning and the perfect place to spend a few days relaxing surrounded by natural beauty.
Camping on Fraser Island
In our opinion, camping is THE way to go on Fraser Island… it gives you the chance to get back to nature and experience one of the ten top things to do in Australia to the max.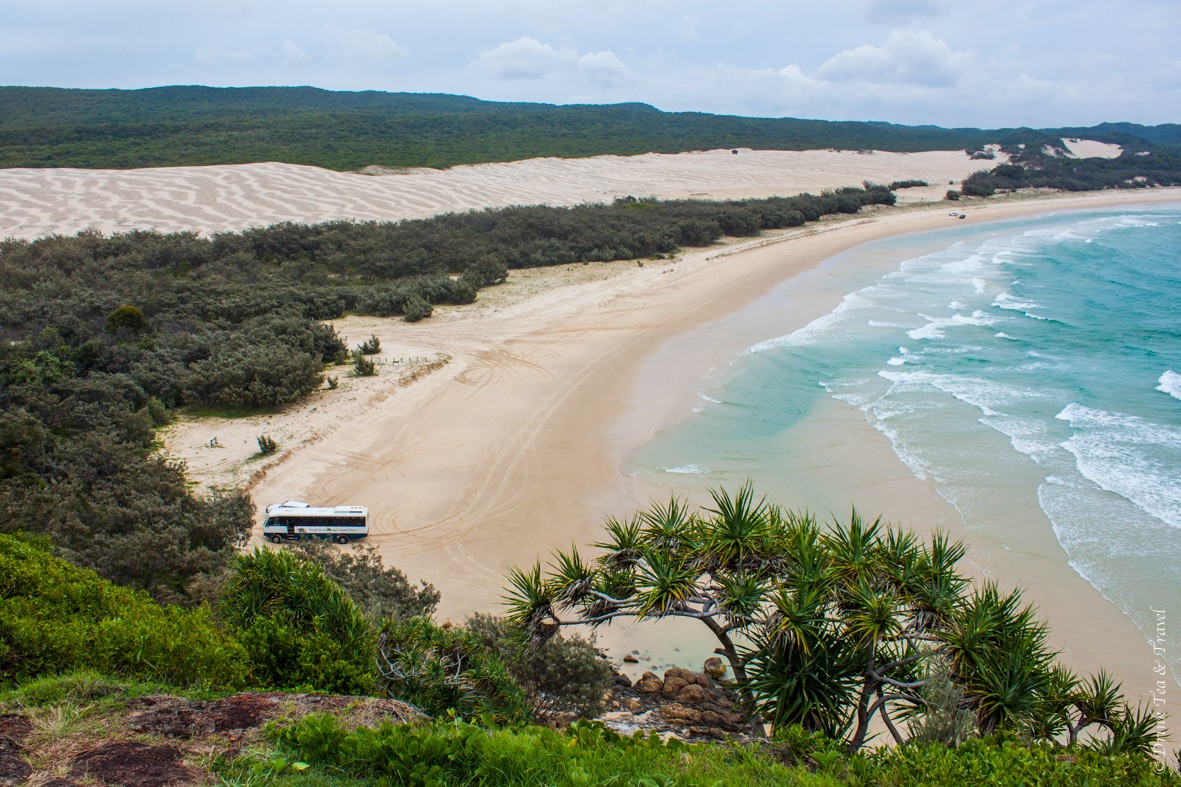 Traveling Soon?

Here is a list of our favourite travel providers and accessories to help get you ready for your upcoming trip!
But we understand that things can get confusing when it comes to camping on Fraser Island. So we have broken it down in layman terms to make planning your adventure to Fraser Island a breeze.
Where to Camp
Where you camp should be based on what you want to see and do on Fraser Island, how much time you have, and how much you are willing to rough it. What facilities are a must for you?
The east coast is wild and unfiltered. It is home to the islands main artery, 75 Mile Beach, and some of its top attractions like Indian Head, the Red Canyon, and Wabby Lake. The west coast is calm, sheltered, and untouched. While the northern and southern tips are remote and tranquil.
If you have limited time we suggest that you focus on the south-central part of the island (Lake MacKenzie, Wanggoolba Creek, etc.) and the east coast!
Public and Private Campsites
There are both public (Queensland Parks) and private campsites on the island. Private campsites are few and far between on the island but offer more amenities and typically better facilities. Whereas Queensland Park campsites are plentiful and therefore the more popular choice.
Fraser Island is not the kind of place where you will be able to show up and 'wing' it. Planning a trip to Fraser Island requires some forethought. Especially if you are reliant on those creature comforts as camping, especially with Queensland Parks, can be quite threadbare.
Camping on Fraser Island with Queensland Parks
Queensland Parks Permits
So you want to go camping on Fraser Island? Then the first thing you'll need to do is obtain a camping permit from the Queensland Parks and Wildlife Services. You can do it online here or in person at any one of their offices. Be prepared, do your research, this is Australia, you don't want to be under prepared for anything.
Keep in mind that, no park ranger will be able to arrange a permit for camping on Fraser Island for you once you're on the island. So plan ahead!
When you arrange your camping permit you will be required to choose which campsite you would like to stay at. Each campsite can be booked for a maximum of 2 nights, for groups of 8 or less.
The permit should be pinned to the outside of your tent and visible at all times to avoid fines.
Fraser Island Vehicle Permits
Unless you are doing the Fraser Island Great Walk, then you'll likely be arriving in a 4 wheel drive vehicle. If you don't have a suitable vehicle there are a few 4WD hires on Fraser Island but it is typically cheaper to rent in Hervey Bay.
WANT TO EXPLORE AUSTRALIA BY CAR?

Get the best car rental rates by booking ahead! Discover Cars compares prices across all major car rental companies, so you are guaranteed to get the best deal.
This too requires a permit which can be obtained here.
Ensure you are diligent of tide times when planning your adventure. Some stretches of beach (aka your highway) are only accessible at low tide.
Queensland Parks Campsites
Fenced Campsites
These are the most popular and well-developed campsites on Fraser Island. They are fenced-in to prevent dingoes from entering the campsite area and offer more amenities than the other government operated campsites on the island. Unless you are really looking to rough it, we recommend booking your stay at one of these campsites.
Central Campsite
Central Campsite is located in the central south section of Lake Fraser, on the site of an old logging station. It is nestled within the rainforest, close to the Wanggoolba Creek ferry port, Lake McKenzie (Fraser Island favourite of ours) and many popular walking trails.
There are 40 tent sites and 15 trailer sites on site. The facilities include $2 coin operated showers (hot!), flushable toilets, washing facilities, and garbage disposal.
Dundubara Campsite
Dundubara is located on the east coast, minutes from the shoreline in coastal forest. It is located 19 km south of Indian Head, minutes from Red Canyon and north of Eli Creek and the Maheno shipwreck.
There are over 40 tent sites and a hand full of trailer sites on the property. Facilities onsite include untreated water taps, flushable toilets, $2 coin-operated hot showers, picnic tables, washing facilities, and communal fire rings. Nearby you'll find portable toilet waste, and garbage disposal facilities.
Waddy Point Campsite
Waddy Point is located 5 km north of Indian Head and close to Champagne Pools on the east coast. It is divided into two sections. One section is located back from the beach within the coastal forest and the other is beachfront on a protected bay.
There are 25 campsites and some trailer sites at this campsite. Facilities onsite include untreated water taps, flushable toilets, $2 coin-operated hot showers, picnic tables, washing facilities, and communal fire rings. Garbage disposal is located nearby at Orchid Beach.
Lake Boomanjin Campsite
Lake Boomanjin Campsite is one of the smaller fenced in campsites. It is located just a short stroll from Lake Boomanjin. Vehicles are not permitted within the campsite and must be parked outside. Facilities include flushable toilets, washing facilities, and picnic tables.
Cornwall Campsite
This campsite should be mentioned since it is fenced in. However, it is only suitable for large groups of 20-40 people and there are no facilities on site.
Non-Fenced Campsites
The remaining Queensland Park campsites offer the bare minimum. The few that offer picnic tables and toilets blocks are few and far between. Instead, you can expect a area to pitch your tent and lay your head for the night.
It is very important to the only camp in designated areas to preserve the islands natural vegetation and save yourself from getting a fine!
East Coast Campsites
The east coast is divided into 9 camping zones and then into subsequent campsites. As you might expect campsites on the east coast are more popular and abundant than the other non-fenced campsites (west, south and southwestern campsites).
They are located adjacent to the beach, just behind the sand dunes. You are required to use the 4WD tracks in place to reach them. Find the eastern camping zone map here.
West, South, and South Western Campsites
These campsites are considered remote campsites that are only available by 4WD, long treks, or via the water.
They are the ultimate place to experience the wilds of Fraser Island in near solitude. Consult the Fraser Island map for exact locations of these campsites.
Things to Remember
All campsites observe quiet hours between 9 pm and 9 am. This includes generators.
Fires are absolutely prohibited outside of designated fire rings at Dundubara and Wabby Point. Therefore you'll have to bring a portable gas stove if you're after a hot meal.
You will need to bring your own milled timber as there is no firewood for sale at the Queensland campsites and collecting kindling from the island is strictly prohibited.
Be wary of dingoes! You are bound to see your fair share on a trip to Fraser Island. But no matter how cute and cuddly they seem, these aren't your typical house dogs.
Store your food somewhere secure, never keep it out or around your campsite or in your tent. Stay in groups and be mindful not to accidentally entice dingoes by running by them.
If your driving from campsite to campsite keep in mind that beach driving is best done on either side of low tide when the sand is been packed down. Plan accordingly as some stretches of beach (aka the highway) are only accessible at low tide. Learn more about 4WD hire on Fraser Island and what to do on Fraser Island here.
Consult an islands conditions report before visiting the island. Weather plays an important role when it comes to camping on Fraser Island.
As part of the Great Sandy National Park, Fraser Island is right up there will other great Queensland National Parks like the Daintree National Park and Noosa National Park. But remember that no matter what park you are visiting, it always important to leave only footprints.
Travel sustainability! Never leave rubbish behind or do anything that would negatively impact the island like driving over fragile vegetation or sand dunes. Use the access tracks made available or get out and walk.
REMEMBER TO BRING ALL YOUR OWN CAMPING GEAR! Queensland Park campgrounds do not offer any camping essentials. So it is absolutely imperative you are self-sufficient and bring all your own camp equipment and groceries.
There are a few places on the island that sell groceries and water but the mark-ups on these products are quite substantial. The shops can be quite a distance from one another, stock is sometimes unpredictable, and getting bogged down in the sand seems to happen even to the best of us so ensure you've got your own supply of food and water to tide you over and equipment to cook with.
Camping on Fraser Island at Private Campgrounds
There are a few private campgrounds on Fraser Island. Private campgrounds are an excellent choice for visitors who don't have much time to explore the far reaches of the island or for visitors traveling light!
Most private campgrounds offer tents for hire or permanent tents for rent, and some even have dining facilities. Plus they typically have better overall facilities and more amenities than the government operated sites.
These do not require any camping permits however if you are bringing a vehicle then, of course, you will still need a vehicle permit.
Cathedrals on Fraser is a Fraser Island favourite. You can expect to find a well-stocked convenience store, a bottle shop, hot meals, a fuel station, and great facilities. They offer hot showers, guest laundry facilities, communal fire rings, and treated tap water. Cathedrals on Fraser has dingo deterrent fences and is located a short drive from Maheno Shipwreck and Eli Creek.
Beachcamp Eco Retreat offers the ultimate glamping experience on Fraser Island. They offer permanent canvas tents for rent which have their own ensuite bathroom and hot showers. Guests can use the kitchen facilities, enjoy the communal fire rings (Beachcamp offers firewood free of charge), or relax in on of the hammocks on site. Beachcamp is located just south of Wabby Lake on the beach and relatively close to Lake McKenzie, Wanggolba Creek and other attractions.
Dilli Village
Dilli Village is operated by the University of the Sunshine Coast primarily as an environmental education camp. They offer a fenced in, grassy area to pitch your tent for the night. They have powered and unpowered campsites, kitchen and BBQ facilities, and shower and toilet blocks. Day passes are available for a small fee. Dilli Village is located close to Boomanjin Lake and Inskip Port, south of Wabby Lake.
Fraser Island is a must-see and one of the great stops on a Brisbane to Cairns road trip. While you will definitely see the island on a typical Fraser Island tour, we recommend to make the most of your visit by camping your way through the island so you can get off the beaten path and experience more of what Fraser Island has to offer.
Have you been camping on Fraser Island? What was your favourite campsite?