*This post may contain affiliate links, as a result, we may receive a small commission (at no extra cost to you) on any bookings/purchases you make through the links in this post. As an Amazon Associate, I earn from qualifying purchases. Read our full disclosure.
Singapore is one of the world's most diverse and multicultural cities. Known for its incredible food and mix of ethnicities, it's one big melting pot, a fusion of east and west.
It's also one of the wealthiest countries in Asia and has come to be known as a huge financial power. Famous for sights like the Gardens by the Bay and the offshore Sentosa Island, its a city full of beautiful spots, great food, and excellent shopping.
Technically, Singapore is a city-state, just like Vatican City and Monaco. It is one of the smallest countries in the world, but that doesn't mean it's not worth a visit. If you're planning a trip, you'll need to know where to stay in Singapore. In a city that is known for its incredible hotels and bustling neighbourhoods, this can be quite difficult to figure out.
Over the last few years, we have made a few stops in Singapore on our travel and have had the chance to explore many neighbourhoods around the city.
Here are our top recommendations on where to stay in Singapore and our hotel recommendations for each area.
Where to Stay in Singapore
Little India
Little India should be at the top of your list for where to stay in Singapore. Although it's a bit far from the center of town, there are tons of things to do here and the atmosphere is a lot of fun.
There are tons of places where you can shop and haggle for knock-off goods before you eat your fill of Indian food at one of the many delicious neighbourhood restaurants. After that, make sure to explore the famous Race Car Road and the stunning Sri Veeramakaliamman Temple.
Hotels in Little India
Luxury:

The

Park Hotel

at Farrer Park is a

stunning work of architecture

. With an outdoor pool (complete with a waterfall) and timeless design inside, it's certainly one of the best Singapore hotels.

Mid-Range:

Just down the street,

Hotel NuVe Urbane

is a design hotel that offers guests a comfortable and luxurious stay at a fair budget. It's stylish, modern, and edgy, and

in the perfect location to explore Little India as well as Arab Street

.

Budget: The Rucksack Inn @ Lavender Street is a clean and comfortable hostel with lots of outdoor areas to mingle and meet other budget travelers. Best of all, it's located near some of the best streets for art and food in Little India.
Chinatown
Singapore's Chinatown is home to some stunning temples, fun nightlife, and great hawker centres. There's some street art as well as art galleries and history museums. The central night market is also a great place to visit.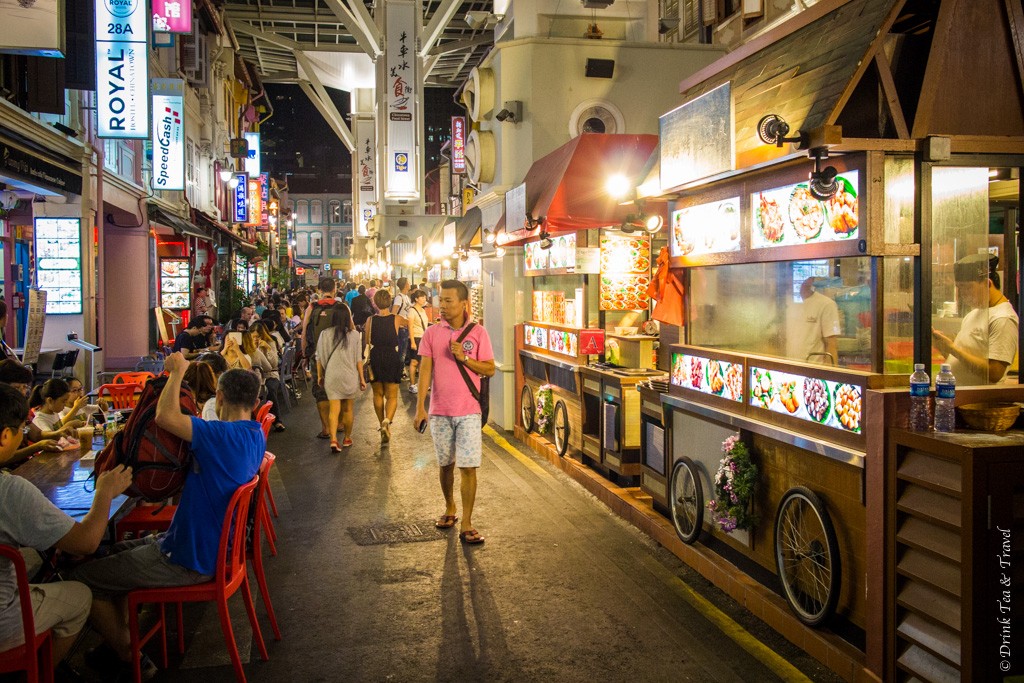 Since there's a huge range of accommodation options in Chinatown, everyone from backpackers to luxury travelers can find something that suits them.
Hotels in Chinatown
Luxury:

PARKROYAL on Pickering

is an amazing eco-friendly hotel with floating gardens on the balconies of each room.

It is one of Singapore's many architectural marvels.
Mid Range: Hotel Soloha is quirky and full of character. Its bold design makes it a great choice for those who don't like standard, boring hotels. The pops of colour, neon lights, and outdoor courtyard are sure to win you over.
Budget: If you're tight on cash but still want a unique and comfortable experience, then check out the CUBE – Boutique Capsule Hotel. At CUBE, you'll sleep in stunning wooden capsules and enjoy all the amenities that come with a regular hotel stay. This is a luxury hostel if there ever was one.
Arab Street (Kampong Glam)
Arab Street is a fun mixture of Islamic influence and hipster gathering points. It's a great neighbourhood for shopping, discovering corner cafes, and eating delicious food. Buildings here are colourful, as is the famous Masjid Sultan mosque.
This is perhaps the best place to stay in Singapore if you love nightlife. Small alleys are buzzing with fun energy at night and you'll often find lots of other people drinking beers, listening to live music, or making new friends.
Hotels on Arab Street
Luxury:

The Vagabond Club

calls itself a "Tribute Portfolio Hotel." It's incredibly stylish and covered in unique artwork.

It is also home to one of the most impressive whiskey bars in the world

, called "The Whiskey Library," where you can taste more than 1,000 different whiskeys from around the world.
In addition, just on the border of Kampong Glam and the Orchard Street neighbourhood, you can find the luxury Hotel Fort Canning in the middle of Fort Canning Park. They've won a number of sustainability awards for their practices, such as using chemical-free pool water and serving food with ingredients from their own gardens in the park.
Mid-Range: Naumi Hotel is a modern design hotel with a rooftop pool offering stunning views of the city. Although it is a five-star hotel, it is still moderately priced.
Budget: Five Stones Hostel is a cheap, no-frills accommodation option in Kampong Glam. It's colourful and inviting, and right on Haji Lane.
Marina Bay
Marina Bay is perhaps the most famous neighbourhood in town. It's here that you'll find the famous Supertrees in the Gardens by the Bay. You'll also find the famous Art Science Museum and the stunning Cloud Forest.
While it is one of the best places to stay in Singapore, the downside of staying in this area is that there are really no options for budget accommodations. This is one of Singapore's most expensive neighbourhoods and, while the hotel options are plenty, the prices are high.
Hotels in Marina Bay
Luxury:

Marina Bay Sands

is the

world-famous hotel that everyone knows when they see it

. Best known for its striking design featuring a ship balanced on three skyscrapers as well as an awe-inspiring infinity pool,

this is a bucket list hotel for many

.

Mid-Range:

Oasia Hotel Downtown

is on the

pricier side of mid-range

, but it's one of the most affordable hotels in the area. It too has luxury pools with views overlooking the city and is an incredibly eco-friendly building covered in leafy foliage.

There are no budget choices in this neighbourhood.

If you're on a budget, you might be better off finding accommodations elsewhere and taking a day trip to Marina Bay, instead.
With so many great places to stay, you might still be wondering where to stay in Singapore.
In general,

if you're on a budget and want to soak up the culture of the city

, Chinatown and Little India are your best bets.

For a mid-range neighbourhood with a great location, stay near Arab Street.

If you want a taste of true luxury

, you can't go wrong in Marina Bay.
Singapore is an incredibly unique city that has something for everyone. The next time you find yourself flying through, resist the urge to stay in Changi Airport and go explore the rest of the city for a few days.
What's your favourite neighbourhood in Singapore?