Food is a true highlight of any visit to Singapore. Despite there being so much to do in the city, hunting down good Singaporean food is one of the best things to do with your time. The city state is a melting pot of cuisines with influences from China, India, Malaysia and Indonesia.
*This post may contain affiliate links, as a result, we may receive a small commission (at no extra cost to you) on any bookings/purchases you make through the links in this post. As an Amazon Associate, we earn from qualifying purchases. Read our full disclosure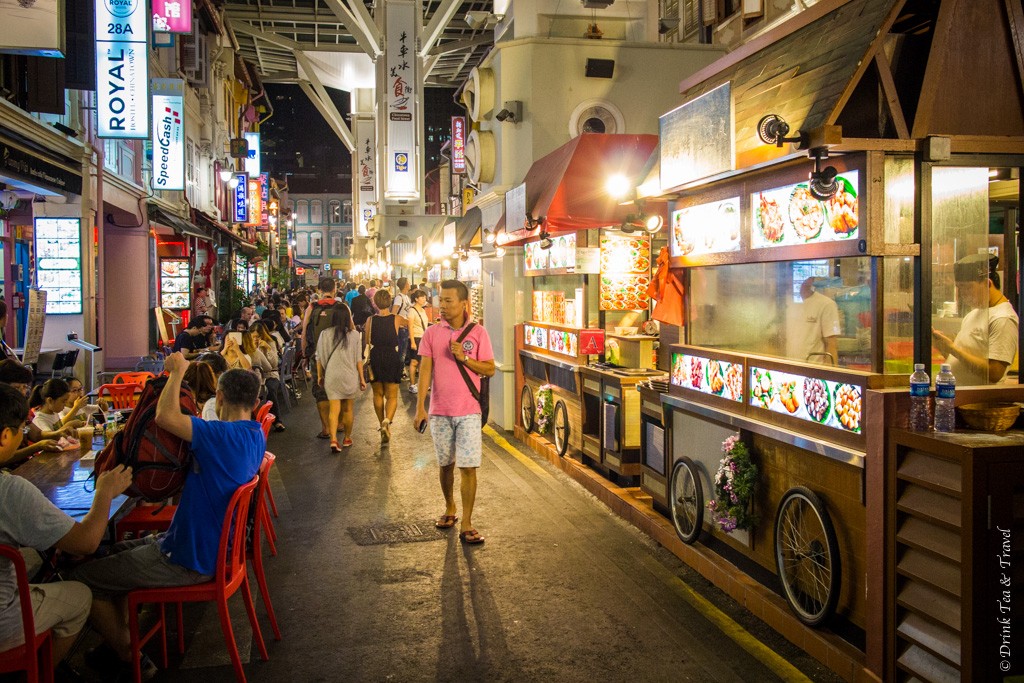 Traveling Soon?

Here is a list of our favourite travel providers and accessories to help get you ready for your upcoming trip!
You might be surprised to discover that the best food in Singapore is not found in fancy and expensive restaurants but in fact, in food courts, known as hawker centres. These hawker centres are huge bustling markets full of small food vendors serving up all sorts of traditional as well as more fusion style dishes.
Eating at hawker stalls Singapore is both a cultural and culinary experience not to be missed. Although the prices are low, you'll notice patrons range from well dressed business crowds to budget backpackers.
If you are planning a trip to the city, then here's a list of the best food courts in Singapore. You should definitely plan on eating each of your meals at one of the best hawker centres in Singapore.
Maxwell Food Centre
The Maxwell Food Centre is a classic Singaporean Hawker Centre – no list of the best Hawker Centres in Singapore would be complete without it. It's extremely popular with locals and tourists alike and is in the heart of the heritage Chinatown district. The centre is home to over 100 stalls with lengthy queues at some of them.
Most people head straight for Tian Tian Hainanese Chicken Rice (#10/11), which even beat celebrity chef Gordon Ramsay in a cook-off. The chicken rice at this stall is considered the best hawker food in Singapore and it's worth lining up for an hour to get.
Traditional Cantonese fish head bee hoon soup is another popular dish to try at the Maxwell Hawker Centre. One of the best bowls of this traditional soup can be found at Jin Hua Fish Head Bee Hoon stall (#77).
The hawker centre is only closed for six hours overnight, meaning it's open for breakfast, lunch, dinner and dessert. Although be aware that most stalls have their own individual opening hours.
Chinatown Complex Food Centre
Chinatown Complex is the largest food centre in the city and one of the best hawker centres in Singapore. You might find yourself getting lost amongst the 260 stalls, which includes the world's first Michelin star hawker stall.
The now world famous vendor is Liao Fan Hong Kong Soya Sauce Chicken Rice and Noodle (#126), which was awarded a Michelin star in 2016. It's known as the cheapest Michelin starred dish in the world with soy sauce chicken and rice costing just S$2. They usually serve from 10am until 8pm, but arrive early if you want a guaranteed plate.
There's every variety of traditional street food in Singapore at this hawker centre though and you can try any local dish that you want. At lunch time you'll see all sorts of people lining up at the stalls, from tourists to local office executives.
Tiong Bahru Food Centre
The Tiong Bahru Hawker Centre is located on the second floor of the Tiong Bahru Singapore Market, which was refurbished in 2004. The hawker center has over 80 stalls and is considered one of the top hawker centers in Singapore.
A few of the stalls have been awarded Michelin Bib-Gourmand and The Plate awards and they can usually be singled out by their lengthy queues.
A breakfast favourite and one of the most popular stalls in the centre is Jian Bo Shui Kueh (#5) where you can find the best chwee kueh or steamed rice cakes topped with turnips, shrimp and chili.
It's also worth taking a walk around the neighbourhood surrounding Tiong Bahru market which has laidback cafes and hipster shops.
Amoy Street Food Centre
The Amoy Street Food Centre is located in the middle of Chinatown on Maxwell Road and is spread over two floors. It may not be the most well known hawker centre but it has some traditionally good hawker food in Singapore. There are even several stalls that have been awarded a Michelin Bib-Gourmand distinction.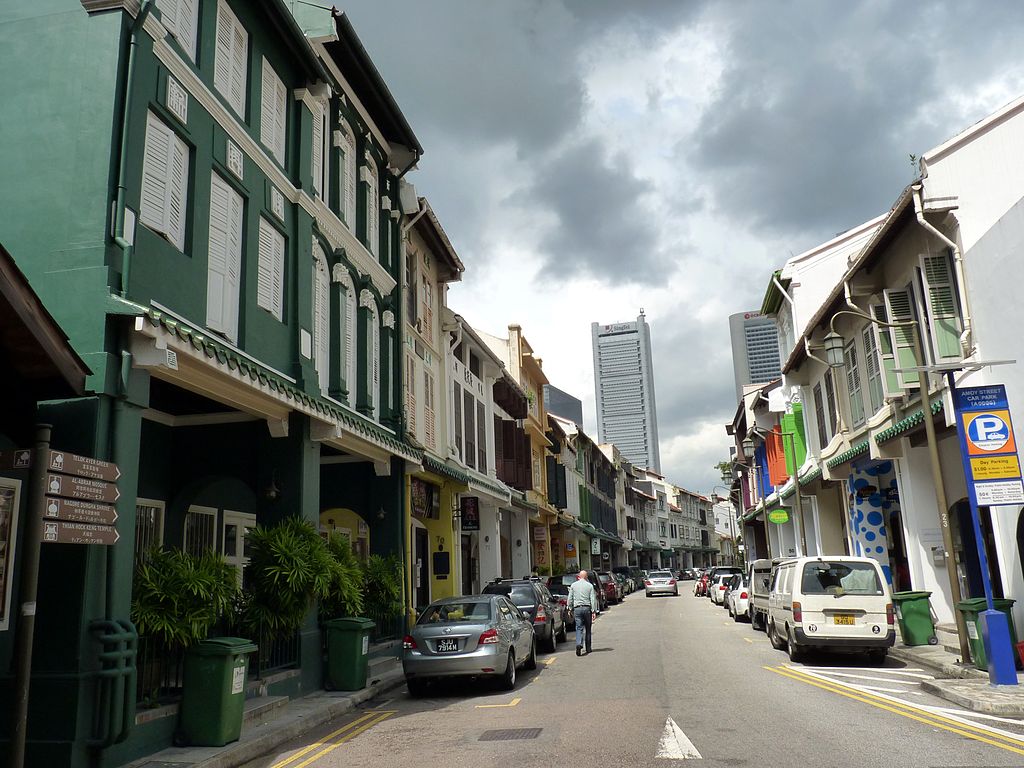 It's definitely the best food court in Singapore for noodles with a number of top stalls. A Noodle Story (#39) serves only one style of noodles but their reimagined Japanese ramen was awarded a Bib-Gourmand distinction and they often sell out quickly.
Hong Kee Beef Noodle (#42) is another Bib-Gourmand recognised stall and has been serving beef noodles for over 60 years.
The Old Airport Road Food Centre is built on the old runway of Kallang Airport and is the best hawker centre in Singapore for cheap, local food. It's become more popular with tourists in the past few years with over 150 stalls to choose from on the first level and retail stores on the second floor.
Top dishes include hokkien mee (fried yellow wheat noodles in seafood stock with pork and prawns) at Nam Sing Hokkien Mee (#32) and lor mee (thick flat yellow noodles in starchy gravy) at Xin Mei Xiang Lor Mee (#116). It's not necessarily hard to find the best stalls, as most of these top vendors will have lengthy queues.
The Old Airport Road Food Centre is repeatedly voted by locals as the best hawker centre Singapore and it's a must visit on your trip.
Hong Lim Market & Food Centre
Hong Lim is known as the best food market in Singapore for traditional street food. The food market Singapore is located beside Chinatown Point and is very easily accessible from downtown.
There are many long lines and wait times at stalls here, mostly with locals rather than tourists, which is a telling sign that it has good, cheap hawker food in Singapore. Many stalls are still family run affairs with a range of different traditional dishes.
One of the best stalls here is Ji Ji Wonton Noodle Specialist (#48) which has been serving the noodle dish since the 1960s and has been voted as the best hawker stalls in Singapore in the wonton noodle category by locals.
Chomp Chomp Food Centre
This evening favourite Singapore Hawker Centre is a bit out of the way in the residential district of Serangoon Gardens. However, it's popular for some specific street food of Singapore, including BBQ sambal stingray and BBQ chicken wings. Many of the dishes here are hot and you'll soon discover that the sugar cane juice stands serve a purpose in quenching your thirst.
One of the best food stalls at Chomp Chomp is Ah Hock Fried Hokkien Mee (#27), with their signature hokkien mee dish a must try in the Singapore food court. You'll have to wait nearly an hour for a plate though. Out of all the BBQ stalls to choose from, many locals recommend Chong Pang Huat (#26), which has particularly good BBQ chicken wings for S$1.40 each.
It's the best food centre in Singapore for a late night dinner with the general opening hours of most stalls from 5pm until midnight.
Lau Pa Sat Hawker Centre aka Telok Ayer Market
Lau Pa Sat is located in a lovely 19th century Victorian-era building surrounded by soaring skyscrapers of the inner central business district. There's enough space here to seat over 2000 diners with 200 stalls churning out some of Singapore's best food.
This Singapore food market is sometimes known as the old market and is a famous hawker centre in Singapore for tourists because of its convenient location and beautiful design – no Singapore hawker center guide can leave it out.
The evenings are the best time to visit the food stalls here with an almost festive atmosphere. The vendors spill out into Boon Tat Street beside the hawker centre, which turns into the ultimate Singapore street food market at night. Satay is king here with barbecued chicken satay sticks a top choice.
Tekka Centre
The Tekka Hawker Center Singapore is set right in the heart of Little India. It's easy to reach as it's just outside the MRT Station. There are a range of North and South Indian stalls here where you can sample some of the best street food in Singapore from South Asia.
The best dishes here include mutton biryani, crispy dosas (South Indian savoury crepe) and rich, flavourful curries. It's popular with the local Indian, Bangaldeshi and Sri Lanken community and has a vibrant atmosphere that is reminiscent of South Asia. A truly worthy to be called one of the best hawker centres in Singapore when it comes to Indian food.
There's almost an entire row of stalls dedicated to biryani with it being the most popular dish to try at this food court Singapore. Allaudin's Biryani (#229) is widely considered one of the best stalls for the popular South Asian dish.
Have you ever been to any of the best hawker centers in Singapore? Which one is your favourite?