*This post may contain affiliate links, as a result, we may receive a small commission (at no extra cost to you) on any bookings/purchases you make through the links in this post. As an Amazon Associate, I earn from qualifying purchases. Read our full disclosure.
Prague is a beautiful city. Practically undamaged by WWII, the city's Old Town is still home to medieval castles, beautiful bridges, cathedrals, gold-tipped towers, and winding cobblestone streets.
Known as the City of a Hundred Spires, Prague is considered to be one of the most romantic and beautiful cities in all of Central Europe. It's is a city I fell in love with during my first visit back in 2008 and then again in 2011, and is one that I will always long to go back to.
Best Time to Visit Prague
Best time to visit Prague, just like many other cities in Central Europe is in Spring or Fall, when the weather is mild, just before or shortly after the summer rush that brings in over 4 million tourists to the Czech capital.
Even in the middle of summer temperature in Prague doesn't climb that high, making it easy to sight see and enjoy the city without fighting heat and exhaustion. In May/September, expect daily highs to hit low 20s, but be prepared for much colder weather if you come in March-April or October/November (10-13°C during the day, but 0-5°C at night)
In my opinion, Prague is the kind of city you actually want to see on a colder day. There is something wonderful about sipping mulled wine on a chilly autumn day in the Old Town square or warming up with a bowl of goulash in a small family owned restaurant hidden in the city's cobblestone alleyways.
Top Things to Do in Prague
First time visitors to Prague often begin their sightseeing with a tour of Prague Castle, then make their way across the famous Charles Bridge to the gothic Old Town Hall, spending an afternoon admiring the many historic buildings and monuments in the area, and most notably the famed Astronomical Clock.
Once you've ticked off the main attractions, take the time to explore a bit further. Head to Lesser Town (Malá Strana) across the Vltava River, where you'll find beautiful streets and churches and tons of great little cafes, restaurants and shops. Or take the tram to the Jewish Quarter and take in panoramic views of the city from Petrin Hill.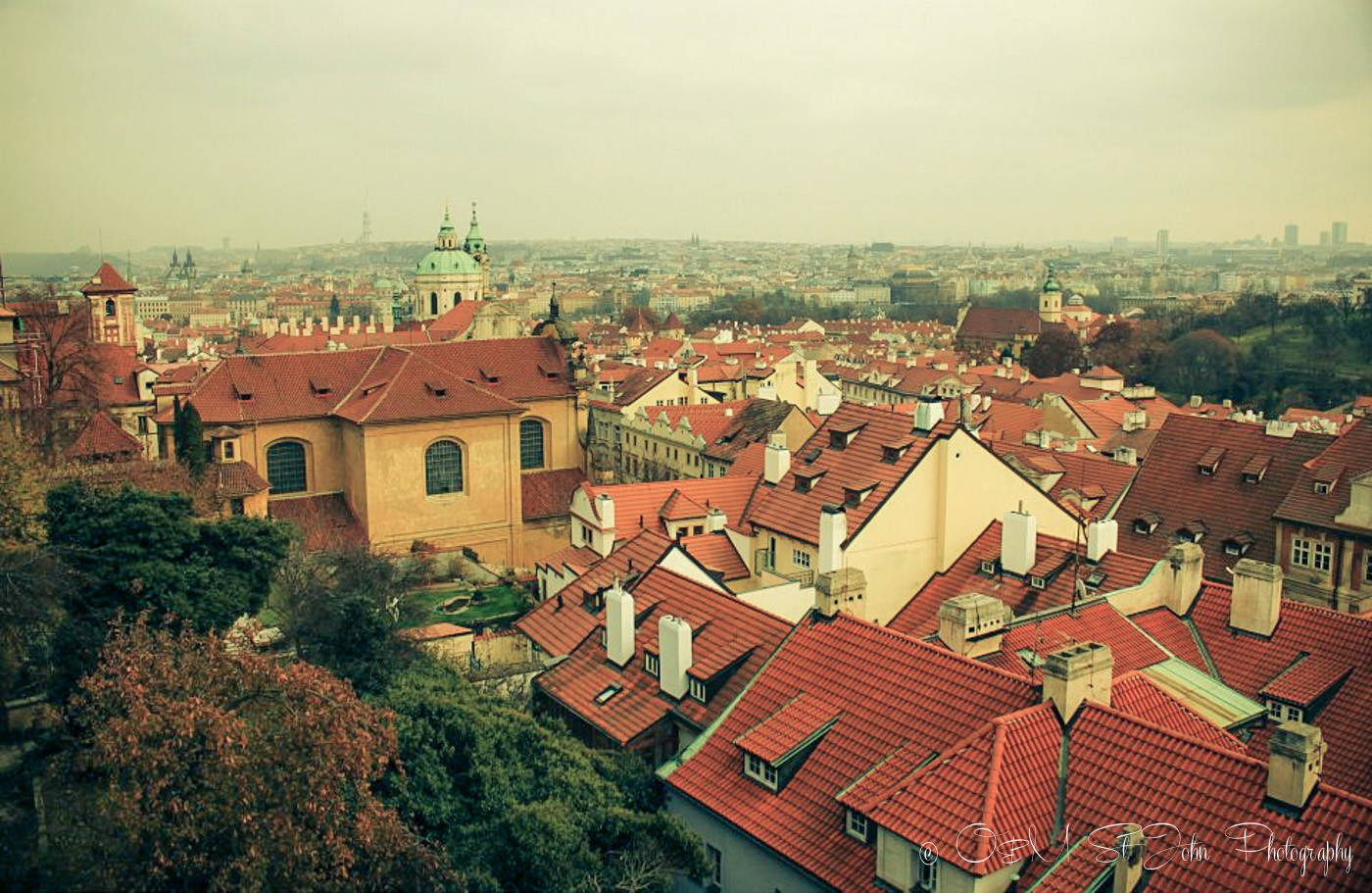 Keep in mind that a visit to Prague is not just about the sights themselves. Guardian"s list of Top 10 Things To Do in Prague highlights some of the experiences that are worth putting on your list, like a visit to U Fleku, the only brewery in central Europe to have been brewing beer for more than 500 years.
For something a little more unique, follow Eating Prague Tour's guide to 34 Unique Things to do in Prague as Told by Locals and opt to spend an afternoon biking along the Vlatava River or enjoying a morning coffee while strolling through the Farmers' Market at the picturesque Jiřího z Podebrad.
Those traveling on a budget will love National Geographic's recommendation for Free Things To Do in Prague suggesting a visit to the National Gallery to admire its collection that spans medieval to contemporary art, Jiri Svestka Gallery, which displays its collection of contemporary and modern art free to the public, or the Moser Glass Factory in Karlovy Vary with a museum open weekdays from 9 a.m. to 5 p.m.
Museum lovers will appreciate The Culture Trip's Insider's Guide to Prague's 10 Best Contemporary Art Galleries that lists the city's very best contemporary art galleries from the cutting-edge DOX Centre of Contemporary Art in arty Holešovice to the Leica Gallery Prague.
Prague is also home to some great theatres, opera houses and other performances that cater to tourists with the Black Light Theatre and Prague Shakespeare Company being the most well known.
When the sun sets Prague opens up a whole new world of entertainment options for the locals and its visitors. Finding a pub (in Czech "hospoda") in Prague is easy, after all they do play an important part in local culture. One of the more famous night-time attractions in Prague is Karlovy Lázně, a five-story disco club in Old Town Prague labeled as the largest club in Central Europe. Even non club goers will find a visit to Karlovy Lázně a fascinating experience. Every floor in the clubs plays different genres of music, ranging from EDM to old school 80s-90s.
For more ideas on clubs to check out while in Prague, follow Prague Experience's suggestions of the best Prague Clubs & Nightlife spots.
Where to Stay in Prague
Staying in city central (i.e. close to Old Town) is the most obvious choice for travelers visiting Prague for the first time, although the historical centre of the city, areas like The Lesser Town (Mala Strana) and around the castle offer a good alternative.
Staying outside of the above-mentioned areas can be a great way to save on accommodation, as hotels outside of the central areas will be much cheaper. Living in Prague website has a great guide to Prague Areas 1 to 10 for anyone looking to venture out of city central.
There are over 100 hostels in Prague with dorm room beds starting at under $10/night. Hotels in Prague range from $50/night to $500+/night, so there are a ton of options for any budget. Prague is also a perfect city to swap a boring hotel room for a trendy Airbnb apartment.
Don't have an Airbnb account yet? Sign up now and receive USD $25 to put towards your first Airbnb stay!
Check out some of Prague's unmissable Airbnb apartments on The Culture Trip. Whether you are after something luxurious or bohemian, this list has them all!
Where to Eat in Prague
When it comes to meal time in Prague, the right question to ask is what should you eat and not necessarily where. While hot dogs and mulled wine are the most basic street food choices you'll likely come across in Prague, there is so much more to Czech cuisine that you need to try while in Prague.
Start with this list of 10 Must-Eat Foods in Prague, making sure that you try vepřo-knedlo-zelo (my personal favourite), bramboráky and svickova na smetane. For budget meal and restaurant suggestions, check out Like a Local Guide's Budget Meals in Prague: 32 tips by 10 locals.
Like a Local Guide also has a great list of Top Restaurants in Prague that comes with great advice to "Avoid tourist oriented restaurants in the Old Town Square, Wenceslas Square or near the Prague Castle, as they are unreasonably overpriced" We couldn't agree more!
If fine dining is your thing, here is a list of 11 Best Restaurants in Prague by the Elite Traveler that will help you experience the best of superb international restaurants in Prague.
How Much Time Do You Need in Prague
Prague is a popular weekend destination for travelers from all over Europe, so majority of its visitors spend only 3-4 days exploring the Czech capital. If your schedule doesn't allow you to linger for longer here are a few itinerary suggestions to help you make the most of your time in Prague.
If there is one thing my visits to Prague have taught me is that it's a city I'll never get tired of and I can't wait for an opportunity to return to those charming cobblestone streets again.
Have you visited Prague before? What are some of your tips for visiting the city?