For the last few years Myanmar has been at the top of our travel list. Having already visited most countries in Southeast Asia, we considered Myanmar to be SEA's last frontier, one that we wanted to visit before the masses.
*This post may contain affiliate links, as a result, we may receive a small commission (at no extra cost to you) on any bookings/purchases you make through the links in this post. As an Amazon Associate, we earn from qualifying purchases. Read our full disclosure
This past September we finally did. Those of you that follow us on social media would've already seen some of the highlights from our time in Myanmar and know how thrilled we were to visit the country! We've said it before and we'll say it again: now is the time to visit Myanmar!
Traveling Soon?

Here is a list of our favourite travel providers and accessories to help get you ready for your upcoming trip!
The country is just developed enough to make it reasonably easy for adventurous travelers to get around on their own and not yet popular enough to feel overcrowded with hoards of tourists.
Our time in Myanmar was short (we spent just over 2 weeks making our way from Yangon to Mandalay), yet it gave us memorable experiences from day 1.
Here are just a few of our favourites!
Experiencing Street Life in Yangon
We pictured Yangon to be just another large SEA city, expecting it to disappoint us the way Jakarta did just a month earlier. But Yangon was nothing like Jakarta! Yangon was alive, it was vibrant and full of culture. It was absolutely fascinating!
We spent days roaming the streets of Yangon, taking in the hustle and bustle of its day to day life. We loved discovering new street food at pop up markets, tasting local tea (they have it with condensed milk here) at street-side restaurants while sitting on tiny plastic chairs, and purchasing our own longiys (long skirt worn by local men and women) at the Bogyoke Market.
We were there just long enough (3 days total) to visit the big attractions (Shwedagon Pagoda is not to miss) and get lost among the locals in no name alleyways.
Cruising Beyond the Tourist Trail at Inle Lake
"Inle Lake will be the most touristy experience you have in Myanmar", said the pages of Lonely Planet, "but it's one you don't want to miss".
Lonely Planet didn't lie, the touristy boat ride around Inle Lake was advertised on every corner and in every guesthouse, but we didn't want to settle for touristy.
"Regular Inle Lake half day tour – 10,000 kyat", explained a local woman who chatted us up on the side of the road with a map in hand.
"You go around top of lake. Longer tour you go to middle lake – 15,000 kyat, or for 20,000 kyat you can go to bottom of lake – full day tour 9-4pm, very nice".
"What if we want to go even further south?"
She looked surprised but excited and told us her husband would be happy to take us.
We departed at 6am and didn't return until 5pm, spending just short of 12 hours sailing down well past Inle Lake down to the remote yet absolutely beautiful areas surrounding Moebyel Lake.
As you can imagine, our favourite parts of the trip were those in the far south.
Exploring Temples in Bagan
Visiting 1000-year-old temples in Bagan is an amazing experience, no matter how touristy and crowded it might get.
Luckily for us, traveling during the shoulder season gave us the opportunity to explore Bagan without the crowds. We rented an e-bike from a shop with the cutest little puppy and rode it around from temple to temple for 2 days straight. We loved visiting the big important temples, like the Shwezigon Paya, Shwesandaw Paya, Sulamani Pahto, or Dhammayangyi Pahto just as much as getting lost and finding our own no name pagodas to explore.
Riding on a Scenic Train to Hsipaw
Most train rides are merely a way to get from Point A to Point B, but for us, the train ride from Pyin Oo Lwin to Hsipaw was a destination in its own. It was a fascinating journey that took us through remote towns and villages in the Shan province, allowing us to interact with locals on the train and in the villages where we stopped, all while enjoying the scenic views of rice paddies fields, rolling green hills, and the famous Gokteik Viaduct bridge.
It doesn't get much better than the train ride to Hispaw when it comes to transportation in Myanmar. It was the most interesting 10-hour train journey we have ever been on!
Trekking to Hill Tribe Villages in Shan Province
Pushing further North from Hsipaw to explore the remote Shan and Palaung Hill Tribe villages was by far the most culturally immersive experience we had in Myanmar.
Not only did we get a chance to stay in villagers' homes, eat homemade food, interact with locals, and witness their day to day lives, but we got a chance to participate in a rare celebration known as the Monk Harvest Festivals.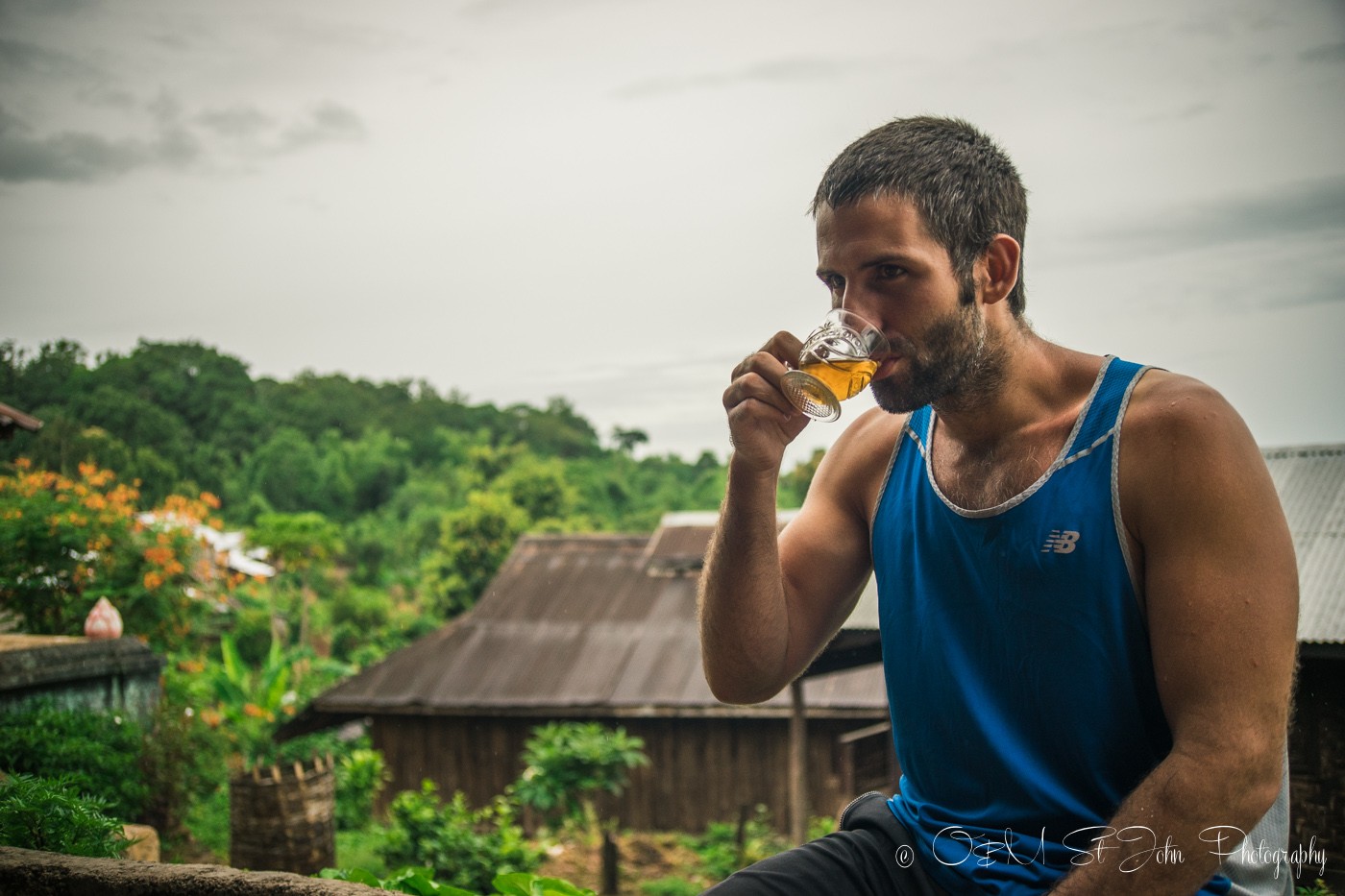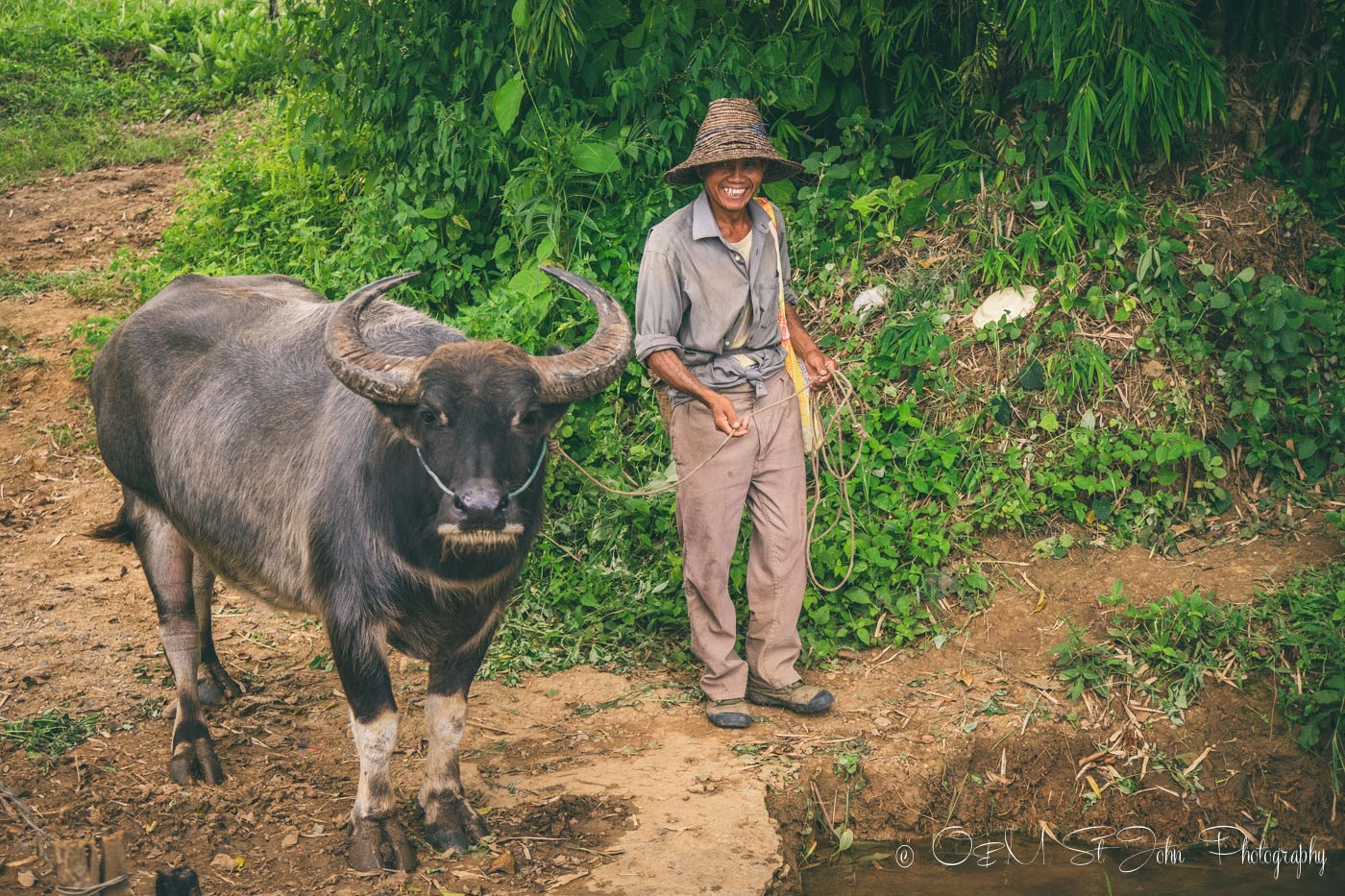 We were mesmerised by the rhythmic dancing, chanting, and singing of the women, men, and children, who were all dressed in bright colourful traditional clothing (even more traditional than their every day longyis) on the night of the festival. We watched them for hours, mesmerized by the atmosphere all around us. We felt honoured and extremely grateful for the opportunity.
That night we not only learned the steps to their local dance but felt like we gained a better understanding of the culture and local traditions that seemed to be so difficult to grasp throughout our travels in Myanmar.
Saying goodbye to Myanmar was hard. The deeper into the country we traveled the more we wanted to see. In the end, only one thing was certain: Myanmar is a country with many fascinating and memorable experiences and one that definitely will see us coming back for more!
Like this post? Pin it for later
Have you ever visited Myanmar? What were some of your favourite experiences? Share them in the comments section below!