South Africa is a huge country with plenty to explore. From the coastal areas to Cape Winelands to the mountainous Drakensburg, the landscapes are beautiful and ever-changing.
*This post may contain affiliate links, as a result, we may receive a small commission (at no extra cost to you) on any bookings/purchases you make through the links in this post. As an Amazon Associate, we earn from qualifying purchases. Read our full disclosure
Given the vast distances between cities in South Africa and a lack of great public transport, the best way to get around the country is by renting a car and setting off on a self-driving adventure.
Traveling Soon?

Here is a list of our favourite travel providers and accessories to help get you ready for your upcoming trip!
Whether you are looking to road trip along the Garden Route or for an easy way to get to Kruger National Park, there are a few things you need to know about renting a car in South Africa.
Is it Safe to Drive in South Africa?
South Africa has a notoriously bad reputation and when it comes to driving in South Africa, safety is a predominant concern. However, with some common sense, staying safe is relatively straight forward.
Avoid driving at night, especially in urban areas. Most carjackings that do happen, occur at night and usually, while stopped at traffic lights. If you do decide to drive at night, then keep your doors locked and windows up at all times especially while driving in Johannesburg and other major cities.
Don't leave valuables in the car at any time. And if you do, make sure you lock up your bags in the trunk, away from where they can easily entice a thief. Your travel insurance will not cover anything that is left unattended in a vehicle if it is stolen.
If you do park your car in an urban area, look out for parking guards who often wear reflective clothing. They will look out for your car while you're away for a small tip of around 10-20 Rand. If there are no parking attendants around, use common sense and park in a visible and well-lit area. Most accommodation in South Africa will have parking onsite or guarded parking for your vehicle's safety.
Don't pick up hitchhikers. While hitchhiking is common practice in South Africa, don't feel bad if you do not feel safe picking up strangers on the side of the road.
Use a GPS or maps app on your device to ensure you don't get lost. We recommend Waze Navigation if you're able to get 3G on your phone or Maps.Me if you're offline.
Do I Need an International Driver's License in South Africa?
In general, South Africa ALLOW tourists to drive with a foreign license.
You do not need an international driving license for South Africa, if your driver's license from home is in English. This applies to driving in South Africa on a British license, US License, Canadian, and Australian/New Zealand license. So, driving in South Africa with US license or another English license is fine, as long as you've had your license for at least a year and you're over 18 years old.
If you plan on driving in South Africa and your home license is NOT in English, you'll have to apply and get an international drivers license. South Africa authorities do require you to have your international driver's license on you at all times while driving in the country.
If your foreign license doesn't have a photo then you will also need to make sure you have your passport on you at all times in the car as well.
Road Conditions in South Africa
You might be surprised to find that road conditions in South Africa are extremely good. Most roads are tarred and paved, meaning you can easily get around with a regular 2WD vehicle.
However, there are a few roads in the more rural areas or in some of the National Parks where a 4WD would be necessary. Although this is in very limited circumstances, and we easily managed without a 4×4 (even in iSimangaliso National Park) which means you can save a lot on car rental if you stick to a 2WD. Most designated roads inside National Parks are paved, meaning you don't need a 4×4 for conducting your own self-drive safaris.
The main dangers to road safety in South Africa are animals and people walking. You'll likely see goats and cows being herded by people along the road in rural areas, so you'll have to be careful, especially when driving at night.
Rules of the Road
Driving in South Africa is likely slightly different to your own country, especially when it comes to the rules of the road South Africa.
Driving rules in South Africa include:
South African's drive on the

left side of the road

with passing on the right.

South African's

use the shoulder to let other cars pass

them on single-lane roads. Don't be surprised if you see another car moving into the shoulder lane for you or if you find yourself having to do that to let another car pass you.

The

average speed limit

on roads in South Africa is

80km/hour,

although this will increase to around

100km/hour on major roads

and

120km/hour

on highways. There are speed cameras on many of the main roads, so beware!

Road signs are generally in both English and Afrikaans. Also, you will notice that

distances are in kilometres.

Drivers and passengers are

legally required to wear a seatbelt

at all times.

Drunk driving is illegal

and the limit is 0.05 percent.

South Africa driving rules also consider

using a cell phone while driving illegal

.

When driving at night, ensure your headlights are working and you have full beam options for more remote and darker roads, especially in areas where you are most likely to find animals.
Toll Roads
There are a few toll roads when driving in South Africa and they are generally pretty cheap. Sometimes the rental company will have a transponder or eTag which means there will be a charge for each toll by the rental company when you return the car. If not, you can pay with cash or credit card at the booths along the way. It's always best to have cash on you to ensure you can pay in case a toll booth does not take credit cards.
An example of toll costs would be from Cape Town to Johannesburg on the N1 highway usually adds up to around 180 Rand in tolls.
Buying Gas
Petrol and gas stations are easy to find across the country and many of them are open 24/7. At gas stations, attendants will pump the gas for you as well as check your tyre pressure and oil level. You should tip these attendants around 5-10 Rand for their service.
Car Rental Companies in South Africa
All major international rental companies are available in South Africa, including Hertz, Thrifty, Avis and Budget. Prices, availability and deals change frequently and we recommend using an aggregator like DiscoverCars to compare the best prices prior to booking.
Renting a car to self-drive South Africa is otherwise pretty easy. Car rental costs start from around $15 per day, but it really depends on the terms of the rental and type of car.
Our best advice for renting a car in South Africa is to book your car before your trip, especially in summer. Last-minute rates can be higher and the availability of vehicles, particularly in the peak season, can make the rental more costly.
The companies will also usually make sure you have the right South Africa driving license that is in English and that you know the basic driving tips in South Africa.
Things to Know When Renting a Car in South Africa
Restrictions
Be sure to check your deal with the rental company and notice if there are any restrictions on mileage. If you plan on taking the car for long road trips, you may go over their limit on mileage and be charged per kilometre thereafter. To avoid this added cost, make sure there is no limit so you can drive around without worrying.
It's also possible to get a one-way rental deal. This usually costs extra with sometimes an additional 400 Rand fee for dropping the car in a different city than you picked it up from. However, this can still work out better than having to backtrack to your first city. Many people prefer to pick the car up in Cape Town and drop it in Johannesburg or vice versa.
Most cars in South Africa are manual, so be sure to request an automatic if that's what you prefer to drive.
Insurance
It's mandatory that all car rental includes fire and third party liability insurance in the price. However, there are optional extras such as Collision Damage Waiver, Theft Protection and Personal Accident Insurance. It's up to you to decide whether these extras are worth paying for, but keep in mind that you'll be responsible for all damage to the vehicle without these extras.
Collision Damage Waiver does not usually cover some types of damage such as windscreen cracks or tyre punctures or replacements, which are pretty common problems. This means that if you plan on having the car for more than a few days, it's safer to cover yourself for the extra damages under a more comprehensive insurance option. Otherwise, you have to prepare to pay for the damages yourself.
Roadside assistance is usually included with your vehicle through the rental company, however, be sure to check this as well before departing.
Some credit cards like American Express or The Chase Sapphire Reserve include rental insurance, but you'll have to check your own policy to see what is included and excluded. Usually, it will include Collision Damage Waiver for rental cars which means you won't have to pay for this extra through the rental company, however, it's always best to check your individual policy and call your credit card company.
Border Crossings
Taking your rental car across the border to Namibia or Botswana is usually possible with additional fees and paperwork. Most rental companies are able to provide you with the necessary paperwork for border crossings, so you don't have to stress about the particulars yourself.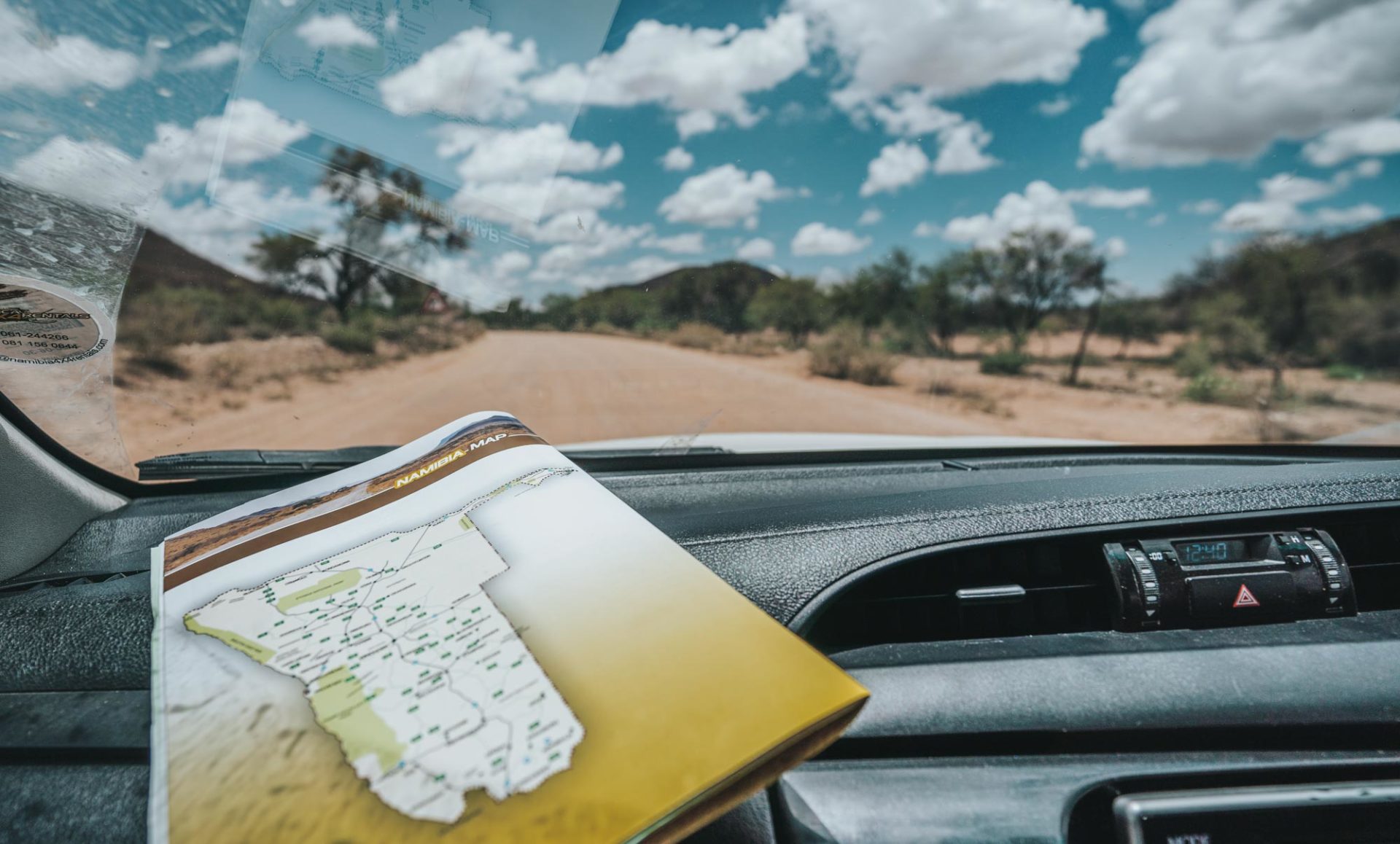 Car rental companies will usually happily give you a letter which states you are allowed to cross the border with the vehicle and all you need to do is pay the fee at the border post. Rental companies charge around $50 for each border crossing letter.
We found driving in South Africa to be no different than driving in any other first world country. TO our greatest surprise, the roads were great, the car rental was easy and the opportunity to go off the beaten path to explore cities and destinations all across the country was definitely worth it!
Have you rented a car in South Africa before? What other tips or advice would you give to fellow travelers thinking fo renting a car in South Africa?